You put your heart and soul into an idea. Develop into a working product. You start making people, apart from your family and friends, believe in your product and invest in it. You convince even more people to work together to make the product better. Then, just like that, a glitch in the matrix, a little leak in the funnel, and the person for whom you so delicately tailored the product presses a button and bails out. 
Churn – the single word that stirs anxiety and panic if not a tiny heartbreak in many people who passionately build products.
But everyone in the industry faces churn. There seems to be no way to step around it, but not every churn should keep you wide-eyed at night. To understand when to be alarmed by churn, you need first to understand the nuances of it. 
Since there does not seem to be a definitive playbook for churn management, let's explore some of the tried and tested ways companies have used to battle churn in this article.
But first,
What is customer churn, and why does it matter?
Customer churn is the number of customers a subscription business loses over a given period. It represents how happy your customers are with your product as it directly reflects on the company's attrition and churn rate. 
Many studies and real-life experiences have shown that increasing customer retention directly increases profits. On the other side, this also shows that it is 5x cheaper to retain existing customers. Churn can be draining on the finances. In a report by Accenture from 2016, it is said that every year companies lose $1.6 trillion in revenue due to customer churn.
How do you know when churn is a problem?
What do you believe when Profitwell says that a less than 3% churn rate is good, whereas Baremetrics quotes 5%-7% as acceptable?
Actually, both!
Every business is different, and what is considered a high churn rate by one might not be high for another. Profitwell justifies this difference by stating that, when B2B SaaS experience lower churn rates, consumer services like subscription boxes or entertainment services like Netflix or Youtube have a higher churn rate because they are not considered essential. 
But watch out for specific trends that should set off alarm bells about your churn.
Your churn is outpacing your acquisition. This might be fuelled by low up-selling as well. 

Another side of this coin is when more people downgrade than go for an upgrade. Sometimes

downgrading can be a strategy like in the case of Notion

, but unless you have a plan in place to tackle the expected downgrades, it's never a good sign.

A lower LTV. If your customers are always churning, then it would result in a low LTV. 

Suppose your churn is exceeding 10%-15%. Check your industry standard to see which is an acceptable churn rate. Whatever it is, 10% is always a high churn rate.
But let's face it, even if you are at a safe churn rate, what stops you from reducing your churn rate even more?
Reducing churn with five real-life examples
"68% of the customers leave because they think the company doesn't care about them," Steven MacDonald wrote for SuperOffice.
It is always interesting to see how others dealt with churn. In this article, we will learn from their experience and learnings. But before we jump into the five action tips, the first thing to do would be to understand why churn occurs in your organization.
Steven MacDonald for SuperOffice states that 68% of the customers leave because they think that the company doesn't care about them. Are your customers unhappy with your product, or is it the customer service that makes them cancel? Are your product updates solving customer problems, or are you just adding to your annual list of new product features? 
As the first step from your side, ensure that your product or service is the voice of your customers. Get on a call with them. Send them feedback forms. Try to get to know them as flesh and bones rather than an unnamed lead flowing through your automated systems.
1. Sketch a path for your customers through onboarding
Doing anything for the first time can be intimidating. When the company steps forward to hold the customer's hand, it creates a lasting impact. Also, if the user doesn't understand the product's full potential, they can have an unrelished experience. This is the reason why Patrick from Intercom states that, 
"40-60% of users who sign up for a free trial of your software or SaaS application will use it once and never come back."
An efficient onboarding process will help the customer understand the product and sketch out a path and take them step-by-step.
Monday.com does this the best. Their first email for users who have started using their product decides to show them the tool's potential rather than talking about it.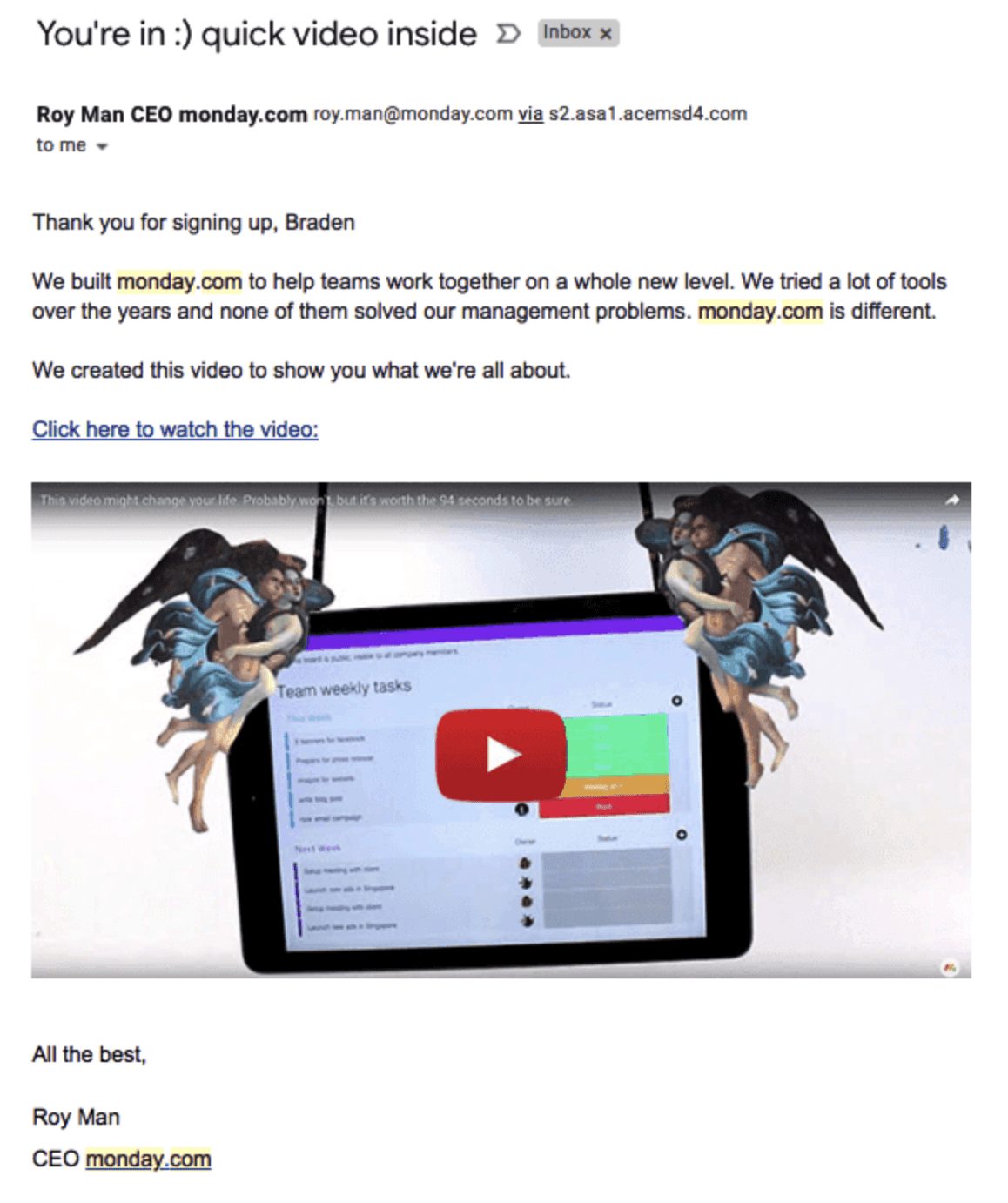 But it is not a must to have fancy designs of angels flying or videos, it can be as simple as the Drift welcome sequence which provides you all the information you may need right away.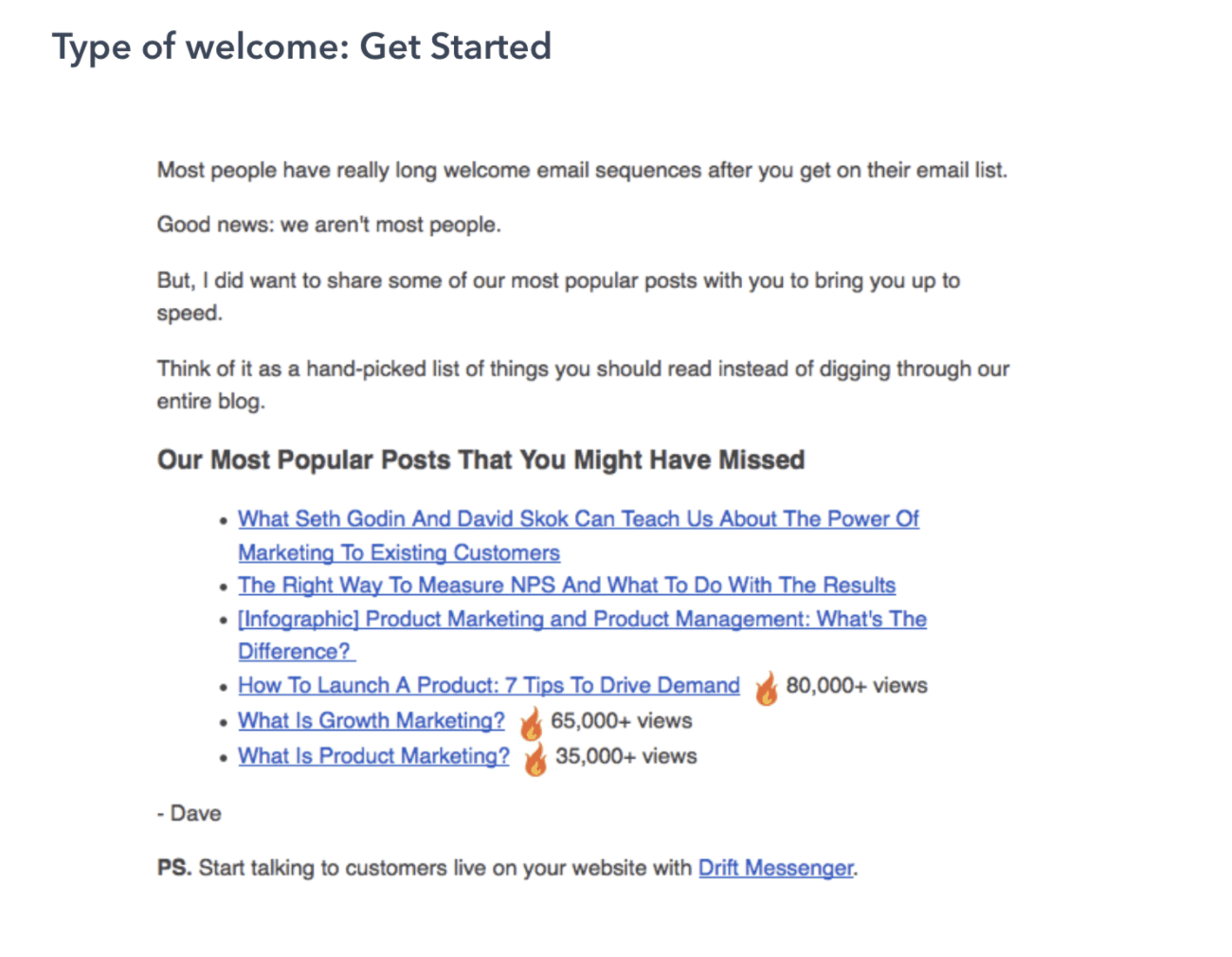 If the user is proficient in using your product, they are unlikely to move away from it. Keep an eye on your onboarding process, and keep iterating it.
1.5 Bonus tip
Most articles on churn would tell you to strengthen your onboarding process alone. However, it is not enough. A customer can lose sight of the advantages your product provides at any time. There are a few critical moments where they are near an exit door, and lost interest at this time can directly result in churn.
Onboarding, trial to paid conversion, initial three months, and renewal are critical times in your customers' lives. Make sure they realize the importance of their relationship with your company more so at these times.
2. Focus on usability beyond quality
Most businesses only focus on customer success reps to create relationships by providing customers with unforgettable experiences. Before the task moves to the customer success reps, the product managers play a pivotal role at the beginning of the customer's relationship with the product.
Even if the product doesn't have all the critical features in a release, product managers need to ensure that the product would meet the expectation of new and existing customers. They should be able to guide the customer to the best solution for them within the product and they should be transparent with their communication letting users know about the progress of desired features.
As much as the quality of a product is essential, so is its ease of use. As we had mentioned earlier, learning new things is intimidating.  The easier the customer's learning curve, the more chances of them staying with the product. With SaaS applications, there is a higher level of complexity with a multitude of features. A deeper understanding of the customer's needs is required. Slowly introduce new features based on the user's readiness.
3. Recheck your pricing
Actually, raise your prices!
As absurd as this sounds, John Doherty, the Founder/CEO of Credo, an online marketing firm, had a good explanation for raising Credo's prices when they faced churn. He said, "I have consistently found that our lowest paying customers churn the most and take up most of your support time, so we raised prices (without offering anything new), and our churn plummeted." After this change in 2018, Credo's revenue has been continuously moving upward, with its revenue run rate hitting $480k in 2020.
Now, we understand that not many people might be able to take this leap. However, another trick with pricing is to offer long term contracts instead of monthly contracts. When the customers commit to using your product for a more extended period, the lower the probability of churn as it gives them more time to get familiar with the product and help integrate the product into their daily lives
Offer discounts on annual subscriptions to show the customer how much they would save by opting to stay in for the long haul. Notion's pricing page helps you compare the money you save,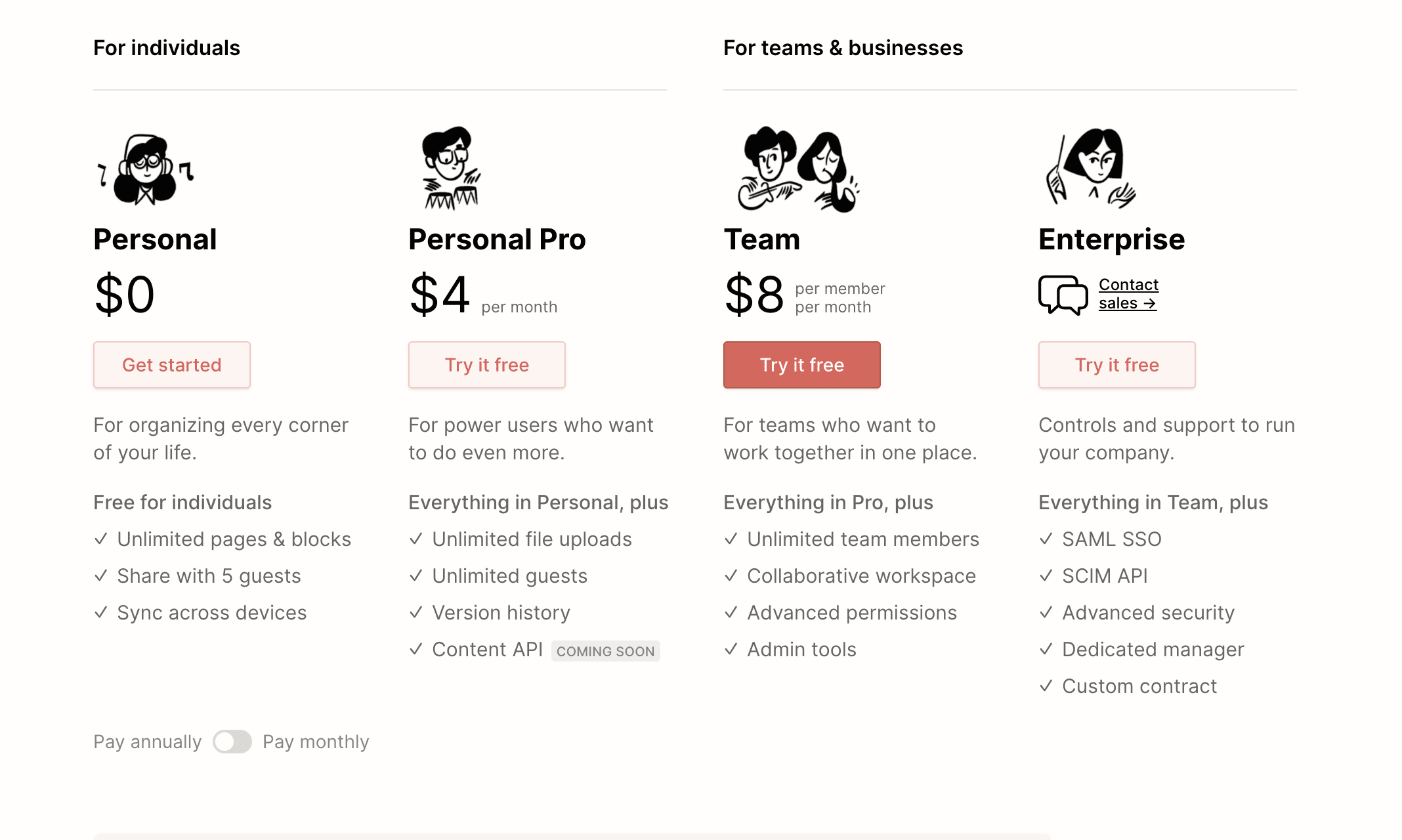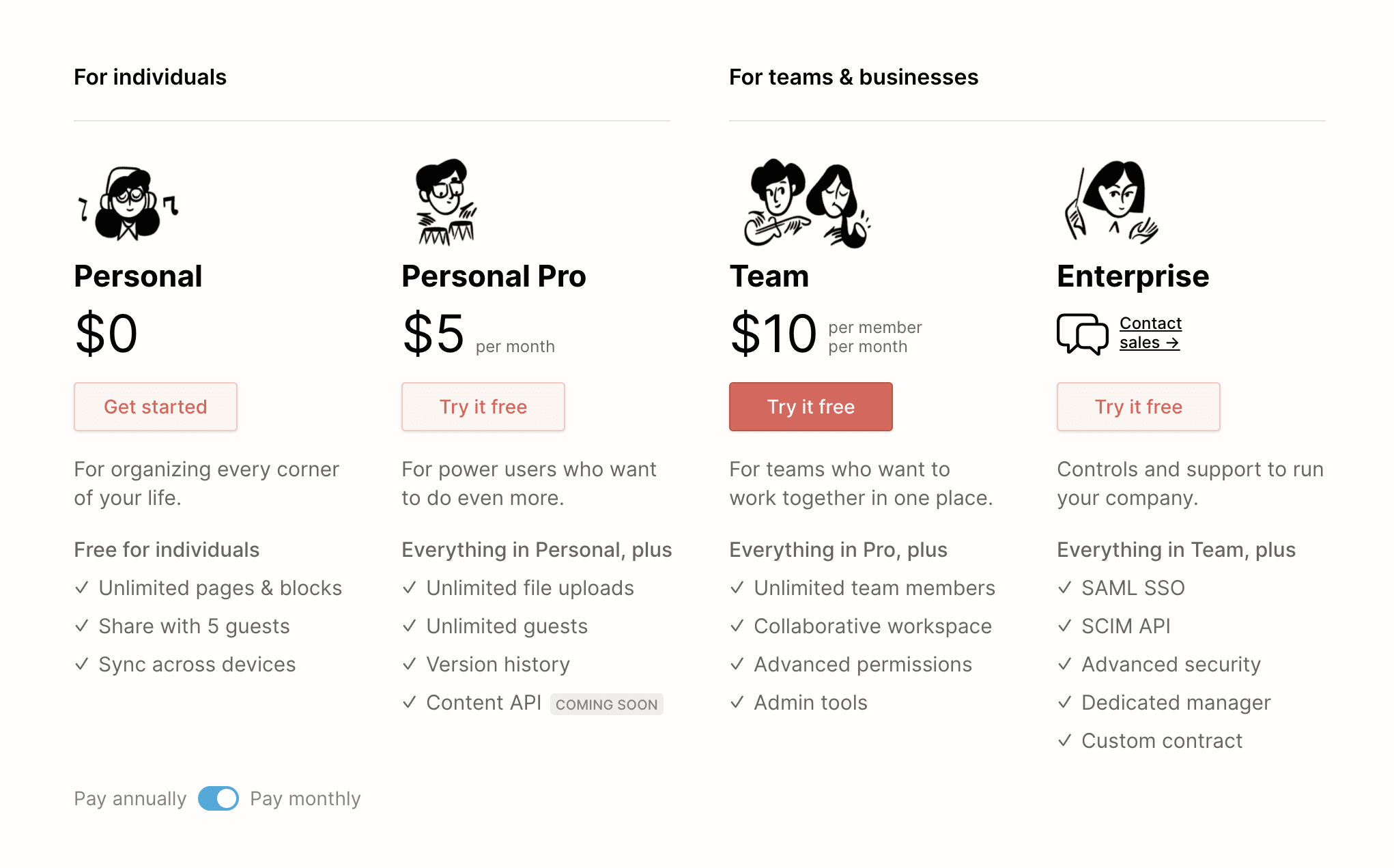 4. Don't just engage but celebrate your customers
Relationship marketing when done right, keeps your customer coming back for more. For this, your customers should inculcate your product in their daily habits and be aware of any new updates or features that would make their life easier. 
According to Marketo's report, 79% of consumers use email to initiate engagement, making it one of the top channels to reach out to your customers. Provide them updates on new features, offers, and updates. Send them to content relevant to their searches/profiles/interest.
To make customers feel important, Baremetrics started featuring customers in their content. Using Typeform, they procured a list of customers who were interested to appear in the Baremetrics blog. They approached them by asking them if they would mind being listed as the customer of the month. It encouraged more people to come forward, specifically talking about how they used Baremetrics.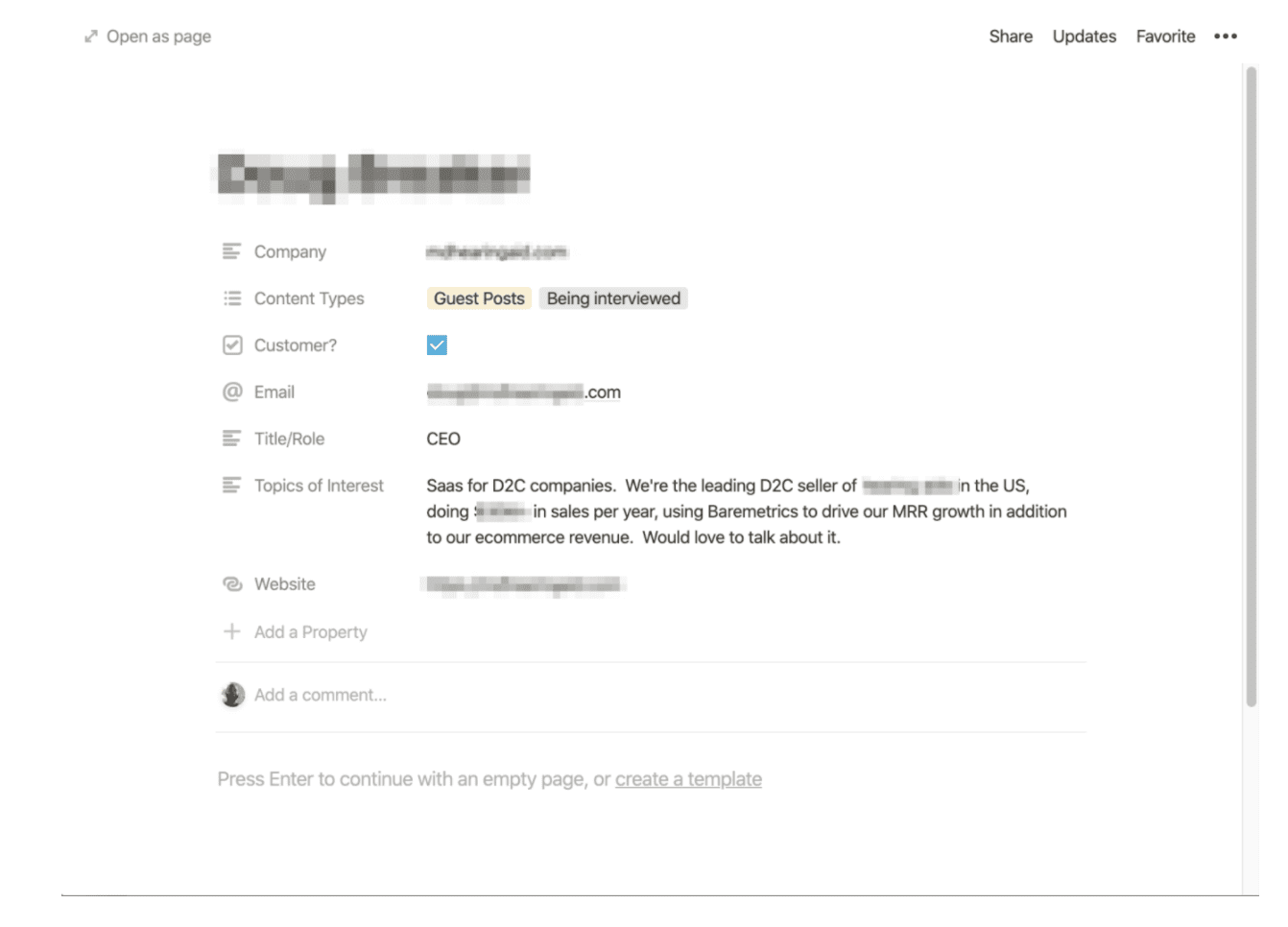 Apart from customer testimonies, this opened a new channel of referral traffic and customers who were happy to be part of something bigger with Baremetrics. 
It is no doubt that you have spent time and effort in lengthy marketing and sales processes. Then why stop marketing to them after the purchase?
5. Follow a targeted churn reduction strategy
"Collecting the data about usage of our product, we can identify the most critical factors of a healthy customer," Piotr Dziedzic.
The above four steps are general anti-churn strategies to use, but churn is an organization-specific problem. Each organization has different motives and different churn rates. It is only right for the organization to develop its churn strategy based on its user data.
Piotr Dziedzicz, the managing director of Closer, an AI-powered sales platform, says, "Collecting the data about usage of our product, we can identify the most critical factors of a healthy customer. Thanks to the data, we can easily find when customers are not invested in our product and understand who is at risk. Those signals give our success team an alert, so they can actively reach out to ensure the customers are getting the most of the product," in an interview with Databox.
Another way is to use Clearbit, a data enrichment platform to segment customers by groups by analyzing their demographics, geography, industry size, company, etc, and finding the churn trends in these different groups. It would be easy to carry out targeted activities in these segments. 
The biggest tip on top of all this is for businesses to:
Work on the feedback
Every business collects data through feedback and surveys but if you want to stand apart, show the customer that you are working on it and that their feedback is valuable to you. Amar Ghose, the CEO of ZenMaid, a scheduling platform for maid services, in a conversation with Databox, said that, even when they didn't add a feature that was most voted on by the users, they found a way to convey and be transparent about what they have done. 
Churn germinates from poor customer relations. If the root problem is taken care of, then churn should not give you sleepless nights. 
ZenChef was able to reduce churn by 60% after using Chargebee's Smart Dunning, Ben Laughter, VP Success and Ops at Whiteboard says they set up dunning to collect accounts receivable and forgot all about it when it meticulously got back their lost revenue. Chargebee can help you recover your lost revenue and not only reduce churn but ease your churn related worries!
If you would like to see changes to churn in your business, get in touch with the experts at Chargebee to discuss your churn related doubts.