5 secrets to reduce Subscription Churn
~ 13 min read | September 14
Sometimes it feels like your subscription business is a revolving door.
People enter, all excited and enthusiastic, and then leave just as enthusiastically.
Having customers lose interest in your business and churn means less revenue and diminishing customer lifetime value. In addition, you're practically burning marketing money by acquiring customers who will just quickly leave.
Thankfully, there are ways to minimize your subscription business' churn rate. All it takes is a little attention to detail and some patience.
Sometimes people will drop out for reasons beyond your control, but by deploying a few proven tactics, you can reduce your subscription churn rate and keep customers happy.
In this article, we'll cover five ways you can reduce subscription churn and increase the lifetime value of your customers, including:
Identify why it occurs.
Improve customer service.
Offer incentives and upgrades.
Provide customer education.
Facilitate customer communication.
Before we dive in, let's take a look at what exactly customer churn is…
What is Customer Churn (and What Does it Mean for Your Business)?
Churn is a metric that measures the percent of customers that stop buying from a company.
It's an issue for all companies—especially B2B SaaS companies. On average, U.S. companies lose $136.8 billion per year due to customers seeking alternative solutions because they are dissatisfied with the current company.
Customer satisfaction is correlated to reducing churn. Loyal customers stay with a company over a long period of time. Their customer behavior becomes predictable when they are satisfied with the offering.
However, unhappy customers with low customer engagement may cancel their subscription quickly if the business and its customer success team don't do anything to mend the customer relationship.
Many of those issues can be avoidable, and in the end, the customers can be retained.
Businesses seemingly never-ending goal is to reduce churn, so they can earn more revenue from their customers.
Successful businesses have a customer retention strategy in place in order to reduce customer attrition. With one, they can retain customers by keeping them happy and delivering what they promised at the start of the customer relationship.
For subscription businesses, churn is common. Subscription churn specifically examines the number of canceled subscriptions a business can expect during each new billing cycle.
However, not all churn is created equal. You need to evaluate your company's churn rate and compare it to the average churn rate for your industry.
For instance, online retail companies have an average of 22% churn rate: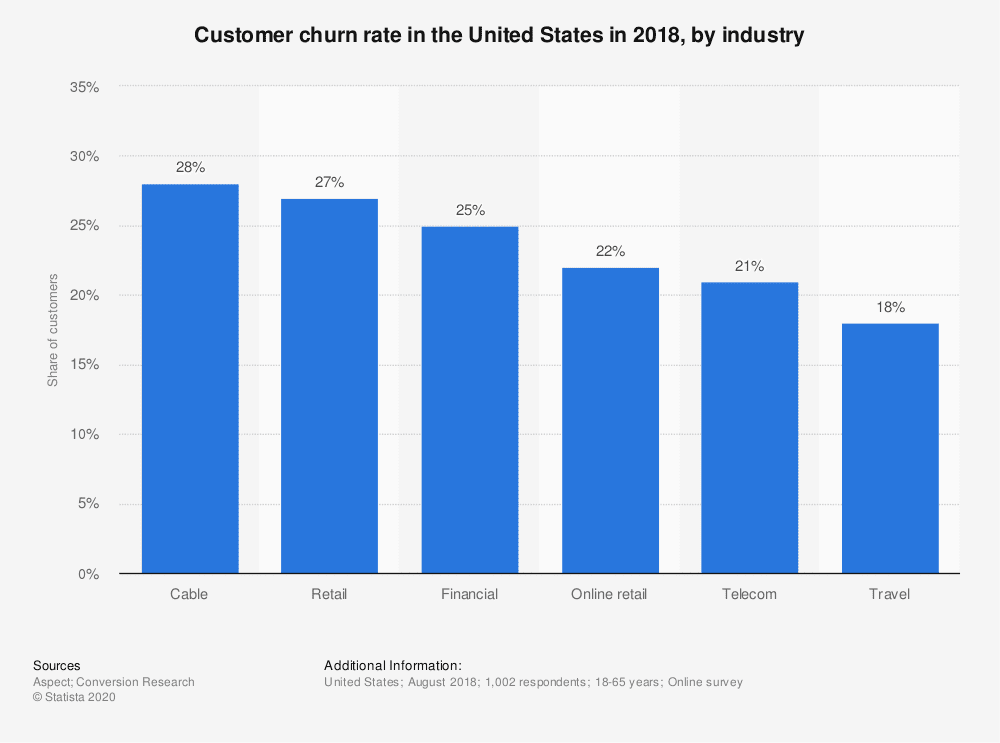 But what does that really tell you?
Businesses need to understand why customers are canceling their subscriptions in order to correct the issue and reduce churn.
By reducing churn, businesses will retain more customers, who will pay more and add to the company's overall subscription revenue. This will increase the overall lifetime value of each customer.
5 Strategies to Reduce Subscription Churn
Businesses can become more profitable if they reduce customer churn. However, doing so is easier said than done.
With these five strategies to reduce churn, you can locate and solve problems within your company before they start to agitate your customers.
#1: Identify Why it Occurs
You can't reduce churn if you don't understand why it is occurring.
Businesses need to analyze customer data and feedback to understand why their customers are canceling their subscriptions.
Sometimes, businesses can misdiagnose the problem and address other issues that their customers don't even know about. This might distract from underlying pain points that their customers are directly experiencing, causing them to cancel.
For example, customers may cancel simply because there is a feature that is missing. If the business doesn't know that their customers are interested in a certain function, they might miss it on their product roadmap.
This can lead to a frustrating experience for all involved. The business might be mad that the customer didn't voice their concerns before churning, while the customer might be mad that the company never reached out to ask.
There are so many different reasons why voluntary customer churn happens. Although they differ by industry, there are still some common reasons that happen in all businesses.
Some of the most common reasons why customers leave a company include:
Thinking the business doesn't care about their success
Dissatisfaction with product or service
Finding a better alternative
Free product/service from a friend
Over 68% of Americans would leave a company if they thought the company wasn't aligned with the business' goals.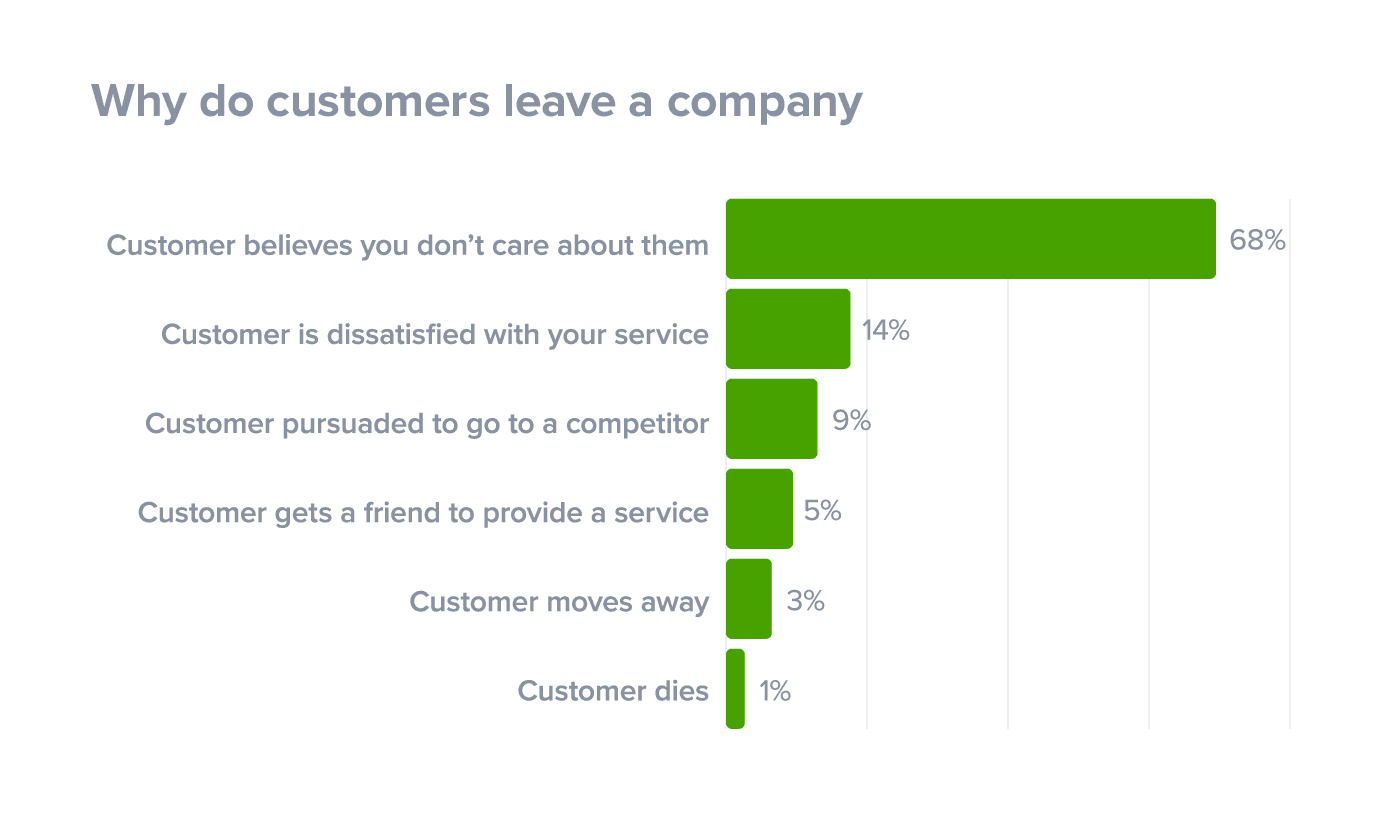 To counteract this, businesses need to take an active role engaging with clients and ensuring that they are reaching solutions that are useful for their business.
Consumers aren't always proactively vocal about why they're leaving a company. Only 20% of customers share their thoughts publicly about a company.
Businesses should use frequent customer surveys, phone calls, social listening tactics and win/loss calls with canceled customers to understand the main reasons customers leave.
With this data, they can make better decisions that will delight their customers and reduce churn overall.
#2: Improve Customer Service
Customers seek help from your team to resolve problems—but what if your customer service experience is problematic in itself?
You don't want to have your customer service be the main reason your customers are dissatisfied with your company. Poor customer service can leave an unsatisfactory taste in your customers' mouths.
Efficient, fast customer service is an essential part of any business built in today's market.
Customers that have issues with your product won't be able to get them resolved without effective customer service.
And most importantly, customers have come to expect quality service as a part of a business's offering. If you don't have good support, you'll lose customer loyalty.
Over 59% of consumers will stop supporting a company—even if they love the product—after poor customer service experiences.
There are so many ways that businesses can automate and deliver meaningful customer service.
Businesses can connect with customers through chatbots, phone and email. It is important for a business to have multiple ways for customers to receive support. It can lead to an increase in revenue, too.
Over 69% of U.S. consumers spend more with businesses with online and offline customer service solutions.
The combination of online and offline solutions are critical. It's nice to be able to speak to someone over the phone, but step-by-step resources on a website can also be useful.
Businesses often set up a helpdesk on their site and feature frequently asked questions.
For example, Monday.com has an entire page of their site dedicated to helping their customers. It includes links to their knowledge base, video tutorials, webinars, forums and more.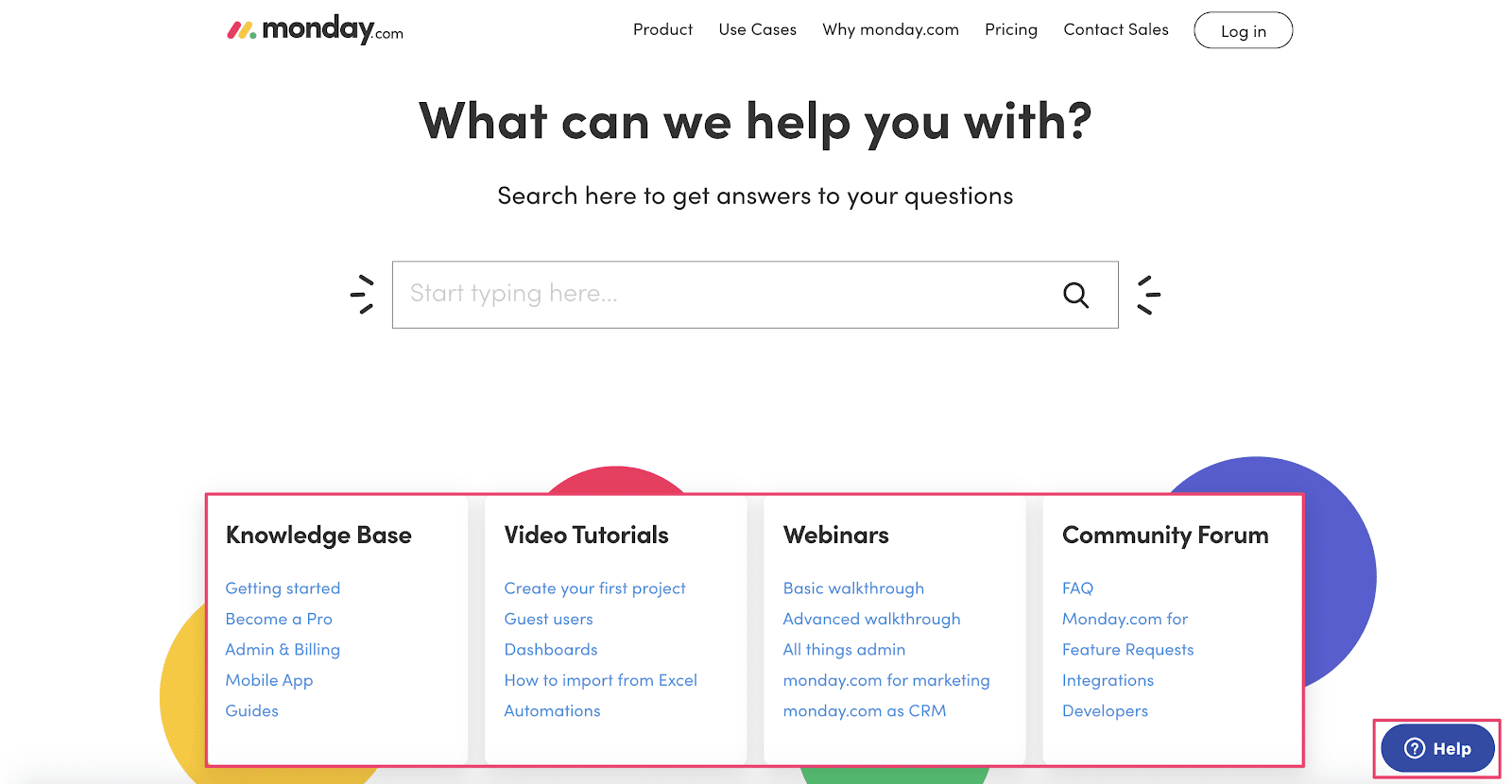 monday.com's "Help Center" is a great example of how companies can offer online support that customers can navigate on their own.
If they still needed assistance, their chatbot located in the corner via the "Help" button is available to connect them with a team member.
Improving your customer service doesn't have to be difficult. There are plenty of software solutions that can help.
Chatbots such as Drift and Intercom are helpful to triage customer support inquiries in real-time before they reach a team member.
In addition, customer service software like Zendesk and Freshdesk are helpful if you want to manage customer tickets across multiple agents or inboxes.
By bolstering your customer support offerings, you will increase the communication and knowledge flow between your company and your customers.
#3: Offer Incentives and Upgrades
Everyone likes an upgrade. Especially when it's a surprise.
When you surprise a customer with something useful, their view of your business can improve. Better yet, it can make them want to buy more from you.
Surprise gifts and discounts disrupt the normal interactions your customer has with your company in a positive way. If your customer is not having a great experience with your product, a surprise discount may incentivize them to continue trying to make it work.
Overall, incentives and upgrades are great tactics to use in order to retain a customer. Both aim to increase customer happiness and provide an extra source of value.
In fact, 80% of people are more likely to support a company that offers incentives compared to one that does not.
In addition to attracting new customers, businesses that offer incentives and upgrades can extend their customer lifetime value and reduce customer churn. However, the incentives must be administered in a way that is systematic in order for the approach to truly be effective.
The best way to achieve this is to create a loyalty program and reward your customers.
Customers respond positively to loyalty programs that incentivize them to continue using the service as well as surprise upgrades.
Over 75% of customers will make another purchase at a company after earning a reward in their loyalty program.
Staples offers a loyalty program to reward their business customers for shopping in-person and online. Rewards include up to 5% cash back, free delivery, printer cartridge discounts and more.
This is a great way to entice existing customers to continue to spend with Staples.
To manage your program, there are plenty of software options to select.
Yotpo is a loyalty and rewards platform that makes it easy for businesses to set up a loyalty program in just a few clicks.
In addition, it makes social sharing fun and incentivizes customers to refer their friends to purchase from the company as well. This can be a powerful looping marketing tactic that compounds as more people experience positive service interactions with the company.
Once your loyalty program is in place, you'll see its effect on your churn.
#4: Provide Customer Education
First, your customers make the purchase. Then, they use the product.
But what if they don't know what to do?
Let's face it. Complicated products can be confusing to customers when they first get on the platform. They might be solely focused on one feature and not even understand the breadth of what the product can do for their business.
Businesses need to educate their customers with proper onboarding meetings as well as educational materials. These materials can be in the form of guides, newsletters, blog posts and video tutorials.
Customers will respond well to additional help. With supplemental educational materials, they can learn and get acclimated to the product on their own time. In fact, 96% of people have watched an explainer video to learn more about a product or service.
Customers who don't understand how to properly use your product won't unlock its true value. That can add to your churn rate, so product education is essential.
If customers don't know what your product can do for their company, they will likely cancel and take their business elsewhere.
But how should you educate your customers?
Well, over 66% of customers prefer to watch a video compared to 18% who'd rather read an article. This video content can be sent to your prospects in a variety of ways.
Klaviyo, an email marketing platform, offers live training for their customers to learn more about best practices in email marketing as well as how to use their platform.
They record these sessions and leave them on their website for on-demand viewing.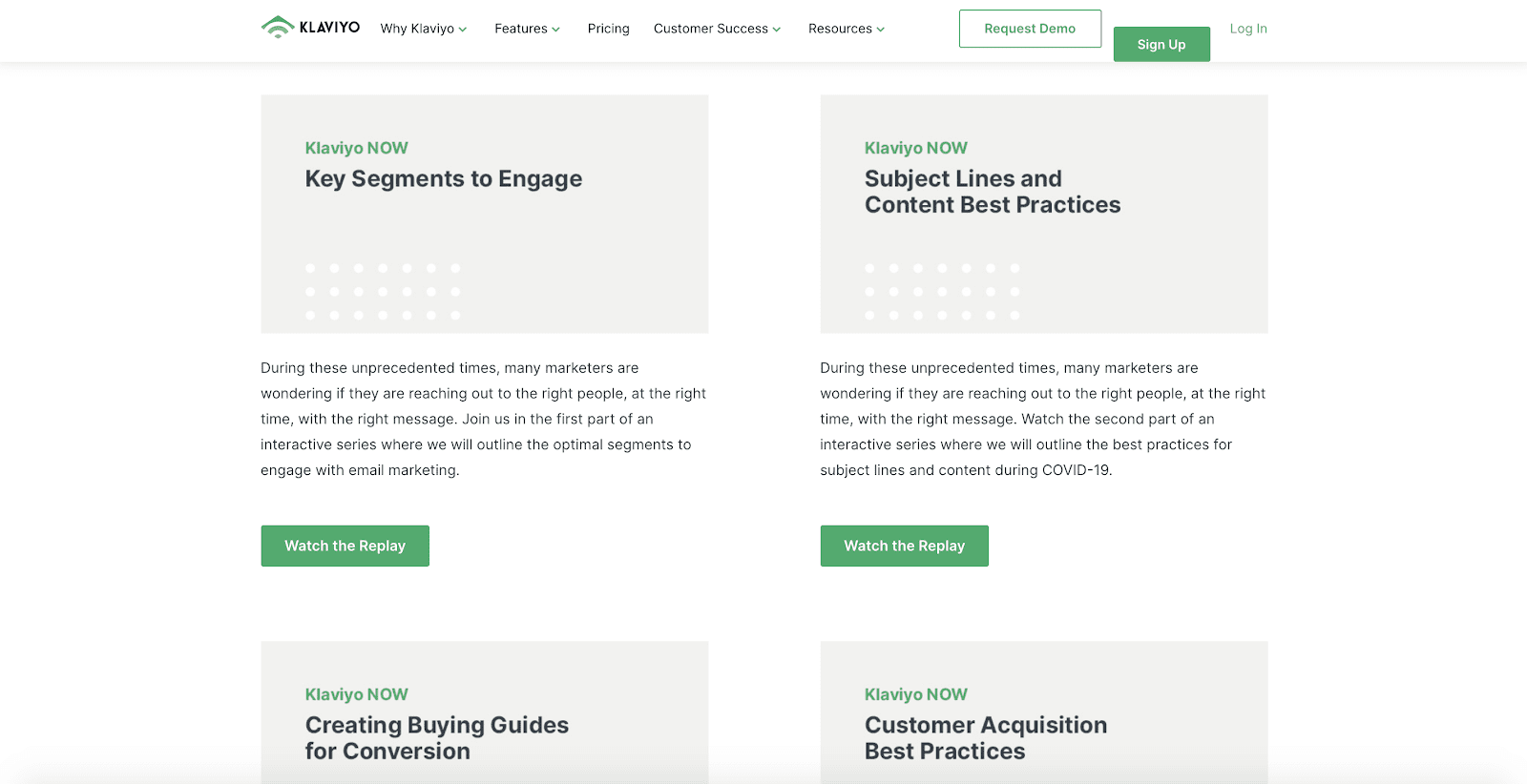 Live sessions can easily be repurposed into on-demand video assets. If you want to make a video with a narration while navigating your product, consider using Movavi.
The software is great for recording tutorials and easily publishing recordings on your website.
By educating your customers and providing them with resources, you'll be positioning them for future success with your company.
#5: Facilitate Customer Communication
Proactive outreach can help reduce churn. You need to make sure your company is frequently initiating helpful customer communication.
More than 95% of customers seek proactive communication from the companies they support.
When a customer buys your product, you need to have an onboarding process in place to connect them with the company and show them how to use it.
Without proper onboarding, your relationship with your customer can get off on the wrong foot. Customers might feel like they're navigating your product alone with very little help. In addition, they might not know how the product works or understand who they can contact for help.
A SaaS company needs to be careful when they acquire and onboard a new customer. Often, customer acquisition costs are high for B2B SaaS companies. If you close the sale and they quickly churn due to poor customer experience, you will have wasted the money you spent acquiring them in the first place.
That's why the onboarding process is so important. It reduces voluntary churn and improves customer retention. If you don't perfect your onboarding experience, it will cost you.
Customers with a positive view of the onboarding experience had a 6% higher net revenue retention compared to those with a negative view.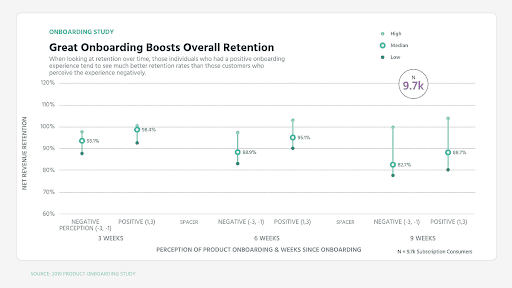 By investing in your onboarding experience, you'll generate more revenue. However, it's important to remember that "onboarding" can be completed in many different ways.
Onboarding doesn't have to be in-person or even over a video chat. Some customers may prefer a more personalized option, while others may want one that is fast and straightforward.
One popular way SaaS companies onboard customers on their own time is with nurture emails.
Nurture email programs send scripted emails to customers that are triggered after a specific event, date or time.
After the customer opens the email and watches the video, you can set up your program to automatically send another message.
Yesware offers onboarding through a series of nurture emails sent to the customer.
If the customer doesn't need them, Yesware reminds them in the initial email that they can go ahead and unsubscribe.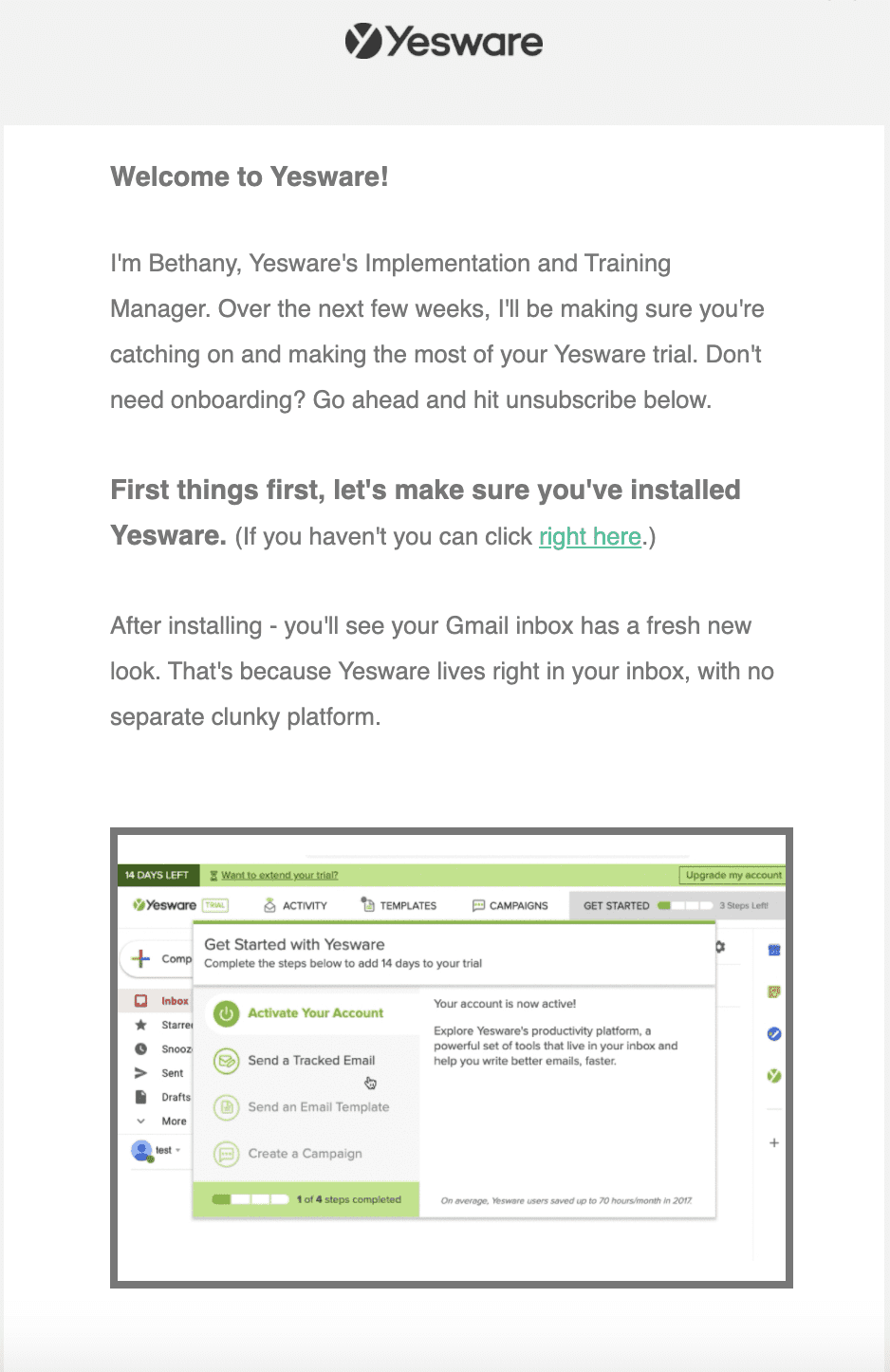 Customers won't always proactively voice their concerns about your business. You need to make it a focus to always reach out to existing customers and check in.
This can be accomplished through:
Weekly, routine calls
Check-in emails
Customer surveys
If you understand your customers' pain points, you can solve them before they churn.
You don't want to be focusing your efforts on solving a problem your customers don't care about.
Gather customer feedback and data to understand how you need to evolve your product, operations and marketing to more effectively deliver value.
Conclusion
There you have it: five ways to have high retention without (most) of all the churn headaches.
Make sure you diagnose the problem to truly understand why your customers are churning.
Try to improve your customer service to ensure issues get solved efficiently.
Offer incentives and upgrades to extend the lifetime value of your customers and encourage them to continue buying.
Improve customer knowledge with guides, videos and tutorials.
Enhance the lines of communication between the company and the customer.
By doing all these steps, you'll reduce churn and retain existing customers, making your business more profitable and successful for years to come!
Get the operational sophistication to achieve, sustain, and scale recurring revenue with Chargebee. Schedule a demo today to learn how!
Get the scoop on what's new