1) Build an Online Funnel and Measure it
NY State and California have passed consumer protection laws that make it required for companies who offer online purchase of subscriptions to offer an online cancellation option. In addition, customers, by a strong majority, prefer an online cancellation flow (according to a Chargebee Retention 2021 state of the industry report):

It may seem obvious, but the best place to start optimizing a customer experience is to build that experience. The design of that experience and the content/offers included will directly reflect in your cancellation metrics.
At a high level, you need to be measuring deflection, save rate, and saved revenue from your cancel flows to determine ROI.
2) Test Loss Aversion Content to Encourage Customers to Keep Subscriptions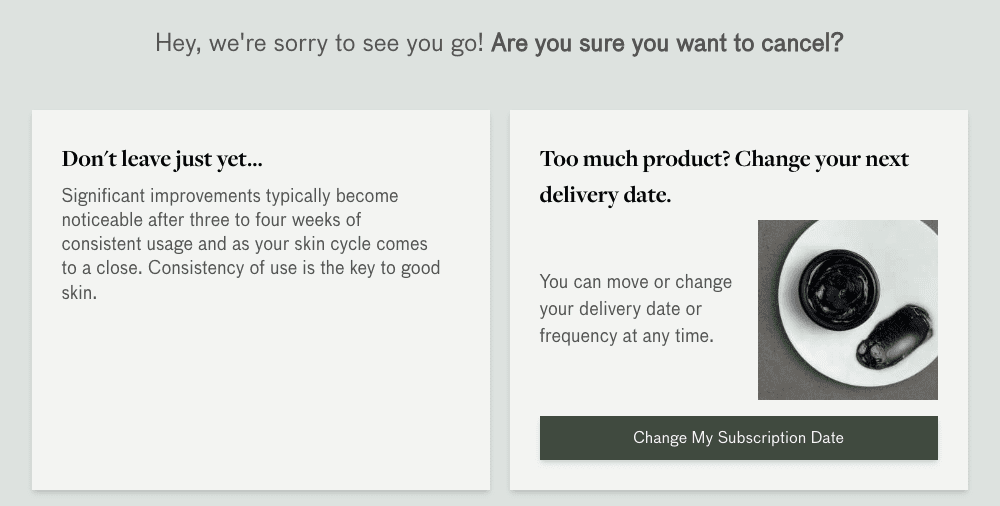 Customers can often be saved by content that educates, informs, or solves problems. The cancel page is a good place to include loss aversion content. A few examples of effective content to promote retention:
Celebrity or employee endorsements or messaging
Advice on product usage or tips/tricks
Functional links to pause, skip, or swap capabilities
3) Use Offers to Encourage Customers to Stay
Far and away the most effective way to reduce churn is to present an offer or discount on cancellation, giving the customer another reason to stay loyal to your company.
We've found that effective discounting can reduce churn by up to 30%. The offers do not have to be monetary in value – they can also consist of interactions with customer support, extra features/upgrades, free samples, or downgrades.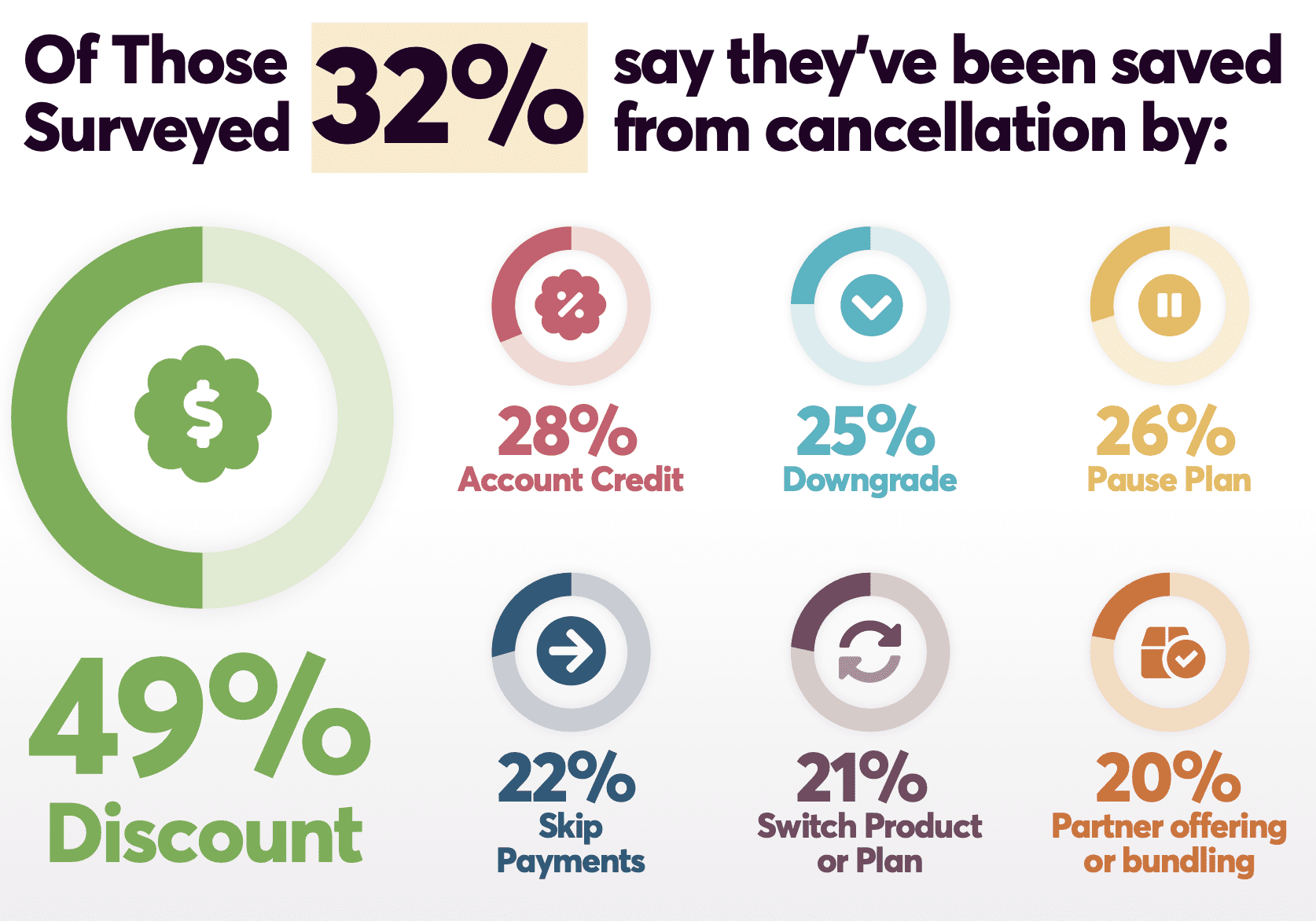 4) Try Out Different Categories of Offers
Offers come in many shapes and sizes – discounts, customer service contact, trial extension, free upgrades, downgrades, etc.
The best approach to optimizing a funnel is to test many different offers against each other and determine the "winning" combination of offers to save your customer.
Vital Proteins, for example, found that combining flexibility in the form of swaps/skips with a discount at the final step was the most effective solution to save customers, and they increased deflection rate by 50% in one year.
5) Test the Strength of your Offers
We've seen some pretty surprising results when testing offers. Often doubling a discount amount will result in only minimal reductions in churn. When you first begin testing offers, the best practice is to choose a few different discount amounts/levels and determine a "sweet spot" of revenue saved v/s offer spend.
6) Segment Your Customer Base and Target Offers based on Lifecycle and Demographics
Often subscription companies make the mistake of assuming that all of their subscription customers are at the same place in their lifecycle – somewhere between repeat and loyal customers. The reality is that a subscriber goes through much the same journey as a normal once-through customer, especially in subscription businesses with free trial options.
Before beginning cancellation offer testing for any business, it's important to evaluate the design of offers as a way to *nudge* customers further in their journey from Awareness to advocacy. The best offers are designed to do just that.
A few examples of compelling offers that effectively moved customers along in the journey:
Free Trial > Paying Customer: A company with a free trial, offered pre-revenue customers a time-bound discount to become paying customers.

One-month subscriber to loyal customer: A subscription services company offered customers in their first 3 months of subscription a lasting discount (3 months of discount) to turn them into loyal customers

Annual subscription up for renewal: TouchNote targeted customers who were at risk of cancellation with customer service touchpoints to reduce the risk of cancellation.
Think about your customer journey – where do you think there are natural breakpoints where well-designed offers would nudge the customer forward?
80% of Customers are more likely to purchase a subscription that lets them easily cancel online.

– Chargebee Retention 2021 State of Industry Survey
In addition, several states (NY and California) have passed laws protecting subscribers from these "grey hat" conversion practices. Both states now require subscription businesses to allow for easy cancellation. The recently passed California law goes a step further, requiring one or two-click cancellation within your subscriber account portal.
Ultimately the sustainable way to rescue customers is by improving your product, customer experience, and cancel experience. Do not hide the cancel button!