Understanding The Accounts Receivable Process

~ 9 min read | September 29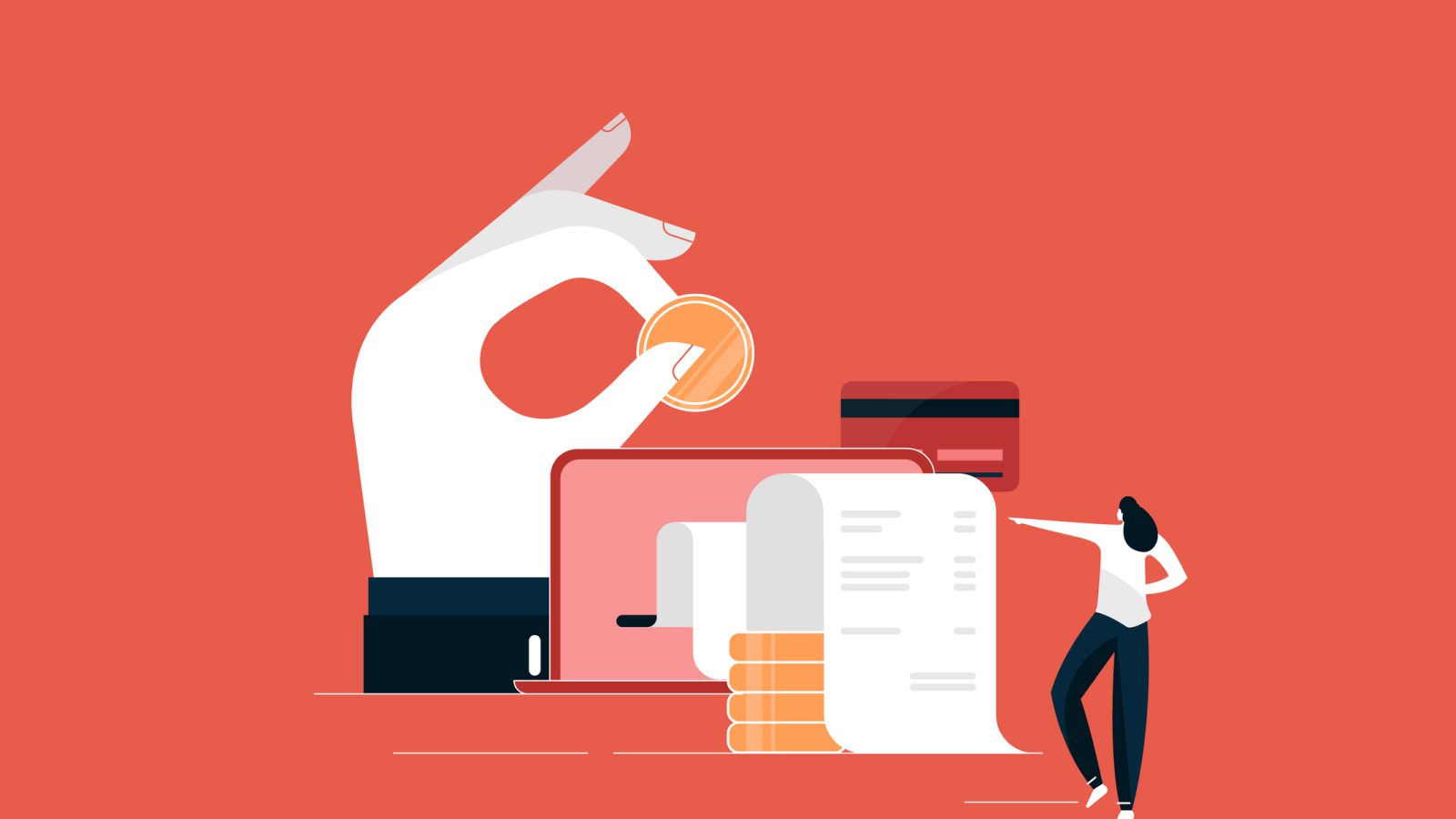 Every business – no matter what industry, from independently run small businesses to global conglomerates – knows that a profitable business cannot be successful without properly managing its finances. The constant flow of money in and out of a company is the engine that keeps the business running, but only when managed properly. And a huge part of ensuring that things are being run the right way is the accounts receivable process. 
What are Accounts Receivable?
Accounts receivable is defined by funds owed to a company by their customers for services or products they've purchased from you. Efficient accounts receivable management brings cash into the business before an invoice is due or it becomes a bad debt, ensuring healthy cash flow.
Let's take a look at how this business process functions in an electric company. Everyday people use electricity, and at the same time every month, they receive an invoice stating the amount owed to the electricity company for providing electricity for the previous month. In short, the electric company provided the electricity on credit for their customers and only collected payment after people had already used the service they provided. What's owed by the customers is the accounts receivable.
Understanding the Accounts Receivable Process
Account Receivables Process Flowchart
The general concept of the accounts receivable process is relatively simple to understand from a general perspective. However, the actual steps that go into what the process looks like vary depending on the business. This is where the accounts receivables flowchart becomes incredibly handy. 
Every business should develop a flowchart that documents how the process is run. This ensures that there are clear directions for team members to follow. Here's what a typical invoice status life cycle looks like: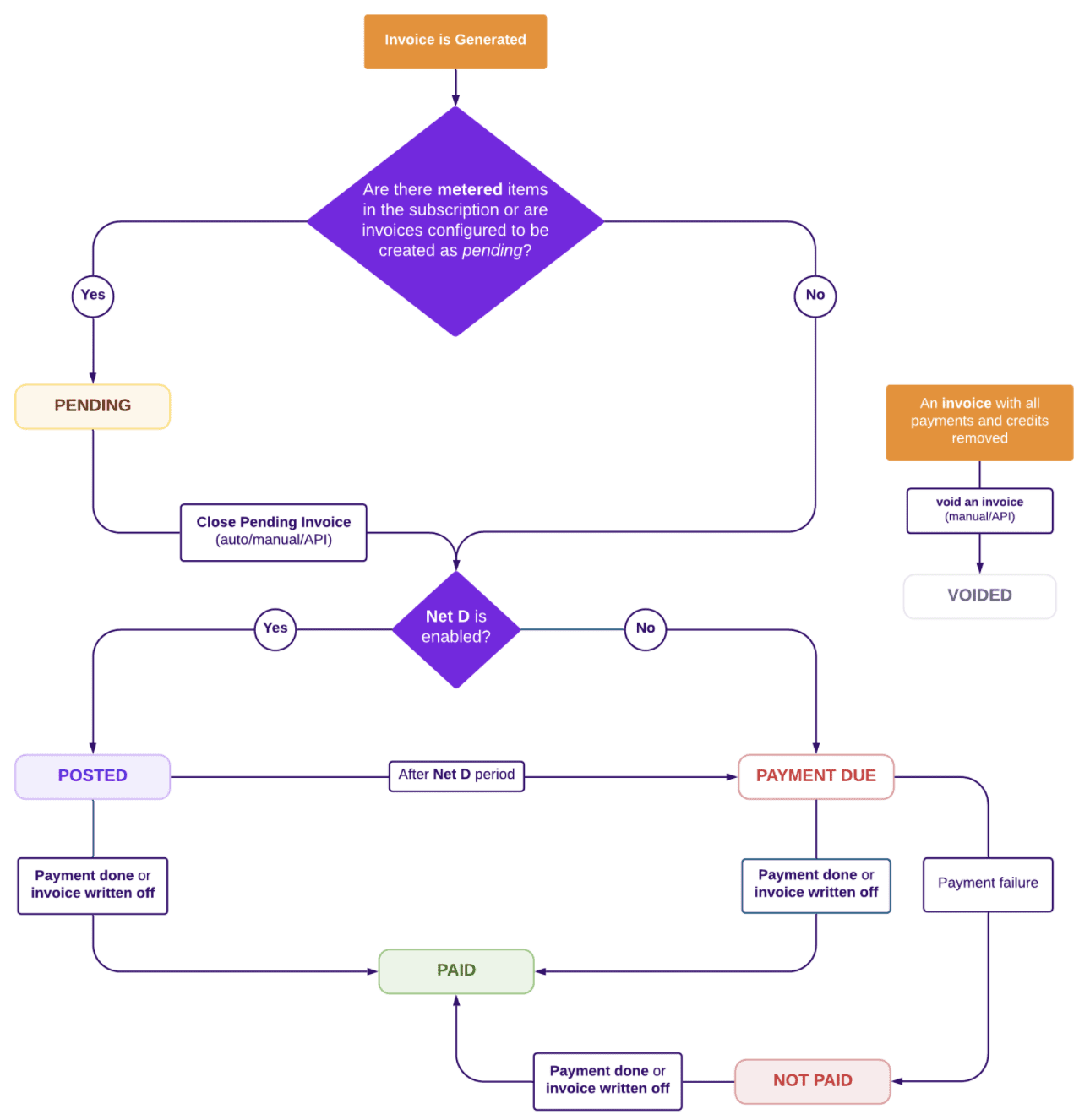 Invoicing
Accounts receivable doesn't happen without invoicing. The invoice is a necessary document stating what the customer owes for the product or service they received from a company. 
The invoice should clearly detail what the customer is paying for, the exact time period that covers when the product or service was provided to the customer, and a due date stating when the customer needs to pay their balance. Lastly, every invoice needs to have a unique invoice number to ensure proper internal categorization and tracking should there be any issues with a particular invoice in the future. 
While many companies have processes that automatically send electronic invoices, there are still some that provide customers with the option to receive hard copy invoices via mail. Although this remains a viable option, it's important to ensure that your customers always receive their invoices on time. 
The rule here is that the longer it takes a company to send out invoices the longer it'll take for them to be paid, which could create a domino effect of delays for your overall finance and accounting processes. So make sure your business is getting those invoices out on time. Additionally, steps like incentivizing annual subscriptions (as opposed to monthly) also aid in maintaining a healthy cash flow.
Reporting
The most common type of report for reviewing accounts receivables is an Accounts Receivable Aging Report. 
An accounts receivable aging report contains a list of your customers' unpaid invoices since the time the sales invoice was issued, along with their duration. In other words, accounts receivable reports list the amount due from your customers.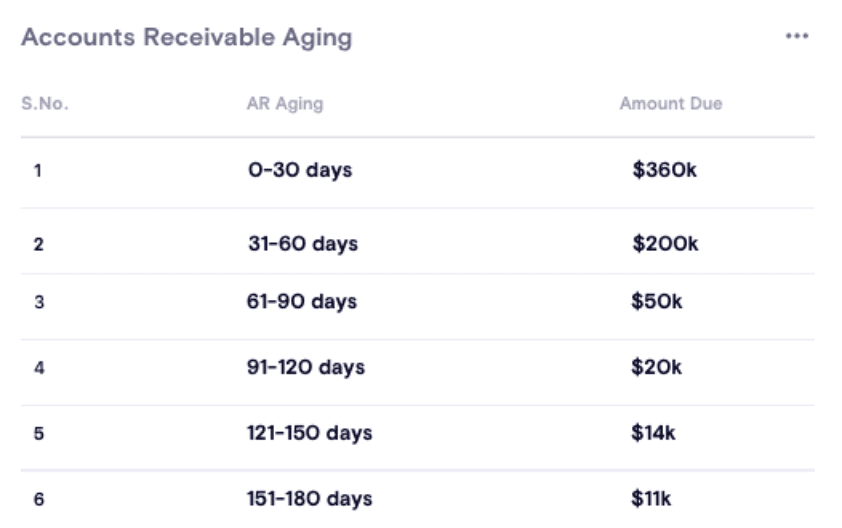 This report is meant to make it easy to sort unpaid invoices by their past due dates, and clearly estimate the overall debt that is owed to the business. It also includes the contact information of the customers to pinpoint if there are multiple outstanding invoices that have been issued at different times.
For example, John Doe of XYZ company's A/R aging in his balance sheet looks like:
30 days overdue: $100

60 days overdue: $200

60+ days overdue: $700
An accounts receivable aging report is necessary for identifying concerns before they become a cash-flow crunch to your business. For instance, If a particular customer is paying late more often, you can evaluate your conditions and bring about necessary changes.
It will also help you withhold product and/or service offerings until the customer pays the amount on the specific due date. This will ensure you don't lose money by providing your service/product without payment.
Also – remember the emphasis on making sure your business is sending out invoices on time? This report will help you analyze how your customers' businesses work, and aligning your invoice timeline with theirs will ensure you're paid on time.
The Difference Between Traditional and Modern AR Processes
Before the ease of digital automation, managing accounts receivables was a completely manual process. If lucky, businesses may have had some type of accounting system to help generate an invoice, but most likely, there would still have to be manual touches. 
The traditional process usually involves:
Invoice generation through MS Word or

Excel

spreadsheets

Printing these invoices, and posting them, or emailing them manually

Manual payment verification and follow-up through phone calls or email

Manual

journal entry

and reconciliation of

financial statements
The obvious challenges:
Time-consuming

Potential for human error

Opportunities to make mistakes

Inefficient AR workflow
Thankfully there are better options that help fully automate the accounts receivable process and remove the above-mentioned challenges. Today business owners have the option to evaluate sophisticated accounting software, like numberz, that automatically generates and delivers invoices to customers. 
Furthermore, accounting software also removes the possibility of human error with generating invoices and keeping track of which customers have paid and which still owe. Everything can be instantly updated and data is easily gathered in reports so that accountants can spend more time identifying patterns and building better strategies.
Relevant Read: 6 Best Practices For Accounts Receivable Automation you should be following!
The Most Common Accounts Receivable Pain Points
Overdue Invoices
If a customer is behind on payments this puts a dent in a company's revenue performance. Businesses should make sure there's a clear plan to follow up with customers on a regular basis to obtain payment. There should also be clear policies that detail late payment consequences for customers like late fees, or their past due balance being sent to a collection agency. The overall goal is to always proactively and frequently communicate with your customers regarding their payments.  
Poor Cash Management
Overdue invoices mean sluggish collections, leading to a significant negative impact on your cash flow. Understanding receivables across different regions, entities, and bank accounts become painful with an inefficient accounts receivable process. Hence, taking proactive measures to recover unpaid amounts like automated reminders via notifications/emails, dunning management, and quick dispute resolution tactics help optimize cash management.
Inaccurate reporting 
If your accounting software is off in any way this will create errors with the company's financials. For example, if your reporting is noting that invoices have been paid, but they're actually outstanding, imagine the domino effect that will have. This is exactly why the aforementioned flowchart is helpful. Establish a process that ensures things are being checked on a weekly and monthly basis. This way you'll be able to catch errors sooner rather than later. 
Outdated and manual processes
If there's anyone still out there stapling the pages of invoices together and stuffing them in envelopes like I did, it's time to retire these outdated processes. Doing things the traditional way is a waste of time and there are too many opportunities for human error. Common AR challenges like handling overdue invoices, ensuring consistent cash flow and proper reporting can be easily dealt with with the help of automation. If you haven't considered automation yet, now's the time.
As your business grows, all these inefficiencies start adding up to missed revenue opportunities. Automating accounts receivable can help streamline the collection workflows and ensure a healthy cash inflow all while minimizing time-taken and effort. This allows your finance teams much-needed respite and mind space to reinvest in more meaningful tasks.
Benefits of AR automation
Quicker collections through streamlined invoice creation

A more standardized process for consistency in cash flow

Saving time, effort, and costs otherwise spent on

manual

collection process

Accurate data analysis
For more information, read our blog: The Benefits of Accounts Receivable Automation
Automating AR with Chargebee
A dependable accounts receivable automation system should solve all your basic AR issues and should include features like:
Take a step further with a comprehensive subscription management and billing system that can do all the above and more. Chargebee can abstract all billing complexities by automating recurring billing, payments, revenue recognition, accounting, metrics, and more, so you can focus on what truly matters.
Read more about how Chargebee can power your finance teams here.
For instance, Animalz, a New York based content marketing company, was dealing with accounting tools that didn't seamlessly integrate data, which resulted in inaccurate reporting. Their finance team would then attempt to manually correct these mistakes, but between the software and human errors nothing was actually being fixed.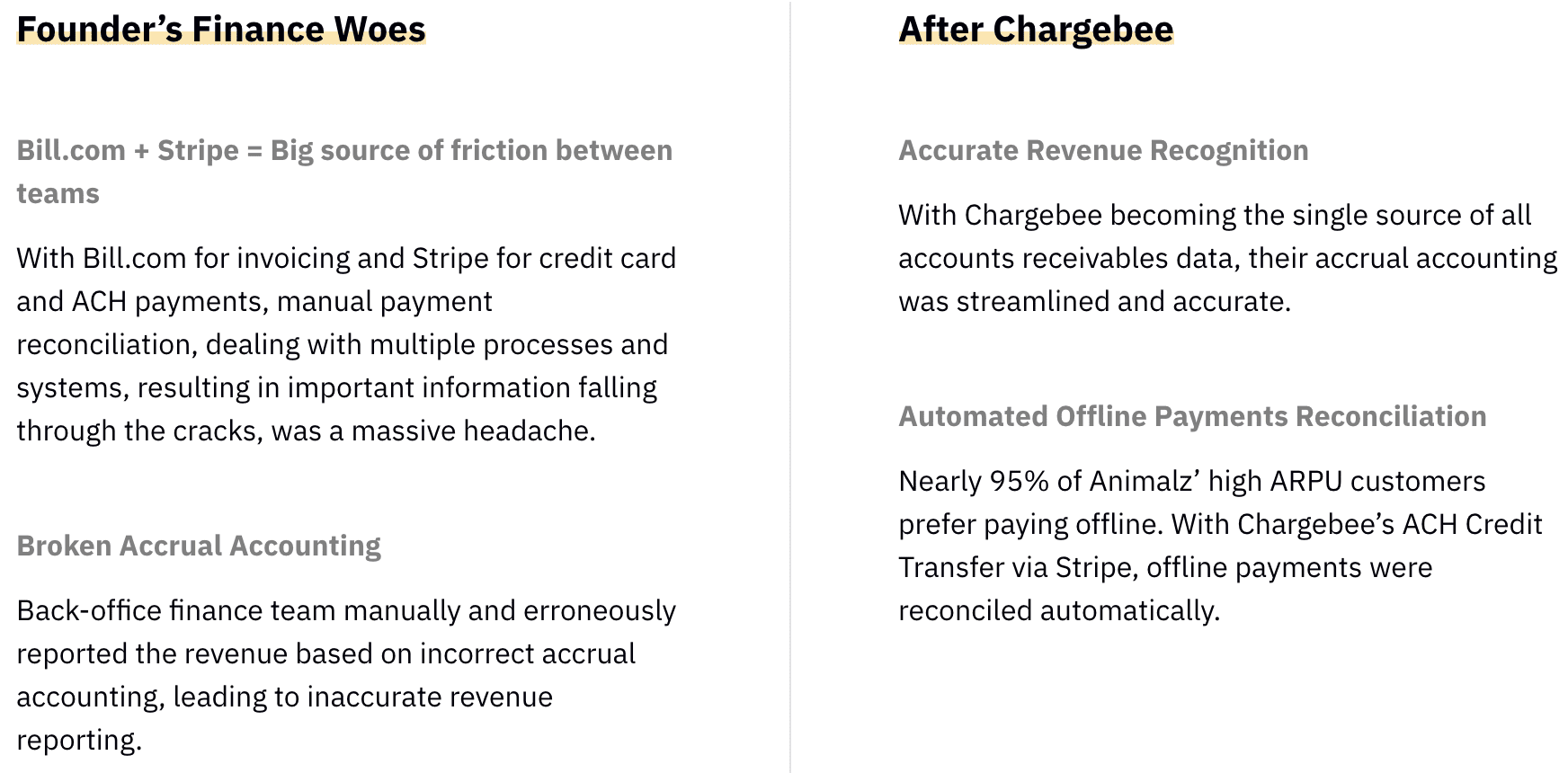 Realizing that they were dealing with a true financial nightmare, they approached Chargebee. With Chargebee becoming the single source of all accounts receivables data, their accrual accounting was finally accurate. Furthermore, Animalz streamlined their account receivables at a cost of less than 1% of their annual recurring revenue.
In Closing
Keeping track of your receivables is a complicated process. It's a balancing act to collect payments on time with minimal effort while reducing collection expenses and maintaining a good customer experience. That's why automation can make your job a lot easier – from different payment plans to payment options, automation has got you covered.
If you want to rid yourself of the headaches of manual AR processes, get started with Chargebee today to start building a stronger and more efficient accounting process. 
Get the scoop on what's new