Eight Must-have Features for a Subscription Billing Software
~ 9 min read | October 14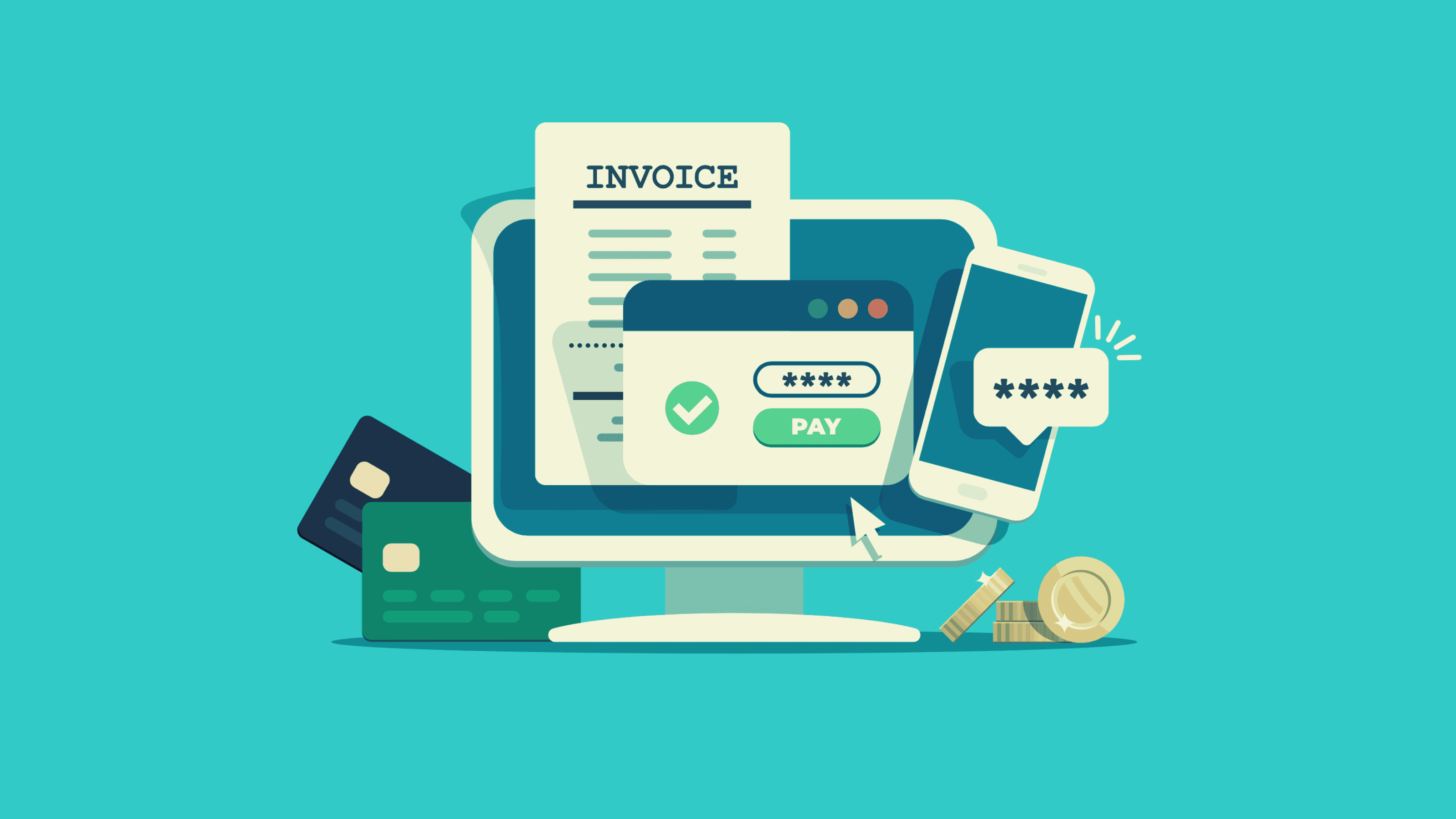 Subscription businesses have seen rapid growth in the last decade. From meal kits to airlines, the shift to subscriptions has been prominent across industries.
One of the reasons behind this popularity is recurring revenue. Subscription businesses regularly bill customers every month or year, which lends some predictability to their revenue streams.
But as these businesses scale, subscription billing gets more complex. Think about all the prorations, upgrades, downgrades, and pausing or reactivating subscriptions. Home-grown and legacy system billing systems with limited functionality aren't built for that complexity.
An automated subscription billing system built with the various subscription pricing models in mind can streamline your complex billing workflows without breaking a sweat. Take Doctify, for example. Implementing a subscription billing software instead of relying on manual processes made a world of difference for Doctify's revenue operations.
If you are looking for subscription billing software, you must have many questions; the most important being: What are essential features of a subscription billing software that will help my business maximize its revenue potential?
In this article, I have enlisted eight essential features of subscription billing software.
1. Automated Recurring Billing
Maintaining a seamless billing workflow is essential to manage your cash flow effectively. Automated recurring billing can save you thousands of hours in manual labor and, more importantly, plug potential revenue leaks in your subscription workflows.
An automated billing logic in your billing software should be able to handle:
Prorations
What happens when a customer makes changes to their subscription in the middle of their billing cycle? Prorations adjust the bill amount to reflect any plan changes and bill the customers only for the billable period at the end of the cycle.
Discounts and Coupons
If you want to make discount coupons available with your subscriptions, automated recurring billing will help you add them to relevant subscriptions with ease without breaking any existing workflows. This discount reflects automatically on the invoice as well.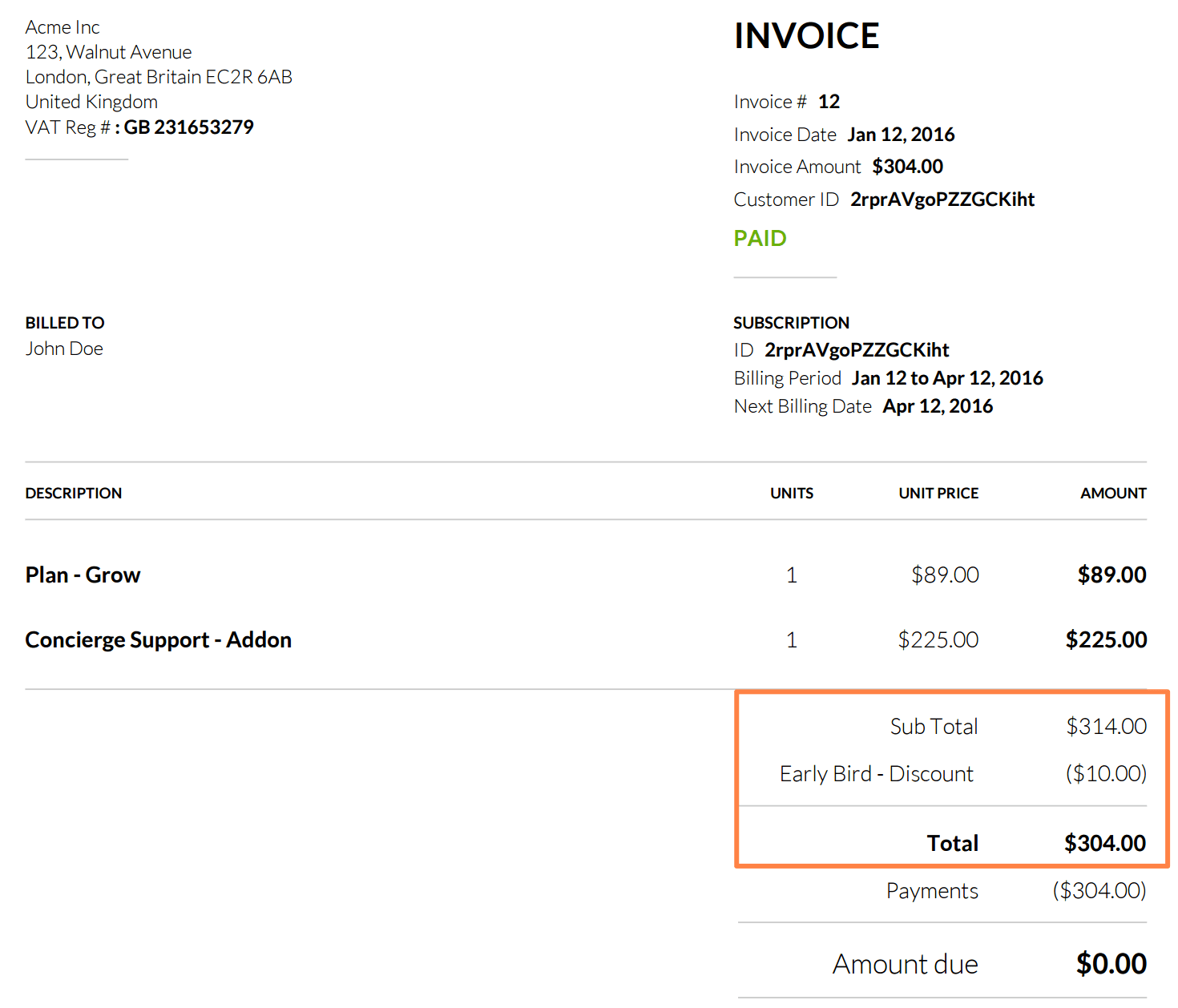 Calendar Billing
Subscriptions provide the users with a lot of flexibility, such as selecting a billing date that suits their financial cycles. In this scenario, calendar billing allows the customer to change their billing date and aligns all the new/upcoming subscriptions to the new billing date. Imagine doing this without automation. It sounds like an absolute nightmare, right?
Grandfathering
Pricing changes are inevitable as your business grows. A grandfathering clause allows you to keep your older customers at the old price (which they signed up for) and apply new prices to the newer customers. Grandfathering helps you in running pricing experiments with higher retention rates and customer satisfaction.
2. Automated Invoicing
Billing and invoicing go hand in hand. Your billing software should automate your recurring invoices and automatically sync invoice information from your accounting systems, such as Quickbooks or Xero. Here are some things your subscription billing software should make your recurring invoicing easy with:
Customize Invoices
Invoices are one of the key touchpoints in the billing process, and hence, it is an opportunity to enhance brand recall in the minds of your customers. Automated billing and invoicing enables invoice customizations with your brand's identity and also help add or remove fields in the customizable invoice template as per your need.
Consolidate Invoicing
Customers may make more than one purchase in a particular period. Traditional invoicing software often creates multiple invoices for all the purchases, which can be tedious for the customer and your business. A consolidated invoicing solution combines all the purchases in a single invoice.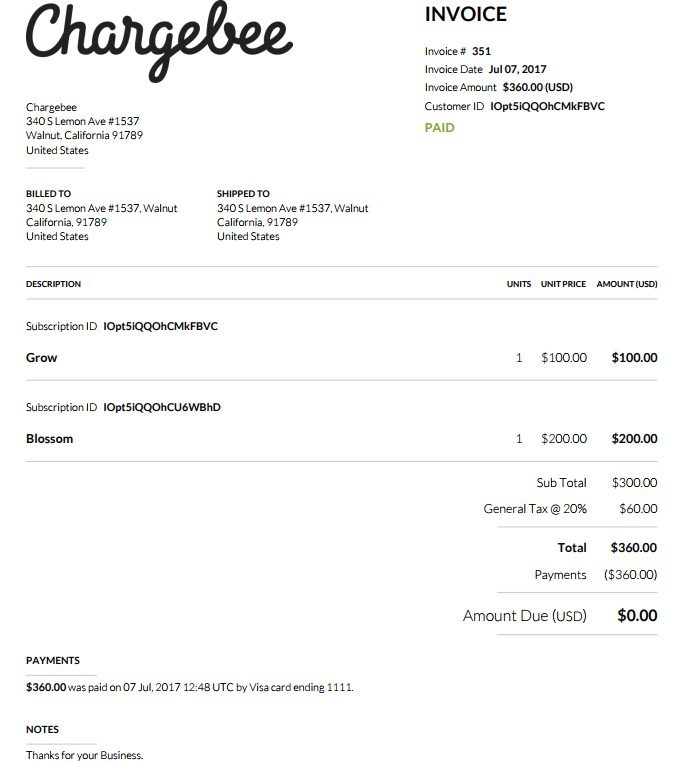 Advance Invoicing
Some businesses allow advance payments for better terms. Some customers also request that they're billed in advance so that they can plan their finances appropriately. For use cases like these, advance invoicing comes in handy.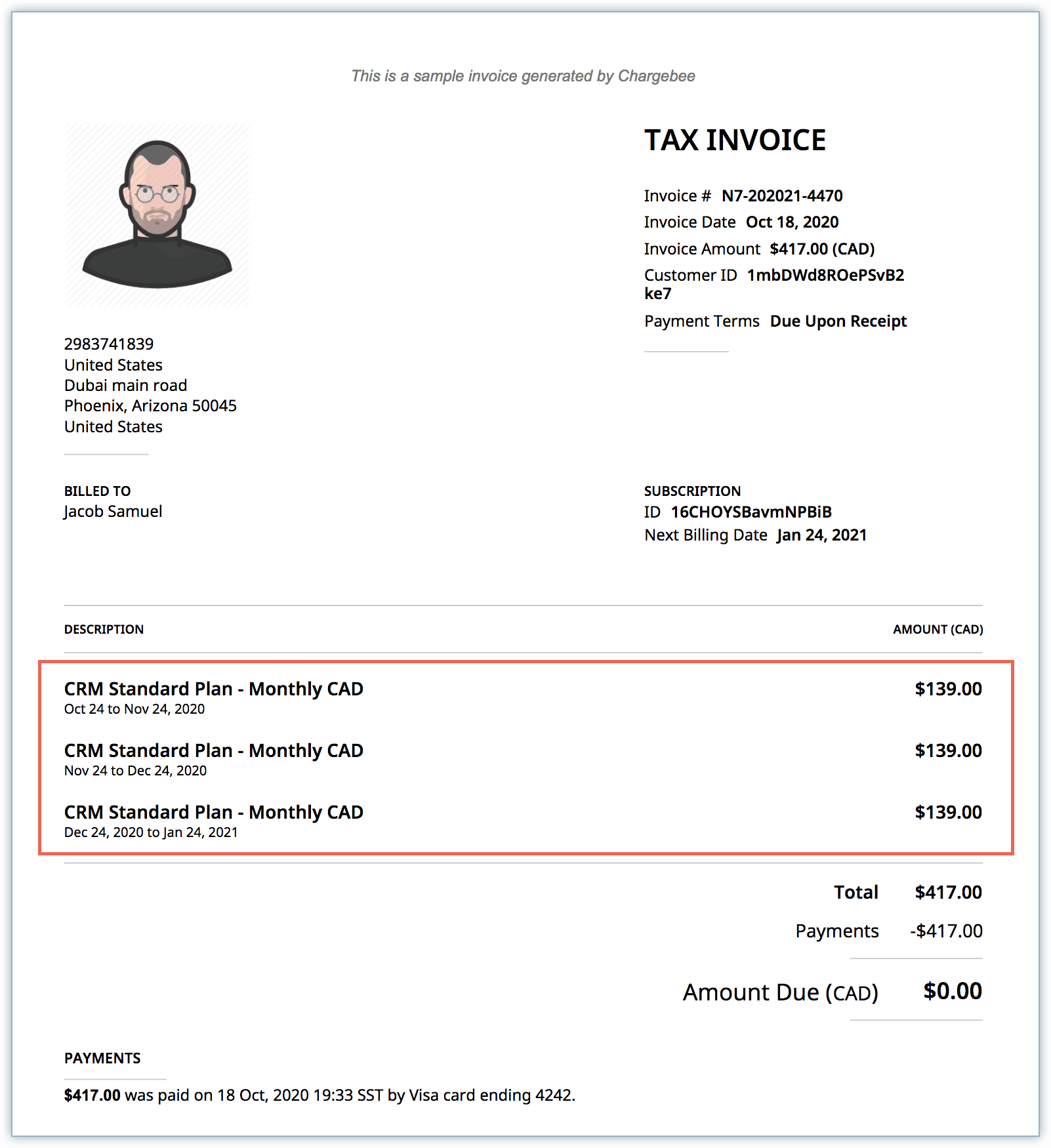 Check out this blog for a detailed account of how you can make your recurring invoicing more efficient.
3. Product Catalog
If your business has multiple products/product lines, managing the packaging and billing for all of them can get messy. Each one will have its pricing plan, add-ons, recurring/non-recurring charges, billing frequencies, and currencies, adding another level of complexity. A product catalog helps you manage all the product lines and plans under one roof.
With a scalable product catalog, you'd be saving the time and effort that goes into managing a complicated catalog. It will help you launch new pricing plans and experiment at the flip of a switch, effectively, take your offering to market faster.
4. Seamless Checkout
A seamless user experience on checkout is critical. Any friction here, and you lose a customer to the dreaded wasteland of cart abandonment. Your billing software should enable delivering a smooth and frictionless checkout experience, with support to multiple payment gateways, payment methods, and currencies.
Experiment with Acquisition Channels
Subscription service providers often need to combine non-recurring charges along with subscription charges. For ecommerce businesses, this could include one-time purchases. For SaaS businesses, this could be add-ons, non-recurring charges, or ad-hoc charges. Your subscription billing software should enable you to handle all of these use cases at checkout.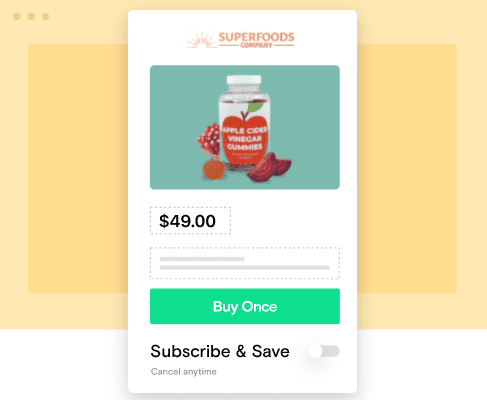 To maximize your conversions, you can also enable guest checkout and free trials with or without credit cards. Cart abandonment is a problem all businesses struggle with. Here are some more resources that will help you combat cart abandonment and maximize conversions:
Stay Compliant and Secure
It is also essential to assure customers by staying compliant and secure to improve checkout conversions further. Checkouts deal with a lot of sensitive information, such as credit card information and bank details. Your business has to comply with the PCI DSS standards to be able to encrypt these details securely. Billing software compliant with security standards will help you avoid the multiple compliance hoops you'd have to cross otherwise.
Take Codacy, for example. Rather than worrying about PCI Compliant pages, Codacy uses Chargebee's hosted checkout pages that seamlessly take care of compliance and security to deliver a superior checkout experience. You can read more about Chargebee's compliance promise here.
5. Efficient Collection
This is what every business is ultimately working towards in the end. Your billing software should streamline their collections with multiple payment options that the user can choose from and reduce the time spent manually chasing late payments.
Flexible Payment Options
Spoil your customers by offering multiple payment options, such as online payments, card payments, bank-based payments, offline payments, direct debit, and digital wallets such as Apple Pay or Amazon Pay. Your billing software must support payment gateways such as Stripe or Paypal to enable international transactions if your business has a global presence.
Plug Revenue Leaks
A large chunk of your churn comes from failed payments and delinquencies. So to plug these revenue leaks and manage your accounts receivable efficiently, your subscription billing software solution should have a robust dunning mechanism by automating the right times to retry failed payments and payment reminder emails to alert customers about payables.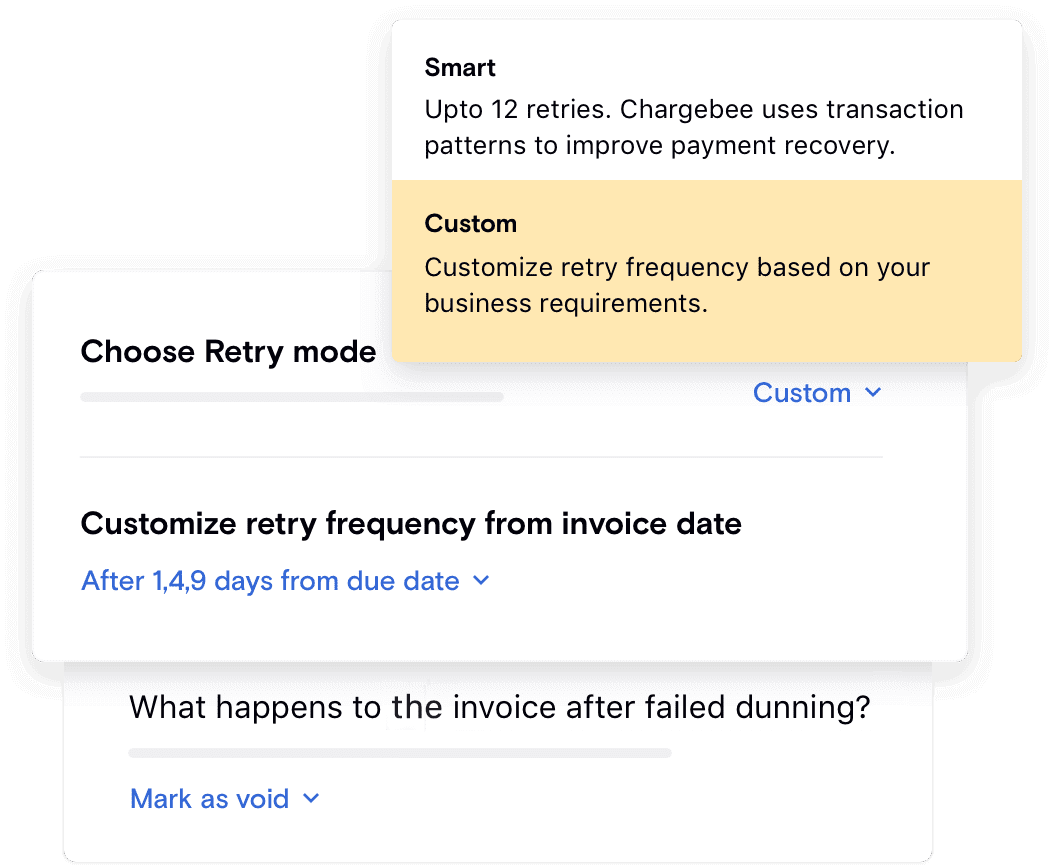 6. Effortless Accounting
For small business owners, accounting and bookkeeping are monthly exercises that include a million spreadsheets and thousands of manual hours. This inevitably leads to errors and discrepancies. As the business grows, there's a need for ERP accounting software. Moreover, SaaS and subscription accounting has added layers of complexity. If your business operates globally, you have to be prepared to tackle tax rules and compliance.
Your subscription billing solution should integrate and automatically sync with accounting software to map plans, add-ons, discounts, payments, refunds, bad debts, and even ad-hoc charges right into your accounting solution.
Additionally, it is crucial to automate ASC606/IFRS15-compliant revenue recognition for your subscription business and unburden your finance teams from the manual hours and efforts spent in reconciliation and revenue recognition.
To know more, check out our ultimate guide for SaaS revenue recognition.
7. A Single Source of Truth
Apart from billing and invoicing functionality, your billing software also needs to interact seamlessly with multiple other solutions, such as Customer Relationship Management (CRM) software and ERP Accounting & Finance software.
Your customer's data is present in your CRM, invoices raised & payments received are in accounting systems, and order fulfillment data is in your ecommerce platform. Your billing system should integrate with all the existing tech stack to automatically sync up this information accurately and become the one source of truth for all your subscription data.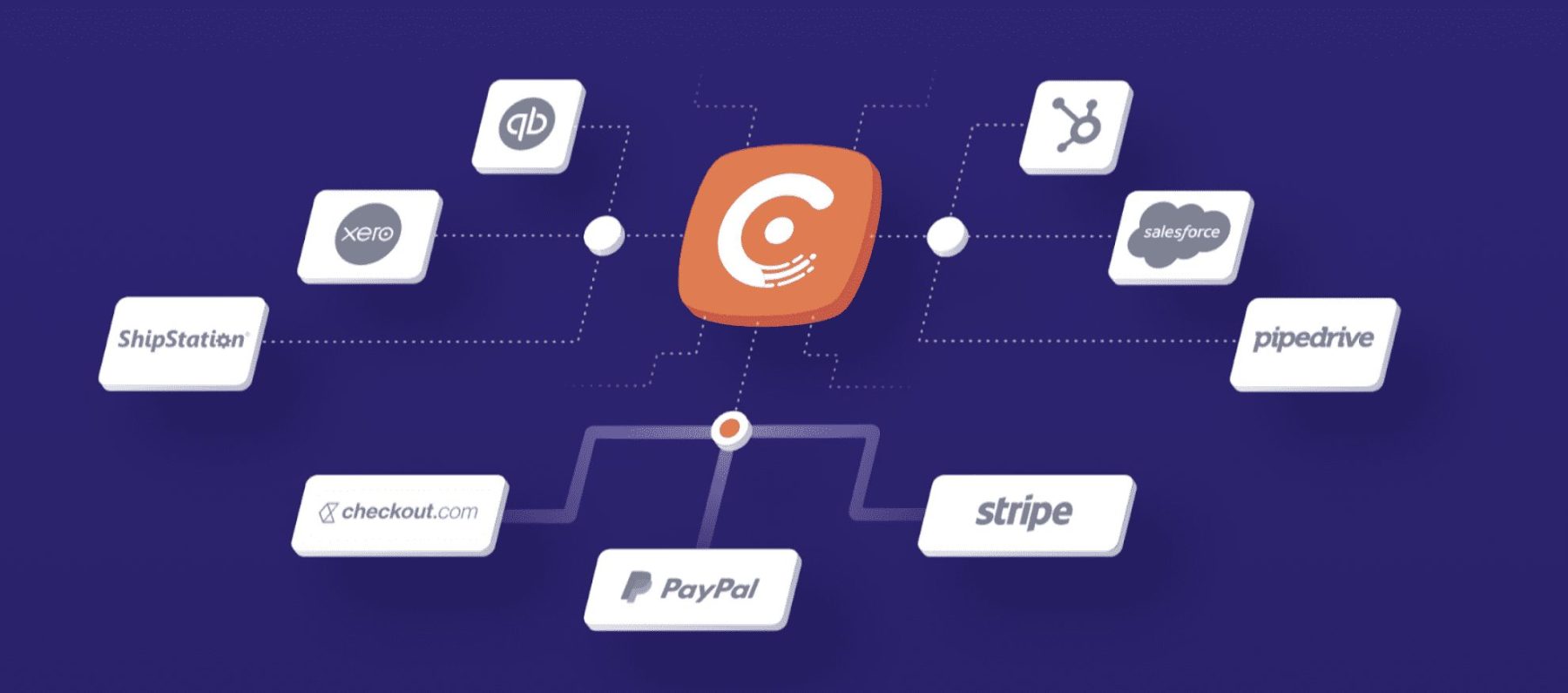 Head here to know more about Chargebee's integrations.
8. Subscription Analytics
Every subscription business monitors some key metrics such as monthly recurring revenue (MRR), Churn rate, and Customer Acquisition Cost (CAC), to name a few. Your subscriptions data offers a gold mine of insights that you can use to course-correct and align your business to grow. Subscription analytics uncover those insights in a single dashboard with a 360° view of your revenue.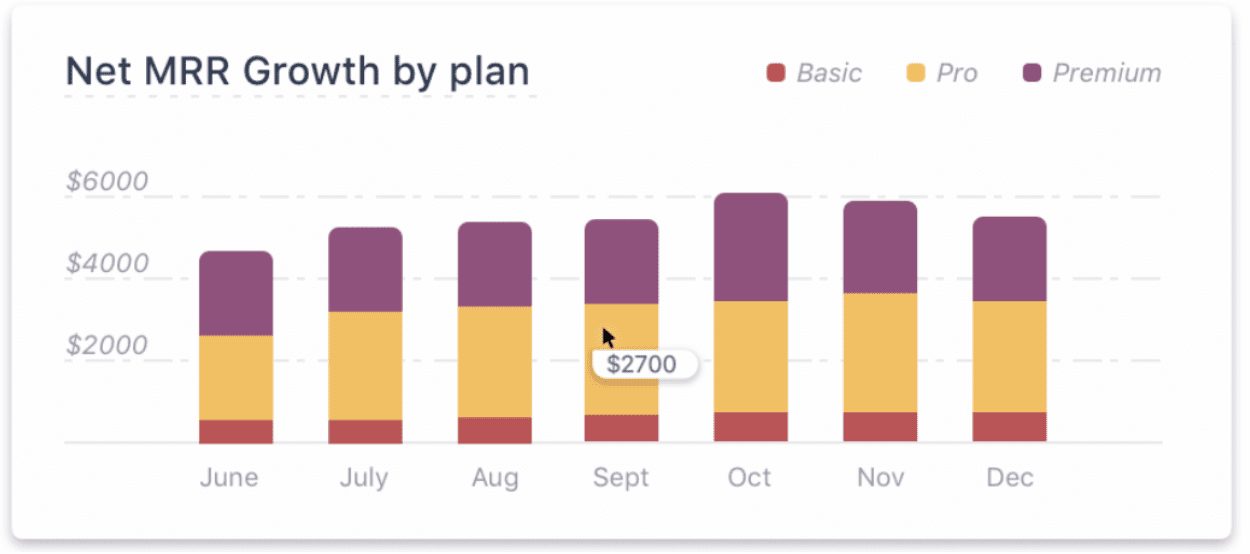 You should be able to leverage this wealth of data with the aid of your subscription billing software. This enables you to analyze your revenue from multiple perspectives such as product, sales, marketing, finance, and retention. Head here to know more about how subscription analytics can power your growth.
Closing Notes
Billing software is a large umbrella for subscription businesses with multiple functionalities like subscription management, billing, invoicing and accounting, payment processing, etc. All of these together are crucial to keep the business running like a well-oiled machine and unlock growth.
That's why choosing the billing software for your business is a significant stepping stone on your growth journey. Here's a comprehensive guide that will help you get on the right billing launchpad.
If you're curious to see if Chargebee is the right billing software for you, don't hesitate to schedule a demo or try it for free.
Get the scoop on what's new