On weekdays, I spend my extra time taking a product marketing course on LinkedIn Learning. On weekends, I take watercolor classes on Skillshare. Oh, and not to forget, there's the Spanish language course on Udemy. All from the comfort of my home.
I'm sure it's not only me. E-learning has come a long way from being an up-and-coming industry to a preferred learning mode in the last decade. The pandemic only accelerated the adoption of online learning.
The global e-learning market surpassed $250 billion in 2020 alone. It is poised to grow at a CAGR of over 21% between 2021-2027.
There's an enormous growth opportunity for e-learning businesses all over the world. This article will explore the current state of the e-learning landscape and the challenges today's e-learning businesses face. We will see four growth strategies for e-learning businesses and how a billing software with integrated payments makes it a breeze.
Let's begin!
What's Changed in the E-learning Landscape? 
In the post-pandemic world, every learner is now online. And this isn't just school and college students looking for higher education. It also includes all learners from fitness enthusiasts, hobbyists (like me), and working professionals looking for training courses, webinars, or even DIY videos in the learning solution.
There's a significant increase in the adoption of learning management systems (LMS) which have helped improve the student experience and streamline the management of courses for educators. SaaS learning management platforms are known for their ease of use, accessibility, and customization. Today, over 87% of users are using web-based LMS.
Another significant change is the increased adoption of subscription-based learning. In 2020 alone, Coursera saw a bump in its number of users by 66%, and EdX's new users increased by a whopping 161% YoY.
Subscriptions are known for their personalized and customizable experience for each user. That's why e-learning courses are now shifting from static content to delivering personalized e-learning experiences and unique learning paths for each customer.
So as the e-learning businesses stand on the edge of a world of opportunity, what challenges do they face?
Growing Pains of E-learning Businesses
From providing world-class content to ensuring a seamless customer experience, scaling e-learning businesses are often faced with these challenges on their growth journey:
Inflexible Systems
Providing and managing a consistent stream of online courses requires a robust catalog that enables rapid experimentation with plans, course bundles, free trials, etc. However, inflexible systems pose a roadblock in transforming your business into an experimentation engine that delivers a superior customer experience.
Poor Visibility into Revenue Workflow
E-learning businesses should have complete visibility in their revenue workflow to know:
Where are they losing chunks of revenue?
Which customers are churning?
Is the churn fixable?
It becomes difficult to course-correct quickly to get on the right track without complete access to this data.
Lack of User-friendly Payment Methods
Seamless customer experience also includes a smooth checkout and offering suitable payment options, such as credit and debit cards, e-wallets, direct debit, etc. If your e-learning software provides great learning materials but ignores this other side of customer experience, it will only result in added friction and lead to a high number of drop-outs at the last leg.
Barriers to Global Expansion
We already saw the global opportunity that e-learning businesses have. However, going global comes with challenges such as compliance with regional tax laws, providing multi-currency and multi-language support, and supporting local payment gateways.
Manual Subscription Management and Billing Workflow
We spoke about how flexible subscriptions are – they allow users to upgrade or downgrade their plan, include one-time add-ons, and even cancellations. Manual billing cannot handle this level of complexity in the billing workflows, and businesses may lose revenue opportunities.
Four Growth Strategies to Scale your E-learning platform
 Challenges are significant, but we have identified four growth strategies that will help your e-learning business conquer them and grow rapidly: 
 1. Acquire Customers Across the Globe
The fastest-growing e-learning markets are Asia, South America, and Europe.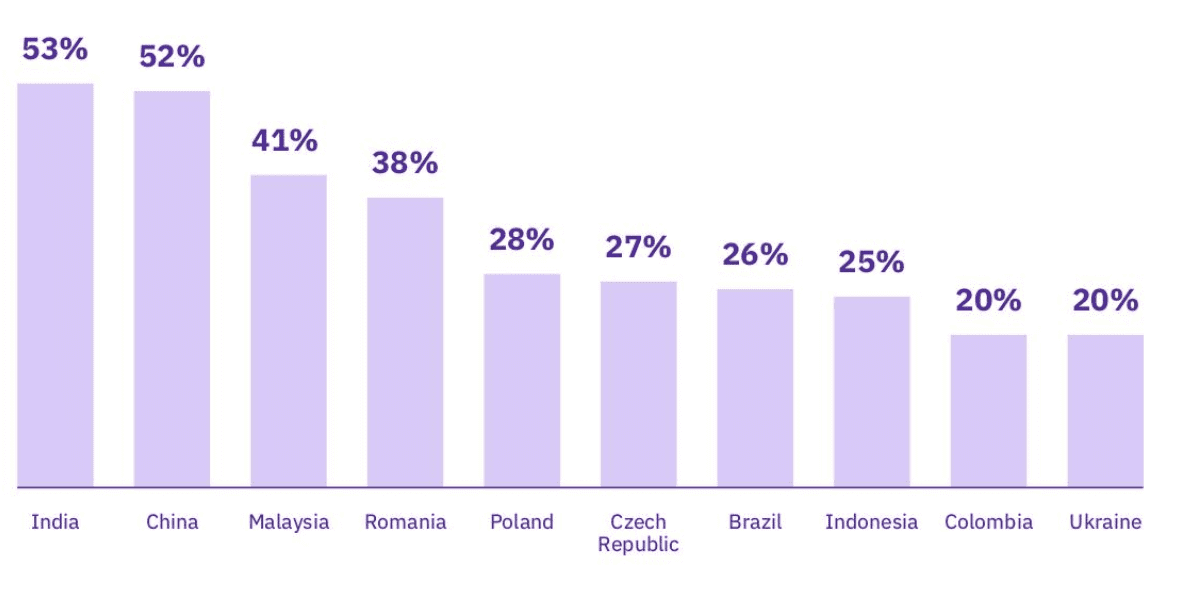 How can you prepare for this global scale? Here are some strategies:
Customize your Catalog for New Markets
Your course catalog must be ready for global scale with pricing in multiple currencies. You can offer both subscriptions and one-time course purchases in your catalog to tap on both revenue streams. A scalable catalog also allows you to roll out new plans and pricing model changes swiftly. Read this blog to know how you can 'catalog' your way to success.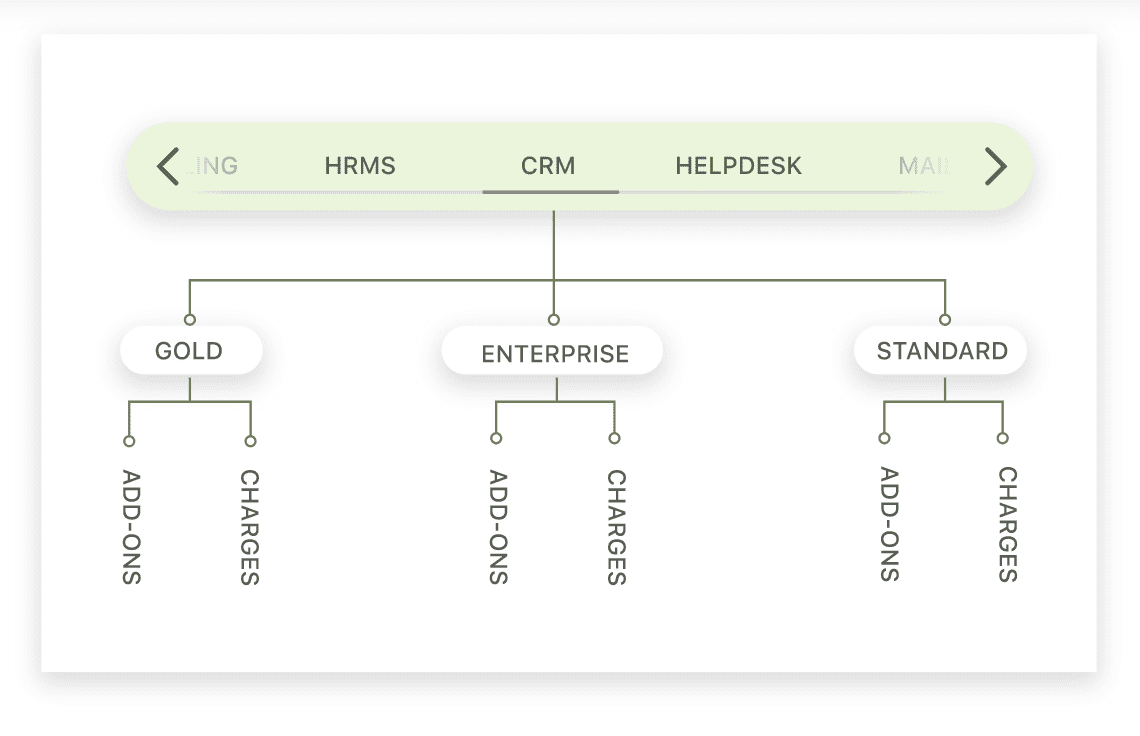 Here's how Chargebee's scalable catalog can help you Go-to-market more efficiently.
Offer a Localised Checkout Experience
Offer a superior checkout experience that allows you to accept payments from multiple currencies and payment gateways. For example, Chargebee's checkout supports 100+ currencies across 150+ countries. You should also spoil your customers with multiple payment options such as cards, wallets, and online banking. Your checkout page should adapt to a local language to give that personalized experience and calculate the correct taxes according to local regulations. 
Here's a story of how Study.com was able to gain more international customers using these strategies and more.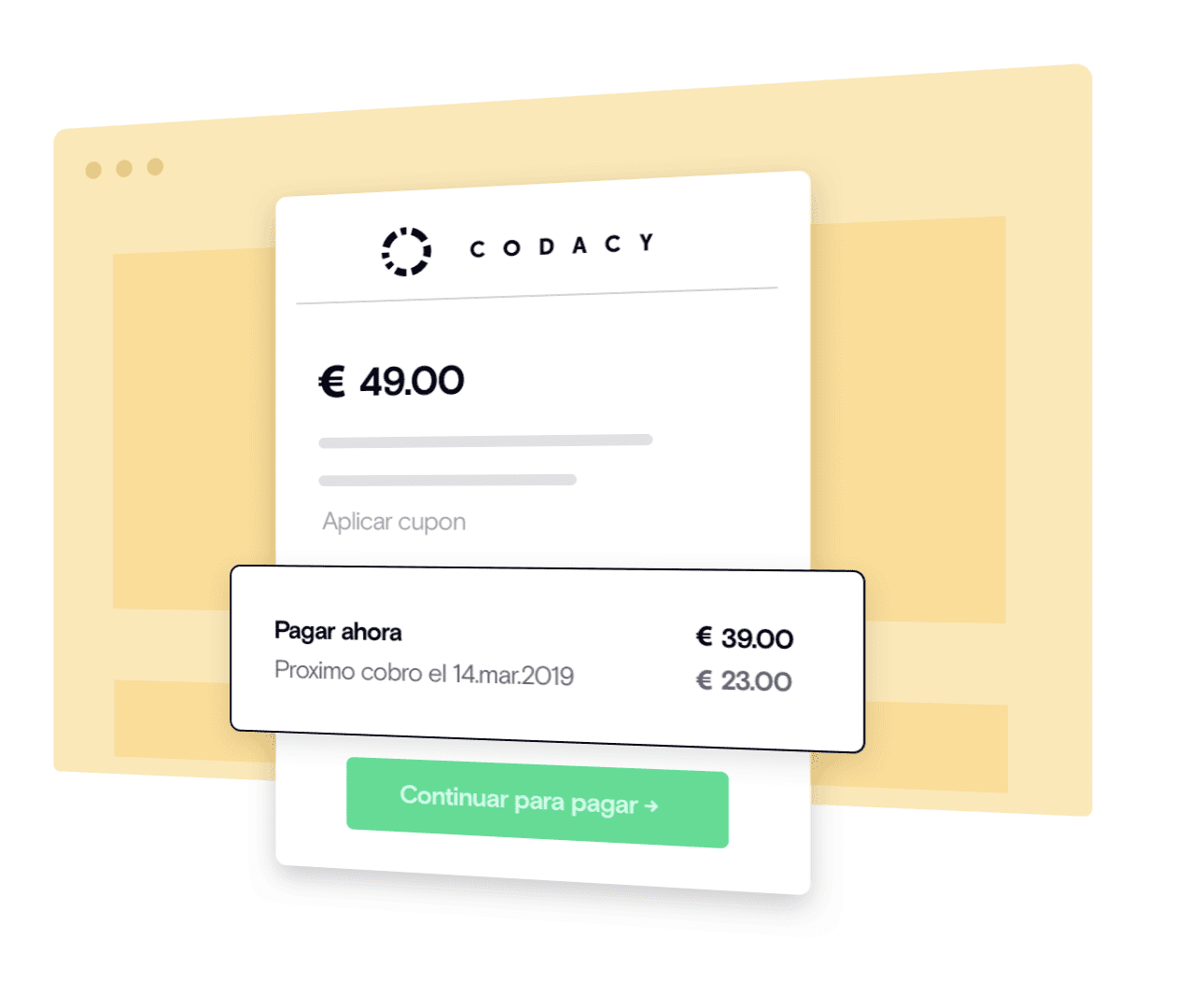 Head here to know more about how Chargebee's seamless checkout can help you grow.
Ease in Customers with Flexible Trials
A free trial is a great way to attract new customers and give them a taste of your offerings. You can offer a limited-period trial and nudge users to upgrade to a paid plan with the help of automated trial-end reminder emails.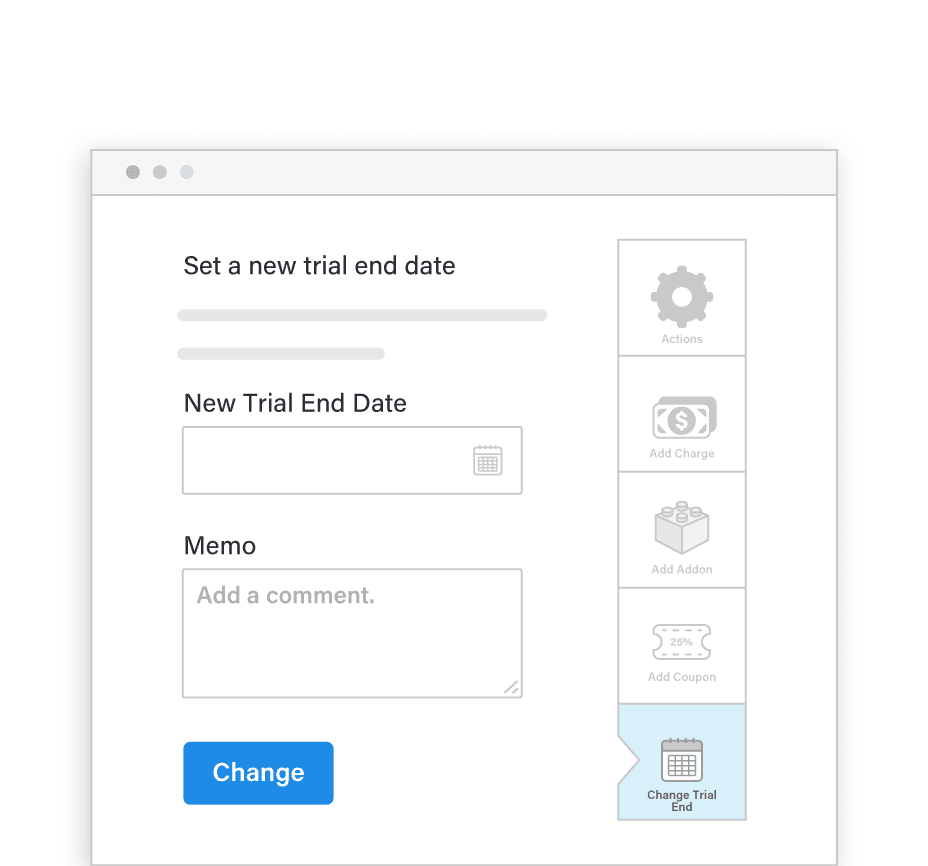 Check out how easy trial management can add that extra boost to your new revenue streams.
2. Retain Customers for Sustained Growth
If there's one common cause of worry for all growing businesses, it's churn. As you gear for acquiring new customers, it's also important to concentrate on retaining the existing ones. Here are a few strategies to reduce churn and retain customers:
Reduce Involuntary Churn
 Involuntary churn happens when customers churn because of failed payments or due to expired credit cards. This type of churn is relatively easier to combat with a smart dunning process, which automates payment reminders and retries. This helps you recover revenue that you would otherwise lose. 
We have listed more (23!) ways you can reduce involuntary churn in this blog.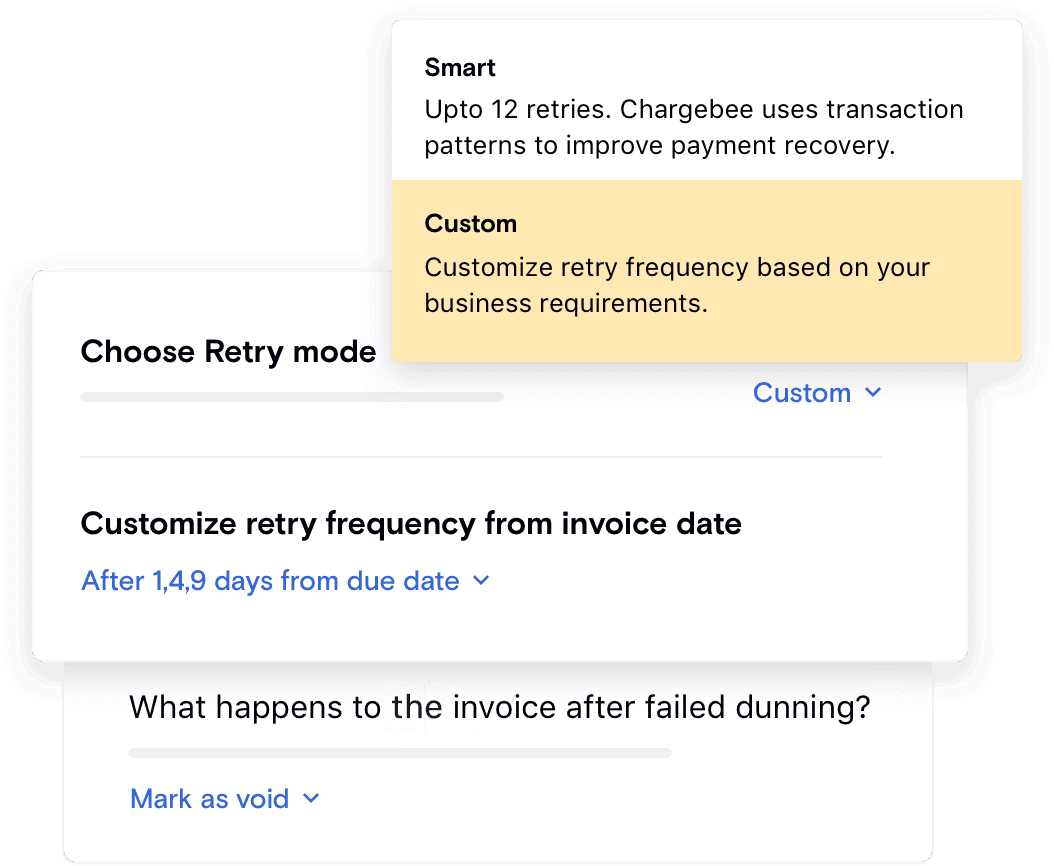 Run Targeted Campaigns
Create customer segments and run specific campaigns for them to retain them better. For example, for customers who are likely to churn, offer discount coupons and course bundles, making it difficult for them to leave. Run targeted campaigns to nudge inactive accounts to activate again by offering attractive discounts and add-ons.
Here's how seamless discounts and coupons management can be your ticket to revenue growth. 
Implement Self-service Workflows
Self-service customer portals empower customers by allowing them to manage their subscriptions independently and make changes to them. It will reduce that extra load on your support teams, and of course, there's that ease of access for customers. Self-serve portals can allow customers to update their payment methods, billing frequency, or changes to their subscriptions, such as upgrades or downgrades.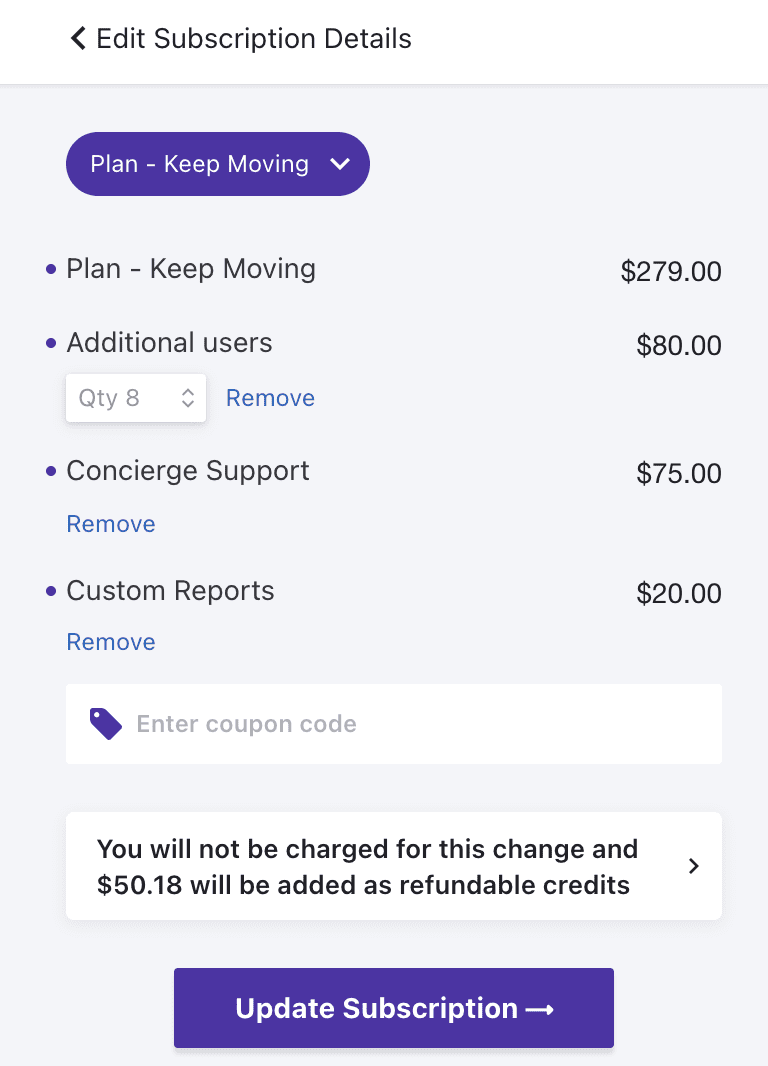 A Cloud Guru is an excellent example of using self-serve workflows as a growth strategy. Read their full story here.
3. Close Books Faster with Accounting Automation
Increase the efficiency of your finance teams by reducing the long hours of grunt work. You can automate your accounting and map your plans, invoicing, discounts, add-ons to the accounting software. Automating these activities can save your finance teams a lot of time, ensure GAAP compliant revenue recognition, and make reconciliation a breeze.
Another time-consuming exercise is ensuring you stay compliant with tax regulations and local compliance laws. Good billing software goes beyond billing by enabling you to handle various tax rules such as US sales tax, EU VAT, and Australian GST.
Here's how you can make your finance team's life easier by implementing accounting automation.
4. Drive Decisions with Revenue Insights
Growing rapidly and sustaining that growth is a function of judging what's working for you and, more importantly, what's not working and how you can course correct. It's essential to keep a keen eye on your revenue analytics and make data-backed decisions to ensure your business stays aligned with growth.
Your billing software should be the one source of truth that provides such revenue insights. For example, you should analyze churn deeply, understand your MRR growth trajectory, compare your plans, and identify new revenue streams through upselling and cross-selling.
For example, ScreenCastify analyzed their plan performance with revenue analytics, which helped them concentrate on focused sales strategies. Read more about ScreenCastify's story here. 
In Closing
And that sums it up! A subscription and billing management system like Chargebee is more than just that. It's a growth engine for your e-learning business. It integrates seamlessly with your existing tech-stack such as CRM & accounting and enables you to:
Rapidly experiment with plans,

pricing

, and course bundles

Go global without worrying about compliance and taxes

Provide a seamless and localized payment experience

Drive decisions with

real-time

revenue

metrics

and analytics
Top e-learning businesses such as Coorp Academy, Study.com, Userlane, A Cloud Guru trust Chargebee with their subscription billing. Explore how Chargebee can help your e-learning business here.
Are you ready to supercharge your subscription revenue with us? Give our free trial a spin, or schedule a demo to get started!