Building Blocks of an Efficient SaaS Finance Operations Team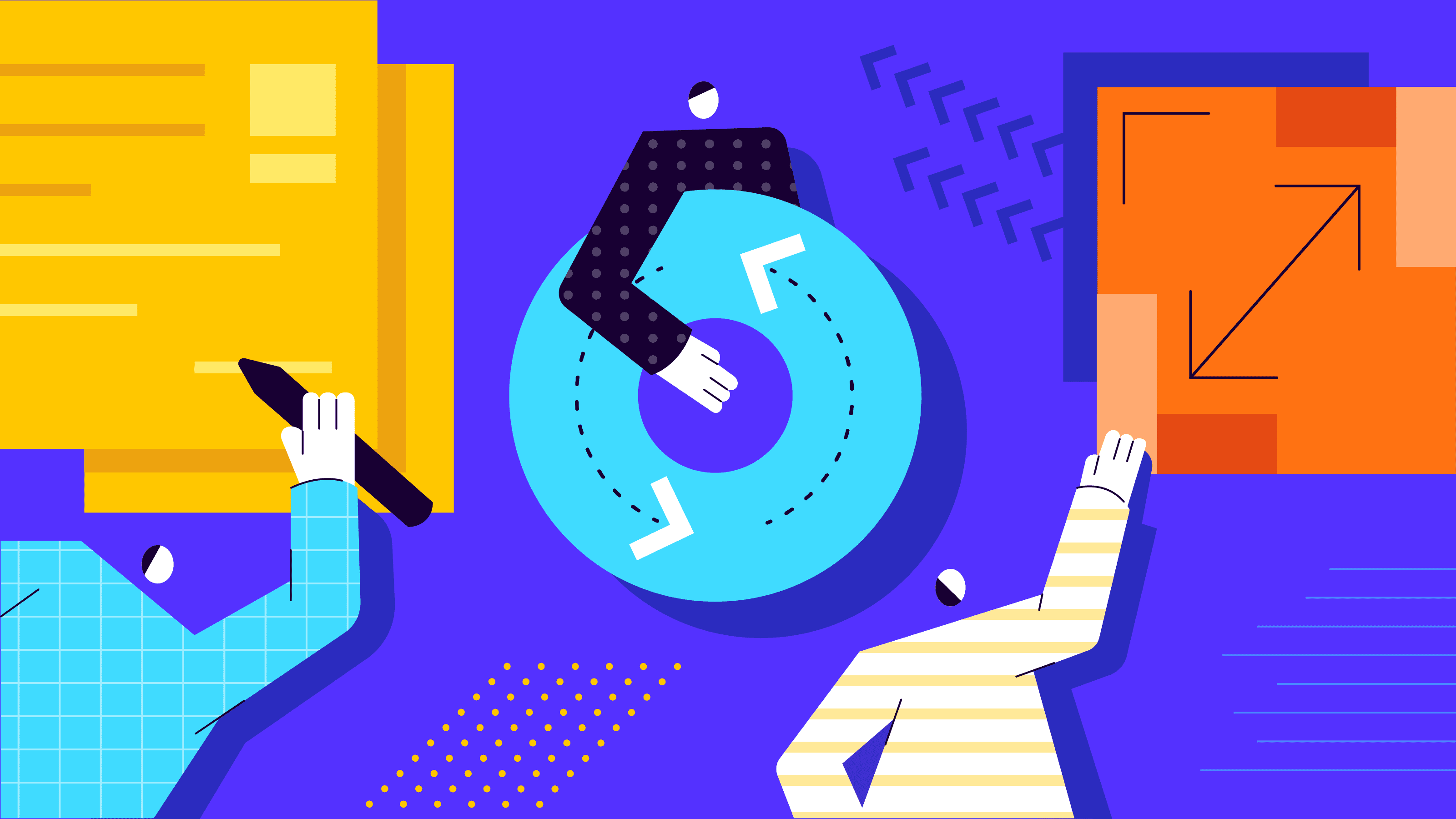 Growth of any kind demands changes in the status quo. SaaS businesses are no exception. As your SaaS business scales, new processes and functions get added.
But while the rest of the organization gets shiny updates and new tools, finance teams are often stuck with decade-old software. Because finance operations are just a back-end function with no direct revenue implications, right?
Wrong.
In my previous post, we spoke about the role of a finance controller in a scaling SaaS business and how they directly impact the revenue cycle. We also enlisted key capabilities finance teams should possess in their arsenal to tackle the challenges faced by a growing SaaS.
In this webinar, Karthik Srinivasan, Director of Finance at Chargebee, shares his insights about driving efficiency in SaaS finance ops teams. I'm summarizing all the actionable takeaways in this post.
With remote teams, a subscription revenue model, and an agile workforce, legacy finance systems and age-old processes just don't cut it for SaaS companies anymore.
Before we go deeper into techniques to modernize finance operations and how to turn it into a well-oiled machine for SaaS businesses, let's understand the FinOps function a little more.
The Anatomy of the SaaS FinOps Function
An overall umbrella of the CFO's duties has two layers: General finance & accounting and financial planning and analysis. The former comes under the purview of finance operations and it consists of Accounts Receivable, Account Payables, and Compliance Regulations.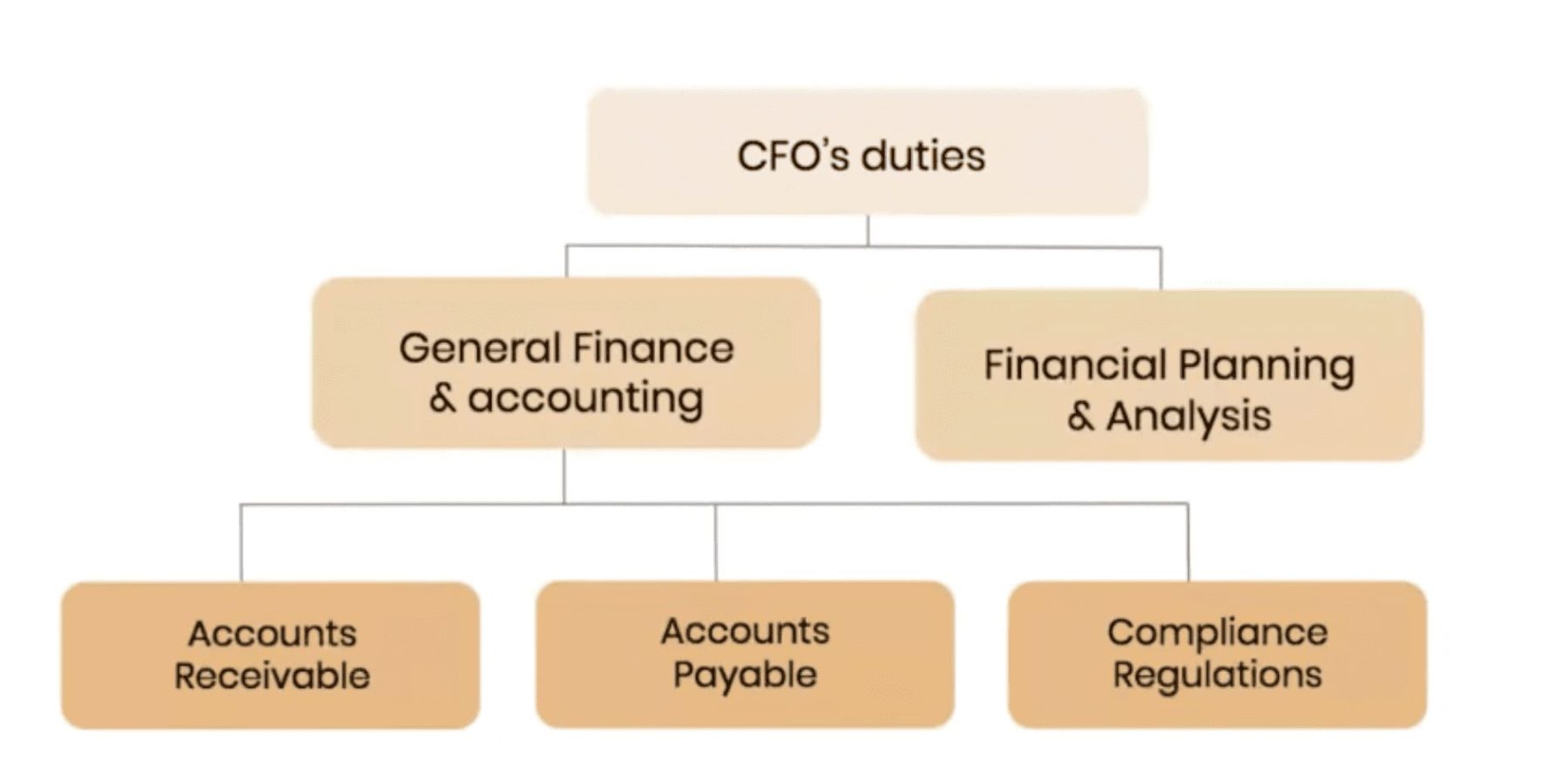 Accounts Receivable: SaaS businesses require a mechanism to generate invoices and map payments against those invoices on a recurring basis. The Accounts Receivable engine also needs to be integrated with an accounting solution, to facilitate reconciliation.
Accounts Payable: Typically opposite to what Accounts Receivable are, Accounts Payable pertains to handling purchase orders, ensuring payments happen on time, and spend management of all tools and services your SaaS uses.
Compliance Regulations: Compliance requirements can vary depending on the nature of your SaaS business and the geographies you serve. For example, PCI-DSS (Payment Card Industry Data Security Standard) is relevant for SaaS businesses that offer card payments. Additionally, SaaS businesses also have to focus on tax compliance and accounting guidelines like GAAP & ASC 606.
Finance operations teams are expected to work seamlessly across these three buckets, while also keeping a keen eye on important SaaS metrics and Revenue Reporting.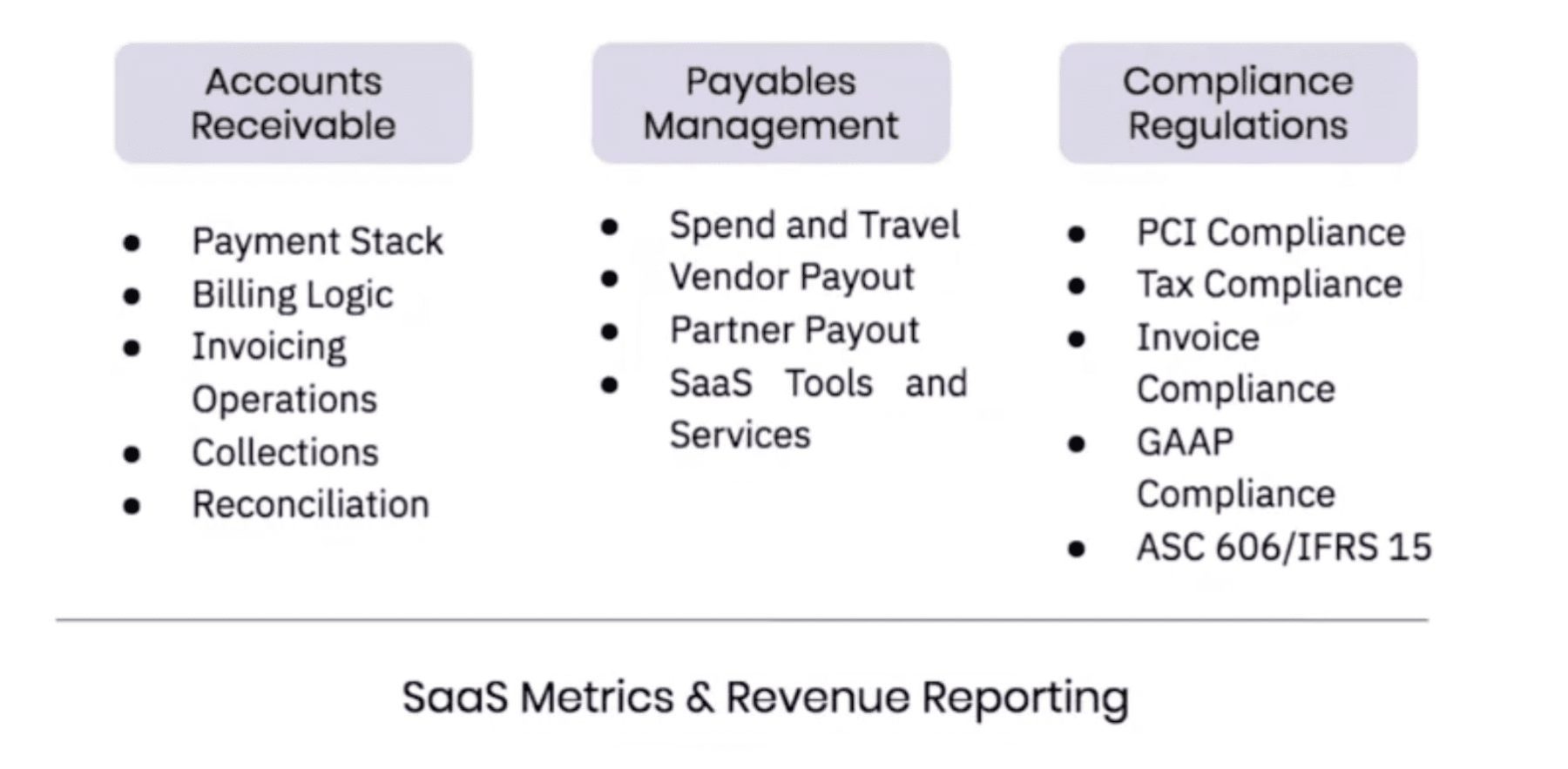 Growing Pains of SaaS FinOps Teams
When a SaaS business grows, workflows are changed and new tools are often added, but not always with best practices in place. With a multitude of such changes, SaaS finance ops teams have to deal with:
– New policies: What used to be ad-hoc changes in finance workflows now become written policies.
– Global expansion: When the SaaS ventures into new geographies, multiple currencies, and local tax rules come into the picture.
– Complex financial models: Scaling SaaS companies usually experiment a lot with revenue models and pricing.
And most finance teams end up doing this work manually. That's a dangerous path to tread because this process is error-prone and eventually leads to revenue leakage.
Building Blocks of an Efficient FinOps Team
So how do we plug the revenue leaks and transform the finance operations team into a well-oiled machine for SaaS businesses? We have identified three building blocks to help achieve that.
Automation
The first step is to automate the repetitive tasks that are eating into the finance team's time and mind space. The automation should be done in a way that helps a business evolve seamlessly and implement the following changes:
Enable data flow between functions when implementing process changes.

Serve a higher or a mid/downmarket audience while testing or implementing business model changes.

Comply with privacy, taxation, and accounting regulation changes when expanding globally.
As a SaaS company goes through different stages of evolution, revenue workflows get more and more complex. So, we have laid out a framework for four stages of evolution in SaaS finance automation. We will explore each of them in the next section.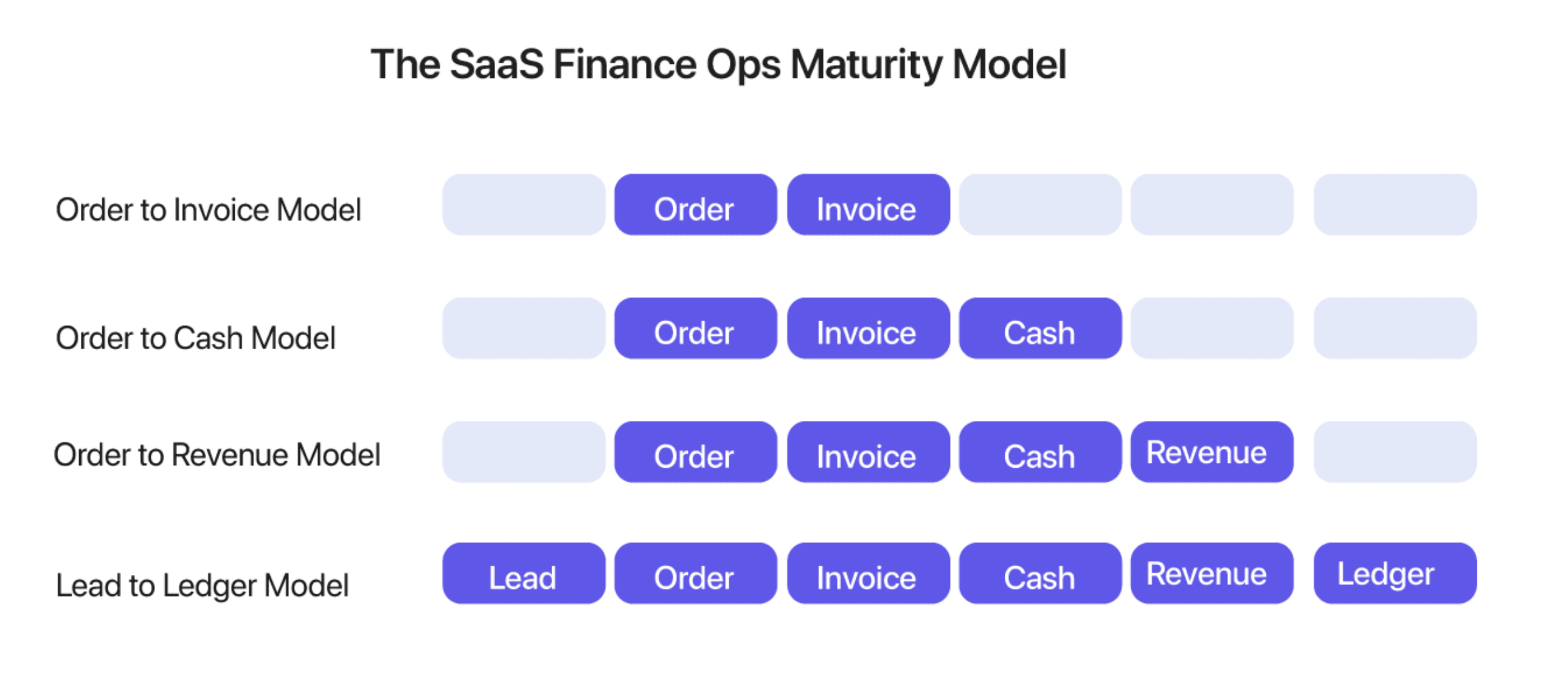 Scalability
With this model, finance ops teams will be able to preempt the requirements for their next stage of SaaS evolution and be equipped for efficiency.
Stage 1: Order to Invoice (<$100K)
This is at the very beginning of the evolution of a SaaS company. FinOps' key goals at this stage would be to send recurring invoices and ensure payment collection on time, along with basic bookkeeping.  At this stage, automation tools are available at a low cost (or even free). This is probably the best time to experiment with these tools to see what works best.
Stage 2: Order to Cash (<$1M)
As the volume of transactions increases, SaaS businesses at this stage offer more plans with different pricing models. The key focus for FinOps at this stage would be to automate the subscription management with all the upgrades, downgrades, and prorations.
Stage 3: Order to Revenue ($1 to $10M)
When a SaaS company reaches this stage, it is rapidly expanding to new geographies and widening its customer base. The role of finance ops expands to include multi-currency support and tax & payment compliance. Automation at this stage can help recover lost revenue by having a smart dunning mechanism in place.
Stage 4: Lead to Ledger ($10M<)
FinOps' role at this stage starts right from when a quote is created for a lead and continues until that quote gets converted into an invoice and gets recorded in the books. Not having a sophisticated end to end finance ops workflow at this stage can stunt the organization's growth. Finance operations at this stage play a key role in reducing the gap between revenue forecast and actual revenue.
Head here to find out the ideal workflow for each of these stages.
Reporting
The last but the most critical building block is reporting.
The metrics that need to be monitored also need to evolve as with your SaaS business.
At the Order to Invoice stage, tracking standalone metrics such as MRR/ARR will be enough to get a pulse of the business. At the Order to Cash stage, your customer base is expanding and retention is the key to growth. So the FinOps team must keep a close eye on the churn metrics and also on the cash flow to check on the health of the business.
However, as the SaaS business progresses to the Order to Revenue stage, it is important to take the relationship metrics into account. At this stage, LTV, churn rate, expansion MRR, MRR retention cohorts should be tracked to see if the business continues to expand thanks to a higher net MRR that makes up for the customer churn.
In the last layer of measurement at the Lead to Ledger stage, the FinOps teams play a critical role in minimizing revenue leakages that happen across functions. FinOps teams should go over all the workflows and processes with a fine-tooth comb to spot any inefficiencies and leaks. They need to audit everything from the marketing sources to discount campaigns. This requires end-to-end visibility from quote to revenue recognition.
So what does a modernized SaaS finance operations dashboard look like? It must have account summary reports, dunning reports, geography-wise revenue segregation, and metrics that are key to stakeholder management internally as well as externally. In short, this dashboard ties the product, customer, and revenue information together to showcase growth metrics to drive strategy to maximize growth. Check out Chargebee's RevenueStory to explore subscription analytics and how they can help you grow.
These building blocks will prepare your finance operations team to tackle the changes as your SaaS business rides the growth wave. To get you started, here's a primer on how you can simplify your SaaS finance operations.
PS: What if I told you that we have compiled a comprehensive list of SaaS finance ops resources in one single place for you? Check our content library exclusive to SaaS finance for actionable insights, expert talks, guides, and more.
A subscription management platform like Chargebee is your partner in growth and helps you manage pricing, automate recurring billing, tax management, reconciliation, and revenue recognition. Understand how Chargebee can help streamline your Finance Operations by scheduling a demo with us today.
Get the scoop on what's new