Often, the difference between a customer with churn intent and a truly disgruntled ex-customer, is the fine thread we call the 'cancellation flow.' It is your Hail Mary(!), the  final attempt at winning back your customer's trust when all else – which is to say 'their experience with your product' – has failed. It is when you truly throw your hardhats on, and attempt to re-exhibit value as a product/solution, convince your customer about your continued commitment to them, and ultimately mitigate an untimely loss of revenue.
While churn is a subscription business killer, voluntary churn is a much more significant deterrent since it is emblematic of a dissatisfied customer (with potential to generate negative word-of-mouth).
A robust and effective cancellation flow, therefore, is one that can do a few things impeccably –
Understand specific churn intent

–

this feeds your retention strategy and helps uncover common process/experience issues that were silently hurting you

Meet the customer with a personalized offer

–

this helps you reach your customer with a tailored retention offer to operate on specific unmet needs

Identify the efficiency of your retention process

–

the impact/success of your cancellation flow should be apparent through dashboarding or reportage

Recover lost customers –

the cancellation flow should also lend strength to your win-back strategy in the future
Before we dive into examples of effectively deployed cancellation flows, we must dive deeper into how a cancellation flow operates, feeds into your retention strategy, and reduces your churn rate.
What is a Cancellation Flow?
In the simplest terms, a cancellation flow is a series of steps you want to take your customers through once they have initiated a cancellation request. A cancellation flow typically starts from the point your customer expresses intent to visit the cancel page (often through a button), and progresses well beyond the (and if) point where your customer has churned or has been successfully deflected. It also continually analyzes the outcomes and feeds actionable insights to other business systems for future optimization.
An intention to terminate their relationship with your business is intense, to give you any chance at changing their mind, you need to help them feel both heard and valued through their next steps in their journey. Your cancellation flow therefore, has to provide white-gloved assistance throughout the entire process. This means, feedback collection, acknowledgement of their issues, and offering them an alternative solution.
At the business end – the cancellation flow should alert your customer success teams to give you a fighting chance at reconversion, and provide direct and ample insights about on how to avoid similar situations in the future.
A typical cancellation flow designed on Chargebee Retention looks like the one in the image below. It is receptive to individual cancellation reasons, offers personalized deflection offers, and also provides inputs to your customer success and business teams about actions to be taken.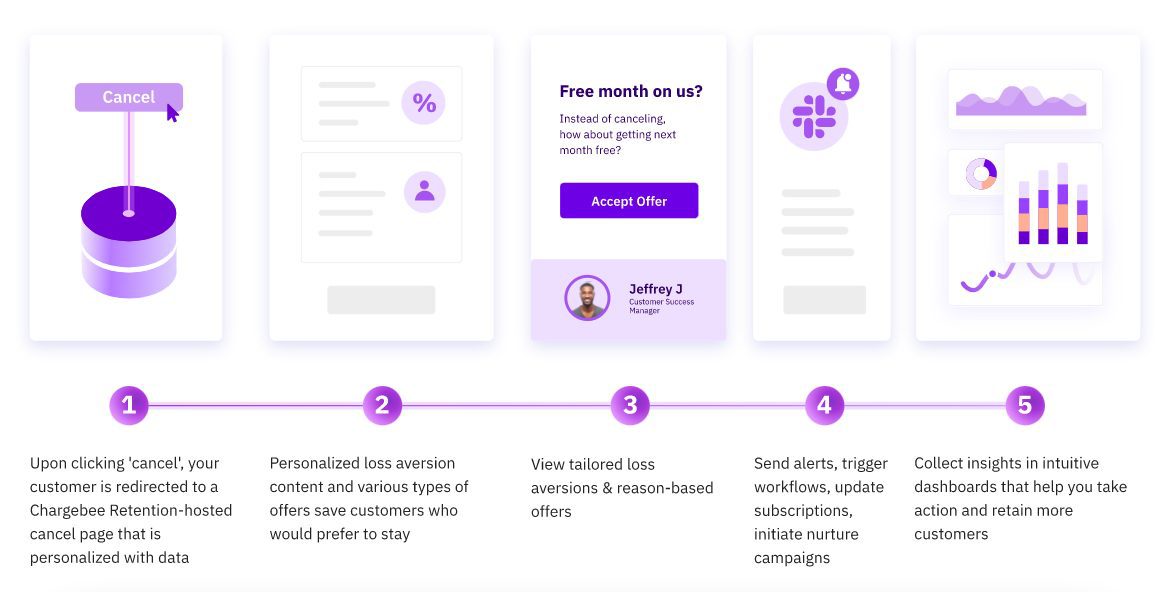 Effectively designing a cancellation flow has significant benefits for your retention rates and recurring revenue. These are:
1. Powering deflections to reduce churn 
The main objective of a cancellation flow is to prevent customers from canceling in the first place. It gives you a final opportunity to deflect churn and resolve specific issues your customer is facing.
However, it is important to remember that cancellation flows are ineffective without an empathetic approach to your customers. If they are no longer in need of your product, or are temporarily unable to continue paying for them, it is more helpful to provide an easier way out, or allow them to pause/skip their subscription instead of forcing your value as a business on them.
2. Identifying customer issues
When a customer shares feedback (irrespective of how strong the feedback is), they are actually taking time set aside to tell you what could have been better. If they don't feel heard, it might reflect poorly on your business, and lead to a loss of brand equity.
A cancellation flow must accommodate room for cancel surveys (also knows as exit surveys) for you to identify their issues and provide reparative solutions or recommendations.
3. Discovering common objections
An extension to the previous point, capturing feedback helps you identify commonalities in your customer experiences. This gives you an opportunity to address the most common (albeit hidden) issues and lends strength to your product roadmap.
For example, when mobility platform 'pliability' discovered that one of the key reasons for customer churn cited in the cancellation page – was the fact that their customers were busy and didn't have time enough to train on mobility, they decided on making shorter training modules more accessible, and retained users with busy lifestyles. This helped them directly reduce churn by over 20% in a year.
4. Supporting your win-back strategy
Information from your cancellation surveys and from your churned customers' interactions with them are critical when you reattempt to win them back. This helps you send personalized messages – leveraging their previous interaction with you – in your retargetting messages and helps you be more thoughtful and customer-centric.
That being said, treating cancellation flows must be used as a strategy not a point solution. Which is to say, it depends on how your customers usually experience your business. However, there are a few static principles that you must keep in mind while designing your cancellation flow.
How Does a Cancellation Flow Work?
Here is an overview of the seven-step processes you need to consider when setting up your cancellation flow –
Step 1: Make Cancel Initiation Easy
A cancellation event is started with the customer expressing the intent to visit the landing page. It is necessary because of obvious (and regulatory) reasons that you make the cancel button available to your customer at every point of communication.
Obscuring your cancel button does the opposite of retaining customers, it quickly erodes customer trust in your business, and now, due to regulatory intervention, might lead to severe compliance issues (besides angrier customers).
Best practices when setting up exit surveys in your cancellation flow:
Allow space to collect long-form customer feedback.

This can be set up as an "other" field within cancellation reasons in your exit survey, or as a standalone field where customers can expand on their exit survey response. These are incredibly valuable not only to understand customer sentiment better, but also collect direct inputs on your product/service.

Keep updating the options in your cancellation survey.

Since both your products and customers' expectations are continuously changing. Exit survey responses should also be dynamic. Keep iterating on the response options in

your exit survey to accurately represent and capture changing market/customer sentiment.

Say no to nested questions.

A canceling customer would not be very keen on completing the survey, so try to keep the questions to a minimum.

Keep the experience positive. Ensure that the overall experience of the customer with the cancellation process remains a positive one.
Step 2: Analyze customer sentiment
Most businesses running a retention strategy know about the exit survey. And while exit/cancellation surveys do provide good insights about cancelled customers. In most businesses, it is too little too late.
Enter – dynamic exit surveys. Retention tools like Chargebee Retention enable businesses to use responses from the exit survey to power real-time deflection offers. Which brings us to the next step
Step 3: Present personalized offers
Use insights from the cancellation survey to present offers that cuts close to the cancel intent.
For instance – if a high price point is driving the cancellation, you can present a percentage or amount discount, or even a free month on your subscription.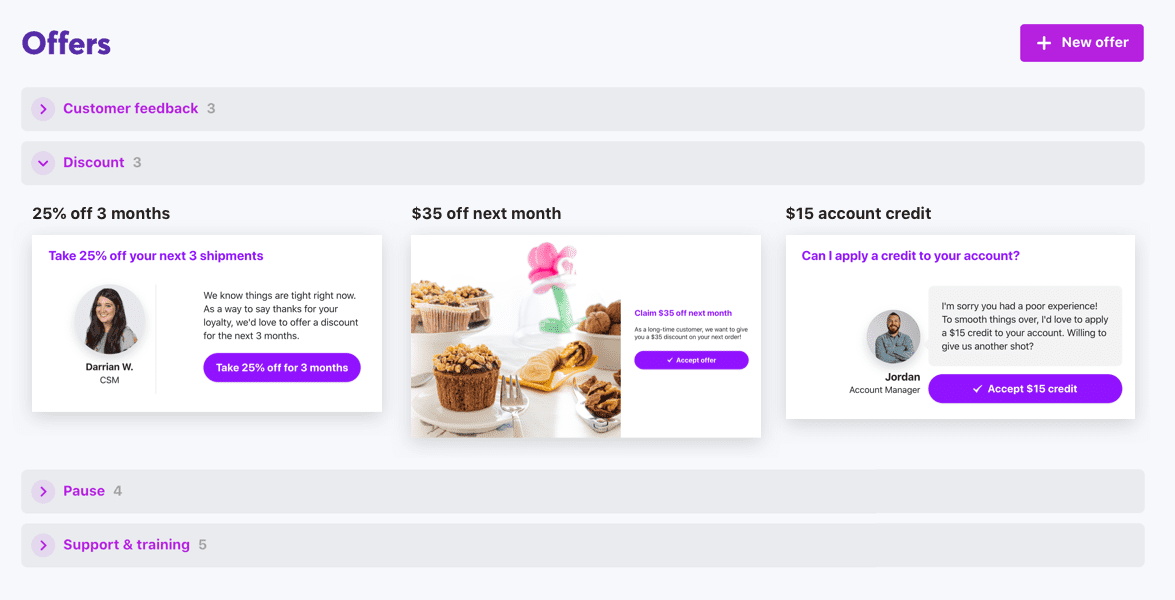 However, if the cancel reason suggests that the customer does not find value from your product, you can trigger an automated workflow to your customer success team to help them exhibit your worth/benefits better.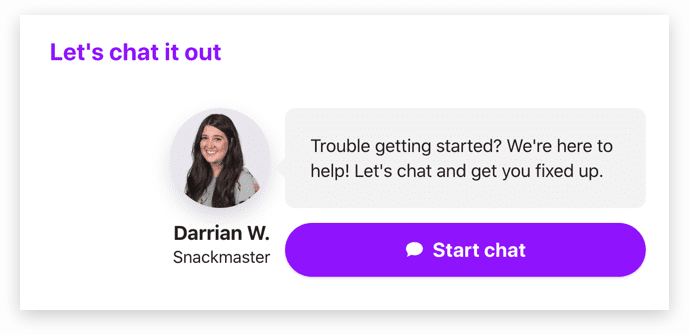 Step 4. Cancel confirmation
If your customer still wishes to cancel, you can seek their confirmation and proceed to the final step of their journey. However, this is also a good opportunity to remind them of the benefits your business brings for them, or present the option to pause the subscription rather than cancel.
Step 5. Final message
While a customer who choses to cancel their subscription is effectively not a revenue generator for your business, it is important to acknowledge their request. Also note, that the helpfulness of your final interaction can work towards improving bitter sentiment, can distill their opinion of your business in front of their peers, even position you favorably for a win-back in the future. Hence, the final message should leave them on a good note.
It is also in this step that your retention engine should automatically mark them as churned, and discontinue their subscription.
Step 6. Analyzing churn results
For your cancellation flow to generate a manifold impact on your retention strategy, outcomes of the cancellation process should feed into your data repository.
This will later give you a clear view of your success rate, churn rate and retention rates, and even the most helpful (and unhelpful offers) presented at the point of cancellation. This helps feed insights to optimize your product or cancel process better.
Another important event to note, is when your cancellation funnel is successful in deflecting a customer. Since the customer decides to trust you again, it is important to continue nurturing this trust. Consider putting them on a watchlist and ensuring your customer success team follows up until the customer is comfortable with your business.
Step 7. Future communication and re-engagement:
Believe it or not, churn isn't the final step in your customer's journey. The final step is when you decide to never reattempt to win them back.
Your insights and analytics must power your win-back strategies. Find customers who churned due to a temporary intent – such as – 'product has issues' or 'competitor has more features'. (You can define your own rules as to what constitutes a temporary problem.)
Once, when your business/product has further matured, or has overcome past inefficiencies, you can attempt to win the customer back with your new value proposition.
What are Different Ways in Which a Cancellation Flow is Initiated by the Customer?
When a customer decides to cancel their subscription, there are two ways to facilitate that –
'Contact me':

In this approach, you leave an open opportunity for your customers to contact you through phone, chat, or email to address queries, share feedback and also initiate a cancellation. While active legislations are working to remove the hassle of multi-step cancels like these, it offers a more personal avenue to the business to collect customer feedback.

Self-serve:

This approach gives customers more control over their cancellation process. All they have to do is press the button to proceed with the cancellation. Businesses are operationalizing exit surveys to collect customer feedback in this method too. However, feedback thus collected will be impersonal and cannot be enriched through active communications.
Once the customer chooses their preferred method of cancellation, the business can choose to deploy the cancellation flow as explained in the previous section.
Types of Cancellation Flows, With Examples
Depending on your industry, company policies, and the general experience your customers have during product interaction there are various types of cancellation flows you can use –
1. Self-service cancellation flow
This type of cancellation flow allows the user to cancel their subscription directly from their account. The self-service cancellation flow is designed to make the cancellation experience as quick, efficient, and as easy as the onboarding experience. And this is probably why most subscription-based businesses use self-service cancellation flows.
Here is an example of a self-service cancellation flow from Harvest, a time-tracking tool.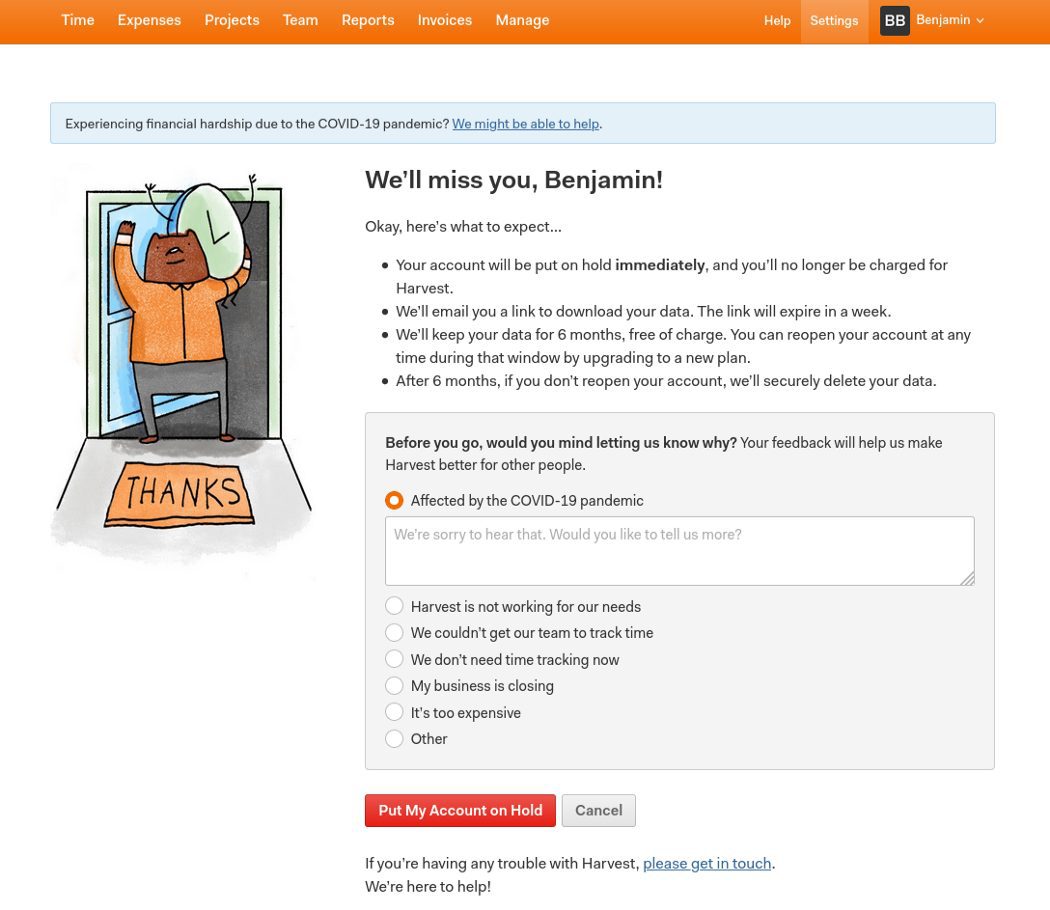 2. Email support-based cancellation flow
While self-serve cancellation flows are becoming increasingly mandatory, some customers (or customers under some legislations) might still prefer to (or have to) send an email to proceed with the cancellation. Post email receipt, the customer success executive can then process the cancellation from their end.
Here is an example of an email support-based cancellation flow from Postable, a card-sending service.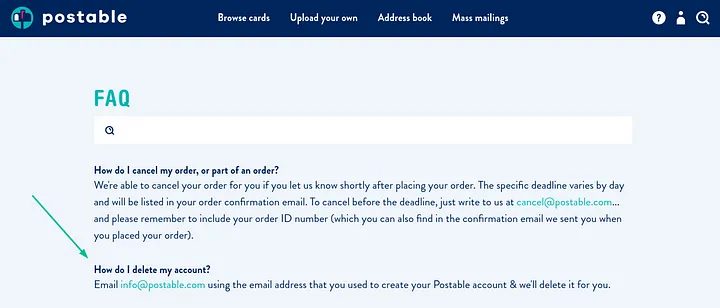 3. Cancellation flow with phone or chat support
Another alternative to email cancellation support is allowing the option for customers to cancel through a phone-call or chat support. Ensure that your customer support service has quick response turnaround times to provide a smooth experience.
Like with email-based cancellation, this also gives your customer a chance to bring up any product-related issues that are causing them to churn. And it gives you a chance to address their concerns and deflect cancellations.
The cancellation flow from Userpilot is an excellent example of how you do it when your customer expresses their cancel intent through the phone or in chat support.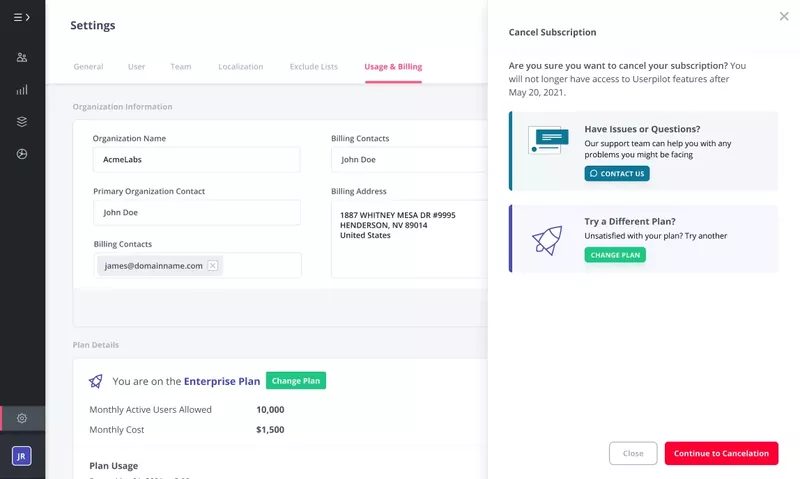 Besides these basic types of cancellation flows, you can also have a partial cancellation flow or an automatic cancellation flow. The former is one in which the customer has the option to cancel only a part of their subscription, and the latter gets triggered when a customer subscription automatically comes to an end after a trial period.
Building a churn funnel to combat cancellations becomes easier when you have Chargebee Retention by your side.
3 Examples of Thumb-stopping Cancellation flows and why they work
Here are some great cancellation flow examples for inspiration, what we find effective about them, and the outcomes they have generated .
1. Powtoon's cancellation flow – an example in offer personalization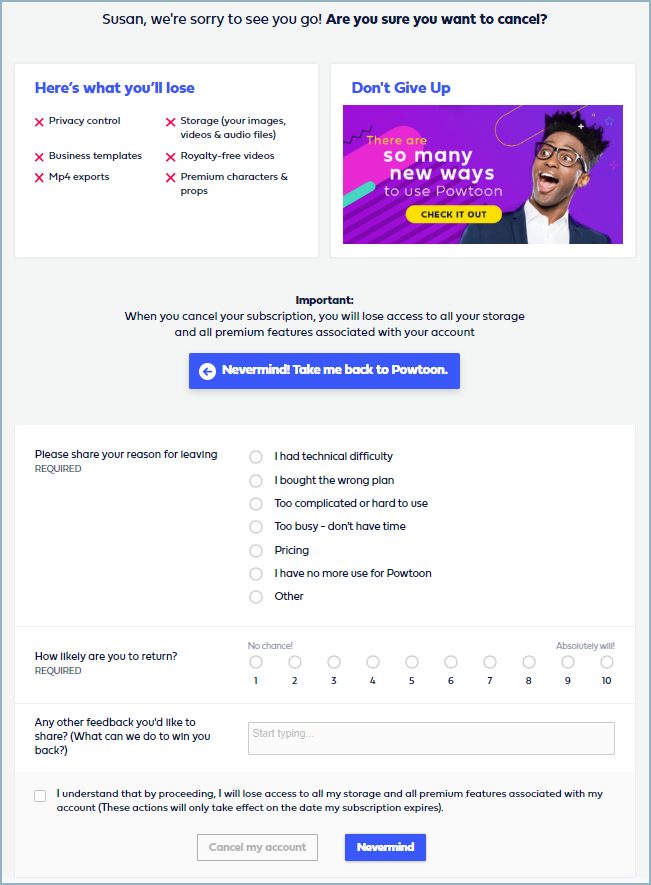 This is an excellent example from Powtoon that ticks all the boxes of an effective subscription cancellation flow. Powtoon leverages its cancellation flow to re-engage, educate and empathize with its customers during the offboarding process. And since the survey is limited to 3 relevant questions, the customers would not be hesitant to fill out the survey.
With Chargebee Retention, Powtoon converted leveraged the power of dynamic cancel flows and –
Identified customer's specific reason to cancel

Deployed appropriate messaging, and

Presented them with offers to stay that were relevant to their cancellation reasons
This helped them improve customer save rate from 8% to 13% at the point of cancellation (a 63% increase).
2. TouchNote's cancellation flow – the power of analysis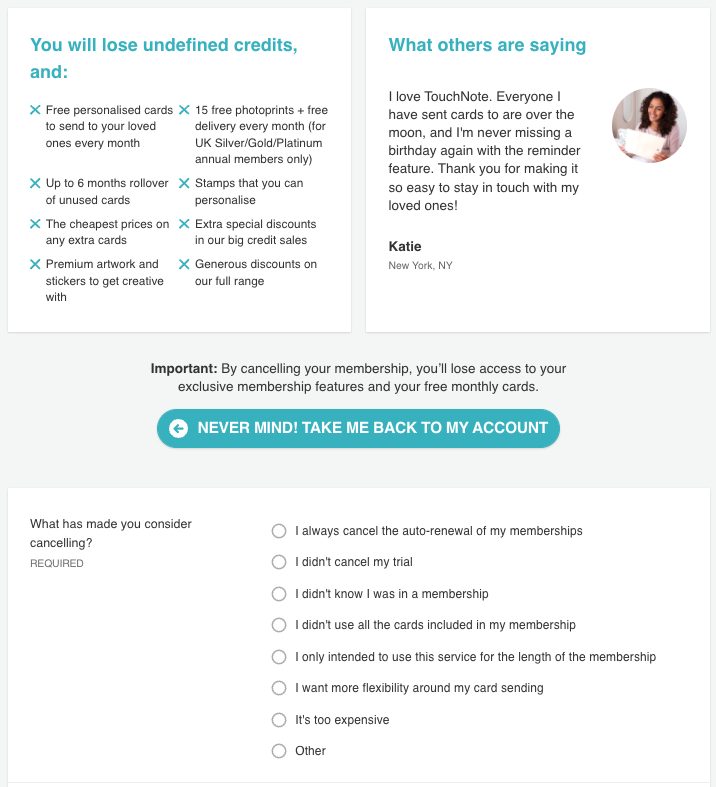 Here is another great example of a subscription cancellation flow from TouchNote. Besides making the cancellation process easier for their customers, they reiterate their value proposition at the very top, convincing the customers to stay.
TouchNote realized the need to reimagine their cancellation flow to retain customers, especially those with yearly subscriptions, better. So they decided to provide them with targeted discount offers and also an option to downgrade to a lower subscription plan.
What is even better, TouchNote continued to track outcomes from their cancellation flows to also discover that the '40% discount' offer performed almost identically to a '50% offer.' This insight helped them decrease the lost revenue from offers for the same result. A step-change in their retention strategy.
3. Unbounce's cancellation flow – how trigger-workflows can help actively resolve customer issues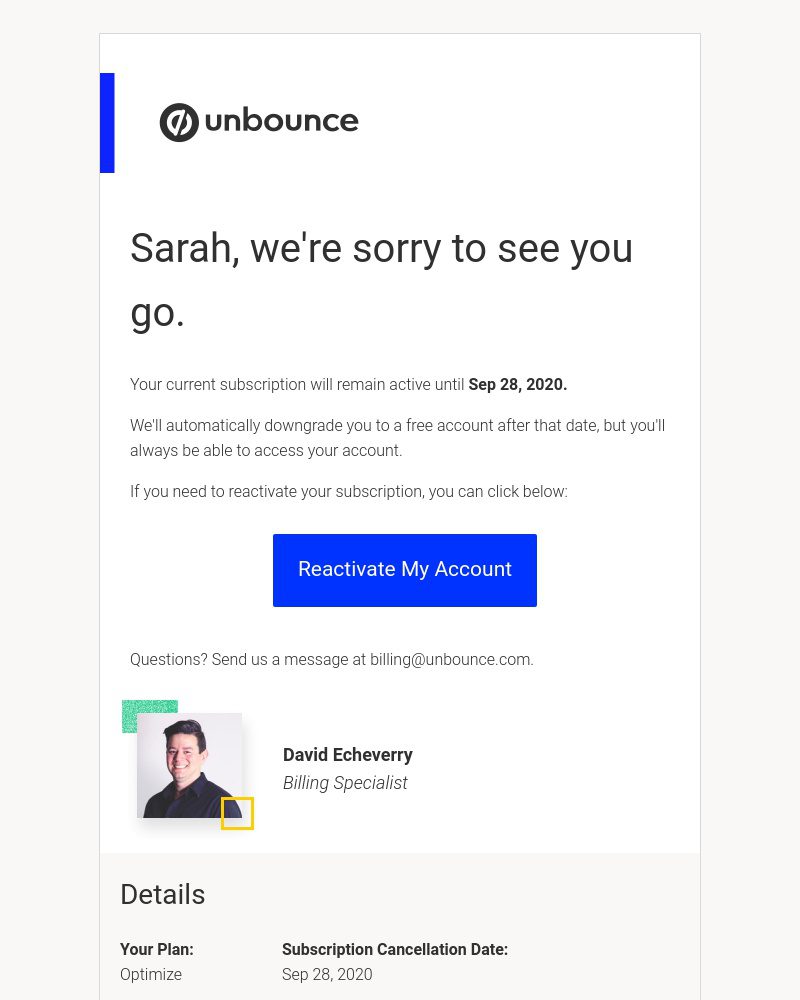 Unbounce's cancellation flow strategy is to proactively help users at the moment of cancellation. Until some time back, they had a static customer cancellation survey with no means to re-engage the users before they left. After deploying Chargee Retention, they found the right way to deflect cancellations by providing real value to their leaving customers.
By mapping the customer journeys, Chargebee Retention helped them segment their customers into different clusters, based on product usage, account tenure, and other important variables. This made it easier to provide the customers with contextualized incentives, rather than blanket offers that didn't provide any value.
Unbounce uses Chargebee Retention with Zapier to help customer-facing teams respond to issues right away. When an Unbounce customer cancels for reasons related to billing or experience, a Zap triggers an alert in a dedicated Slack channel shared with support and success managers.
Armed with the reason for cancellation, additional customer feedback, and account details from Salesforce, team members at Unbounce can triage and engage with customers at critical moments.
By applying a little more thought at the cancel intent stage and meeting the customers half-way, Unbounce was successfully able to deflect almost 11% of their customer cancellations.
Build Personalized Cancellation Flows with Chargebee Retention
It's time to move away from traditional cancellation flows that lead customers through an exhaustive process of repetitive steps. With Chargebee Retention, you can ensure an honest open dialogue with your users, and understand the true value of saved customers.
Chargebee Retention can help subscription businesses revolutionize their customer cancel journey with intelligent cancel experiences, personalized offers, and a 360-degree view of the overall retention performance. Schedule a demo today and see it all for yourself.