Fall 2021 Product Updates: Creating Better Alignment For Your Sales and Finance Teams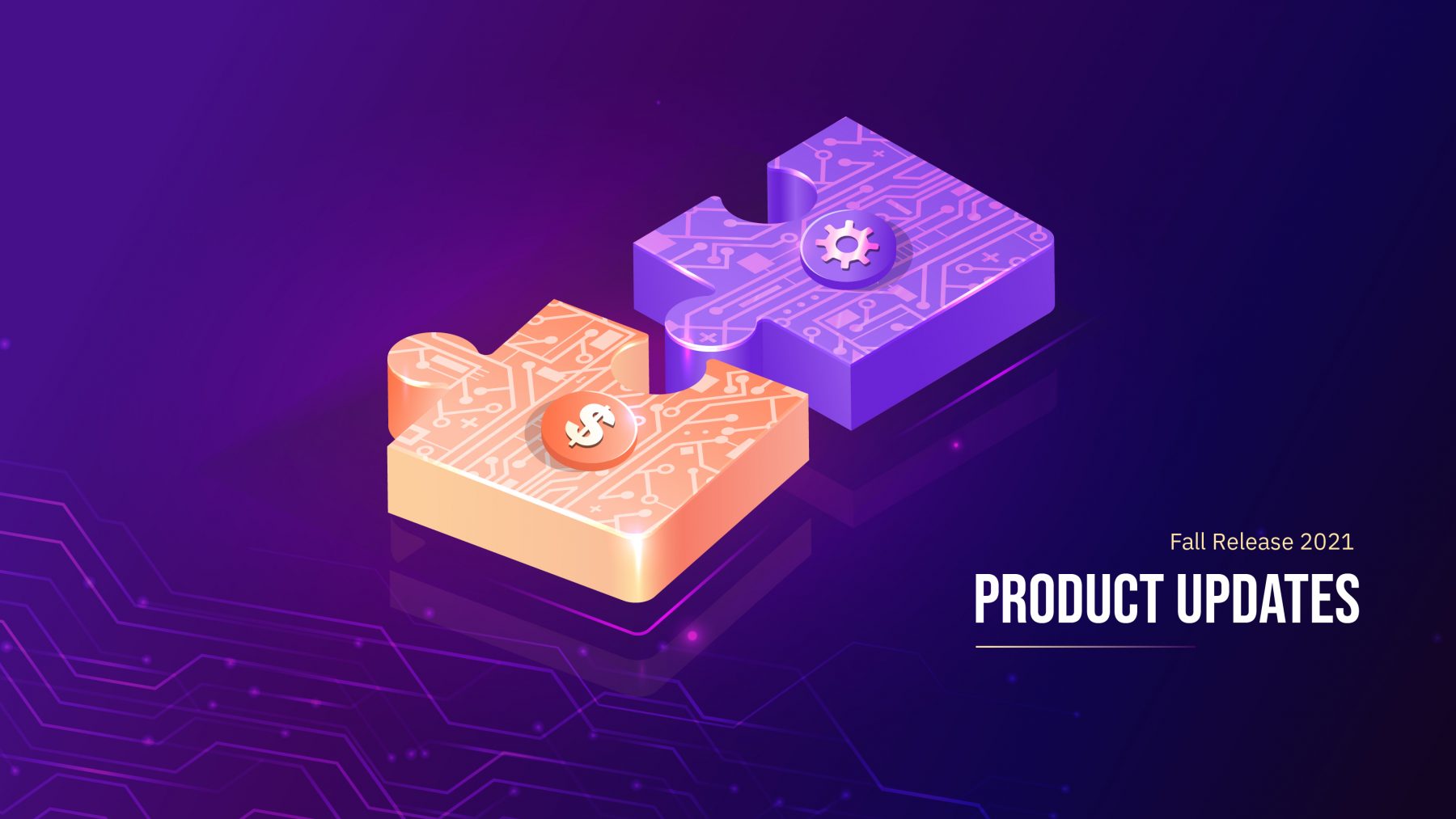 Growth begets complexity. And no matter how much or how often we expound the beauties of "lean" and "agile", that's just the way it is.
The simple three-word sales process that worked with SMBs might have to put on a suit, tie, and some weight in the middle when you take it to the enterprise. Engineering backlogs when you scribbled the first MVP on a napkin aren't quite at the same level of complexity as designing the next update with 700 feature flags you need to tip-toe around.
But at scale, these complexities end up creating silos and putting a damper on your growth curve. And this is most evident between the two departments that are most critical for driving revenue, and yet couldn't be further apart in the organization – Sales and Finance.
According to a Forrester report, 89% of revenue management decision-makers admit their billing tools are siloed from revenue-driving functions.
Both teams have very specific objectives. The sales team needs to close deals and bring in revenue. And finance needs to book them right, ensure accurate billings, and oversee obligations. 
But both need complete context. The finance team needs to know what contracts and discounts sales reps want to offer, and the sales team needs to know if their won deals were booked, collected, and recognized.
Of course, that's a gross oversimplification. But when your sales and finance teams operate in silos, a lot of time and revenue get stuck in the "back-and-forth". Fingers get pointed, contracts go unsigned, deals go cold… And sooner or later, it all winds back into inaccurate data, poor forecasting, and a lot of growth potential slipping through the cracks.
Digging a bit deeper, according to this Subscription Benchmark Study by Chargebee, over 75% of business leaders want to create better alignment between teams through deeper integrations with their CRM, while over 55% want deeper connections to their accounting and ERP workflows. With an integrated revenue stack, both sales and finance functions have a better context of deals, payments, and collections.
And so that's what we wanted to focus on our release this time around. Here's the lineup:
HubSpot B2B Quote to Cash Integration
Mollie Payment Gateway Integration
Highlights of Fall 2021
MS Dynamics GP Integration
What?
Dynamics GP is an on-premise software used by large enterprises worldwide. Integration with the MS Dynamics GP automatically syncs data on invoices, transactions, and customers from Chargebee to Dynamics GP, thereby reducing errors and creating a single source of truth by keeping finance users in the GP interface. 
Why?
"I love manual data entry," – said no one ever. Manual input of data is time-consuming and error-prone. This automatic sync makes your finance team's life easier by eliminating the manual process of importing subscription and billing data into their system so that they use their time for more strategic initiatives. 
How can it help?
With this integration, you can:
Sync your subscription and billing information with sales – including plans, subscriptions, coupons, addons, pricing models, quotes, and invoices.

Identify more upsell and cross-sell opportunities with a contextual 360° view of invoices, subscriptions, opportunities, and accounts.
Here's where you can read all about this integration.
You can request early access to this here!
HubSpot B2B Quote to Cash Integration
What?
The HubSpot Quote-to-Cash integration with Chargebee empowers your B2B sales teams to effortlessly create and send quotes, send Checkout Links and create subscriptions from a HubSpot deal. Additionally, they can view the relevant subscription information across its lifecycle, all without ever having to leave HubSpot.
Additionally, the product families and pricing from Chargebee are also synchronized with the HubSpot Product Library.
Why?
Your sales team should spend time closing deals, not juggling various tools to find the data they need. Your teams need full context on the plans, quotes, invoices, add-ons, charges for a subscription. With this integration, syncing data from subscription billing to CRM for your B2B sales has never been easier!
How can it help?
With all relevant information within HubSpot CRM accurately synced from your Chargebee's product catalog, you can blaze through closing deals with seamless collaboration between teams. Effectively, this integration simplifies your sales workflows and saves you 3-5 hours by reducing manual errors.
"One of the reasons we wanted a new billing system was for the syncing of our client account information within HubSpot to provide better transparency and alignment between Sales, Marketing, and Finance teams," said Joseph Dulo, Finance Controller of Web Shop Manager. "Chargebee has helped me greatly in understanding and reporting on the status of my customers without having to jump through hoops that take up critical work time."
Here's how you can simplify your sales workflows with HubSpot + Chargebee.
Zoho CRM Integration
What?
Zoho CRM integration enables seamless syncing of customer and subscription data from Chargebee to Zoho CRM.
Why?
Context and efficiency are vital cogwheels of your sales workflows. A prospect's subscription terms and invoicing information often change during negotiation, and keeping your CRM up to date becomes a painstaking task. Moreover, sales teams need to select the right pricing plan, coupons, add-ons while creating a new subscription. With the proper context, your sales team is empowered to close better and engage with customers and prospects based on contextual billing information.
How can it help?
Integration with Zoho CRM helps sales teams identify more upsell and cross-sell opportunities with a holistic view of invoices, subscriptions, opportunities, and accounts. Want to explore additional revenue streams in self-serve workflows? This integration makes it easy. With this integration, you can:
Get full visibility into the subscription records synchronized from Chargebee into Zoho CRM to make contextual sales.

Track and analyze your sales pipeline by allotting it to specific deal stage and pipeline categories inside Chargebee.

Mine through every past wins and loss to help guide future decisions. 

Identify best-performing customers to prospect more leads with similar persona or department.
Read more about what this integration makes possible here.
Request early access to this here!
NetSuite SuiteTax Integration
What?
We now support the SuiteTax module in NetSuite to ensure effortless tax and compliance. For customers who have purchased SuiteTax in NetSuite, this integration is available out of the box. 
Why?
Tax compliance is one of the most essential yet time-consuming processes, as it is tedious to keep up with the latest regulations for every state/country in which you operate. Automating taxes and ensuring that the same taxes are consistently reflected in your billing and accounting systems will take a massive weight off your finance team's shoulders.
How can it help?
Subscription businesses can now automate time-consuming processes for tax and compliance and improve efficiency by syncing billing information (inclusive or exclusive of tax) with NetSuite's Legacy tax or SuiteTax modules.
You can rest assured that the tax and compliance information is synced with your billing and is accurate.
More about how this integration can save you time, here.
Mollie Payment Gateway Integration
What?
Mollie is an Amsterdam-based company and one of the fastest-growing payment processors in Europe, with a keen focus on providing support for a wide range of payment methods, including localized payment options. Chargebee is a preferred payment partner of Mollie, offering a direct integration that allows you to configure the following payment options:
Card payment with 3D-Secure (3DS) Authentication

Single Euro Payments Area (SEPA) Payments

iDEAL Payment 
Why?
The growth of your business requires identifying new markets. With growing customer preference for localized payment methods which differ from one country to the next, catering to this demand requires you to partner with a payment gateway that accommodates most payment options.
How can it help?
Mollie integration adds to Chargebee's industry-leading number of payment gateway integrations. Mollie support is available in the European Economic Area (EEA), Switzerland, and the United Kingdom. In addition to the existing language support, ability to handle EU VAT compliances, and local forms of payments, Chargebee enhances its support to international expansion across Europe.
Do you have European expansion on the horizon? Check out how the Mollie integration makes it easy.
More Powerful Reporting
What?
You can now get reports on total and new ARR by plan and Net Revenue Retention (NRR) out of the box. The metrics now have an explanation of the metric definition and calculation. Moreover, the home dashboard now has improved syncing to help you stay up to date and track the latest metrics with faster sync times.
Why?
Analyzing revenue is a critical aspect of strategic planning, churn management, and efficient revenue management. In addition to the existing MRR and Revenue Recognition reports, the ARR and NRR reports give you better visibility of your revenue cycle and actionable insights to plug inefficiencies. Additionally, uncertainties of the past year have taught us that you need to keep a close eye on the health of your business and more often.
How can it help?
ARR reports enable you to measure progress and predict future growth while NRR report would help quantify the effectiveness of measures taken to reduce churn and the need for optimizing product features and pricing. Near real-time reporting ensures that you stay on top of your most important metrics.
"Our customers, especially with large teams, tell us that complex sales and finance processes lead to a delayed realization of revenue. As companies grow and scale, this problem becomes amplified," said Nathan Bobbin, VP – Product Management at Chargebee. "We are happy to offer expanded capabilities and integrations that enable faster revenue generation and growth by removing bottlenecks and streamlining critical workflows."
Chickens cross roads. The Sun rises in the east. Growth begets complexities.
As the subscription platform powering thousands of hyper-growth businesses, over the past few releases, we have been obsessing over capabilities that don't just help you navigate but leverage the massive opportunities within your revenue workflows.
With the Fall 2021 product release, Chargebee enables you to get rid of siloed revenue stacks, bring effortless alignment between sales and finance teams, and be a partner in growth as you expand your global footprint. Book a free trial or get in touch with our experts to see how!
Get the scoop on what's new