"I've not received the invoice. How do you expect me to pay?"
"My team has made the payment. Can you check?"
"The payment failed again? It's frustrating to keep retrying. What's the issue?"
"Can you send me the invoice again? I'll make the payment then."
If you're not solving for such back and forth between your collections team and customers, you're risking hampering customer relationships. And, driving away customers faster than you think.
PWC reports that 1 in 3 customers will walk away from a brand they love after just one bad experience. ?

Read on to know how you can build an Accounts Receivable (AR) process that not only helps you get paid faster but boost a positive customer experience.
Contextual Customer Engagement: Your Dark Horse in AR
Ask any sales or marketing leader the secret of selling, and they'll tell you it's personalised contextual engagement.
Reaching the right set of customers at the right time with the right message can help you win the deal.

While that's true when you're selling to a customer for the first time, it holds true when you're collecting money for repeat sales too.
Misidentifying the correct paying authority, and failing to follow up without providing more context or information on the invoice generated, often lead to operational delays or discontentment amongst customers, leading to subpar customer experience or involuntary churn at worst.

Hence, the boring, robotic age-old payment follow-ups just won't do the trick. You must build a personalized collection experience to ensure you get paid on time. 
Sadly, most companies fail before they even begin. That's mainly because they assume they can't influence the speed of collections since it's all in the hands of their customers.

Well, it's not. Let's dive deep into how you can leverage effective communication to prevent playing catch-up for your own IOUs and ensure a superior customer experience.
Understand your customer
Start segmenting your customers into cohorts based on various factors like
Invoice amount

Subscription plans

Payment behaviors

Credit risk 

Business size

Industry

Location
This segmentation will go a long way in helping you build a personalised communication experience which is the backbone of better customer relationships.
Build targeted campaigns
If you've understood your customers and their payment behaviors – you've won half the battle. Now, you need to map out the communication stages (before, on, and after the invoice due date), and messages for every customer.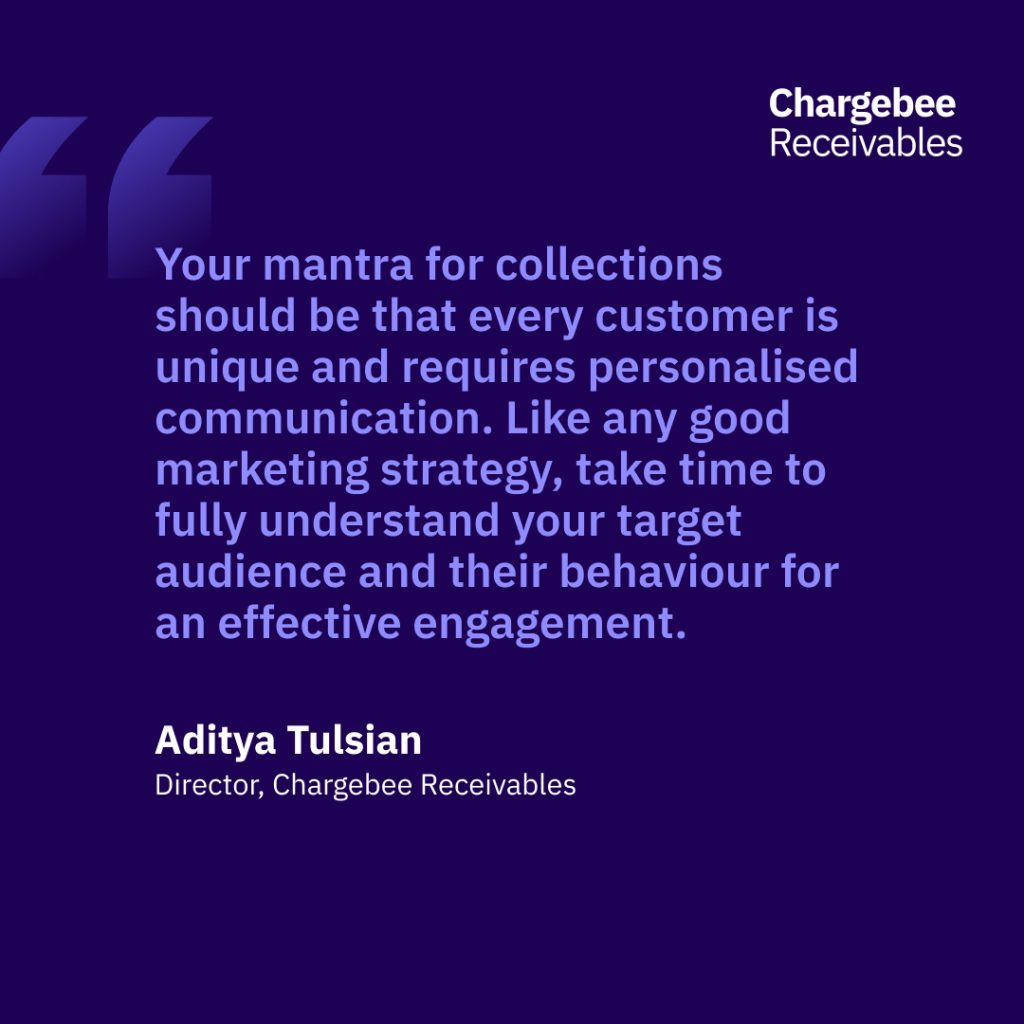 If you're using the same templatized message and mode of communication for all the cohorts., it probably won't work as:
Large corporations are process-intensive and require rigorous approvals from top management. So you must follow their invoicing and documentation guidelines to ensure your money isn't stuck in approvals. On the other hand, with small-medium businesses, you might be able to reach out directly to the customer much faster.

The no. of follow-ups and tone of communication would change according to the payment behavior and invoice value too:

– Minimal/ No risk customers who have low invoice value but always pay on time might just need one gentle payment reminder
– Medium-risk customers who have medium-high invoice value customers that generally pay on time might need 2-3 personalized payment reminders from the collector
– High-Risk customers with high invoice value and hardly pay on time, even with constant reminders might need AMs or CSM's engagement post a couple of follow-up email reminders
Pro Tip: For a seamless payment experience, give customers the flexibility to make advance payments and offer multiple payment methods. Additionally, embed your reminders with payment links for quick payments.
Unify customer data collection 
One of the most important aspects of setting up this personalized engagement is equipping your collections, finance, and operations team with a single source of truth for AR data that not only includes aging reports but drills down on further minute details on every customer –
Payment terms & credit policies

No. of follow-ups sent 

The most preferred payment mode

Accurate customer contact data, including whom to contact in case of an escalation, etc.

All the previous customer interactions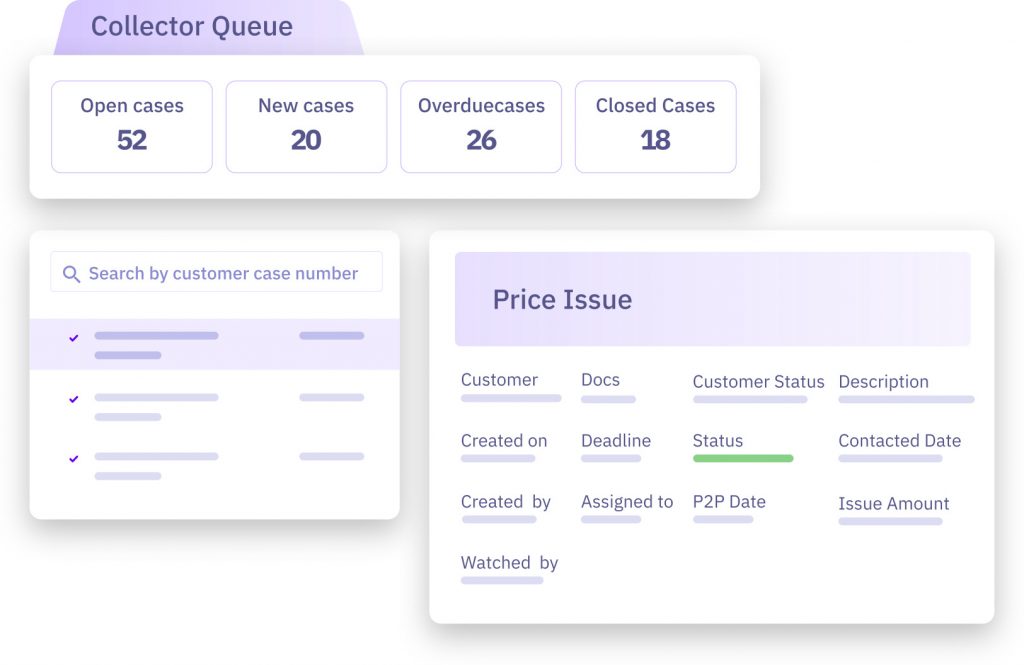 An integrated dashboard like the one above will help you drive alignment between finance, sales, customer success, and the operations team. This will help them better prepare for every customer conversation. Nor would they have to hunt down invoices in multiple excel sheets & emails every time they get asked questions like when was it sent, when is it due, etc. 
Be prepared for non-payments
An effective AR communication strategy doesn't stop at preparing for proactive collections but also those unavoidable cases of non-payment.

More often than not, it's not that your customers don't want to pay you. It's rather that they can't.

For example, one of the leading causes that remain unnoticed and silently strip away 20-40% of your loyal customers and recurring revenue is CoF (Card on File) payment failure. These payment failures can occur due to expired credit cards, unexpected network downtimes, insufficient funds, or 100 other reasons.

If you rely on automated retries and generic dunning emails for all payment failures, it'll start a domino effect of bad customer experience resulting in a canceled subscription.

Alternatively, if you're able to communicate to your customer:
Why the payment failed

If it was from your end, state the reason with a quick apology and assure them of a resolution 

If it was from the customer's end, suggest what they can do to prevent it

Embed the follow-up communication with payment links to make the payment again
you'll have better chances of getting that money in your bank and win extra points for a smooth customer experience.

Pro Tip: Gather information on soon-to-expire customer cards and nudge them before the due date to update their card or add a new payment method and avoid payment failures.
Ensure 100% transparency for customers
Most disputes arise from customers' inability to find their invoices or having no visibility into their available credits, payment history, and pending issues. Focus on building an easy-to-use self-serve portal for your customers where they can 
Get a consolidated view of their invoices and payment status  

Raise disputes and attach supporting documents for selected invoices directly on the portal

Reply to follow-up communication easily
By giving such visibility to your customers, your AR team will be able to collect revenue faster without jeopardising customer experiences.
Monitor Customer Engagement and Collection Efforts
It's proven that what cannot be measured cannot be improved. So, after you've done all the hard work of ensuring you communicate effectively with your customers, measure stats like:
No. of follow-ups sent to understand 

How customers engaged with the emails – open rate and payment link clicks 

The most preferred payment mode 

No. of open disputes
These will help you analyse the engagement and payment behaviours to improve follow-ups.
Improve Customer Experience and Collection Performance with Chargebee Receivables Auto-Engagement Feature 
It goes without saying that doing all of the above, keeping track of customer communications; storing invoices; updating transaction history; building AR reports; managing disputes, cannot be done manually. At least, not without dealing with 100s of errors and disgruntled customers who'll ultimately churn.

That's where we do the heavy lifting so you can continue to focus on growing your business.

With a front-seat view of the challenges faced by leading subscription businesses when collecting payments, we've built a state-of-the-art auto-engagement feature that gives you complete control over when, how, and to whom to send payment reminders, automatically.
Gain visibility into payment failures and leverage these insights to engage with priority customers

Define target segments based on customer risk profiles, invoice values, outstanding payments, and more

Decide email frequency and setup automate recurring payment reminders, daily, weekly or monthly

Select existing email/SMS templates, create new ones and customize them to reflect your

company branding

Set rules to automatically exclude customers based on their engagement activities for an intuitive collection experience

Choose when to escalate a pending invoice, and set up a follow-up sequence based on customer interactions

Get real-time visibility into how customers interact with your emails and design follow-up workflows to drive a superior customer experience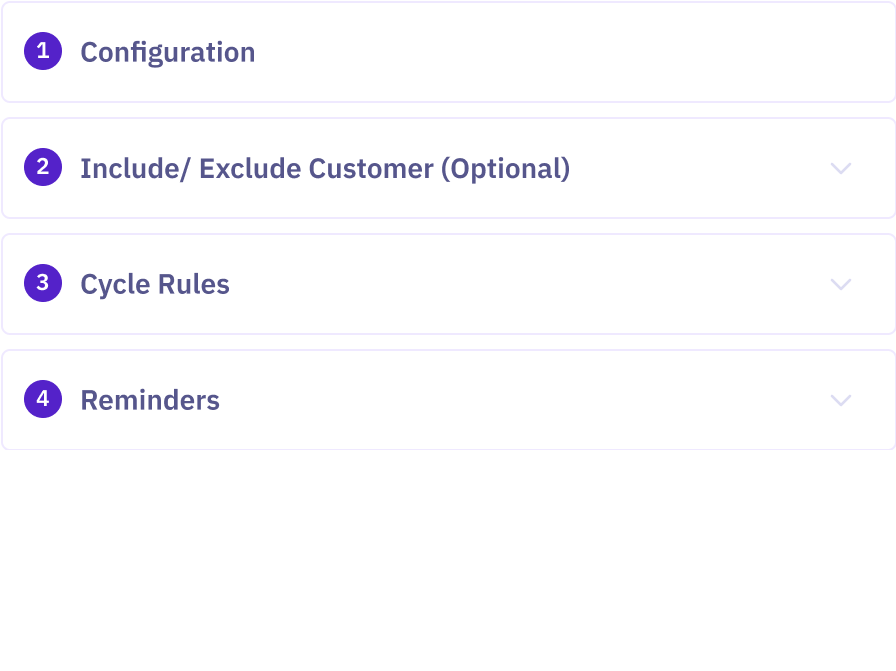 Can you already hear your collections team and customers thanking you for never facing those awkward conversations while chasing payments, ever again?
Yes, I want to get started with Chargebee Receivables right away!