The case for stronger retention efforts in recurring revenue businesses like SaaS is obvious. The growth of a company is more dependent on recurring revenue than on acquiring new customers.
While new sales show immediate gains and growth, real growth – and by that, I mean growth that sustains itself – isn't possible without a greater focus on retention.
On average, the CAC (customer acquisition cost) in the software industry is 17x more than the CAC for consumer goods, and even higher when compared to the retail sector. Adding on to this issue, customer acquisition is already 6x to 7x costlier than retention. This means that even if churn is slightly on the higher end, businesses have to spend significantly just to break even. 
On the bright side, improvement in customer retention has a positive compounding effect. A mere 5% boost in retention increases profits by 25% or more as loyal customers spend at least 3x more.
We have previously gone through several tried and tested methods of customer retention, including a complete guide to analyzing and reducing customer churn.
In this blog, we'll discuss more nuanced tactics that you can implement to take a completely proactive approach to retention for your subscription business.
Make retention your new growth strategy
It is critical for businesses to place just as much attention on retention as they do on acquisition, and this attention needs to grow as the business grows. Imbibing customer retention into the company culture like having a company-wide churn KPI can help realize this shared goal.
Furthermore, companies should try to satisfy unmet customer needs at the moment of cancelation to persuade customers who might otherwise stay if extended the right offers. For this, it is necessary to understand why your customer wants to leave and use the right incentives to influence them to stay. (We'll discuss this further in the article.)
Moreover, most high-volume subscription businesses, particularly in the consumer industry, have a diverse customer base. Hence, a one-size-fits-all retention plan won't work. To develop a complete picture of your customers, it is necessary to organize data from various sources such as demographic information, product usage, payment histories, and support interactions, while also spending a significant amount of time listening to them.
Unless users are being retained, strong channel strategies and impressive conversion metrics won't be of much help.
Set up an easy cancelation process
With customers more interested in test-driving services, the lack of a straightforward online cancelation flow gives the impression of being locked in. For this reason (and people's growing distaste for call centers), online cancelation is already widely regarded as essential, and in some instances, it is even a regulatory requirement (for example, California's Automatic Renewal Law).
The silver lining? An uncomplicated cancelation flow positively affects the entire customer lifecycle. According to Chargebee Retention's (formerly Brightback) 2021 State of the Industry Report;
(Acquisition)

Over 80% of customers said they would be more inclined to test out or purchase a new subscription if they had the option to pause or cancel it online.

(Repurchase

) Over 80% of customers said they would be less likely to make another purchase from a business if the cancellation process was challenging.

(Referral)

79% of respondents said they would be less likely to suggest a service to a friend if the cancellation process was challenging.
So, what's the mantra? If you love your customers and hope to keep them, make the cancelation process pain-free.
Intervene at the moment of cancelation
A customer canceling is not the end of your retention efforts, not when the cancelation experience can be turned into an opportunity.
According to the 2021 Chargebee Retention report, 32% of people changed their minds about canceling after being offered an incentive.
The report found that nearly 50% of subscribers were more likely to not cancel if offered a discount, but there are many other tried-and-true tactics that are well worth experimenting within your own cancel flow: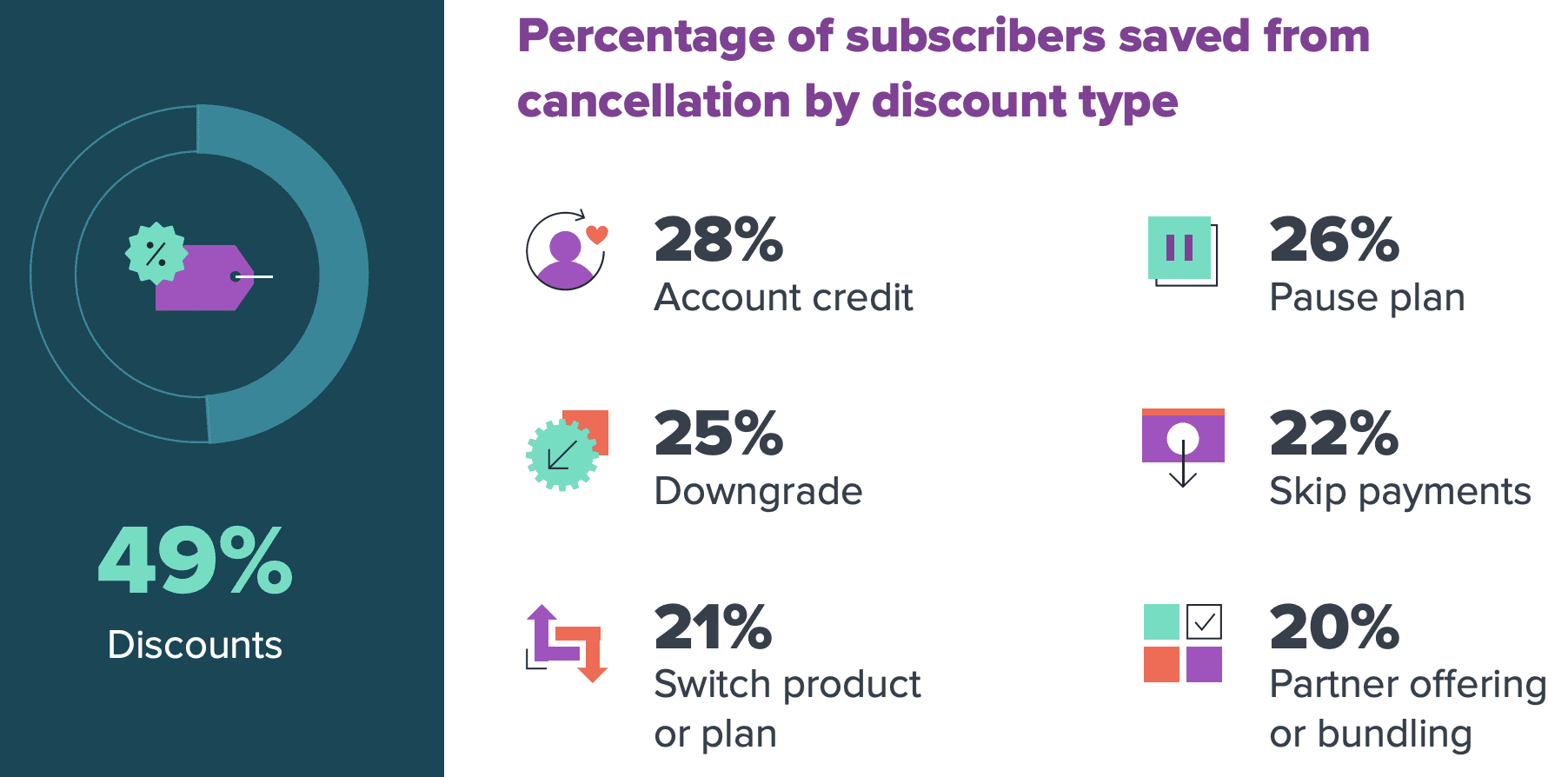 Here's another interesting statistic: cancelations can be prevented by giving your customers the option to pause their subscription. 51.7% of 14.2 million American consumers who said they might cancel a subscription indicated that they would be interested in pausing instead. This can be a clever strategy to prevent voluntary churn and lower the marketing expenses necessary to re-engage your subscribers in the future.
If you're unable to do this seamlessly with your current subscription management solution, tools like Chargebee allow you to enable pause options for your customers with ease. Chargebee also offers immense flexibility in terms of issuing discounts, accepting credit, or switching plans.
Build and optimize a churn deflection funnel
If you are constantly on the lookout for strategies to increase saved customers and decrease cancelations, a churn deflection funnel can be a gamechanger. It resembles an acquisition funnel in many ways, but in reverse.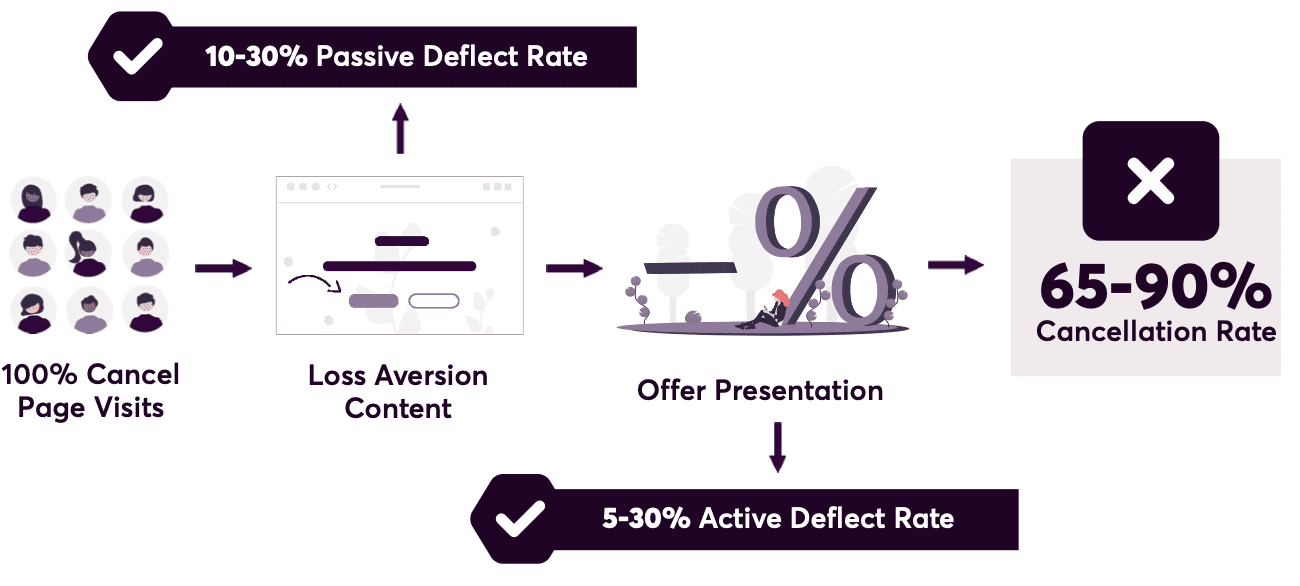 Time is the key distinction between acquisition and deflection funnels. While acquisition is frequently a one-time endeavor, retention requires ongoing effort. The window for your customers to opt-out is larger the shorter your subscription plan is (monthly or less). These subscribers frequently stop even after a single deflection. Therefore, depending on how frequently you offer subscription services, you will typically need to analyze reverse conversion (or deflection) rates for a month or longer.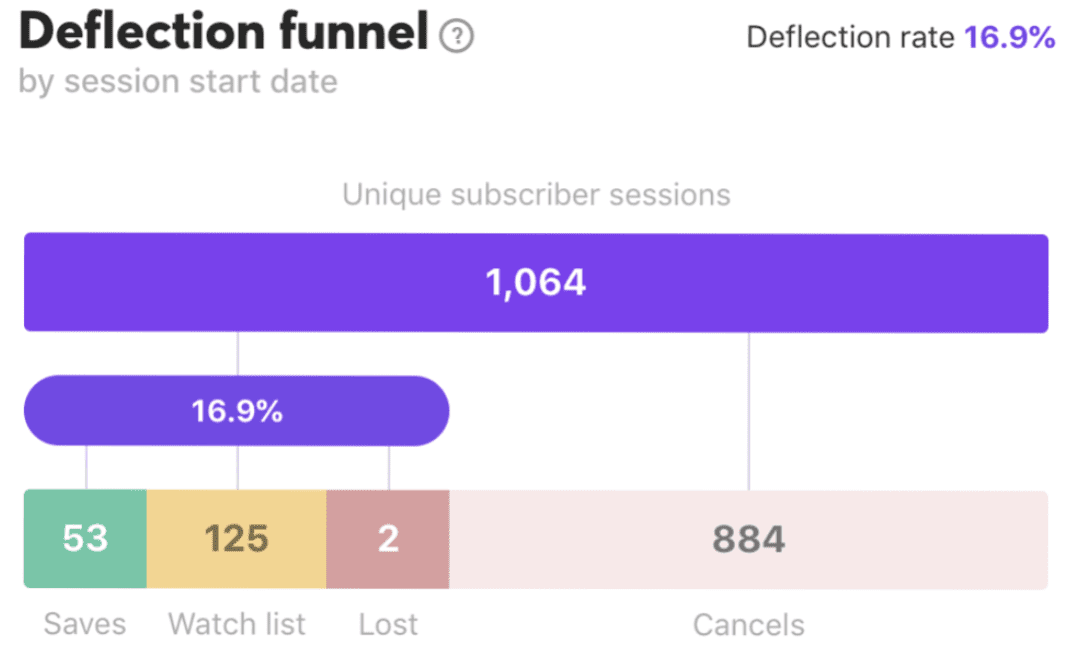 Segmenting users into cohorts
Tracking a single metric like monthly cancels cannot give real insight into why a subscriber from a diverse customer base might be leaving. For your deflection efforts to have a positive influence on the user experience, the deflection funnel should monitor cohorts of users instead of page visits or sessions. 
For instance, if you gave a random user a one-month extension offer at the time of cancelation, they might still leave once they claim the benefits. However, if the offer was targeted at a loyal customer, this offer might have been the catalyst to convert this customer into a brand ambassador. 
Hence, it is necessary to track cancel intent based on other variables like LTV, subscriber tenure, and more. This will help you create customer cohorts depending on the value they produce for your company. Consequently, you can concentrate your efforts on keeping your company's most valuable customers.
For example, building customer cohorts is exactly what Unbounce (a Chargebee-enabled Canadian landing page building software) achieved, recording an instant 11% churn deflection. Once they found insights about various customers, they were able to create tailored offers based on subscriber tenure. 
> Read more about how Unbounce built customer cohorts to deflect churn
Refining your dataset
With the deflection funnel, you gather data from various key metrics like deflection rate (deflected users from a session), save rate (percentage of users who are saved after a defined period of time), watch list (users who were deflected by have not yet been marked as "saved"), and deflected cancels (the number of customers who have fallen off the watch list and canceled). 
Since all this information is being developed on a per-user basis, it is possible that users might have numerous subscriptions and cancelations. To protect your data from being skewed, you can use the following settings:
Unique Save Period

prevents customers who have been saved more than once from appearing twice in your reporting within a specific time frame.
Unique Cancel Period

ensures that customers that cancel more than once will not appear in your cancel counts if they cancel within a specific time frame.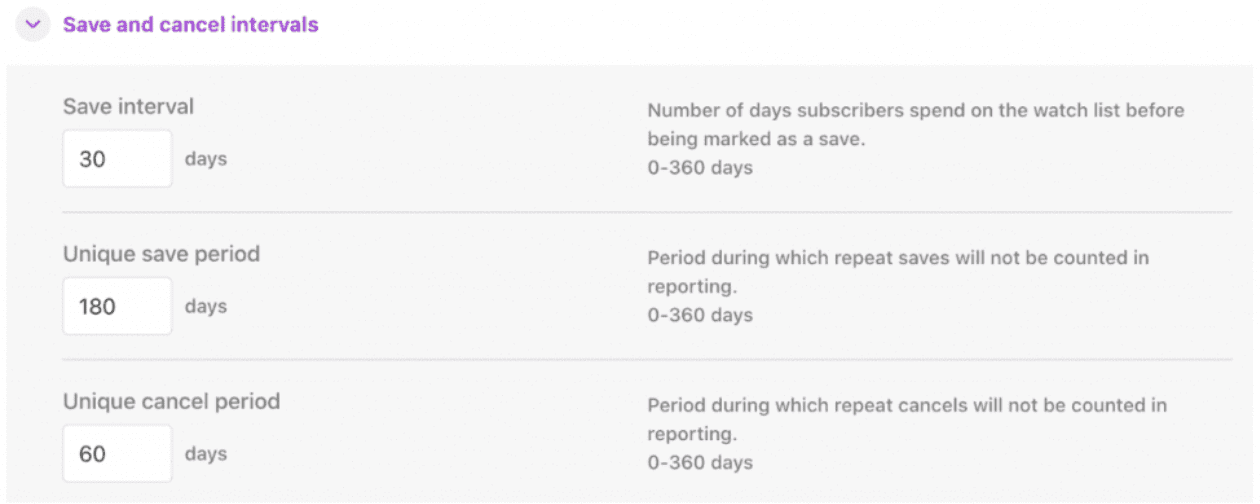 Automate your retention workflow
If we've learned anything so far, it's that it's more effective to approach retention like a system instead of just searching for the leaky parts. 
Sure, there are several ways to make the canceling process better overall and retain customers who can be persuaded to stay. But to truly succeed – enhance your retention KPIs, accelerate your revenue growth, and route to profitability – you need to begin by learning what your customers want. 
This is particularly true for diverse businesses like SaaS and subscriptions and demands the adoption of a systematic approach to measuring churn and saving customers. 
It's easy to do, with the right tools.
For instance, here's how Chargebee Retention can help in a glimpse: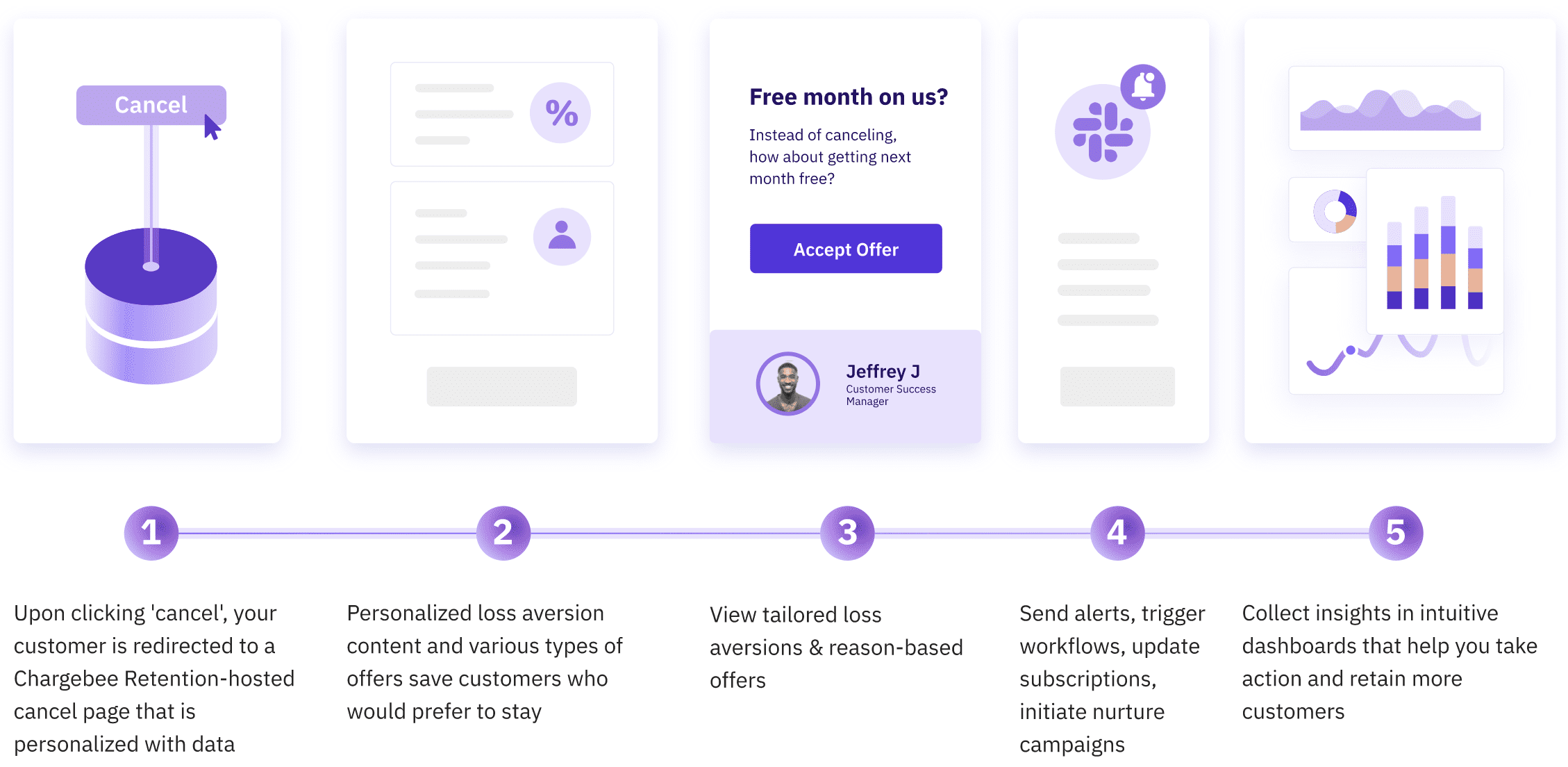 Provide a memorable experience to your customers and increase customer retention – determine the reasons why your customers depart, then test and target specialized content and incentives to reduce cancelations while keeping things pleasantly simple.
You can also choose to access Chargebee's subscription suite to unlock the gamut of advanced subscription capabilities like smart dunning, billing experiments, revenue intelligence, and more. 
Intrigued? Go ahead and schedule a personalized demo – our experts will get in touch with you soon!