We spoke about how the future of publishing lies in subscriptions. The global newspaper advertising revenue is expected to fall from $49.2bn in 2019, to $36bn in 2024. So that begs the question: what are the other emerging revenue streams other than scaling reader revenue? Or rather, how does a publication house diversify its revenue stream?
Turns out, there are some interesting developments that seem to be underway. These include eCommerce, newsletters, podcasts, and digital events. This post will give some perspective on how you can capitalize on these emerging trends.
The eCommerce potential
Online retail revenue hit $245.28 billion in Q4 2020, up from $185.70 billion during the same quarter the prior year. The pandemic has accelerated the adoption of eCommerce. Consumers are getting increasingly comfortable with purchasing online––with retailers enriching the online shopping experience and facilitating faster deliveries.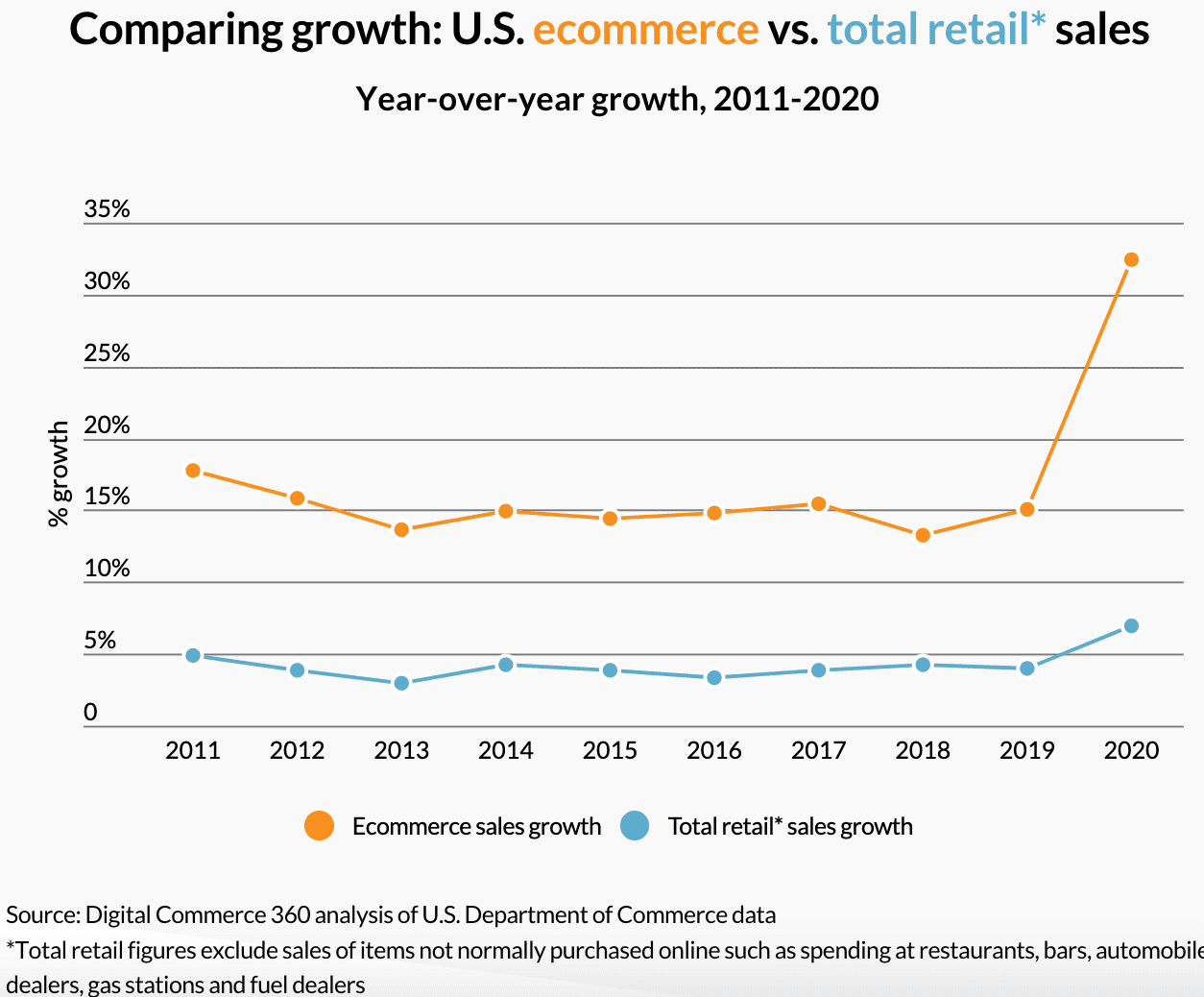 And, publication houses seem to be hopping on to this trend for diversification.
The Denver Post, for example, sells Colorado photos taken by their journalists. And the Seattle Times is also selling a bunch of merchandise, including coffee table books.
Hearst has developed four commerce products: a Runner's World Store, a cookbook developed by Delish, Women's Health, as well as online workout classes, costing $15 per month, or $100 a year. The key to success, according to Betsy Fast, Chief Content Development Officer at Hearst, is to leverage your editors and focus on your audience, and "lean into what works." Provide services your readers need or enjoy, and find other ways to "help them get on with their daily life in a really tough time."
On an even larger front: take BuzzFeed. Their commerce division, established in 2016, generated $50 million in sales by 2018. They've even created a "Shopping Showcase"; a form of shoppable ads, designed to connect the advertising business and fast-growing affiliate business.
Swara Kantaria, Product Manager at BuzzFeed, says: "The shopping ads are awesome because they are a new native ad format that not only grows our biz but also serves our users' needs. When readers are on shopping posts, they are in the mindset to shop and find products they love and want to buy."
According to Group M, eCommerce related ad spend is growing faster than digital advertising––––with a jump from $35bn spend in 2019 to around $51bn in 2020.
GlobalWebIndex, in a recent report, highlighted a key trend shaping this development; the move to mobile shopping. "The mobile phone is now the device of choice for all stages of the purchase journey – from researching to buying through to reviewing," they said.
According to The Drum, Pink News' (a UK-based online newspaper marketed to the LGBT community in the UK and worldwide) founder predicts first-party sales in shoppable ads will soon become its biggest revenue source.
"There is something thrilling about a user who visited PinkNews on Snapchat to learn the latest about James Charles, deciding to swipe up and buy a pair of $40 sunglasses from us on the spur of the moment," their CEO Benjamin Cohen wrote.
But embracing eCommerce could require a cultural shift. Julia Raphaely, CEO of Associated Media Publishing in South Africa has stressed, you can't just put a product out there.
Publishers must show audiences how these approaches into eCommerce can benefit them: "You've got to be focused on the end-point which is getting people to see your (publisher) brand as relevant," she said, speaking at the Digital Innovators' Summit. In doing this, publishers must also bring their advertisers, staff, and audiences, with them––all of them need to buy into your vision.
Venturing into this zone of eCommerce also puts an emphasis on data and partnerships. Data gives you the luxury of understanding the interests and behaviors of your customers. And partnerships enable you to scale, which you couldn't have done single-handedly.
Kohls, an American department store chain, relies on POPSUGAR, an American pop culture media company for insights. "POPSUGAR will bring key predictive insights to tell us exactly what this customer wants through the content they are searching, browsing, and engaging with across channels," said Michael Gilbert, Kohl's Executive VP of Product Development.
And then, we have the commerce platforms themselves, such as Shopify and WooCommerce. These platforms enable anyone to set up a store and start selling online. This simplifies the complexities of infrastructure.
Lastly, the way forward is through trust and an immersive experience.
Raju Narisetti, a professor of professional practice at Columbia Journalism School and the former CEO of Gizmodo Media Group, argues that "Putting in 'buy' buttons just because you have a big audience is a failed idea." But he adds, "if you think about it as commerce becoming a byproduct of your reader trust — and trust being the main product — then I think you have the ability to succeed."
And by an immersive experience, we mean: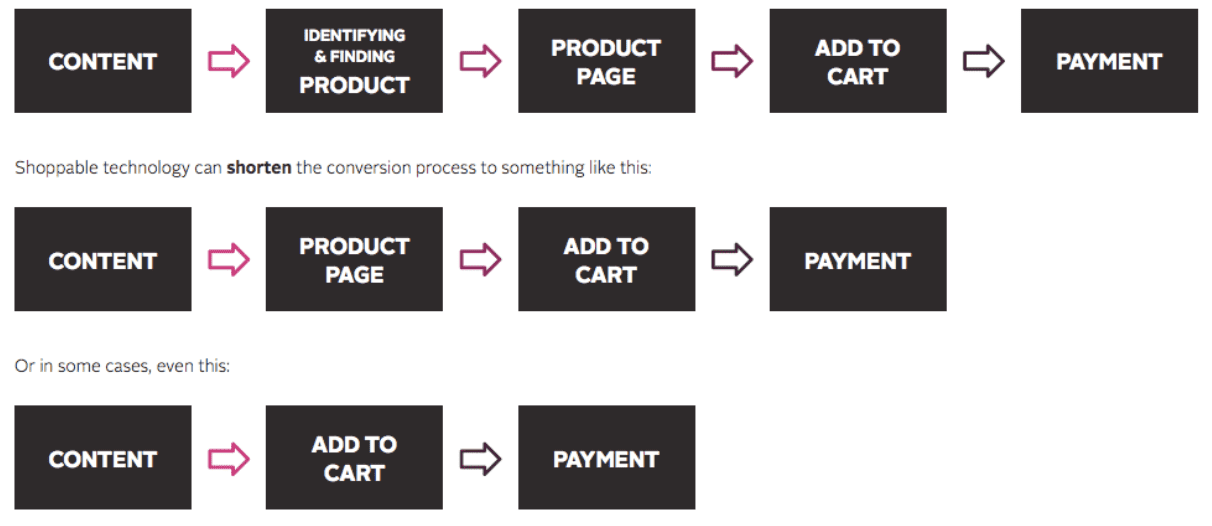 Email newsletters and opportunities in podcasts
An email newsletter can build direct relationships with your audience. You know how reading a newspaper early in the morning is a habit? Well, so is a newsletter.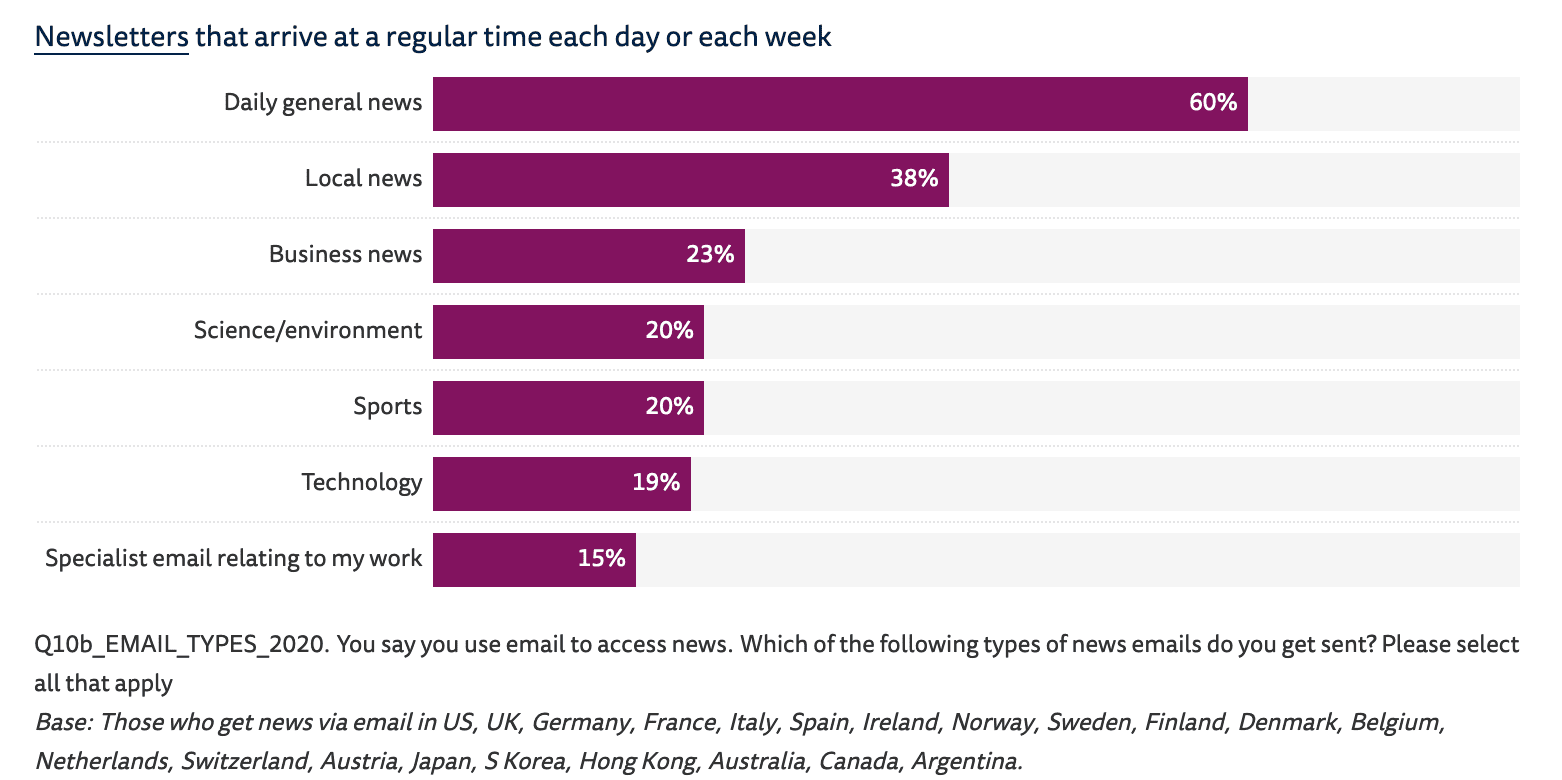 But the key to successful newsletters is not just the quality of content, but also consistency. Here's a tweet by Kendall Baker, who's written newsletters for The Hustle and Axios Sport:
"The most important component to building community (which is the most important component to succeeding in today's media landscape) is consistency and cadence. Nothing is more consistent than a daily newsletter that arrives at the same time each day."
The Washington Post's coronavirus newsletter has created new sales in the form of sponsorship opportunities with companies like Goldman Sachs, Slack, and Salesforce.
And then, there are podcasts. Paid newsletters and podcasts seem to appeal to a younger audience. In the US, 24% (68 million) listened to podcasts weekly in 2020 – up from 22% in 2019. Almost every large publication including The New York Times and The Washington Post have adopted a podcast. The following being the most popular hosting platforms: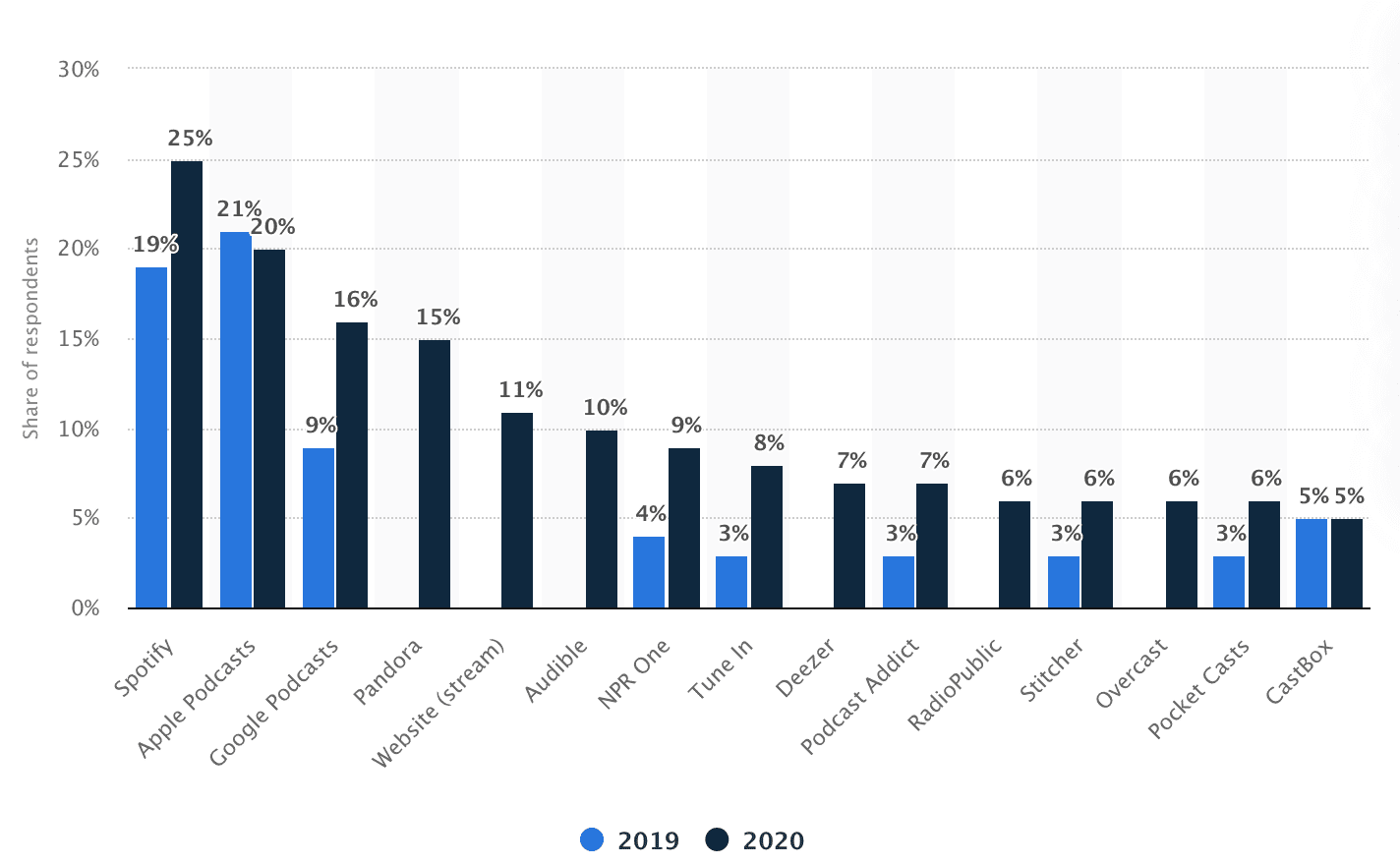 Marguerite Howell, co-editor of The Intelligence at The Economist says podcasts are not just about the way shows are constructed, it is also about tone: "It's much more intimate, where sometimes with the radio it's as if you're being assaulted."
In terms of advertising revenue, even though there was a slight dip in 2020 (due to the pandemic), IAB Podcast Advertising Revenue Report forecasts an increase going forward: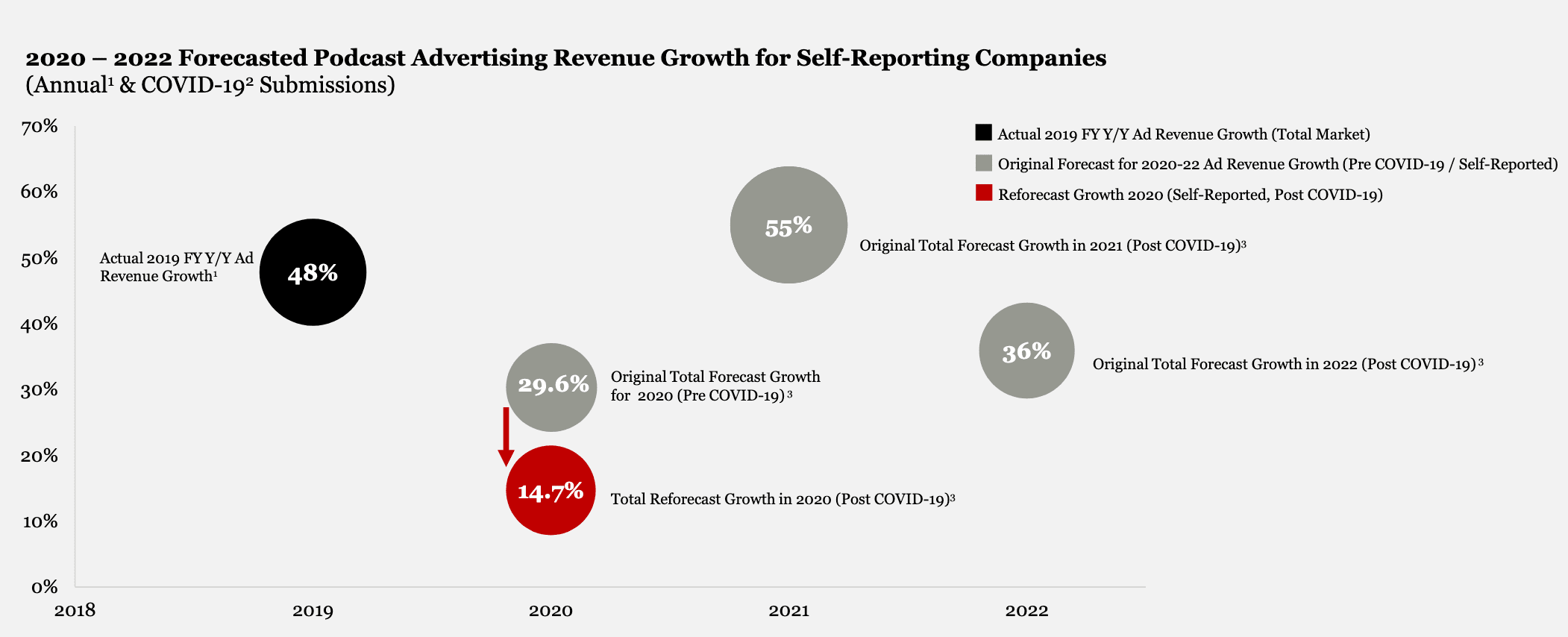 Monetizing digital events
Do you see the orange bar that says 42.86%?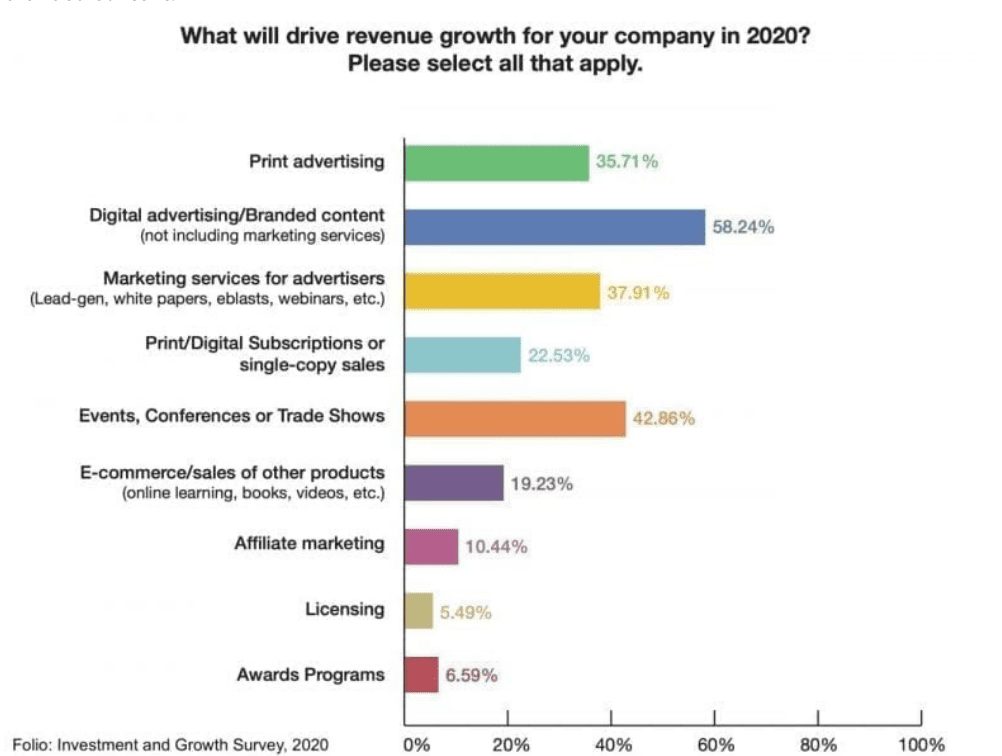 Last year, live events were the 2nd most expected revenue channel–behind digital advertising. But due to the pandemic, they ended up going digital.
So what does the future hold?
Nikki Clare, Head of Events and Client Service at Hearst Live, said: "In the short to medium term, we're looking at virtual events as our core products, but then our medium to longe term strategy will be hybrid events. We still believe very much in the power of live experience, but we also believe that we can translate a lot of that into virtual or hybrid events."
There's definitely going to be a chunk of people that want to attend offline (or in-person) events, but that doesn't mean digital events are going away. With the hybrid model (that includes the digital events), and the software now capable of hosting them, digital events don't seem to be making an exit.
Sponsor interest has grown says The Atlantic, backed by their ability to pull in high-caliber attendees through these events. "Most of the sponsors that we have worked with in-person have been interested in trying this model with us," said Wyler. "Part of that is the belief they have in our power to convene and engage audiences. We've maintained a 75% average watch time for our audience, which is pretty incredible."
The long term stability
The reason for this diversification of revenue is stability. In the pre-covid era, publications were dependent on one source of revenue which was an ad-based model. And even then, publications were having to stay afloat by fending off tech giants such as Facebook and Google.
Reader revenue and subscriptions will continue to be your core stream of income. Publications that bet on early on digital subscriptions are already seeing significant gains. Washington Post now has around three million subscribers. Wall Street Journal added more than half a million subscribers to take its total digital subscribers to nearly 2.5 million in the past year. Financial Times has more than a million subscribers. These numbers will only continue to grow.
But, supporting this stream with rising trends such as eCommerce and digital events will keep you cushioned from uncertainty.  Digital events can help you foster a community. Plus, you'll have the added advantage of your brand reaching a wider audience.
Talk to us to know more about how Chargebee can help you implement and scale your reader revenue model and diversify across revenue streams.