Losing customers is a painful process, no matter the reason. But when that loss is due to a failed payment, it hurts a lot more.
The customer wants to renew the subscription, but an expired or maxed-out credit card results in a failed payment, ultimately forcing the customer to churn.

Once this happens, recovering lost revenue can be a long and arduous undertaking.
But the good news is that you can maximize your revenue recovery easily by setting up an effective dunning strategy. 
In this article, we'll explore the most important dunning best practices that will help you combat involuntary churn and maintain a healthy bottom line.
1. Set Automated Payment Collection Retries 
Payment failures due to card-on-file issues – e.g. maxed out cards, card expiry, and more – are some of the most common vectors of revenue loss, and involuntary churn.
This, however is solved by either retying the card at a later stage to bypass temporary issues or proactively reminding the customer to update their expired cards. While it sounds simple, accurately identifying payment failures and then initiating manual retries and/or update reminders for each transaction is a mind-numbing inconvenience, without even considering the revenue loss generated by manual errors.
Instead of adding headcount to the problem, consider investing in automation. 
For example, with Chargebee, you can set up a smart retry logic that will retry a failed transaction at dynamic intervals based on the payment failure reason. You can even set a permutation of multiple rules to determine the latency between payment failure and retry, the number of retries initiated, and when and how your customers are asked to update their card details.
Chargebee's smart dunning has helped companies like Zenchef recover 60% of unpaid accounts. "We were able to recover 60% of formerly unpaid accounts thanks to our switch from Zuora to Chargebee." says Julien Balmont, Co-Founder & CTO, Zenchef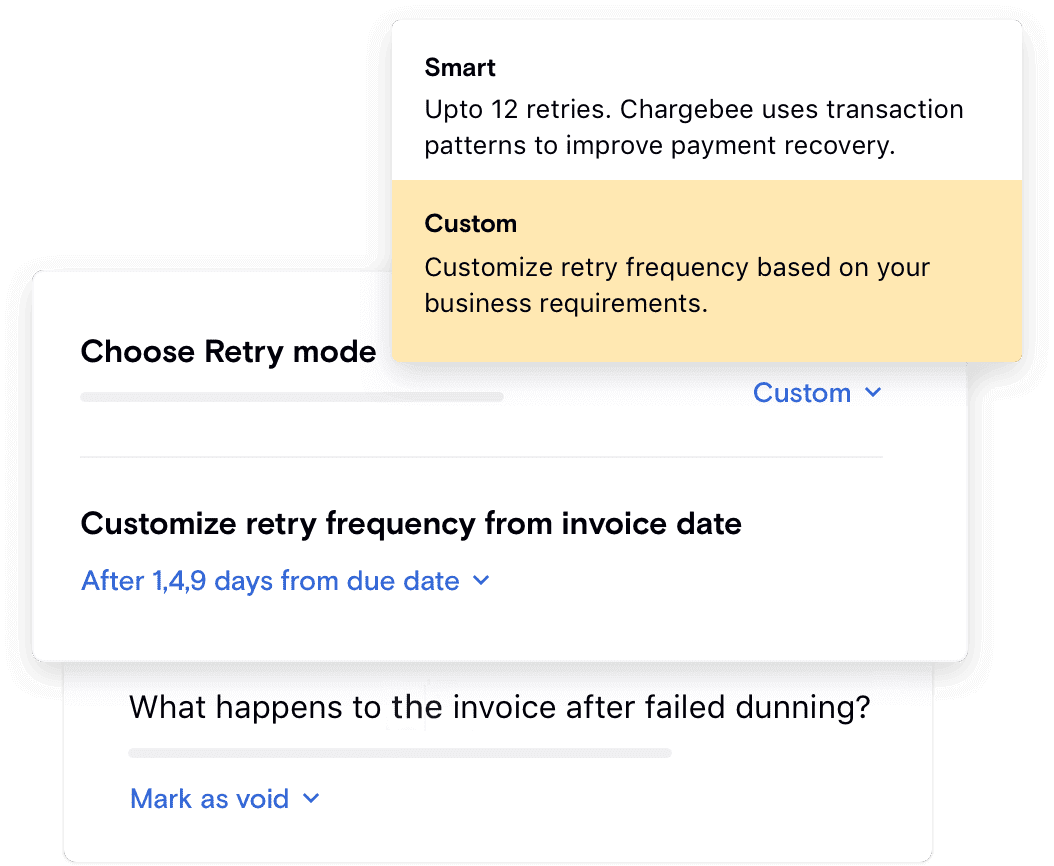 2. Automate Your Customer Communication Process 
Dunning processes include a number of different kinds of customer communications, such as:
Reminders that payment dates are approaching

Reminders to update a card that is going to expire

Alerts that a card is now expired

Notifications that a payment attempt has failed
But no business would move ahead if their most critical resources — their employees — are stuck working on automatable processes.
Instead, build out an automated dunning communication process so that reminder emails and SMS messages are sent automatically.
This allows dunning communication to be sent without human intervention, preventing delays and stopping your finance team from being distracted from other more important duties.
With Chargebee Receivables, you can set up auto-engagement workflows and send personalized emails to specific cohorts. You can set the email frequency, automate when to escalate a pending invoice, and set up a follow-up sequence based on customer interactions.
3. Make the Card Update Process Easy 
The majority of the time, your dunning process will be triggered by an expired card or one with insufficient funds.
Rectifying these situations is critical for revenue retention. You need to have your customer update their card details in order to process payment and prevent involuntary churn.
Your goal here is to create a good experience with minimal friction, meaning your dunning emails should make this process simple for them. 
Consider this email from KISSmetrics: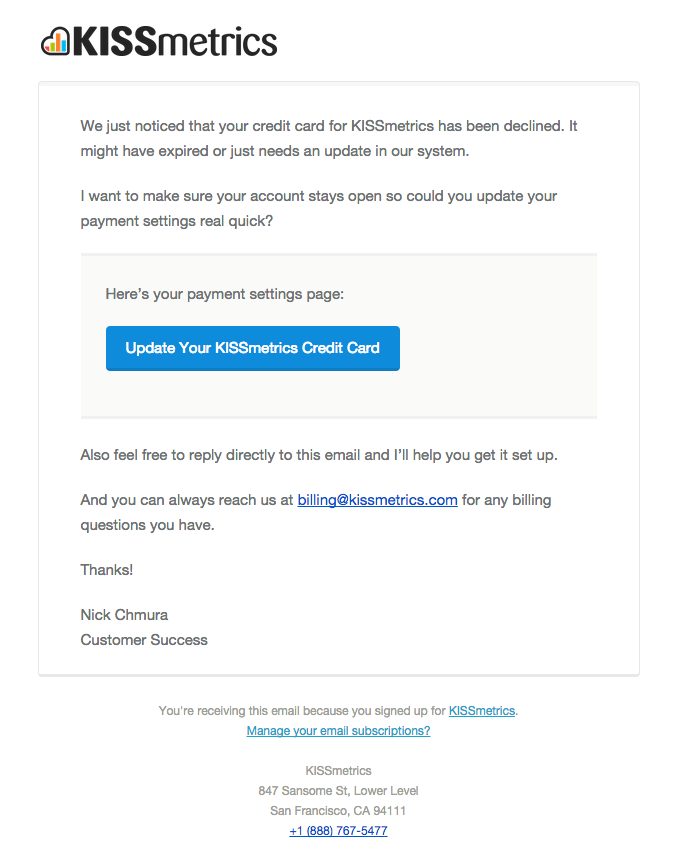 It's simple, direct, and includes a clear CTA button with a link to a page where the customer can input their credit card details.
Using self-service portals can make it easy and simple for customers to update their card information. They allow customers to make changes to their payment and subscription details. This will make sure your business has the updated information in the system to use for subsequent billing cycles.
4. Optimize Your Subject Line 
According to Mailchimp, less than a quarter of all sent emails get opened. This is tragic news for those in charge of dunning, and it puts immense importance on your email subject line.
The subject line is what shows up as a preview in email apps (whether on a desktop or mobile device).
The subject line's information is what people use to determine whether or not they're going to open the email or swipe to delete it.
To pass through this gauntlet, your dunning email subject lines need to promote urgency and be as clear as possible.
This email from Netlify is the perfect example: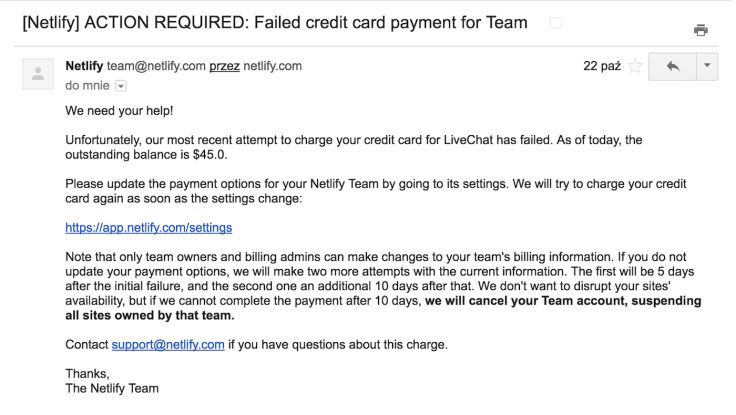 The subject line begins with the brand name, followed quickly by "ACTION REQUIRED" in all caps. This creates urgency while also letting the customer know the email is from a trusted sender (emails with such urgent content can sometimes be written off as spam).
Then, it clearly describes the email's subject: a failed credit card payment.
Use this framework as your jumping-off point for dunning email subject lines. Then, use A/B testing to try out different variations and run with the most effective option.
For example, you might compare the above template with one that reads: [Your Brand]: CREDIT CARD DECLINED: Actioned Required.
5. Drive Better Customer Engagement with Personalization
Your customers are more likely to engage with your failed payment notifications if the communications you send are personalized. Determine the cause of the payment failure and personalize your communication accordingly. For instance, if the payment failure is the result of an expired card. Your email should provide options for the consumer to update the new one.
Additionally, make sure your email copy mentions the consequence of unsuccessful payment: account cancellation and provide instructions on how to pay as well as a clear call to action that directs visitors to the payment page so they can complete the payment..
This email from Mailflow demonstrates this beautifully: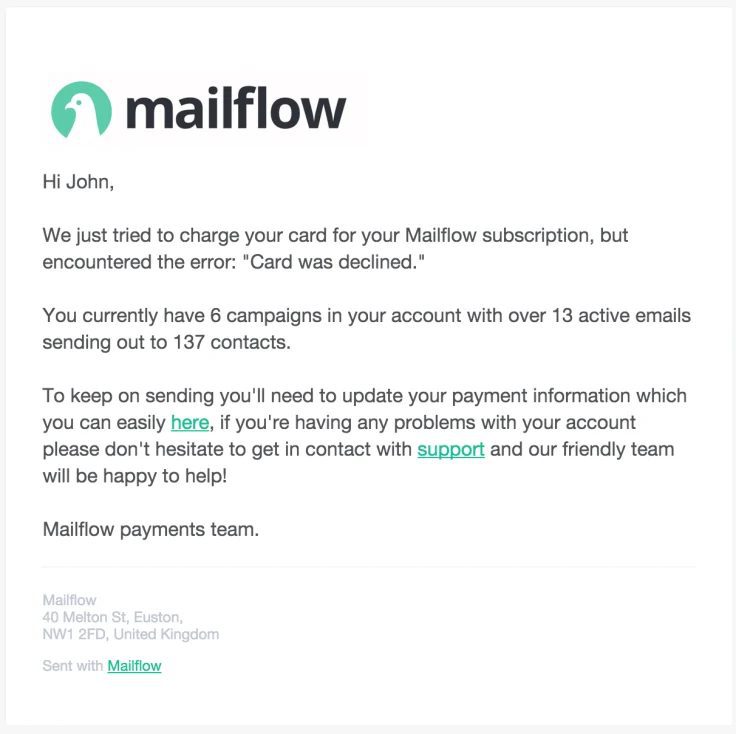 By including details about the campaigns their customer is currently running, Mailflow simultaneously personalizes communications and creates more urgency (if the customer doesn't solve the credit card issue, their campaigns will stop).

"Your mantra for collections should be that every customer is unique and requires personalized communication. Like any good marketing strategy, take time to fully understand your target audience and their behavior for an effective engagement."
– Aditya Tulsian, Director, Chargebee Receivables
Chargebee's revenue recovery solution comes with pre-built filters that automatically segment customers into specific cohorts based on their payment history, no. if invoices, invoice value, etc, and helps your team drive contextual customer engagement for a faster recovery.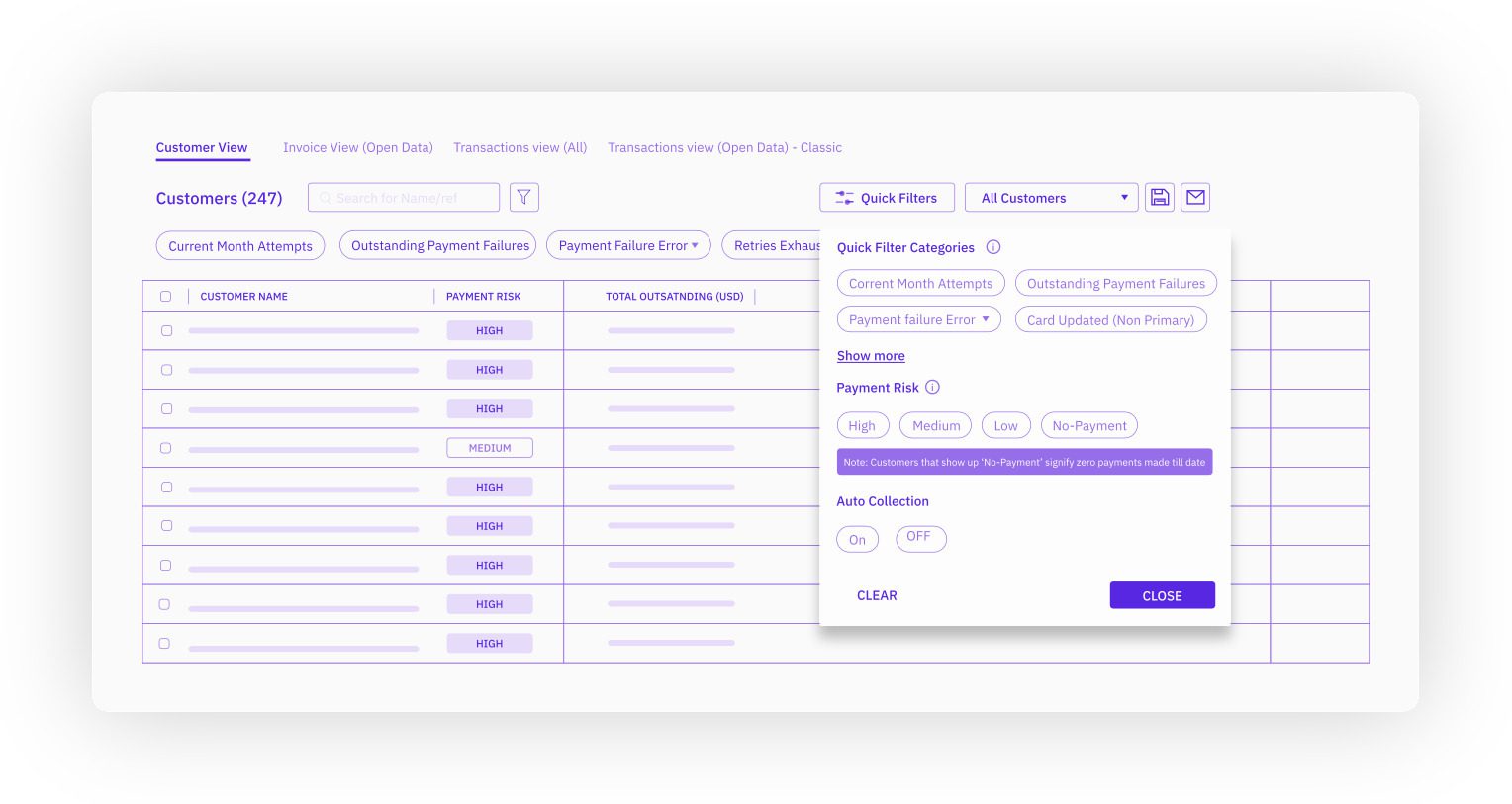 6. Demonstrate Empathy 
While it might be frustrating when payments fail, your follow-up emails should be empathic and exhibit positivity.
This is easy to achieve by removing any blunt or potentially aggressive wording. When writing emails, it's always best to consider the question, "What is the worst way this could possibly be interpreted?"
Especially during turbulent market conditions, remember that it might be difficult for your customers to pay on time. Instead of canceling the subscription due to non-payment, create a flexible payment plan to ease some burdens on your customers. Mention clear "Promise to Pay" dates and follow-up for the same.  
7. Maximize Brand Equity at Every Point of Interaction 
Your dunning emails should be immediately recognizable as coming from your brand.
Remember: you're contacting people about their credit card information. They have reason to be suspicious.
This pre-dunning email , for instance, which anticipates the expiration date of a customer's credit card, doesn't include many brand elements: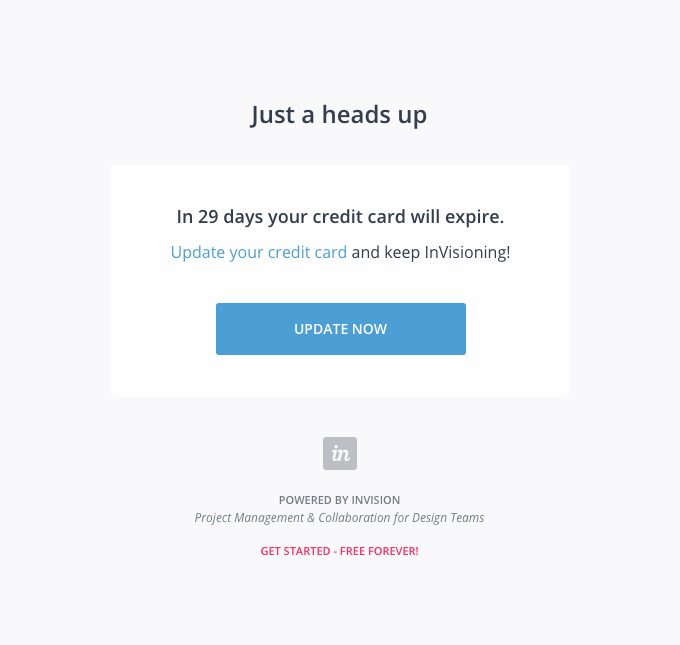 Spotify's dunning email, on the other hand, is instantly recognizable.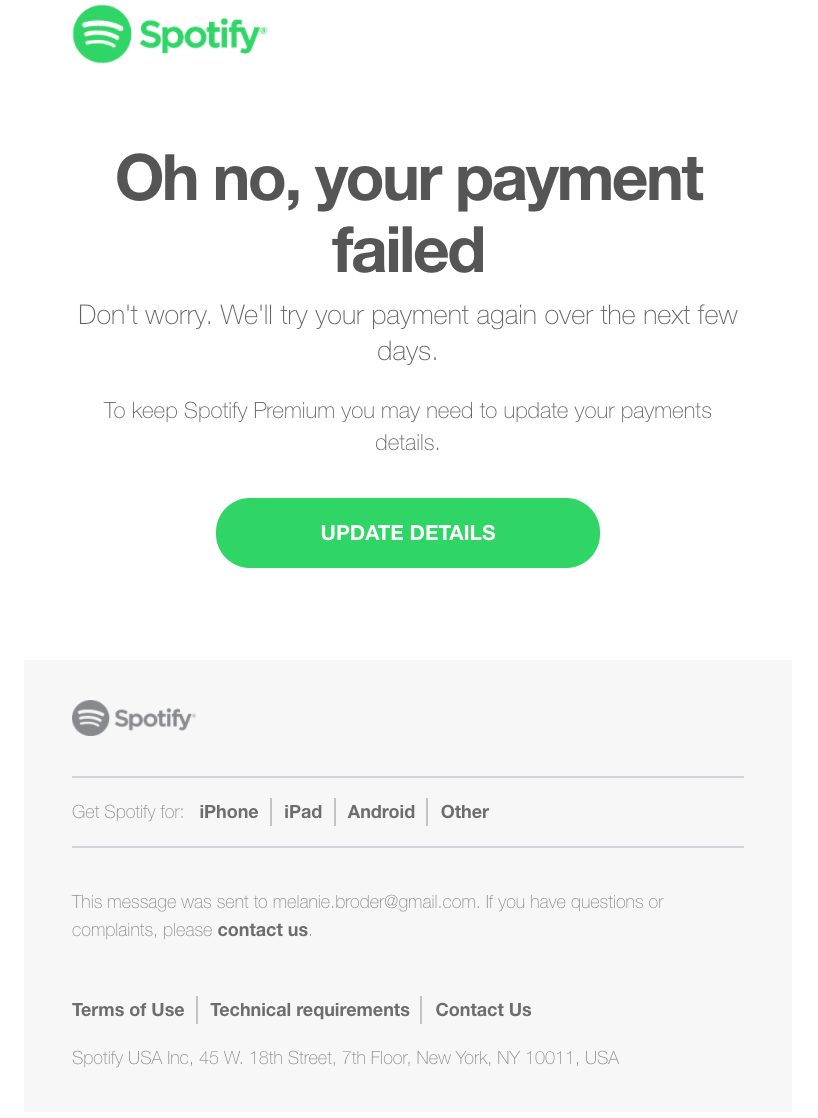 When building dunning email templates, include brand elements like your logo and brand colors, and provide your company contact information so customers can reach you if they're unsure if the email is legitimate.
Maximize Revenue Recovery With Chargebee 
If you're a subscription business struggling with payment failures, implementing effective dunning best practices is crucial to maximizing revenue recovery. 
Supercharge your dunning process with Chargebee's revenue recovery solution. Built specifically for recurring billing challenges, Chargebee helps you:
Identify the cause of payment failures

Categorize customers according to the payment failure for customized engagement

Set up automatic smart retry systems and email workflows

Get actionable insights into payment failures and dunning emails to setup better future campaigns
Transform your payment recovery process with Chargebee. Contact us today to schedule a demo with one of our specialists!