High churn rates continue to be a significant challenge for eCommerce businesses, making customer retention critical. While there are numerous methods to build long-term relationships with your customers, one of the more straightforward methods that can help improve customer retention is implementing recurring payments.
Recurring payments enable you to sell the same product at regular intervals instead of just one-time sales. It's one of the main reasons established eCommerce brands like Gillette and Walmart have launched their subscription services to remain competitive. 
Moreover, the recurring payment model saves time and effort since minimal manual involvement is required. While the customer benefits from the product/service without verifying payment information each time, the eCommerce brand lays the foundation to nurture its relationship with the customer.
If you are wondering if recurring payments are suitable for your eCommerce business, the advantages will get you interested. Before we discuss them in detail, let's start by understanding the basic terminology.
What are recurring payments – and how are they different from subscription billing?
"Recurring payments" and "subscription billing" are used synonymously, so does that mean they're the same?
Not exactly, but they co-exist. 
Subscription or recurring billing is the automatic, regular billing process that takes place once a customer signs up to use a subscription service, like SaaS products (Snowflake, Hubspot, Slack), subscription boxes (Birchbox, Barkbox), or eCommerce services (Dollar Shave Club). Customers are charged until the subscription plan expires or they cancel the service.
On the customer's end, the amount is transferred automatically from their account to the merchant account, and they are issued an invoice for the same.
Recurring payments lie at the heart of subscription billing. The recurring payment model ensures the business an ongoing relationship with the customer instead of a one-time purchase. Once customers grant their payment details, the company can charge them at an agreed-upon price and frequency.
There are two types of recurring payments:
Fixed recurring payments charge the customer the same amount, like a gym membership or a magazine subscription. Popular examples include Amazon Subscribe & Save and Dollar Shave Club for customers who replenish similar items each month.
Variable recurring payments charge a customer based on the services used during the payment or billing period, like usage-based subscription services. Popular examples include Barkbox and NatureBox, where customers are looking for a selection of different items.
Now that we've distinguished recurring payments and recurring billing let's get into how it can help you grow your eCommerce business.
Key Benefits of Recurring Payments and Billing for your eCommerce Business
1. The Convenience Factor
One of the more significant advantages of choosing a recurring payment system is its convenience for customers and merchants alike. 
Customers need not initiate a transaction each time they want to make a purchase. Automatic payments and purchases at regular intervals make the subscription model easy to adopt. The purchase experience is also simplified. The customers' needs are met without actively trying to meet them (products are delivered on time regularly without remembering to make the purchase).
A recurring payment model helps attract more customers on the merchant's end as the payment schedule is in regular installments and smaller increments instead of a large one-time payment. Since payments are automated, there is a reduction in late payments, collection time, and the cost and effort associated with a manual payments solution.
2. Improved Customer Retention
 A great subscription experience is an added incentive for your customers to stay with your company. It gives you umpteen opportunities to engage with them and personalize their offerings (for instance, giving them a free sample with their next delivery or crafting a personal promotion).
It helps you improve customer experience, thereby increasing customer loyalty and extending customer lifetime value, providing better returns on your customer acquisition costs (CAC) than one-time purchases. 
There are also other benefits to having a recurring payment system in place, like automatic termination of an expired credit card, sending notifications for failed payments, or promptly trying another payment option should one method fail. 
3. Opportunities for Revenue Expansion
Once a customer has committed to a basic payment plan, you have the opportunity to prove your product's worth and entice the customer to want more; they can then be persuaded to upgrade to a higher plan. There are also ways to increase revenue by upselling and cross-selling new features and non-core products, allowing you to generate more revenue from the same customer without incurring additional acquisition costs.
 4. Steady Income – Ease of Recordkeeping
Customers who have signed up for a subscription service have a clear picture of their annual expenses. Similarly, the subscription business model allows merchants to predict future revenue accurately because consistent cash flow is generated. Subscriptions can aid demand forecasting and efficient inventory management for eCommerce platforms that face high demand fluctuations.
5. Reduce Costs and Save Time
Since customers need not verify payments all the time, transactions are much quicker. The minimal requirement of manual intervention greatly minimizes operational costs and time invested by the merchant. Since the whole system is automated, there are reduced chances for accounts receivable errors.
6. Subscriptions are the future of eCommerce
If your eCommerce business is digging for new strategies to scale in 2022, subscriptions is a segment worth exploring.
Subscription eCommerce sales increased by 41% during the pandemic and accounted for 3% of US retail eCommerce sales in 2021, totaling $27.67 billion, an increase of more than $10 billion from just three years ago.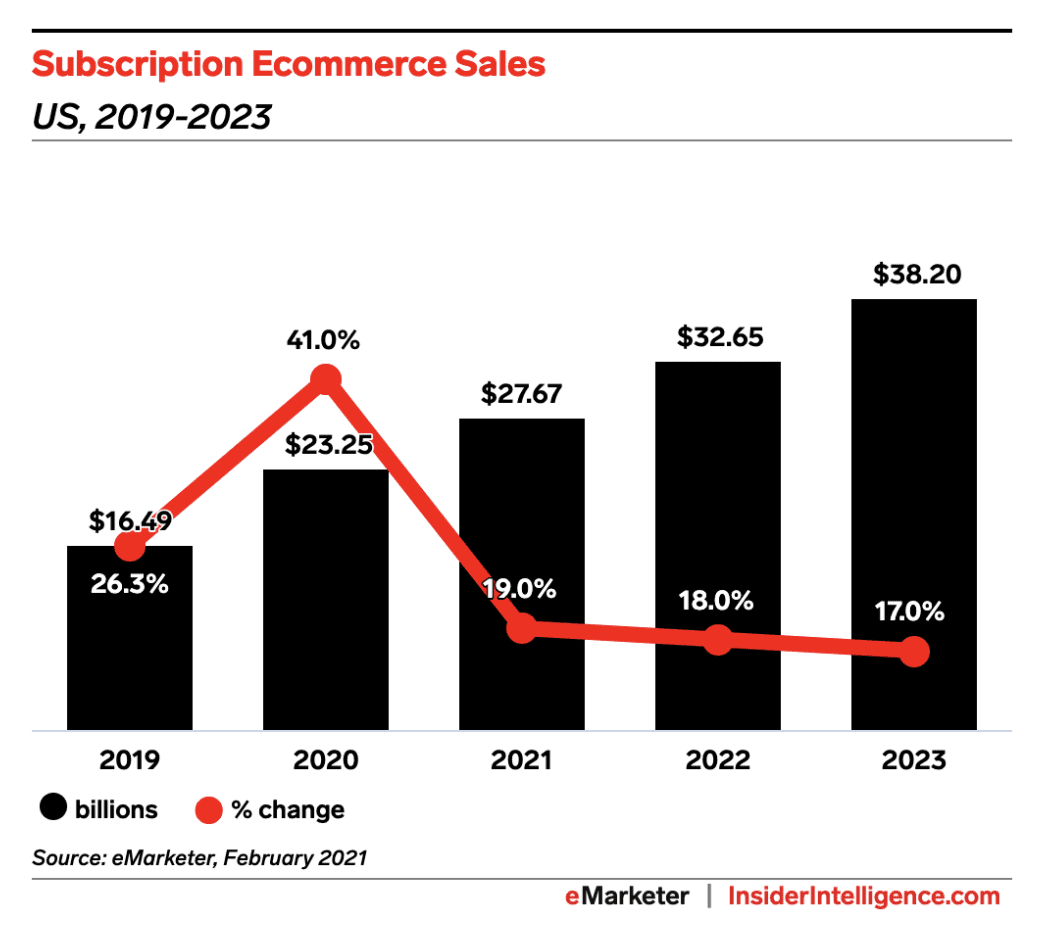 Another study found that 23% of respondents (a 7% increase over 2020) said they are trying and are likely to continue shopping through subscription services.
According to a McKinsey survey of over 5000 US consumers, subscriptions proved a beneficial retail model for curation items (55% of total subscriptions) and replenishment items (32% of total subscriptions).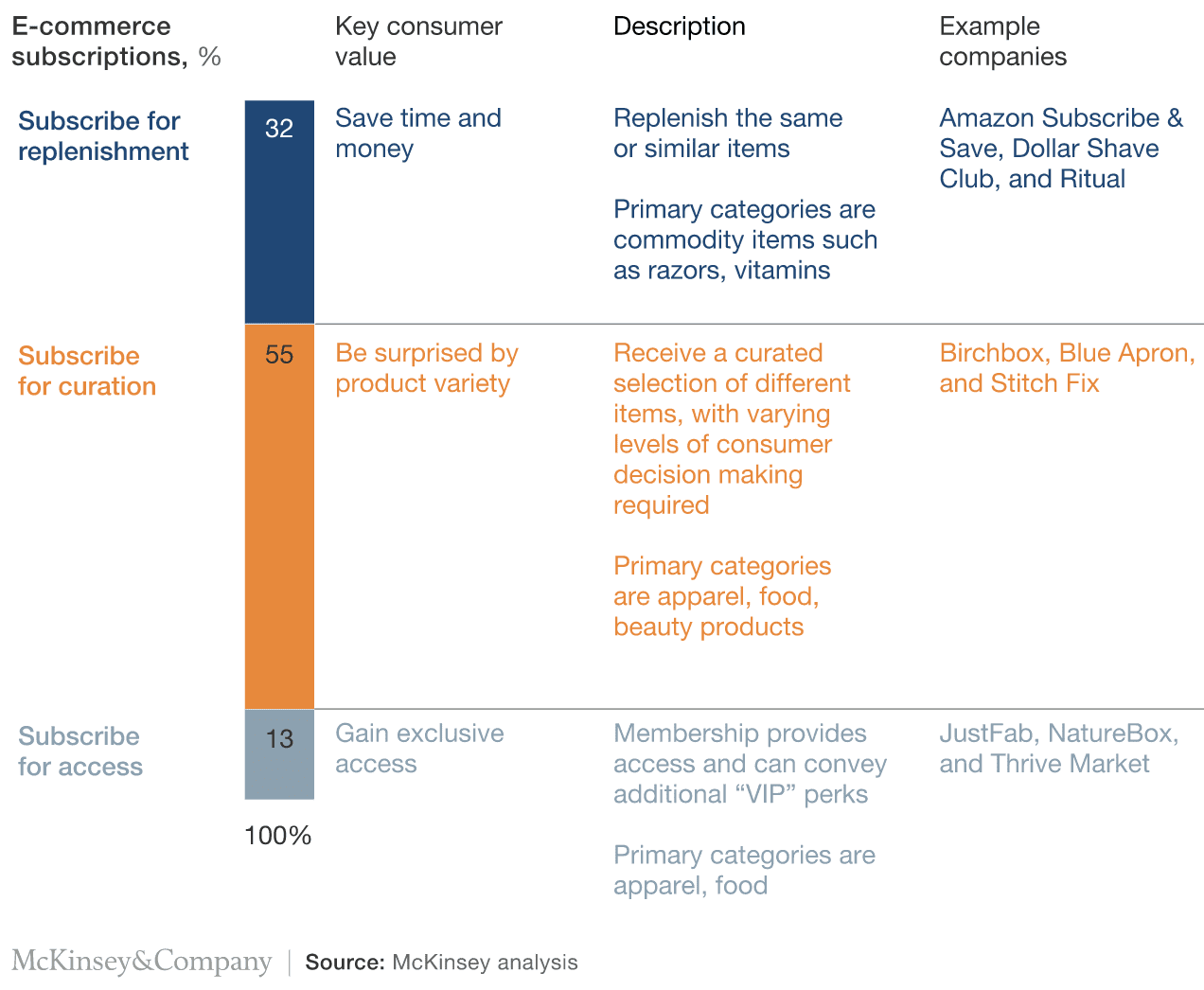 If you choose not to move to subscriptions soon, there's no guarantee your competitors won't.
How can eCommerce businesses set up and accept recurring payments
Choosing the best payment gateway is critical to the smooth operation of your business. However, a payment gateway cannot address all of the complex billing use cases that will inevitably arise as your subscriptions grow. 
As your company scales and your processes mature, running a successful recurring revenue business will involve more than just collecting payments:
If a customer wants to pay every three months instead of per month, you will want to

change the billing frequency

to enable custom periodic transactions, be it monthly, quarterly, or yearly billing cycles

If you want to handle failed payments better while focusing on retention, you will need to recover more revenue with a smart retry and

dunning strategy

When you're expanding into a new market, you would want to

offer more online or offline payment methods
You need to stay up-to-date with changing tax rules across multiple tax profiles, customize the invoice for the region you're selling in, and much more. To have more functionality in terms of options for advanced subscription payments and workflows, you need to think beyond a payment gateway.
For instance, Chargebee is an online recurring billing system that works on top of 30+ payment gateways worldwide. It is a comprehensive subscription management and billing solution to manage your subscriptions on top of payment gateways.

Imagine a plug 'n' play billing system that is configurable with just a few clicks. Within moments you will be ready to start on-boarding users and collecting payments on top of any payment gateway.
The advanced subscription features that Chargebee offers include the ability to run pricing experiments or flexible proration logic, invoicing accounting, email notifications, PCI compliance, and third-party integrations, to name a few.
Learn more about how to delight your customers and scale your subscription eCommerce business with Chargebee.
You can also try our sandbox for free and see for yourself. No credit card is required. 
We've pre-loaded the system with demo data for you to explore (with a test payment gateway too)!
Relevant Reads: