Everything you need to know about Headless Commerce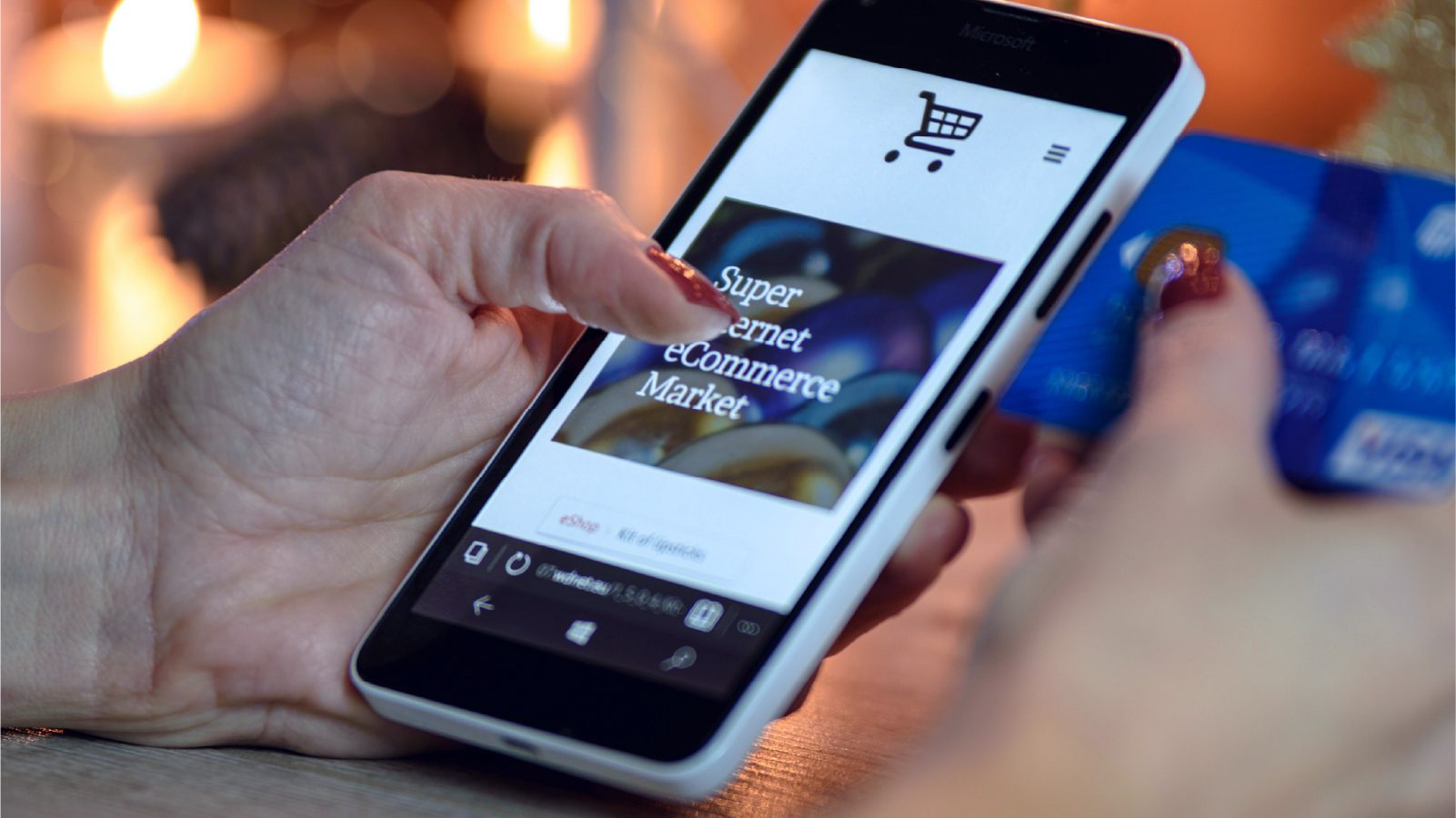 At the height of the COVID-19 pandemic, the ecommerce industry saw ten years' growth in just 90 days. As retail stores shut down due to a global lockdown, ecommerce reached an all-time high of 16.4% of total global retail sales.
The shift to online shopping is here to stay as customers expect a seamless experience across channels and touchpoints, from mobiles, IoT devices to Progressive Web Apps (PWA). Ecommerce businesses need to offer integrated and personalized shopping experiences to keep their customers happy. So how can brands keep up with the changing customer expectations? To stay ahead of competition and expectations, brands will need the flexibility and agility of headless commerce.
So, what is Headless Commerce?
Headless commerce works by decoupling the front-end presentation layer (templates or themes), including the photos, video, and content you see on an ecommerce website or mobile app screen from the back-end infrastructure that enables the ecommerce experience. The decoupled architecture gives brands more flexibility over the customer experience they can offer, help them engage with customers better, and stay ahead of their expectations. Headless commerce allows them to provide a personalized and brand-consistent experience across channels using APIs (application programming interfaces) that connect the front end with back-end systems. 
Headless Commerce versus traditional ecommerce platforms 
Traditionally, most ecommerce companies used a single platform to manage both the front-end experience and the back-end systems. Since it was a monolithic system, you could not modify the front end without changing your back-end systems. This model may temporarily work well for startups without large development teams. However, even minor updates become time-consuming projects leading to longer implementation time. Traditional ecommerce platforms also come with limitations on customer experiences thanks to restricted creative control. Conventional systems also make it challenging to adopt new technologies to increase customer touchpoints impacting the overall organizational agility and competitiveness. 
But in the race to meet customer expectations and beat competitive pressures, you need a scalable platform architecture on which your business is built. That's where headless commerce comes in. In this decoupled architecture, headless CMS (content management systems) like WordPress or digital experience platforms (DXPs) such as BloomReach are used as front-end presentation layers by creative teams to optimize the user experience and interface customer engagement and conversions. 
On the back-end, you have an inventory management system, a payment gateway, a billing and subscription platform, an accounting system managing billing and payments, data processing, the checkout process, customer account management, and product inventory. APIs are used to connect and communicate between the front-end and the back-end systems. Headless ecommerce platforms provide APIs and tools, so you build a brand-consistent experience across channels based on a single view of data. 
 Headless Commerce versus traditional ecommerce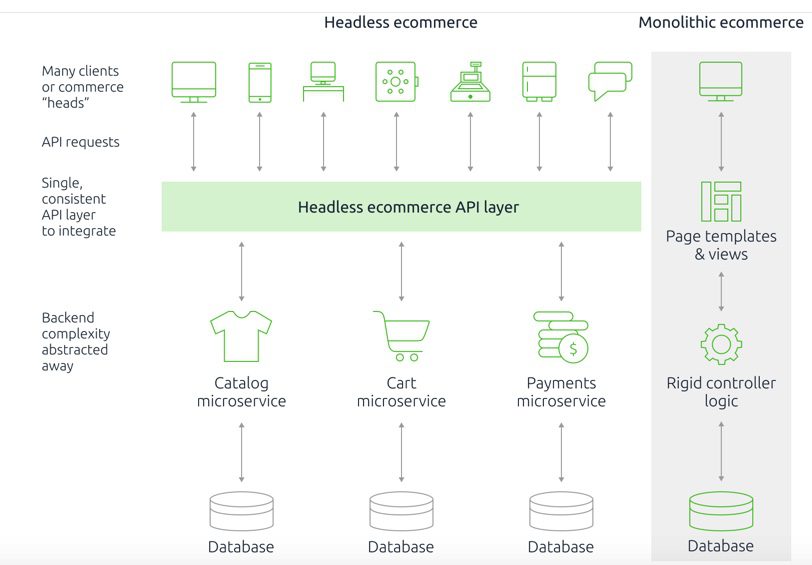 Source: Iflexion
Things to consider when moving to a Headless Commerce platform
Transitioning to headless commerce is a big decision, and you need to find a platform that suits your business needs and one that will match your growth. Here are some key features you should consider while choosing your headless platform.
Determine scalability and customization of the platform
As you scale, the platform needs to scale with your business and provide additional support. But every business has its own unique needs, so make sure the platform you are choosing comes with reliable and fast APIs that help automate and customize your store. Ensure the platform has plenty of one-click apps or built-in integrations that connect and update in real-time to help you scale seamlessly without hiring additional developers.
 Ability to provide an omnichannel experience
To be successful in the ecommerce business, you need to have an omnichannel strategy in place because customers are looking and shopping for products everywhere, be it marketplaces like Amazon or Etsy or social media platforms like Facebook or Instagram. If you are not present where your customers are, that's a lost growth opportunity for you. So you need to establish your presence across various channels. The headless commerce platform you choose needs to offer centralized channel management, so you manage products and prices across channels from one place.
 Ease of use and security 
The whole point of moving to headless commerce platforms is to make sure that you don't spend a lot of time in development and instead focus more on customer experience. So the platform you choose needs to be easy to set up, navigate and use as you scale the business. One of the critical benefits of headless commerce platforms is the enhanced security it offers. The decoupled architecture reduces the risks of critical failures and makes it more resilient to cyber threats. Make sure the back-end systems are compliant with PCI, GDPR, and other regulations as required, like SCA under PSD2 to ensure a secure payment flow. 
Dependability and continuous customer support
When choosing your headless platform, make sure it offers a reliable hosting solution so you don't have your store crashing when you experience high traffic, be it the holiday or sale season. It is also crucial that the platforms offer continuous customer support 24/7 with easy-to-understand user guides and resources that can help you set up.
The benefits of Headless Commerce
If you are looking to scale up your ecommerce business, headless commerce brings with it a world of benefits that will set you on the growth path.
Personalization
Since the front-end presentation layer is decoupled in the headless commerce approach, you can test your personalization strategies without disrupting your back-end systems. Personalization goes a long way in building long-term customer relationships and increasing brand loyalty. Marketers can leverage all the customer data generated across all touchpoints to create relevant promotions and offers that would resonate better with customers and make it a great shopping experience for them. 
Reduced time to market
Consumers today are very demanding, and to stay ahead of the competition, brands need to deliver what consumers want when and where they want it. Headless commerce helps keep with the latest trends and technologies and implement new offerings at much lower costs and time to market than traditional systems can. Development teams spend less time on user interface changes. The decoupled headless commerce architecture makes it easy to integrate any system that can help reach customers faster and increase conversions.
 Rapid experimentation 
In ecommerce, experimentation in creating different user experiences and pricing can be a game-changer. Superfoods Company that sells natural plant-based products takes about 30 minutes to decide on a pricing level or launch a new product with Chargebee. The ability to experiment saw Superfoods increase its revenue by 4X in less than a year. They expanded their product line from one to five products and their subscriber base to over 200,000. 
The use cases of headless commerce are many, ranging from rolling out new offerings or features, testing various promotions and discounts, playing around with different page layouts, and creating more engaging user experiences without making changes in the back-end systems.
Unified customer experience across channels 
Headless commerce lets you introduce new customer points powered by the same set of APIs to ensure consistency of data and functionalities. Today, consumers are using several different channels to search for and buy products, and these touchpoints are an extension of your brand. Headless commerce platforms ensure a unified presence across the channels without re-architecting your platform and ensure you can facilitate transactions without customers having to visit your web store. For instance, you can convert your Instagram account into a mobile storefront by adding the "Shop Now' functionality to your posts.
Why Headless Commerce and Subscriptions are a great fit 
Subscription-based businesses have experienced significant growth over the past decade and are likely to continue their dream run. The global subscription ecommerce market is expected to touch US$ 478.2 billion by 2025 from US$ 13.2 billion in 2018, clocking an impressive CAGR of 68.0% between 2019-2025. Consumers love their subscriptions because it removes the decision-making process and makes the buying process convenient and automatic. For businesses, subscriptions are a great way to bring in more predictable recurring revenue and build long-term relationships with customers, thereby increasing their lifetime value (LTV). Subscriptions also offer businesses a wealth of customer data that they can leverage to anticipate their future needs.
Traditional monolithic ecommerce platforms often don't have the functionalities that can support subscriptions and are integrated through third-party plug-ins. But these plug-ins offer limited integration across functions and therefore cannot scale seamlessly when your subscription sales start to increase. 
With headless ecommerce, you can integrate subscription sales directly into the platform architecture. Subscription sales need payment gateways and the billing and management system to work well with the ecommerce platform to ensure seamless integrations across all business functions. For instance, BigCommerce's integration with Chargebee will let you offer subscriptions and give you access to a full suite of features, including dunning, payment gateway options, abandoned cart reports, and gift subscriptions, and many more. 
The challenges of Headless Commerce 
While headless commerce systems with some undeniable benefits, the transition is not that easy, and there are some concerns as well:
Higher ownership costs
 Since most headless platforms don't come with a frontend, you have to consider the cost of investing in one. Also, given that it is a pay-per-use architecture, the total cost of ownership goes up with the number of integrations.  
Flexibility comes with complexity
Smaller teams may find it challenging to manage a distributed system rather than a single solution. You will have to deal with multiple vendors and have various teams focus on the different blocks. 
Replatforming is not easy
While there are definite long-term benefits that come with transitioning to a headless platform, ecommerce replatforming can be challenging and time-consuming depending on the number of frontend experiences and back-integrations you are going after. 
When to opt for Headless Commerce and when not to?
Headless commerce platforms are best suited for D2C brands and online retailers, and those who want to sell across various channels.  It is also best suited for global brands looking to create a world-class user experience for their customers. If you are looking for more PCI compliance, then headless commerce is for you as well.
Traditional all-in-one ecommerce systems can still be a good option when starting up a new business and looking for quick wins in the initial period. Traditional systems come with built-in front-ends reducing the time-to-market during the launch period. Also, if your business doesn't have to be present across too many channels, the traditional system will work just as well.
The best-in-class Headless Commerce platforms
Now that you know the benefits and the challenges of transitioning to headless commerce and the key features you should look at while choosing a platform, here are some of the best-in-class headless commerce solutions you can choose from.
BigCommerce 
An industry leader in the SaaS ecommerce space, BigCommerce offers everything you need to scale your business, including tools for product listing, customer segmentation, payment processing, cart recovery, and more. Ecommerce businesses can run multiple storefronts from a single account, and its partnership with Chargebee gives all its merchants the ability to launch subscriptions and build more predictable recurring revenue. 
Shopify Plus
Shopify Plus focuses on enabling retailers to be lean and agile and has some of the marquee B2C retailer brands such as Decathlon, Bebe, Steve Madden, among others, using its platform. Shopify has a robust technology partner ecosystem, and its API-first architecture offers many integrations that help reduce time-to-market for new features. The platform allows you to engage and deliver a unified customer experience across various touchpoints, including kiosks, wearables, and vending machines. 
Magento Commerce
Magento Commerce offers tailor-made applications that let you experiment and provide a high level of personalization for your customers. It enables you to track inventory across multiple locations, including warehouses and stores and lets you configure management settings by product and by source globally. 
OroCommerce
OroCommerce focuses on wholesalers or the B2B ecommerce space but can be customized to fit B2B2C and B2C businesses. You can manage multiple warehouses and websites and support both headless commerce platforms and traditional ecommerce systems. 
Headless commerce platforms also enable you to manage your subscription offering alongside the traditional ecommerce stores, bringing an additional revenue stream. Chargebee partners with all the leading headless commerce platforms, and you can leverage these partnerships to scale your ecommerce subscription offering. Thanks to the flexibility its offers and the ability to run multiple storefronts, headless commerce platforms will help businesses scale across channels. There is no doubt that headless commerce is the future of ecommerce. Are you ready to deliver a world-class customer experience with headless ecommerce?
Get the scoop on what's new