In an ideal world, a customer either pays money and buys your product or avails your service and pays you for it. What happens when they don't do that? What if you have to send multiple reminders and chase your customers to pay you back. What if you are a victim of late payments or worse, what if your systems are outdated and you are slogging away to enter data manually?
In this blog, we will check out the challenges in manually accounting for AR, and if that convinces you, move on to how automating the AR process can benefit your business. 
Challenges with manually accounting for AR
Organizations typically find a lag in payment up to 30-90 days or even longer. These customer payments are necessary for your business and its cash flow so any delay in it can easily tip your cash flow negatively. Not only this, but it can affect your forecasting budget, revenue and profit goals, and overall growth.
Accounts receivable is the wacky screw in the machinery of your business. If not wound right, it can make your whole engine slow and inefficient.
What poses Accounts Receivables as a challenge is that there are many moving parts to it. To begin with, it includes creating invoices and contracts, gathering signatures, and accommodating any changes – this is a whole deal of paperwork. In addition to this, communicating information between teams, customers and stakeholders is the added cherry of difficulty perched precariously on top of it all.
Why is it better to automate your AR process?
Running your receivable process manually can not only cause leakages and silos but also cause agitation among the people working with AR day in and day out. Just like a well-timed hero's entrance in Marvel movies, automation comes in to save the day. Automation reduces duplication, eliminates errors, and frees up valuable time for your employees. As companies go paperless, it also helps businesses incur lower collection costs and improve these collections at reduced costs. 
Maybe you were tired of manually typing up an AR when you came upon this article, or you were seeking it out in sheer desperation, so here are five benefits of automating your AR process.
The 5 Main Benefits of Accounts Receivable Automation
1. Reduce costs with automation
In today's world, as competition sits on the hem of your target audience circle with hawk eyes, you lose a sale in a matter of seconds. Imagine having to run back and forth with costly paperwork and also trying to be efficient. This manual work not only makes one prone to human errors, as discussed earlier but also has an increased processing cost as your paperwork warms every table in your 2500 sq ft office. The whole process in itself is time-consuming.
When you implement automation in your AR workflow, data from your accounting system, whichever you use, are automatically pulled into your billing software, and this two-way integration helps both the systems stay up to date and saves time and your employees the trouble of manual data entry. The automation software also cuts short any delay in the payment process. This also helps you pull records on any customer you have at the click of a button.
This is another added advantage. Your finance and specifically AR teams have more time to concentrate on strategy-related tasks than putting out daily fires. This upgrade in their role helps increase their career satisfaction.
2. Improve speed and attain efficiency with automated accounts
If you have been using an ERP which helps you process your AR and Accounts Payable and you are living a hassle-free life, you might ask, 'Why the need to change?' But here's the catch. A traditional ERP system does very little when it comes to processing payments and gathering information from different systems. This bottleneck means there is a lot of work between collecting and reconciling which widens the gap between the software and the invoice. 
A typical AR cycle looks like this,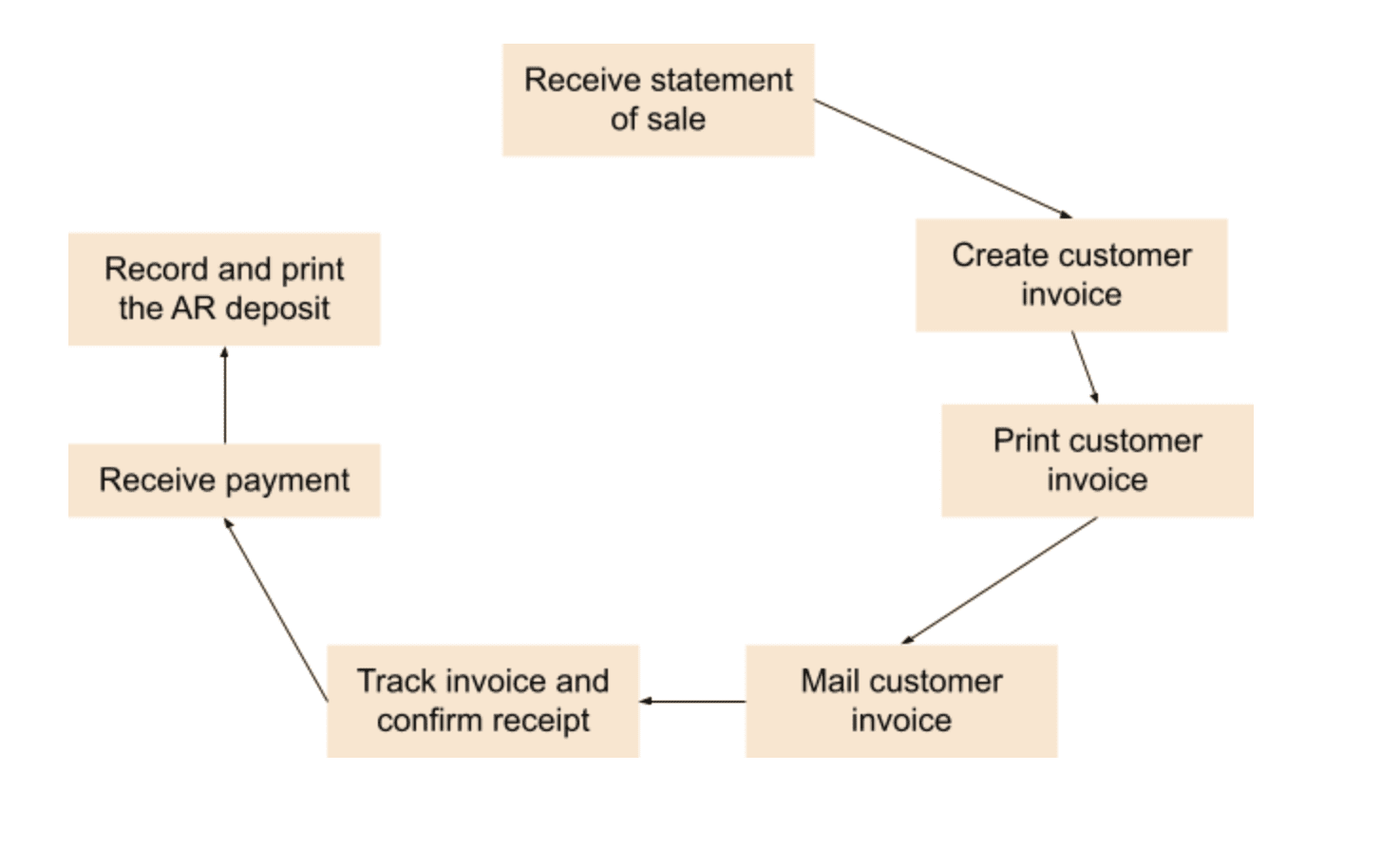 But this doesn't go just one way. If a customer misses a payment or if there is any discrepancy in the process, there is back and forth in the collection process before it gets approved. With automation, the whole process takes less than two minutes upon filling out the AR in the required format. 
There is uniformity across all invoices. With automation, there is accuracy in invoicing. With all the invoice data in one place, it takes seconds to analyze the receivables, and there is more transparency and quickness in the process. A well-oiled automation system will ensure faster payments and fewer bad debts.
When your AR process is efficient, it forms an ironclad around your cash flow, so much so that you can be sure that this speed and efficiency can be maintained through any market downturn. 
3. Forecast your cash flow
According to Tungsten Network, when there is a paper-based AR process, handling customer queries, managing any changes, and keeping track of the data would approximately increase the OTC cycle by 90 days per invoice. 
On the other hand, automating streamlines the whole process. In the space of workforce running with paperwork from one desk to another, multiple clicks after office hours are converted into just one click. Saving on these expenses amounts to about 60%-80% of costs generating greater liquidity for the firm.
But you'd have to ensure to have a good revenue management system in place to reap the full benefits of automating your AR process. For example, in matters of deep-diving into AR, Chargebee Receivables, helps understand what happens to the revenue from each and every invoice of yours. It tells the tale of your revenue and helps you deep-dive into open invoices and trends in your cash flow. Upon opening the tool, an all-encompassing dashboard gives you a clear picture of your business as of today as well.
4. Standardize your process
When all the data sources are the same, everyone is referring to the same data and is working with the same information. There is unlikely to be any confusion and helps you set it and forget it. Not worrying about your AR process daily can free up more time for your employees to strategize the future of your business.
Integrations with other tools bring teams closer as well. For example, Chargebee Receivables not only helps you automate your AR but also helps you sync your subscription management engine & accounting software to unlock a powerful workflow for your subscription business.
5. Enhance Customer Experience and Collection Efficiency
An automated Accounts Receivables software segments customers based on payment behaviours and responses to build unique collection journeys. This empowers you to proactively engage with your customer with contextual messaging, reducing the risk of involuntary churn and enhancing the customer experience during the entire order to cash cycle.
Why does a good revenue management system matter to automate your AR?
When you are a customer-driven subscription business, it almost seems unfair to be fighting fires within the organization when you could be using this time to enrich your customer experience and relationships or attain new customers. Automating your AR is one task but investing in a reliable billing system software lets you focus on what truly matters by taking care of your billing complexities with tried and tested formulas.

With Chargebee for finance, you no longer need to wait for your developers to implement any change you want. At the click of a button, 
automate

recurring billing

sort your payments 

streamline your accounting

deep dive into metrics and more
If you'd rather have this discussion over a call, you can get in touch with our specialists right away.