You've won the enterprise deal. Just when you're basking in your success, a realization dawns upon you. Your deal is just not done, you're now at the mercy of your finance team to review your quotes. Thinking about the innumerable back and forths with the finance team, you feel your deal slipping through your fingers.
So close yet so far! Argh…
Here's the thing, 
"65% of the sales reps spend time on non-selling tasks"

– Salesforce study
That's 65% of the time your sales reps can spend closing deals! Imagine how much revenue you're losing right there! A lot of sales reps are stuck with mundane administrative tasks rather than closing deals! This involves using five different tools to enter customer details, create quotes, running back and forth to finance for quote approvals, a link to accept payments,  and more! 
But the most important is your quote-to-cash workflow (QTC) that sits at the center of all your administrative tasks.  
Nailing the QTC process is a nightmare for most sales reps across organizations. A study by CFO research involving finance executives, reported that 57% of them said solving their quote-to-cash pain points will lower their finance and sales costs by at least 5% and will increase their revenue by 5%. 71% of them said that efficiency in the approval process will increase their organization's profitability and will benefit both their sales and finance teams in terms of efficiency.

The quote to cash workflow is the heart of your revenue generation and enhances the buyer experience. To have a seamless QTC experience you need a tool that is dynamic, sophisticated, automated, and agile that'll help you scale efficiently. 
At Chargebee we scaled from an 8 to 80 sales member team with a QTC process that wins. So we got on-board our star Account Executive, Anand Maniktala, to tell you how to build a winning QTC workflow. You can either listen to the entire webinar or read on for key takeaways.
Identifying your Broken Quote to Cash Workflow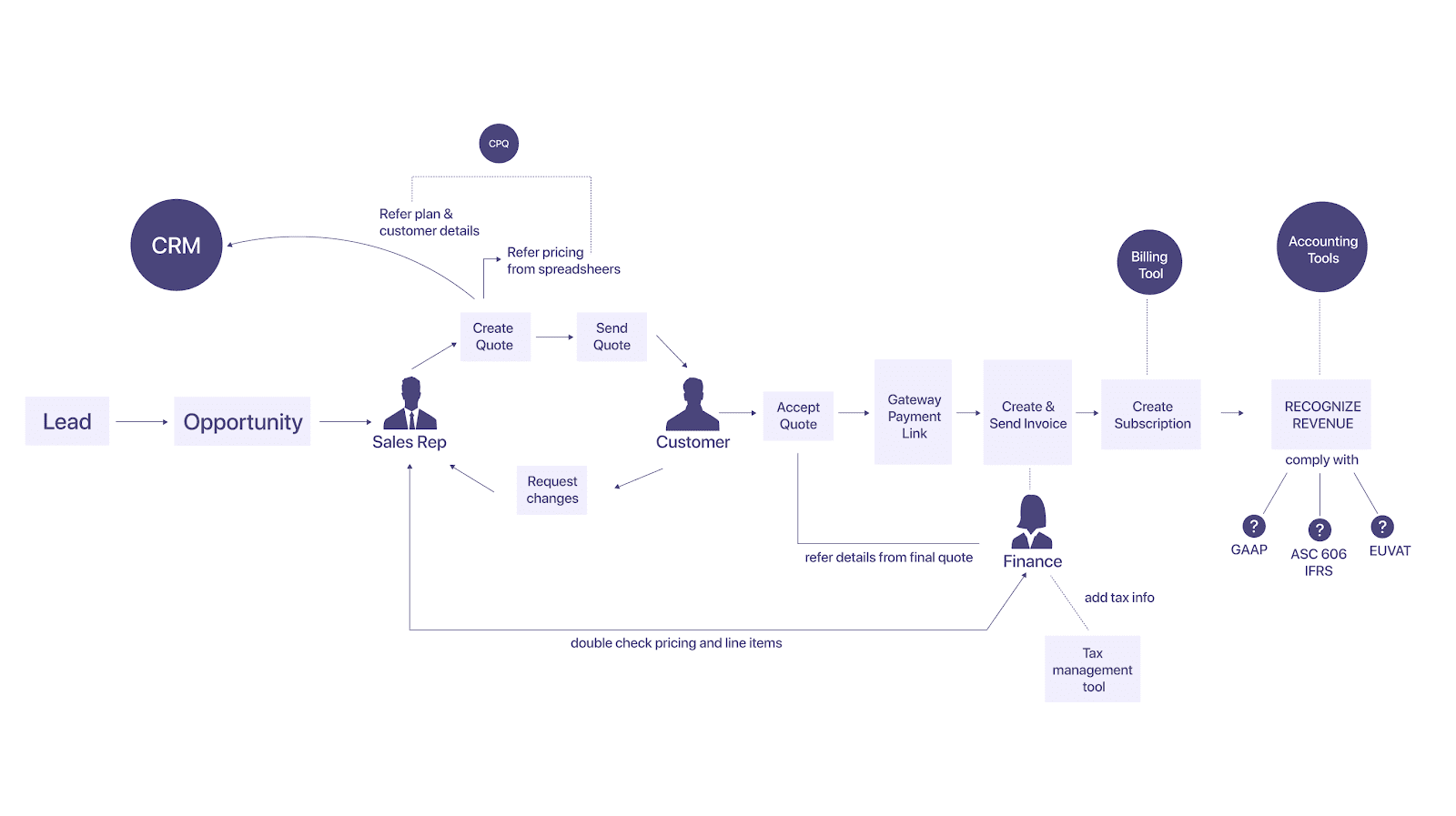 To design an effective QTC workflow, the first step is to identify what's broken in your process. SaaS companies have CRM tools, invoicing softwares, accounting systems, and 100 different spreadsheets to give them the numbers for board meetings. Your subscription data has to flow from billing to accounting and analytics. So your subscription billing tool is your single source of truth that should talk with all of your other systems. But this isn't the case in many organizations, leading to data getting siloed within functions presenting challenges.
When generating a quote your sales reps need to sift through different spreadsheets for the right plan and price and deal with complex pricing structures, product bundles, customizations, coupons, discounts, and add-ons. In addition, if you're negotiating with your customers, the process is a bit more complicated. You need to run to your finance folks to get approvals and keep them in the loop about the deal.
And here's the bad news, this isn't just for one customer, just replay this scene over and over for the number of deals you get.  And if you're manually generating a quote as a PDF document, you're at the risk of churning out a document prone to errors. This paves way for typos, inaccurate information, confusion, communication gaps between functions, mismatched approvals, and so on. It's like a horror movie on repeat.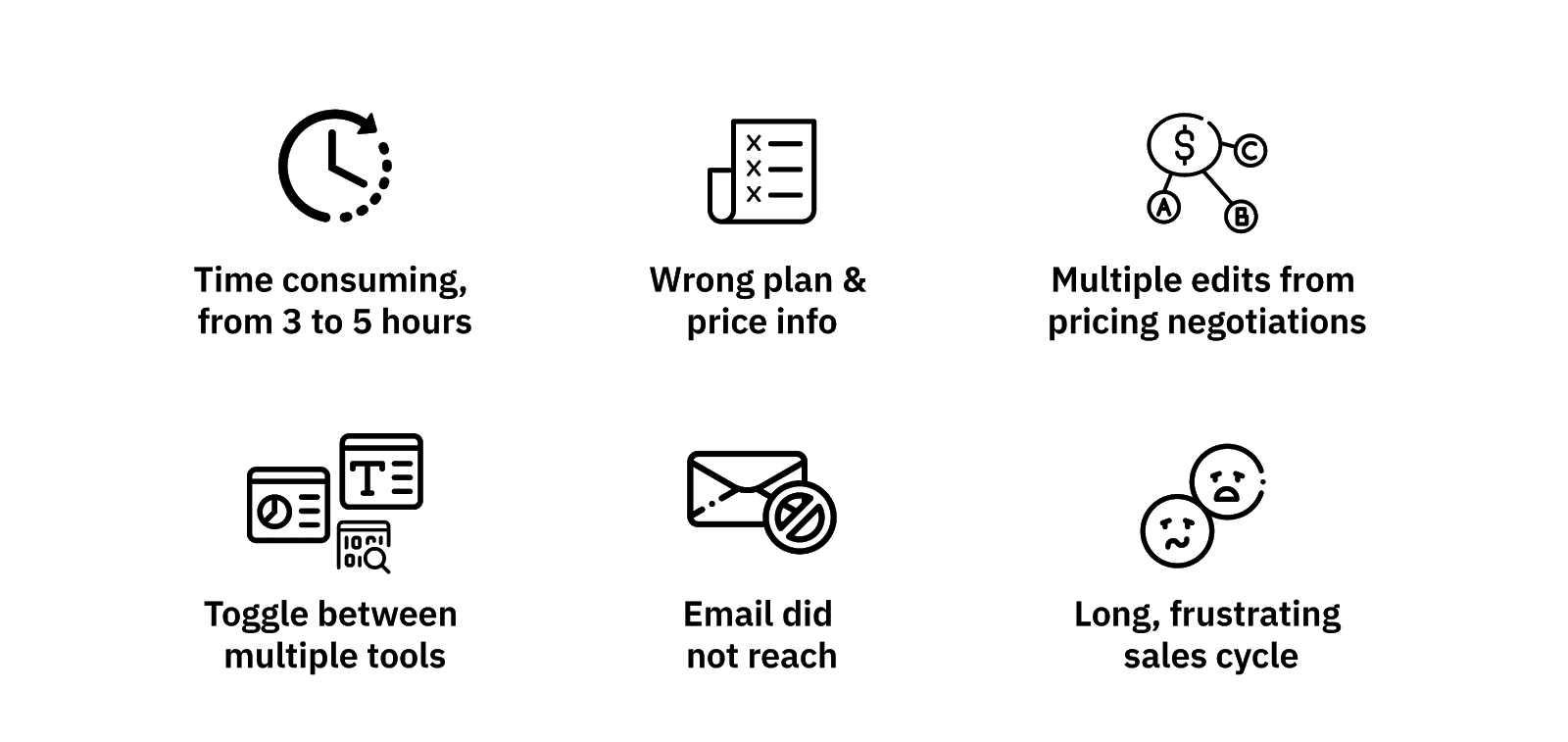 But this needn't be the case. Your entire QTC can be automated, seamless, and accurate by just incorporating the right tool in place.
Designing a Winning QTC Process 
To design a QTC workflow that works you need a subscription billing and revenue operations tool like Chargebee. Chargebee hosts all your subscription information and stitches itself to other tools. This gives you a 360-degree visibility and makes your information flow seamlessly from your tools. Usually, it's your CRM. 
At Chargebee we have created a winning quote to cash framework, that'll remove the administrative work from your sales reps plate: 
Create quotes that drive sales actions 

Integrations that are bound to make your salesforce spend more time selling – Chargebee+Salesforce

Unearth your sales metrics using RevenueStory
Create Quotes that Drive Sales Actions 
Sending quotes should be a moment of celebration. You've floored your customer by moving them through your sales funnel. But, the traditional way of creating and sending a quote is anything but a laborious task. The amount of time you need to create, send, and close the quote dims the joy of your win in comparison. 
Using Chargebee your entire quote creation process can be a moment of celebration for your sales team. You can send quotes for recurring subscriptions, add-ons, or one time changes. Also, you can quickly respond to customers with the right pricing for the deal, the right plan, discounts, add-ons, and any details of the subscription. This gives full visibility to your prospect on how they'll be billed across the entire subscription lifecycle.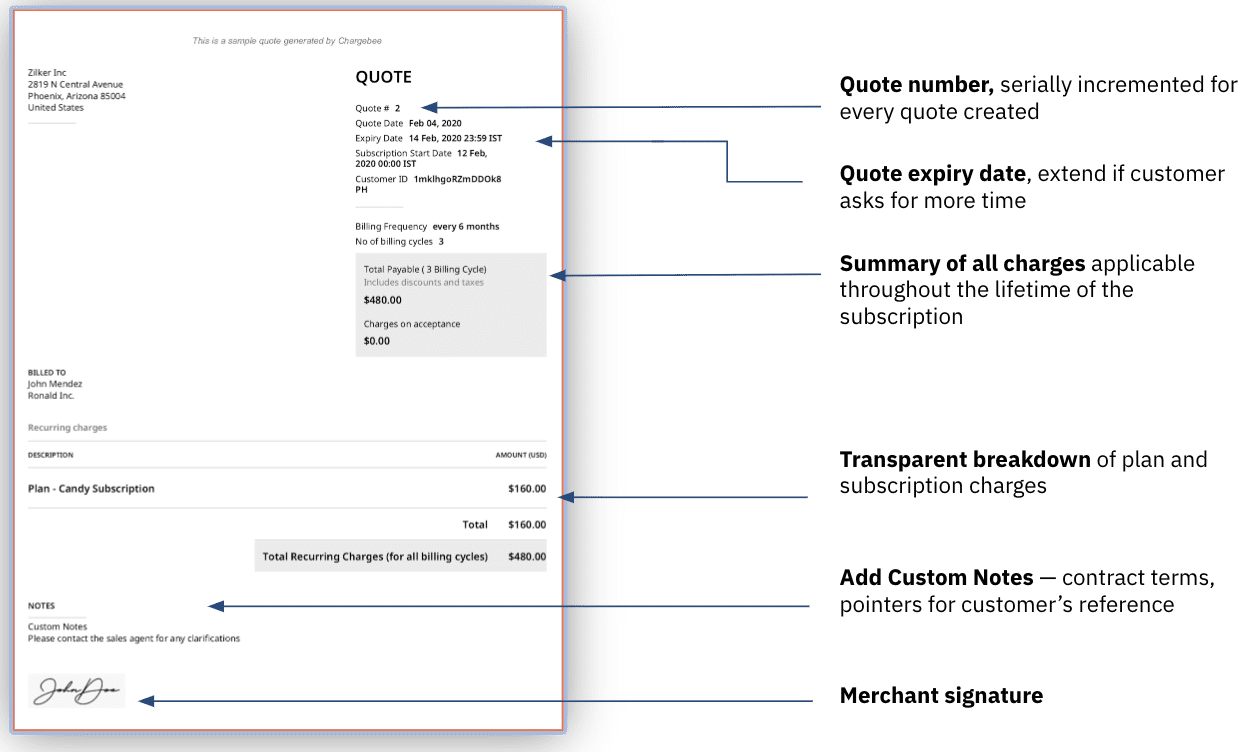 After creating your quote, you can email it to your prospect. And here's where Chargebee's automation works its magic. Once your customer agrees, they can make a payment via the checkout link given in the quote. Chargebee immediately recognizes this and creates an invoice for the customer and marks the quote's status to "Invoiced".

If your customers' are across different landscapes, you can customize the quotes in accordance with their language and compliance standards.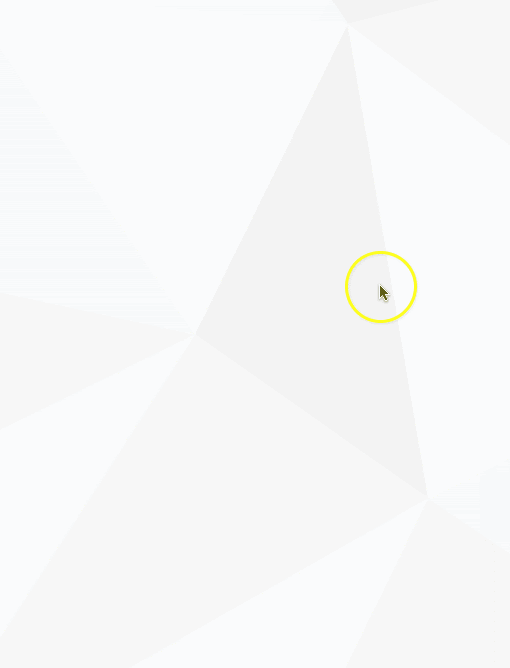 And, if your customer wants more time to accept your quote, you can just extend the expiration date instead of creating a new one altogether. It's really that easy! 
Integrations that are Bound to Win – Chargebee+Salesforce
After working with 16,000 subscription businesses, we know that loyalty in the subscription business starts with having the right worldview. This means that customer data, pricing, products as well as subscription history should be easily accessible to sales and support teams in the tools they commonly use. That's why we built our coveted Chargebee+Salesforce integration. The integration is so deep that to quote this in the words of our customers,
"The Chargebee+Salesforce integration is so seamless that we feel like having a mini-Chargebee inside Salesforce.
The Chargebee+Salesforce integration helps you create a quote directly from Salesforce. Once your prospect accepts your quote, a subscription is created within Chargebee and the information is captured. If you're dealing with an enterprise prospect, you can enable offline payments, such as wire transfer or PO, and convert the quote into a subscription from within your CRM.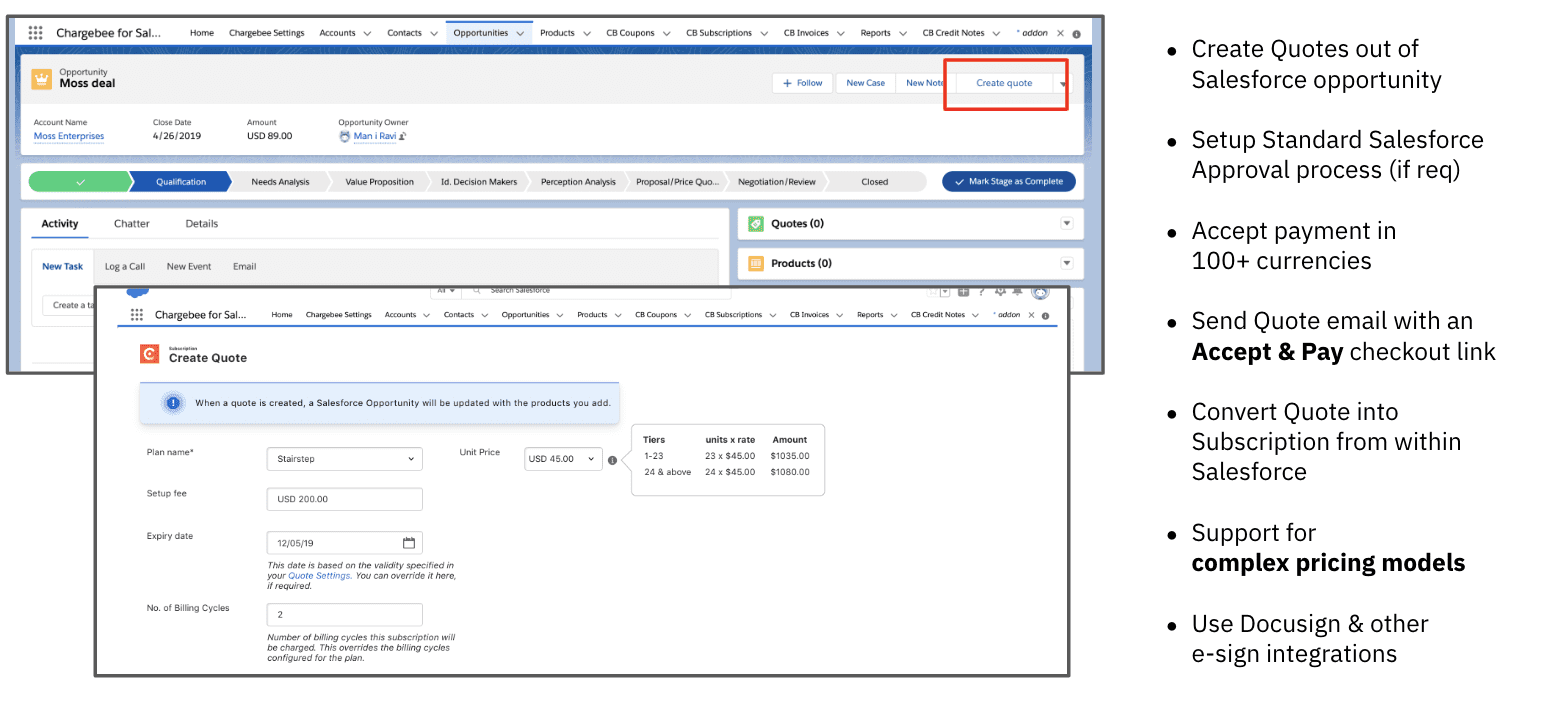 The Salesforce+Chargebee is a two-way sync between the tools carrying your subscription and customer data between both the platforms.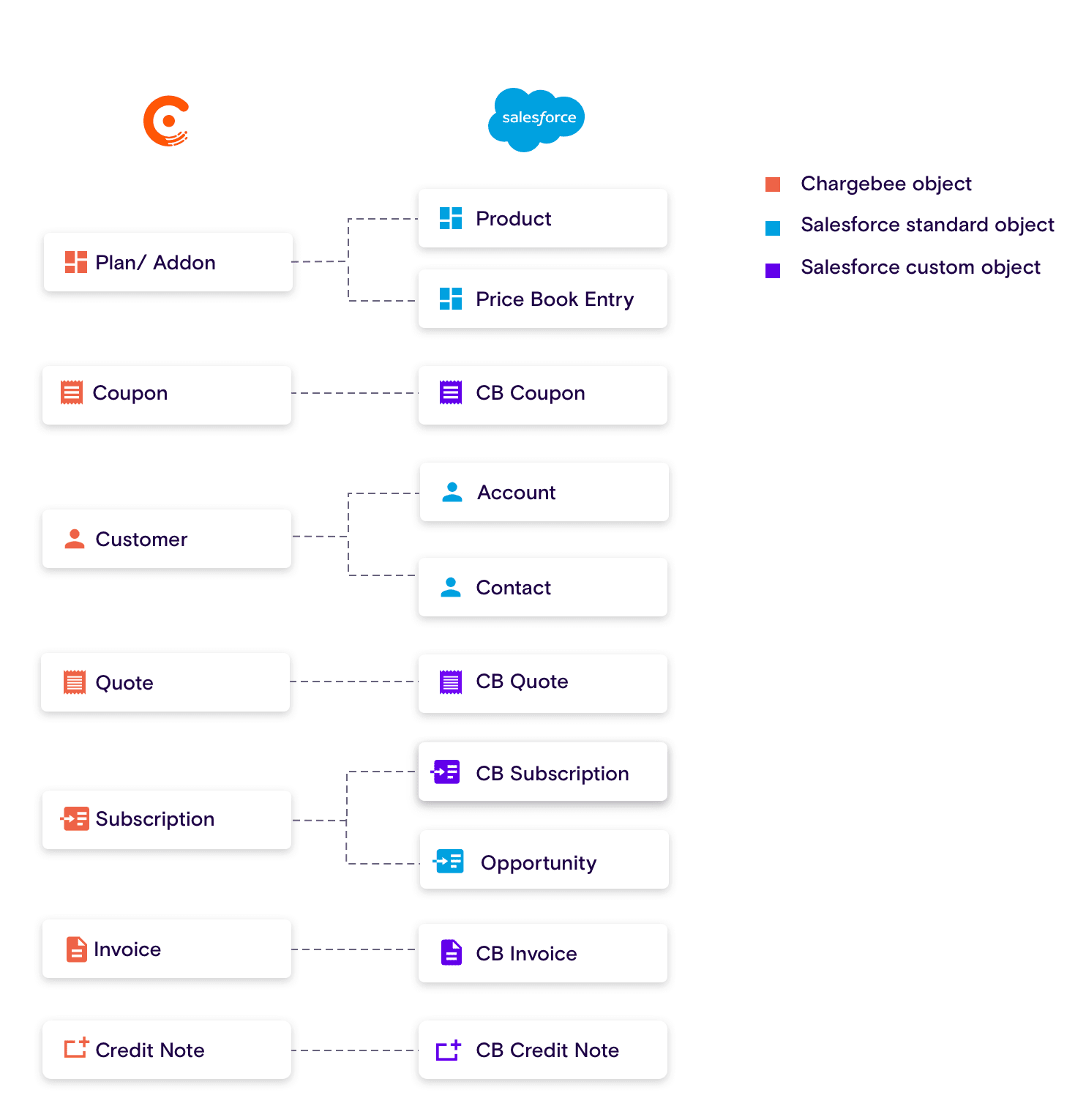 Here's a story of our customer SISU that stands as a testament. SISU is a SaaS-based real-estate company. So, typically their customer base consists of real-estate teams and brokers. The primary leg to their sales workflow is that they offer free trials, customized packages, and discounts. Chargebee-Salesforce integration works in such a way that the product line items, pricing plans, and discounts all the way from Chargebee get synced into Salesforce and vice versa. The sales team at SISU uses Salesforce for their reporting. Since the integration between the two platforms is deep, the reporting data is accurate as both the tools speak the same data. 
That's exactly why we built the Chargebee+Salesforce integration, to make your sales team efficient. Because any time spent outside could be time spent on closing another deal. 
Related Resource: Quote to cash vs order to cash
Unearth your Revenue metrics using RevenueStory
Looking at your revenue metrics is mission-critical. Watching it with a hawk's eye will help you know if trouble is lurking around the corner. At the end of the day, for your sales reps to stay ahead of the game, they need the intelligence along with tech and automation. Using RevenueStory, you can equip all your sales reps with the metrics that'll make your entire team wildly productive. 
Using RevenueStory, you can segment your key metrics like MRR, Expansion MRR and Customer LTV for each Sales exec. For example, if Jane, your account executive, always brings in customers with high LTV consistently, you can slice and dice her data and learn what clicks for her. You can train your other executives the same way, so that they can get in customers' with higher LTV like Jane. 
Not just that, using the RevenueStory dashboard, you can drill-down some interesting metrics like, 
Who contributes to your New MRR?

Which sales rep brings in the highest expansion MRR and from which geography?

What opportunities are lurking across different landscapes?
And more…
Metrics like these make your sales team take data-driven decisions, and make them stronger at their selling game by tweaking their strategies. 
Here's an example of how we, at Chargebee, battled a situation previously. As a scaling SaaS company, we faced an issue with our start-up segment. We realized that a majority of our customers churned within the first 60-90 days. This was alarming. We carefully monitored our metrics and realized there were a few issues with our onboarding journey that was causing the churn.  Once we addressed the issue, our numbers increased and we were able to save our revenue. Without RevenueStory, our revenue would have leaked ten-fold and we would still be figuring out why! 
A tool like Chargebee enables you to detect your revenue-leaks prematurely by flagging the slightest ambiguity in data.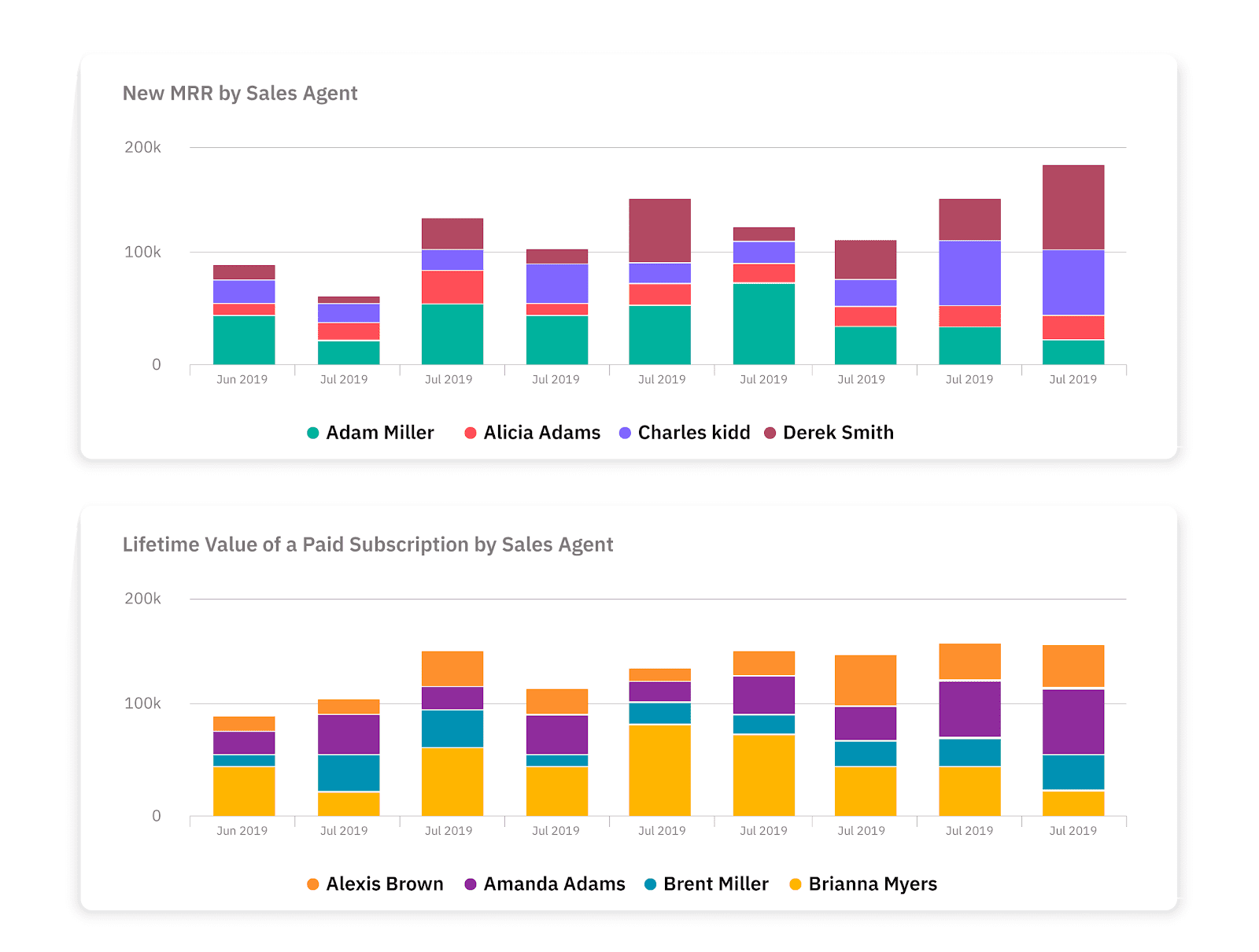 Ensuring your sales reps have the necessary tools to make their daily lives easier, you help them close more deals faster. And closing more deals equal more revenue earned, thereby keeping your company in the pink of its health. Tech automation, intelligent reporting, and winning sales tactics is crucial to keep your sales reps ahead of their game.