The global subscription box market is expected to grow at a CAGR of 18%, reaching $65 billion by 2027 from $23 billion in 2021. Given the lucrativeness of the subscription box business, even established traditional brands like Walmart, Target, Nike, and more have launched their subscription boxes to capitalize on the opportunity for growth.
The reliability of subscriptions during unpredictable times has created an unshakeable foundation for subscription services, even as the pandemic seems to subside. Today, there are subscription boxes for just about anything, giving you endless possibilities to consider.
If you want to know how to start a subscription box and have been considering Shopify, this article is for you. We've compiled a list of easy-to-follow steps to get you started with creating a subscription box on Shopify. 
Shopify has numerous features and integrations that will help you cover everything necessary to make your subscription box a success – from subscription management to email marketing and customer support. Let's look at the steps to create a Shopify subscription box.
Step 1: Determine What You Want To Sell
The first step to creating a great subscription box is clearly understanding what you want to sell. 
1. Identify The Type Of Subscription Box You Want To Sell
eCommerce subscriptions fall under three categories: replenishment, curation, and access
Replenishment Subscriptions
These subscription services refer to essential items like toilet paper, cleaning supplies, pet supplies, groceries, etc. This model offers customers a lot of convenience, time, and cost savings since necessary commodities are delivered regularly on an auto-replenishment model.
Example: Bulletproof is a beverage, supplement, and keto snack subscription box that turned into a multimillion-dollar empire. Some of the Shopify plugins used include Yotpo, to collect customer reviews and display customer-generated content. Back in Stock sends customers notifications to alert them if an item they're interested in is back in stock.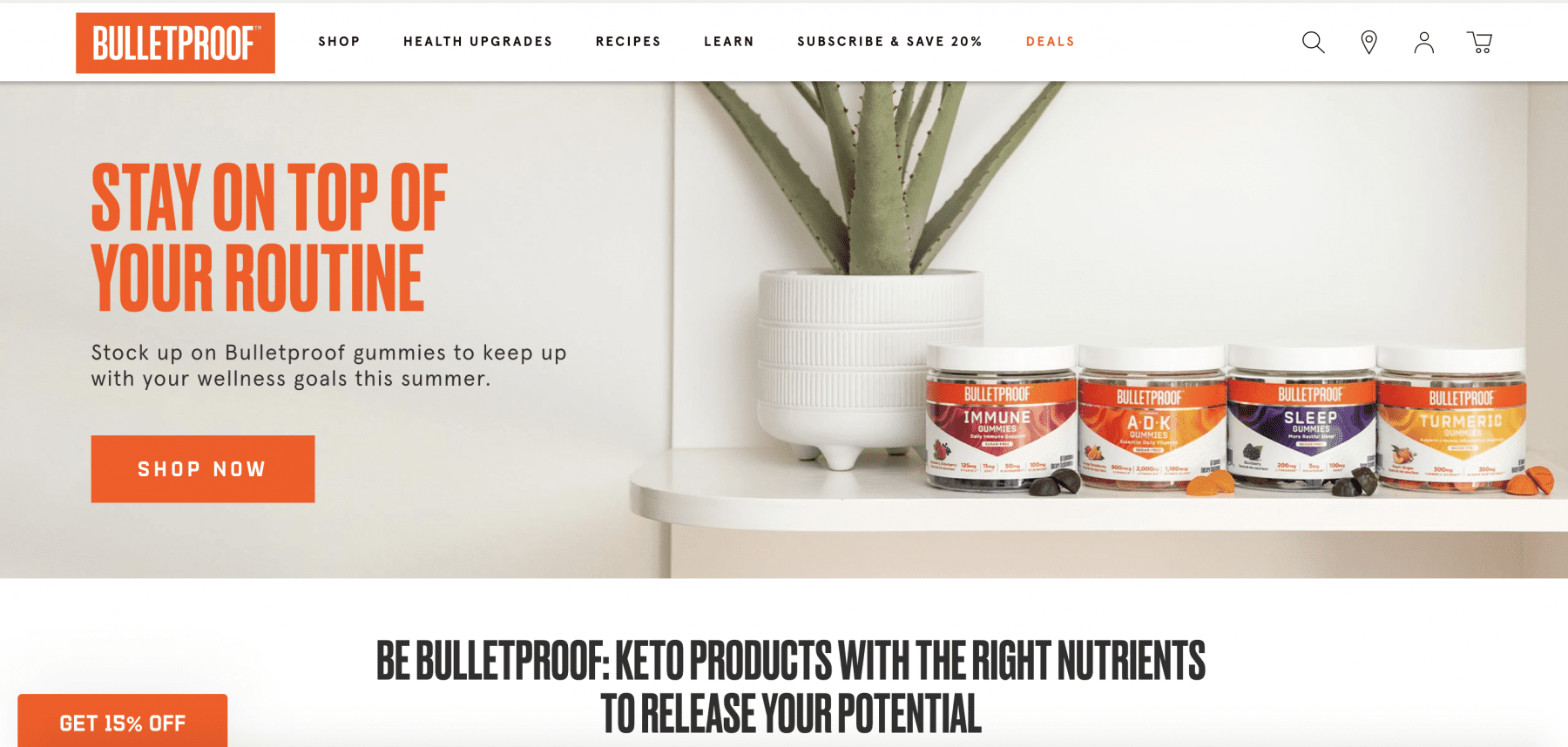 Curation Subscriptions 
These subscription services refer to hard-to-find or unique items like snacks that aren't widely available or age-appropriate toys for children. This model seeks to surprise and delight customers by offering highly personalized experiences.
Example: Hunt a Killer, a murder mystery subscription box, sends new clues and evidence to its subscribers with every new edition, keeping them hooked for more. Starting in 2016 with a revenue of $100k, Hunt a Killer achieved the sixth spot in Inc. 5000's 2020 list of fastest-growing companies in America.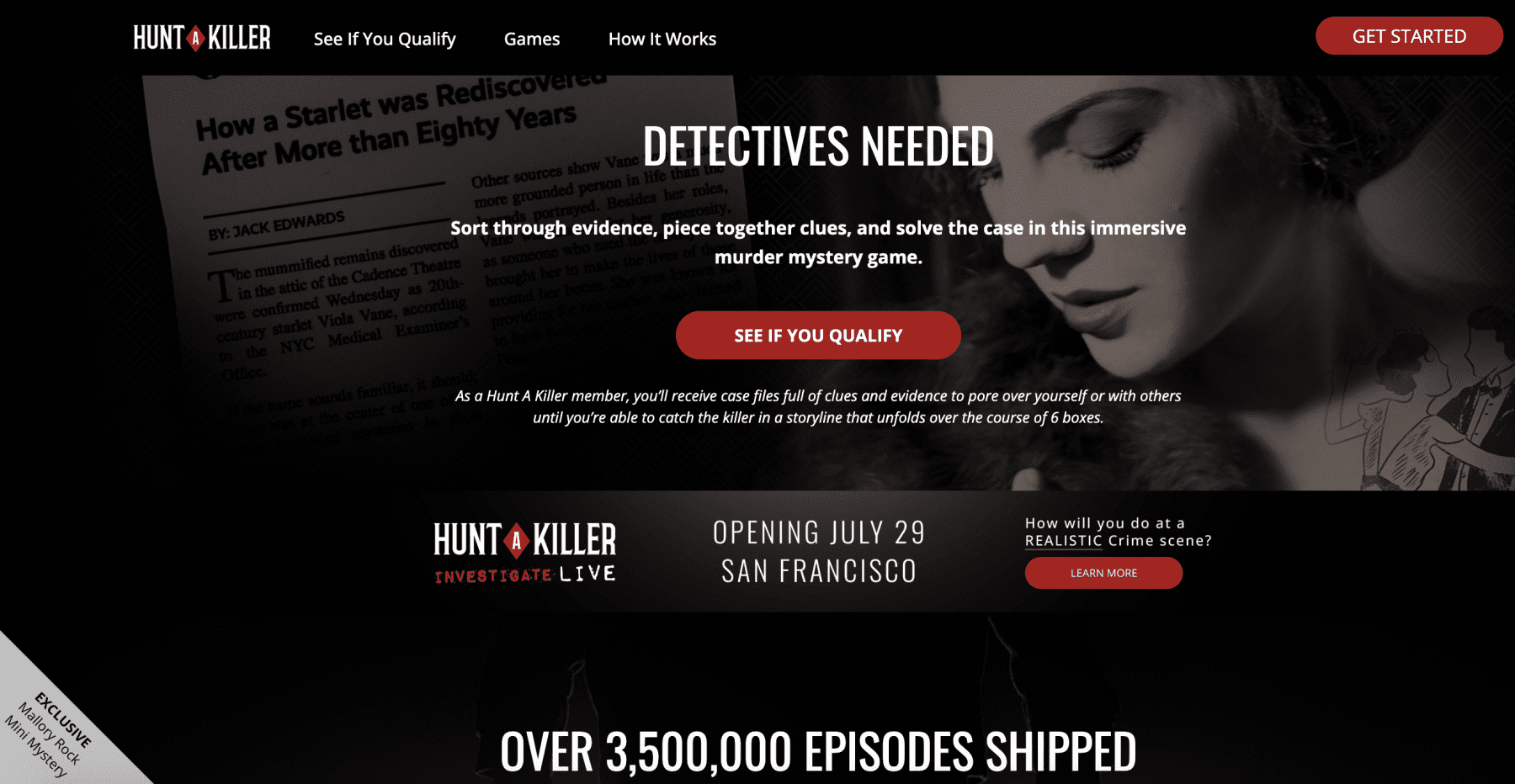 Access Subscriptions
These subscription services refer to boxes that offer member-only perks like special discounts or lower prices. This model seeks to provide a VIP experience to its customers.
Example: NatureBox home-delivers all-natural snack foods to their consumers every month. If subscribers sign up for membership, they get access to discounts or promotions on all their products.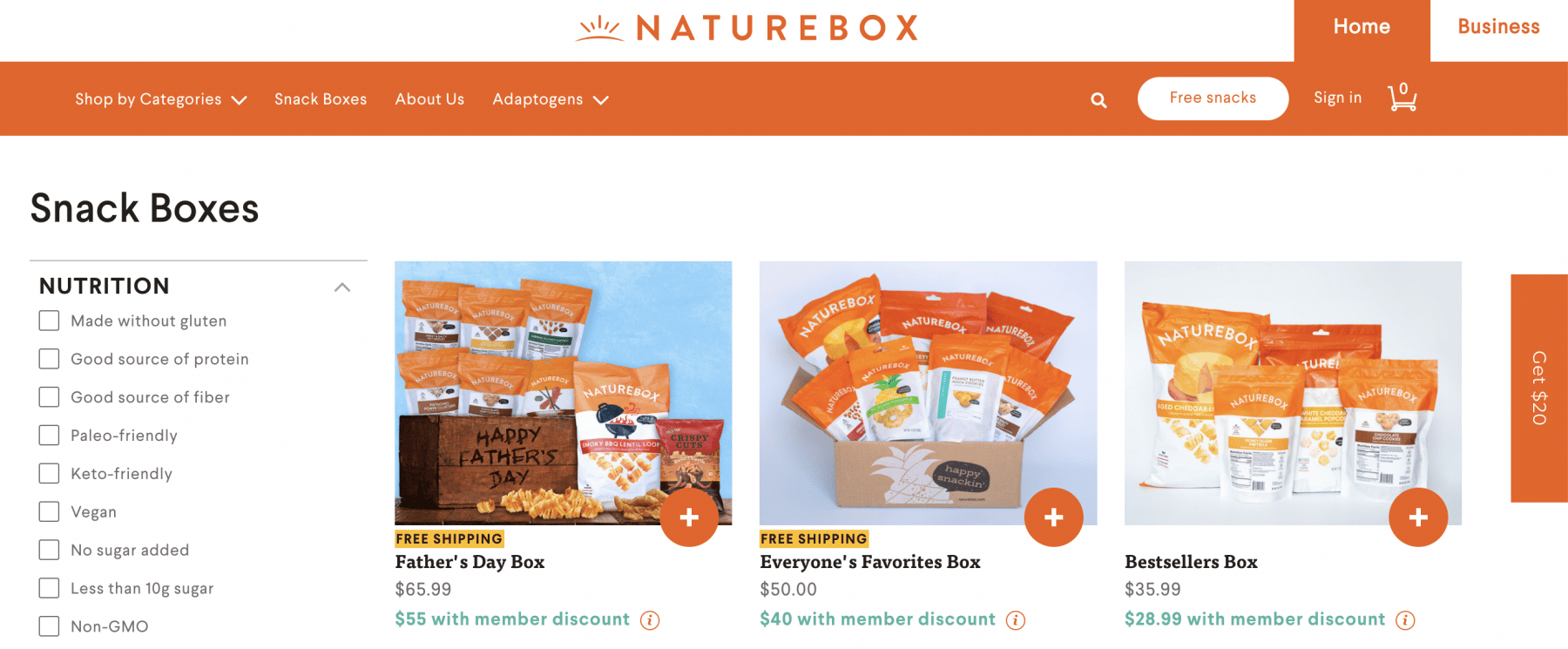 2. Identify Your Niche And Brand Personality
Your subscription box's niche is essentially its identity. Your niche can be based on aspects like interest or hobby. Examples of subscription box niches include beauty products, meal kits, baby supplies, stationery, and the like.
Brand personality is how you want your target audience to perceive you. You can figure out brand personality by finalizing your value proposition, identifying your USP, and then communicating them consistently.
Once you carve out a niche and brand personality for your subscription box, it becomes easier to understand your audience and competition to realign your marketing strategy efficiently. Furthermore, clarity regarding your brand helps you customize your Shopify store and homepage accordingly, in terms of colors, imagery, or messaging.
For detailed information on the steps to create a subscription box, check out our blog: How to start a subscription box business.
Step 2: Create your Shopify Store
If you already have a traditional Shopify store and want to create a subscription offering, you can skip this step and go to the next step, which discusses subscription apps. 
If you are starting afresh, here are the steps you need to follow to launch your subscription eCommerce store on Shopify:
1. Purchase A Domain
There are quite a few websites from which you can purchase domains, like Bluehost, Google Domains, NameCheap, and more. GoDaddy is one of the most popular website to purchase domain. It is pretty easy to navigate and manage multiple domains using GODaddy.

2. Sign Up For Shopify And Connect Your Domain
Once you've purchased a domain, the next step is to sign up for Shopify. You can either purchase one of their plans or sign up for their free trial.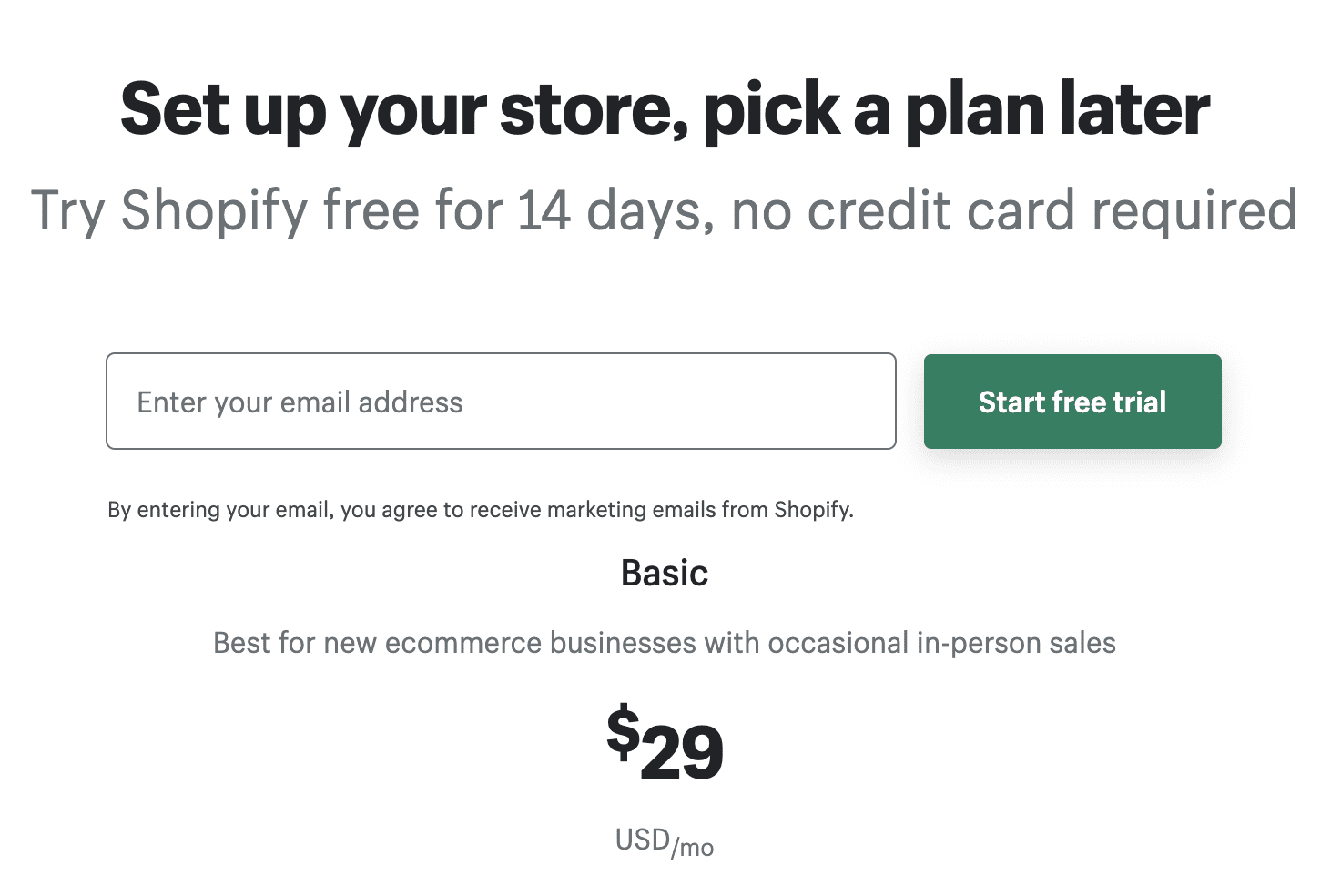 Once you've logged in to the Shopify admin page, it will look like this: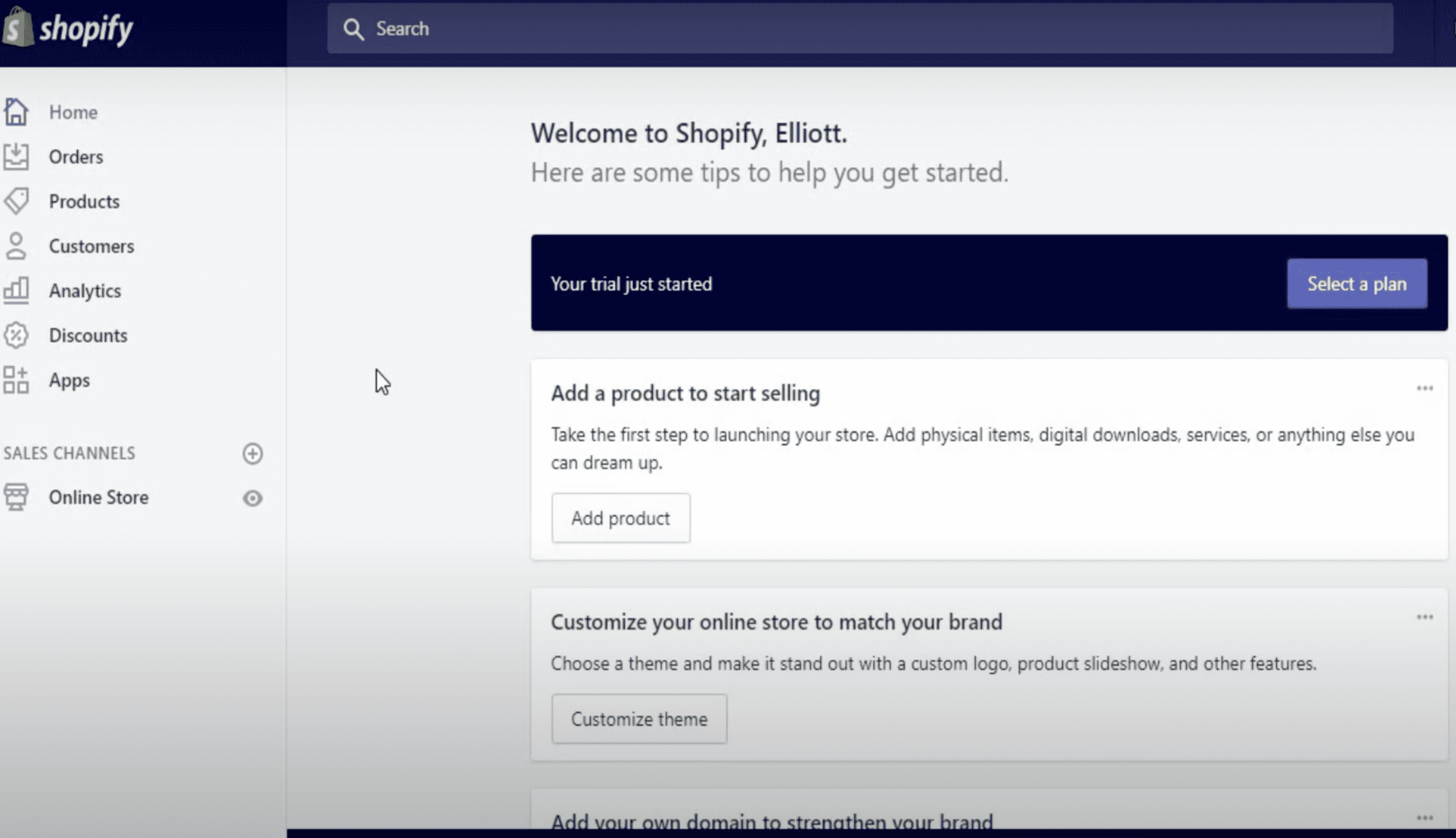 The admin dashboard gives you access to set up the entirety of your store (as you can see from the dropdown).
The next step is to set up your domain.
By clicking on the online store tab on the left, you can connect your existing domain to Shopify.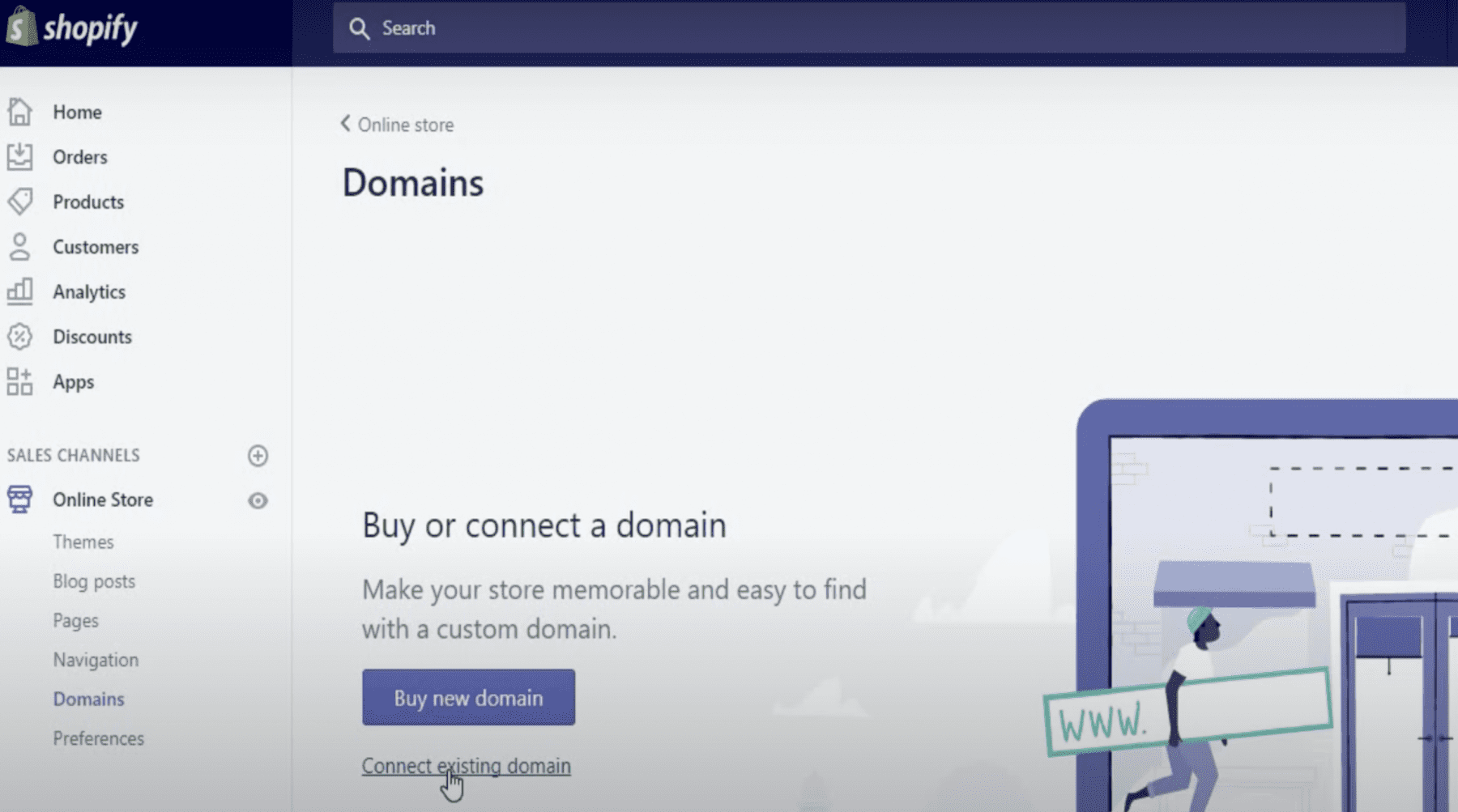 3. Choose A Theme For Your Shopify Store
The first step to customizing your subscription store is to choose a theme. You can go ahead with the default theme or choose from Shopify's free themes. You can access this feature by clicking on online store > themes. Some of the best Shopify themes include Mobilia, Pacific, Minimal, and more.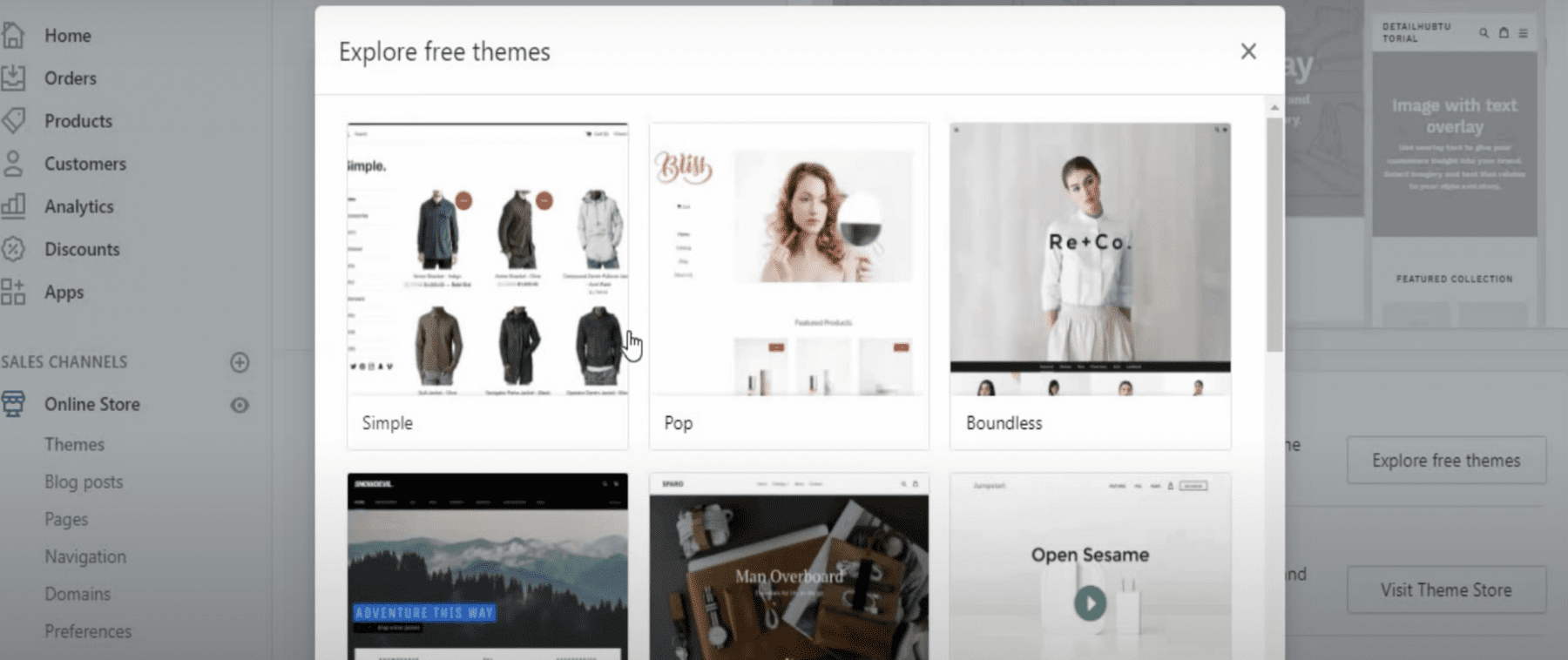 Once your theme is set up, you can go ahead and create all the crucial and mandatory pages needed for your store, such as Terms of Service, Contact Us, Return and Refund policies, and the like. Just click on pages under the online store tab to get started.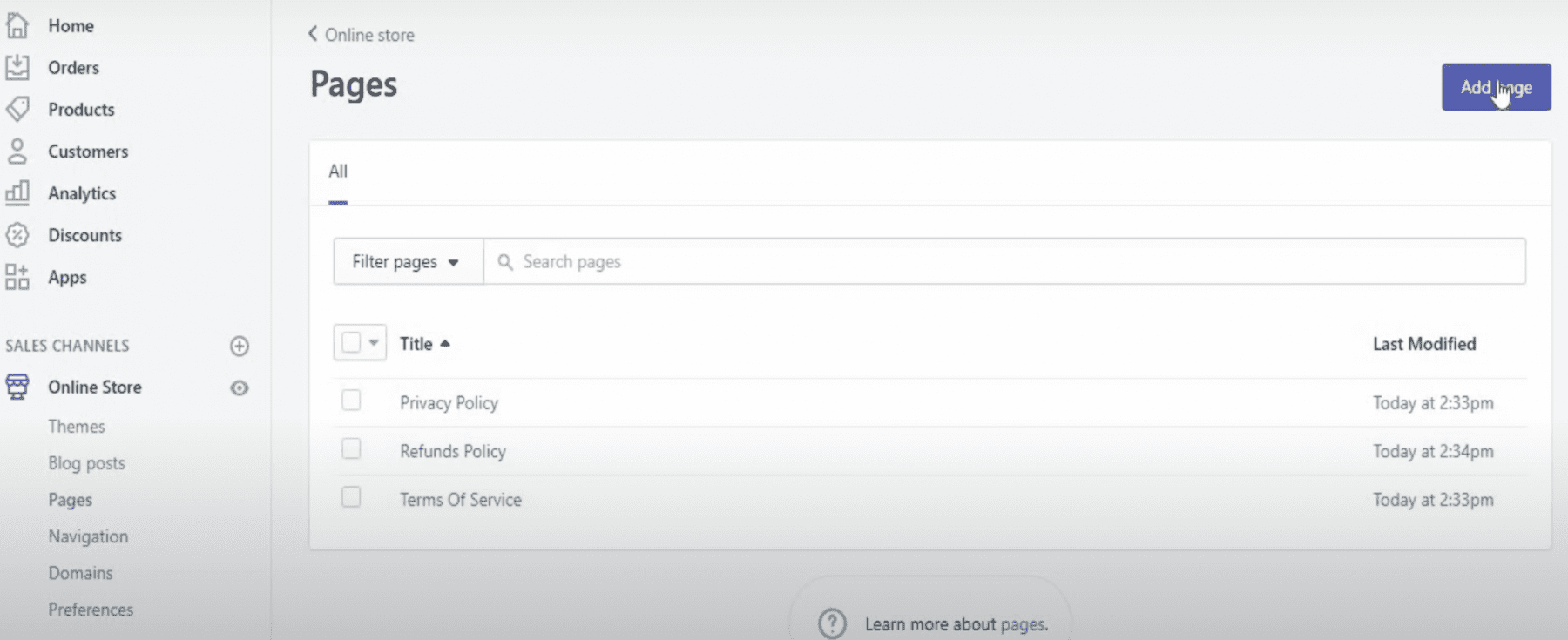 4. Customize Your Store's Homepage
Once you've set up your pages, you can go back to your homepage and start customizing it by adding the brand name, logo, images, and information about your brand.
After setting up your homepage, you can start creating your product pages and integrate your shopify store with a subscription box management and recurring billing app.
Step 3:Add Subscription and Recurring Billing to Your Shopify Store
You need to integrate with a subscription box app to start selling subscription boxes in your shopify store. There are two ways to go about this – you can choose a subscription app from the Shopify store or integrate with a tool of your choice via API.
Best Shopify Subscription Apps
Since Shopify doesn't offer native subscription billing capabilities, you can instead choose one from several third-party applications. Some of the best subscription apps on the Shopify app store include:

Bold subscriptions is a ready-to-use system especially ideal for creating product pages. You can customize, manage, and scale your subscription business with features like delivery frequencies, hybrid payment options, and comprehensive dashboards.
Bold has no set pricing plans, so you must reach out to their sales team for the same.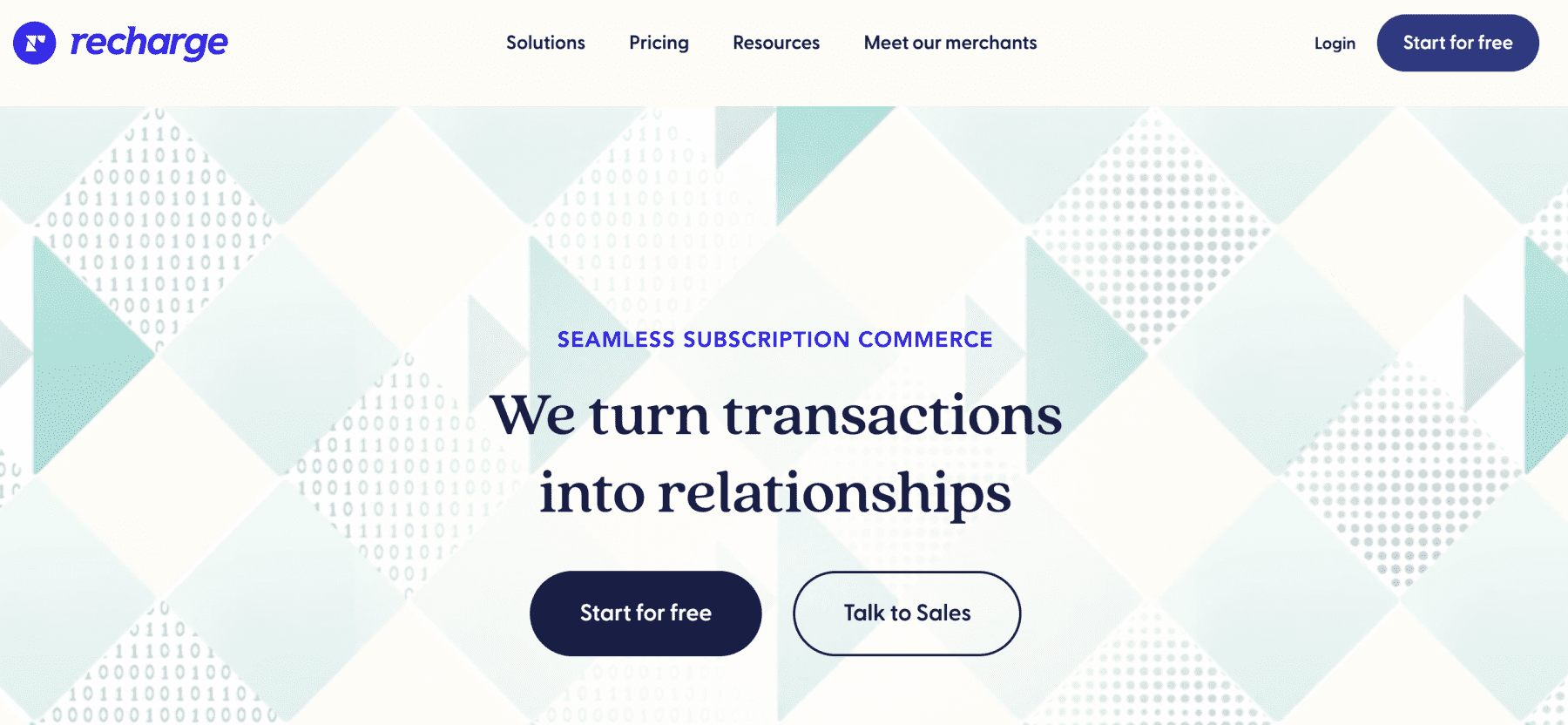 Recharge helps you to quickly launch and manage your subscription box business on Shopify. Recharge offers features like order management, subscription billing, and credit card payment management to run your shopify store.
Recharge's basic plan comes at no monthly fees but a small fee charged on transactions made.
Appstle is an end-to-end subscription management solution for shopify stores with features like inventory forecasting, segmented customer plans, cancellation management, APIs and webhooks, and the like. 
Appstle does not have direct pricing plans, so you need to contact the Shopify sales team for the same.

Yotpo enables you to launch subscription plans in minutes and includes features like native checkout experience, seamless catalog management (no more duplicate products), easy discount control, and more. You can also integrate Yotpo Subscriptions with other Yotpo products.
You can sign up to Yotpo for free; their basic plan is $19 per month.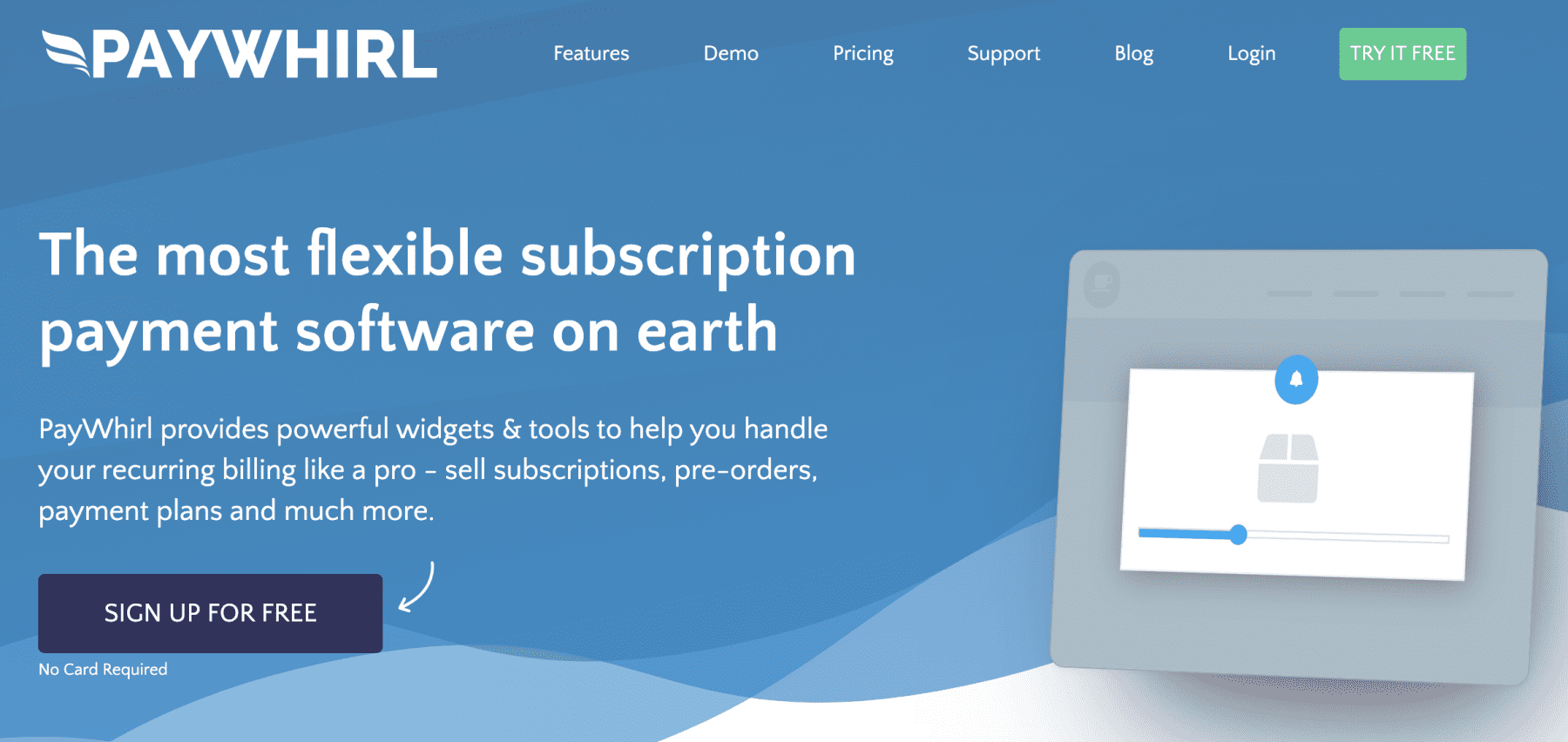 PayWhirl makes it simple to create, manage, and sell subscriptions without the need for custom development to create every page. It lets your customers buy subscriptions, store payment information, and access their accounts online.
Like Recharge, PayWhirl can be used at no monthly fees apart from a small fee for transactions made. Their basic plan starts at $49 per month.
Integrate With A Subscription App Of Your Choosing Via APIs
Another way to add subscription management and recurring billing functionality for your Shopify subscription box is through APIs. Taking a headless approach works if you're facing either issue:
If you've gone through the Shopify app store but have some other requirements, or 

If you're already using a subscription management app that you would like to continue with but isn't a part of Shopify's app store.
To access headless functionality, you need to upgrade to Shopify Plus. While the dashboard and fundamental eCommerce features are the same between Shopify and Shopify Plus, the main distinction is that Shopify Plus offers you significantly more flexibility, support options, and access to the underlying code of your store. With Shopify Plus' APIs, you can cherry-pick any tools you need to build your commerce stack. 
Pro tip: Headless commerce brings a world of benefits for eCommerce merchants and consumers alike. If you haven't taken the headless approach yet and are intrigued by it, check out our blog – everything you need to know about headless commerce. It will help you figure out how headless subscription management can take your eCommerce business to the next level.
By being API-first, you can integrate with a more advanced subscription management software like Chargebee. It can help you seamlessly manage the subscriptions, fulfillment, and billing for your shopify store while tackling any and every subscription complexity that comes your way.

Apart from creating your individual subscription strategy using Chargebee's scalable and reliable REST APIs, you can customize 100+ subscription attributes across plans, payments, customers, orders, coupons, and discounts without coding.
Kabo, a subscription box for dog food delivery, required a subscription and billing tool to follow its "build-a-box" business model. This tool had to work seamlessly with native and third-party tools while remaining independent. 
After switching to Chargebee, they realized a 25% increase in AOV. Jon Ristovski, the CTO of Kabo, said: "While evaluating out-of-the-box eCommerce platforms like Shopify with Recharge and other plugins, we quickly realized the degree of complexity involved in creating individual meal plans required us to create our custom application. So we adopted a headless stack with complete control on the frontend while Chargebee's seamless API integration took care of the subscription layer at the backend."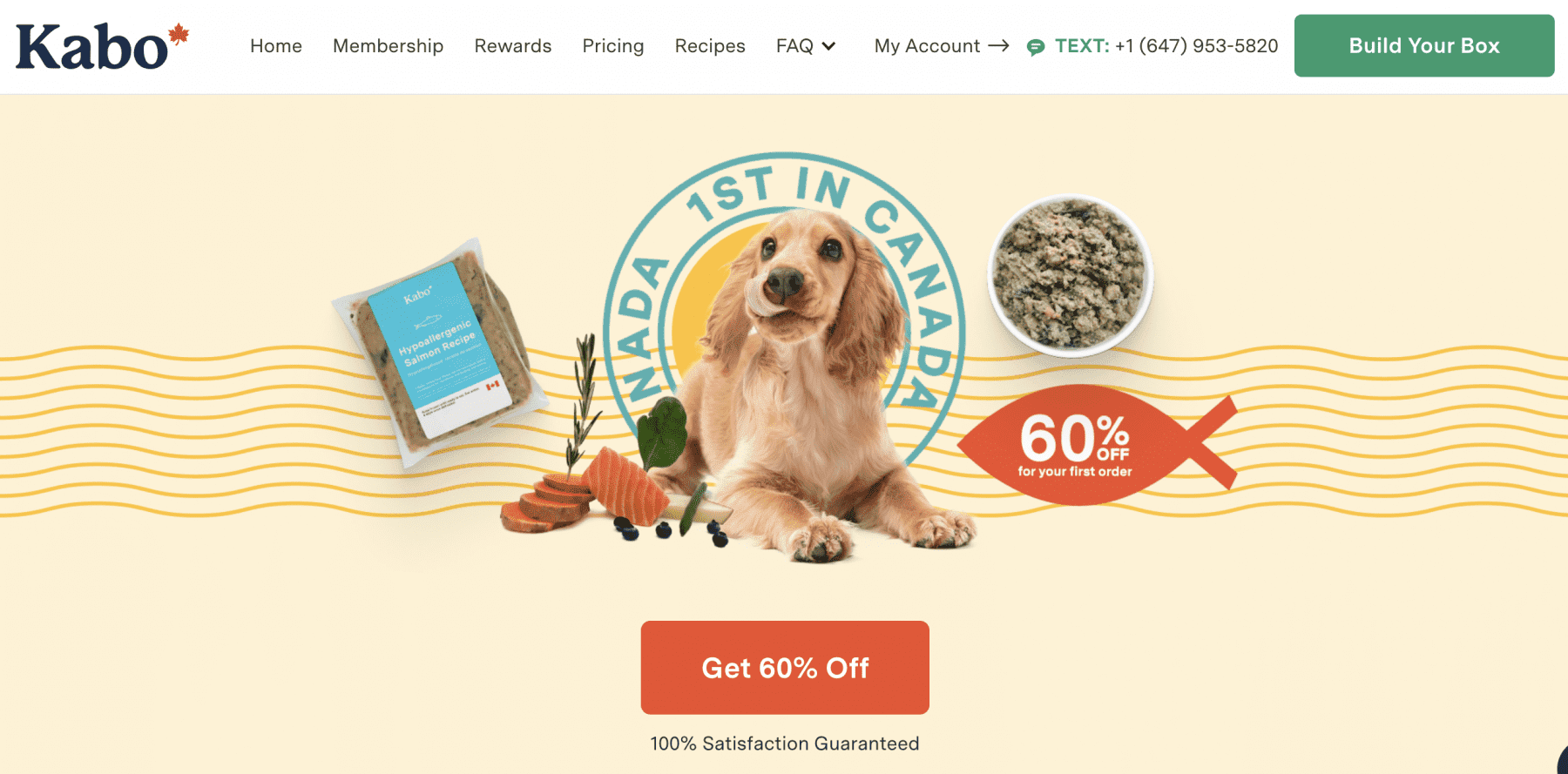 Another subscription box that curates Japanese snacks, Tokyo Treat, was able to future-proof their subscription management stack, saving them thousands of dollars and development hours. They also realized a 10% improvement in retention with Chargebee's dunning management feature.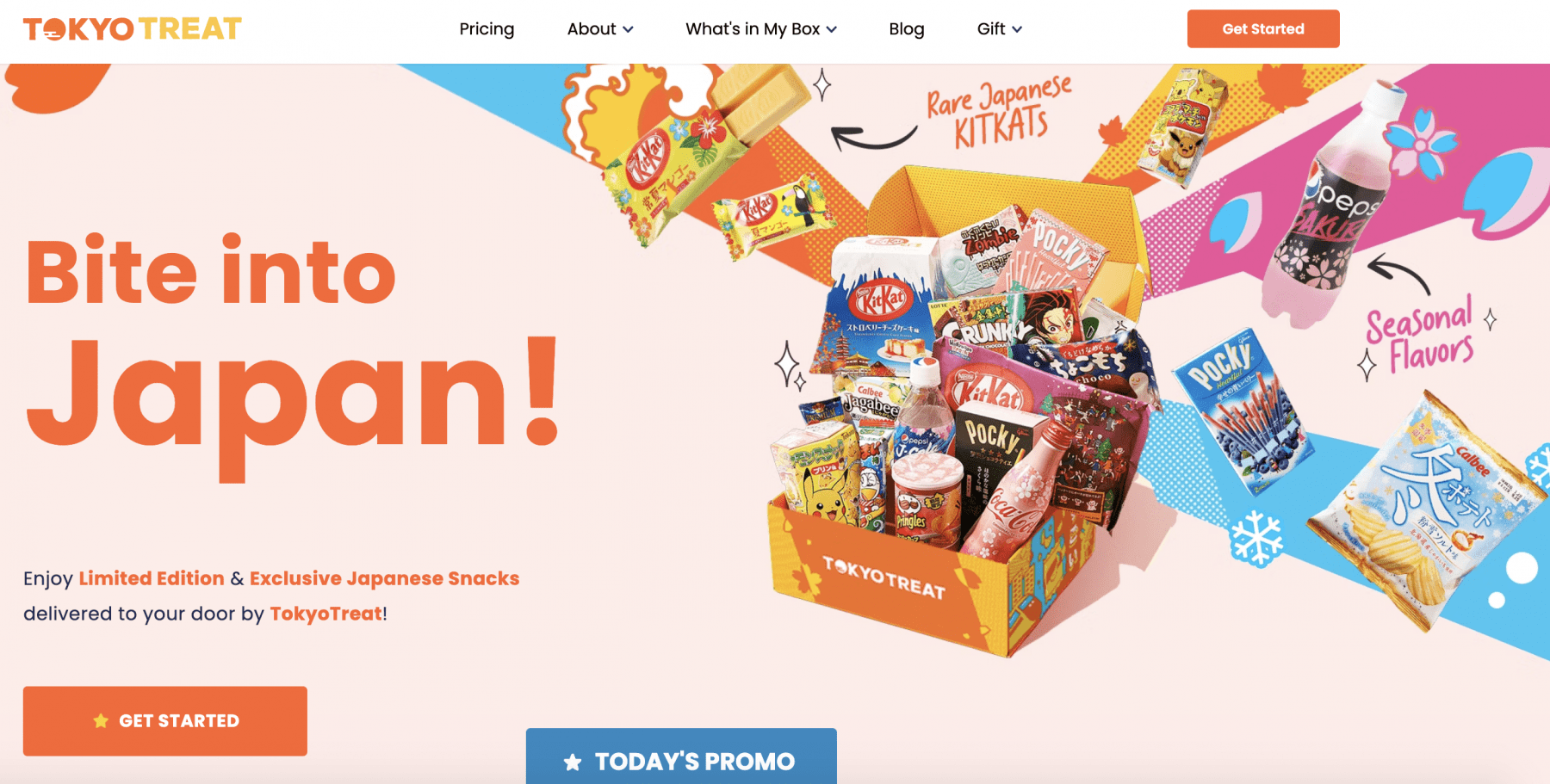 For more information on how Chargebee can help power your headless eCommerce solution, head here.
Step 4: Set Up Your Subscriptions Product Catalog
Once you integrate with a subscription management app, you can view a product's subscription details on the product page in your Shopify admin portal.
The details are displayed in the subscriptions section of the product page. You can also choose how to offer your subscriptions: either only subscription purchases or both subscription and one-time purchases.
Step 5: Connect Your Store To A Payment Gateway
 A predecessor for any subscription offering is to connect your subscription box to a payment gateway. The subscription management tool you choose should be compatible with all the popular payment gateways.
For instance, Chargebee supports leading payment gateway providers across 150 countries.
Shopify has its payment gateway – Shopify Payments. You can choose to work with shopify payments or choose to connect with several popular third-party payment providers like Stripe, PayPal, WorldPay, and Amazon Pay.  
Step 6:Set Your Subscription Rules
Once you've added subscription functionality to your online store, you need to determine how you want your offering to function by adding subscription rulesets. They can be anything along the lines of the products you wish to make available through subscription, how frequently the customer will be billed, how often the product will be shipped, or subscription-based discounts.
Ensure You Have A Subscription Fulfillment Service In Place
Maintaining subscribers has always been a challenging, full-time job. Since your customers pay in advance, you need to ensure timely and high-quality shipment of your products to keep them satisfied.
Hence, it's crucial to integrate a fulfillment provider directly into your Shopify box to process orders as soon as they are generated. It helps if your customers receive tracking information to know product arrival times and their next billing cycle. You can try outsourced fulfillment in Shopify with a few products if you're unsure about your capacity to handle in-house Shopify subscription fulfillment.
> You can check out this video for a step-by-step tutorial on creating your subscription box on Shopify.
Tips To Run A Successful Subscription Box On Shopify
Considering the heavy competition in the subscription box market, it helps to have a couple of handy tips so your subscription box can go the extra mile.
1. Come up with a killer marketing plan for your subscription box
There's a subscription box for everything, making it difficult for newcomers to stand out. Here is where your marketing efforts make all the difference. Here are a few actionable marketing tactics you can use:
Build a loyal social community: This is a great way to get subscribers actively involved with your brand by offering them a portal to share their reviews, comments, and ideas.
Reach out to subscription box bloggers: Yes, they exist. Amidst thousands of social media and YouTube bloggers, there are many subscription box blogs that you can reach out to shake up that customer grapevine about how unique your product is.
Leverage user-generated content: Your customers are your biggest influencers – utilize them to the fullest. For example, you can give your customers an incentive to share their review of your product with a photo or video of them using it and post it on your website.
Robust SEO optimization: Customers don't search for information; they "google" for it. Hence, trying to check all boxes for SEO optimization will ensure your store is one of the first ones to be ranked in search engines.
2. Create a good subscription (product) page
Products often have to jump through many hoops – word of mouth, research, alternatives – to cross the finish line and end up in a shopping cart. Making your product page as thorough, detailed, and persuasive as possible is, therefore, a good idea. To create a good subscription page, here are a couple of fundamentals you can keep in mind:
Having a mobile-first design

Displaying captivating product images

Clearly stating the call to action

Utilizing eye-catching product demo videos
3. Enhance your store's subscription 
experience
If your subscription box isn't giving your customers 'wow' moments, chances are they're going to find it elsewhere. Here are some ways to give your subscribers a great experience:
Create a great unboxing experience
Unboxing is a significant part of the subscription box experience. Push boundaries here and make the unboxing fun for your customers. For example, it can be exquisite packaging, or it can have quirky messaging, or you could throw in a bonus product – it's the little things that make the experience worthwhile.
For instance, Loot Crate, a subscription box for pop culture and gaming-related merchandise, is known for its fantastic unboxing experience. YouTube videos of customers documenting the unboxing are a testament to the efforts put in by the team.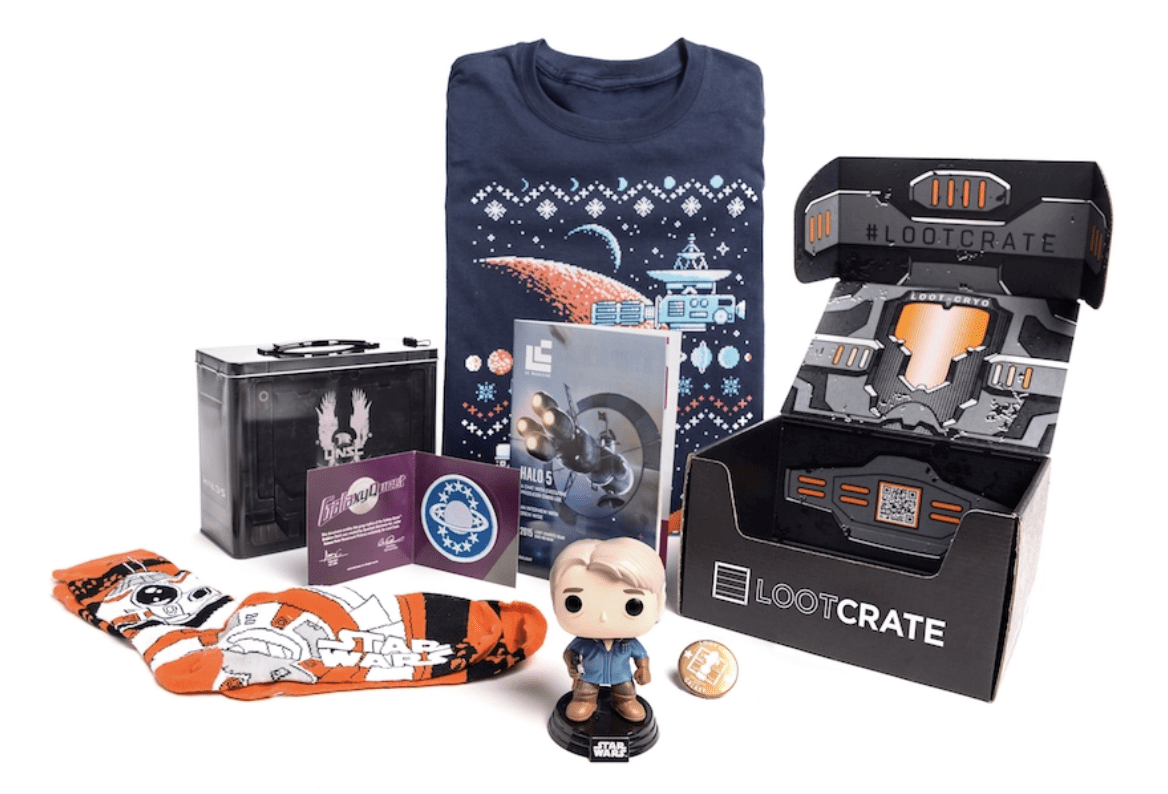 Allow customers to customize their boxes
Let your customers tell you what they want. Offering them control over their experience with customizable boxes – allowing subscribers to pick and choose from different types of products or box sizes – will be a great value addition for your service and your customers.
For instance, Loot Crate offers customers custom subscription options and keeps changing its box design every few months.
4. Offer multiple payment options
A common reason for cart abandonment is insufficient payment options. The preferred mode of payment varies from country to country. For instance, while credit card usage is commonplace in the US, the same cannot be said for Europe. It is essential to offer multiple payment methods, allowing your subscribers flexibility and ease of purchasing to ensure a seamless checkout process.  
5. Monitor churn and focus on retention
It's no secret that acquiring new customers costs more than retaining them. Moreover, existing customers tend to pay more over time than newly acquired ones. Suppose these reasons aren't compelling enough to start focusing on retention. In that case, data from Brightback (a Chargebee company) suggests that over 53% of churn is involuntary. From that figure, another 20-40% is because of declined debit or credit cards. 
Especially for an entrepreneur recently having started a subscription box business, losing customers due to trivial reasons like declined payments can be painful. However, some good news is that involuntary churn is avoidable with the right churn mitigation tactics. For instance, Chargebee offers dunning management that lets you recover potentially lost revenue on autopilot with smart payment retries.
It is critical to implement actionable retention strategies constantly. Here are some of our best resources to guide you to ensure fast and consistent growth:
In Conclusion
Dollar Shave Club's rise to fame was no accident. They took a daily commodity and revolutionized the way it's sold, challenging the monopoly, Gillette, head-on. Their USP? Cheap razor blades.
Similarly, several other subscription boxes took an everyday commodity and turned it into an experience. Ipsy, BarkBox, Home Chef, and more have turned into household names because they showed a little ingenuity.
So, it doesn't matter that there are subscription boxes for everything. If you can be clever, focus on delivering a fantastic experience, and most importantly, follow the right strategies and tips, there's no doubt that you can build a successful subscription box business on Shopify.
To future-proof your subscription box business and boost your subscription strategy, partner with a subscription management platform that can adapt as you scale. You can unlock unrestrained growth by enabling frictionless customer experiences across all critical touch points like checkout and recurring payments while maximizing loyalty through experimentation and personalization.
Intrigued? Learn more about how Chargebee can help you.