Introducing Orders as a First Class Citizen in Chargebee
~ 3 min read | November 29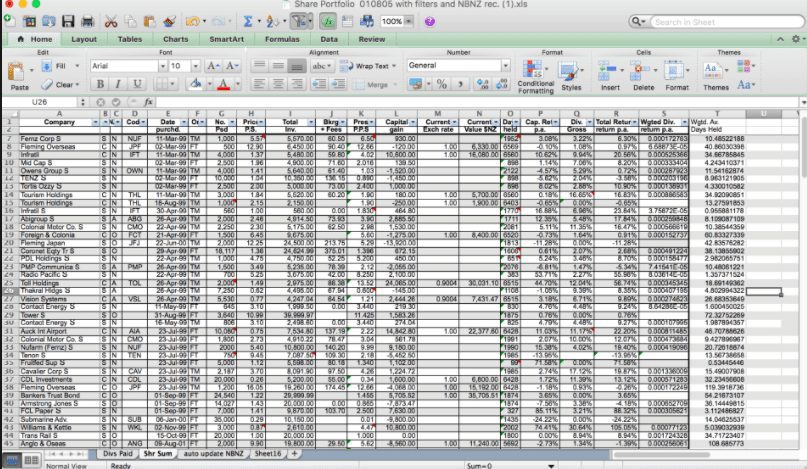 Spreadsheets and double-work – two of the biggest pains in subscription commerce today.
Most ecommerce subscriptions today keep track of the payment statuses, order statuses, shipping details, and fulfillment statuses. All this using an endless nest of spreadsheets!
Of course, this soon becomes an operational nightmare – leading to jerry-rigging solutions that are don't really scale too well.
With subscriptions, order details and fulfillment data scattered across disparate and unconnected systems, managing orders soon becomes a herculean task.
Billing cycles need to correlate with fulfillment cycles. Orders need to be extracted from subscriptions and scheduled in the shipping platform for prompt deliveries. And let's not even get started with returns, refunds, and cancellations.
It's an operational burden, an error-prone process, and requires hours of back and forth between the billing system and the fulfillment platform.
You need to find the promised land between subscriptions, orders, and shipments. Which treats orders as a first class citizen. Which was a dream. Until now. Introducing Chargebee's Orders!
Chargebee's Orders bring in a level of sophistication to your order management process. You can automatically generate and manage recurring orders, schedule them in your fulfillment platform, and have a consolidated overview of order statuses in Chargebee.
Bill and Ship when you want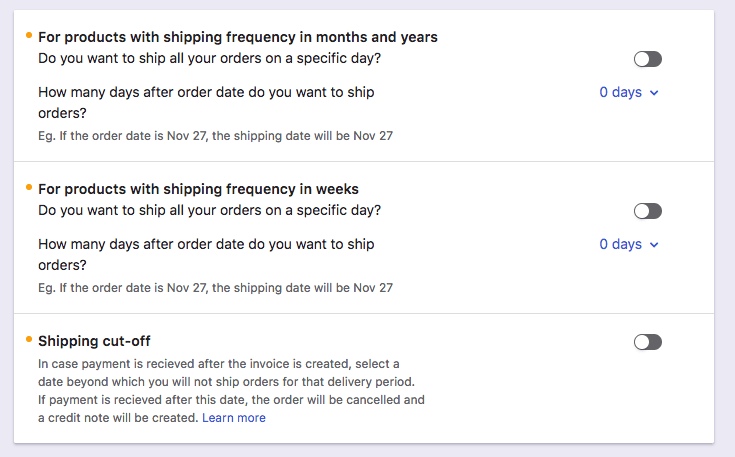 With Chargebee's Orders comes the flexibility to bill and ship to your customer when you want. Ship as soon as they sign up for your product or on any particular date of the month. If you want to have a billing cut-off period, so be it! Configure it once and we will handle the rest. Chargebee flexibly accommodates all the billing and shipping use cases.
Automatically generate and schedule Orders

As soon as an invoice is paid, the corresponding order is generated in Chargebee.  These orders are pushed to the fulfillment platform based on your shipping preference. With this comes the flexibility to be prepared well in advance.

For a prepaid box business that charges customers upfront, all the orders are generated in Chargebee upon payment. They are then pushed to the fulfillment platform only when the order has to be delivered.
This helps you automatically generate orders, schedule them, and pre-plan your inventory by having a future insight into the orders queued for the upcoming period.
An up-to-date Orders Dashboard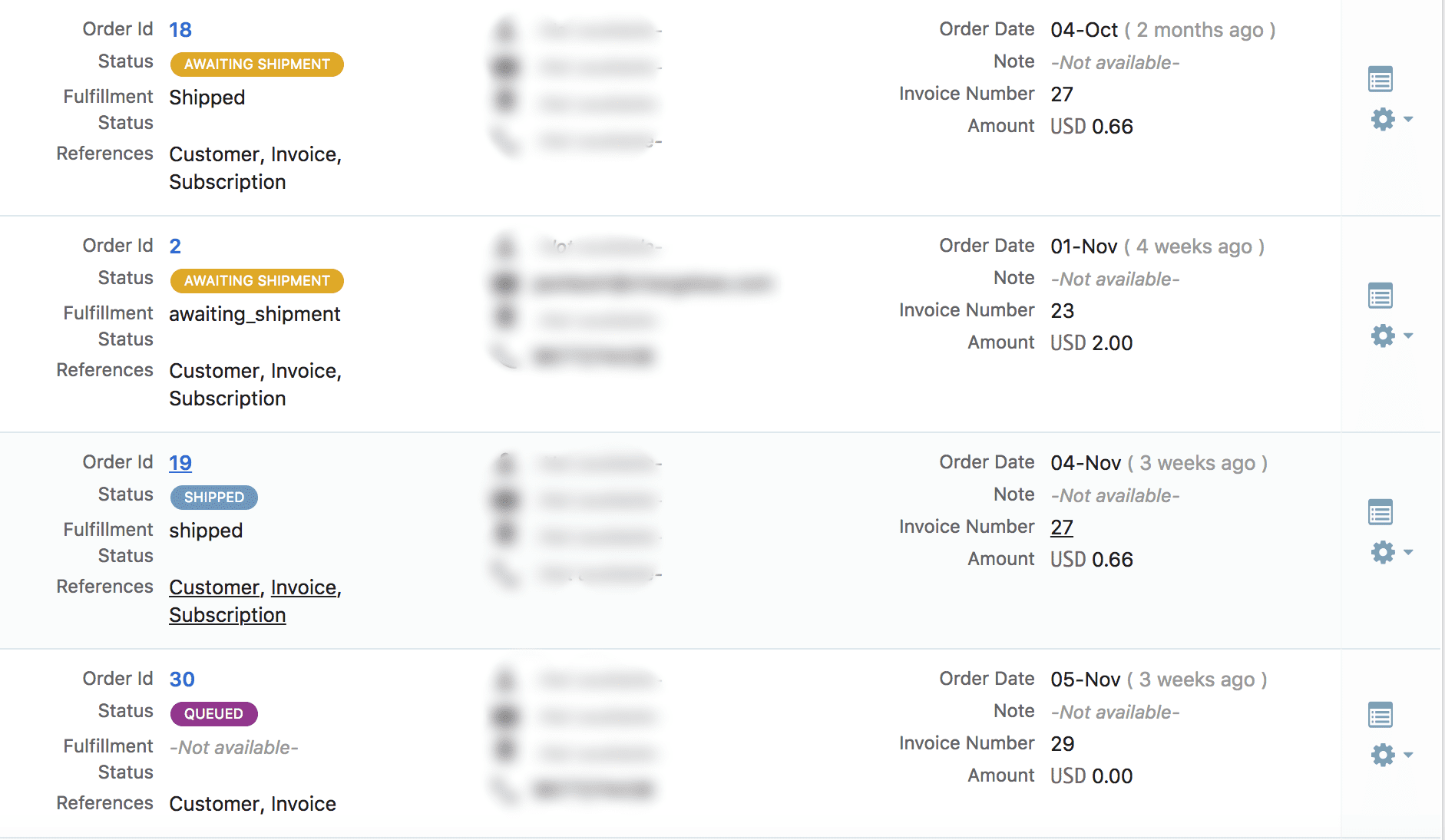 You probably have a team taking care of billing operations in Chargebee and another that works on the logistics in your fulfillment platform. Keeping data in sync between these systems is painful. Don't let this mess up with your head and numbers anymore.
By integrating it with your fulfillment platform, simply log in to Chargebee and get a consolidated view of all your order details from order status, tracking ID, to fulfillment status.
This will enable you to manage returns and cancellations within Chargebee effortlessly by generating a credit note against the order. 

Simplify operations for orders with multiple line items
Handle orders in a way that's easier for your fulfillment platform to process. Chargebee now supports line-item level SKU and pricing information. Not only is it easier than ever for you to split or merge orders, but you can also track an order status at an item level.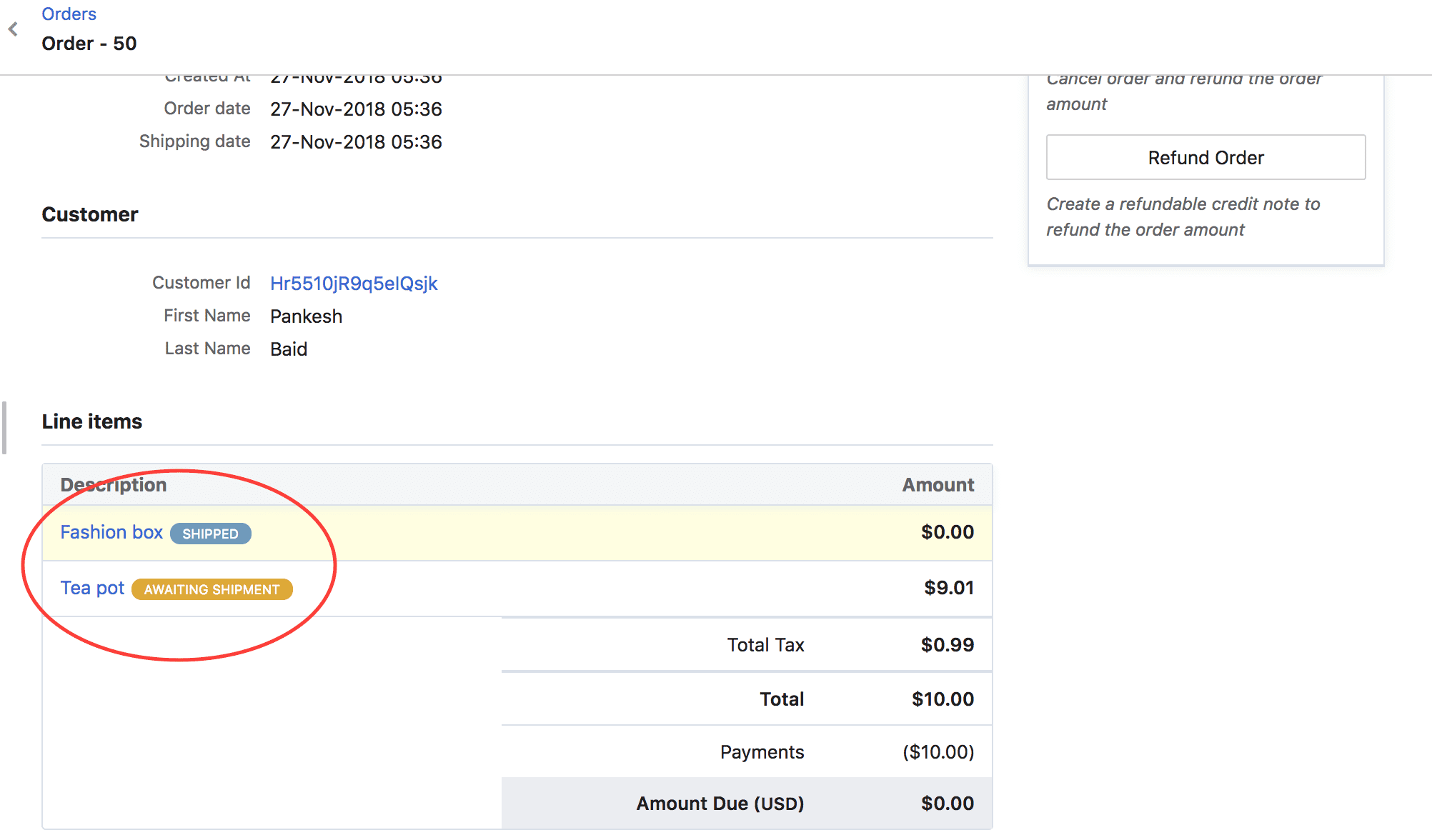 Enable Orders in your Chargebee account. Configure its settings to fit your workflow. Treat it as a first class citizen.
Dive in here to figure out the how-s of Orders in Chargebee
Get the scoop on what's new