Future-proofing growth: is your Billing Engine Scalable Enough?
~ 9 min read | January 18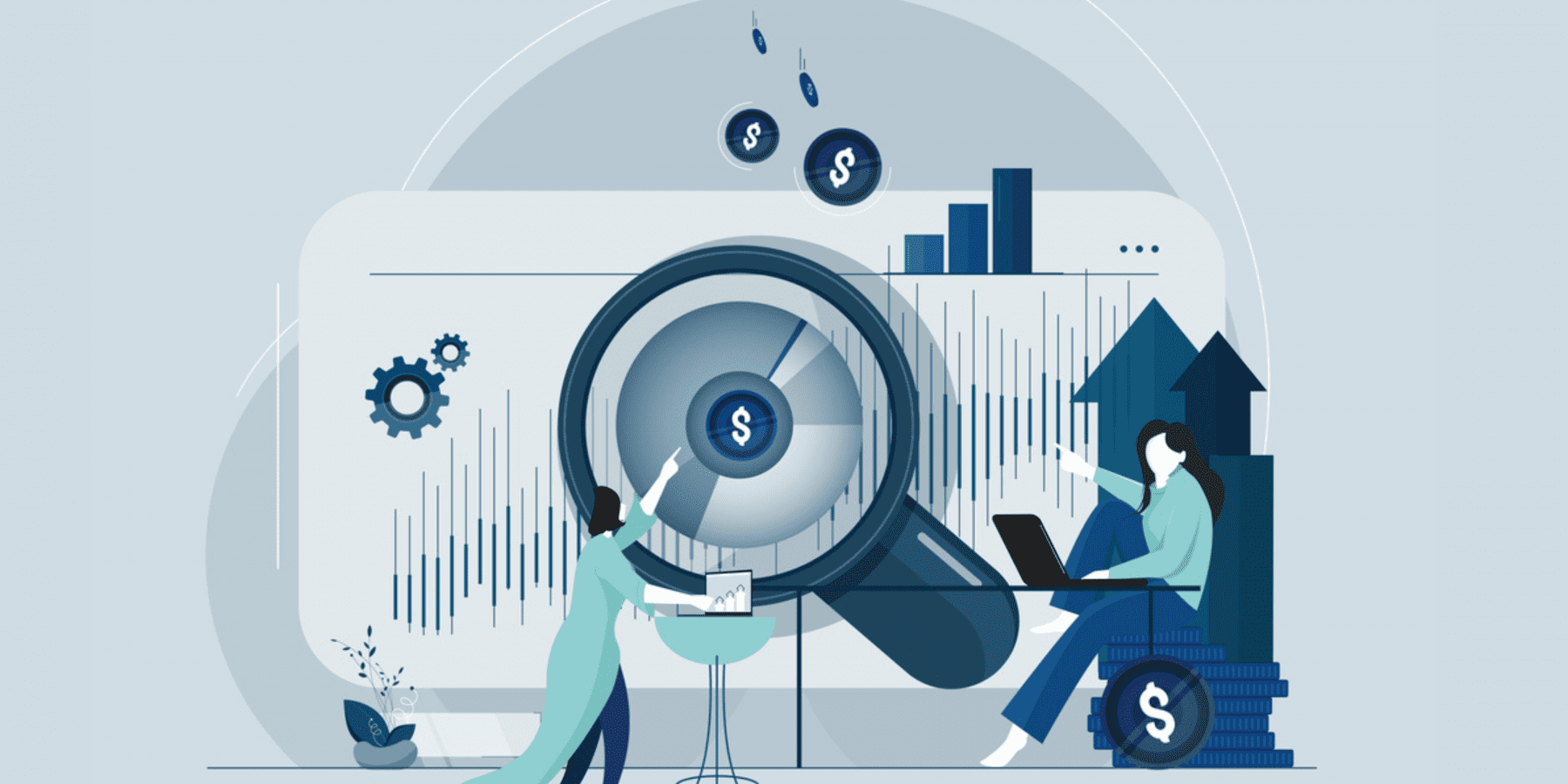 So you've just about cracked the product-market fit for your subscription business. You have a growing customer base with consistent recurring revenue. But don't crack open the bubbly just yet. It's time to unlock the next leg of growth.
So as a startup leader, you must ensure that your product keeps evolving as you scale your business and open new growth avenues like global expansion, pricing experiments, and new product lines. That means supporting multiple currencies, the ability to make pricing changes quickly, and a flexible product catalog.
Woah, that got a whole lot more complicated, right? That's why using a single payment gateway may no longer be sufficient to match your growth ambition.
Why Home-grown Billing can Hold you Off
On paper, building your billing engine seems relatively quite easy. After all, a relational database design and a 100-line cron job script shouldn't be too difficult to handle for your in-house developers, right?
But here's the fine print.
Sooner than later, you'll find yourself playing catch up with the ever-evolving complexities in billing logic, finding workarounds for new billing scenarios, fixing bugs in your billing logic, testing the billing engine, and keeping up with the ever-changing compliance laws across the globe.
Let's look at MakeSpace, for example. As a young, engineering-driven tech startup, MakeSpace opted to build its billing system. But as it grew with more pricing variations, added more customers, and expanded to newer markets, they found their internal system to be unscalable and unable to cope with:
An increasingly dynamic pricing model

Attempted fraudulent charges

The complicated US tax structure with different tax rules for individual states.
That's when MakeSpace decided to go for a much more agile yet sophisticated engine like Chargebee.
Your engineering teams should spend time on building a kickass product, not on creating and maintaining your billing.
Not only is building your billing engine cost-intensive, but it also eats away at your precious time and resources. If you consider all the people costs, processes, and the cost of compliance, it can turn out to be a costly affair, let alone an unscalable option.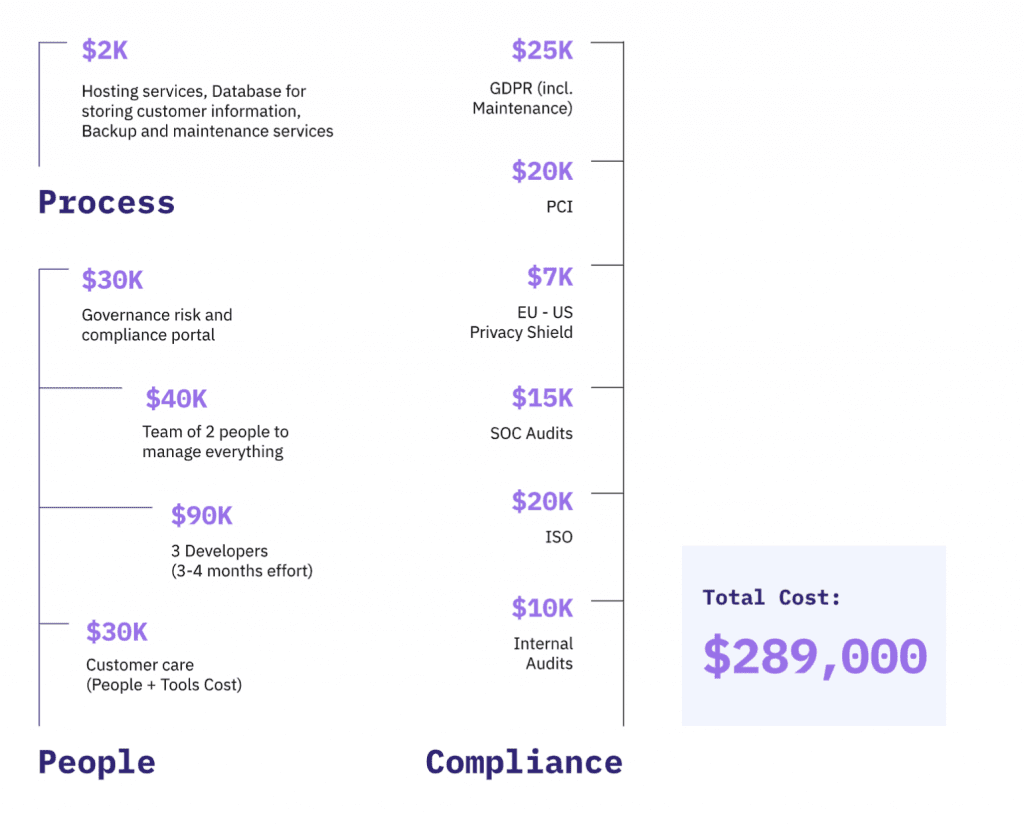 Is Using Only a Payment Gateway Enough?
While payment gateways support basic billing capabilities, you will soon outgrow these capabilities as you scale.
For example, Slidebean had built its entire payment and billing system on top of a payment gateway. But with European expansion on the horizon, they were unable to support a wide array of payment options preferred by European customers. As a result, they ended up with:
a suboptimal payments workflow,

duplicate subscription records, and

multiple sources of truth for billing data
And that's when they decided to turn to a more scalable solution.
"Our needs outgrew what we could do with Stripe Billing. Today we tried solving for Paypal, and tomorrow it will be a new payment method. It didn't make sense to reinvest time to add more gateways. So, having Chargebee sit at the heart of all gateways supported our growth."
Jose Enrique
Co-founder & CTO, Slidebean
Read Slidebean's whole story here.
From a strategic point of view, you need a recurring billing engine that scales with you. Moreover, recurring billing systems are designed to be integrated with multiple payment gateways and payment methods. This helps in three fundamental ways:
Market expansion through a variety of payment methods, and

Reducing the risk of high payment failures that come with being tied to a single payment gateway.

Ability to cater to customer's preferences to a particular payment method.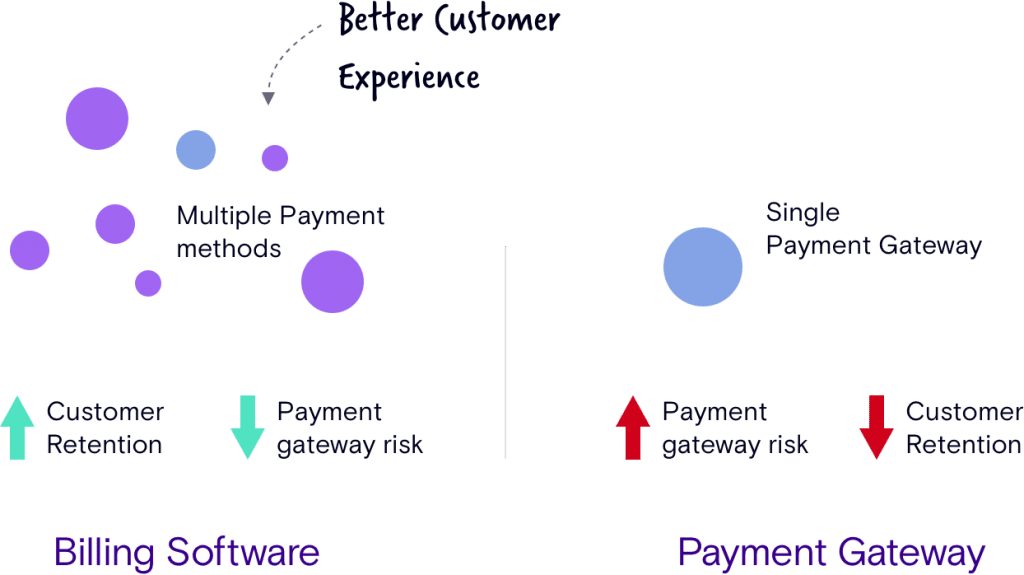 Moreover, subscription billing and revenue management systems like Chargebee come with comprehensive reporting capabilities to help you get the pulse of your business and make data-driven decisions. You need to keep a close eye on metrics like MRR, churn, and LTV to start with. But that's not all, your reporting needs can be unique based on your product and industry. It's important to have a customizable dashboard tailored to your needs so you can make smarter decisions when it comes to capital allocation, investments for growth, and course-correct if need be basically ensuring sustainable growth for the business.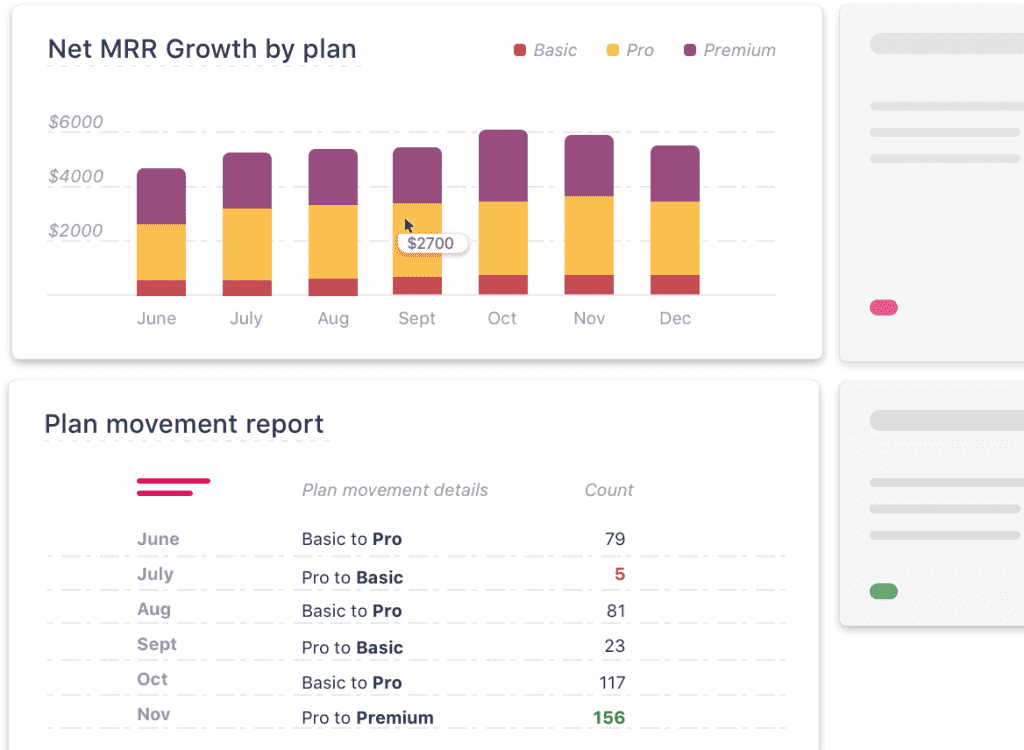 Here's our 3-page guide that shows the differences between a gateway and subscription billing software.
Things you won't be able to do with a single payment gateway
You deserve a reliable engine beyond a single payment gateway as you grow. Don't lose out on revenue and customer experience.
With a single gateway, it would be impossible to:
Go to market within weeks
If multiple plans and product lines are a part of your growth ambition, just how would you be able to configure those with a single payment gateway? Let alone the add-ons, the one-time charges, the coupons…need I go on?
A scalable billing and revenue management solution like Chargebee can handle your product portfolio seamlessly with our Product Catalog. The Product Catalog allows you to manage multiple product families & product lines, consolidate multiple currencies & billing frequencies, and build easily manageable product families.
Additionally, you can auto-configure taxes and automate entire recurring invoicing.
That makes go-to-market a matter of weeks, not months!
YouSign is an excellent example of how we help companies go to market faster. They could launch a new plan quickly during the pandemic, which contributed to 10% new MRR.
Go global within hours
International expansion can open up a whole new world of growth opportunities, but it can be daunting. A single payment gateway simply lacks the functionality to tackle the complexities. And then, keeping track of all the tax rules across geographies, handling multiple currencies, and staying on top of global compliance frameworks stretches out your international dreams across quarters.
You might also want to experiment with self-driven and sales-assisted revenue streams as you scale the business. That calls for more detailed, scalable quote-to-cash workflows, which are impossible to tackle with a single payment gateway.
Not only can you automate these things but you can also let your recurring billing solution worry about global taxes (such as sales tax, VAT, and more), compliance with global accounting, and security guidelines (such as ASC 606, HIPAA, GDPR, and PCI-DSS), and automated quote to cash workflows. At the same time, you concentrate on cracking a new market or adding a new revenue stream.
In Livestorm's case, growth made them realize they needed a solution with diverse payment options and can accurately handle EU-VAT calculations and prorations for complex pricing models. They found a scalable billing engine in Chargebee.

Experiment with pricing and set new billing workflows within minutes
You might introduce different pricing models for your product(s) as you grow. Or even tweak the current pricing to maximize revenue. But pricing changes are no child's play. To identify your revenue sweet spot, you should be able to experiment with multiple price points or even flip your entire pricing model without causing a tremor in your billing workflows. Besides, pricing experiments are just that – experiments. They can go wrong. And if they do, you need to be able to roll back seamlessly.
And there's no way a payment gateway can give you that amount of flexibility. That's why a scalable revenue management system needs to be a part of your growth strategy. Moreover, you should quantify the effectiveness of your experiments, and that's where revenue dashboards come in. You'd want to know which plans are performing well or which customer segment is churning more. Chargebee's Revenuestory gives you a unified view into these metrics and more, with easily configurable dashboards. 
Automate complex accounting processes within seconds
Let's not even get started on how complicated reconciliation and revenue recognition for subscription businesses is. Unscalable reconciliation and recognition practices put companies at risk of overspending and at risk of misrepresenting earned revenue to stakeholders. Without a scalable system, you're looking at days and weeks buried in excel spreadsheets. And when there are manual touchpoints, errors are bound to happen. It's inevitable. As a result, book closing stretches out way longer than it should.
That's a lot of time and resources wasted in what could have been growth initiatives. But what if I told you that Chargebee makes it as simple as a click of a button? Yes, by installing our Chrome plugin, you can match your gateway statements to the book of accounts with just a click!
Do more with your payment gateway + Chargebee
With Chargebee, you get to leverage your payment gateway's latest and greatest features right within your subscription management platform.
Study.com is an excellent example of rapid scaling utilizing the power of Chargebee on top of a payment gateway. They have experienced exponential growth in their subscriber base and quickly scaled their offerings across five products while Chargebee took care of the complexities of growth.
"We utilize Stripe as our processing solution, and Chargebee was able to "sit up on top" with no complications, better access to real-time information pertaining to subscription metrics, and ability to accept a more diverse set of payment types."

-Tim Beiser,

Director of Finance, Study.com
Chargebee + your payment gateway can help you:
Get Rid of Developer Dependencies
Your engineering team no longer needs to be riddled with creating and maintaining billing workflows. Neither do you have to wait for developers to implement changes ranging from your plans to pricing models. Chargebee gives you complete control over your payment architecture. Moreover, you can customize your billing and payment workflows by leveraging the powerful Chargebee APIs.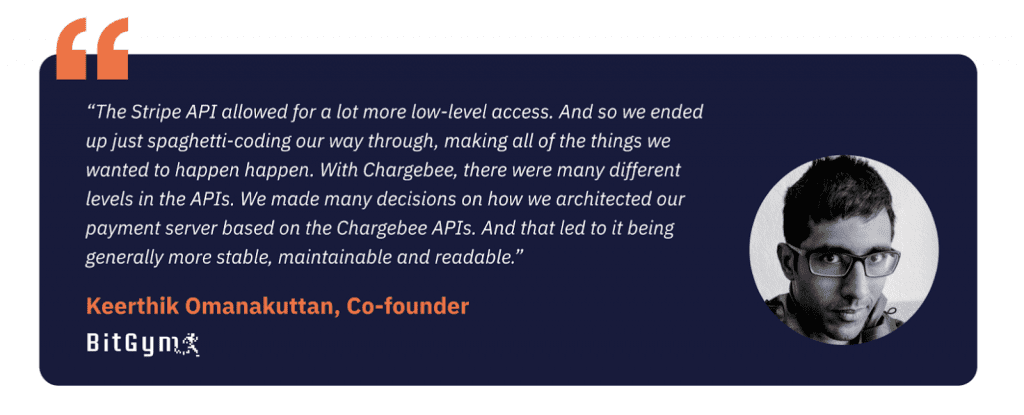 Enable Real-time Reporting and Subscription Analytics
It's essential to get an overview of how well (or not) your business is doing and with the metrics, you care about the most. Chargebee's reporting dashboards range from receivables analysis to MRR reporting to churn and everything in between and are configurable to suit your unique needs.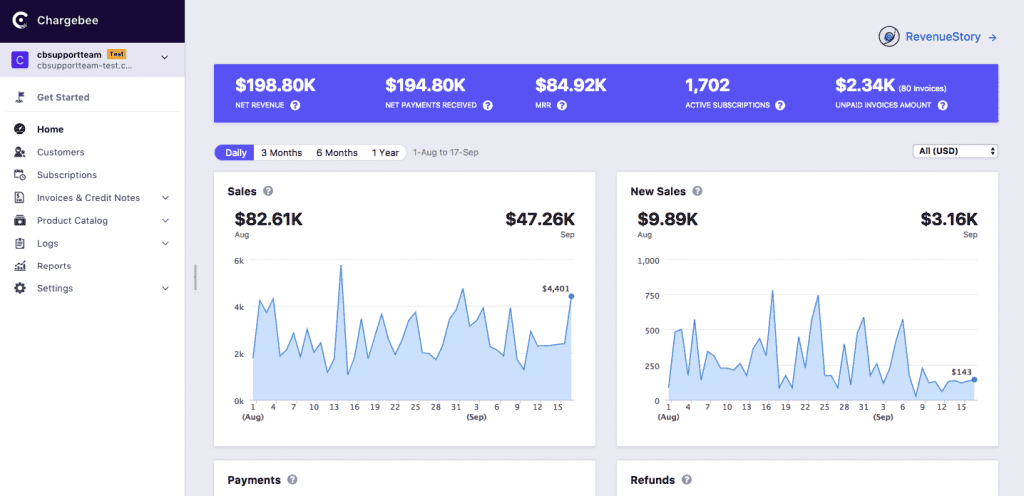 Leverage Out-of-the-box Integrations
Last but not least, Chargebee supports several out-of-the-box integrations, such as (but not limited to):
CRMs

: Salesforce, Zoho CRM, Hubspot, Pipedrive, and GetAccept (for smooth contract management)

Accounting

: Avalara, Quickbooks, Xero, Sage Intacct, Taxjar 

Ecommerce:

BigCommerce, Shipstation 

Analytics

: Profitwell, ChartMogul, Baremetrics
That makes Chargebee a single source of truth for your business. Learn all about Chargebee integrations here.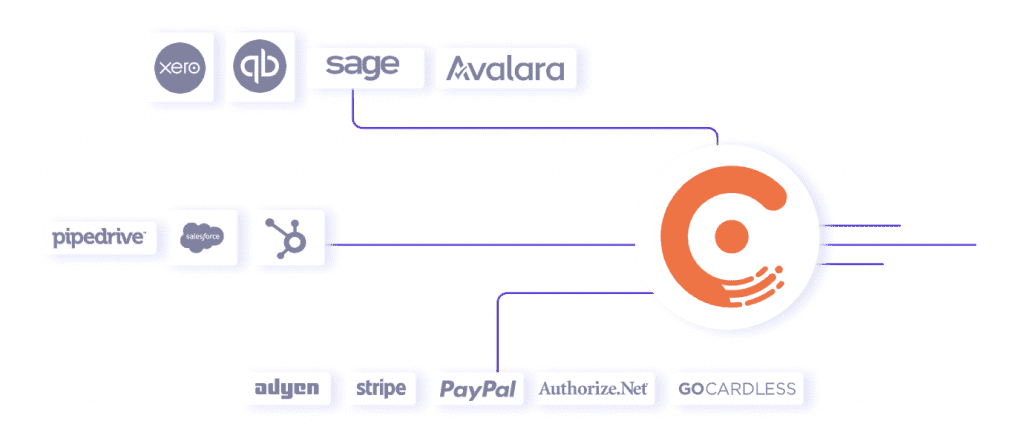 Still wondering if a full-fledged revenue management solution is the right thing for you? We have compiled a detailed guide to help you understand how a sophisticated subscription billing and revenue management engine can power your growth.
Get the scoop on what's new