E-learning platforms are riding the growth wave, with platforms like Class Central, Coursera, EdX, and more having grown exponentially in the last year. The Massive Open Online Course (MOOC) market size is projected to reach USD 67.18 Bn by 2027, from USD 7.34 Bn in 2020, growing at a CAGR of 37.2% during 2021-2027.
And learning management systems are playing a central role in enabling said growth.
With over 87% of users using some form of web-based LMS solutions, they have been indispensable during the pandemic. Nearly 3 in 4 users (74%) say their LMS has had a positive impact in areas such as student satisfaction, teacher/admin productivity, and teaching in the era of COVID-19.
To not only survive but thrive in the competitive e-learning market and changing times, a robust LMS is a necessity for any e-learning provider. Whether you're a potential buyer or a current user, the decision to adopt or switch to a new LMS is a difficult one since it must be considered on various factors, with the second most important factor of consideration(after functionality) being the price.
So, in this article, we'll delve into the costs of an LMS, focusing on the different LMS pricing models so that you can choose the right fit for your e-learning platform. Before we do so, we'll also cover some basic concepts regarding an LMS.
General Overview of Learning Management Systems
What is an LMS?
An LMS is a software application that allows an e-learning platform to plan, execute, and monitor learning processes, from content creation and delivery to assessing student participation and performance. An LMS usually has two components – the admin interface to execute basic functionality like creating and delivering courses, adding learners, analyzing reports, and the like, and a user interface that is operated by teachers, admins, and students.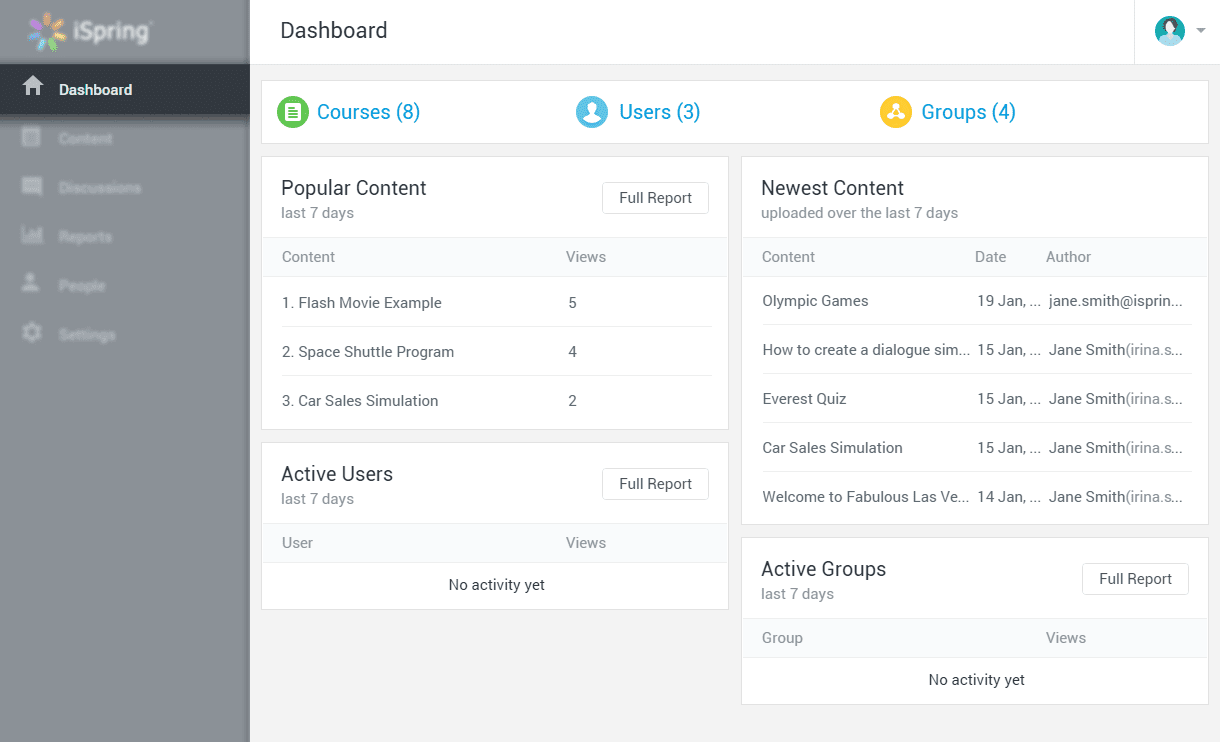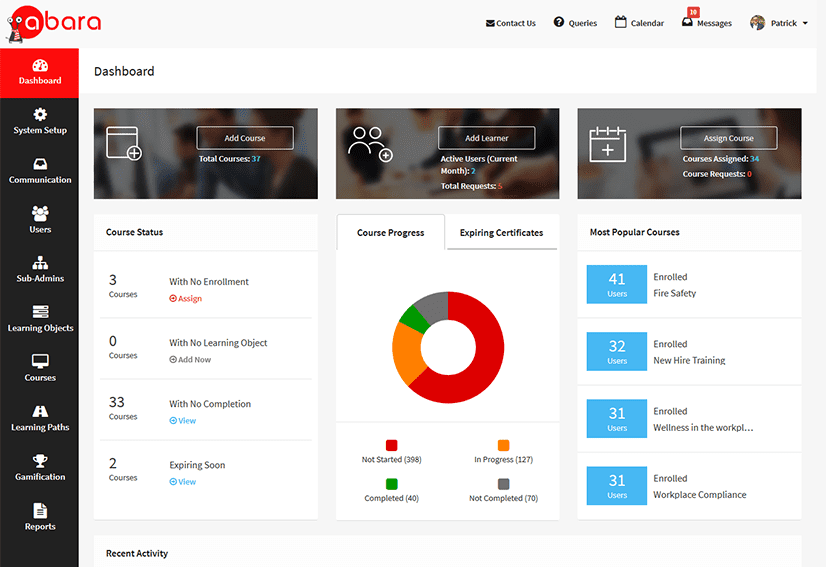 How can an LMS benefit you?
Choosing the right LMS plays a critical role in driving business growth. Apart from enabling you to design and deliver an enormous amount of information in various formats of learning efficiently, an LMS brings with it a slew of benefits:
Monitor performance and track results:

This is one of the biggest advantages of using an

LMS. A

robust

LMS

can generate metrics from the time users sign up until they complete the course, leaving you lots of ways to analyze learner patterns and measure the success of your learning program. For instance, metrics like course progress/completion rates and learner proficiencies allow you to analyze every aspect of the online tests, allowing you to identify any issues with your e-learning course so you can course-correct accordingly.

Time-saving:

Similarly, an

LMS

also helps you cut down on functions like in-person

training programs

and

onboarding

.

Learning Automation:

A fully automated learning process ensures flexibility in processes and

learning paths

, allowing you to experiment extensively with various program components.

Content Centralization:

All users of a cloud-based or

SaaS

LMS

can access any information, at any point of time from anywhere in the world, from one central repository, allowing faster content updates and enhancing user collaboration by allowing students and teachers to work together on different tasks at the same time.

Increased User Retention: For learners, apart from unlimited access to content anytime, anywhere, an LMS helps them stay on top of their learning, boosts their knowledge retention, and increases their learning engagement through interactive processes and gamification elements like internal competitions, quizzes, and more. Especially in the case of a corporate learning program, LMSs offer a win-win situation by helping employees build and hone their skills without having to leave your company.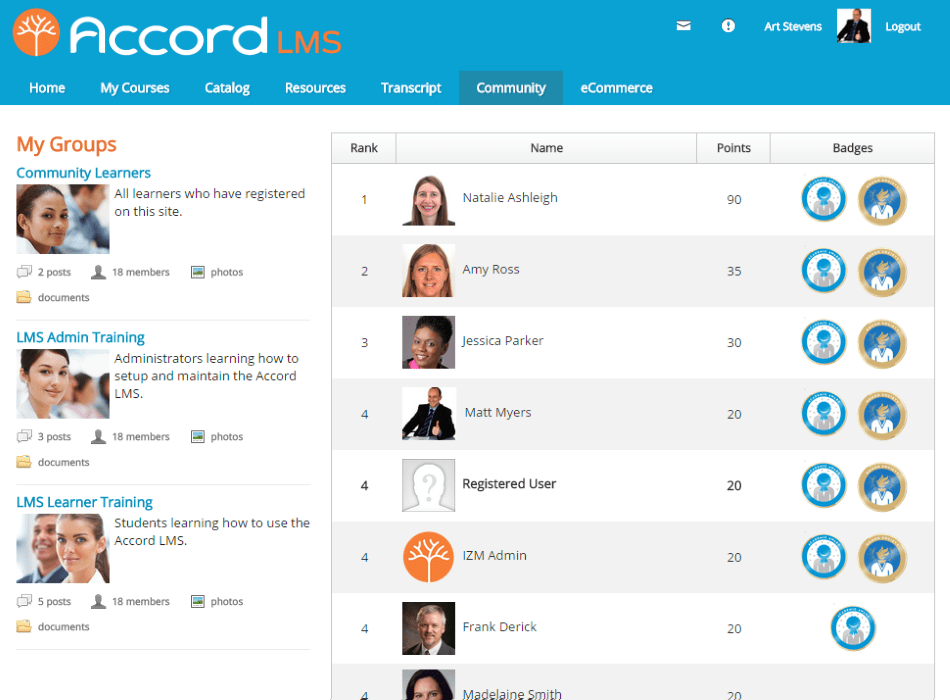 Security and Compliance:

A huge repository of user information makes your learning platform a security concern governed by many laws that keep updating and changing over time. With an

LMS

, you needn't worry about compliance and security. Most modern LMS have inbuilt security protocols (like advanced password authentication, domain-based registrations, data encryption, and the like) to meet the required standards, leaving you plenty of time to focus on more essential objectives like product development and customer retention.
How does an LMS function?
The functionality of an LMS can be split into the following two components:
1. The Course Catalog
The content engine comprises of the LMS' ability to let you:
Create e-learning content:

Create content from scratch within the

LMS

or add existing material.

Organize your courses:

Depending on the needs of your organization and learners, it could be a single course or multiple courses across different student groups, categories, skills, and branches.

Deliver your courses:

Delivery depends on whether your courses are for a restricted audience (for instance, employee

training courses

) or for a wider audience (for example, paid courses for a school).

Manage your users:

Managing users involves adding them to the

LMS

, assigning them to specific courses, interacting with them, and handling their payment (we'll cover the revenue aspect in the section below).

Assess learning:

Automated access to learner statistics like sign-ups, attendance, grades, and more.
For more information on the content engine, specifically on tips to build a perfect course catalog, read our blog – 'Catalog' Your Way to E-Learning Success.
2. Seamless Payment Processes
Once you've established your content, the next step is monetizing it. With an efficient billing solution, you can ensure a 'complete package' for the user from course selection to checkout with seamless payment processes like:
For more information on the different levers of the revenue engine and what your tech stack should enable you to do, read our guide on Scaling E-Learning Businesses through Experimentation.
Costs of an LMS
The decision to adopt an LMS or switch to a better LMS software is an easy one. The difficulty arises when deciding which LMS to buy, given that LMS costs will account for a considerable amount of your learning technology budget. Without further ado, let's break down the costs of an LMS so you can make an informed decision:
Hard Costs
These are the visible costs, usually forming the bulk of your expense, which is basically the pricing model. We'll go through the various LMS pricing models in detail after covering the soft costs.
Soft Costs
These costs usually seem like hidden expenses but are an important part of your cost equation. Be aware of the following soft costs and other similar costs to ensure you're within your budget:
Installation or setup fee

– Some vendors charge extra for setup; others don't; it depends on the complexity of the installation process.

Additional hardware or software requirement

– Do you need to purchase additional hardware or software, like database technology and workflow management solutions?

Customization and upgrades

– Can the

LMS

scale with your business, and how much will that cost you? Generally, anything custom for your business will involve extra costs, and if you need to upgrade or downgrade, is there a fee for that?

Training costs

– Usually, vendors offer training for free, but if you require in-person training

on-premise

, that might come at an extra fee.

Maintenance and customer support

– Will regular activities like keeping your content fresh, installing

add-ons

, and pushing new releases require charged maintenance? Also, how complicated is the product? Is support completely free or chargeable beyond a point?

Cancellation and refund

– Don't forget the matter of cancellation and refund policies. If, for any reason, the

LMS

doesn't suit your needs in the future, how much will leaving it cost you?

Time spent

– Above everything, ensure that the

LMS

seamlessly integrates into your organization's processes and tech stack. If the LMS is not well-integrated with your existing systems, it might end up taking up a large chunk of your time and will prove to be quite expensive overall.
Types of LMS Pricing Models
There are different types of basic pricing plans. Here's a comparison of the five most common pricing models, why that pricing model could work for you (benefits of the pricing model), and examples of LMS vendors for each model:
Free (Open Source)
Open source means that the source code of the LMS is open, allowing it to be freely distributed and modified. It is 'free' in the sense that you are not paying for code, but it might be an inexpensive option since your expense only comes from the services you choose on top of the code – such as customizations, integrations, and maintenance.
Why this model might work for you
The core benefit here is flexibility. If you're looking for basic code so you can customize away for a cheaper price, open source LMS can be the right option. Additionally, this model allows you to stay independent of vendors and support high user capacity.
However, since this isn't an out-of-the-box solution, the LMS might need extensive configuration to perfectly fit your organization's processes. Without strong technical skills on board, open source might end up being more expensive than you thought.
Popular LMS Vendors
Moodle is one of the best LMS vendors providing an open source LMS. Here is a snapshot of their pricing page: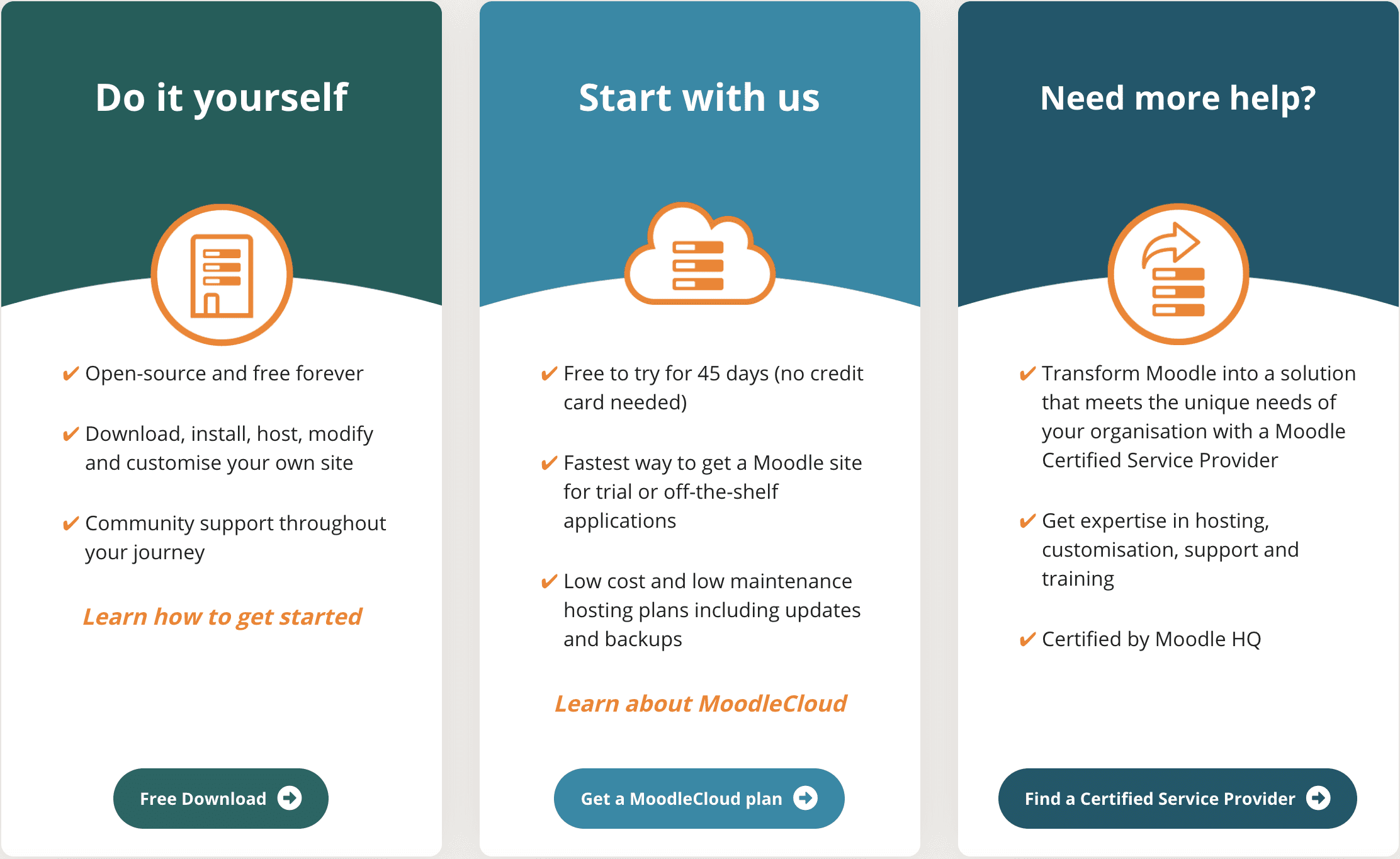 Other popular open source vendors include Chamilo, Open edX, Totara Learn, and more.
Pay per learner
Also called pay per seat, you have to pay a fixed amount for a fixed number of learners added to the system. Usually, the pay per learner model will be tiered pricing. Generally, it works on a bulk discounting principle – higher the number of users, lower the price.
Why this model might work for you
If you have a stable number of learners without minimal fluctuations, this can be the right option.
Popular LMS Vendors
TalentLMS is a fully customizable cloud LMS designed to allow you to efficiently train your employees and students, apply simple analytics, get comprehensive support for SCORM and TinCan (xAPI), and more; it starts from $59 per month for up to 40 users. Another popular vendor is Joomla LMS, starting from $299 per month for 100 users.
Pay per active user
This model addresses the limitation of the pay-per-learner model. As opposed to paying a fixed price irrespective of usage, the pay per active user model allows you to add an unlimited number of users to the system, and you'll only be charged for the active learners – users who logged in during the billing cycle.
Additionally, this pricing is bundled, meaning if you expect 150 active users each month, and you choose the plan accordingly, but only 100 register, you have to pay only for the 100.
Why this model might work for you
Should you need to conduct one-time training, or add temporary users, or spread training for different groups of learners evenly across the year – this could be the right option.
Popular LMS Vendors
iSpring Learn LMS promises unlimited users on any plan, and payment for active users only, without extra costs for storage or bandwidth. Here is a snapshot of their pricing page: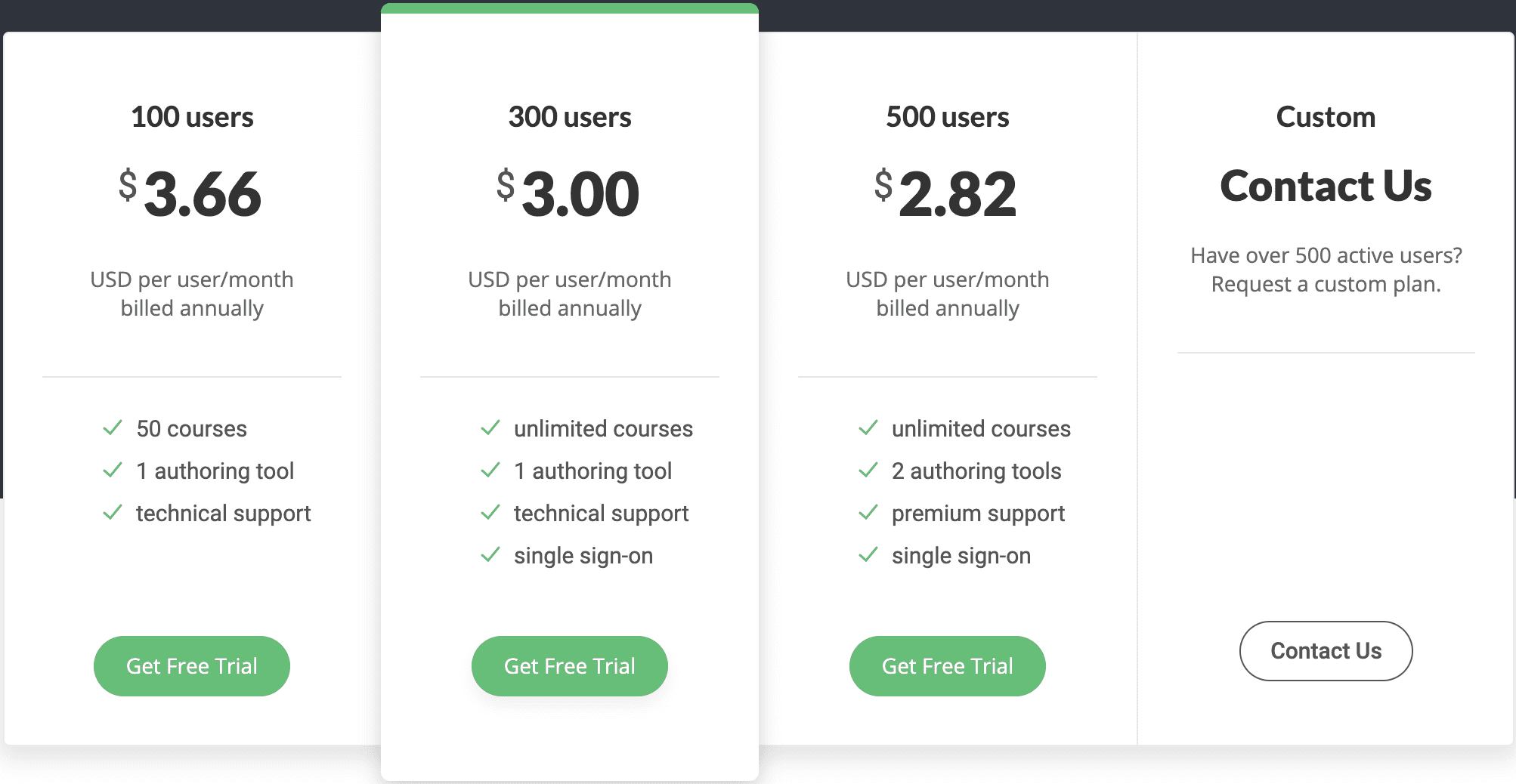 Other popular vendors include Litmos and LearnUpon.
Pay as you go
This is a usage-based pricing model, where payment directly depends on your usage. Theoretically, this model might make the most sense but practically, pay as you go isn't as popular as the other models. Since e-learning isn't one hundred percent SaaS, implementing it requires lots of time and effort on your part.
Why this model might work for you
If you're not sure of a stable demand for learning, this model could work for you, given you're okay with the practical implications mentioned above.
However, keep in mind that while you may pay a limited price, when you really need it and are expecting a good number of users, it will get pretty expensive, fast.
Popular LMS Vendors
Upskill LMS is a well-known pay as you go vendor. They do not charge monthly fees but charge about $2 per learner per course if you purchase a large credit package in advance (1 credit is equal to $3 and 3 course credits are required to sell one course to one learner). If not, the price would be higher. Other vendors include Upside LMS.
License Fee (Subscription)
This is comparatively the easiest pricing model given that you have to purchase a periodic license, pay a monthly or (usually) an annual fee, and you can keep adding unlimited courses and users based on your need.
With subscription models, pricing usually depends on the LMS features offered. Each pricing plan is priced based on the extent of features offered, and upgrades will unlock extra features.
Why this model might work for you
If you have a large number of users, or if you know for sure what features you will need (since the subscription model offers different features for different plans unlike the other LMS pricing models which are not feature-limited), subscription can be the right option. Additionally, it's also easier to assess the value of the LMS through subscription (low barrier to entry) and gives way for you to discover new features through personalized recommendations.
Popular LMS Vendors
Teachable offers either monthly or annual subscription plans, starting at $29 per month for their basic plan. Take a look at their different plans and features offered: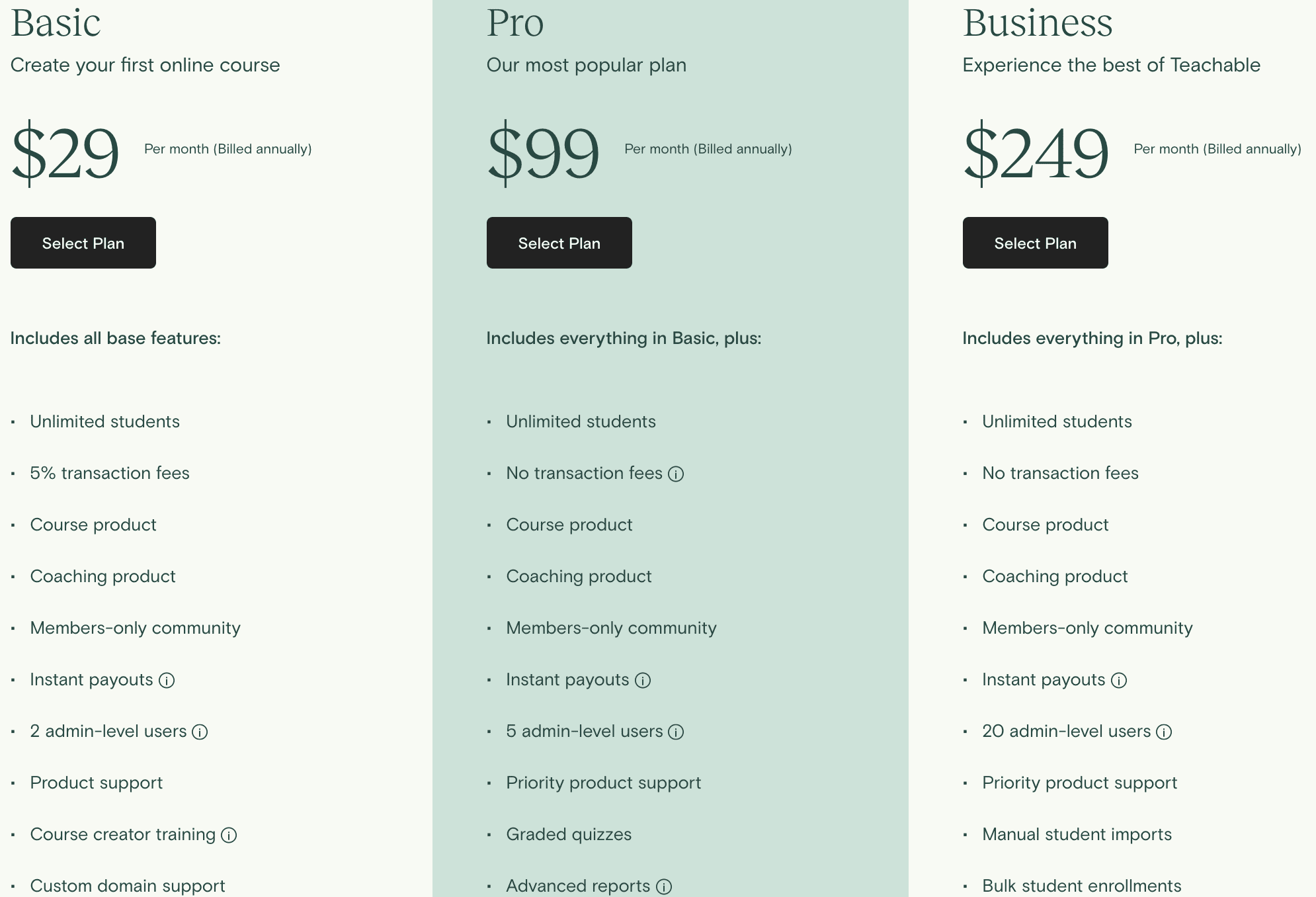 Other popular vendors include Easy LMS, LearnDash, and more.
Pro tip: How to choose the right LMS?
We have covered a major chunk – the pricing aspect – of choosing an LMS. Apart from pricing, you will have to consider other aspects like functionality, reliability, and support. But for a quick screen test, here are key pointers to ensure you pick the right LMS for your business:
The LMS should:
seamlessly integrate with other systems

scale with your business (allow you to experiment and go to market quickly)

provide thorough reporting

be easy to use

be secure
In Conclusion
The most important component of your e-learning platform is the creation and distribution of quality content. As we've seen, an LMS helps with exactly that and so much more, bringing clarity and efficiency into your processes. However, to deliver unique value propositions to your users, you need a holistic approach: a well-structured content catalog along with seamless payment processes.
So, while you work on the content, let Chargebee help you get the operational sophistication to achieve, sustain, and maximize recurring revenue for your business.
With Chargebee for e-learning,
offer lucrative deals and bundles for each learner,

create a better billing experience for you and your learners, and

get deeper revenue insights to ensure you never go off course.
The greatest opportunity for e-learning is now – get the right revenue platform to seize that growth!
If you'd like to try it for yourself, sign up for free. You can also go ahead and schedule a demo.