SaaS LMS vs. Hosted LMS – Which is the better solution for you?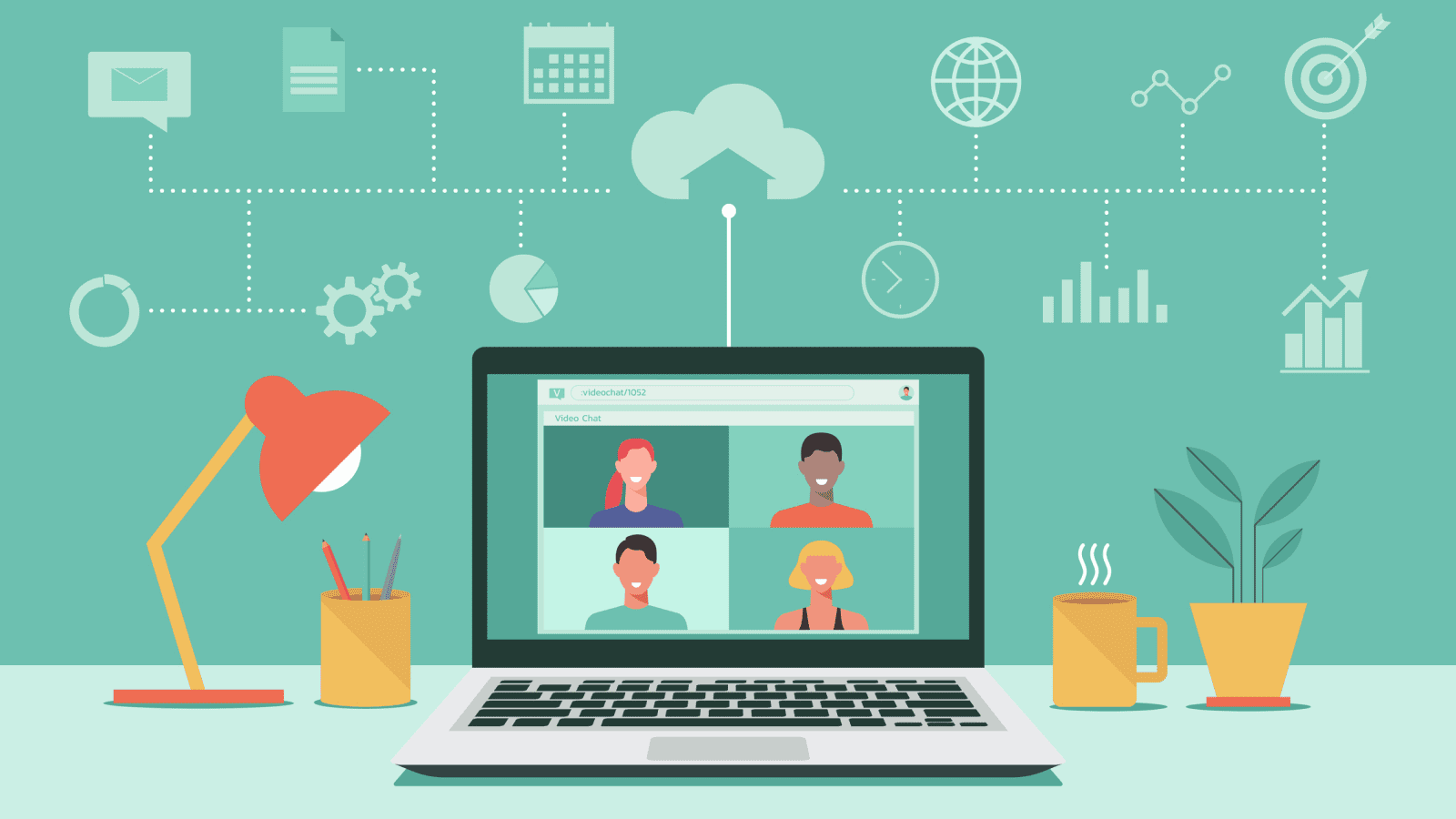 The first learning management system was developed in 1924 from a simple typewriter through which questions were administered. Since then, the LMS has come to life through various forms, especially with inventions like the desktop in 1970 to the open-source internal network in 2002. Fast forward to today, an LMS – like most of our data – lives in the cloud.
No one can deny the prevalence of LMSs in the e-learning industry. Moreover, they have been indispensable during the pandemic with almost 75% of users stating their LMS has improved student satisfaction, teacher/admin productivity, and teaching in the COVID-19 era.
However, choosing the right LMS is not an easy task.  Aside from considering aspects like LMS pricing and functionality, you must also be aware of the different types of LMSs, which only adds to the difficulty of choosing one.
To clarify this issue, we have compiled our research on the two common types of LMSs – SaaS LMS and hosted LMS. We'll cover them in detail – including pros, cons, and leading vendors – enabling you to make an informed decision.
What is a SaaS LMS?
Also known as on-demand or cloud LMS, it is hosted on the supplier's servers and made available as a service. And since it's all online, you needn't install any specific hardware or software. All you need to do is sign in to the LMS software application to start using it. Furthermore, the cloud LMS is run on a SaaS model, so you typically pay a recurring fee to use the service.
Pros of SaaS LMS
Predictable Costs
This is the first advantage that stands out to LMS purchasers. Not only is the initial cost (base price) minimal in most cases (since the set-up cost is minimal to zero for most SaaS LMSs), but you also cut down the time spent on aspects like installation or troubleshooting. Moreover, you know how much you must shell out every month.
Quick Set-up
Since the LMS is hosted on the cloud – everything has already been set-up and is ready to use. Once you sign in and fill in your requirements, the deployment is a matter of a few minutes.
Scalability
An extremely useful benefit – the SaaS LMS enables unlimited growth. You could 10x your users overnight and it will seamlessly scale with you, without requiring any or much intervention from your side. Similarly, there are no limits on the number of training courses or training materials and instructors you can upload to the system.
Hassle-free Maintenance
With a cloud LMS, you needn't worry about troubleshooting errors or any other technical glitches that come along with regular maintenance. LMS providers usually have a host of IT support staff in place to take care of these issues and regular software updates while you focus on imparting knowledge to your users.
Flexibility
An obvious upside to using a cloud LMS – users can access it from anywhere, and from any device. The only requirement is an internet connection.
Ease of Use
The learning curve for SaaS LMSs are low since they are designed for an audience that wants to get it up and running quickly. Moreover, the vendor generally takes care of a lot of the complexity like set-up and maintenance, making your job all the more easier.
A robust SaaS LMS will also ensure:
Ease of monitoring performance and tracking results

A fully automated learning process

Increased user retention through interactive learning elements like gamification

Security and compliance to standards like the GDPR
Integrations
Even a robust LMS can't perform in silo. It needs to communicate with other critical software like your CRM and billing and subscription tool so you operate in sync with other critical business functions in the organization. Look for an LMS that accommodates easy integration with your already present software to achieve holistic operations.
Cons of SaaS LMS
Limited customization
The SaaS LMS is not as "fully" customizable when compared to a self-hosted LMS. Think of an installed LMS as a blank slate – you have the freedom to build it from the ground up, unlike a SaaS LMS which is already built for you and offers customizations on top of that. Having said so, it is untrue that SaaS LMSs offer lower customization options. Most reputed vendors offer multiple options to help you match the LMS to your corporate identity, from basic styling options to custom CSS. 
Host provider issues
As much as the vendor will try to take care of maintenance, technical glitches, and bug issues as fast as they can, there is a possibility of downtime. It may happen rarely, but if it does, you have little control over the matter, and no choice but to wait it out until the supplier solves the issue.
Soft costs
While there are budget-friendly SaaS LMS options available, the pricing plan of the LMS is only a part of your cost equation. You also need to be aware of other costs, if any, like:
Installation or set-up fee

Additional hardware or software requirement, like database technology or workflow requirements

Customization

and upgrades

Extra training costs

Additional costs for maintenance and customer support, like revisiting customization or editing workflows

Cancellation and refund costs 
Moreover, if the LMS is not well-integrated with your existing systems, it may consume a significant amount of your time and prove to be rather costly in the long run.
Popular SaaS LMS Vendors
There are multiple leading SaaS LMS vendors in the market, like:
iSpring Learn

– payment for active users only, starting at $3.66 for a 100 users, and costs lesser as the

number of users

increase

Talent LMS

– apart from a free plan for up to 5 users and 10 courses, their paid plans start at $59 per month billed yearly or $79 per month billed monthly for up to 40 users and unlimited courses

Academy Ocean – they have four plans, each containing 1000 spots by default, starting at $225 per month billed annually
Check out more popular vendors like: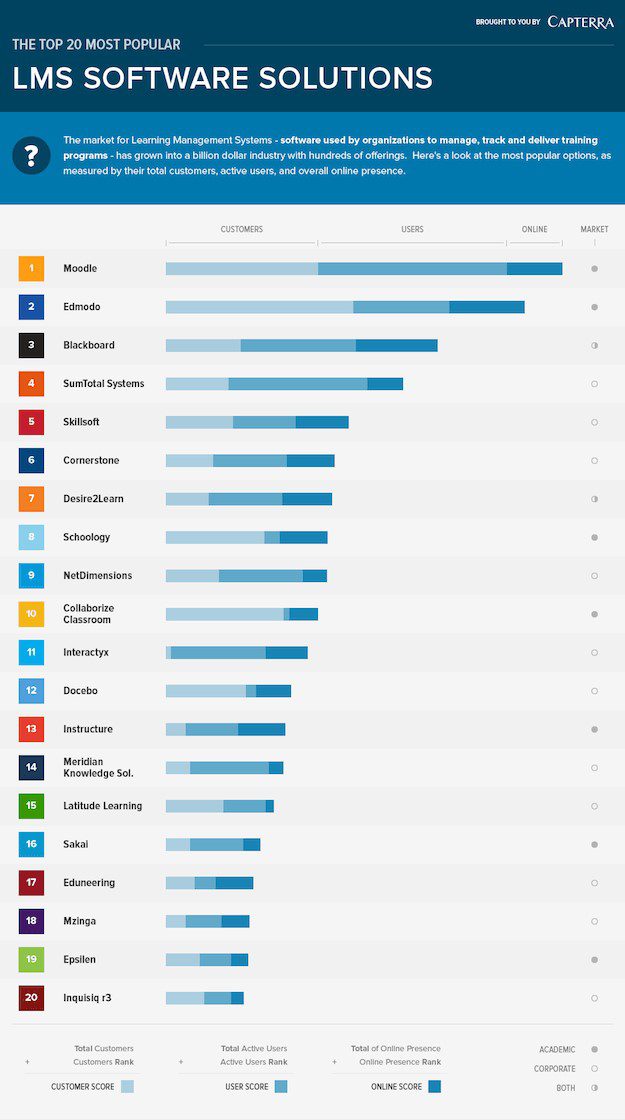 What is a Hosted LMS?
Also called as on-premise, self-deployed or self-hosted LMS, the core difference is that you have to install hardware or software on your own servers to access it. Unlike the SaaS LMS, hosted LMS vendors offer you the LMS as a product, and its installation is offered as an on-premise service. Pricing is usually one-time (annual license fee plus price for maintenance and upgrades). 
Pros of Hosted LMS
Complete control over the software
Since you locally own the software, you have pretty much all the control over it. From how it functions, to the downtime and maintenance, you decide everything. You also have control over:
Customization

–

A self-hosted LMS offers

you greater freedom to customize your platform since you can build it from scratch. Include a training module or take it out; brand your course content without shelling extra bucks.

Security

– There is minimal third-party interference, and you can add as many layers of security as you want.

Storage

– You have the option of customizing the storage capacity based on your client base.
Cost-effective in the long run
The initial set-up costs of an on-premise LMS may be higher than the SaaS model. However, apart from maintenance costs, you do not have to pay anything else (but keep in mind the soft costs) once you've invested in a self-hosted LMS.
Cons of Hosted LMS
It doesn't keep up with the times
On-premise LMSs have existed long before the SaaS LMS, and hence, may feel a little outdated when compared to the myriad of benefits and the soaring popularity of cloud-based LMSs. Moreover, many vendors who offer on-premise solutions also offer the option of cloud-hosting, indicating that there is a chance that the vendors might switch to cloud only in the future (over 87% of users are opting for some form of web-based LMS solutions). However, the installed LMS enjoys a loyal and niche audience, so it might not be going anywhere.
Lengthy set-up time
This is one of the main reasons why on-premise solutions are not opted. Installation takes a very long time, ranging from a few weeks to months due to higher developer dependency, and could impact your training needs.
Dependency on developers
A significant difference between the SaaS model and the installed model is the need for IT expertise. Without in-house resources in the IT team, you cannot invest in a hosted LMS.
Popular Hosted LMS Vendors
Moodle is the most popular open-source LMS vendor, offering a self-hosting option. Here's a look at their pricing plans: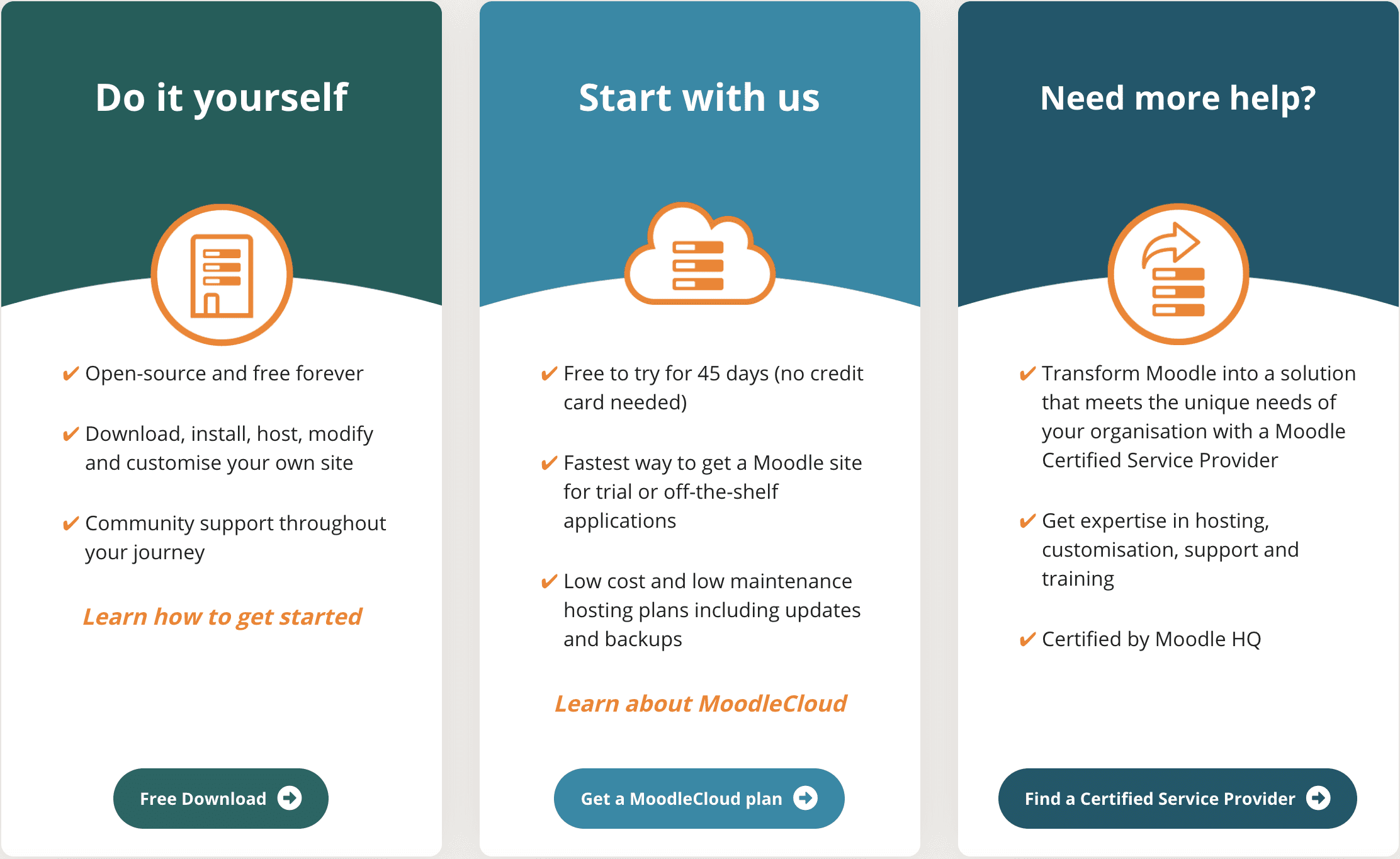 Other popular vendors include Open edX, LearnDash, and Sakai – compare their pricing and features here.
Considerations for Evaluation
Now that we've covered the different LMS models in detail, here are the questions you must ask yourself before making the final call:
Do I need the software to be accessible from anywhere?

Do I need the software to start operating immediately?

Is my existing storage capacity insufficient?

Does my

e-learning platform

require a minimum to normal amount of

customization

?

Do I need in-depth technical assistance?

Do I need a strong security system in place?

Do I require a budget solution and/or predictable costs?
If your answer to all the questions above is 'yes', a cloud LMS is the favorable option for your e-learning business. On the other hand, if the answer is 'no', you can go for an installed LMS, given that you:
are okay with a long set-up time

have an in-house development team

require heavy

customization

have sufficient storage space

aren't too worried about initial costs
Why a SaaS LMS may be the better option
Every business is unique, and hence has unique needs. As mentioned above, there are several considerations to be kept in mind before choosing a SaaS or hosted LMS.
Concerns over security and customizations have watered down over time, as cloud-based vendors are continually coming up with new features and doing everything they can to make their solution more comprehensive, secure, and flexible for all businesses.
Not only do SaaS models allow faster deployment, ease of use and high accessibility, they also offer amazing features like social learning, hybrid learning, learning on mobile devices and gamification. Not to mention other benefits like inbuilt reporting and monitoring.
Furthermore, there's no denying the fact that the cloud-based or SaaS model is more relevant and here to stay. Even if a hosted LMS may suit your needs now, are your future-proofing your business? To thrive in the highly competitive e-learning environment, a SaaS model offers key drivers like seamless integration, scaling, and flexibility – enabling you to drive growth and maximize revenue.
And like we discussed before, even a robust LMS can't function in silo. For instance, a leading Australian-based cloud training platform, A Cloud Guru, in initial years achieved a significantly high level of product-market fit with both end consumers as well as businesses. However, they needed to scale efficiently, and that meant creating an impeccable user experience. This is when they decided to pivot to a subscription model, and partnered with Chargebee to do so. Once they had a robust billing and subscription platform under their wings, they witnessed sturdy revenue growth, significantly decreased churn, and were able to utilize revenue opportunities like upselling. Similarly, Study.com scaled painlessly to millions of users and 5 products with Chargebee.
So, while you work on building your e-learning platform and catering to your users, let Chargebee assist you in achieving, maintaining, and maximizing recurring revenue for your company;
With Chargebee's revenue management for e-learning businesses, you can:
Provide lucrative deals and bundles for each learner

Improve billing experience for you and your learners, and 

Gain deeper revenue insights to ensure you never stray off course
The best time for e-learning is now – get the right revenue platform to capitalize on that growth!
Sign up for free if you want to give it a spin. You can also go ahead and schedule a demo – our experts will get in touch with you.
Get the scoop on what's new