This SaaS Startup Architects Marketplaces for Tribes
~ 10 min read | September 11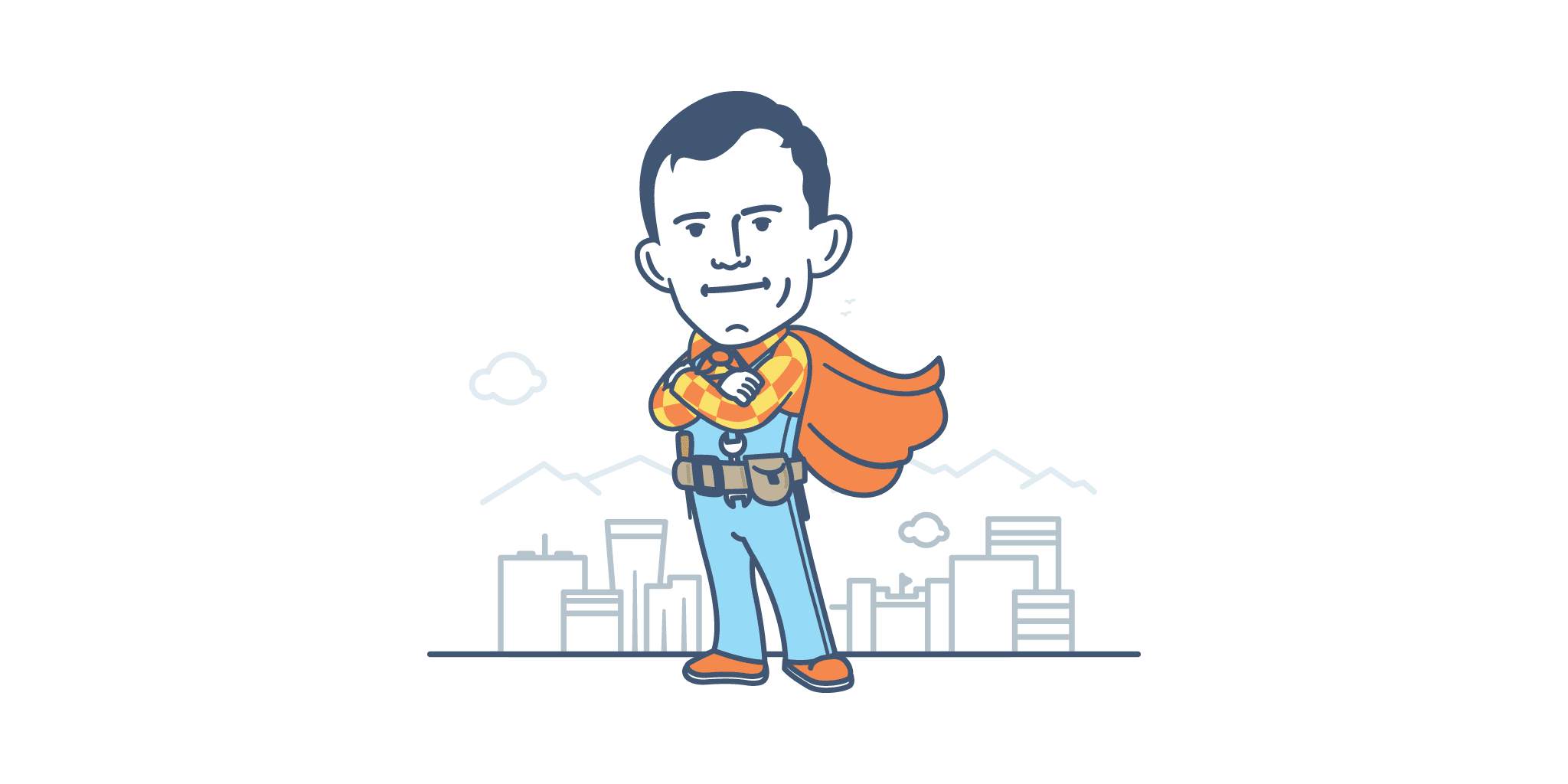 Malls are ubiquitous.
So much so that we tend to forget their origins or wonder who architected the first mall, and what was the idea behind them.
Victor Gruen, an Austrian immigrant in US, is an architect who dreamt of fostering a sense of shared community way back in 1954, through concentrated shops that would benefit businesses as well as consumers. And thus he pioneered the design of shopping malls in the United States.
Juho Makkonen's idea of building virtual marketplaces and enabling a sense of community while also encouraging trade between buyers and sellers, somewhat follows Victor Gruen's principles.
He and his friend, Antti built the first marketplace as part of a research project in Aalto University, Finland. When that got working, they decided to create a platform to mobilise local sharing groups where people would want to borrow stuff from each other or share rides. Thus was born Sharetribe.
Sharetribe is the brainchild of Juho Makkonen and Antti Virolainen, and they have been building marketplace websites since 2008. It works on the principle of building simple and user-friendly DIY marketplaces without having to code from scratch.
Our conversation with Sharetribe opened up not just Juho's understanding of the marketplace economy, but also some great customer insights and stories!
So how did Sharetribe become what it is today?
As the sharing economy headed towards a growth spurt globally and AirBnB and Etsy became household names for sharing marketplaces, people started contacting Sharetribe to see if they can design a platform to build marketplaces.
Two types of requests separated signal from noise – one group had specific requests for a niche marketplace, such as a platform for listing and buying bridal attires or marketplaces for surfboards; the other group wanted to become the next AirBnB and wanted to start super fast on their MVP!
*"We saw the same dynamics in both these groups. So definitely, entrepreneurs were the common denominator in both the cases. However, the scope and ambition level varies", says Juho.
In 2011, Juho and Antti spun the project off from their research project and started Sharetribe. Originally it focused on helping people create local sharing communities in their neighborhoods or college campuses.
In 2013 they decided to pivot and focus on creating a customizable white label offering for marketplace entrepreneurs who wanted to use the platform to build their businesses.
"When we were doing this for the college campus, gaining trust was the easy part", says Juho. The Aalto University Marketplace consisted of an audience from the university campus that knew each other and also had access to their email lists.
However, pivoting had its own share of challenges. When they pivoted to design neighborhood groups, they could not enjoy the same benefits as in the university – which was effective communication channels (such as existing email lists, a knock on the door, or mysteriously appearing in someone's dorm at 2:00 AM on a Tuesday night) and more importantly, trust.
"There are so many existing communication channels through which you can instantly reach tens of thousands of people in the best case. We learnt that there is tremendous power that can be leveraged when there is recommendation from all these people", he says.
Scaling trust as an ingredient for marketplaces depends on the context, the type of marketplace, and the geography.
Marketplaces? Or Tribes?
It is amazing how many creative sites are being put out there to build peer-to-peer marketplace for niche categories, or simply Tribes (Clothes, Wedding attires, Pre-owned kids items, used makeup, teaching materials, and much more) and we are barely scratching the tip of the iceberg here.
The Queen Scene is one such tribe.
Rodeo is a competitive sport in many parts of the US, Canada, New Zealand, and South America; it originated in Spain and Mexico, that evolved from the working chops of cowboys and cowgirls. A Rodeo Queen represents the sport of rodeo and wears the cowboy hats, boots, crown and sash as part of her outfit.

The Queen Scene is a platform that lets people trade the Rodeo Queen outfits. Jenna Smeenk, Miss Rodeo Florida 2013, approached Sharetribe after finding market opportunity in setting up the Rodeo Queen community, and boy did she know the community well! Her issue was the lack of technical expertise.
But with Sharetribe she built her own platform. She sold her own gear and soon other people were selling their gears worth thousands of dollars just a few months after launching. This, Juho says, is a good example of niche business.
Finland has been home to several marketplaces that have spawned services and platforms such as Fellow Finance, Piggyback, and Sompasauna, to name a few, that cater specifically to the sharing economy. So it isn't exactly a surprise that Sharetribe's platform has garnered significant acceptance.
What is surprising, however, is that Sharetribe breaks barriers and the myth that the sharing economy is comprised of only select bigwigs such as Uber, AirBnB, Etsy.
Simply, they enable anyone and everyone to create marketplaces in no time.
"We strive to make it as affordable as possible for anyone to build their marketplace business, and try to keep our prices low by automating every step of our process. You no longer need VC money to build your platform, which changes the game a lot", says Juho.
Community first! Marketplace Later!
In some cases, existing groups of people come together through online forums and similar platforms. But then in some other cases, they have an idea of what marketplace needs to be built and what problem are they going to solve.
For instance, Michael Williams, Founder of Codeity, is a huge fan of music and most of his friends were artists, managers, and producers in the music industry. With the right network and a thorough technical know-how, he built a marketplace that allowed musicians to easily book time at music studios near them.
Since their launch in April 2015, Studiotime.io, dubbed as the "Airbnb for Record Studios", has onboarded hundreds of record studios around the world to their platform. And what started as an evening passion project to bring the music community together, is now a sustainable business.
Platform Cooperativism – Democratising the Sharing Economy
Currently, the bigger conversation on who owns the platforms and who extracts the value out of them is garnering significant traction. The conversation is driven by a thought that marketplaces owners and providers could be partners in the truest sense.
Don't get it? Imagine an Uber, but one that is owned by taxi drivers or a stock photos site, Stocksy owned by photographers and they are making millions per year. And this thought drives a larger movement called Platform Cooperativism, where platforms are becoming cooperatives.
Juho foresees that this trend would help expand the overall marketplaces and sharing economy. Everyone gets equal share of the money and everyone is happy! Yay!
Juho says, "We want to foster sustainable peer economy where resources are shared and re-used, to democratize platform ownership by making it easy for anyone to build and run their own marketplace".
SaaS-enabled Marketplaces
That makes us curious about where the marketplace economy is headed. Consider a scenario where there is a marketplace for professionals such as babysitters, electricians, or plumbers who make money out of their services that are recurring in nature.
But how many other babysitters or electricians would you go for, once you have found that single, reliable trustworthy professional?
And those marketplaces are usually just for leads. Juho offers his perspective – "Quite a few marketplaces are only about lead generation, you get the first transaction and that's it! But now what we are seeing is that, many marketplaces are moving towards the direction of SaaS for the providers."
"So they say, we will handle your accounting, taxes, billing, and we are going to see this a lot more. This is the method that marketplaces are finally going to get traction – by basically becoming like SaaS tool to the providers and this trend is happening in many areas where the marketplace model hasn't worked so well", he adds.
Marketplaces that Deliver Outstanding Experience and Lasting Convenience
In her article, The sharing economy may be the first time verticals beat horizontals, Sarah Lacy explores how sharing economy could be a game changer. She points out that businesses in sharing economy succeed if they focus on specific niche and geographies.
This is one of the many lessons that Sharetribe shares in their Marketplace Academy and one that they have applied in their own business.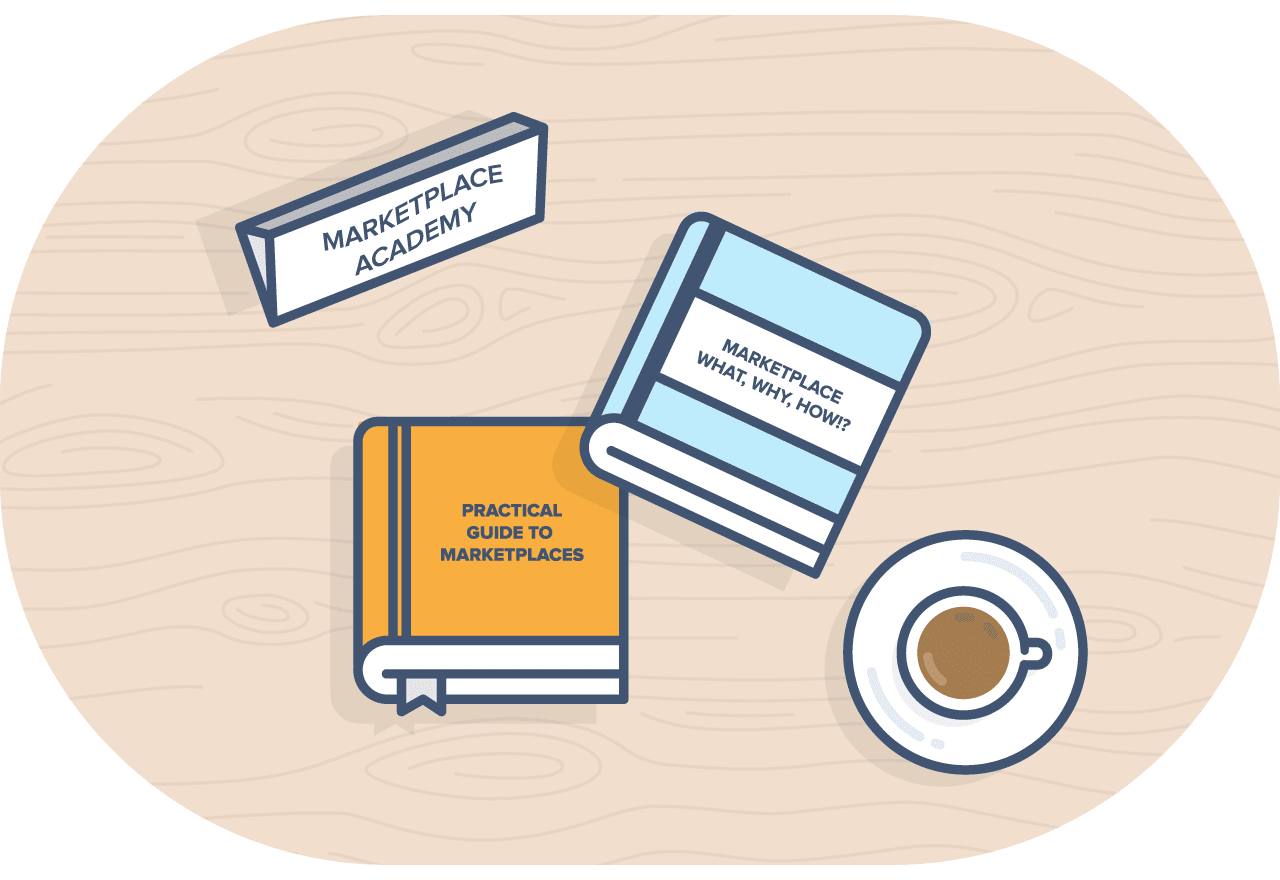 In the same post, Marc Andreessen's thoughts echo the fact that the Internet of today is a much bigger place that accommodates several such verticals, as opposed to the early days of the Internet which would not have had enough backers.
The challenge however, is delivering an outstanding user experience.This is particularly applicable to marketplaces. And Sharetribe addresses that – it offers the ease of building marketplaces in no time with a great user experience, so that you can focus on your business.
It could be anything – SaaS-enabled marketplaces, community-driven marketplaces, on-demand marketplaces – but what defines the success of these marketplaces is, how is it delivered as an experience and how easily is it delivered as a convenience.
Sharetribe's next step is to move towards an ecosystem. They want to make it possible for third parties to build themes and extensions on top of their core marketplace platform.
When Gruen designed shopping malls, he did that with an aim to gift the American suburbs, what they call "the third place" – the first place being home and the second being work. The third place would be one where people met, connected, bought and sold, basically existing as a community.
Sharetribe could help their tribes build that virtual third place, where people come together to build marketplaces to buy, sell and exchange as one solid community!
Give your marketplace a spin Sharetribe!
---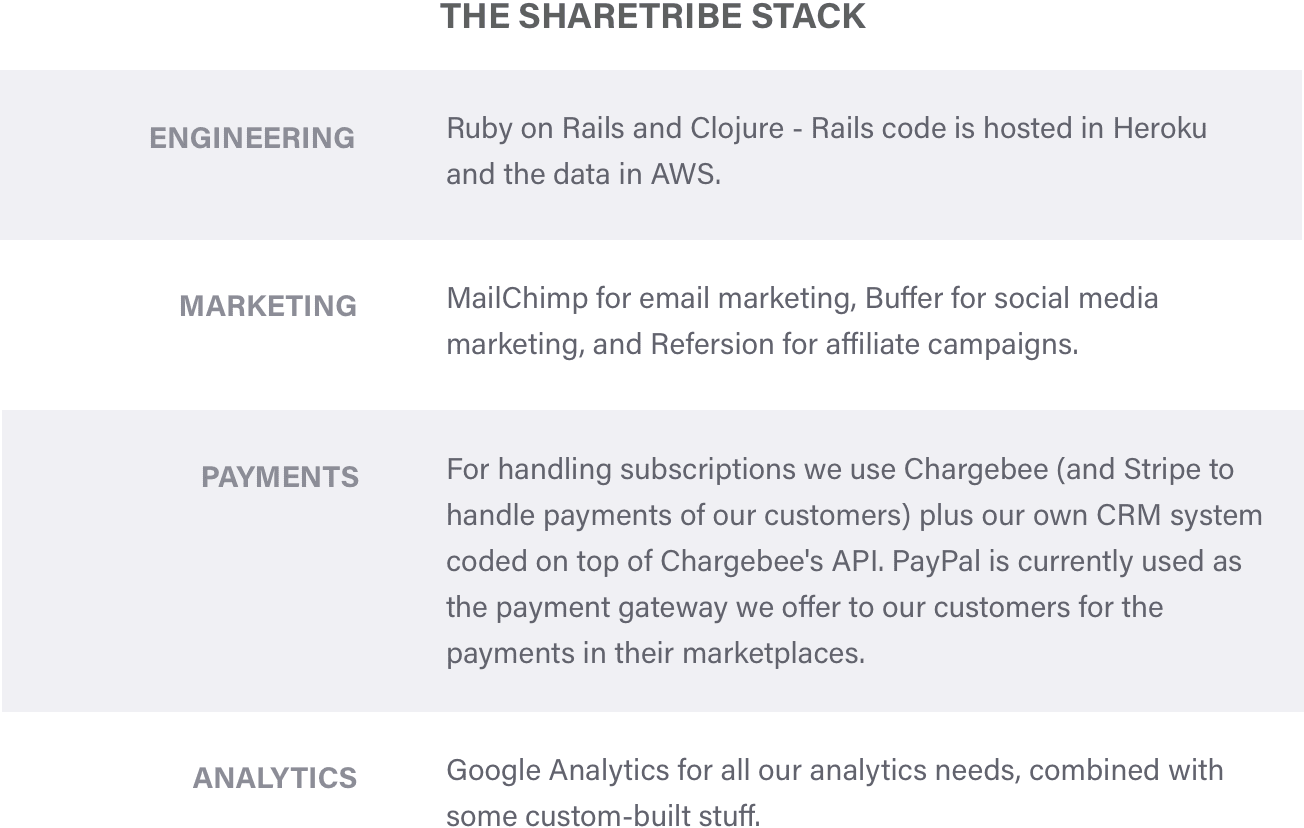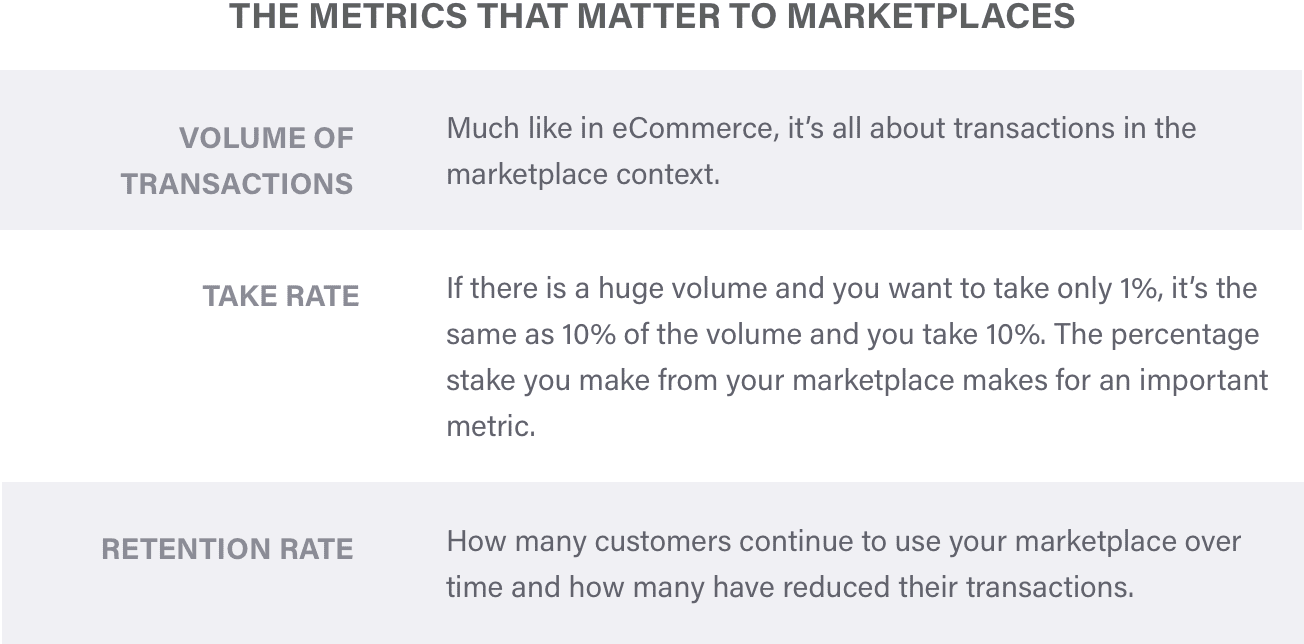 Sharetribe's Go-to resources and Inspirations on Marketplaces
Get the scoop on what's new