New Feature: How to deal with downgrades and penal charges in subscriptions with poise?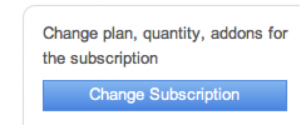 Quite often customers will want to switch to different plans. In scenarios where they downgrade from a higher value monthly plan to a lower valued one, you would simply prorate the changes and settle the difference.
There are also times when users would want to downgrade from a yearly plan to a monthly plan, which is a totally different ball game. This is because by doing this, merchants may be at a loss.
For example, you get a customer who signed up for a yearly plan at $200, but the actual monthly cost is $20. Since the customer signed up for the** yearly plan** and they get a 20% discount because they have signed up with you for a minimum of 12 months, and because of this you decide to offer them this discount. Now, after 2 or 3 months, the customer comes back to you saying that they wish to cancel the subscription and switch over to a monthly plan. This means that, you would be** losing the $40 discount** that you offered them during sign up. The only reason you offered the discount is with the belief that they will be using your service for at least a year.
So what can you do to make up for your loss? Popular methods include either having a fixed contract that the user cannot downgrade or cancel for a certain period of time or applying a penalty fee. If your contract does have any of the 2, then you won't be at a loss (albeit losing a subscription) when there is a cancelation or downward movement from one plan to another.
If you would like to impose a penalty charge for customers terminating the contract or switching to a lower plan, then ChargeBee has you covered. Our penalty feature lets you configure the % you would like to charge customers who're changing the subscription. So, you can either specify the discount amount you offered your customers for signing up for a bigger plan as penalty, or just a % that you see fit for the downgrade or cancelation.
To read more about the penalty feature, please click on the link below:
https://www.chargebee.com/docs/proration.html#downgrading-a-plan-with-proration
Get the scoop on what's new