What to prepare for when you're exponentially scaling your SaaS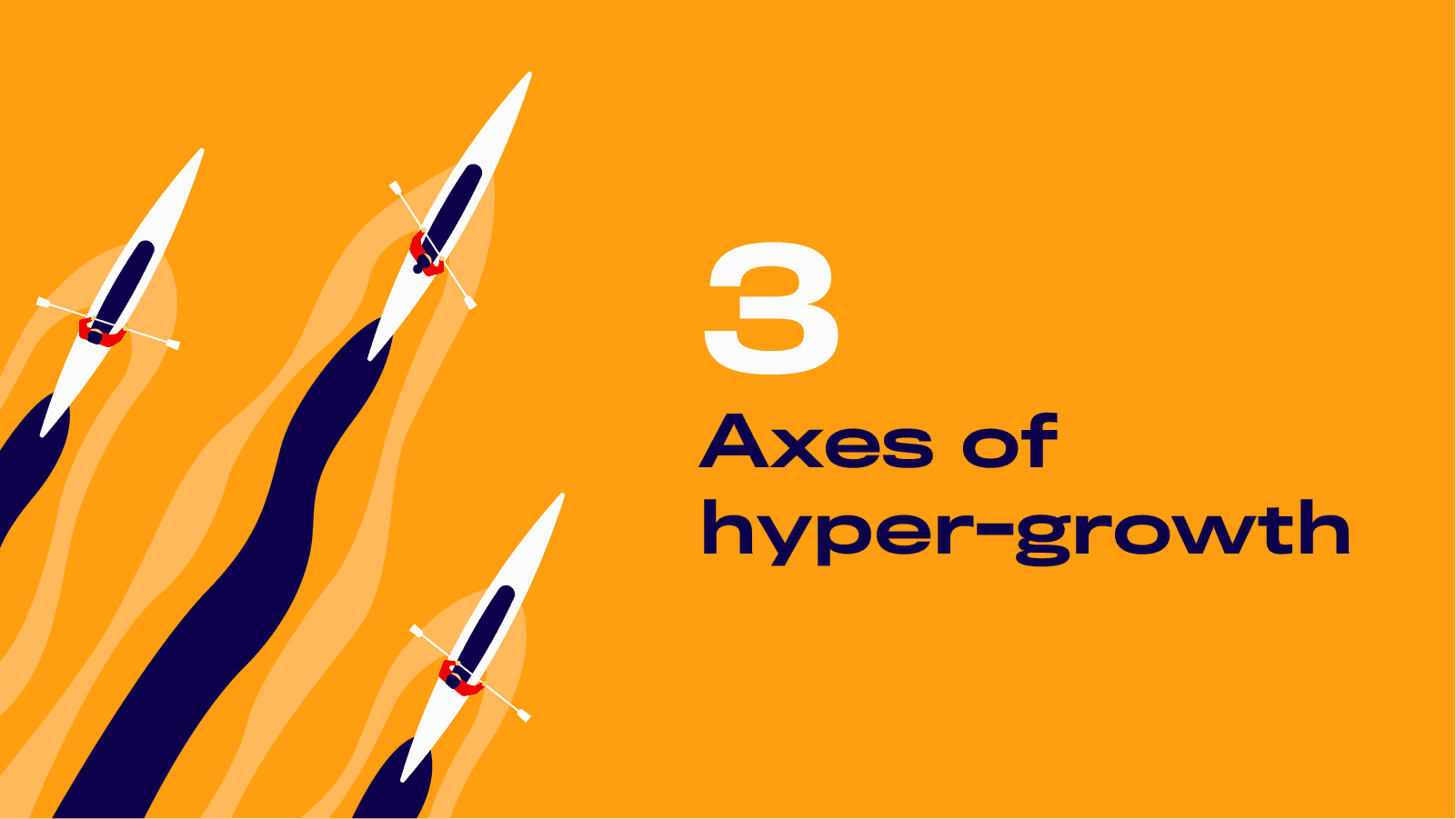 According to a report by CB insights, out of the top 20 reasons for startup failures, at least 15 of them are operational inefficiencies. The products launched were perfectly fine but (fixable) operational inefficiencies caused revenue leakage and ultimately led to organizational failure.
When not equipped with the right ammo, any company is susceptible to operational inefficiencies. This is truer for the SaaS industry, where the revenue is not unidirectional but flows in a recurring nature. Getting a robust revenue workflow in place has to be the topmost priority immediately after achieving PMF.
SaaS is also highly competitive. To beat your competitors, you don't just have to grow sustainably, you have to grow fast. Whoever gets their boat to the fastest current first and keeps up with the pace wins.
So, how do you paddle fast to the middle of the river while making sure no screws pop loose in your boat?
The 3 axes of rapid SaaS growth
The kinds of changes that a scaling business goes through can be bucketed into 3 categories. These changes are absolutely vital for growth.
Process changes
Every SaaS business undergoes radical changes in process, teams, structure, and strategy every 18 months. 
But each individual function grows in different paces. Sales may be able to adapt to new segments faster than the product can expand capabilities to serve the same segment. Finance may mature slower once they've set up basic compliance and reporting structures.
In order to rapidly scale, individual departments should have the luxury to evolve their processes without depending on the rest of the organization. With scale, functions evolve and their operational needs increase. Like Sales wanting to offer annual contracts, Marketing wanting to run coupon campaigns, Product wanting to experiment with pricing to find the right pricing strategy, and finance wanting to upgrade their tech stack to accommodate the increasing flow of revenue and hence finance reporting and compliance.

All this requires not only better, more sophisticated tools but also processes to make sure there's only one common true data flow. These changes remain wishful thoughts unless the underlying infrastructure lets these teams easily plug-in or out new tools, and support the accompanying process changes.
When you nail this axis of growth, your teething pains vanish and you can effortlessly tear your way through scale.
Customer segment changes
Revenue growth requires an increase in sales. The easiest way to increase sales is to sell to more people. 
When you grow as a business, you will increasingly cater to a wider range of customer segments. From individual prosumers to specific departments to entire organizations, or from mid-market businesses to enterprises, you see your target market developing. 

When you reign in this axis of growth, beautiful things happen to your business. You find yourself being able to cater to both upmarket and downmarket customers, with versatile sales processes, without losing touch on customer experience
When you sell downmarket, you need a low-touch, self-service sales process and selling upmarket requires a heavier sales process and integrations with your entire revenue cycle.
Geography changes
The only thing standing between you and that new geography you want to tap into is a zillion compliance rules. And language barriers. And localization of marketing, sales, distribution, product capabilities, and so much more. 
Without the right process, people, and tools to help you battle these compliance regulations, you'll end up spending a major chunk of your revenue on fees and audits. 
For example, expanding to the EU or from the EU to other geographies requires compliance with a plethora of regulations – privacy, accounting standards, and taxation policies.
Doodle, a smart meeting tool, wanted to expand into other geographies. They couldn't find billing tools that could help them support multi-languages in their product and subscriptions. Chargebee helped them move a few steps closer to winning the global market by supporting multiple languages, including Spanish, German, French, among others, as well as the ability to offer their pricing in Euros
There are a zillion things to worry about – compliance rules & billing isn't one of them.
When you have a handle on all the 3 axes, scaling revenue becomes painless and predictable. The best way to have a handle on it is to align and integrate your revenue teams and their toolkits with strong workflows.
Without prepping for growth, you'll end up with revenue leaks and spaghetti-riddled workflows that continue to grow more tangled and complicated with scale. Eventually, growth will plateau and slide right down the rabbit hole into rock-bottom.
How do you maintain sanity in your revenue workflows? Watch out for the next post.