High user churn is something of a nightmare for every business. Why? A leaky customer base drains revenue and makes growth highly difficult, regardless of who the company sells to – be it other businesses or individuals. According to Gartner, by 2023, 75% of D2C eCommerce brands will offer subscription services, but only 20% will succeed in increasing customer retention. This is quite worrying, given that retention fairs better than acquisition – it costs five times more to gain new customers than it does to keep current ones. Moreover, reducing churn rates by 5% can increase profits by almost 25%!
Research by Brightback Retention Products indicates that of 14.2M US consumers who indicated they might cancel a subscription, 51.7% said they'd be interested in using pause features. You must allow subscribers to pause their subscriptions since it is an intelligent way to avoid voluntary churn and lower the marketing costs required to win them back later.
At Chargebee, we talk extensively about churn and how it's a major issue for businesses across the board. We have compiled our research and learnings into helpful content ranging from how to calculate churn and understand its impact, to a complete guide to analyzing and reducing customer churn, and even off-beat lessons from the (SaaS) industry to mitigate churn. And there's plenty more from where that came from!
While we've elaborated on many ways to tackle churn, we'd like to propose another form of churn mitigation: prorated billing. 
Customers like to pay for products based on their usage and utility. As a result, SaaS enterprises charging based on consumption has increased by 16% in the last seven years, reaching 39% in 2021. Today, most SaaS products, like Slack, Stripe, Twilio, and more, allow subscription plan changes in the middle of a billing cycle. This process (of charging based on consumption) is called proration.
Prorated billing has been a specialized feature that most SaaS industry has enjoyed for years now. However, as a subscription eCommerce business, you may not have considered proration a must-have billing feature, let alone a churn mitigation tactic. However, it's time you start thinking about including proration in your subscription stack. Let's discuss why.
But first, let's understand how proration works before delving into its importance for D2C eCommerce businesses and how they can benefit from it.
How does proration work?
Adjusting the customer's bill amount to reflect any plan changes made in the middle of a billing cycle is proration.
On more technical terms, prorated billing is:
to update subscriptions (add/reduce items)

to be charged only for the shipments shipped/received

the ability to pause subscription

the ability to upgrade/downgrade to a lower plan
Here's a simple use case:
"If a group of customers uses Plan A for 20 days and then switches to Plan B for the next ten days (assuming a billing cycle lasts 30 days), they should be charged Plan A prices for two-thirds of the month and Plan B prices for the remaining one-third of the month."
As you can see, proration is a method of ensuring customers are charged for the portion of the services they've used, taking into account their actions (upgrades/downgrades) and changing the subscription terms of these services before a billing cycle ends.
Why is proration important for D2C eCommerce businesses?
The global subscription eCommerce market was valued at $51.2 Billion in 2020. Growing by 71.5% annually (spurred by the effects of the pandemic), the market is estimated to be valued at $442.6 Billion by 2025. A primary reason for this kind of growth is convenience – the ability for customers to have their needs delivered to their doorstep. On this account, businesses in the eCommerce D2C market, especially in the replenishment category, saw and conquered a lucrative opportunity. 

Based on a McKinsey analysis – for replenishment subscribers, although convenience (24%) ranked as the first consideration, value for the money (23%) and personalized experiences (22%) came in a close second and third.
On this basis – the importance of value for money and personalized experiences – the benefits of prorated billing for D2C eCommerce businesses in retaining customers come into play.
For instance, say a customer has subscribed to a replenishment-driven product. If there isn't an option to pause their subscription when they want to, or if they have to end up paying for all days even though they didn't need the product on certain days, what's to stop them from canceling their subscription and going to their nearest grocery store and purchasing it ad-hoc? Once the convenience factor isn't the priority, it's always the value for the money and personalized experience that will drive purchases.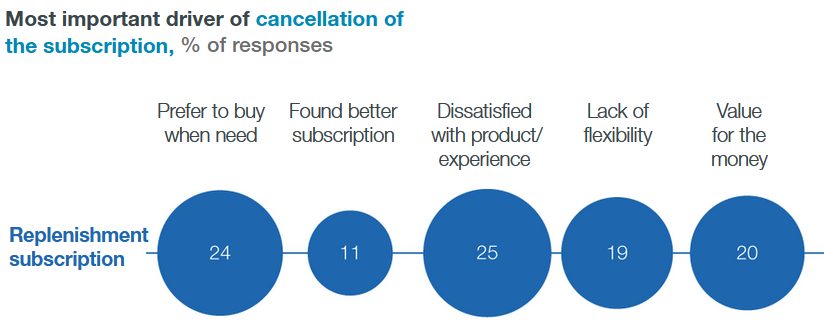 This is when having prorated billing as a must-have feature in your eCommerce subscription stack helps your business mitigate churn.
How does prorated billing help in reducing customer churn?
You'll quickly realize that without prorated billing, your business is ill-equipped to deal with aligning invoicing and, more importantly, providing fair usage-based charges. So if you include proration as a feature in your tech stack, this is what you can achieve:
Incredible billing flexibility – Your customers may want to be billed on a specific date because your invoice does not correspond to their billing cycle. For example, Neil Patel believes it is beneficial to allow customers to choose their dates. He even suggests including a line somewhere in the checkout process that reads: "Do you require a different billing date? Send us an email, and we'll see what we can come up with!" When you go above and beyond to provide billing flexibility for your customers, proration allows you to send clear, unambiguous invoices.
Fair billing based on usage – Without proration, you could charge more than a customer consumes if they wish to downgrade or keep them on an old plan if they wish to upgrade until the next billing cycle. In the first case, the customer will feel unfairly overcharged without the option of a refund, and in the second, you will lose revenue. Neither is beneficial to you or your customers.
While we're not suggesting that proration is the only way to mitigate churn, it is a highly effective driver to balance clean and clear bookkeeping while providing convenient billing options for your customers. With these tangible benefits – personalized billing experience and flexibility in billing, and the ability to take charge of their subscriptions and motivate them to stay with your business. And, while you can still leave out proration if you want, you'll miss it as your customer base grows.
The expectation isn't great subscriptions. It's great experiences.
An analysis by McKinsey rightly states that consumers want a great end-to-end experience with their subscriptions. They will only subscribe if automated purchasing provides them with tangible benefits (i.e., value for money – fair billing, and personalization – flexibility in subscriptions).
For instance, Slack has already got this figured out with their fair-billing policy, and it's one of the reasons why the company enjoys great popularity. Most enterprise software pricing is structured to charge you per user, regardless of how many people on your team are actively using the software. On the other hand, Slack bills you only for what you use, so you don't pay for members who aren't using the platform. And if someone you've already paid for becomes inactive, your account will be credited pro-rata for the unused time. 
At Chargebee, we understand that trust and flexibility are central to recurring revenue relationships, especially in a high-touch environment like D2C eCommerce. Hence, we strive to provide you with the ability to offer the appropriate billing options, align yourself with your customers' success, and earn their trust. 
With Chargebee, you can offer and manage prorated subscriptions with ease.
Provide fair billing by easily prorating during subscription changes:
Prorate your billing based on your business model and key metrics, whether they are based on usage, day of the month, etc.

Send out itemized, accurate, and customizable invoices.

Enable your finance and support teams to apportion credits more quickly and accurately recognize revenue.
And if you're using a headless commerce platform, not to worry. Chargebee seamlessly integrates with your headless commerce platform both on the front end and the backend, allowing you to:
Supplement your core commerce functions with subscription-specific APIs to create high-value subscriber experiences.

Begin and scale a subscription store alongside any existing traditional commerce experiences.

Build your subscriptions your way, with granular control over pricing, deals, billing, and more – all from a single location.

Utilize 150 pre-built reports centered on products, offers, orders, and payments to gain access to a wealth of subscription behavioral data.
Customer highlights:
Voverc

(an Italian cloud-based company) approached Chargebee when they faced issues as they were trying to scale. With Chargebee's Fair Billing, Voverc could exercise fair billing practice. A clear breakdown of charges encouraged their customers to input their card details with more trust and facilitated better transactions.

Fishburners

(an Australian-based co-working company) saved a ton of bookkeeper time with Chargebee by automating mundane tasks. This included allowing pro-rata charges on sign-up invoices to save time manually calculating the pro-rata amount to catch up on the billing cycles.
We adapt as your business evolves – unlock a flexible, scalable, and full-lifecycle subscription backend for your eCommerce business! For more information, you can always reach out to us for a customized demo.
P.S. ​​Join us at our summit! 
Register for SubCommNxt '22 to connect with and hear insights from experts leading the D2C revolution, including Al Henderson (CSO at EagleEye) and Guy Marion (General Manager at Brightback). Unlock the power of headless commerce, and learn valuable strategies – like building a cohesive consumer journey and reducing customer churn to ensure your eCommerce business stays ahead of the competition.