We just put the 'easy' in your Q2C process with the Chargebee + HubSpot integration
~ 7 min read | November 25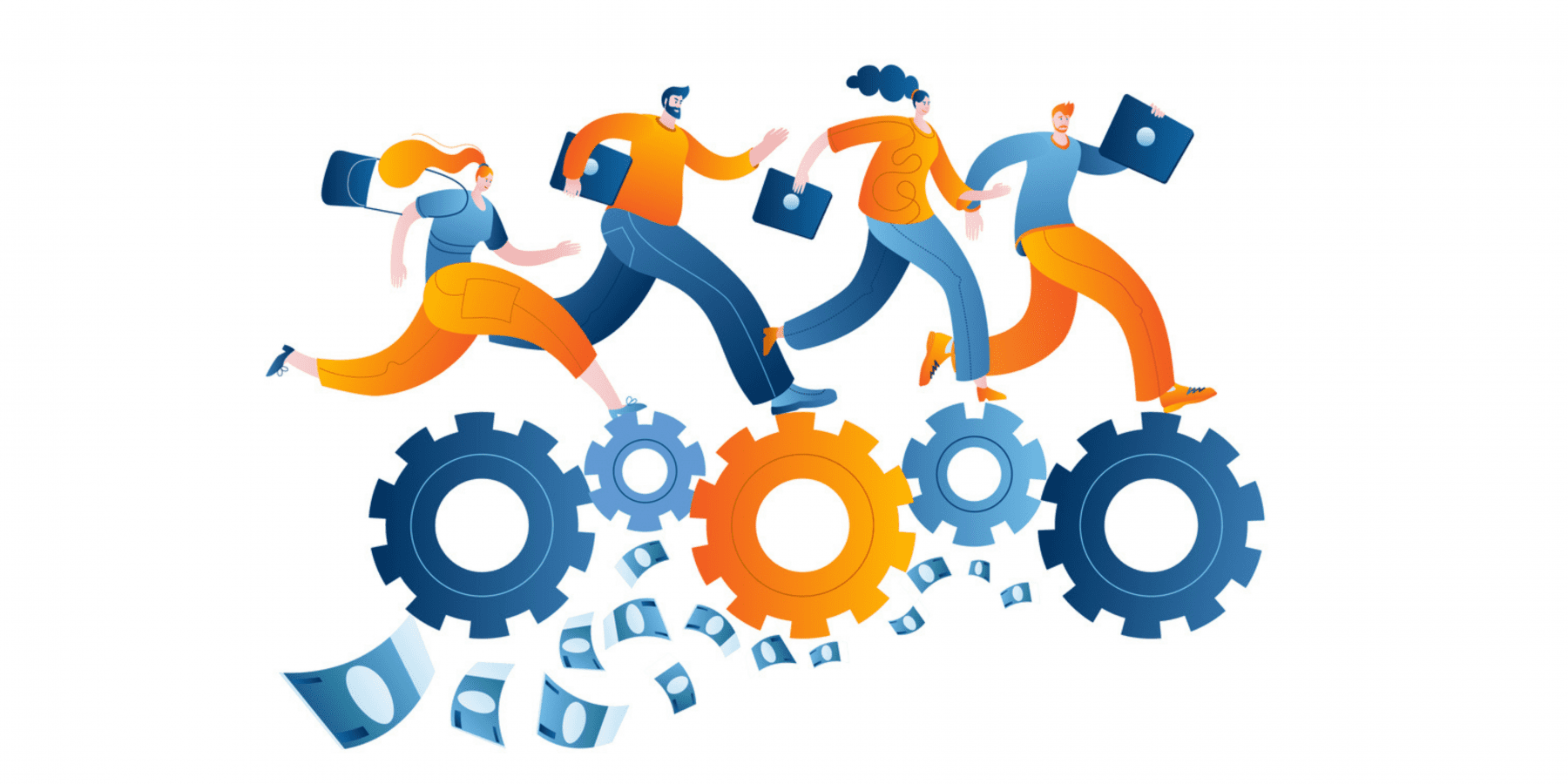 To the untrained eye, a closed deal might be cause for celebration. But if you're an experienced salesperson, you know that the final leg of the race lies ahead of you. You don't pause to take a celebratory shot or blow an air horn every time you make a sale. You don't even whoo. 
Why? Because the journey from closing a deal to hearing the cha-ching of your commission hitting home – is a treacherous one. Like a Tolkien adventure, it can test your relationships (is your friend on the finance team accelerating your deal? It's been 24 hours already), your patience (guess which one of your customers received an incorrect invoice), and your endurance (have you ever lost a deal a day before your quarter closes?).
There are still some dark corners in the world of business processes where the light of automation hasn't shone through. Salespeople would unanimously agree that the quote-to-cash process is one of them. The Q2C process is one ridden with handoffs, dependencies, and friction. 
The new Chargebee and HubSpot integration solves precisely this. Let's dive in and learn how two businesses Let's Talk Interactive and Refocus, leveraged their updated Q2C process to drive process efficiency and revenue growth. 
Let's Talk Interactive: Unleashing scale with an accelerated quote-to-cash process
Let's Talk Interactive is a cutting-edge healthcare solution provider that equips medical personnel and institutions with reliable, user-friendly telemedicine and videoconferencing solutions. After establishing a customer base in the US, they planned to expand to other geographies like Latin America, Africa, and Italy. They also had plans to move upmarket and sell more to the enterprises.  
While their core product was on the cutting edge of technology, one area that remained frustratingly outmoded was their quote-to-cash process. For each new deal, Sales must pass on all the information to the Ops team, who would compile the quote. Once the invoice is generated and the payment clears, the backend team manually copies the information and sets up an instance in the subscription management system.  
Since it involved several handoffs and multiple teams, delays would affect month-end bookkeeping and incorrect invoices would result in lost deals.  
The new Chargebee+HubSpot integration introduced significant automation and a two-way contextual data transfer into LTI's processes. It eliminated several days of communication between multiple teams and manual processes of invoice and quote creation. 
With the new integration, LTI's workflow is now exceedingly simple. LTI's salespeople could complete their entire quote-to-cash process without ever leaving the HubSpot CRM.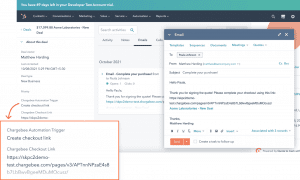 LTI's new quote-to-cash process resolved their data silos and saved them several hours of manual work. Now their sales team closes deals faster and is looking to raise their quarterly targets. Their operations and finance team are saved from excess manual work because the quote generated automatically aligns with the billing process. 
In LTI, the Chargebee – HubSpot integration saves up to three-quarters of a full-time employee's time. A new salesperson can learn the new quote to cash process in about an hour compared to three days earlier! LTI is forecasting a jump in its headcount by almost three times by the end of next year. Those global expansion plans are finally ready to leave the drawing board!
"The integration between Chargebee and HubSpot is allowing us to spend less time worrying and moving data between systems and more time focused on serving our partners."Three people. Three people had to handle the process. Now the only person that has to handle it is the salesperson, which is great."

Daniel Boyce

CPO, Let's Talk Interactive
Refocus: Unlocking growth by closing deals 2X faster
Refocus offers an A-Z IT systems management & integrations solution for startups and growing businesses. They are a managed IT service provider (MSP) with offices in London and Cape Town. They quickly realized that HubSpot's native CPQC model (Configure, Price, Quote, Cash) required their salesperson to manually enter the correct sales tax amount according to the customer's geography. Operating in multiple jurisdictions and serving a growing customer base who demanded multiple payment options, they found a single HubSpot account cumbersome. 
"The majority of our subscription offerings are the IT services we provide. But we also manage subscriptions for Microsoft licensing, data storage, etc. The (manual) invoicing run was a 3-4 day ordeal for our finance department every month. We tried to automate certain processes, but ultimately, it was very manual," said James Coveyduck, Team Leader at Refocus.
Despite their efforts to build out a modern tech stack, product limitations like HubSpot's inability to compute regional sales tax, a growing need for diverse payment options and manual processes like invoice and quote creation and human handoffs left their workflows clunky and inefficient. That's when they found the Chargebee + HubSpot integration. 
Chargebee offered multiple payment options and automatically calculated sales tax, and the native integration allowed their sales team to create a subscription directly from their HubSpot Sales Hub. What's not to love? 
With the new Chargebee+HubSpot integration, Refocus dramatically improved its efficiency. Their sales team closed their deals 2X faster and saved up to 65% of the organization's effort on billing activities. Their new Q2C process looks like this: 
Once a customer fills out a signup form, they get processed into a deal.

All subscription plans are automatically synced and listed in the HubSpot product database, using which the salesperson builds an itemized quote.

Quotations and payment links, get sent to the customer using 'HubSpot Quotes.'

Once a customer eSigns and completes the payment, the subscription gets created automatically in Chargebee, generating the first invoice. The payment information is stored securely for the next billing cycle.
Voila! That's how easy it is for a salesperson to close a deal. 
​​"I'm a solutions architect, and I didn't find anything else that was as well integrated with the HubSpot Sales Hub as Chargebee."

James Coveyduck, Team Leader, Refocus
What can you do with the improved Chargebee+HubSpot integration? 
The integration automates your quote-to-cash workflow and enables you to handle the entire process, from creating a quote to getting a payment against a subscription, all from within your HubSpot CRM.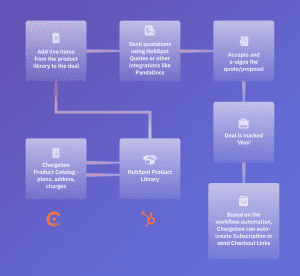 Close deals faster with an integrated revenue stack: Create subscriptions, add addons, and charges from line items within a deal straight from HubSpot. Customize and send quotes from your Product Catalog without switching between multiple applications. You can also set up automation to send checkout links to customers and reduce errors arising from manual data entry.
Clear bottlenecks between teams: Align teams by syncing Chargebee's Product Catalog with HubSpot's Product Library. While sales teams get to work out of their HubSpot CRM, finance teams also get clear visibility of new subscriptions and their payment information within Chargebee, eliminating unnecessary back-and-forth communication between teams.
Gain customer lifecycle visibility: Chargebee complements your HubSpot integration with capabilities to handle complex pricing and contract terms, options, and other features that HubSpot doesn't natively support. The best part is that you get instant error logs and support for resolving plan-level differences while creating subscriptions. Pair the best two tools of your revenue tech stack and close deals faster than ever before.
Don't let manual processes steal time away from what's important – scoring the Salesman of the Year award! Unburden yourself from tedious grunt work and automate your quote-to-cash process. Get started with the Chargebee+HubSpot integration today. 
Get the scoop on what's new