How to Reduce Checkout Abandonment and Increase Conversions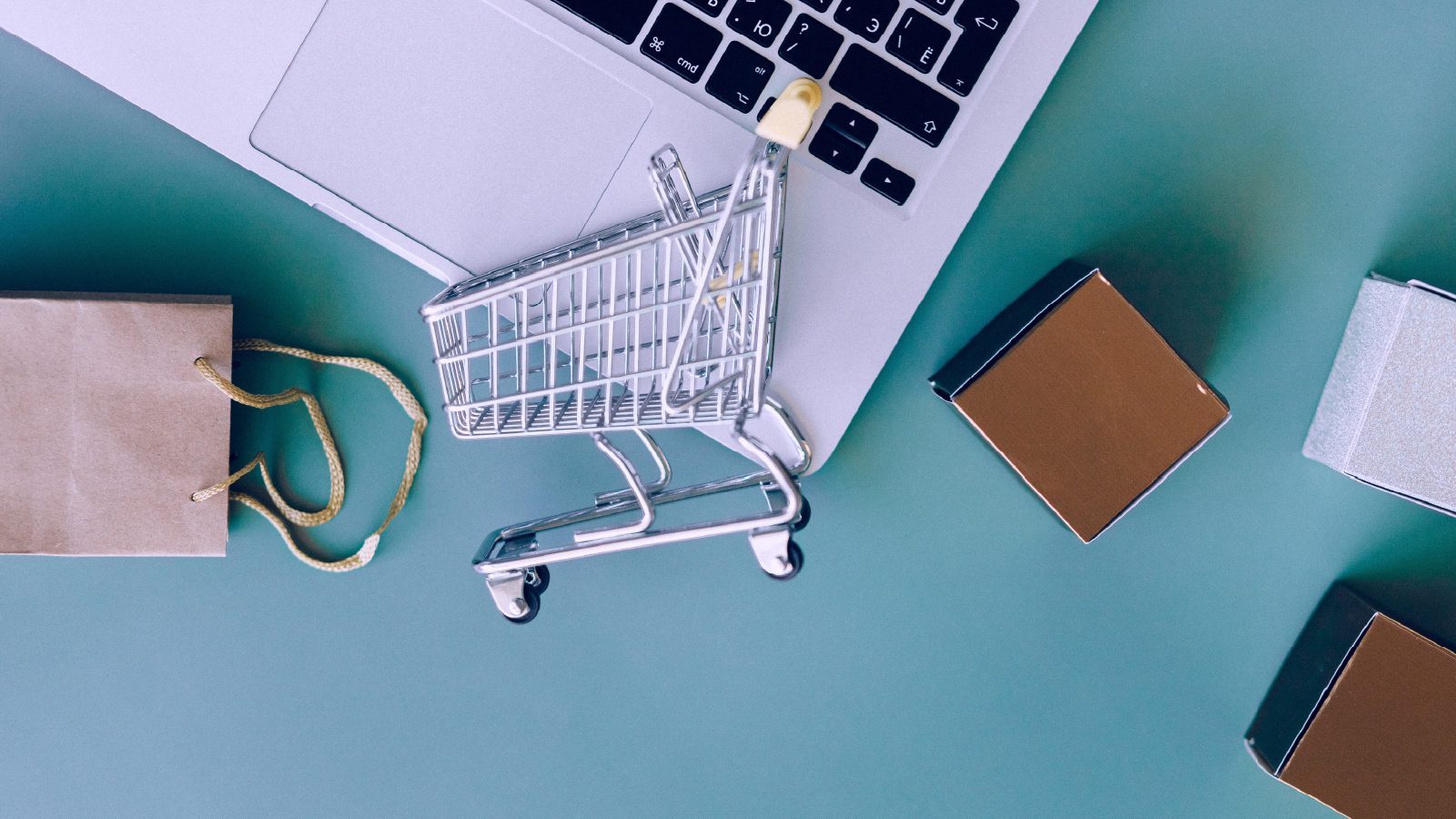 The amount of time and energy that goes into making your ecommerce business successful is multifold. You're allocating resources to pinpoint which marketing channels help you connect with your audience best. You're constantly working on sales messaging to convert seemingly interested prospects into advocating customers. You're always sourcing feedback from customers to ensure they're satisfied with your products and services. It honestly never ends.
So when a potential customer is about to make a purchase and suddenly abandons the checkout process, it hurts. And if it's happening regularly, this directly impacts the time, effort, and money you're spending on your business. So, if you run an ecommerce business, checkout abandonment is something you can't afford. Continue reading to learn more about:
What is Checkout Abandonment and Why is it Happening?
The Top Reasons your Customers are Abandoning the Checkout Process
Simplifying the Checkout Process
Ways to Reduce Checkout Abandonment and Increase Conversions
1. KISS – Keep it Simple and Secure
2. Easy UX
3. Emphasize Security and Privacy
4. Shoppers Need Choices, Convenience, and Control
5. Create a Checkout that Does More than Expected
What is Checkout Abandonment and Why is it Happening?
Checkout abandonment is best understood as when an online shopper begins the purchase process but never actually completes the purchase. Items are often left in their virtual shopping carts; thus, the items are regarded as abandoned.
If you're a frequent online shopper at one point or another, you've been guilty of checkout abandonment. Maybe you were interrupted by a phone call from a family member, forgot about dinner in the oven, or just had a change of heart right before clicking "complete purchase" Whatever the reason – you didn't end up buying what you intended to.
For consumers, this is just something that happens sometimes. For ecommerce businesses, it's a challenge that requires constant attention and strategic testing that aims to get shoppers to complete their online purchases fully.
The Top Reasons Your customers are Abandoning the Checkout Process
There's no way to know exactly why someone abandons the checkout process every time, but let's take a look at some data that can help better understand why this could be happening at your business.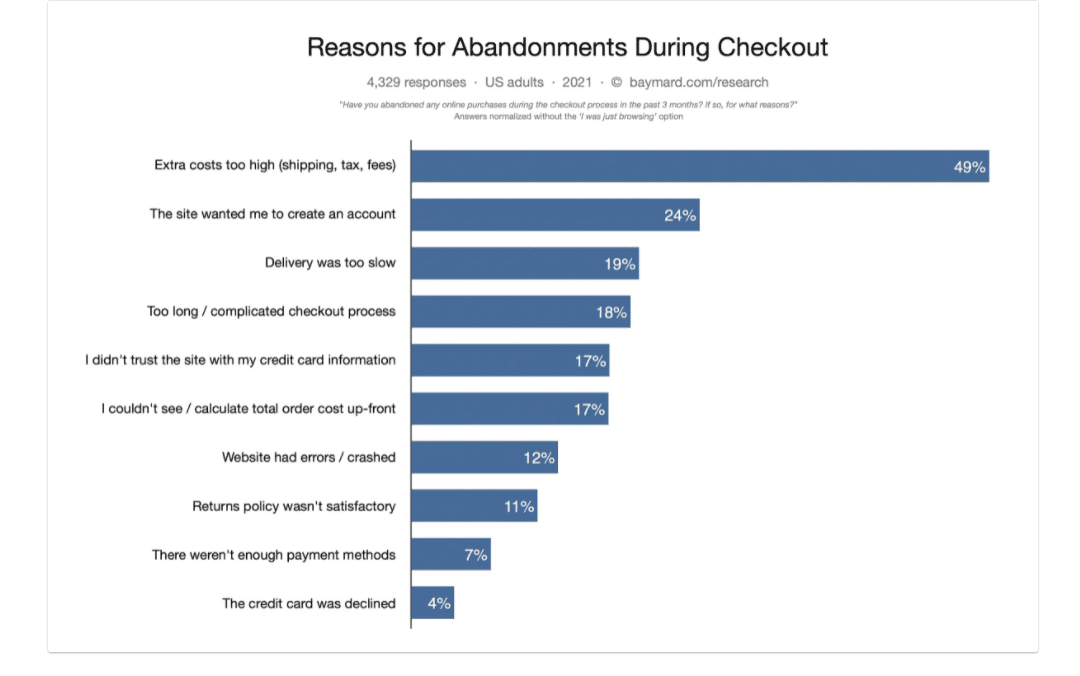 Let's examine a few of these reasons noted above: 
"I didn't trust the site with my credit card information."
Data security is a high priority for online shoppers and can make people skeptical when any little thing seems off on a shopping site. Nobody wants to be a scam victim. It's crucial that your checkout process is simple and makes your shoppers feel secure. They're sharing extremely sensitive information and need to feel that they're in good hands. 
Implementing data security checkpoints and showing that your online business is compliant will ensure all data security regulations in your region can help shoppers feel better about sharing their data to purchase your products and services.
"Website had errors/crashed."
Ever been shopping online, and as you're adding things to your cart or right before you get ready to check out, the site crashes? This is a massive turn-off for shoppers and can highly discourage them from purchasing anything from your business. In an era where even a slow loading page will deter a site visitor, it's imperative to ensure your site is always functioning at top capacity. 
Invest in the best tools to guarantee a fully functioning site. If you're planning to make significant changes that could alter how customers interact with your site, come up with a rollout plan that will help you implement changes incrementally to minimize the possibility of site errors or crashes.
"Too long/complicated checkout process"
The top fourth reason noted above, and the core focus of this post is shoppers feeling like the checkout process is too long or complicated. People enjoy shopping online because of the convenience it provides. However, if a lengthy or complex checkout process disrupts that convenience, they're missing out on one of the essential benefits of online shopping. The key is simplicity.
Simplifying the Checkout Process
Let's say your business is steadily gaining more online visitors over a period of time. And with that growth, you also see a spike in new customers. But there's still something that seems off because the revenue isn't exactly matching the visitor volume. You dig a little deeper and realize that there's a specific point where people are dropping off – the checkout point. Your business is attracting traffic, but your checkout process keeps all of that traffic from converting to customers.
Simplifying the checkout process is crucial to improving revenues and giving customers a better experience on your website. Through testing and optimizing some aspects of the checkout process, you can increase site conversion without incurring extra marketing expenses. But how do you simplify a checkout process, exactly?
You have to start with monitoring your revenue and repeat buys to determine how you are fairing. You want to watch the conversion rate, growth, and trend over time to ensure you get optimum returns from your users on revenue matters. In particular, you want to test and optimize the checkout process to ensure you are getting maximum revenues.
Ways to Reduce Checkout Abandonment and Increase Conversions
1. KISS – Keep It Simple and Secure
If you want a checkout flow that makes users scream, "take my money," you need to Keep It Simple and Secure. Often, checkout pages are packed with unwanted information that only distracts the customer from the ultimate purpose – conversion. Some examples of obvious friction to a new user while checking out:
Long checkout process with too many fields

Security issues (e.g., excessive checks, no signs of assurance, etc.)

Forced sign up or account creation
The checkout experience determines whether the user will complete the transaction or give up midway. Nobody wants to fill out 50 odd fields before subscribing to regular supplies of pet food. That's a sure-shot way to an abandoned cart. 🙁 
2. Easy UX 
Excellent UX (user experience) is essential for online shopping businesses. Remember that for the user, it's all about convenience. They should feel like their experience is better than actually visiting a brick-and-mortar retailer.  
Making sure that it's easy for them to navigate the site, browse without linear navigation, add or remove products from the shopping cart, apply discount or gift card codes is all part of ensuring they have a smooth online shopping experience. 
Tools like Ajax dynamically update the page without the customer having to refresh. You can also study how people navigate your site to understand their behavior better. These insights will help you stay in tune with your audience so you can keep giving them exactly what they want. 
Include a Visual Process Indicator
Show the customer what to expect along the checkout process. Customers should know what information will be required in the next stage and review their orders during the process. Using a visual progress indicator with a description of each step can be beneficial for certain businesses.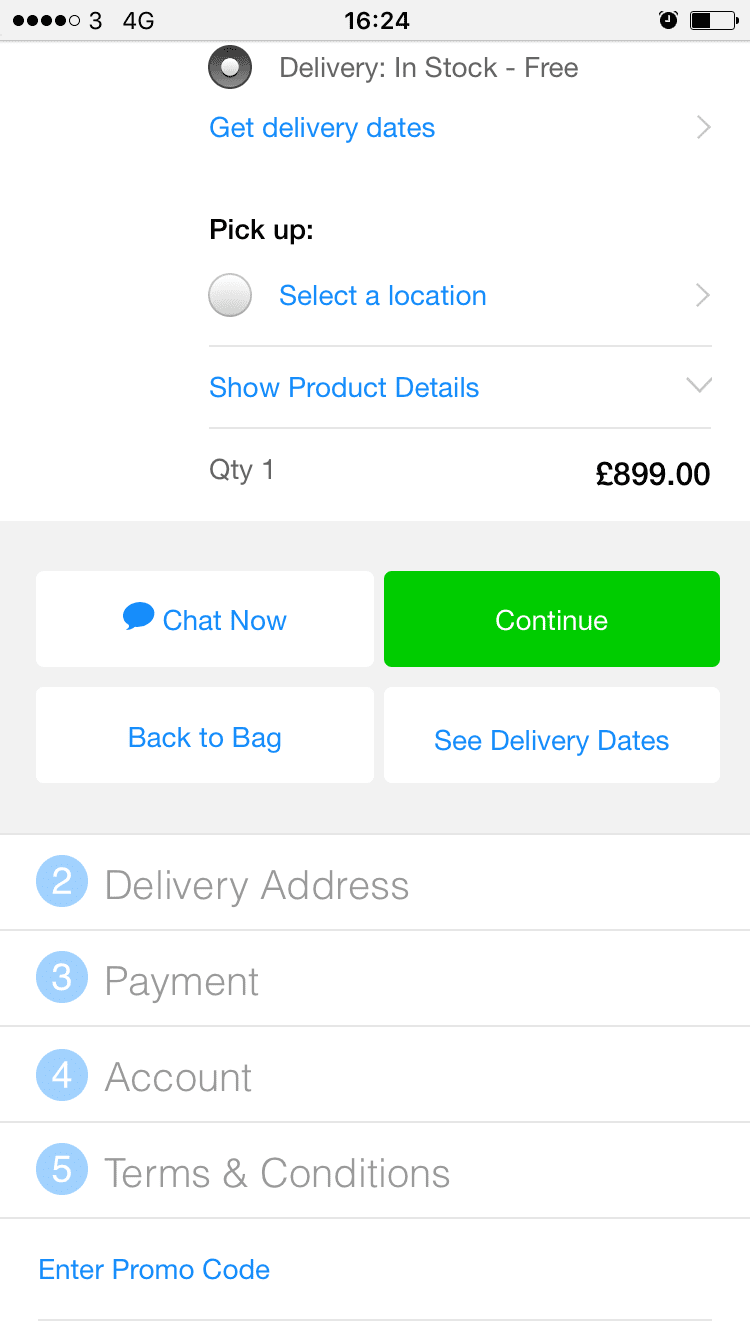 Reduce the number of steps in your checkout process. Too many steps can crush your conversion rate. While Amazon and the like may have eight steps and still emerge among the top companies, customers trust the brands and are loyal to them. So for your startup, stick to 3 to 4 checkout steps.
Design Experiences, Not Forms
Less is more. Every additional field in your checkout is a hurdle your would-be customer has to cross. Do you need a user's phone, email, and address right away? Now ask yourself if it's worth the possibility of losing a sale — or thousands of deals — just because you want to fill a database. Only ask what's relevant to getting the customer's order completed.
The Exception to Forms
Ecommerce businesses have to have order forms for customers to place purchases. But we know that people don't like spending time filling out too many form fields. Here are a few tips to optimize forms for conversions:
#1 Pre-populate as many fields as you can
#2 Communicate errors clearly via error messages
#3 Automatically provide real-time validation as a user types. The easier you make it to complete forms, the fewer errors people will make. It's a win-win.
#4 Ensure that autofill works consistently across platforms and browsers so that your customers can check out faster.
#5 Craft mobile-friendly forms for those mobile users who already represent a hurried, less-tolerant segment of users.
#6 Coupon code fields can help and harm. While they are an effective way to win customers at checkout, ensure it does not impact the purchase flow. Test and iterate to see what works for you.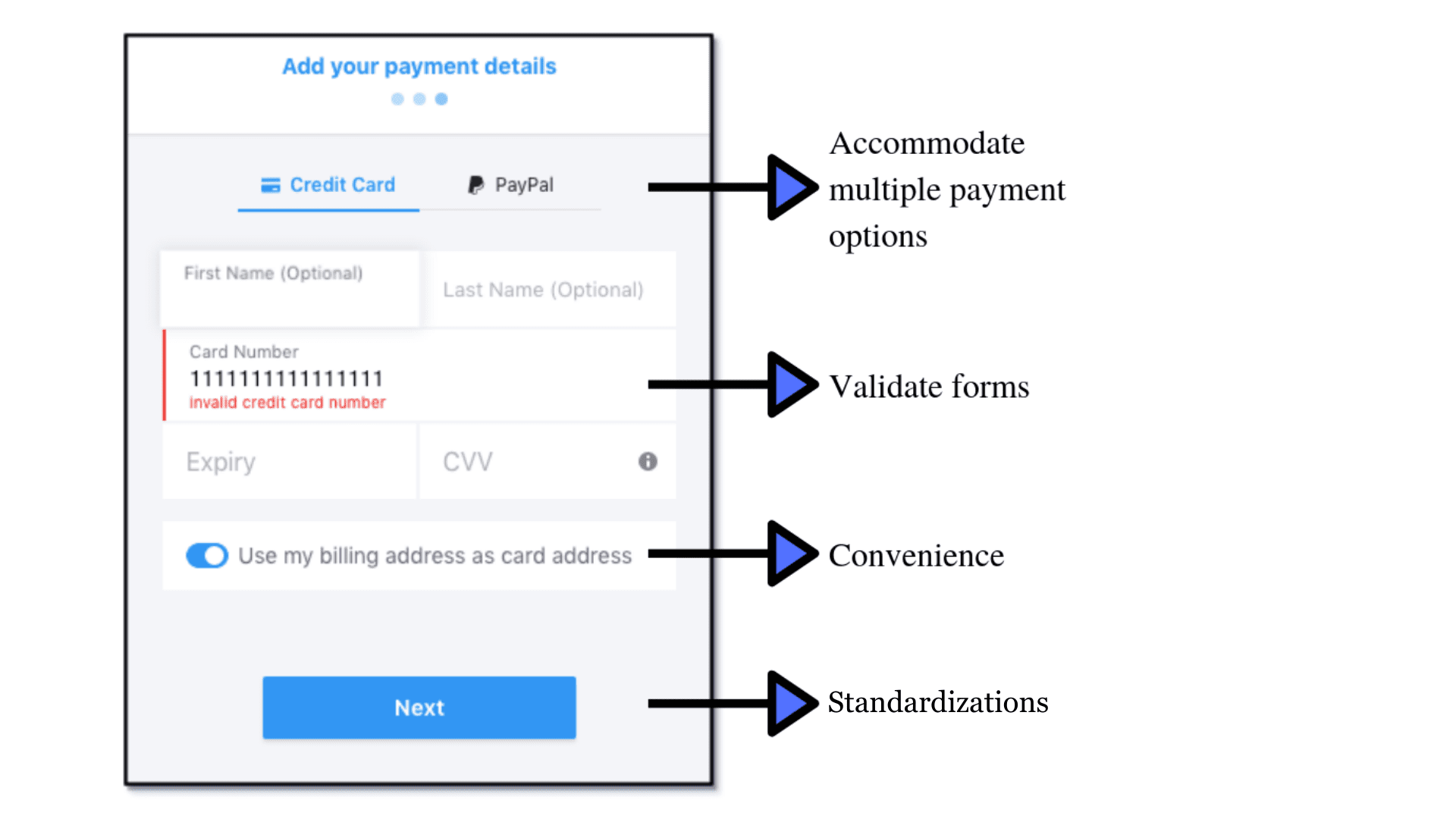 Customizations and Clicks – When Less is More
Ensure the customizations applied to your checkout page are consistent and familiar. Beware: A slightly different background color, new fields, buttons with different colors, varied font types, or sizes can break the experience.
Limit the number of clicks and make navigation smooth. There are pros and cons to the idea of going with a single or multi-page checkout. The critical question is, how do you pick the one that's right for you? Learning about your audience and constantly running tests.
3. Emphasize Security and Privacy
Customers need constant reassurance on security and privacy. Checkout pages collect sensitive payment information and personal information as well. You need to show customers that you are serious about security and take every possible precaution to handle their payment data and personal information safely.
These are few essential security goals you need to achieve to win your customer's confidence:
Have a Secure Sockets Layer (SSL) certificate for your website to provide a secure connection and encrypt credit card information.

Comply to

PCI Security Standards Council (PCI SSC)

to protect card data

Adhere to ISO, SOC 1 & SOC 2, and MFA standards to ensure Internal Data security.

Follow network, application, and operational level security policies.

Display your security credentials with SSL and PCI badges, just as Chargebee does in the screenshot below.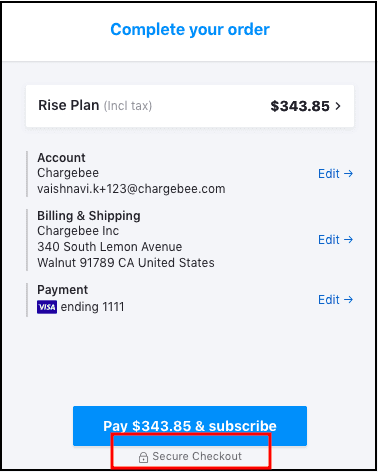 Pro tip: Subscription management platforms like Chargebee take on all your security and compliance heavy-lifting so you can offer a secure checkout experience without building all the capabilities yourself. Learn more about security and compliance with Chargebee here.
"Unless you have expertise in the space and are aware of security risks & infrastructure needs, do not set out to build your own billing. It's not an efficient use of your time."
– Fred Stutzman, CEO, Freedom
4. Shoppers Need Choices, Convenience, and Control
Purchases aren't driven by impulse. Experiences drive them. Markets today are driven by choice, and your customers have multiple good alternatives to choose from. To survive, your business needs to differentiate. So does your checkout. A compelling experience offers users more choices to pay, more control over payments, and more convenience over the checkout process.
Spoil Customers with Multiple Payment Options
Offering users the choice of multiple payment methods is more than a mandate to curb drop-offs at the checkout. According to a report by WorldPay, 55% of users would cancel their purchase if their preferred payment method was not available. Note the word "preferred." Payment methods and choices vary from country to region, and buyer persona and individual preferences. Some cultures are comfortable handing out their card details, while others are still averse to credit card risk and may prefer direct debit.
The End-to-end Localized Checkout Experience
Localized checkout experiences convert better. You make it easier for users to understand what they are paying for, and you can accept payments in modes that THEY prefer.
No more currency converters: Support for multiple currencies




As your ecommerce business grows, your checkout must be ready for cross-border sales. When your checkout allows users to check out in their local currency, you also save them money – restricted currency options, mean that users end up paying extra in conversion costs. And no one likes additional charges. 

Did you know! Chargebee supports payments in more than

100 currencies

.

Your Checkout should speak more than Just English.




Put yourself in your customer's shoes and go through the entire checkout process in a foreign language —FRICTION.  Don't let language barriers or miscommunications create a terrible checkout experience for your subscribers. Below is an example of a checkout that talks to customers in their native language.
Your Checkout should speak more than Just English.
Put yourself in your customer's shoes and go through the entire checkout process in a foreign language —FRICTION.  Don't let language barriers or miscommunications create an awful checkout experience for your subscribers. Below is an example of a checkout that talks to customers in their native language.
Here is the complete list of locales supported by Chargebee.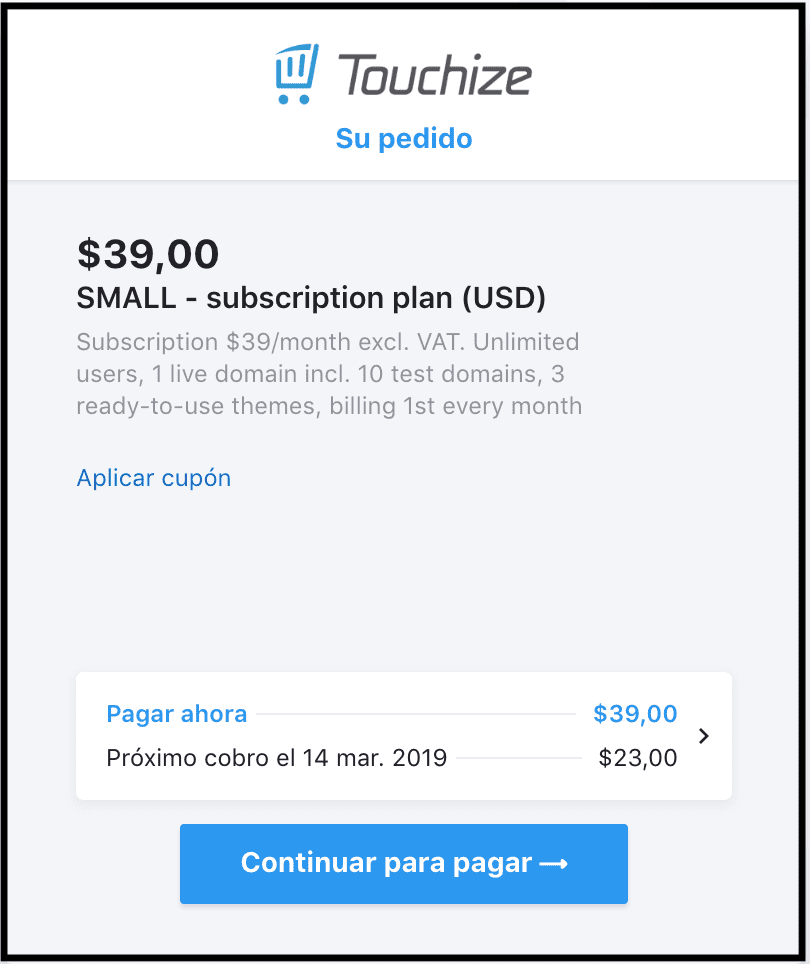 5.  Create a Checkout that Does More than Expected
At each point in growth, an ecommerce business particularly one that deals with subscriptions will encounter different workflows and objectives. We need to think of the checkout solution as a one-stop shop that can accommodate all the requirements your business might have now and the ones you might need down the line.
Ecommerce businesses encounter use cases like this every day:
Handling international taxes


A possible buzzkill to globalization is international taxes —tracking the customers' locations, calculating the country's local tax rates, complying with international tax laws. Businesses need sophisticated checkout that can dynamically calculate and apply accurate taxes in real-time. Your customers should be able to access local pricing in any area that your product and services are available. 
Mastering the art of up-selling, upgrades and add-ons


Up-selling not only accelerates profitability but is also critical for customer retention. Up-sell opportunities include —add-ons, plan upgrades, etc. 

Whether a user bills a recurring or a non-recurring add-on, a flat fee or a tiered add-on, or makes quantity changes to add-ons —a checkout should be efficient to handle all scenarios elegantly. A

transparent and clear breakdown of the user's payment

adds value to the checkout experience.
Track the drop-offs to convert the "Maybes" to MRR


Cart abandonment data is King. The number of visitors that leave your checkout without completing a purchase serves as a source for tracking lost revenue and dropped checkouts. And you can improve anything you can measure.
Test, Test, and Test Again
We need to think of the checkout solution as a one-stop shop that can accommodate all the requirements that your business might have now and the ones you might need down the line.
In the world of online shopping, everyone is paid in two coins: Money and Experience. With a powerful checkout, you get to drive both.
These must-haves and essentials are ideal points for optimizing your checkout pages to achieve the ultimate goal of a frictionless payment experience. Yet, there is no one-solution-fits-all approach.
Using a subscription billing platform like Chargebee, you can build smart checkouts that offer a frictionless payment experience that will fit your workflow like a glove.
At Chargebee, we are committed to helping you make checkout frictionless. Want to learn more about how Chargebee can empower your checkout experience? Sign up for a free trial, give it a spin and let us know what you think.
Get the scoop on what's new