RevOps: Making Your Way To the Moon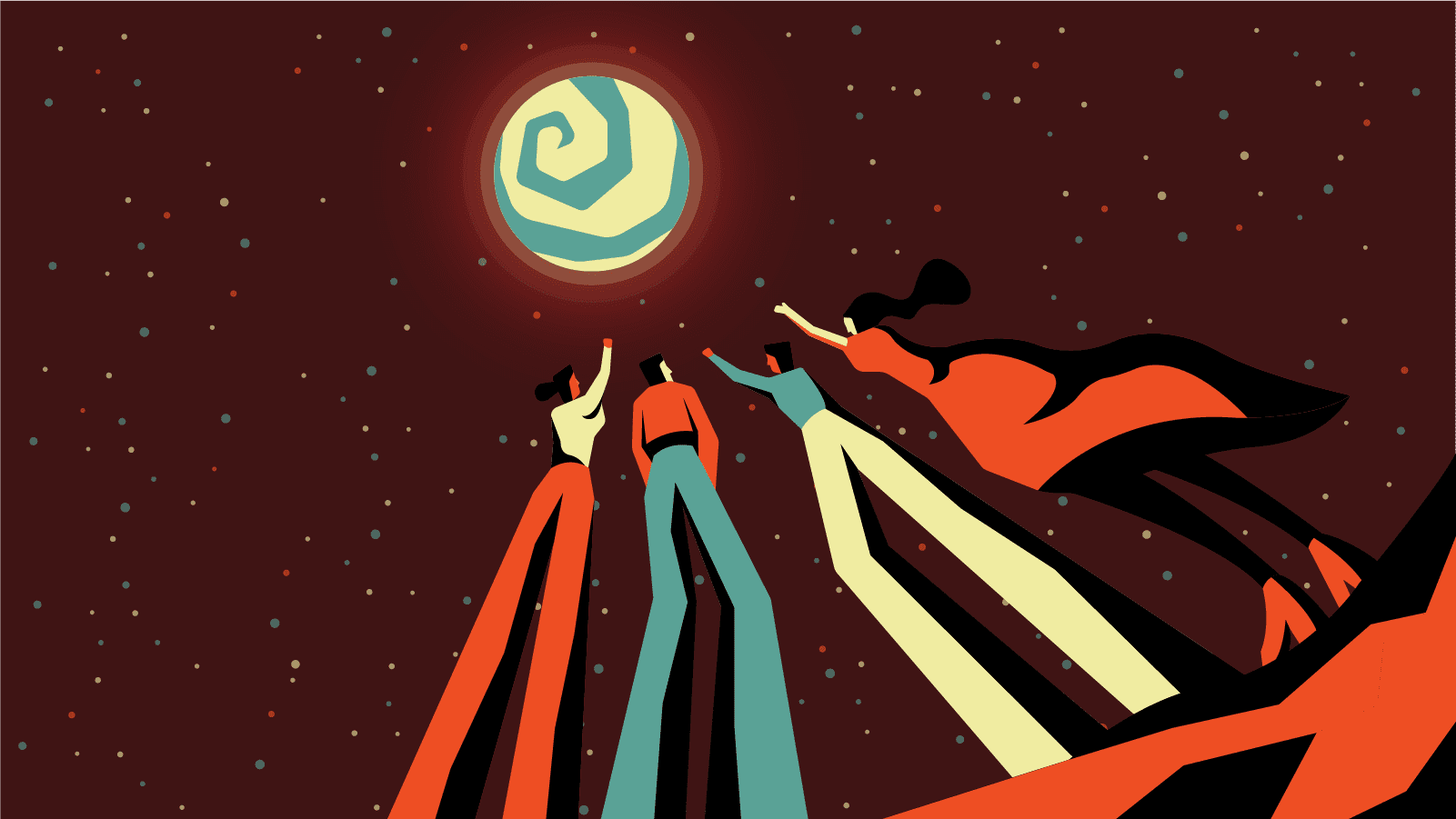 A recent article on Forbes has unearthed that "there has been a shift in the way companies are thinking about revenue". Job titles consisting of the term revenue have been seeing a consistent upward trend. This is largely because, accelerating growth to a SaaS business would mean to reduce revenue leakage, providing seamless customer experience, and identifying new revenue opportunities. Organizations irrespective of their size seem to struggle to establish a revenue program that stands the test of time. A majority of high performing firms lose revenue due to gaps in the revenue management system.
We have previously explored how Revops came to be more popular than John Lenon in such short notice. To understand the importance of RevOps further and what businesses thought about it, we collated information by speaking to many industry leaders and did our research on RevOps but we decided it's time to bring in the big guns. We commissioned Forrester Consulting to evaluate the billing and revenue management technology market to understand the adoption levels of RevOps at a global scale.
The findings proved our initial research around RevOps right and brought in additional pointers to take note of.
Driving Sustainable growth in Subscription-Based Businesses is Not Easy
The top reasons for any mismatch between goals and actions are that organizations struggle with poor strategic alignment, lack of process efficiencies to identify revenue opportunities, and most importantly, tools that don't scale as their teams grow in size, This mostly prevents them from delivering on their top objectives. 
As a result of this, voids start appearing in organizations.
Revenue driving functions get siloed from billing functions.
The interdependencies and misalignment between teams act as a major hurdle for growth in many organizations. In most cases, such misalignment has its roots in outdated technology. The below chart gives a glimpse of the different areas in a business that are affected by poor technology.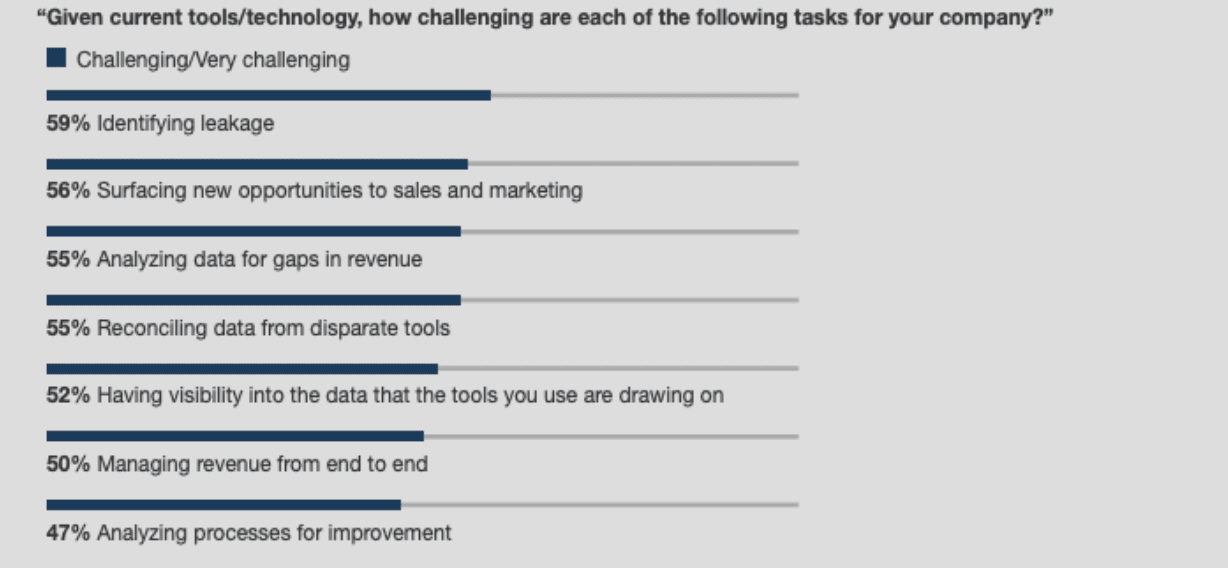 Fig 1.
There is also another major hidden hurdle in driving sustainable growth through RevOps.
 "Who is accountable for the functioning of RevOps?"
Ambiguity about Revops
Revops as a function is spread across the organization. There are RevOps heroes within each function and it can be noticed that there is no single owner for RevOps as a function. This highlights the importance of attention that we need to show to RevOps for it to be useful to the business. An antifragile strategy needs to be put in place to combat such randomness.
Lack of RevOps leads to inefficiencies in processes
Organizations, in our research, irrespective of their size, struggled to establish revenue programs that stood the test of time. Almost half of the revenue decision-makers and business decision-makers we spoke to, usually started with high ambitions and goals to improve CX, create net-new sales, and improve efficiency within and across departments. However, this was easier said than done. The top reasons they gave for this mismatch were, organizations struggled with poor strategic alignment, lack of process efficiencies to identify revenue opportunities, and most importantly, tools that didn't scale as their teams grew in size, This prevented them from delivering on their top objectives.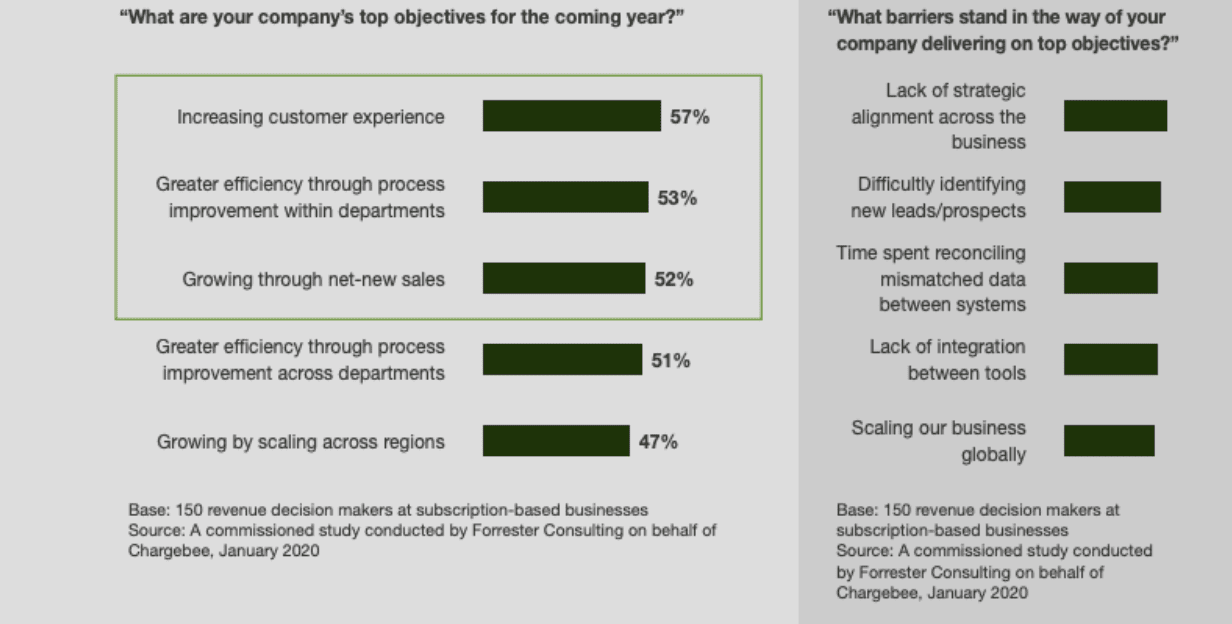 Fig 2.
This sort of misalignment which we discussed, in brief, earlier, starts with the technology stack of a company.
Revenue Management technology in most companies is outdated
RevOps is an emerging concept and the awareness for it is growing. Companies that understand the importance of Revops, try speeding things up by going digital and their billing takes a hit. Dollars slip through cracks and inefficiencies in the technology. As business requirements change at a massive pace, a company's technology stack has to keep up with it. It has become more and more clear that ERP and other financial tools lag the rest of the tech stack in terms of speed or configurability which is very important in SaaS functioning.

Fig 3. 
Most of the people we asked also believe that this technology backlog is the reason behind siloed revenue functions. 89% of the businesses believe that their revenue-driving functions and billing systems function separately which breaks the whole purpose of moving together to scale. This is also the reason normal functions of a business mentioned in Fig 1 becomes difficult to accomplish.
Alignment between all revenue-driving teams is needed
For a business to be truly successful, there should be a deeper alignment between its marketing, sales, finance, and customer success teams to outshine the competitors. Mere horizontal alignment between teams is not enough but a need for a more innovative solution arises. Focus shifts to aligning GTM teams with Finance. RevOps is all operations associated with Revenue and ensures cross-functional alignment by default. It also helps to streamline data, make analysis from this one true data hub, be wary of risks and bring alignment across operations.
RevOps lead (to) high maturity firms
RevOps leads high maturity firms and small firms can lead themselves to high maturity with the help of RevOps. 
Early-stage companies can be satisfied with google sheets and excel but high maturity firms, need billing intelligence to support their actions. The Forrester report defines a high maturity firm as a firm that has powerful and consistent technology that allows it to be more agile and efficient.
A business is more successful with the use of RevOps and gets on the path of high maturity  because, 
Rather than focusing on putting out daily fires, you would be focusing on the bigger picture around improving internal processes and finding revenue streams.

RevOps gives a deeper understanding of end-to-end data and armed with this sort of data, the company can focus on strategic decision making.

It will give you a headstart over your competitors who lack the understanding of how RevOps can provide a unified system.
Revenue Operations is not just a strategic approach to revenue management, it is more than that. The alignment that RevOps brings about, empowers organizations to use their data better, make smarter decisions, move faster, win more business, and retain the customers they have in a better way. All this helps you to scale your business and use your revenue wisely.
Download the report below to go through what the leaders in the SaaS world are doing to keep their business not only afloat but also to reach great heights and figure out for yourself how RevOps can help your business. 
RevOps is a new concept and a term which is taking up different shapes and forms. What is it that you can make out of it and how can you add value to your business with RevOps?
Get the scoop on what's new