A 6-Point Checklist to Foolproof your SaaS Pricing Experiments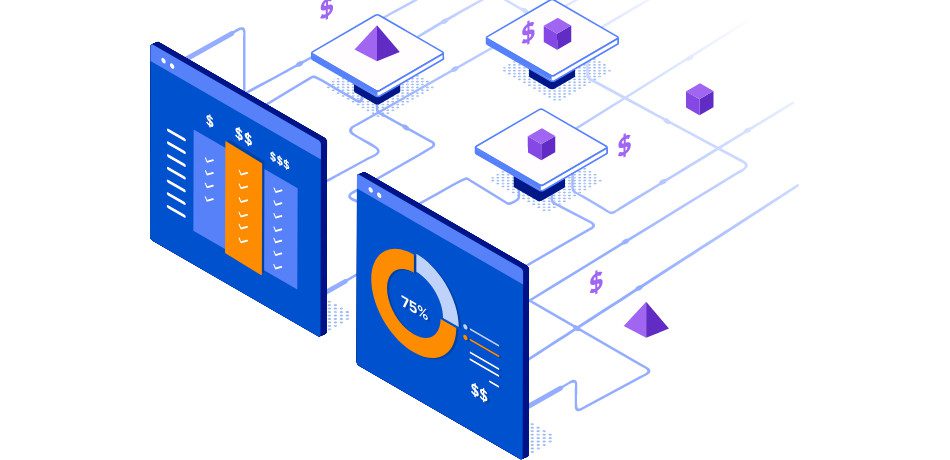 "Let's re-evaluate our SaaS pricing" is usually an afterthought.
After acquisition channels saturate.
After sales processes mature.
After retention is a game you're already at the top of.
After you're falling short of your estimated target, despite pouring in efforts to optimize every part of the funnel.
Or sometimes, after there's an even louder sign: when enough potential customers have turned down your product stating 'price' as the reason.
After all, pricing is the center of your business, all roads – marketing, support, sales, product – lead to or reinforce that page, and if you're improving everything else, you should be improving your pricing, as well.
Are you thinking "But, I already have a steady MRR."? Maybe you had, in fact, pegged your pricing on the right value metric when you'd first forged your strategy. And by doing so, your revenue did grow as your customer usage scaled.
But, consider this. There's now a high-velocity product development underway and your product solves 5x more problems than it did when you started out. Or maybe your product is now optimized for a different target segment that your current pricing doesn't sit well with. In such scenarios, it makes no sense to leave your pricing levers untouched.
If you're a recurring revenue business that continuously ships updates and invests heavily in go-to-market activities, you need to go beyond acquisition and retention and start looking at monetization as an equally enabling growth lever.
Recognizing that your pricing needs to be looked at with fresh eyes, and driving customer and market research to hone that perspective are the hard parts. Having said that, you'd be surprised at how many companies drop the ball during the last mile of implementation.
Here's a list of things that you need to make sure you've checked off before you launch a pricing change (so you won't be one of those companies).
#1 Conduct a fresh feature-value analysis
It's easier to digest a pricing change when there's a platter of major product improvements to chew on.
How do you justify an increase in your pricing? You increase the perceived value with it. Any significant pricing change is a good opportunity to reassess your entire understanding of feature-value connection. The feature-value analysis involves some guesswork, some input from the product teams, and most importantly, your customers' feedback and usage patterns. Are they telling you that 'it's too steep a jump in the cost for just one feature'? Are most of them forever on your freemium without ever moving up the pricing tier? Listen to these cues and dive into more research.
After you've done this, there's a chance that a simple reshuffling of features between the different pricing plans would be enough to keep the revenue flowing in.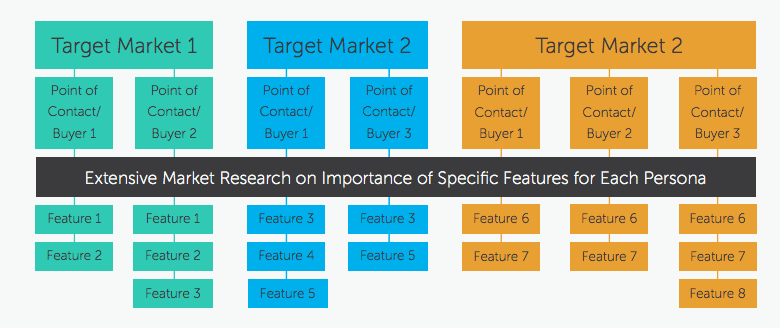 #2 Discuss the what-ifs and what-musts a.k.a impact analysis
A given in any decision-making process, a thorough impact analysis, according to Bohner and Arnold's definition, should be a two-step activity:
Identifying the potential consequences of a change: This is pretty straightforward. Do a complete run-down of all the risks involved depending on whichever route you take: grandfathering, grandfathering for a grace period, or no grandfathering. Look at NPS scores, check if your customers will stick with you or abandon you.
Estimating what needs to be modified to accomplish a change: Establish what revenue numbers you're trying to achieve. Let any pricing experiment you run be in tune with that goal. Figure out how to measure the outcomes.
Are you aspiring a 25% growth in H2? Then you need to measure how your pricing change is contributing to reaching this goal month on month.
Are you moving upmarket? Then you need to gain insight into how the new target segment is perceiving your new pricing tier.
You get the drift.
Write down the bigger goal and work backward. Map how your pricing experiment is going to get you closer to that goal and define the KPIs to measure its success.
#3 Don't forget the most important page on your site
Your pricing page should reflect your most recent pricing at any given time. If your pricing change entails a change in the value metric, then clearly communicate this on the page. Back it up with FAQs on what that value metric means. If you think it needs a complete page restructuring and design, read this post on the teardown of what a good pricing page should look like, along with examples.
Cut to 2017, we thought that the number of invoices was our value metric. And boy, were we wrong. Here's the evolution of Chargebee's pricing page.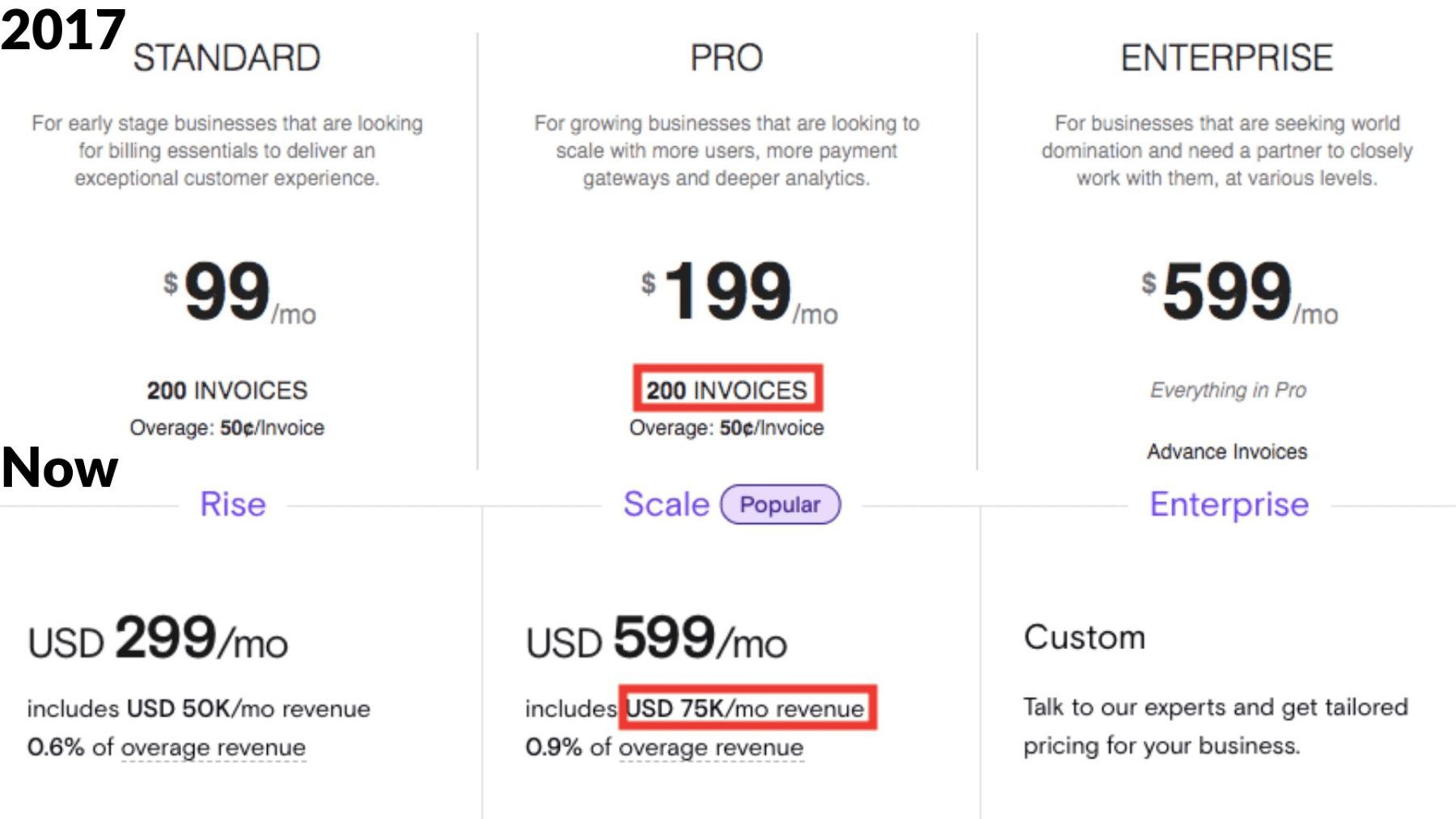 Never A/B test your pricing page to chart the willingness-to-pay graph. Any changes to the pricing page should be the final step in your experiment, not the first.
#4 Get your internal team communication sorted
Pricing decisions are not made overnight. Deliberate discussions go into it. If the salesperson who's getting on a call with a lead is in the blind about this, there's a chance that what was decided in that pricing-discussion room was not what was communicated in the call. Create a playbook of responses for your Sales, Support, and Success teams.
Depending on the type of pricing change, equip your internal teams accordingly. If the change is the inclusion of a new, more expensive tier, then, training your Sales and Customer Success teams to pitch this new plan to existing customers and new target audiences should be on your checklist.
If it's a pricing localization experiment, then document the process changes that each team has to follow; the step-by-step actions to enable multi-currency in their tools along with people to consult with before making certain decisions.
#5 Customers come first, customers know first
Stealth mode is the way to go when you're fighting crimes in a superhero suit. It's not so great for pricing announcements.
Grandfathered in or not, customers need to be given an exclusive sneak peek at least a month before the pricing change. Even if the changes do not affect them, it gives them a time frame to move to a higher tier with the old price. It's also a great way to warm up old leads.
Having identified the sales opportunity in a customary customer communication email, here's how Appcues turned their pricing announcement email into a sales rocketship and grew sales by 263%.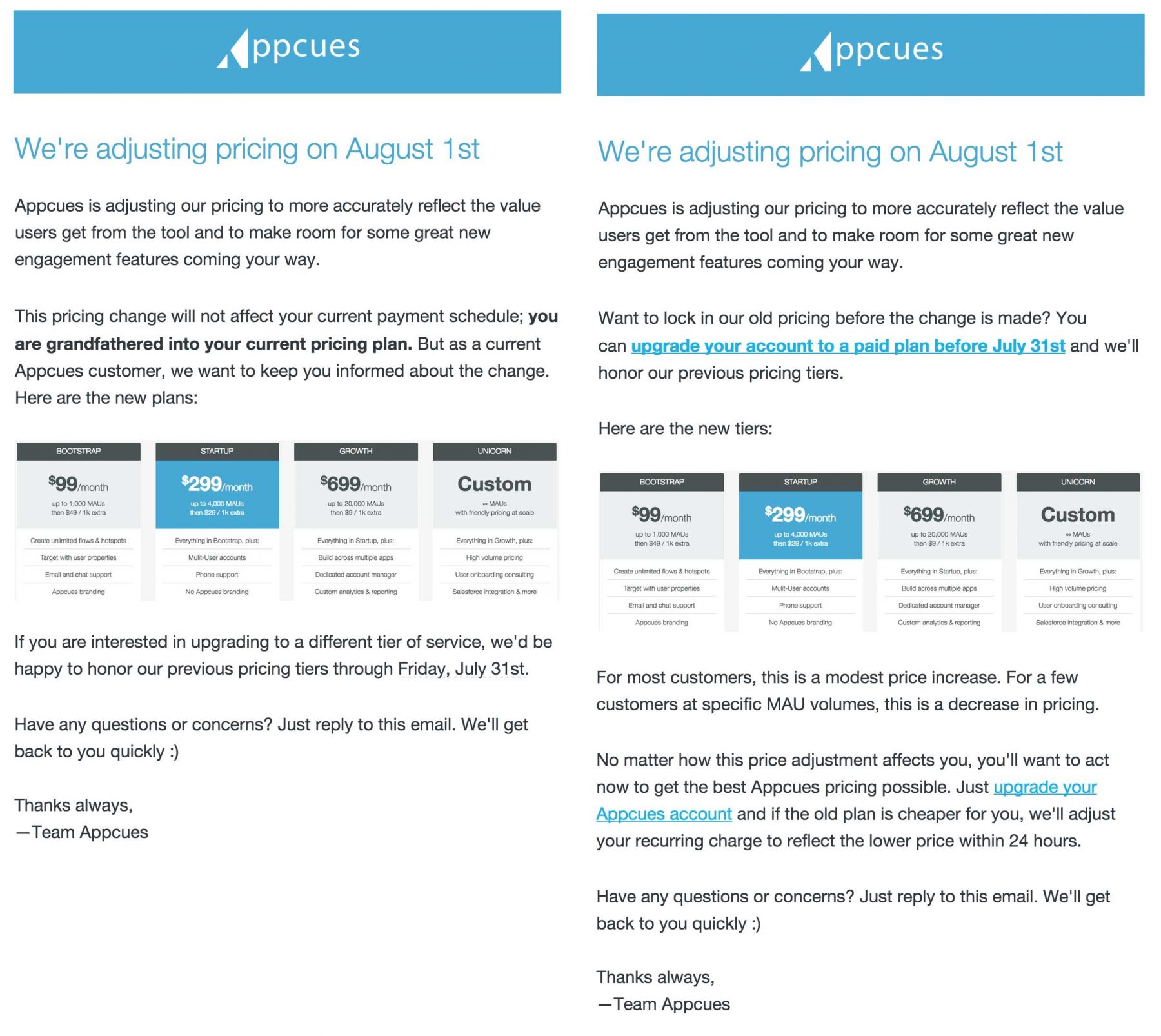 A good pricing change email should:
Be transparent and clear about why you're doing it, how it affects your customers/prospects, and when changes go live. Remember that there's scope to reheat cold emails; drive urgency by attaching a CTA to 'purchase now' to enjoy the old price. In retrospect, this is the email Appcues said they would have liked to send their customers – a paragraph dedicated to explaining how much they stand to gain if they upgrade.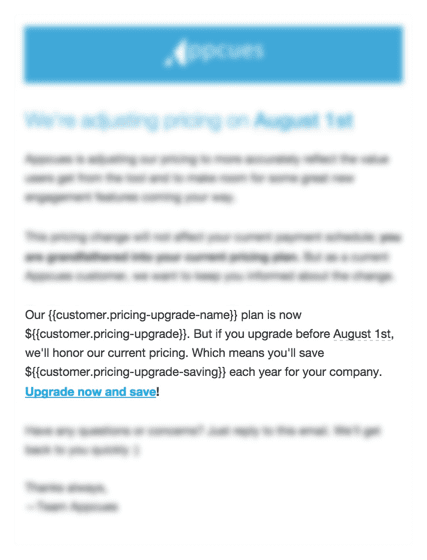 Ask for feedback. Whether you winged this whole experiment or worked systematically – you can now validate the price with a larger audience.
Have an assuring tone. Let them know that they can get on a call with one of your executives at any time to understand how this pricing could affect them. Make sure your support team is at customers' beck and call at all times. To prevent your support team from making redundant explanations, you can choose to write a blog explaining how your new pricing will affect customers and the rationale behind the decision.
Here are examples of such pricing announcements by Expensify and Deputy. Pricing changes can be hard to grasp at the get-go. Something like Atlassian's pricing calculator should help solve this problem.
#6 Grandfather in pricing for existing customers and retain their loyalty
I think what is more important is a culture or a mindset to keep testing your pricing, and when you do that, always grandfather pricing. Honoring the existing price for customers is a definite rule that you need to follow.
On the surface, grandfathering customers might look like you're relinquishing revenue. Look deeper and you'll understand that you're actually saving it. Churn is one of THE metrics that determine the health of a business. Grandfathering ensures that this metric does not suffer a sudden spike. Ideally, you should grandfather-in customers forever, but consider grandfathering them with a grace period of a minimum of 2 years.
Since churn is out of the picture, keep an eye out for the visits to signup conversion metric before vs. after the pricing change.
—
A pricing change can very easily turn into a people problem. Mismanaged communication, mismatched outcomes due to shaky definitions, inconsistent tracking – all of these (and more) could lead to a pricing experiment gone awry.
This is why Kyle Poyar of OpenView Partners says, "Designate a clear owner for the initiative. This person doesn't do everything themselves, but rather quarterbacks the project, owns the roadmap, and keeps each department engaged."
The best person to own this, he says, "is typically a PM and could also be a PMM or Operations Lead." If you've jumped on the recent RevOps bandwagon, then your Revenue Operations team should ideally own this.
Chargebee's support for endless pricing models, grandfathering plans, and multiple currencies lets you implement pricing changes in days, not in months. Sign up now and start pushing the pedal on your monetization lever.
Get the scoop on what's new