What to Expect when you Scale: Lessons from Mark Roberge
~ 8 min read | September 14 Do you remember who sat next to you on your first day of college?
Well, Mark Roberge does, and it changed his life.
Back in 2005, when Mark was studying at MIT, he took a seat next to Dharmesh Shah, who went on to start Hubspot later in 2006. They hit it off, and Mark joined Hubspot soon after graduation. He fell in love with the startup ecosystem and has never looked back since!
A former CRO of HubSpot who helped transform the startup into a unicorn valued at over $5 Billion, Mark has also authored the bestselling book "The Sales Acceleration Formula: Using Data, Technology, and Inbound Selling to go from $0 to $100 Million".
At Chargebee's Champions of Change Summit, Mark spoke about his learnings at Hubspot and scaling with adaptability.
Sales Acceleration Formula
When you're thinking about scaling your business, Mark says it's essential to answer these two questions:

When to scale sales and how fast?
Mark's sales acceleration formula challenges the conventional scaling sales methods and utilizes a metrics-driven and process-oriented approach. It all depends on your business' nuances, who you're selling to, what stage of growth you are in, and your product & pricing complexity.
Hiring plays a crucial role in building a kickass sales team, and Mark shares nuggets on how to 'hire the same successful salesperson every time.'
Five Traits of a Great Salesman
Mark believes in following a data-driven scorecard based evaluation system when it comes to amping up your sales staff. At Hubspot, predicting the success of a new hire was done by evaluating them on these five qualities:
Coachability

Curiosity

Prior success

Intelligence

Work ethic
Here's a sample scorecard for evaluating a prospective hire and predicting the sales success: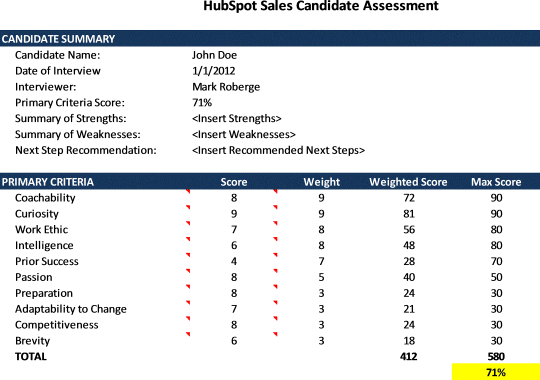 And there's a reason 'coachability' tops this list. It's an influential factor for Mark when making hiring decisions. Coachability is a candidate's ability to absorb, and more importantly, apply the coaching. But how do you check for coachability in a potential hire? Here's Mark's playbook:
Set up a role-playing exercise with your buyer context in mind
How do they pitch to a hypothetical buyer in your ICP? Do they apply the context of your industry and business?
Evaluate the candidate's ability to self-diagnose
Are they able to self-assess their performance? Can they identify areas of improvement?
Evaluate the candidate's ability to absorb and apply the coaching
Provide candidates, both positive and negative feedback. See if they can listen and adapt? That will determine their coachability.
Product-led growth: when it makes sense and when it doesn't
Inspired by Drew Houston's success with Freemium at Dropbox, Hubspot decided to jump on this bandwagon in 2008-09. They were still in the early stages of growth, with revenue ranging from $5-10 million.
That didn't go too well. Mark lists some challenges they faced at Hubspot while trying out the freemium model and how they overcame them.
Challenges for moving to freemium:
Recalling his lessons from Hubspot, Mark quoted two prominent lessons:
It is challenging to create a free version that doesn't cannibalize the paid version's revenue drive.

The product should have low time and effort to value for e.g., the ability to create a report in seconds that can be used for as long as you need it. Mark calls it 'retainable value'.
Hubspot marketing software struggled with freemium and PLG. The value proposition was '3x lead flow', but it took as long as three months. Not exactly 'low' time and effort.
Mark says that they had to rewire their thinking at Hubspot. Brian Balfour was monumental in crafting the GTM strategy for Hubspot. Brian joined as a VP Growth, Sales Product Division in 2014, when Hubspot was set on the path towards $100 million and was keen on doing so with a freemium and touchless model. So what did they do?
The 'Adopt before buy' mantra
Every product guy works for the 'Aha!' moment during the product adoption journey. At Hubspot, the 'Aha!' moment was when customers started to use five or more of its features within 60 days. The 'Aha!' moment applies to any business and is an early indicator for high CLV customers.
To crack freemium and PLG, drive product adoption before driving sales. Define the 'Aha!' moment for your product, depending on your features and packaging. It will allow the customer to explore your product's long-term value and the likelihood of increasing their lifetime value. It helps to include features that enable low time and effort to value.
Compensate for expansion, not the initial revenue
Hubspot changed the way the sales team was getting compensated. They started paying more for expansion revenue than for the initial revenue from a customer. That changed the sales person's outlook on the sales process. They began to focus more on driving adoption across the customer's organization. It also kept sales cycles short and had a high conversion rate. And after all, if you lose an account, it only had a few seats to begin with. A masterstroke!
Are you keen on making freemium work for your SaaS? We have compiled lessons from companies like Evernote, Dropbox, Pandora, and more. Check it out here!
Staying adaptable when you scale
Most startups today are lean. They create the minimally viable version of the product, build on the customers' feedback, and iterate till they get it right. When these businesses scale and expand their product line or into new geographies, they are not as adaptable as they used to be. 
The key is always to act like you're a seed-funded company that is still unlearning and relearning.
Businesses do not have to forget the past to succeed in the future. Some companies find success in exploring future avenues by setting up separate exploratory units apart from the traditional ones. It allows for different processes to be set and even lets you define the new business units' culture. But while they function separately, they do not function in silos.
These are called the "ambidextrous organizations." Following this principle in Hubspot, the CRM function was separated and set up to follow its processes. Mark believes that it is essential that scaling and learning both go hand in hand.
In a sales team, 'scaling reps' are all about expanding revenue and minimizing churn. Success in scaling is measured by revenue growth, churn, and unit economics. 'Learning reps' are all about collecting actionable insights from the selling process and sharing feedback with the product teams. In this case, success would be 'Aha!' moments and customer retention that comes with usage.
What to expect when you're scaling
There are two phases of growth:
Phase 1: Product-market fit to Go-to-market fit
Phase 2: Go-to-market fit to Growth and beyond
Mark summarizes learnings from his Hubspot days, and the experience gathered from being a consultant to several startups. These lessons can come in real handy for businesses when they're scaling from one phase to another:
#1 Avoid a premature focus on top-line revenue metrics
Especially in the early stages, excessive focus on revenue as a north star can be detrimental to growth. Revenue is not necessarily an indicator of a product-market fit. Mark says that 'customer attention' is how you know if you have cracked product-market fit. For example, Slack had over 2000 messages in the first 30 days.
In the early stage, focus on early indicators of attention. 
#2 Prioritize what needs focus during a particular phase
In the Product-market fit (PMF) stage, you can do unscalable things to maximize your customers' success. But when you get to GTM fit, you do it at scale. The most important things in the PMF stage are, choosing the right customer, putting together a high-performance sales team, and successful onboarding.
In the GTM fit, though, pricing plans start to matter. Established sales processes go a long way, and you also need at least one scalable demand generation channel.
For growth beyond GTM, it's just building repeatable workflows of the successes.
Thriving in uncertainty
With COVID disrupting businesses, Mark advises that to look at the competitive landscape with fresh eyes. Pay attention to what's on the rise and also what's on the fall. That will help craft your narrative and refine your pitch. In times like these, agility is everything. So pivot and reinvent as quickly as possible. The more you can reinvent, the better.
For more nuggets of wisdom like these, check out the rest of the sessions in the Champions of Change Summit here! 
Get the scoop on what's new