The Science Behind Pivoting your Business Model
~ 8 min read | November 20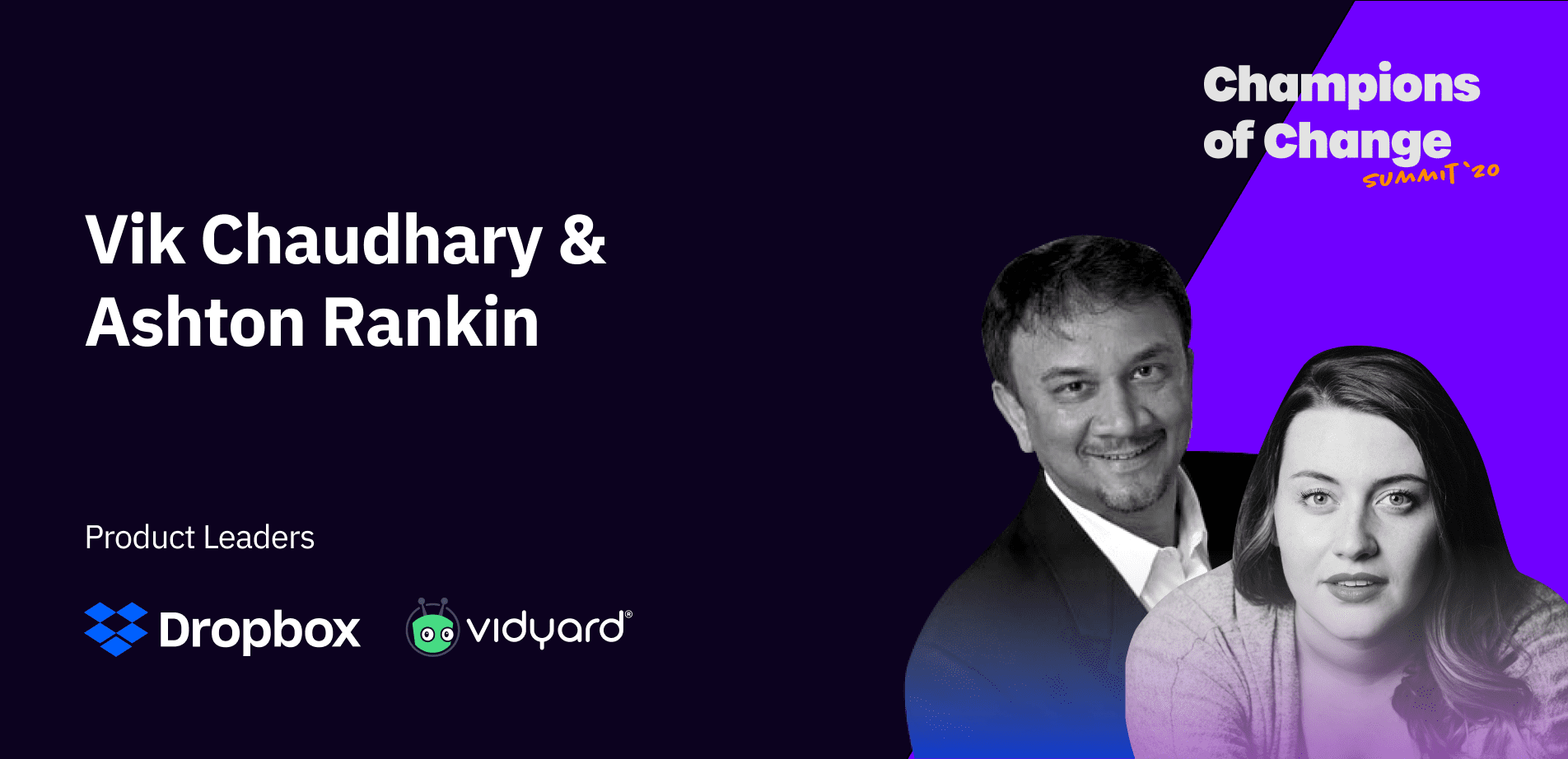 Have you heard of Tiny Speck?
"Tiny Speck is a small company building something enormous. We show up in the after burst of highly charged particle collisions; we are the only-imagined baryon consisting of two charmed quarks and one strange. We will blow your minds," promised its founder, Stewart Butterfield. 
What they were building was a video game called Glitch. Of course, they also created an internal communications platform. How else were they going to communicate between their offices in the US and Canada? 
It's a good question: "How else?" I guess Stewart Butterfield realized this too. Pivoting from Glitch to Slack led to the latter being valued at more than $7 billion. 
So, what goes behind pivoting a business model? 
At the Champions of Change summit, we brought Ashton Rankin and Vik Chaudry to explain the process of how you can pivot your business model to where the puck is headed.
Our champions of change
Ashton is a product manager at Vidyard, making it easy for businesses to communicate with video. Before this, she was a product manager at a popular interactive chat platform: Kik. Ashton has expertise in B2B and B2C segments, but she likes to blur the lines between the two like any virtuous product manager. Building amazing products for people is her sole goal. 
Next on our panel is Vik, Sr. Dir and Head of Product at Dropbox–a file hosting service; he's also worked at Dossier, Keynote Systems, OpenText, and Oracle. Vik works on Dropbox's business product line. Vik says, 

"Keeping your sights on the right guardrails is important when you're championing change."

Let's dive in, shall we? 
What does it mean to be a product-led growth company?
A product-led growth company usually relies on its product to acquire, activate, and retain customers.
But according to Ashton, a product-led growth company is something that: adds value, does it as fast as possible, and delights users along their journey. "A company that does this will have their customers sticking around.", she said. Align the internal teams around the product and be customer-centric. It's what makes you a product-led growth company.
Vik believes the product team also needs to own revenue. "At Dropbox, we have a revenue target, and the product organization is responsible for acquisition and retention. They have to deliver these numbers every quarter.", he said.
How can a product organization drive change?
The most robust product organizations drive planned or predictable change and adapt––quickly––to the unpredictable. Like Churchill's famous saying goes: "never let a good crisis go to waste." 
Vidyard caters to different tiers of customers, and they structure their teams around these customers. There's the free teams, pro teams, and teams for enterprise customers. Interestingly, positioning their teams this way helped Ashton and her team capitalize on the explosion of video content during the pandemic. 
"During the pandemic, we were undergoing a platform redesign. It allowed our enterprise team to continue down the redesign path and not get derailed from the long term vision we had planned. But on the free end––where I was––we were able to react to the increase in signups, and changes in the way people were using our platform," says Ashton. 
They could run more experiments and iterations to see if they were delivering the right value to the new audience that was coming in. The business model's pivot came as many of Vidyard's customers started choosing free trials from competitors ––Vidyard wanted to be one of them. But, the most significant change was cross-collaboration within the organization. "It fundamentally changed the way we work; it was much more collaborative.", says Ashton. At Vidyard, launching a freemium model led to a total overhaul of the engineering team, which was earlier organized based on technical verticals. The team then pivoted to being organized based on the customer type they were serving to focus on who they were building for. 
For Vik and Dropbox, agility seems to be of utmost importance. "A business model could change anytime. Perhaps a new competitor comes in and makes an acquisition, and it's important to be able to respond to that thoughtfully.", says Vik. 
At first, Dropbox started with organizing by customer size. They started with the personal consumer and moved up to the enterprise. According to Vik, this kind of gradual scaling in a product organization could be limiting at times. In little over a year of its launch, Dropbox saw an explosive  3900% growth thanks to its referral program, but profits remained elusive. Enterprise was where the money was, and eventually, that's what pulled the company upmarket. The tables turned when Dropbox launched Dropbox for Business in 2013 and Dropbox for Enterprise in 2015. At the time of its listing in 2018, Dropbox was valued at nearly $10 billion. Vik calls it moving where 'the puck is headed.' It's a strategy he has seen pay off more than once in his career. "At my previous company––Keynote Systems––we had 10,000 customers spending about $2000 a year, very SMB oriented. But over the years, we changed the revenue mix––80% of our revenue came only from 200 enterprise companies. To make this kind of change, you need to hire product teams that have a foundation and can flexibly change the makeup of the team and move them to where the puck is headed," he says. 
How do you remain a product fit while moving upstream or downstream? 
Dropbox started by offering its solutions to consumers before moving into the enterprise business. The needs of the individual consumer or SMBs are different from someone in the enterprise or mid-market. So Vik says it is important to establish your company's or brand's north star. "For Dropbox, it's a great user experience. It's about making it very easy to share, collaborate, communicate across the organization, and to bring content to where you are, not where it is. When you use the user-experience lens, it drives how you organize each team. It's not about how you solve the most complex problems, it's about how you make it easy, and that's important for us–it's our differentiation in the market.", said Vik. 
 On the other hand, Vidyard started in the enterprise business. "When you're used to selling something that you've built for an enterprise audience, and then start giving things for free, it does spark conversation. I think it's important to make it very clear what problem we're trying to solve, at what tier. The free tier was: 'communicate an idea with video as fast as possible.' For the enterprise, it was: 'Scaling video across your organization'", says Ashton. 
How do you get the "Aha-moment" out of your customer experience?
An "Aha-moment" is when you see the value of the product. "For Vidyard, it's not when you create or share a video. It's when someone gets a view of their video. A lot of people use this as an activation metric.", said Ashton.
Vik believes the Aha-moments or activation metrics need to be nuanced. You have to think about what drives revenue for the product. Is it the end-user using the product? Or is it the creators putting it together? 
When you think about Dropbox's consumer business, it's the end user's activation experience––because they are the ones that are using the product. Setting up a shared folder and sharing it with a group of people becomes one activation metric. When you get into the mid-market companies, then start selling into an enterprise: the Aha-moment or activation metrics become very different. 
"Maybe, you had all your files on a file server, and now, they're all on dropbox–this could be an activation metric. And that is the point. Dropbox has teams set up for marketing, sales, product, and manufacturing divisions within an organization. You have to measure the Aha-moments for each division differently, and you have to be nuanced about it", says Vik. 
How has the pandemic changed the course for Dropbox and Vidyard?
Dropbox seems to be concentrating its efforts on video. "Well, I'm super envious of where Ashton is with video. Video is where collaboration is headed. Organizations are now using a lot of videos to enable digital transformation," says Vik. 
 Vidyard, already a well-liked video platform, now finds itself solving different types of problems in the video space. "We were popular in the sales space. Maybe, earlier, we were just one touch in their sales cadence, but now we're used across the board. If someone tries to show a video of a deal that they were proposing, they might want to have an extra level of security or have that video expire after a certain amount of time", says Ashton. Vidyard's also found internal usage of their product skyrocket. With everyone within their organization testing the product, the feedback loop has definitely been beneficial. 
To know more, you can check out the Champions of Change series here.