Subscription boxes are nothing new, but they're enjoying more success than ever, thanks to a consumer base that values convenience and price above all. The subscription box market is enjoying rapid growth propelled, in part, by the pandemic, which shuttered shops and drove shoppers to the internet.
Consumers want a frictionless shopping experience, which means to succeed in the subscription box market, everything needs to be as simple as possible. A subscription service makes it so a customer can order once, and they won't have to worry about it again. No more running back to the shop because they forgot their razor. 
It's no wonder established eCommerce companies are creating their own subscription boxes to compete with the exciting young brands that have driven rapid growth in the industry. This article will break down subscription box market trends and provide statistics on who's buying boxes.
Subscription Box Industry Market Size and Growth
The subscription box industry has seen tremendous growth in recent years. 
As consumers look for more convenient ways to shop and receive products, subscription boxes have become an increasingly popular choice. The industry has been driven by savvy startups who identified a need in the market and created a subscription box business model to fill it.
In 2011, revenue for the subscription box industry was $57 million and by 2016, it had ballooned to $2.6 billion. Leading the way, companies such as Dollar Shave Club broke into the market with a new take on an old product. Buying razors was a time-consuming process that required trips to the store every time a replacement was needed.
Dollar Shave Club delivered blades straight to its customer's doorsteps. Consumers loved it, and the company quickly captured a loyal customer base.
Almost every subscription box service was new to the market. Among the top 10 most popular boxes, only two belong to established companies — Amazon Subscribe & Save and Sephora Play!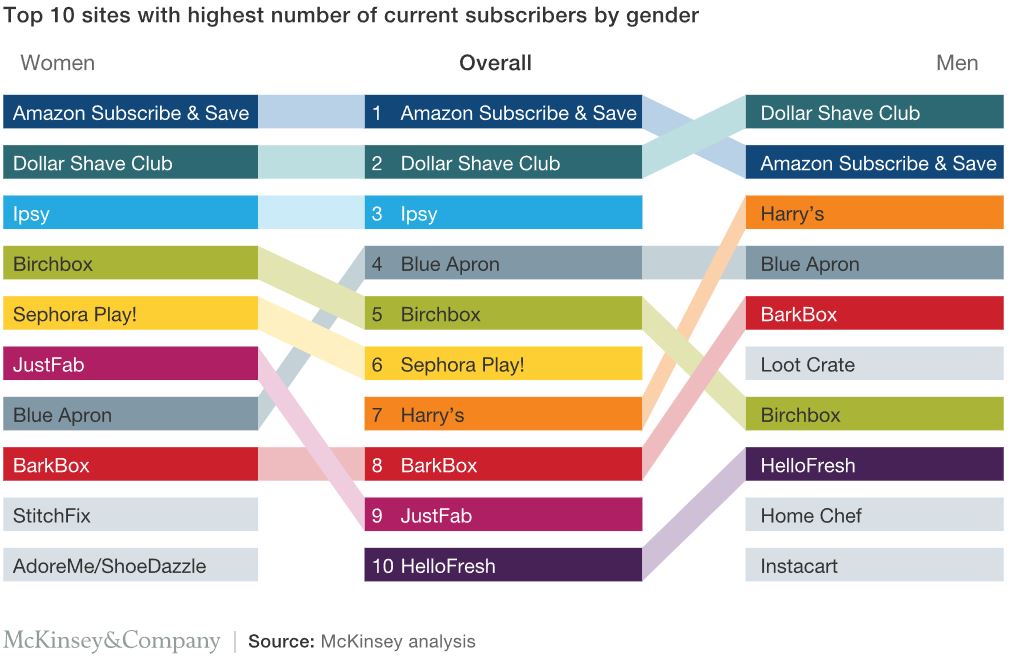 Growth in the market is driven by the expanding eCommerce industry and the influence of celebrity and influencer endorsements on social media. By capitalizing on emerging trends in marketing, subscription boxes are able to connect directly with consumers in a way that was not possible before.
Revenues have continued to grow at an exponential pace, with subscription boxes reaching $22.7 billion in 2021. Projections show that the market will increase to $65 billion by 2027. This exhibits a compound annual growth rate (CAGR) of 18.3% for the 2022-2027 period.
Subscription boxes are enjoying a surge in popularity in line with the entire subscription industry. The industry, which includes over-the-top entertainment, software-as-a-service (SaaS), and subscription boxes, is set to grow to $1.5 trillion by 2025.
Growth in the industry is not limited to direct-to-consumer sales. The most successful brands become so in demand that they start to be stocked in retail stores. Dollar Shave Club has become synonymous with quality, leading to an exclusive deal with Walmart in 2020.
Graze, a popular snack service in the UK, began in 2008 by delivering healthy snacks once a week to consumers. However, its customers wanted to be able to buy products on the go. By 2015, its products were stocked in supermarkets across the country.
A study conducted by Jabil found that subscription services are on the rise with 68% of participants using them for household goods. A surge in interest was initiated by the 2019 pandemic which saw shops closed and consumers unable to leave their homes. As a result auto-replenishment services such as subscription boxes found their way into more homes around the world.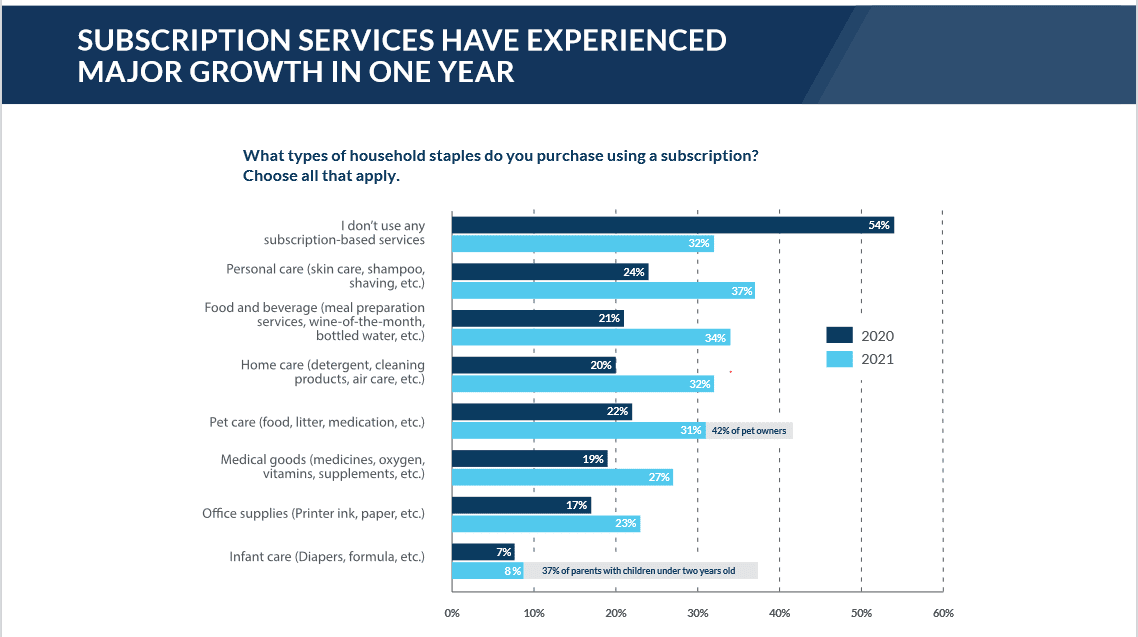 The reasons for signing up for a subscription box vary, but one popular reason is the personalized experience some packages provide. Subscription boxes fall under three categorizations which may appeal to different types of customers.
Types of Subscription Boxes
Subscription boxes need to provide consumers with something that traditional retail methods cannot. Most boxes are purchased for either a personalized experience from a trusted brand or to save the customer time and money.
The three types of subscription boxes on the market are:
Replenishment subscription:

Automate the purchase of goods (

Blue Apron

)

Curation subscription:

Personalized subscription experience (

BirchBox

)

Access subscription:

Extra perks and lower prices (

Amazon Subscribe & Save

)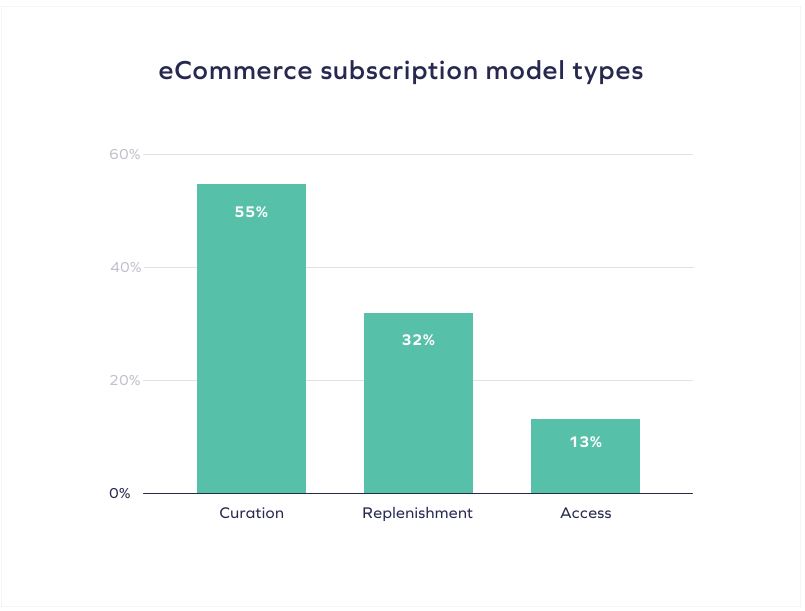 Let's take a closer look at each type.
1. Replenishment Boxes
As the name suggests, replenishment services are focused on automating the purchase of goods to save their customers time. These boxes are typically for products that need to be replaced regularly, such as razor heads or contact lenses.
Replenishment boxes tend to have the longest retention rate because they replace essential goods such as food, health, and hygiene products.
2. Curation Boxes
Curation is the most popular type of subscription box, demonstrating the consumer's love for a personalized experience. By ordering from a curator, subscribers can get packages that are tailored to their specific interests.
This saves them time and money and ensures that they'll be happy with the products they receive. Curation boxes exhibit a higher bounce rate, despite their popularity, if the service is deemed to be poor value for money.
3. Access Boxes
Access boxes focus on giving their subscribers extra perks or access to lower prices. These boxes are typically for products that are used infrequently or have a high price point, such as wine or cosmetics.
While access boxes have a lower retention rate, they have the highest customer satisfaction rating. This is likely due to the higher perceived value of the products received.
The top subscription boxes are either curation or replenishment, with Dollar Shave Club taking the top spot. The company grew its market share to 8.5% in 2018, contributing to market leader Gillette's share dropping from 70% in 2010 down to 54% in 2018.
Other popular subscription boxes include the meal kit service Blue Apron, which delivers fresh ingredients and recipes to subscribers, and Ipsy, which curates beauty products for its customers.
Subscription Box Products, Pricing, and Profit
Subscriptions make up a significant portion of people's monthly outgoings. In 2021, consumers spent $273 on average on all subscription services, including boxes, entertainment, and niche products. This figure has grown by 15% since 2018, representing an extra $430 to people's outgoings.
Niche products such as tea kits, bacon, or sustainable products are worth 20% of the subscription market, while hobby products make up another 15%. Creating a quality product that serves a specific audience leads to a dedicated fan base and helps keep churn low.
For example, a niche product might be designed for people with sensitive skin or a vegan-friendly beauty product. On the other hand, hobby products are typically purchased by people who are passionate about a certain activity. Catering to underserved niches is a great way to create a sustainable and profitable subscription business due to low competition.
The average box is priced between $10 and $40, but some luxury boxes can cost upwards of $100. However, these premium boxes typically offer higher-quality products. They often include full-size items rather than sample sizes.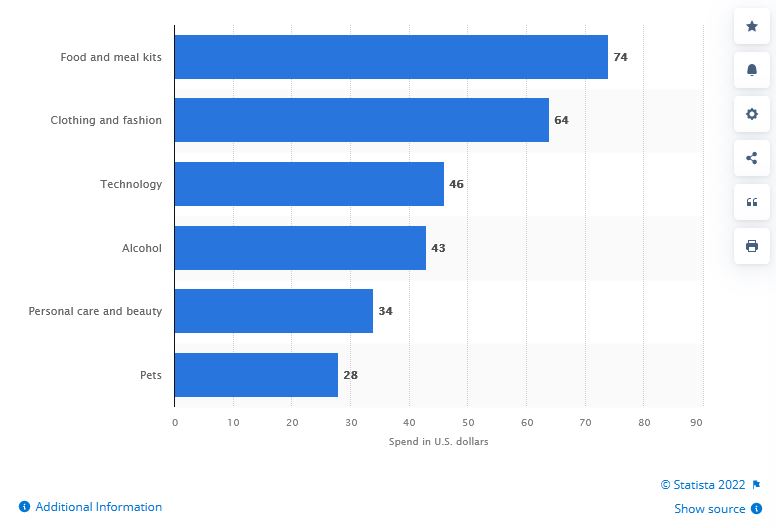 In addition, many curated boxes include items that are exclusive to the box or that are not available for purchase in stores. Pricing should be adjusted to reflect the quality of the contents and your target audience. Conduct subscription box market research to find the right price point for your subscription box.
Subscription boxes typically have a high profit margin, with the average box generating a gross profit between 40% and 60%. This is due to the low cost of goods and the recurring revenue model.
To increase profits, focus on reducing customer acquisition costs and increasing customer lifetime value. For example, you could offer a discount for first time purchases or free shipping for orders over a certain amount.
Pricing right is critical to the success of any subscription business. If you charge too much, you'll struggle to acquire customers. If you charge too little, you'll erode your profits. 
Here is the pricing structure for some of the most popular brands:
Dollar Shave Club:

Starts from $9.50 but offers many add-ons to personalize the customer experience.

Ipsy:

Prices start from $13, and it offers monthly or quarterly options depending on customer needs.

BirchBox:

Starts at $15 with discounts offered for prepaid plans or subscription commitments (such as signing up for six months).

Blue Apron:

Prices are set at $8.99 per serving, which works out to about $71.92 per box, delivered weekly.

BarkBox:

Prices start from $14.99 for their basic box. Additional boxes with more goodies are available at a higher cost. Discounts are offered to customers who make subscription commitments.
Subscription Box Industry Stats and Demographics
A new type of selling is starting to take center stage, known as business to human (B2H). This is a move away from the traditional business to business (B2B) and business to consumer (B2C) models and instead focuses on building relationships with customers.
The subscription box industry is the perfect example of an industry that can transition easily to a B2H business. This type of service offers customers an experience that is personalized and memorable — two key factors in building customer relationships.
Clothing is the most popular choice of subscription box, with 59.60% of consumers surveyed by GoodFirms having ordered a subscription box for clothing. Food and hygiene products make up the three most popular types of subscription boxes.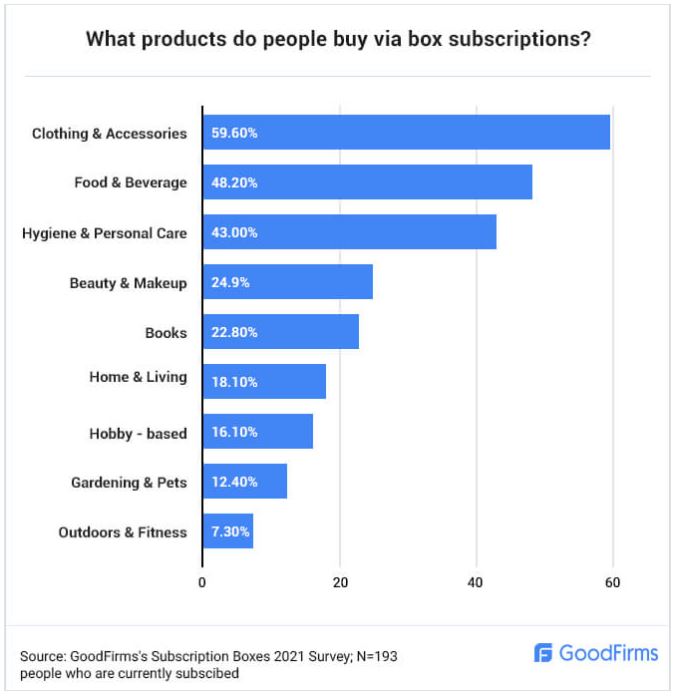 For many people, the appeal of a box subscription is simple. It's a hassle-free way to get regular deliveries of products that you love without constantly placing new orders and remembering to restock your supply.
15% of online shoppers are now subscribed to at least one box service. Subscription box industry analysis has found that women are more likely to subscribe to a box than men. However, men are more likely to have multiple active subscriptions. 42% of men have more than three subscriptions versus 28% for women.
According to a study by Whistl, 86% of subscription boxes are purchased by people as a gift for themselves. Other popular reasons for signing up to a subscription box include:
Receiving a discount code

Trying something new

Buying as a trial

Flexibility to pause or cancel subscriptions

Save time on purchases

Unique products not available in stores
Subscription boxes are most popular among younger demographics, including millennials, Generation X, and Generation Z. But, the appeal of having a box of goodies delivered to your door each month is starting to cross over into other age groups as well.
A survey by Shopblocks found that 36.7% of 18 to 24-year-olds subscribed to a box. 6.9% of those were subscribed to multiple boxes. Older generations are less likely to be subscribed to a box, but the subscription box market research shows that around 5% of 55-64 and 65+ want to.
Starting a subscription box service can be achieved with a relatively small upfront investment, but if you have grander ambitions, you may want to seek out additional funding. Venture capitalists are taking notice, with $1.2 billion invested in the industry in 2018 alone.
It's easy to see why this sector is so appealing to investors. Unlike one-time purchases, subscription boxes generate recurring revenue, which is always a big plus. Moreover, with the rise of e-commerce, subscription boxes are easily scalable and can reach a broad audience with relative ease. With so many advantages, it's no wonder that venture capitalists are putting their money into this growing industry.
FabFitFun achieved a $1.1 billion valuation after their Series A funding round. It is one of the most successful subscription box services and offers a quarterly box that includes full-size beauty, fitness, and fashion products.
Ipsy, a monthly beauty box, secured Series B funding in 2015 and reached an $800 million valuation. Venture capitalists have also put money into companies like BarkBox, Harry's, and Soylent.
What Are the Positives of the Subscription Box Industry?
Just a few years ago, the subscription box industry was relatively small. But thanks to the efforts of some savvy entrepreneurs, it's now a billion-dollar industry. And it's only growing. Younger generations are particularly drawn to the convenience and variety of subscription boxes.
A survey by GoodFirms found that 12.7% of millennials surveyed subscribed to more than nine boxes. The research found that they were the only generation to do so. 82.9% of those surveyed reported that they subscribed to 1-3 subscriptions, including 100% of generation X respondents.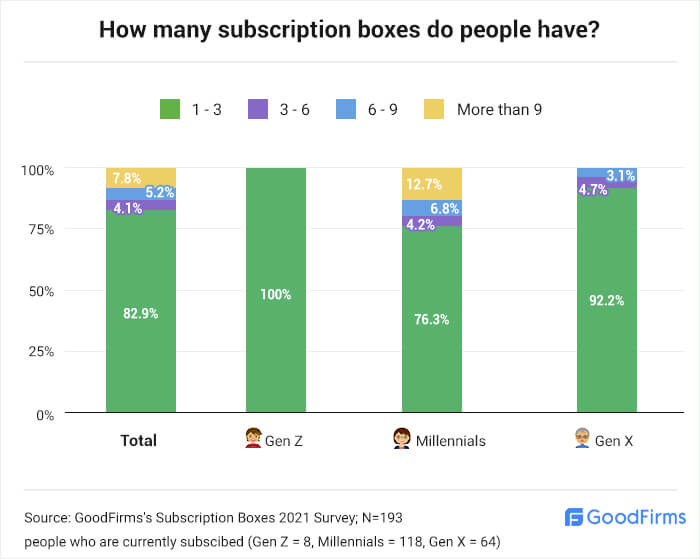 In theory, a subscription box could be started for the price of a domain name. Of course, there are other costs associated with starting a business, but the cost of setting up a subscription box is relatively low. 
Dollar Shave Club is one of the industry's biggest success stories after selling itself to Unilever for an all-cash offer of $1 billion. The founder, Mark Dubin, started with a $4,500 advert on YouTube, which led to 12,000 orders in 48 hours.
The company did what subscription boxes do best; it made buying products more convenient for the consumer. In the case of Dollar Shave Club, it offered a hassle-free way to buy razor blades.
Most consumers are already aware of subscription boxes, but the industry is still in its infancy. This means that there's still a lot of room for growth. And with the right marketing and product, your subscription box could be the next big thing.
53% of consumers have heard about subscription boxes, with only 13% having subscribed at one time. 23% of respondents in a survey by McKinsey & Company have considered signing up for a subscription box.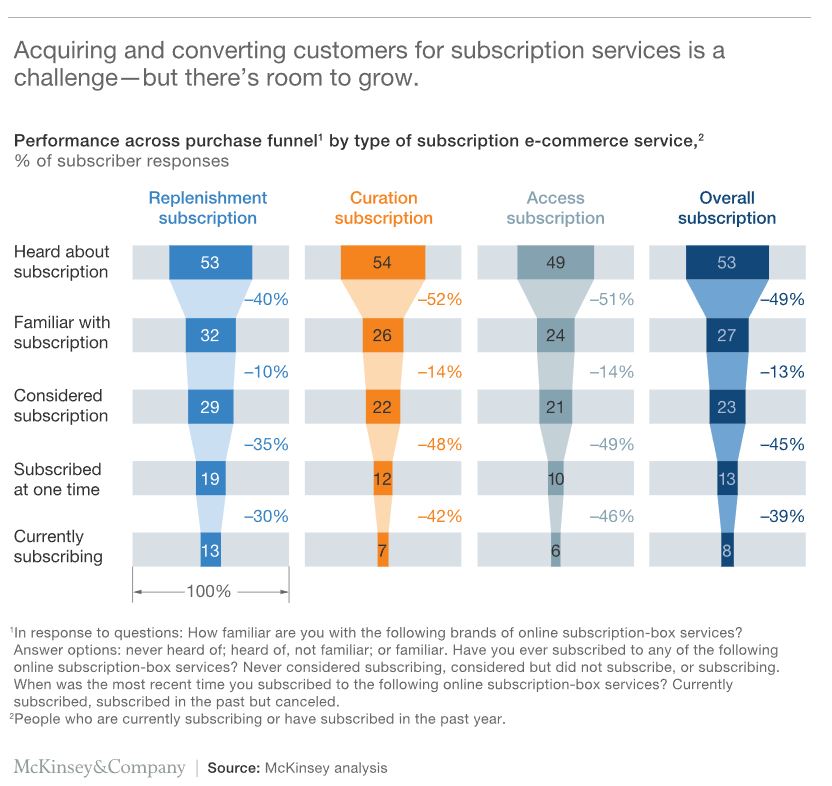 Subscription boxes aren't just popular in the United States — they're also big business internationally. According to recent studies, 90% of all subscription boxes based in the UK have international sales. The appeal of a quality service transcends national boundaries, leading to a global customer base for many companies.
It's possible to expand into new markets successfully, as Bark has shown. It started out with a direct-to-consumer subscription service called BarkBox, and has since landed retail contracts with big names like Petco, Costco, and Target.
This expansion hasn't been without its challenges — for example, altering its product mix to fit the needs of different types of retailers — but it's clear that it can be done. As long as you're prepared to adapt your offering to meet the needs of different markets, there's no reason why you can't expand into new areas successfully.
What Are the Drawbacks of the Subscription Box Industry?
The rise of the subscription box industry has benefited startups and established businesses alike. It provides recurring revenue and a way to build customer loyalty. Companies need to promote their boxes effectively in order to generate interest. However, not every subscription box will be a success.
In order to succeed, businesses need to carefully select their target market and curate their boxes to appeal to those customers. They also need to make sure that the boxes are properly priced and have a good mix of products. Consumers cancel boxes when the product is of poor quality or they're unhappy with the selection provided.
Curation and access boxes have an added risk of cancellation if consumers feel the goods aren't good value for money.
Subscription boxes are exposed to the risk of not recouping acquisition costs due to the nature of the subscription model. If a customer cancels their subscription before the breakeven point is reached, the business will make a loss on that customer.
The industry has a higher than average churn rate compared to other subscription services. The average churn rate is 6-8% for the entire subscription service industry. However, boxes have the highest overall rate of churn (10.54%). While there is no magic number that subscription box companies should strive for, a churn rate of less than 20% is generally considered to be healthy.
Food replenishment boxes have the highest cancellation rate of any type of subscription box service. The most common reasons for cancellation were that the food was not fresh, the selection was not varied enough, and the price was too high.
Women are more likely to cancel a subscription box than men, with 51% of women having churned from a service. In contrast, only 33% of men have done the same. The most common reasons for canceling were that the box was too expensive, the products weren't good enough, or the customer grew bored with the contents.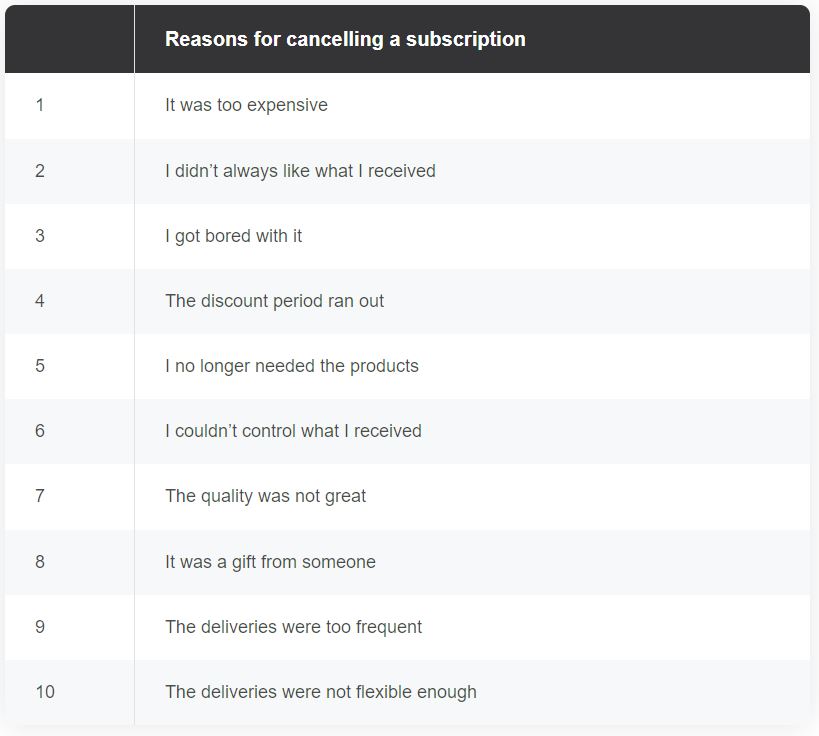 Subscription box services fit into just about every niche, which means competition can be fierce. The razor industry alone has a dozen or more companies vying for market share, and that's not even counting the other personal care products boxes out there. But despite the intense competition, subscription boxes continue to grow in popularity. 
Entering the market can be costly with the need to procure quality products, develop packaging, and invest in marketing. For some niche markets, it can be challenging to stand out from the crowd. Before launching a new product, create a compelling unique selling proposition (USP) to make your box a competition-beating brand.
Boxes have a limited customer pool as not everyone wants to sign up for long-term subscriptions. ECommerce may be on the rise overall, but many people prefer traditional shopping, particularly generations like baby boomers and older. This preference for traditional shopping means that companies that rely solely on e-commerce may have difficulty reaching these potential customers.
While there are some drawbacks to the subscription box industry, there are also many opportunities for success as long as businesses are willing to invest in curating quality boxes and promoting their product. With the right mix of products and a bit of creative marketing, your business can find success in the subscription box industry.
Conclusion
Subscription boxes have a bright future thanks to changes in consumer behavior and the convenience they offer.
If you're not already considering a subscription box model, the stats show that the industry is going, and there's room to get involved. Whether you run an established brand or are an entrepreneur setting up their first company, subscriptions are what consumers are looking for.
Take the stress out of subscription billing with Chargebee. Chargebee is here to help you scale as the industry continues to grow and more customers flock to subscription boxes.