Here's a fun question for you: how many subscription products or services do you use in a day? The chances are that the number's higher than you realize. From coffee to cars, there's a subscription for everything today.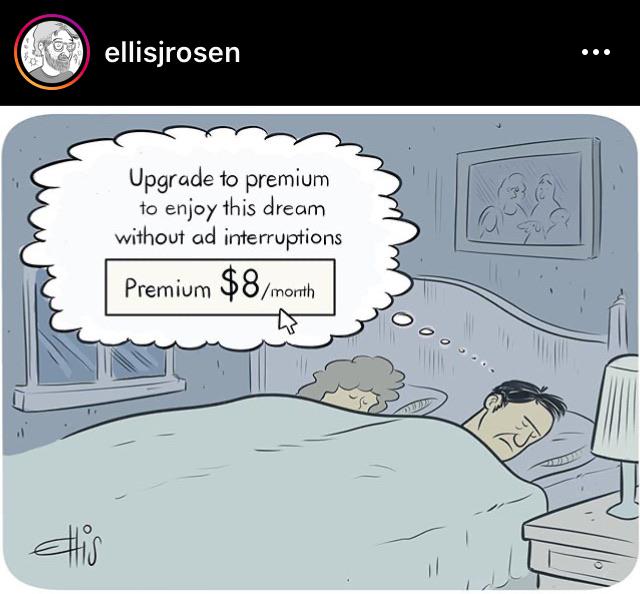 Comic Credits: Ellis Rosen
Gartner predicts that 75% of organizations selling directly to consumers will offer subscription services by 2023. Clearly, the subscription business model is here to stay.
In this article, we will explore everything you need to know about the subscription business model. Here's the whole spread, but feel free to jump to the section most relevant to you.
Let's begin, shall we?
What is a Subscription Business Model?
When a business charges a recurring fee for its services and products, it follows a subscription model. The recurring charges can be on an annual or monthly basis.
The concept of subscriptions isn't new. The subscription business model has made its presence felt in our everyday lives, from coffee subscriptions to your local library to modern-day 'Kindle Unlimited.'
But what makes the subscription business model so popular for customers and businesses alike? For customers, it's the convenience and personalization that it offers, and for companies, it is the predictability and sustainability. Let's take a deep dive.
Why is the Subscription Business Model Sustainable?
In a traditional business model, revenue flows linearly – from marketing to sales and finance. But in subscription businesses, the revenue flow is cyclical. While the purposes of all functions remain unchanged, their revenue implications are amplified since customers need to be 'won' not just once but through every recurring billing cycle.
With the subscription model, businesses have the opportunity to lock customers in for a long duration. It ensures a steady, recurring revenue stream. Over this long-term association, businesses can enhance their products and services to match customers' needs and grow with them.
Advantages of the Subscription Business Model
Predictable revenue
The subscription model creates a predictable future revenue stream. This recurring revenue can ensure the viability of your business in times of turbulence and financial fluctuations. It also helps in keeping your business operations up and running.
Better customer relationships
Subscription products can scale as the customer grows. Customers often opt for subscriptions because of the convenience factor coupled with options to personalize the product. Check out how UnboxBoardom gives their subscribers an option to customize the plan as well as the product.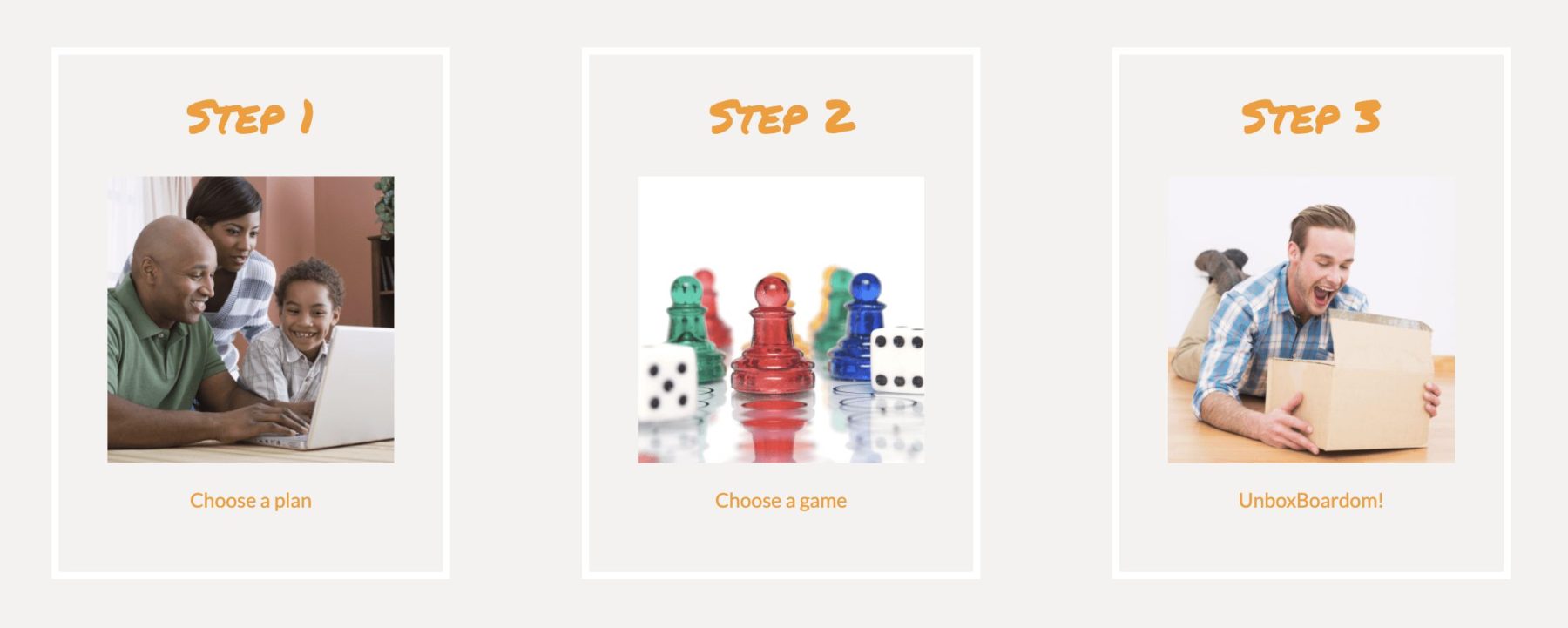 Moreover, if they want it, customers can pay for additional value by choosing an upgrade or a higher plan. This flexibility helps develop customer loyalty.
Lower retention spends
Since subscribers automatically buy from you on a regular basis, you don't have to shell out extra marketing dollars to target them. Also, subscribers, who pay periodically and committed to a long-term association with you, are usually less likely to churn. You do not have to spend more on customer retention.
Revenue expansion opportunities
Once you have a customer locked in for a basic plan, your product(s) has an opportunity to prove its worth to the customers and make them want more. That way, you can get customers to upgrade to a higher plan for no extra cost. There are also avenues of revenue expansion, such as up-selling and cross-selling new features and additional non-core products. It means that you get additional revenue from the same customer without additional acquisition costs.
Better forecasting
The subscription business model allows you to predict future revenue accurately. For eCommerce businesses that face high demand fluctuations, subscriptions can help demand forecasting and efficient inventory management.
Popular Subscription Business Models
There are clear benefits to choosing the subscription business model. Across industries, there are various examples of subscription models. Some new, some old, some reinvented.
If we are to classify it broadly, subscription businesses can be classified into B2B and B2C depending on who they serve.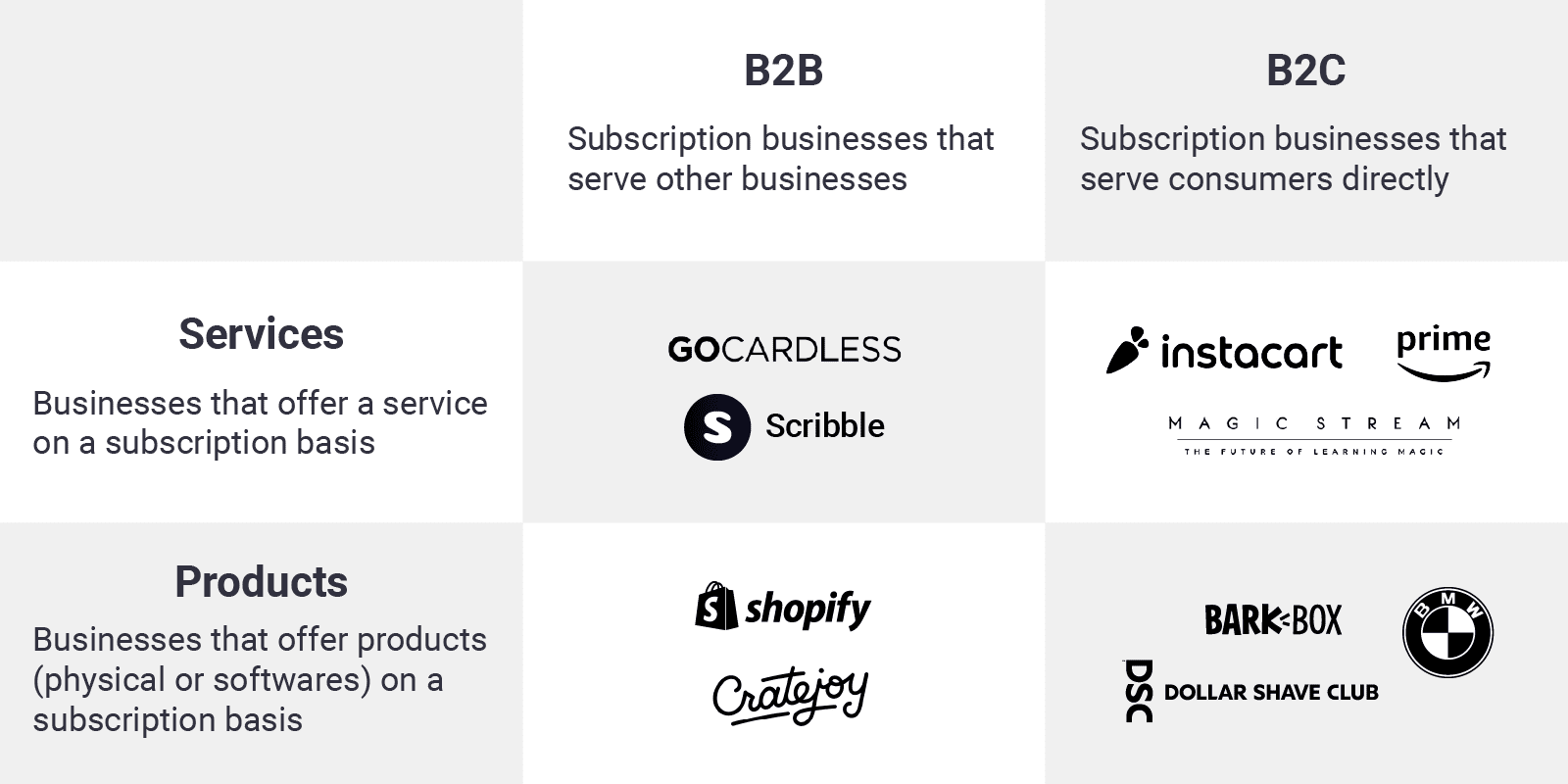 Here are some popular subscription business models:
SaaS
Where oh where should I get started about SaaS?! SaaS, or Subscription as a Service, is one of the most popular subscription business model applications. SaaS is a software delivery model where software is centrally hosted on the cloud and licensed on a subscription basis. Using cloud infrastructure has many advantages as it enables self-service, and you don't have to worry about on-site maintenance one of the many reasons why businesses love SaaS. 
There are many, many examples of SaaS companies across verticals. Adobe, Salesforce, Slack, Dropbox, Freshworks, and Calendly are all SaaS companies, to name a few.
Subscription Boxes
Subscription boxes deliver curated products and physical goods on a recurring basis with monthly/annual charges. Subscription boxes span various products from essentials, hobby supplies, luxury goods, and meal kits, to even collector's items. E.g., Birchbox's curated beauty subscription box.
Because of the creative offerings and option to personalize, subscription boxes are popular with millennials. Check out how Bespoke Post engages their users with unique items with each box and lets them decide what they receive.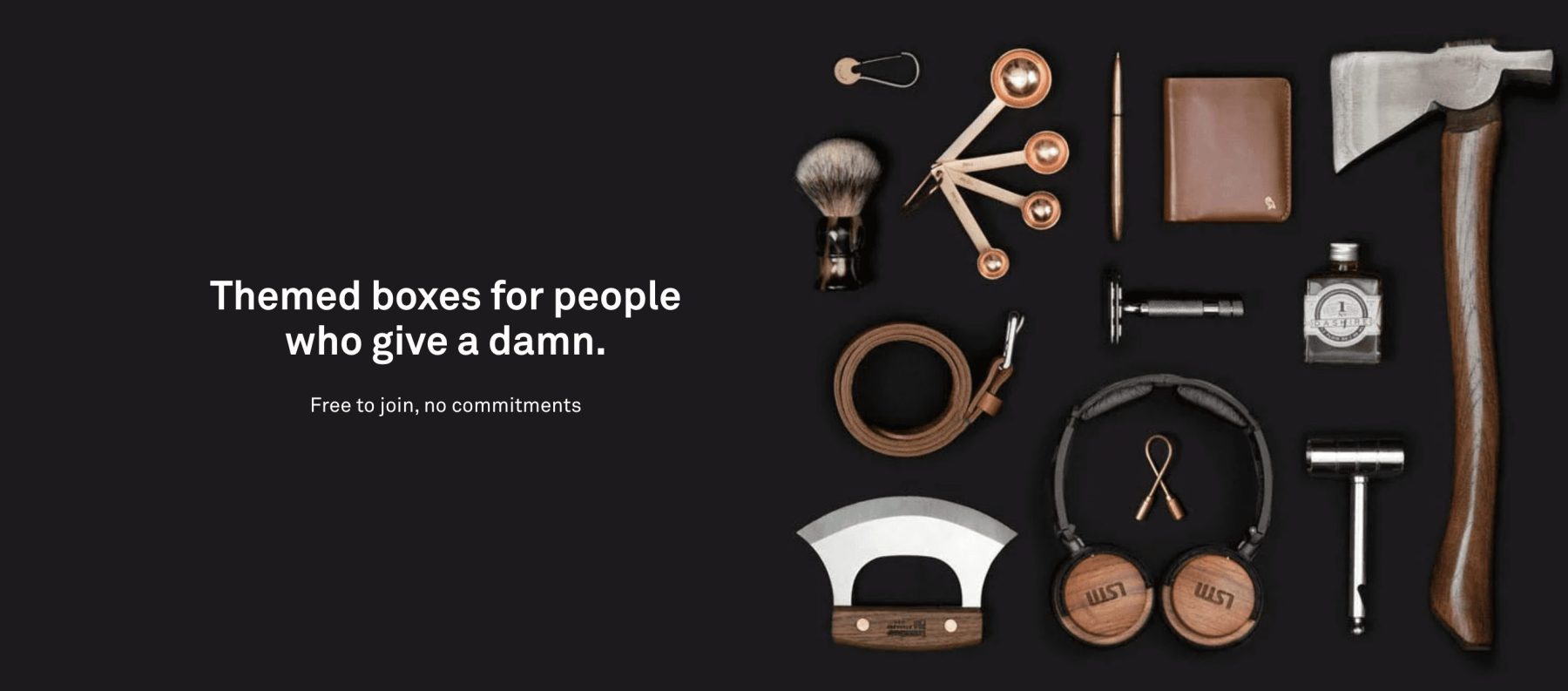 Publications & Newsletters
Mailerlite's email marketing research says that people still prefer to consume information via email. According to their research, the number of monthly subscriptions to newsletters has grown by 40% since February 2020. That's great news for paid newsletters!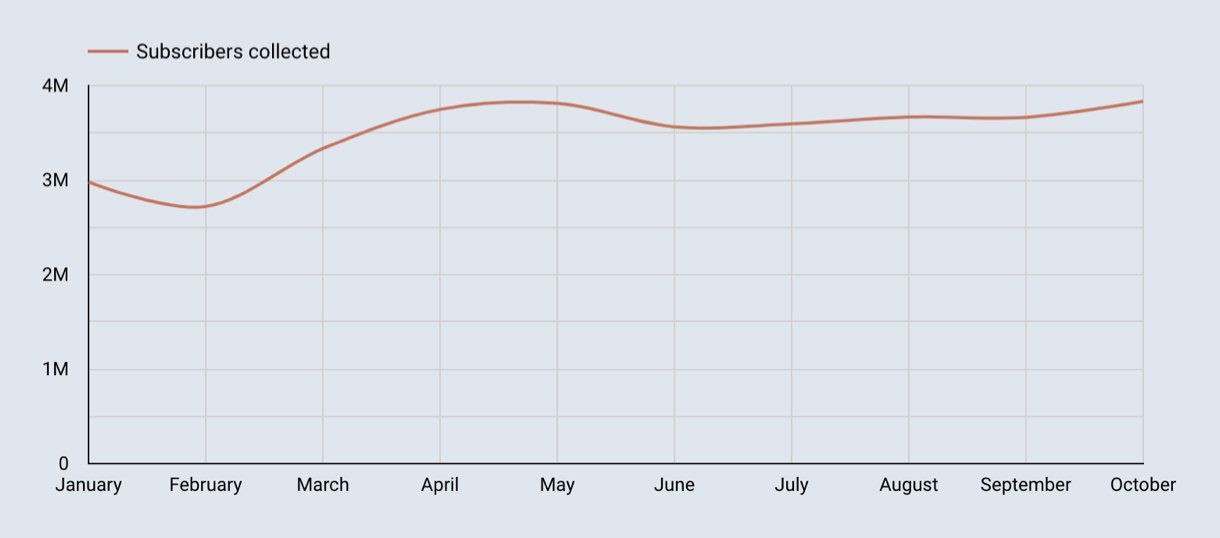 There are tonnes of good ones out there. For example, the 'Cleaning the Glass' newsletter is all about basketball, game statistics, and predictions. Another example, exclusively for techies, is Stratechery. Their newsletter and subscription provide exclusive access to content about technology and media's strategy and business side and has subscribers from over 85 different countries, including tech leaders and investors.
Digital publications, too, found their silver lining during the pandemic. In September 2020, The New York Times' digital revenue was higher than print subscribers and helped make up for the 30% drop in advertising revenue. Increasing reader revenue through subscriptions is definitely the way forward for these traditional publications to expand their digital footprint as well as digital publishers.
Media Subscriptions: Video & Music Streaming Services

Did anyone say Netflix and chill?
We are no strangers to this subscription model. Subscription Video/Audio on Demand, charges a recurring subscription fee in return for video and audio streaming. For the last five years, every area of the home entertainment industry has seen a decline except one. You guessed it. The OTT industry has been booming. The Subscription Video on Demand (SVOD) revenue for 138 countries is estimated to hit $100 billion by 2025, doubling from the $50 billion of 2019.
Audio subscriptions are not different as well. Spotify and Amazon Music are well-known examples. Thanks to their growing subscriber base, ad revenue for top audio streaming services saw a YoY jump of 31% during 2020.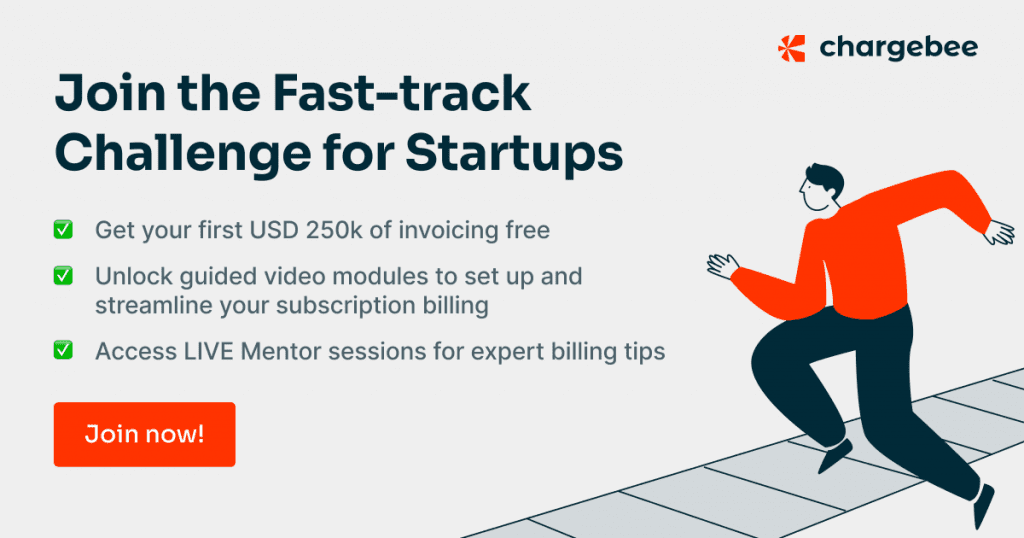 Traditional Industries Moving into Subscriptions

We saw some of the popular subscription models above, but that's not all. Seeing the opportunity that subscriptions present, some traditional industries are all jumping on the subscription bandwagon. 
Subscriptions in the automotive industry allow consumers access to various vehicles in return for a monthly fee. Access by BMW, Mercedes-Benz Collection, Book by Cadillac, and Porsche Passport are a few examples of implementing this model. The market for automotive subscriptions is estimated to surpass $40 billion by 2026.

Another example of a business leveraging the subscription model is Pret-a-manger. Previously a brick-and-mortar sandwich chain, Pret started UK's first coffee subscription service amidst the pandemic. Subscribers can sign up online or at the Pret physical outlets in the UK.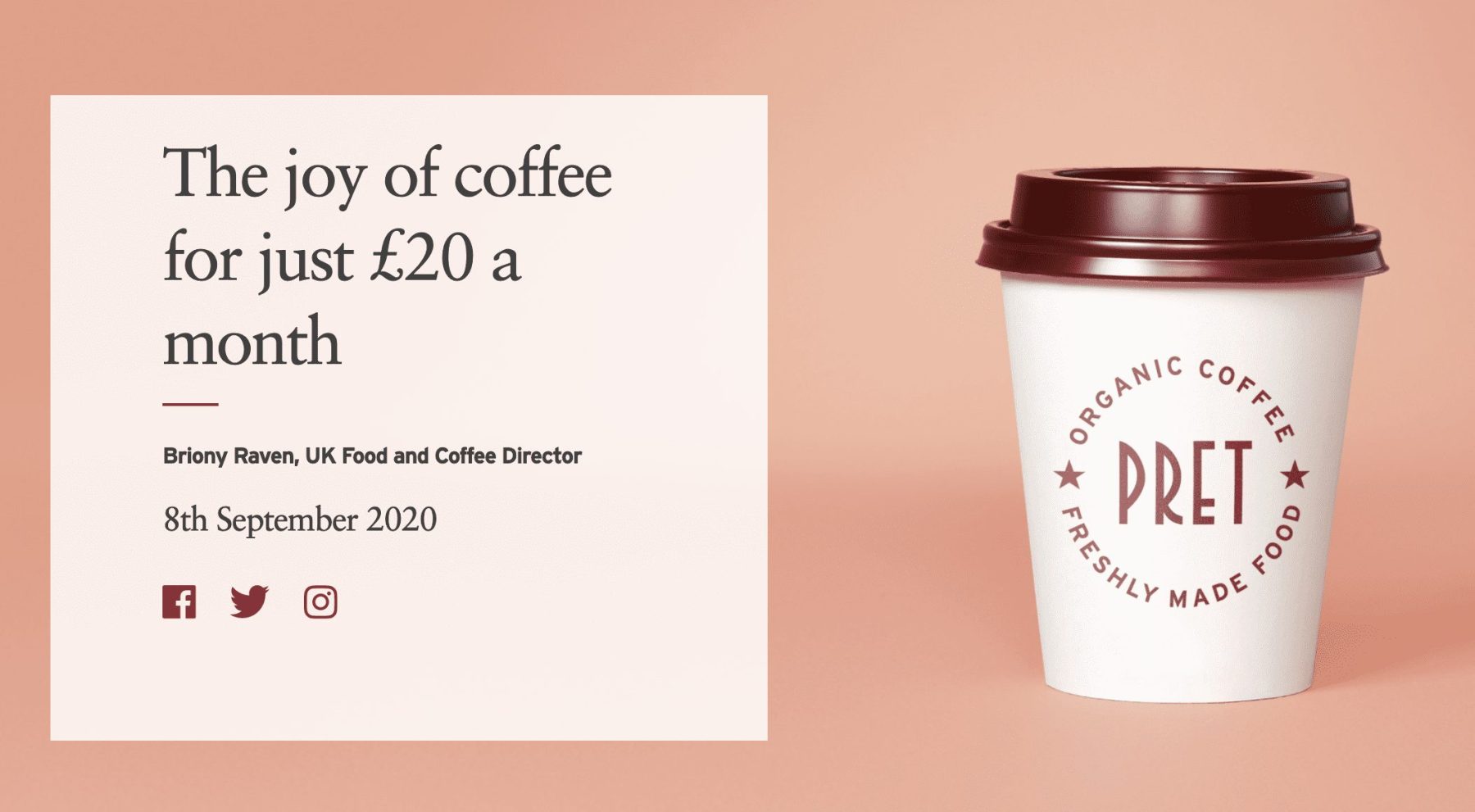 How to Move to a Subscription Business Model?
The subscription model is highly adopted today for two reasons: the demand of customers and the technology push by digital transformation happening so rapidly across industries.
But shifting business models is no cakewalk and involves careful consideration depending on your business size, your target market, your industry, and, more importantly, your prospective customer base.
We've divided achieving the subscription capability maturity into four stages.

In the

novel

stage, a business focuses on building a case to see their subscription model fit.

In the

experimental

stage, a business has some promising wins but has to double down on influencing more buy-ins internally and externally.

In the

scale

stage, it is all about expanding the subscription capability and improving the tech stack. A business at this stage should focus on enhancing subscription coverage and business investment.

In the final leverage stage, the business has evolved its subscription model capabilities enough for business-wide adoption.
So if you are considering shifting to a subscription business model, the first step for any business is to assess their subscription capabilities maturity.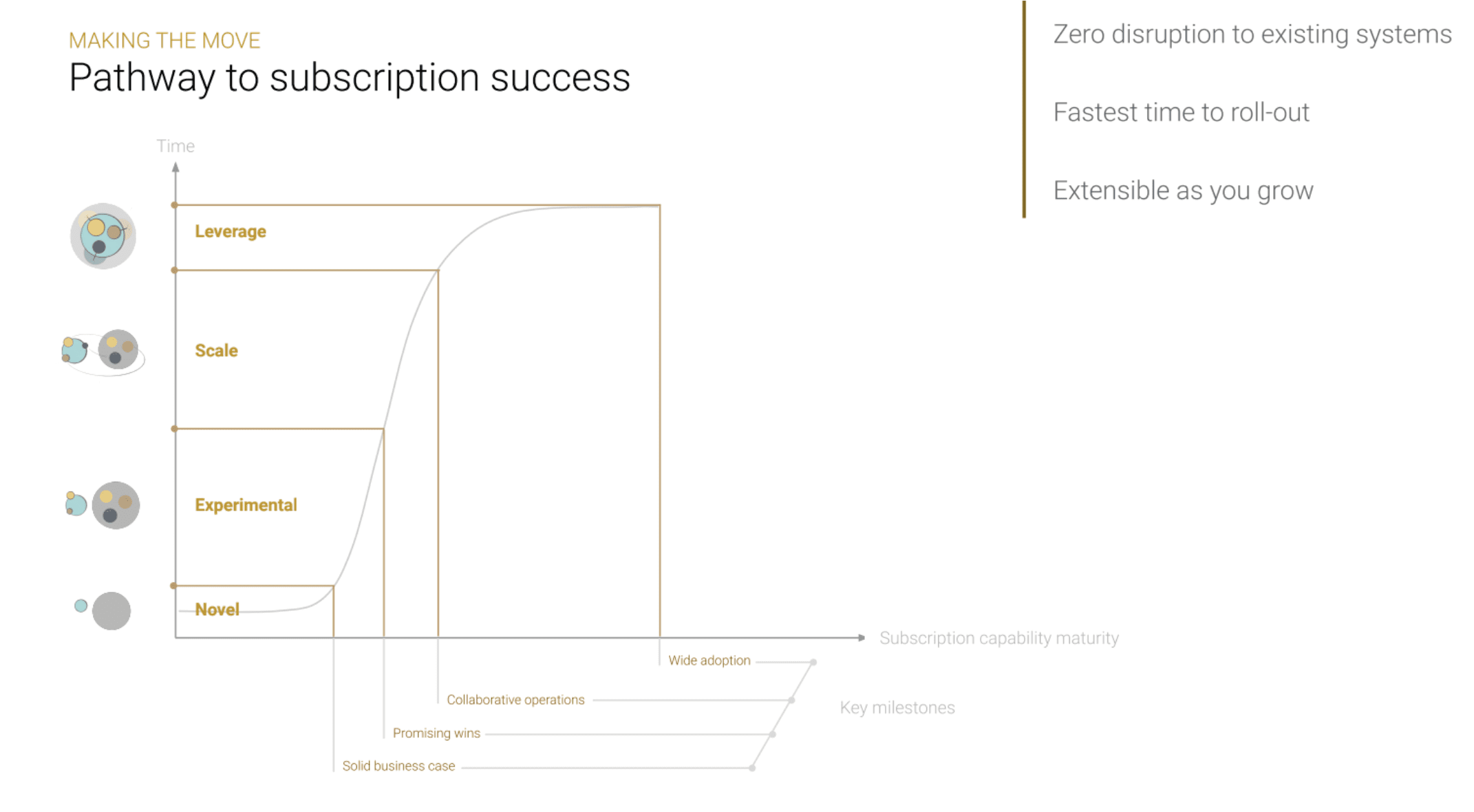 Depending on your business and its subscription capability maturity, here's how you can make the move to the subscription business model.
Novel Stage
At this stage, your current tech stack consists of CPQ (Configure, Price, Quote) software, order management and fulfillment software, and basic accounting.
To transition, your tech stack should adapt to the subscription business model to support the necessary capabilities needed for managing subscription orders. Additionally, you need to automate your recurring billing, invoicing, and subscription management to provide a smooth customer experience.
Experimental Stage
You have a robust subscription management system supporting elements like checkout, scheduling, and proration at the experimental stage.
Now you need to start by asking yourself questions about pricing experiments and bettering the checkout experience. Your tech stack should enable you to do all you can with these experiments, such as discount management, add-on management, and payment terms.
It also helps to start thinking about calendar billing, support for multiple currencies, and support for various payment methods (credit card, direct debit, cash, wallets, etc.).
Scale Stage
At the scale stage, you have control over the pricing structures and configurations. You can test them at will and have a set quote-to-cash workflow. You can seamlessly deal with Quotes, Custom Pricing, and Advance Invoicing.
As you scale, your tools and processes also need to keep pace. So when you are shifting to subscriptions, you must think about revenue operations from day one. Revenue operations help plug any inefficiencies in your revenue workflow. It is essential to see the role of each business function relative to the revenue infrastructure.
While we're talking about revenue inefficiencies and how to avoid them, your business will also benefit from a robust dunning mechanism. Your finance teams should have a firm grip on the accounts receivable, tax compliance, and revenue recognition.
Leverage Stage
At this stage, you've reached maturity in terms of subscription capabilities. The revenue infrastructure is seamless across tools and functions. Sales, marketing, success, and finance come together to conquer new markets and geographies.
At this stage, you can drive organization-wide adoption of the subscription business model. To drive sound decisions and identify problem areas, you must keep a keen eye on 360° subscription and revenue analytics.
Essentials to Run a Successful Subscription Business
Now that you know what goes behind the scenes when you shift to a subscription model, let's look at some essentials you need to prepare for to run a subscription business successfully:
Product-Market Fit
Product-market fit is the holy grail of building any successful business, subscriptions included. It's when a company has to identify the right target customers and serve them with the right product.
Cracking the correct product-market fit needs a deep understanding of your customers and their pain points. It is essential to understand that your customers' needs evolve as they grow, and your product should be able to scale along with that.
Subscription Pricing Strategy
No matter how much your customers love your product, you will be successful when they're willing to pay for it! That's why choosing the right pricing strategy is crucial for a successful subscription business. There are four main methods of pricing:
Value-based pricing
A value-based pricing strategy is just as it sounds. It is when you decide the price depending on how much value your customers see in it. It's a customer-focused pricing strategy. It is also possible to iterate on this pricing depending on value additions, add-ons, and upgrades beyond the minimum viable product. It all depends on how good your product-market fit is and how well you understand your customers.
Value-based pricing makes it possible to relate value to a measurable component of your product or service. For example, subscription businesses can implement value-based pricing depending on the value metrics they choose. Some of the commonly used value metrics are,
-number of seats
-features
-data consumed
Cost-plus pricing
One of the simplest ways to decide the price is to see the costs and expenses and sell the product for a profit margin. However, this strategy does not take competition into account and hence can go wrong.
Competitive pricing
Deploying a pricing strategy that matches your competitors is called competitive pricing. In a highly competitive market, you need competitive research, and this approach of pricing can help a business sustain the heavy competition for a short duration. However, it is not a long-term and sustainable option.
Demand-based pricing
This pricing strategy involves gauging the demand for your product and deciding the price accordingly. If your market is still evolving, you may not have enough data to make these decisions. Also, since it doesn't particularly take customer's perceived value into account, this may lead to lost opportunities and is a less reliable option.
Choosing the right pricing strategy is another crucial step in taking your subscription business to the moon.
Exceptional Customer Service
This cannot be stressed enough – particularly for subscription companies, because customers have to be won over every billing cycle. Customer service can help you understand your customer's pain points on a deeper level, but it also helps form long-term relationships with them. It allows you to improve your product depending on the usage data and educate the customer more about the product features they may not be aware of.
Subscription Revenue Tech Stack
A complete revenue tech stack is the backbone of any mature subscription business set up for success. The RevOps workflow of any subscription business is critical because the revenue flow is recurring. That's why it is essential to understand the inefficiencies in this workflow and fix them at the earliest. Check out this whitepaper, specially built for revenue practitioners to understand what goes behind a solid RevOps technology stack.
Six Metrics All Subscription Businesses Should Track
How do you know if your business is growing if you do not measure the right metrics? The following are the key metrics that every subscription business should track:
1. Monthly recurring revenue (MRR)
MRR is the predictable recurring revenue earned from subscriptions in a particular month. MRR is an easy way to predict your future revenue and check on your business stability.
2. Annual recurring revenue (ARR)
ARR tells subscription businesses how much revenue they can expect to generate from their subscribers every year. ARR is a good measure of your growth and momentum and is often looked at by investors to decide if the business is healthy and viable.
3. Average revenue per user (ARPU)
ARPU is the revenue generated from each paid subscription over a period, typically per month or year. ARPU helps you get a deeper understanding of your buyer persona, run pricing experiments, and formulate a strategy for upgrades and add-ons.
4. Customer lifetime value (CLTV)
CLTV is the average revenue you can expect to generate from a customer over their lifetime with you. A guideline for SaaS businesses to stay profitable is to ensure CLTV is more than 3x of the customer acquisition cost.
5. Customer acquisition cost (CAC)
CAC tells you how much money you spend in obtaining new customers. Understanding CAC is vital to understanding how cash-efficient your subscription business is.
6. Churn rate
Churn rate helps you understand how fast your customers are leaving you. It goes without saying that analyzing and mitigating churn is very important for your business. Here's a complete guide to churn analysis and how you can use it.
To truly understand these metrics, businesses have to go one step beyond just calculating them, understanding the story they tell, and taking action. To discover such actionable subscription analytics for your business, explore Chargebee's RevenueStory here.
Wrapping Up
And there you have it! With the clear advantages and sustainability of the subscription business model, it offers endless growth opportunities for traditional and new-age businesses alike. With the right product-market fit, a sound pricing strategy, exceptional service, and a kickass tech stack, you are well-equipped to tap these opportunities.
Are you ready to make your presence felt in the subscription arena? Chargebee powers some of the fastest-growing SaaS and subscription-based companies in the world and understands that growth comes down to how well we enable our customers to succeed.