3 Revenue Recognition Challenges for SaaS Businesses (and How Automation Solves Them)
~ 7 min read | January 16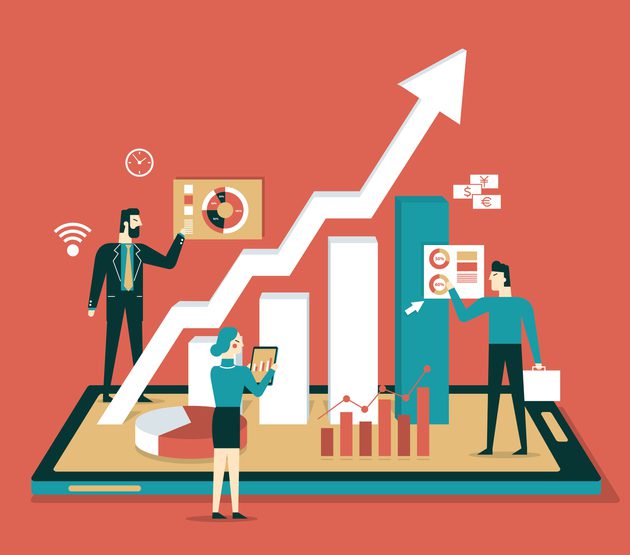 The current economic climate is influenced by a number of factors including the lingering effect of the Covid-19 pandemic, supply chain issues, high-interest rates, and inflation leading companies and consumers to focus on cash flow preservation. SaaS businesses, in specific, are expected to encounter more contract modifications like downgrades, cancellations, or other plan changes as customers prepare for a downturn economy.
Consumers are tightening their budgets and looking for more flexibility in spending comparable to real values generated from products and services. For instance, in SaaS, instead of committing to fixed-priced plans, customers may prefer a usage-based model, paying for what they actually use.
All these changes in subscription plans have an accounting and reporting impact and maintaining revenue recognition can be a daunting task for growing businesses. For SaaS businesses to sustain growth and provide frictionless values to customers, automation of financial processes, especially revenue recognition, which gets only increasingly complex with growth, can be the differentiator that separates the winners from losers. 
In this blog, we will take a look at three factors that create revenue recognition challenges and therefore, stunt your growth: visibility, flexibility, and scalability. 
#1: Data Visibility
The best decisions are based on data, not hunches. This is why, in order to properly assess the health of your business, you need visibility into your revenue recognition process at every stage of the quote to cash cycle and for all your revenue streams (products, services). Various products and services may need application of different revenue recognition methods and staying compliant with the accounting standards (ASC 606 / IFRS 15) is a daunting task to maintain manually. 
Revenue recognition is a data-driven process. From sourcing revenue data in the front end (CRM and billing systems) to digest it in the back end (ERP/GL), automation with a proper tool helps all stages of the revenue recognition process and serves as a single source of truth for revenue. It can provide accurate and more real-time revenue data (GAAP and SaaS reports and analytics) to facilitate effective business decisions. For instance, you can easily access revenue data across time, and you can use that data to recalibrate pricing models to maximize revenue opportunities.
#2: Flexibility with different plans and pricing models
Subscription/SaaS products are, by nature, complex. Not only are there multiple service offerings, but they can also be bundled and contracts can change frequently. You need a tool that integrates with source systems such as CRM, billing, and payment systems to obtain the most current revenue-impacting data and keep up with changes. Attempting to account for all this complexity manually is inefficient and prone to errors. 
In order to navigate this complexity, subscription companies need the flexibility that is not often found in manual processes. Customer behavior and expectations are frequently changing amid an economic downturn. For instance, many would prefer paying for what they actually use (usage model) instead of committing to fixed subscription payments for flexibility. Companies are also focusing on value delivery to retain/expand their customer base and diversification says businesses need a revenue recognition process that will adapt to these changes. Companies also must adhere to specific revenue accounting standards, ASC 606 and IFRS 15, and with constantly changing offerings and pricing, they need a tool that ensures GAAP-compliant revenue recognition through all the changes. With it, you're able to properly track, allocate, and recognize revenue for any pricing model, billing approach, arrangements, and contract modifications.
Automation is particularly flexible in optimizing freemium models that many subscription companies offer. You can manage all the variables surrounding free and paid trials, from the trial start (with or without payment info) all the way to the extension. It can even improve customer relationship management, as the revenue recognition tool can automatically generate 30-60-90-day renewal reminders to start campaigns so your prospects won't slip through the cracks.
#3: Scalability with business growth
During a business's later stages of growth, it's not only a matter of whether your product is catching on, but rather: can your business keep up? To seamlessly scale your business during these times, it's imperative that you make financial accuracy a priority. With a future-proof revenue recognition process by automation, companies are much better prepared when the time comes to scale up.
While shifting gears from a stage of survival to thriving, your ability to produce accurate financial statements matters as much as your products. For example, taking on an IPO requires submitting multiple years of GAAP financial statements to auditors who, similar to how horse trainers evaluate potential thoroughbreds, inspect every crevice of your financial gumline. A revenue recognition tool can serve as a controlled revenue subledger with a journal entry capability that can not only expedite the accounting close but withstand audits more effectively than manual spreadsheets. 
Additionally, if a company plans to expand to foreign markets, the revenue recognition tool can also help get ahead of all the nuances, such as each country's reporting and revenue recognition requirements. The ability to efficiently produce GAAP financial statements is also critical for growing companies. With automation, businesses can be alleviated from mundane revenue recognition tasks to focus on a higher priority, growing their businesses.
Automation Turns Risk Into Reward
As you take on new geographic regions and implement more complex and diverse pricing models and offerings, ask yourself if you have proper revenue recognition processes in place to stay accurate, compliant, efficient, and, most of all — sane?  
Automation saves you precious time and resources, so you can focus more on value-added activities such as strategic initiatives to support your growth. With automation in place, you can build out a single source of truth that has visibility to accurate revenue data at all times and at every stage of your revenue cycle, from quote to cash.
Support Your SaaS Business Growth Plan with Chargebee RevRec
If managed properly with a revenue recognition solution designed for unique subscription business models, companies can transform the three growth-risk factors into three growth-driving factors.
Visibility:

Through Chargebee RevRec's integration with various source systems where revenue data resides, essentially functioning as a single source of truth for revenue, it provides visibility into revenue data (GAAP/SaaS reports and analytics) for informed business decisions.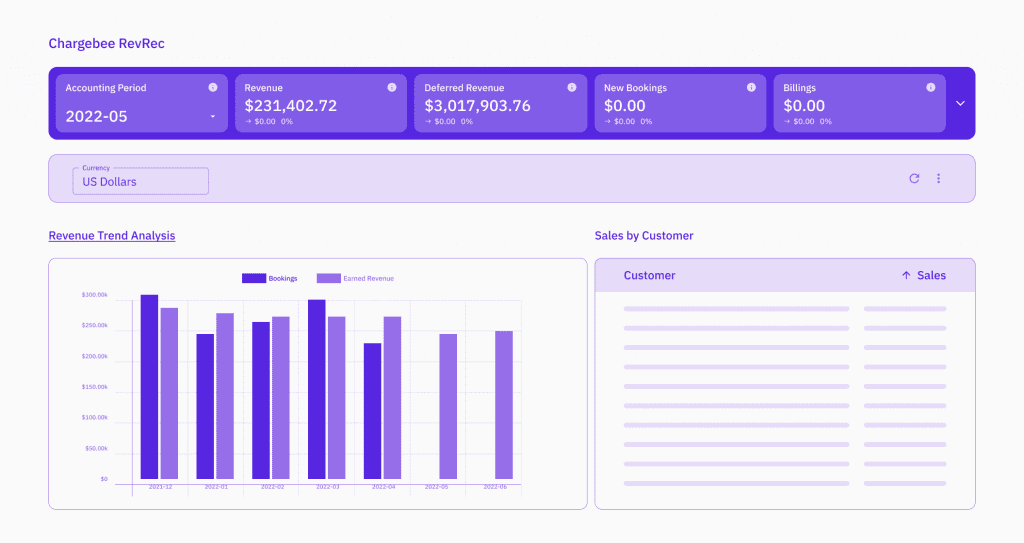 Flexibility:

Evolving revenue models of subscription companies require flexibility, and with Chargebee RevRec's configurable settings, your revenue recognition process can keep pace with frequent changes in subscription contracts and offerings while staying compliant with ASC 606 / IFRS 15.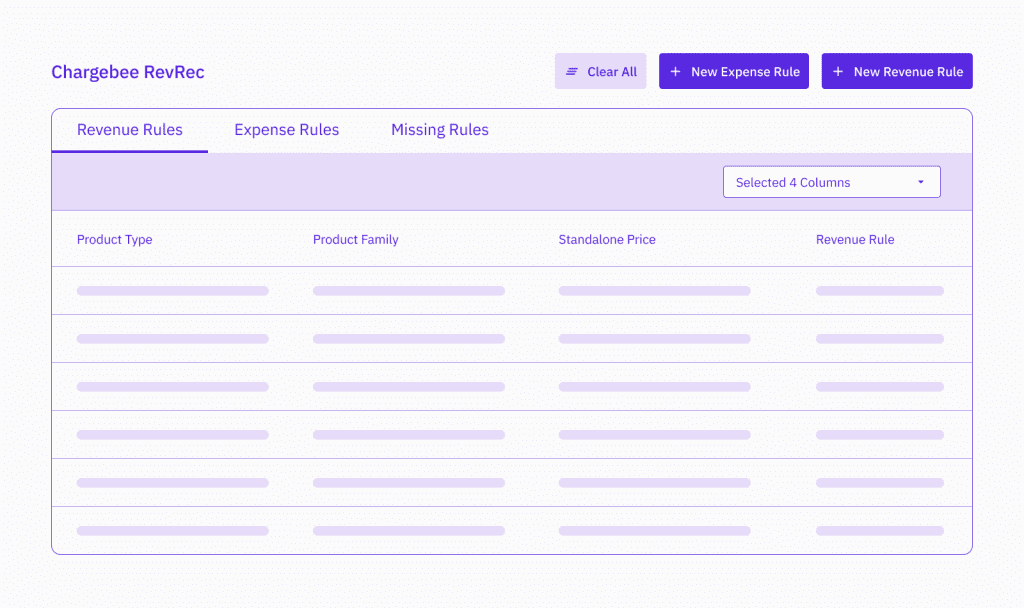 Scalability:

To stay competitive in the rapidly growing subscription/SaaS market, Chargebee RevRec automates the most important financial process, your revenue management/recognition. Automated revenue recognition provides the ability to produce GAAP financial statements that can withstand audits, which is critical to companies looking to go public or being acquired. Regardless of the growth stage or company status (public or private), maintaining accurate revenue data with proper infrastructure from day one is a sound business practice and would help prevent costly financial restatements. Additionally, a revenue recognition tool can serve as a controlled revenue subledger that can expedite the accounting close with traceability.
Chargebee's revenue recognition solution can not only ease your growing pains but directly contribute to your growth. Speak to our experts to learn more about how Chargebee RevRec can help you overcome your revenue recognition challenges.
Get the scoop on what's new