From Surviving to Thriving in the Global Pandemic: How Subscriptions Could be your Magic Pill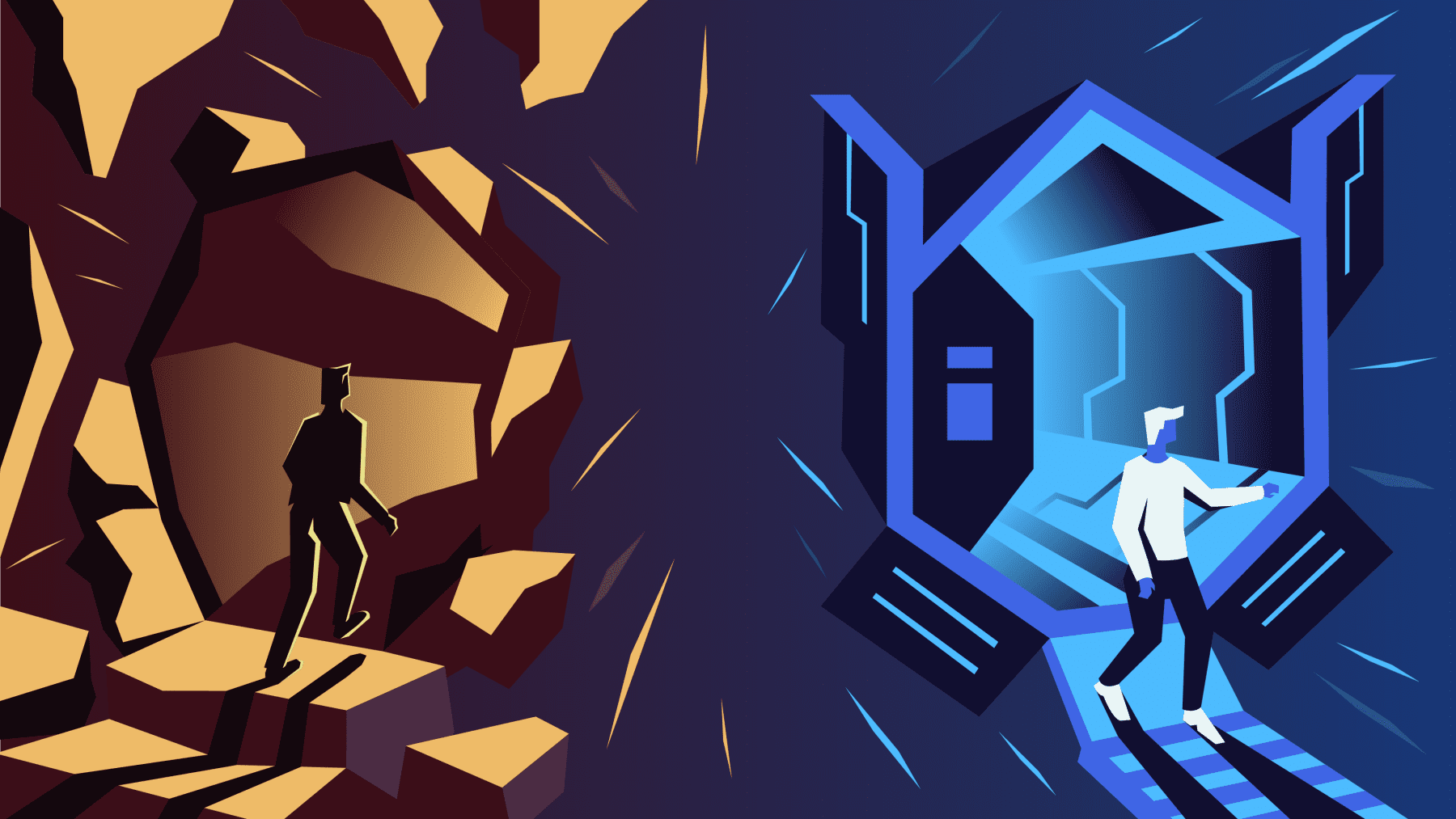 It's 7.00 am. Billy just finished his 45-minute online fitness session. He takes his fitness seriously. Billy had a routine you could set your clock to. He would hit the gym by 6.00 am and be out in one hour on the dot.
A quick shower and breakfast, he would reach the office by 9.00. While the day would be a blur with non-stop meetings, Billy loved the creative bursts at the huddle around the water cooler or the coffee break that quickly turned into brainstorming for a new marketing campaign. All that went out the window when the global pandemic struck. Now life is a blur of zoom calls with his distributed team, doing the dishes, keeping the kids from climbing off the walls, and yes, online fitness classes. All of us see a little of our lives in Billy's but spare a little thought for Billy's gym owner, Peter who runs Complete Fitness. The pandemic took away his thriving business in a matter of weeks. After a few sleepless nights,  seeing his kids take their classes on Zoom gave Peter a solution to stay connected with his customers. Soon, he launched his classes online and even threw in a free beginner' s session to give new clients a taste of fitness. He ran webinars on nutrition and customized diet plans were an additional offering to clients. Not only did some of his old clients join the online classes,  a whole bunch of new customers were even willing to pay up after they loved his free sessions. Peter is now certain that the online classes will continue even when his gym opens up again. An additional stream of revenue never really hurt anyone.
Just like Billy's gym, traditional businesses all over the world are using technology to bridge the physical divide. They are quickly realizing that a lot of SaaS solutions will help them adapt to the new normal and stay in business as the world around them changes.
Work from Home: the New Reality
As millions stay home in an attempt to flatten the curve, the way we work, learn, and communicate with each other are seeing drastic shifts. Companies are functioning with remote and distributed teams. Work from home became a reality overnight resulting in a huge surge in demand for virtual conferencing platforms and enterprise tools that help teams collaborate and share. Zoom's daily participants went up from 10 million in December 2019 to 300 million by late April 2020.  Microsoft's active daily users saw a 70% increase from 44 million users in mid-march to 75 million daily active users.  Microsoft's CEO Satya Nadella said in the recent call that they have seen two years' worth of digital transformation happen in two months.  
Twitter, Square, and Spotify have already extended their employees a permanent work from home option. Companies like Barclays, Mondelez, and Nationwide are exploring a permanent shift to work from home and reduced office spaces. This shift opens up a host of opportunities for enterprise SaaS companies in the global HR & payroll such as Papaya Global, Pilot, onboarding training, and culture platforms such as Rippling, HROnboard, and knowledge-sharing platforms such as Notion and Slack. In its recent earnings call, Slack's CEO, Stewart Butterfield said the company added 12,000 net new paid customers in the first quarter of 2020, more than any other quarter in the history of the organization.
Getting Schooled
The global pandemic also saw more than  1.2 billion children worldwide staying home as schools shut down leading to a 2x increase in demand for e-learning solutions, be it language learning apps, virtual tutoring, video conferencing, or online learning software.
Both teachers and students have been using collaborative platforms such as DingTalk and Lark which support video conferencing, attendance tracking, instant messaging, and real-time co-editing of project work. They say they will continue to swear by it post the pandemic as it improves the effectiveness of both the teaching and learning process.
The global online education market is tipped to reach $ 350 billion by 2025 from $188 billion in 2019  according to a report by Research and Markets. As concerns on its effectiveness continue to fade as adoption increases, parents and students will warm up to the idea of signing up for more classes online
Doc's Always on Call
Telemedicine has been around for a while but hadn't really taken off since patients didn't bite. Forrester says patients have been slow to adopt because of a lack of awareness, cost and relationships, and availability.  Patients always preferred to see the doctor if he was available to meet them. The global pandemic changed all of that. With patients wary of in-person visits due to the virus, local doctor offices are also switching to a virtual format.
In March, telehealth visits already saw a 50% increase in the US, and analysts now expect the general medical visits to increase 200 million in 2020 from the initial estimate of 36 million visits and coronavirus related virtual visits to touch 900 million. Teladoc Health saw more than 20,000 visits a day in April, which was more than double the number of daily visits it had seen in March. According to Global Market Insights, the global telemedicine market estimated to be around $45 billion in 2019 is projected to grow to more than $ 175 billion by 2026, thanks to the nudge from regulations and increasing adoption.
Expanding the Digital Footprint
The shift to digital subscription is also helping revive the fortunes that the oldest play in the subscription industry. Take for instance, The New York Times success with digital subscriptions is helping it limit the damage from falling ad revenue which is expected to decline by 50-55% in the second quarter of 2020. The Times signed up a record 587,000 net new digital subscribers in Q1 2020 as anxious readers signed up to read up on the latest on the pandemic from reliable news sources. According to Nieman Lab, it took the newspaper about 18 months to sign its first 566,000 users when it launched its paywall in 2011. The fact that the Times earns 3x more revenue from its subscribers than from advertisements will help make up for the fall.  
Digital subscriptions helped the Times understand every stage of the subscriber life cycle including improving retention.  While much of the ad revenue is likely to come back as the economy revives, the new subscriptions are likely to stay on as change in consumption becomes a habit.
Subscription businesses also give traditional businesses an opportunity to keep with the changing consumer preferences. For instance, car sales have been on a steady decline as consumers move away from ownership to the convenience of mobility offered by the likes of Uber and Lyft.  But the concerns over safety of using shared mobility gives OEMs and car rental companies an opportunity to offer an all-inclusive subscription that includes access to the car, insurance, and roadside assistance.
The Shift to Subscription Business
Apart from convenience to the customer,  one of the unique advantages of a subscription business is that it gives deep customer insights as it has a ringside view to the business and how the customer interacts with the product. These insights are invaluable for businesses as they scale their product capabilities, launch a new product, or enter new markets. As both traditional and online businesses scale their digital subscriptions, many of the legacy systems may not be equipped to handle the complexities of recurring revenue. Having a flexible billing and subscription management system can help businesses scale up faster even in the changing landscape brought on by the global pandemic. It not only helps speed up customer acquisitions through free trials but also  ensures higher customer retention by offering flexible subscriptions and customized discounts 
While every crisis is a test to human resilience, it could also act as an inflection point in adoption. For instance, the genesis of the rise of e-commerce in China was a result of the aftermath of SARS in 2003. In the US, it took 10 years to increase e-commerce penetration (as % of retail sales) from 5.6% in 2009 to 16% by the end of 2019. But as the global pandemic forced retail stores to be closed, that figure increased to 27% by April 2020 over a span of eight weeks. Shopify has been helping millions of small businesses go online even before the pandemic. The company doubled down on its initiative as businesses started shutting down in March. According to the company's COO, the number of new stores on Shopify grew 62% between mid-March to the end of April compared to the prior six weeks.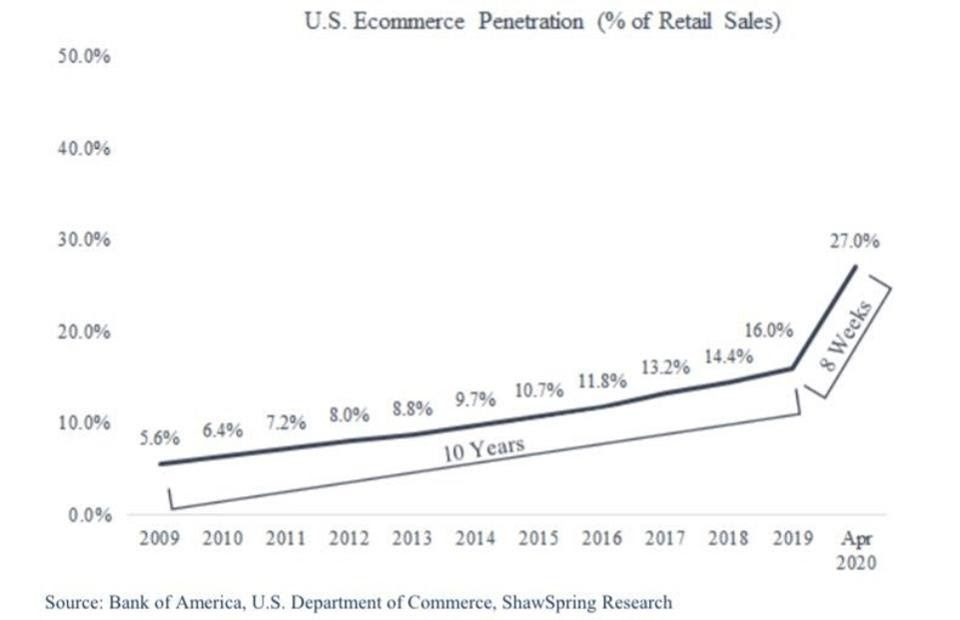 According to Gartner while IT spending is likely to see one of its biggest contractions of about 20%, cloud and SaaS businesses are projected to grow by 19-20% in 2020. Most of the SaaS businesses have been far more resilient during these challenging times and as more businesses discover the power of recurring revenue. In a recent  earnings call, Marc Benioff, founder of Salesforce, a company that has seen and thrived through two recessions said:  "Now as we look at navigating a biological crisis when we started Salesforce, Parker [Harris] and I really built a business model that was designed to transcend these situations so that we would have durable growth over time regardless of the crises." Did someone say 'Antifragile'?
Get the scoop on what's new