Picture this: you're a business owner searching for the perfect solution to streamline your marketing operations. You've heard about a B2B SaaS software that ticks many boxes. With high hopes, you fill out a form on their website and await a response.
Finally, the call comes. But instead of listening to your needs and understanding your pain points, the representative on the other end launches into a scripted sales pitch, barely letting you get a word in edgewise.
You hang up feeling frustrated and disappointed.
How likely are you to choose that company over a competitor who takes the time to listen, understand, and offer tailored solutions that align with your business objectives?? Not very, right?
In the SaaS world, where competition is fierce, companies must prioritize customer-centricity at every touch point. Gartner defines customer-centricity as a business approach that demands the customer to be the focal point of all decisions related to delivering products, services, and experiences to create customer satisfaction, loyalty, and advocacy. It's about understanding the customer's needs, emotions, pain points, and preferences to tailor the experience.
"We see our customers as invited guests to a party, and we are the hosts. It's our job every day to make every important aspect of the customer experience a little bit better." – Jeff Bezos.
In this post, we'll dive into 'how to achieve' customer-centricity in a subscription business.
From Meh to Magnificent: How to Ingrain Customer Centricity in Your Business DNA
A PwC survey found that customers are ready to pay a price premium of 16% for a great customer experience. Think of Apple's business model, which focuses on relentless innovation. Whether it's the latest iPhone or Apple Music updates, it promises to make its customers stand out from the crowd with bold, new, and never seen features, and the strategy pays off, literally.
Tech giants like Apple, Amazon, and others have ingrained a customer-centric culture from day one and have been committed to putting the customer first, starting with the customer and working backward.
Jeff Bezos's first letter to shareholders in 1997 encapsulates that idealogy. "We will continue to focus relentlessly on our customers. Our focus has been on offering our customers compelling value from the beginning. We realized that the Web was, and still is, the World Wide Wait. Therefore, we set out to offer customers something they simply could not get any other way and began serving them with books. We brought them much more selection than was possible in a physical store (our store would now occupy six football fields) and presented it in a useful, easy-to-search, and easy-to-browse format in a store open 365 days a year, 24 hours a day. We maintained a dogged focus on improving the shopping experience, and in 1997 substantially enhanced our store. We now offer customers gift certificates, 1-Click(SM) shopping, and more reviews, content, browsing options, and recommendation features. We dramatically lowered prices, further increasing customer value. Word of mouth remains the most powerful customer acquisition tool, and we are grateful for the trust our customers have placed in us. Repeat purchases and word of mouth have combined to make Amazon.com the market leader in online bookselling."
And even decades later, Amazon's sustainable flywheel around durable customer needs like price, selection, and convenience has made them the category leaders as we know it.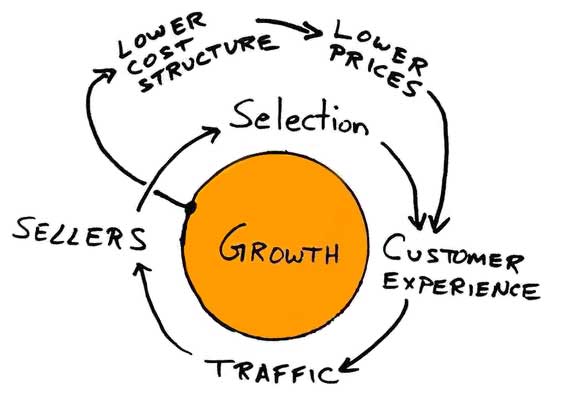 "By building a closed-looped flywheel around customers' durable needs in our retail space, and by staying close to our customers and continuing to think about how their needs evolve, Amazon drives continuous innovation that delights customers and helps fuel our retail growth." – Daniel Slater, Worldwide Head, Culture of Innovation, AWS (source)
These examples confirm that companies prioritizing their customers' needs and desires are best positioned to succeed in an ever-changing market. At the same time, those that fail to do so may find themselves left behind. So, let's get to the nitty-gritty of achieving customer centricity at various touchpoints in the customer journey, from the first interaction to post-purchase.
Invest in Personalized Marketing
Marketing is the first touchpoint between a business and a customer, and it gives you a chance to create compelling stories that truly resonate with your audience. Using data to analyze customer behavior and preferences, you can build an ideal customer persona (ICP) and craft unique marketing campaigns. When customers feel influenced and motivated by your brand beyond a mere transaction, that's when you've truly cracked customer-centric marketing. Nike's iconic "Just Do It" campaign is a perfect example. They've created a message that inspires action and connects with customers emotionally.
Marketing, especially customer marketing, also helps customer retention and upsells by delivering personalized emails, exclusive offers, loyalty programs, and more. By understanding each customer's journey and providing relevant and timely communications, businesses can create a positive and memorable customer experience that encourages recurring revenue and referrals.
"The reality is that today, with so many choices buyers have, they rely more on word of mouth and referrals from their peers. So it would help if you got that voice amplified. So having a customer advocacy program is critical. Once you have a program in place, you can start asking your advocates for referrals, reviews on review sites, answering questions on social media, being part of speaker events, or doing case studies" – Emmanuelle Skala, Senior VP of Customer Success at Toast.
Emmanuelle describes the best approach to incentivize advocates is to tap into their desire for recognition and elevated status within their industry. Salesforce is a prime example of a company that has successfully nurtured its advocates. In its early days, Salesforce launched a campaign to turn its early adopters and most passionate advocates into heroes. By putting them on stage and promoting them to their peer group, these advocates gained recognition that elevated their careers. This approach mutually benefited the company and its advocates and contributed significantly to Salesforce's growth.
Set Clear Customer Expectations during Onboarding
Onboarding is a crucial touchpoint in the customer journey, setting the product expectations and tone for customer support. After a purchase, customers want to know what their journey will look like. And, when they see you following through, it builds trust.
A customer-centric approach to onboarding means going above and beyond to ensure that customers feel supported and confident using the product or service. It includes providing clear and concise instructions, helpful resources, a technical solutions handbook, and personalized guidance whenever needed.
To help you understand this better, I'd like to spotlight the role of an Implementation Experience Manager (IEM). In 2020, the customer journey in Chargebee involved the handoff from Account Managers in Sales teams to non-technical Customer Success Managers, which sometimes resulted in gaps and challenges in managing customer expectations on the technical front. To address this, Chargebee introduced the role of an Implementation Consultant, a technical expert who ensured customers were onboarded smoothly and addressed their technical requirements.
However, the Implementation Consultant couldn't always coordinate stakeholder availability and proactively communicate updates while solving customer issues as they only specialized in the technical knowledge of the product. This is where the Implementation Experience Manager comes in with the aircover by communicating proactively with customers, managing cross-functional collaboration, and bringing in the larger context of customers' needs.
The role is critical for new and existing customers who need help upgrading their setup. An IEM's job is to ensure no immediate escalations and establish internal expectations and context for leaders to handle customer escalations when they arise. IEMs are a way of having a more systemic approach to solving customer issues for the long term.
Unlike sales & customer success, no revenue outcomes are tied to the customer onboarding roles. Their jobs are thankless sometimes, but should they falter, customer satisfaction noticeably goes for a toss.
Build a Strong Customer Support (CS) Function
Customer support is a direct line of communication between the customer and the business. Your customer support executives are like the Avengers of your business; the first line of defense when customers are in distress. They can turn disgruntled customers into satisfied ones with empathy, problem-solving, and communication powers.
We tapped into the wisdom of our in-house expert, Madhu Nambiar, Director of Customer Solutions, to help you build a stellar customer support function. According to him, the top 3 things to focus on when you're starting from scratch are:
Define who you want to serve
:
Understanding your customer base and their requirements is crucial in hiring the right people for your support team. Whether you need customer support representatives or technical support experts, aligning your team's skills with your customer's needs is critical.
Decide on the best channels and practices for quick responses:
Customers want quick and effective solutions when they encounter issues or have questions. So having a system to respond to them promptly via various communication channels (phone, email, chat, or social) is vital to building trust and satisfaction. At Chargebee, to increase responsiveness, we focus on establishing proper structures and providing continuous training to our team. We researched industry best standards, set stretch goals, and emphasized the importance of quick communication, even when we don't have immediate answers. A quick note to the customer goes a long way in instilling confidence. Especially in a virtual world, timely communication is paramount. To minimize follow-up questions, we provide comprehensive solutions to customer queries rather than simple yes or no answers.
Focus on self-service tools and knowledge base:
Building a knowledge base and self-service tools can empower your customers to solve issues independently, reducing the need to contact the support team. Our team has created a culture of knowledge sharing, starting with internal documents and discussions among support members to share solutions for non-straightforward queries. Additionally, we have developed a chatbot called Iris that leverages the knowledge we have gained from solving multiple issues, providing upfront solutions to customers without needing to contact support.
Obsess over Customer Experience (CE)
According to Zendesk, 75% of customers are willing to spend more to buy from businesses that give them a good customer experience. "Customer Experience refers to customers' perception of an organization based on interactions across touchpoints, people, and tech over time. It is an integral part of company culture and should not be a separate activity or focus area." – Manish Manohara, Director, Customer Experience, Chargebee.
So, let's see how your customer experience should function:

"To achieve great customer experience, building effective listening posts across the customer journey is important. And, then work closely with internal teams to understand the root cause of the customer feedback, devise solutions, and track progress in a Jira board to ensure completion. And, finally, close the loop by thanking customers for their feedback and letting them know how their feedback is implemented," says Manish, Director of Customer Experience at Chargebee.
Focus on Iterative Product Strategy
The market moves too fast now, with new competitors popping up overnight and reaching thousands of users and millions in revenue in just a few months. To keep up, you must ship new features quickly and iterate quickly to find what works. But even then, you can't just club features together and hope they work – you need to understand your users' needs and create optimal solutions for them.
Customers expect a personalized user experience tailored to their specific needs. To understand customer needs, you must work closely with your front-line employees (sales, support, and customer success teams).
By harnessing their insights, you can keep your product on track and keep your customers engaged for the long haul. It's also essential, to be honest and upfront with your customers and say "no" when you can't provide them with specific functionality.
"Products must drive a higher value by solving an acute customer problem. Products that are must-haves will weather the macro situation and come out stronger. Customer research-backed product solutions will come out on top". – Kishore Konakanchi, Chief Product Officer, Chargebee
Closing Notes
Customer-centricity must be deeply rooted in the company's culture and come from the leadership. At Chargebee, it is one of our core values. "Leaders must shamelessly champion some symbolic initiatives to emphasize the importance of their values. Whether you like it or not, your team follows your actions. So these initiatives go a long way in unifying the team. We want to speak about one customer each week in our all-hands because this is symbolic of driving the importance of customer-centricity in everything we do," says Krish Subramanian, CEO and co-founder, Chargebee.
To prioritize customer satisfaction, every employee must think strategically about the customer journey. When your non-customer-facing teams, like the finance teams, are also obsessed with delivering a delightful customer experience in something as awkward as payment reminders, that's when you know you've truly achieved customer-centricity in your business.