7 Essential SaaS Analytics Tools For Subscription Businesses
~ 14 min read | November 2

A business without analytics and tracking, would function just like a traveler without a GPS (or a map, for that matter) – wandering about in a foreign place, with no sense of direction.
Without big data analytics, companies are blind and deaf, wandering out onto the Web like deer on a freeway.

But unlike GPS devices, the same SaaS analytics tools and tests can't be employed for all businesses alike.
Customization is the key.
What matters to Amazon (an E-commerce firm) might be insignificant to Dropbox (a Software as a Service or SaaS firm), simply because their respective business models are completely different.
To help your SaaS subscription business identify the right analytics tools for you, we have compiled a list of tools that are used by up-and-coming SaaS companies and subscription-based E-commerce companies.

Difference between  Subscription / SaaS Analytics and E-Commerce Analytics?
The fundamental difference between the two business models arises from the fact that a SaaS company thrives on MRR (Monthly Recurring Revenue) & aims at building a base of customers in your CRM who would constantly pay, while the other is dependent on one-off payments (aims at acquiring new customers).
So when an E-commerce company focuses on its monthly revenue, a SaaS company on the other hand, has to concentrate on what is called "Monthly Recurring Revenue (MRR)".
Also, a non-recurring revenue business will have the "cost to acquire a customer" as a percentage of the sales revenue (they've one-off sales, so this makes sense). But the same cannot be applied to a SaaS business. They need to consider the "months to recover" the cost instead.
So how does this difference in the SaaS metrics/KPIs affect the way these two business models approach SaaS analytics?
Here's how.
About 70% of E-commerce companies have an Acquisition model, which is why they must track the Checkout rates and must strive to reduce their Customer Acquisition Costs.
On the contrary, Retention is the core principle for Sofware as a Service or SaaS commerce companies. So they'll have to focus on Churn SaaS metrics (Churn rate, Gross MRR Churn Rate) and other factors such as Customer funnel, Feature utilization/neglect, etc.
Coming to the monetary part – the primary source of revenue for a non-recurring revenue business would be the transactions while for a recurring revenue business the primary sources are the number of active users.
Hence the former must measure the Transaction value in their analytics and the latter should assess the Lifetime value and the Upselling conversion rate. (To dig deeper into this topic, read this book.)
We've prepared a comprehensive list of SaaS Analytics tools used by up-and-coming SaaS companies and subscription-based E-commerce companies (source: our very own customers) to track user behavior, to know what's working and what is not, and to get a sense of direction.
1. Google Analytics: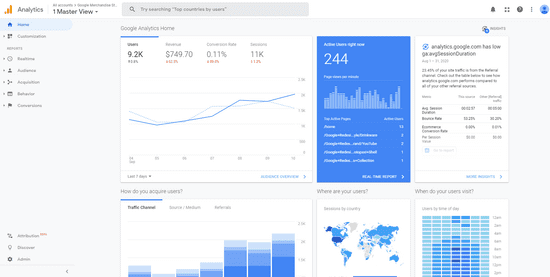 According to Google, "Google Analytics platform shows you how people found your site, how they explored it, and how you can enhance their visitor experience. With this information, you can improve your website return on investment, increase conversions, and make more money on the web."
They provide a complete set of key metrics for tracking and analyzing your audience, the traffic sources, your website content and the conversion rates/paths.
Universal Analytics proved to be the icing on the cake, which introduced additional features such as user-ID, cross-device reports, options to create custom dimensions and other important metrics.
Now what sets Google Analytics apart is the fact that the standard version is free, and has a premium pricing for more advanced features but the reports provided by standard version would suffice for most of the website owners.
Check this out if you are on the lookout for ways to make the best use of this tool.
Hiccups / Cons of Google Analytics:
It's difficult to track individual users (because the visits, and not the visitors are measured), and elaborate customization and coding is necessary in order to achieve the same.
2. Crazy Egg: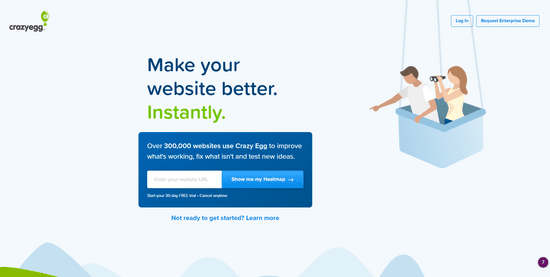 So with Google Analytics, you will be able to answer the question of what is happening in your website. Round One – clear.
Time for Round Two.
How is it happening?
Crazy Egg will help you figure this out.
They offer four tools to "visually" represent the behavior of your users:
Heat map visualizations (the more the number of clicks, the "hotter" is the area on your website)
Scrollmaps (to know how far the visitors are scrolling down before leaving your page)
Overlay (the number of clicks made on specific page elements)
Confetti (the clicks mapped with specific factors like referral sources, search terms, etc.)
The unique perk of using this tool is that you can track the user's activities not just on links (GA's In-page analytics can anyway do this), but on non-links as well – making it an ideal platform for A/B Split testing your new marketing campaign or landing page design.
Hiccups / Cons of Crazy Egg:
In other tracking tools, the longer you collect data, the more actionable insights your analysis provides. For the heat maps, on the other hand – an increase in the data quantity would only make the results less distinguishable (with blue blots everywhere).
So if you want an effective heat map analysis, then go for a limited dataset.
3. KISSMetrics: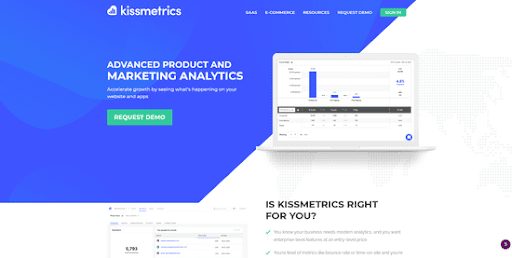 If you are not contented with a General Medical Practitioner who just diagnoses the overall health of your website, and you need a Medical Specialist who can pinpoint on the specific "holes" in your system – specifically in your "Conversion Funnel" – then we would recommend Dr. KISSMetrics!
Here the visitors are tracked, rather than the page visits and views. This makes it possible for you to track an individual user's behaviour across multiple sessions and devices.
And how do we track an event (or a person)?
By just adding a UTM parameter to a link (or by entering an identity like the Email address) – as simple as that!
Their 'Path Report' – as the name clearly signifies – traces the most common path(s) followed by the customers within your website.
Who knows? You might even run into a successful funnel that you didn't have a clue about till then.
To conclude, with KISSMetrics you can effectively record your customers' journeys, get a clear picture of how they are using your product, and identify where they are falling out of your funnel.
Hiccups / Cons of using KISSMetrics:
The path is traced only for 5 steps (first 5 or last 5 events) and not more than that, which might be a bit of a concern for businesses seeking more number of events.
KISSMetrics tracks only those events that have been predefined by you. It doesn't provide out-of-the-box reports, and you may need a developer's assistance if you require customization, unlike Google Analytics which tracks almost everything on your website and lets you decide what to focus on thereafter.
4. Mixpanel: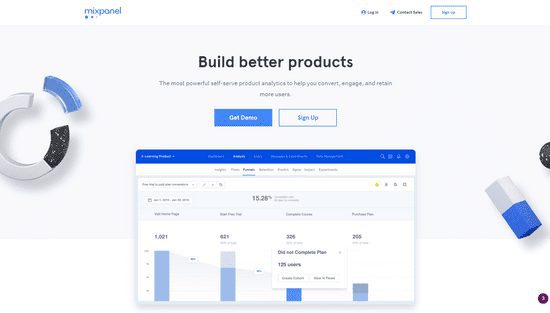 In this era of low attention spans, a few seconds could make or break your business.
Real-time data analytics have never been more important for business intelligence.
And for that, Mixpanel is the go-to tool.
"Actions speak louder than page views", says Mixpanel.
Not just any action, but real-time action.
And they provide to-the-second live information on your users' actions – from purchasing your product to marking a tweet as a favourite.
If that data is not sufficient, don't worry – you can conduct an in-app survey to gather further actionable insights.
Another feature that distinguishes Mixpanel from the rest of the tools is that they can automatically send in-app notifications or email messages to customers – all you have to do is just tell them what to send to whom, and when to send it (event triggers).
One more addition to the tool's strong points is their Retention report – this shows how frequently your customers are engaging with your app and what features are being used more often than the others.
With their automated messaging capabilities, Mixpanel appears to have become a hybrid tool – SaaS analytics tool and tracking clubbed with marketing automation for data driven marketers!
Hiccups/ Cons of using Mixpanel:
It's not possible to track and evaluate your site's traffic. They also don't provide a sandbox – which means that if you want to test an event, you'll have to use up the data points from your monthly plan.
They also don't merge anonymous data to an authenticated user data, which means that only when a user has logged in, will the data be accurate.
5. Quantcast: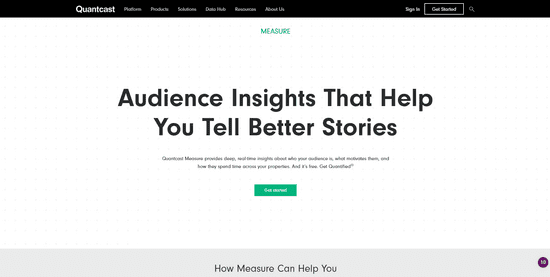 Any analytic tool can tell you how many people are using your website or app.
But what about how, or who?
To complete your analytics understanding of your site, you also need the "human element" – the customer personas.
Over to Quantcast.
The app consists of two segments – Quantcast Measure and Quantcast Advertise.
The former is used to understand the demographic, lifestyle, and geographic profiles of your website (and your competitors') and mobile app users, while the latter uses that data to map your ideal customers (predictive intelligence) and provides advertising solutions to reach them through real-time, tailor-made marketing campaigns.
We're however not going to focus on Quantcast Advertise in this post – let's stick to SaaS analytics tools and tracking for now.
Quantcast basically uncovers your traffic sources and the nature of your audience – age, gender, children, income, education, ethnicity, topics of interest, sites visited, and so on .
You can also learn about the businesses/industries to which they belong and their engagement and retention across multiple platforms.
Exhaustive is the word.
And, it's for free.
Hiccups/ Cons of using Quantcast:
Quantcast says that it can get accurate data only for those "quantified" websites which have signed up with them (and use the tracking code) while for the other websites (non-quantified) on their list, the data provided are just rough estimates.
So if you're just looking for a ballpark figure of where you stand with respect to your competitors and an overall picture of your audience, then Quantcast is the ideal tool. For accuracy, you might want to resort to a paid service.
6. UserTesting: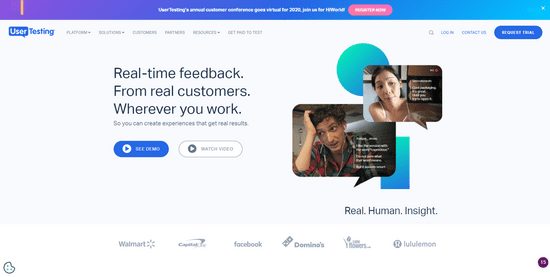 UserTesting is a usability and testing platform. The analytics tool gives you real-time feedback from genuine customers and real users. With UserTesting, you get to see, hear, and talk to your customers in real-time, remotely, as they interact with your apps, products, and content.
Quantitative tools (like Google Analytics) answer what and where — for example, the price point most new customers prefer when they sign up. This is incredibly important. It's difficult to boost traffic or improve your conversion rates if you're unsure about the results you're producing now.
UserTesting gives you qualitative data.
Qualitative testing gives you the "why." It explains customer motivations and the hidden reasons driving their behaviors. 
Here's what Travers Korobanik, Associate Manager of Experimentation & Research for Walmart Canada, had to say about UserTesting:
"We had to figure out the 'why' before we could get to the 'how.' Understanding 'why' became our goal…. When we couldn't ask 'why' anymore, we felt like we were getting closer to the answer."
UserTesting gives you the "why" straight from your customer's mouth.
You can run several tests using a variety of research methodologies, including:
Focus groups

Survey questions and numeric rating scales

A/B testing

User Experience testing

Time on task
UserTesting provides you with customer feedback for iteration and optimization of key portions of your business. Using their testing platform, you can:
Conduct shop alongs (with customers)

Test online ordering and the onboarding process

Discover the "whys" behind visitor behavior and your customer experience metrics

Identify ethnographies that you can use to improve the customer experience 
When combined with qualitative assessment tools like Google Analytics, Crazy Egg, or Mixpanel, UserTesting is an excellent way to identify hidden customer motivations and feedback, the data you need, but many customers are unwilling to share.
Using this data, you're able to design your subscription business around customer desires. You're able to build a business that looks, speaks, and behaves the way customers expect.
Is this a worthwhile goal?
Absolutely. Research shows businesses that embrace design thinking outperform their competitors, increasing revenues, and shareholder returns at twice the rate of their competitors. Forrester discovered that every $1 invested in UX produces a return of $100.
Your qualitative and quantitative data is the key to design success.  
Hiccups / Cons of using UserTesting

:
UserTesting's greatest strength is also its greatest weakness. You'll need to be precise and specific about the instructions you give users. If your expectations are unclear, quality control can become an issue that impacts the feedback you receive.
7. Intercom:

Intercom is a conversational relationship platform that helps brands build relationships with their customers. They emphasize relationship building through personalized messenger-based experiences. 
Picture this…
Alex, one of your long time customers, initiates a chat with customer support. In his chat, he's angry, impatient, and a bit rude. He's threatening to take his business elsewhere if Amanda, your support rep, is unable to resolve his problem.
Here's the problem here…
Alex hasn't actually explained the issue fully. Amanda is doing her best, but she's still in the dark. She's not sure why Alex is upset. There's a very good chance that Amanda may struggle to resolve the issue; how can she? She doesn't know what's going on.
Now, contrast the above scenario with this one:
Using Outbound Messages, your system initiates a chat with Alex, who's automatically paired with Amanda. Amanda tells Alex she's noticed that he's reached out to the team,  spent some time on the knowledgebase, and approached support on Twitter. 
She asks, "Is there anything I can do to help?"
Alex is angry. He tells Amanda about his poor experience, about the fact that he was billed twice in one month. He shares how frustrated he's been attempting to get help. He tells her everything. Amanda scrolls through his history, and she shares information confirming his experience.
She can respond because she knows what's going on. She can see everything she needs in one place.
In the end, the relationship is saved; the billing issue is rectified. Alex has the help he needs. Using Intercom's Customer Experience (CX) tools, Amanda restored a valuable relationship with a wonderful customer.
Crisis averted.
 With Intercom, your organization can:
Collect customer experience data — enabling you to create user profiles, track customer data and events, and segment your customers across your subscription business. 

Give your team the macro, meso, and micro-level views of individual and collective customer experiences at a glance. 

Use chat to build relationships with customers before, during, and after they sign-up.

Answer crucial "why" questions behind customer behaviors, enabling you to respond with empathy, fairness, and compassion — giving your customers what they need in the moment because you have what you need.
 This is absolutely essential.
A recent report found that 1 in 3 customers will abandon a business they love after one bad experience; 92% would end the relationship after two or three negative experiences.
Hiccups / Cons of using Intercom:
Intercom relies on apis and third-party tools like Zapier to connect it to the apps you regularly use in your subscription business (e.g., customer support via Twitter or Facebook). Be prepared to work through any third party issues you experience getting this set up.

Conclusion:
Online options for SaaS analytics/web analytics tools and tracking are available in abundance, in all possible shapes and sizes.
But choosing the right tool for your business is a very critical decision, which requires a lot of strategic thinking. Several aspects must be considered and assessed before making the final call.
Another major point to keep in mind – employing a state-of-the-art SaaS Analytics tool alone is not going to help you in any way, unless and until you have the right person to use the tool. Avinash Kaushik's 10/90 rule would shed more light on this matter.
The price of light is less than the cost of darkness.

Get the scoop on what's new