Installation Guide
Steps to install the Chargebee App
To quickly get started with the Chargebee App, follow the steps below:
Step-1: Login to your Shopify account
Login to your Shopify admin account and select a Shopify store (if you have multiple Shopify stores) from the list where you want to install the Chargebee App.
Once a Shopify store is selected, the Shopify admin page appears on the screen and displays the store information including products, orders, customers, analytics, apps, and more.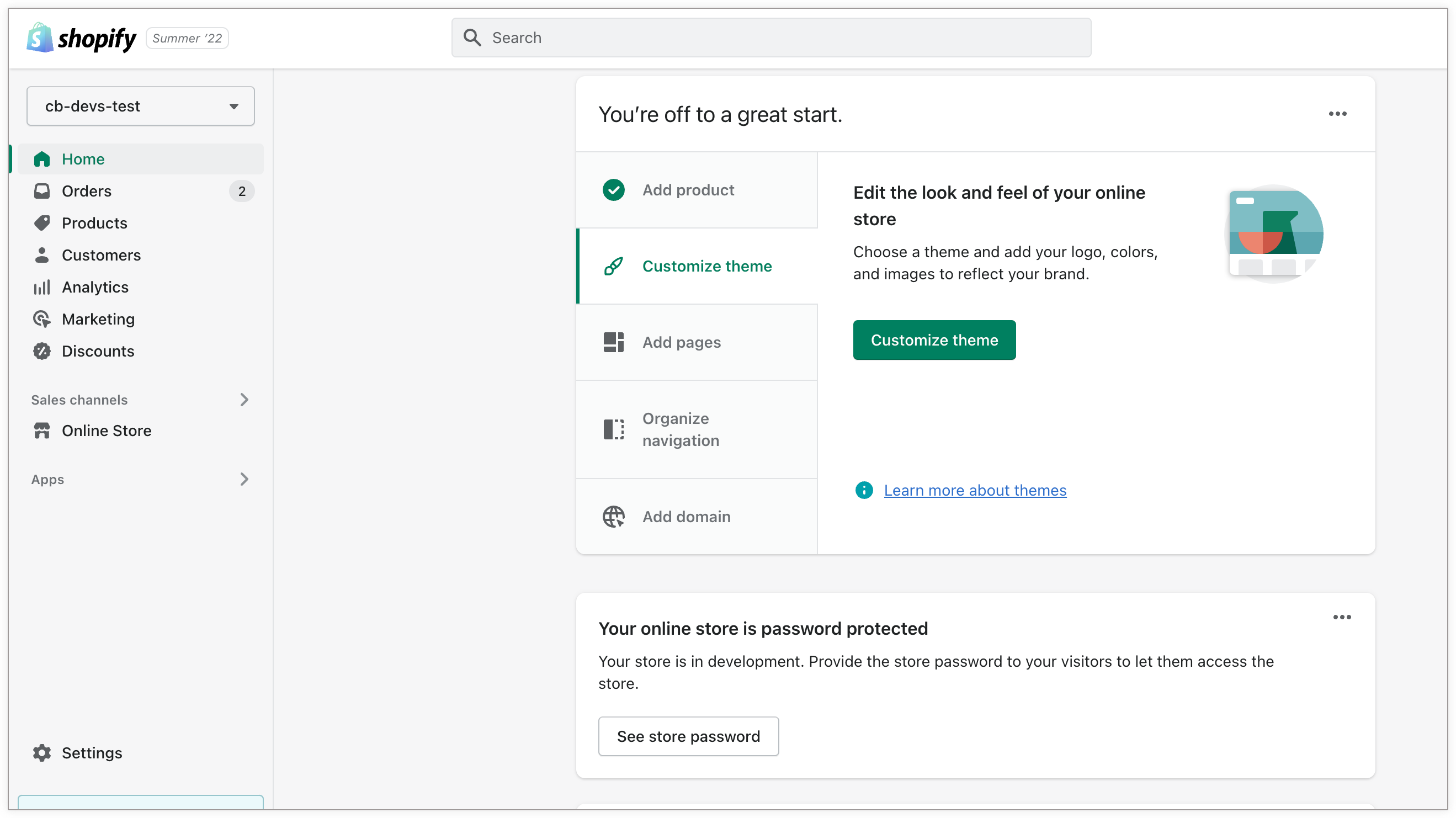 Step-2: Installing the Chargebee App in your Shopify store
To install the Chargebee App for the selected Shopify store, follow the steps below:
Navigate to the Chargebee: Subscriptions App listing page within the Shopify app store.
In the Chargebee app listing page, Click Add app.
Before installing the app, make sure to review the prerequisites and Shopify subscription requirement.
Click Install app to proceed with the installation process.
Once the app is installed in your Shopify store, the page redirects you to the app homepage with the three-step onboarding process to follow and set up your app.
App authentication and data permission overview
Chargebee uses Shopify Partner OAuth 2.0's authorization flow to issue session token access to merchants so that they can authorize this app with their Shopify store. Data synchronization occurs in the backend to allow merchants to successfully integrate their store data with this app.
Authorize the required scopes and grant the app permissions to install Chargebee App in your Shopify store. You can proceed with the steps mentioned in the setup process once the request is validated.
The following permissions and data access are essential to integrate this app with your Shopify store:
Privacy Details: Authorizing the Subscriptions by Chargebee app will access the customer information and store owner information including the customer details, device information, contact information, and location.

Permission Details: This app requires the following permission access to integrate the Shopify store data:

a. Edit Customer: Sync the customer details(if any) and manage the customers of your Shopify store.
b. Edit Orders: Sync the orders details(last 60 days), draft orders, and subscription contracts along with the order details, billing date, order status, and shipping address(if any) in a Shopify store.
c. Edit Other data: Sync the customer's payment methods.
d. Edit Product: Sync the products and collections(if any) in a Shopify store.
e. Edit Your Online Store: Sync the theme and script tags of Shopify store.
Note
The app requires data permissions to access your Shopify store data for installing the app successfully. Contact [email protected] to learn more.
Next steps