Configuring Softrax Revenue Manager
Chargebee integrates with Softrax Revenue Manager to automate financial compliance with ASC 606 and IFRS 15 regulations. You can sync subscription information from Chargebee to Softrax and generate the revenue forecast schedule. This forecast can be used for recognizing revenue on a monthly basis in your accounting system.
Note
You can test this integration on the Test Site before setting up the integration on the Live Site.
It is recommended that you configure day-based billing mode in your Chargebee site for Softrax integration. Softrax supports only day based service period calculation, and configuring millisecond based billing mode in Chargebee could result in an additional day of service period in Softrax.
The Chargebee-Softrax integration does not support the Account Hierarchy feature.
Prerequisites
Softrax
Once you have created a Softrax Revenue Manager account, you should configure the following settings in Softrax before integrating in Chargebee:
Company - Setup your Company or legal entity in Softrax. You can setup multiple Companies in Softrax based on your branches/ legal entities. As part of the integration, you can sync a Chargebee site to only one Company in Softrax.
Accounting Calendar - Setup an Accounting Calendar for the fiscal year, define quarters/ provide a start date and end date and map it to the Company in Softrax.
Accounting Book - An Accounting Book Code should be mapped so that the account movement, journal entry and reporting are based on this Accounting Book chosen during integration setup.
GL Account setup - General Ledger Account setup allows you to manage Revenue accounts for the Company created in Softrax.
GL Segment Definition - Set up GL Revenue accounts, provide the description of the accounts, and assign revenue account numbers and segments to each Company created in Softrax. Segments can be Company / Product / Department / Location and so on.
Caution!
The above mentioned prerequisites are mandatory. Failing to configure any of them in Softrax would lead to sync error and you can not proceed with the integration.
Additional Prerequisites
Standalone Selling Price (SSP) - Define SSP of the products in Softrax, if you require SSP based allocation in revenue recognition. Alternatively, you can choose the exclude revenue recognition template in Softrax that does not require SSP definition.
Policy Definition - Once you define the policies in Softrax, policy mapping should be done.
Configuration
1. Connect
Log in to Chargebee, click Configure Chargebee > Third-Party Integrations > Softrax Revenue Manager > click Connect > enter the login credentials.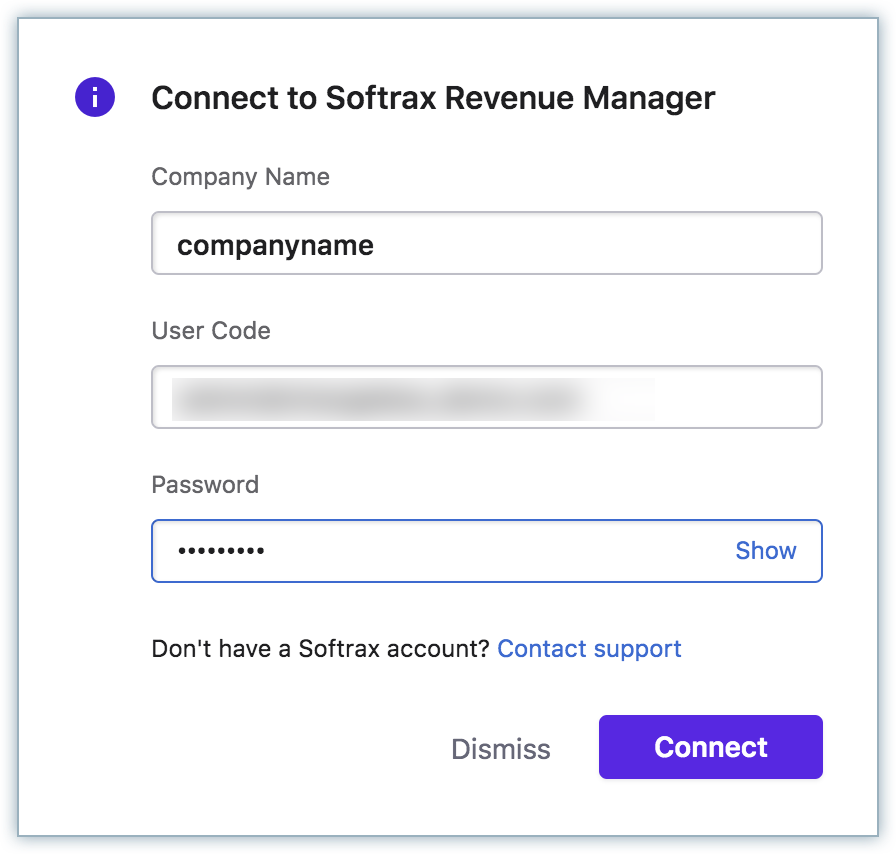 Enter your company name, user code, and password. Your company name is derived from your Softrax URL, such as "companyname".softrax.com.
2. Verify Prerequisites
Chargebee displays a checklist as follows to verify if these settings are configured in Softrax :
GL Accounts
Accounting Calendar
Accounting Book
Company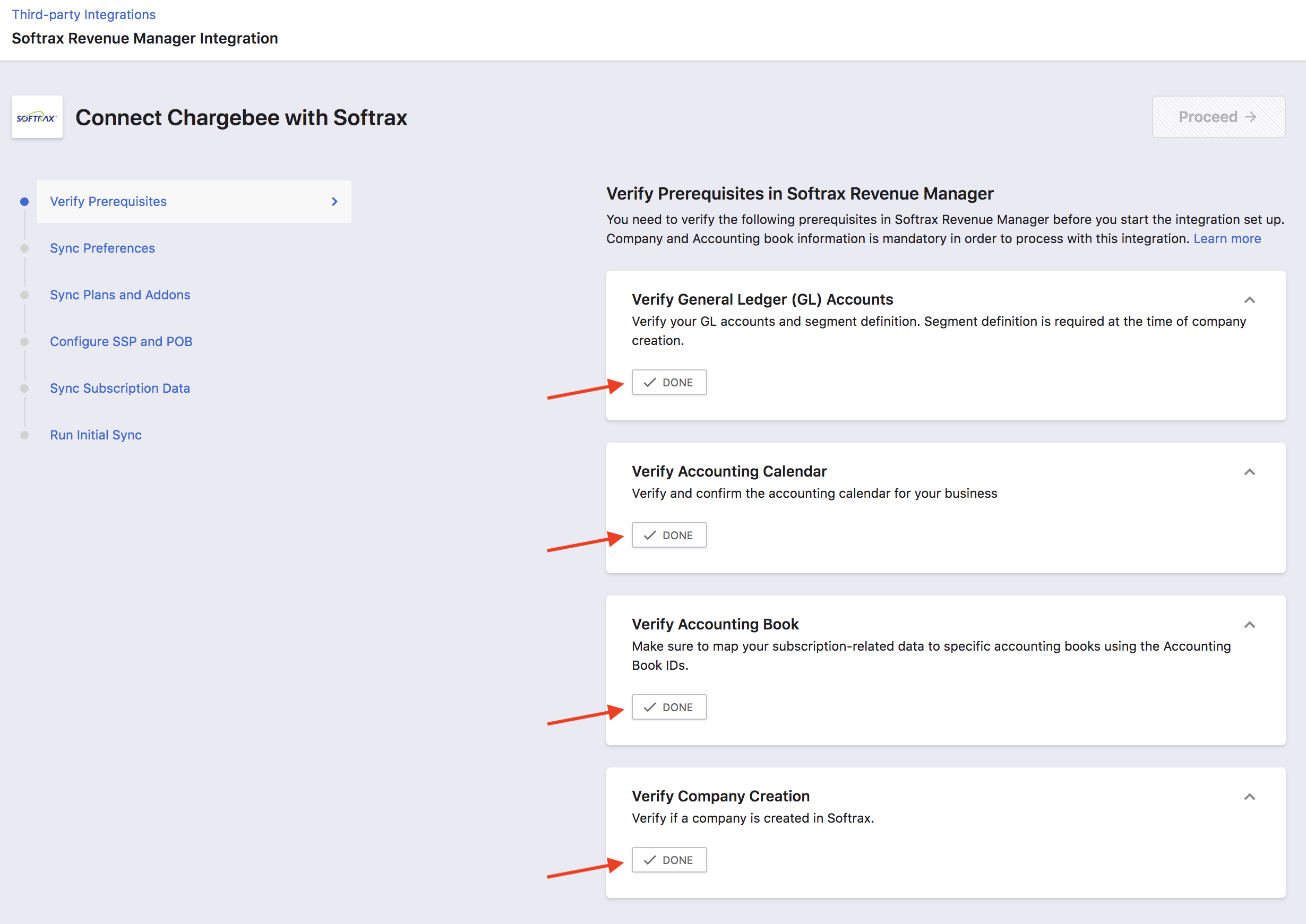 Click Done for each setting and click Proceed.
3. Sync Preferences
You can do the following mapping for the sync: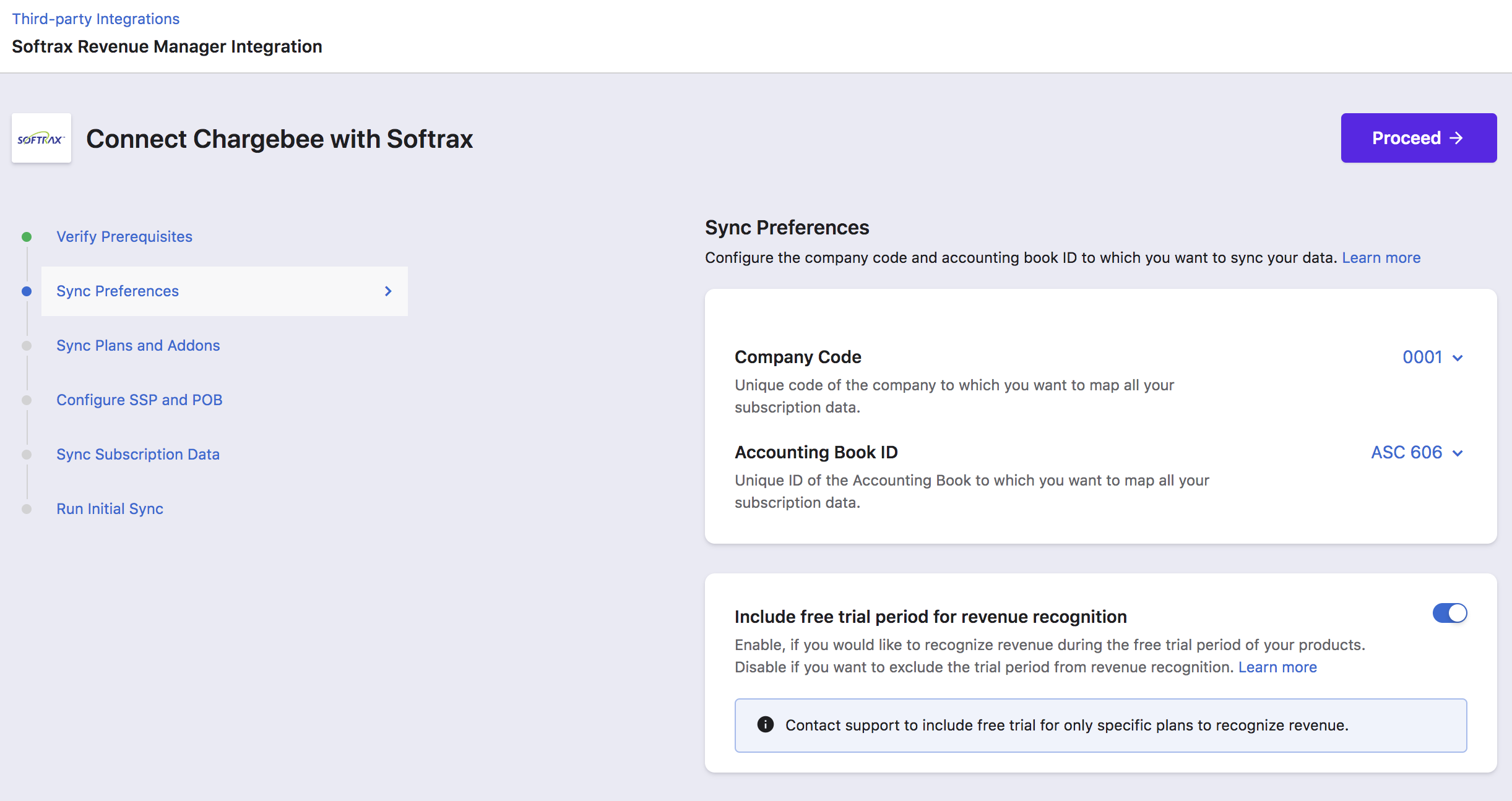 Specify the Company Code. Chargebee syncs subscription data to this Company/Entity in Softrax.
Specify the Accounting Book ID. Chargebee maps the subscription data to this accounting book in Softrax.
Include free trial period for revenue recognition: Enable this setting if you have set up trial period for your products and you want to recognize revenue during the trial period.
Click Proceed.
4. Sync Plans and Addons
Chargebee creates all plans/addons in Softrax as Products.

5. Configure SSP and POB
Ensure that the Revenue Recognition related configuration is completed in Softrax by clicking Done for the following:
Define Standard Selling Price (SSP) of the products in Softrax, if you require SSP based allocation in revenue recognition. Alternatively, you can choose the exclude revenue recognition template in Softrax that does not require SSP definition.
Revenue Items Setup - Performance Obligation (POB) rules should be defined for policy mapping with relevant templates.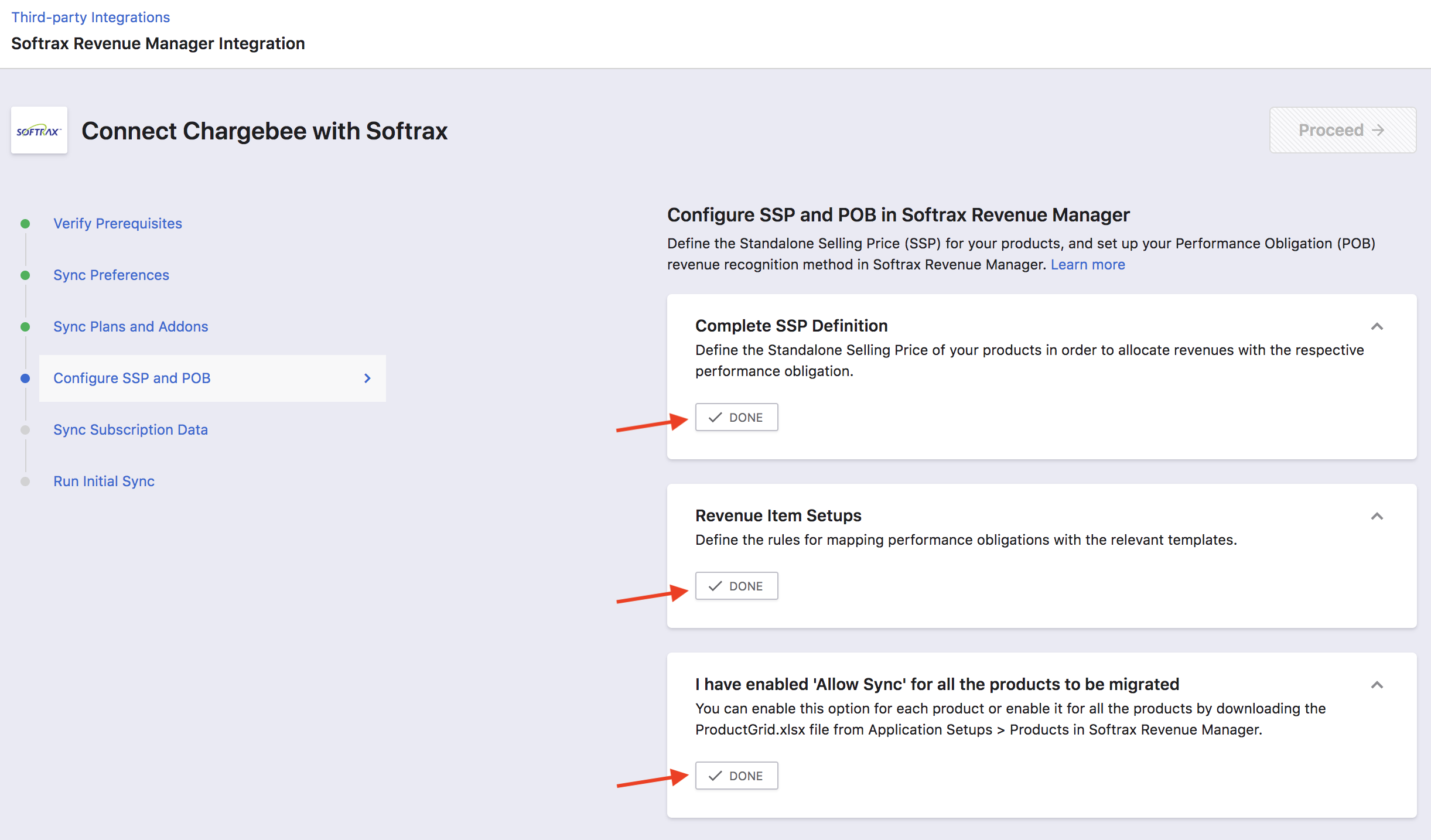 You can sync all Products in Softrax or choose to update some Products in Softrax. To allow Chargebee to update the Products, you can enable "Allow Sync" option in Softrax, or disable this option for the specific Products as desired.
Click Proceed.
6. Sync Subscription Date
You can decide how you want to sync the deferred revenue data from Chargebee to Softrax.
If you have already assessed your deferred revenue balances, turn the toggle on and click Proceed.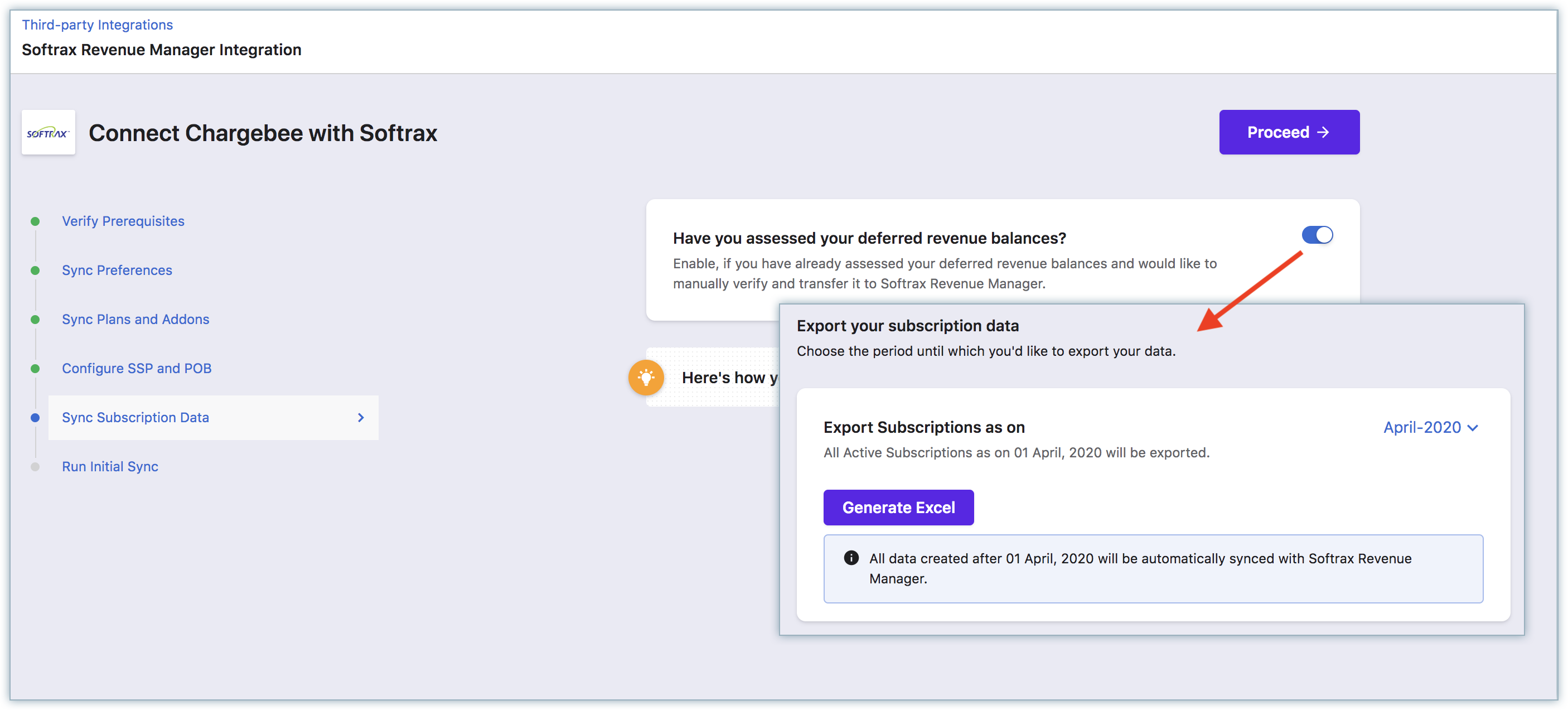 You can export your subscription data until a specific period to manually verify and upload it to Softrax Revenue Manager. Once you are done, click Proceed.
Alternatively, by leaving the toggle off, you can choose to sync all subscriptions data with Softrax Revenue Manager automatically for until selected period.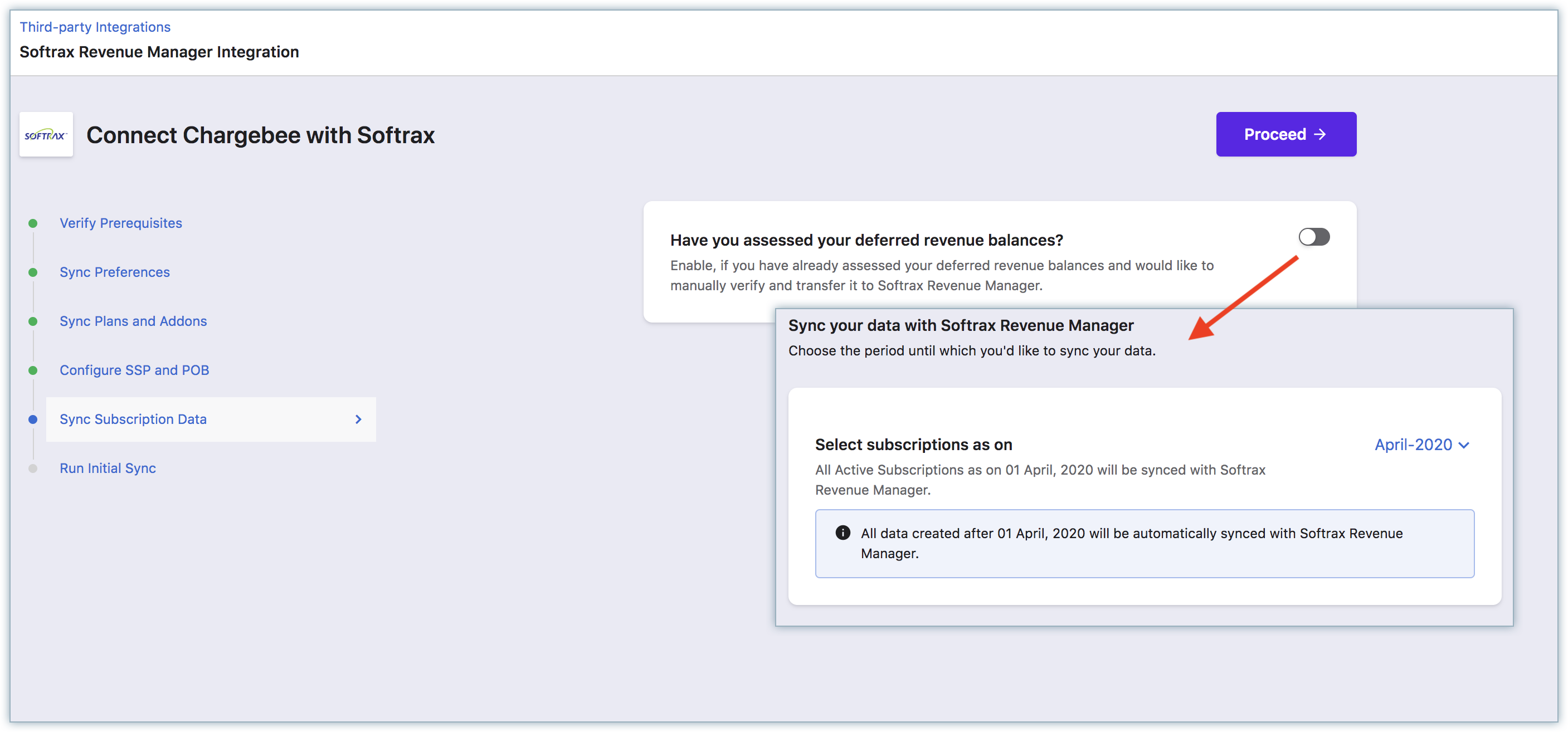 Click Proceed.
Note
The latest date in the subscriptions exported is considered as the Sync start date. When the initial sync runs, it picks the subscriptions created after this date.
7. Run Initial Sync
Once the configurations are done, you can click Run Initial Sync. Chargebee syncs the first 10 invoices. You can view a report of what was synced and what was not synced. If there are errors, you can check the details, fix them. It is recommended that you review the data in Softrax to ensure the sync is set right.
Once you have reviewed the sync details and when you are sure of all the settings, you can click Sync all Records.
Sync Preferences

Enable Auto Sync
You can set a daily schedule to sync all the information to Softrax automatically. Subscriptions and related information will be synced, once every 24 hours. You can choose to disable auto-sync if required.
Sync Now
For on-demand sync, you can sync data from Chargebee to Softrax immediately.
Unlink integration
If you want to stop Chargebee from syncing subscription information to Softrax, you can unlink the connection.
If you want to connect again to the same Softrax account, you can again click Connect and repeat the configuration steps as mentioned earlier.
Rev Rec Reports in Softrax
Once Chargebee syncs subscription data to Softrax, you can view the following reports in Softrax: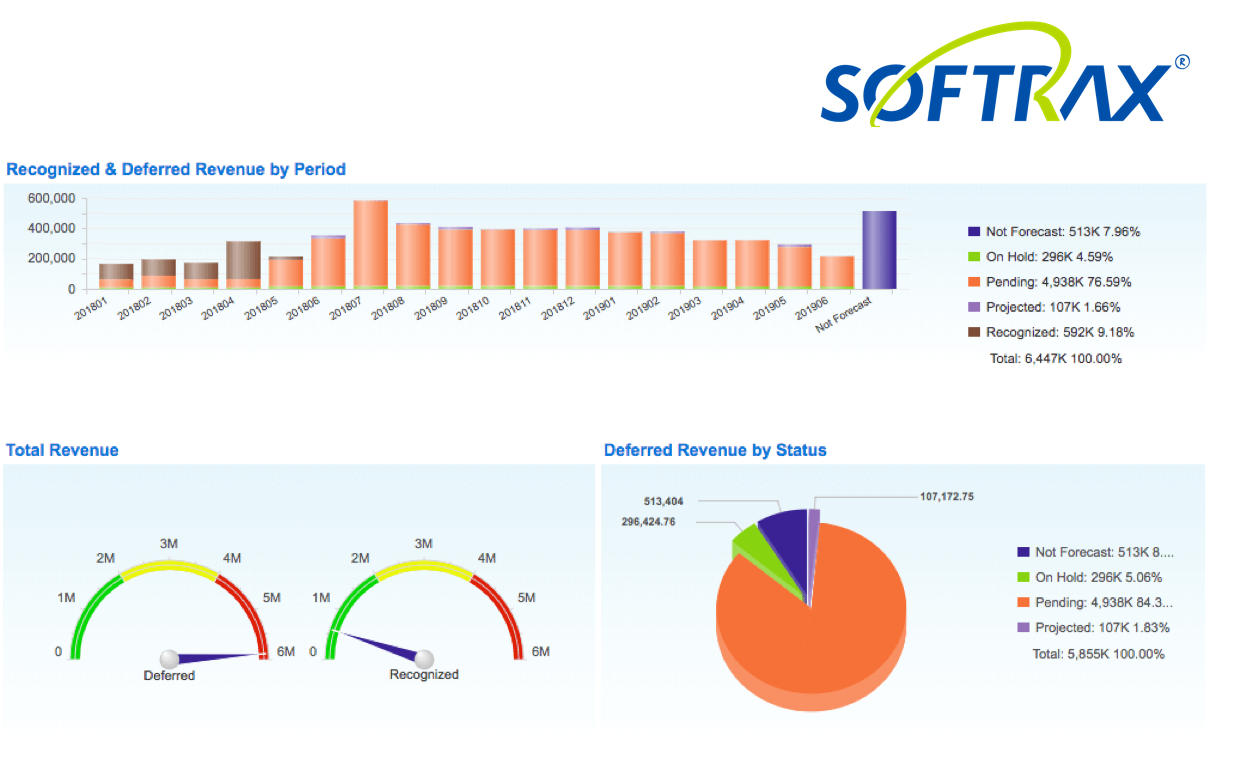 Deferred Revenue / Revenue Recognition Report
This report will display the amount to be recognized or pending amount to be recognized per month.
Journal Entry
During Journal Entry generation, Softrax Revenue Manager will aggregate the accounting entries and create a summarized Journal Entry. Journal Entries must be accurate and precise with regard to the accounts used, the amount of the revenue, and the timing of the Journal Entry for compliance with ASC 606 or similar.
Close Accounting Books in Softrax
After the revenue is recognized, it is recommended to close the books periodically. This is to avoid updating the revenue recognition retrospectively while importing the report in your accounting system.
FAQ
1) Which Chargebee plan supports Softrax integration?
The Chargebee - Softrax integration is available on all paid plans.
2) Will Chargebee automate journal entries in my Accounting/ERP system?
No, Chargebee will only sync subscription data to Softrax. You should manage revenue recognition in your Accounting system.
3) Can I amortize the revenue recognition schedule for the sales commission?
Yes, you can manually import the excel file in a specified format in Softrax's revenue manager system to amortize the sales commission.