WePay
WePay is a full stack payment solution, it eliminates the need to have a separate payment gateway and a merchant account. WePay processes your payments and also deposits the funds in your account.
Choosing WePay
The following criteria need to be considered before choosing WePay as a payment solution:
Countries supported: WePay is available in the United States of America and Canada.
Business Type: Before activating your account, WePay requests you to furnish details about your business and the products/service you intend to sell. WePay doesn't support these prohibited activities .
Payment Methods: WePay supports all major credit cards like Visa, MasterCard, American Express, Diners, etc. It also supports wire transfers (not supported in Chargebee).
Data Portability: WePay supports data portability. If you decide to switch between payment providers, WePay lets you do so by exporting the card information of your customers into a PCI compliant vault.
Currency Support: WePay supports USD and CAD.
Types of Accounts
WePay is available in two modes: Test and Production. The test account is similar to the live account but is mainly for testing purposes. You can test out transactions from end to end, with the test account.
Chargebee supports integrating with both WePay's test as well as live accounts. The mapping is as follows:
Chargebee Test Site - WePay Test Site
Chargebee Live Site - WePay Production Site

This essentially means, Chargebee's Test site can be connected to WePay's Test account only and Chargebee's Live site to WePay's Production account.
Configuring WePay with Chargebee
The following steps should be followed to integrate WePay with Chargebee.
Note
The following steps will create a new WePay account for you. If you already have a WePay account, reach out to support@chargebee.com to have it linked to your Chargebee account.
1. Setting up WePay in Chargebee
Follow these steps to setup your WePay account in Chargebee:
Step 1: Go to Settings > Site Settings > Payment Gateways and click on Add a Gateway.
You will now see a list of Payment Gateways.
Step 2 : From the list, select WePay and click Use this Gateway. This will redirect you to the WePay Merchant Account Setup Page.
Step 3: Fill out the information in the WePay Merchant Account Setup Page as shown: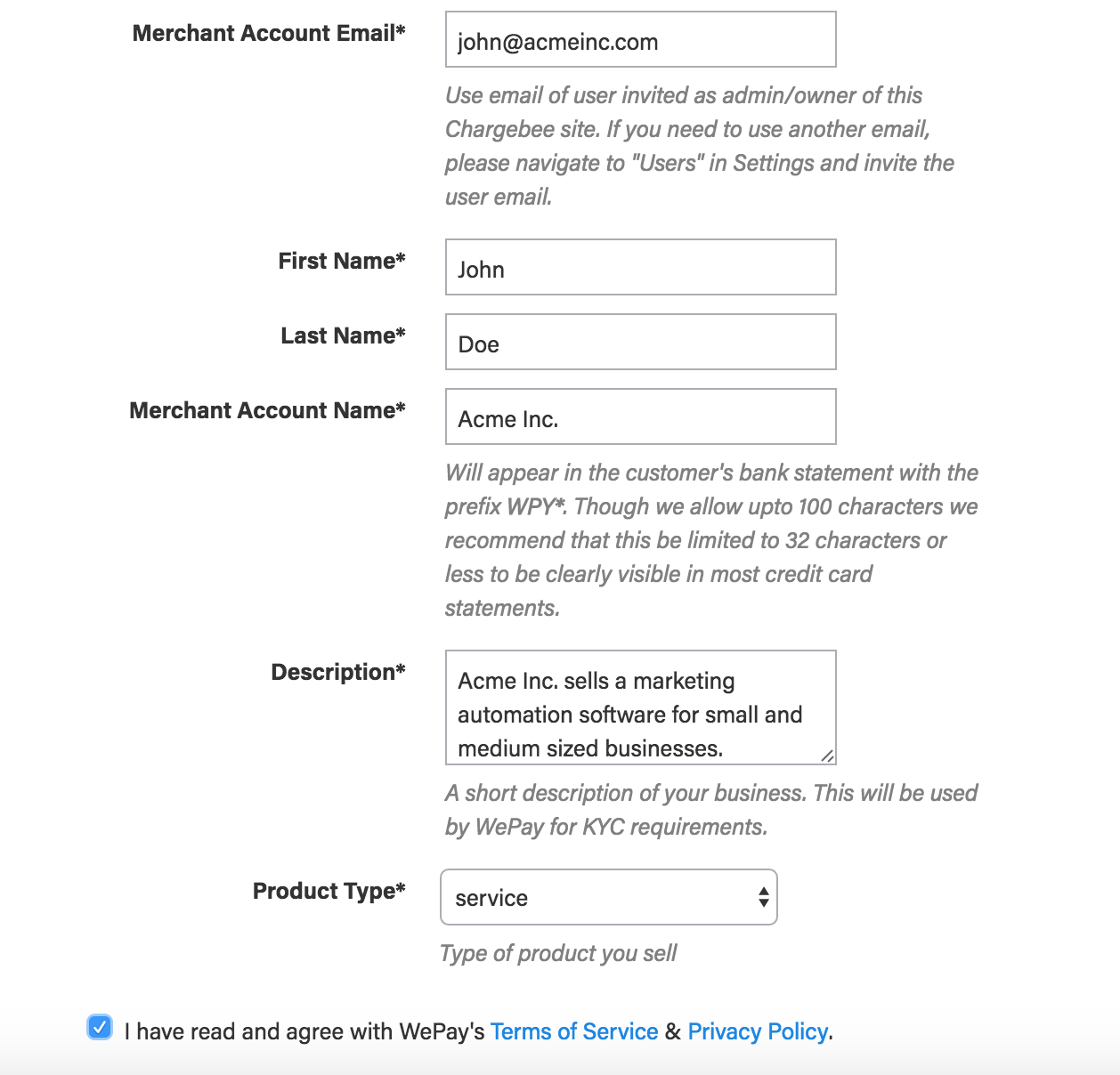 Information
It is mandatory to setup your Organization Address before configuring WePay with Chargebee. Follow the steps in this document to have it set up.
2. Email Confirmation
After filling information in the WePay Configuration Page in Chargebee, you will receive an email in the address you used to sign up.
Confirming it takes you to a page where you will have to set up your WePay credentials, as shown: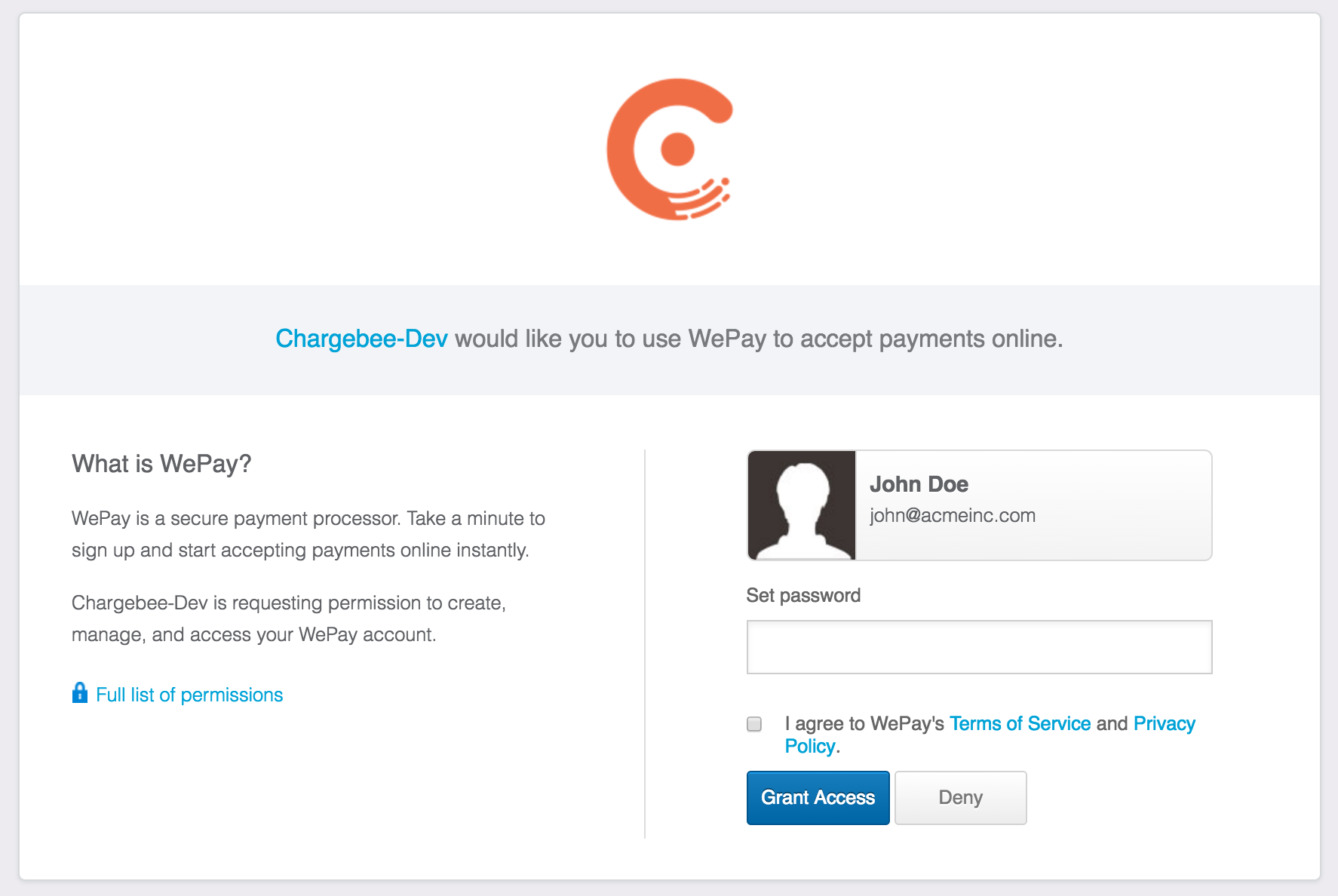 Set a password for accessing your WePay account. After you have set the password, you will have to verify your account.
3. Verify your account
After signing up for a WePay account, and while accessing it, WePay asks you to verify your account.
For verifying your account, you should enter information like your Social Security Number, Address, etc.
Here's how the Verify your information screen looks: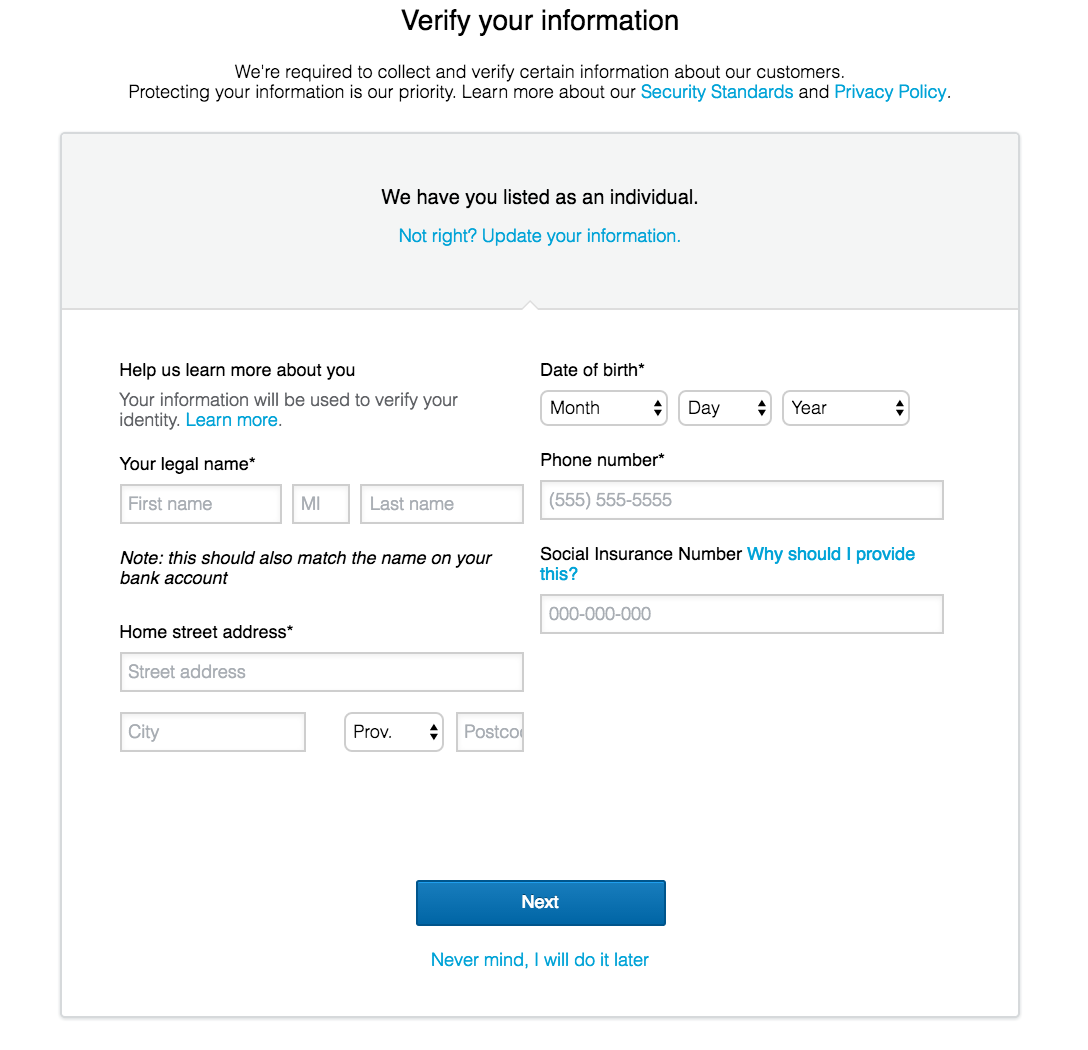 Note
If you process payments without verifying your WePay account, the payments will be refunded automatically within 30 days.
4. Update Bank Account Details
After verifying your account, you will have to set up a bank account with Wepay. This is where you can withdraw your money processed. Post verification, you will be able to carry out transactions in your account.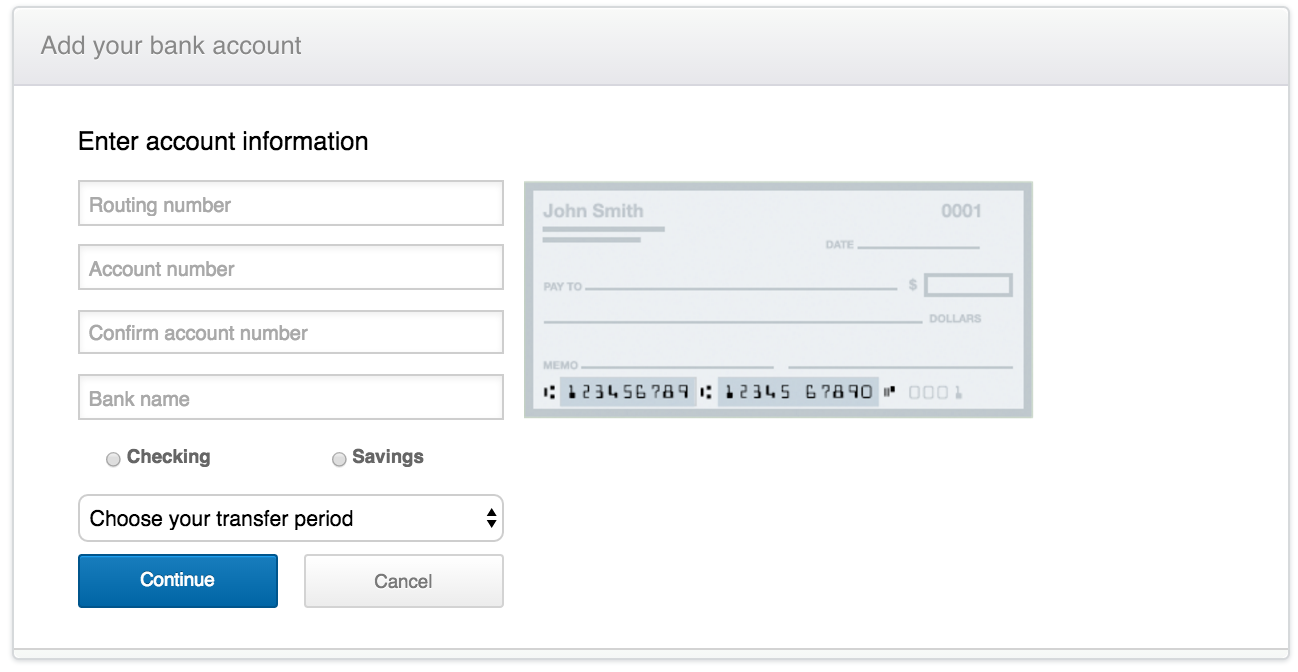 5. Hosted Pages Fields

If you use Chargebee's hosted pages for collecting payments, ensure that you enable the following fields under Hosted Pages Settings, so the mandatory information is passed to WePay:
Under Settings › Hosted Pages Settings › Field Configuration, select the following fields:
Account Information
Card Information

First Name
Last Name
CVV
Card address zip
Card address country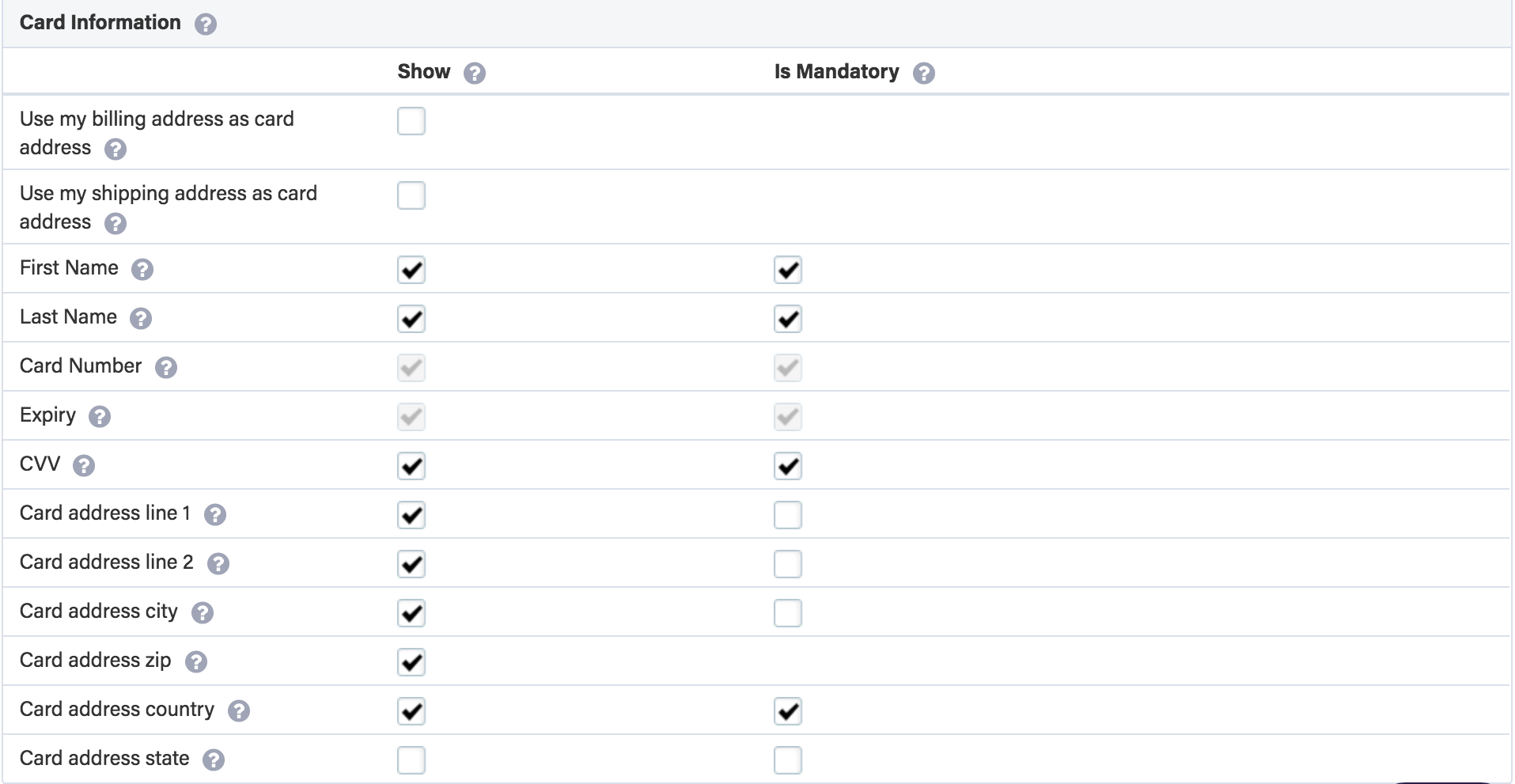 Other Configuration with Chargebee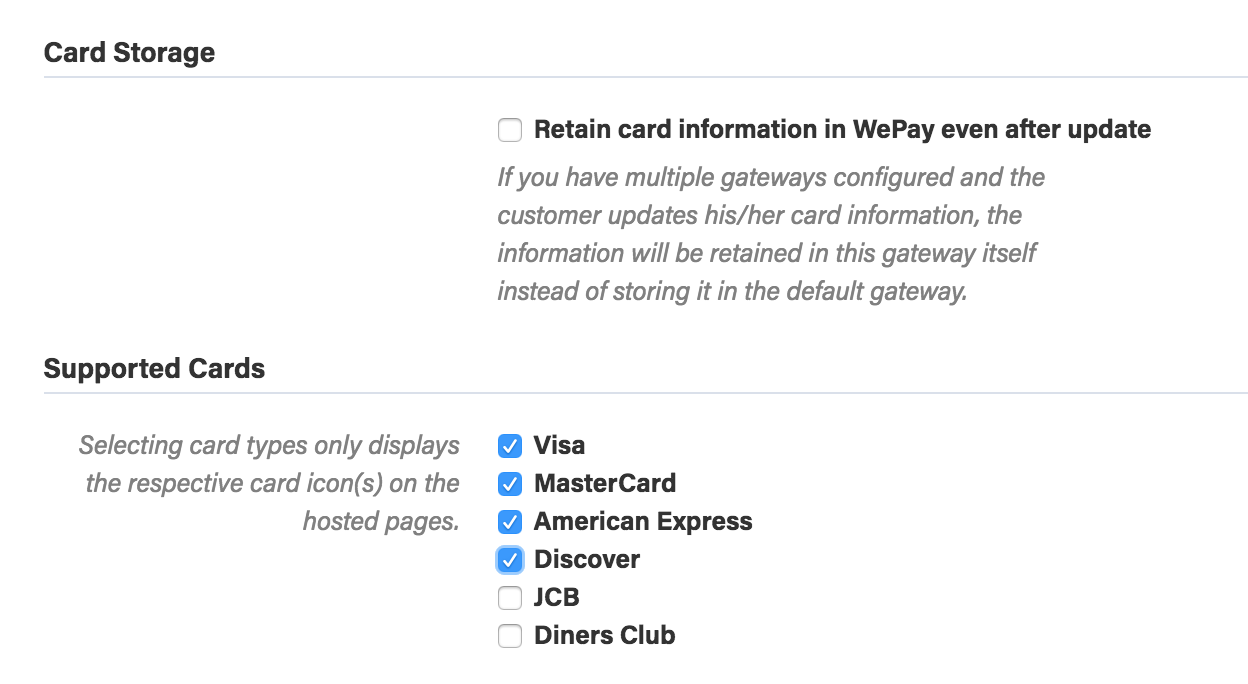 Find more information on options related to card storage and Supported Card Types.
Note
The card types you choose in your WePay Merchant Account will be automatically selected here. If you make any changes in your Merchant Account, ensure the same is updated here.
Test Card Numbers
The card numbers provided here can be used for testing card transactions in Chargebee's Test site in the test mode of your WePay account.
Use any CVV number for the following test cards.
| | |
| --- | --- |
| Card Number | Card Type |
| 4003830171874018 | Visa |
| 5496198584584769 | Mastercard |
| 378282246310005 | AMEX |
Pass different amounts to simulate various testing scenarios. Here's more on that.