Object Relationship Model
Chargebee automates the recurring billing and subscription workflow for your business with a closely coupled system. The following diagram depicts Chargebee's Object Relationship model. The purpose of this diagram is for you to identify the key data objects in Chargebee, and understand how they are linked and interact with each other within Chargebee.
Based on their functionality, the objects are placed under four key sections that are Product Catalog, Customers & Subscriptions, Invoicing, and Payments. These objects interact to help automate the subscription billing and revenue operations for your business.
The objects are linked using crow's foot notation to describe the type of relationship between them.
Click the image for a full-screen view.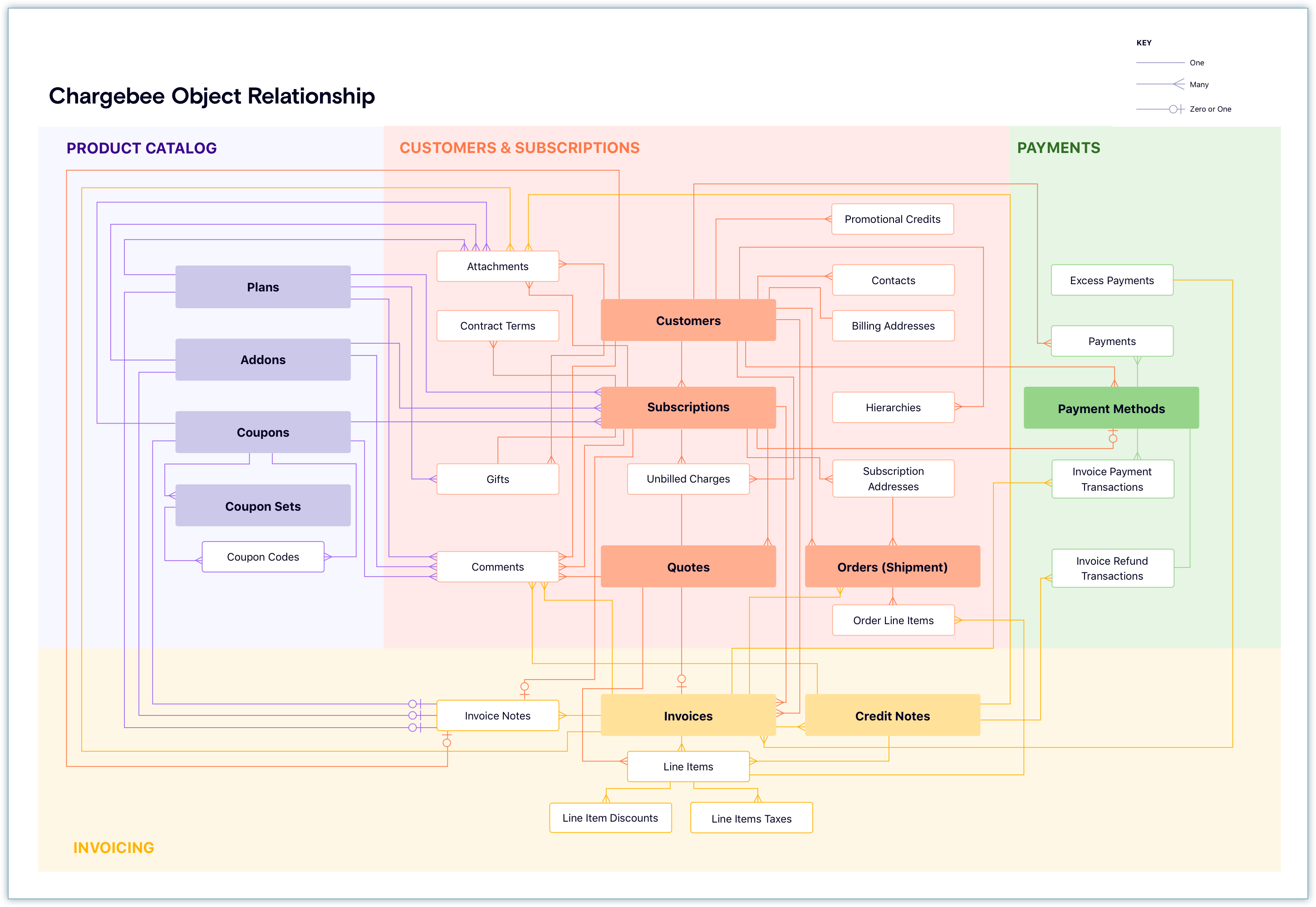 Product Catalog
Plans, Addons, Coupons, and Coupon Sets form Chargebee's Product Catalog. These objects help you define your products or services, along with their pricing and recurring/non-recurring billing configuration. Learn more about the product catalog in Chargebee.
Customers and Subscriptions
Subscriptions are created when your customers sign-up for your plans and addons. This section includes the key objects that can be tracked for your customers and subscriptions along with Quotes and Orders that can be created for them. Learn more about customers and subscriptions in Chargebee.
Invoicing
This section displays the objects included in the Invoices and Credit Notes modules and how they relate to the other objects in Chargebee. Learn more about invoices in Chargebee.
Payments
This section displays payment related objects and how they related to the customers, subscriptions, and invoicing objects. Learn more about payments in Chargebee.