eWay Rapid
eWay Rapid is an Australian payment solution that comprehensively addresses the needs of online merchants based in Australia, New Zealand, the UK, Hong Kong, Singapore and Malaysia. It is renowned for its quick settlement, multi-currency support, advanced anti fraud solutions and competitive pricing for large businesses.
Choosing eWay
Consider the following before you choose eWay to be your payment solution:
Countries supported: eWay Rapid is available to merchants in Australia, New Zealand, Singapore, Hong Kong, Malaysia and the UK. Click here to see if this payment gateway is supported in your location.

Merchant account: eWay provides merchant services to business domiciled only in Australia. You need a merchant account to use eWay Rapid in any of the other countries it is available. If you would like to open a third party merchant account in Australia, New Zealand or the UK, here is a list of banks that eWay partners with. If would like to do the same in Singapore and Malaysia, we recommend getting in touch with eWay for a full list of banks they partner with to provide internet merchant facilities.
Information
Chargebee supports only card payments with eWay.
Website Requirements: Depending on where your business is domiciled, eWay requires certain details to be displayed on your website if you want your application for a live site to be successful. Singapore, Hong Kong and Malaysia share the same website requirements while the UK , Australia and New Zealand do not.

Multi-Currency support: eWay's multi currency feature allows merchants to settle transactions in more than one currency. If you are using a third party merchant account, you should get in touch with your merchant service provider to find out if it can support Multi-Currency.
eWay Accounts

There are two possible accounts that you can create with eWay - a test account and a live account. Any transactions processed in eWay's test account, the Sandbox Business Center, will create dummy data so you can get an idea of how eWay's live account, the Business Center, works.

Contact eWay to make an application to activate your Business Center account when you are ready to start accepting payments.
Note
eWay Rapid is supported only on Chargebee's live site.
Using eWay with Chargebee
Chargebee uses Spreedly , a third-party card vault, to store all the customer card information associated with eWay.
Chargebee is integrated with eWay via Spreedly vault. In order to use Chargebee and eWay payment gateway, all existing cards in eWay need to be migrated to Spreedly. To do this, please contact eWAy Support. They will help you will the process.
Integration Options
Chargebee offers the following options to integrate with eWay Rapid on its live site:
Option A Chargebee's hosted payment pages + eWay Rapid Gateway
In this method, a customer's card information is collected by Chargebee's secure hosted pages and passed on to Spreedly for storage. This minimizes your PCI compliance requirements. As a merchant using Chargebee's hosted pages, all you have to do is fill in a Self Assessment Questionnaire (SAQ-A) and submit it to the payment gateway, if requested.
PCI Compliance Requirements: Low
Option B Chargebee's API + eWay Rapid Gateway
With this option, the collection of card information is handled at your end and is passed on to Chargebee later. Once captured, Chargebee would route the card information to Spreedly. This sets your PCI compliance requirements a little higher; you will have to prove that your servers are secure enough to receive such sensitive information.
PCI Compliance Requirements: High
Configuring eWay Rapid
Follow these steps to integrate your eWay Rapid Business Center with Chargebee's live site:
Step 1: In your Chargebee Live Site, go to Settings > Configure Chargebee > Payment Gateways and click Add a Gateway and select eWay Rapid.

Step 2: Once on the eWay Rapid Gateway Configuration Page, enter your API Key and API Password to configure your account. Click Connect.
Note
Find your API Key and Password on eWay by navigating to My account > API Key.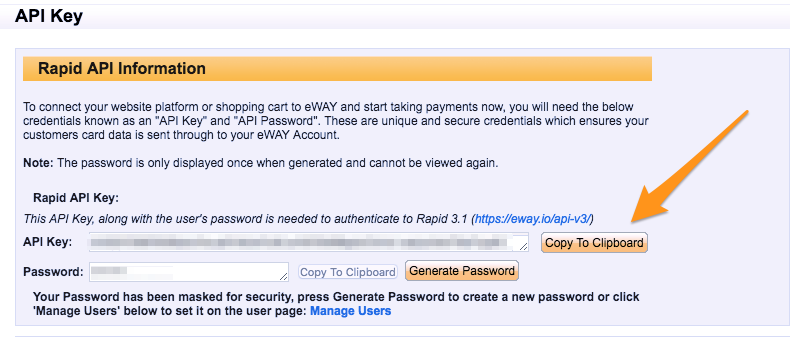 Step 3: Make sure you enable the Card Verification, and Card Storage options if necessary.

Step 4: Configure your Risk Settings on eWay's fraud detection page - the Beagle - so that the gateway's default settings don't interfere with legitimate transactions (like international payments or transactions over a certain amount). Navigate to Settings > Anti-fraud/Beagle on the eWay web interface to toggle these.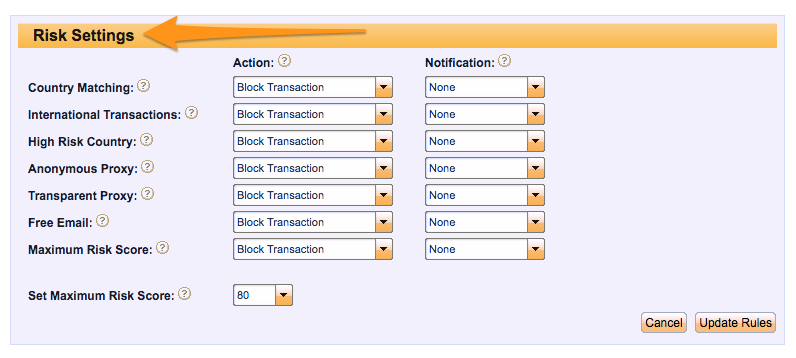 Testing with eWay
eWay can only be integrated with Chargebee's live site. If you are on the test site and want to test the payment flow, you can use Chargebee's test payment gateway which is designed to simulate payment related scenarios. Test cards for Chargebee's Test Payment Gateway can be found in our Cards page.