Adyen
Introduction
Adyen is a payment solution that processes payments via 250+ payment methods, over 140 currencies from all over the world.
Choosing Adyen
Here are a few things to consider before you choose Adyen to be your payment solution:
Countries Supported: You don't have to be domiciled in a particular region to use Adyen. No matter where you are based, Adyen allows you to accept payments from around the world.

Business Type: Adyen does not support certain business types due to legal reasons. Check out Adyen's Restricted and Prohibited List for more.

Payment Methods: Adyen supports over 250 payment methods, including card networks (like Visa, MasterCard, Discover American Express and Interac), online wallets (from around the globe like Alipay, Apple Pay and PayPal) and e-banking options. Check out Adyen's payment methods page for more.

Chargebee supports Alipay, UnionPay, WeChat pay and Card based payments.

Pricing: While Adyen does levy a setup fee, the gateway operates on a tiered pricing model (the more your transactions, the less the fee per transaction). More on Adyen's pricing here.

Data Portability: Adyen supports data portability. If you ever decide to switch away from Adyen, exporting your data to another service will be easy. You are the owner of your data.

Currency Support: Adyen supports over 140 currencies. Find the complete list of currencies here. There are the list of currencies supported by WeChat Pay via Adyen.

Payment Processing: Adyen processes payment asynchronously. This means that there is a delay between the time that Chargebee makes a payment request and the time that Adyen responds with the result of the request.
Note
Adyen processes payments in an asynchronous manner, which means there will be a delay in response from Adyen
Collect Invoice On Update Payment Method is not supported for Adyen
Types of Accounts
Adyen supports two types of accounts - a Test account and a Live account. They are similar in every regard except that a Test account processes dummy transactions and a Live account processes real transactions.
You can make use of the Test account to test end to end transactions (find more details here).
Your Live Account is created once you have applied and have been approved for a merchant account with Adyen. You can accept payments only when you have a Live account.
Integration Options
Chargebee supports integrating with your Adyen test and live accounts. Here are the integration options:
#
Methodology
Description
PCI Requirements
1
Chargebee API + Adyen Gateway
In this method, collecting card information should be handled at your end passed on to Chargebee via the API. Chargebee will route this card information directly to Adyen
High
(card information will be collected by you directly, you will have to take care of PCI Compliance requirements)
2
Chargebee Hosted Pages + Adyen Gateway
In this method the card information of the customers are collected by Chargebee's secure hosted pages and directly passed on to Adyen
Low
(Your PCI compliance requirements are greatly reduced because of Chargebee's hosted pages. As a merchant using Chargebee's hosted pages, all you have to do is submit a Self Assessment Questionnaire to stay compliant.)
3
Chargebee API + Adyen js
In this method, the card details are captured and encrypted on the client side by the Adyen's javascript encryption library and the encrypted card details are sent to Chargebee.
Here's a tutorial on how to set this up.
Low
(card details are encrypted by Adyen)
4
Chargebee API + Adyen Hosted Payment Pages
In this method, the card information is collected by Adyen's secure hosted pages and the checkout details are passed to Chargebee via the API.
In this mode, you should set the Brand codes as per the payment method (Card based payments, Alipay, UnionPay, WeChat Pay) you want to process.
Refer this page for complete details.
Low
(PCI compliance requirements are reduced when Adyen's hosted pages are used)
Prerequisites (to be completed in Adyen)
You should set the following in Adyen before you begin configuring in Chargebee
1. Setup Roles/Privileges in Adyen
Ensure that your 'Adyen Webservice user' has the following roles enabled
API PCI Payments Role
Merchant PAL Webservice Role
Merchant Recurring Role
If you are going to use Chargebee API + Adyen.js (Easy Encryption), you also need to enable the API Client side Encryption Payments Role in addition to the above mentioned roles.
2. Enter 'Capture Delay'
The time between the authorisation of a payment and the capture of a payment is called the Capture Delay. Chargebee requires the Capture Delay to be set to Manual in Adyen.
To configure Capture Delay, Navigate to Settings > Merchant Settings > Capture Delay and select the Manual option.
Configuration in Chargebee
To configure Adyen with Chargebee, you would require an Adyen Account. Follow these steps to connect your Adyen Account with Chargebee:
Step 1: Go to Settings > Configure Chargebee > Payment Gateways and click Add a Gateway. Select Adyen.

Step 2: Enter the following information.

Merchant Account Code: Unique to your Adyen account, this code is displayed at the top of the Adyen dashboard (make sure this is an active Account Code in Adyen)
Username: As it appears in Settings > Users in your Adyen account
Password: The password used to sign into your Adyen account
Public Key: Enter your client-side encryption public key.
Notification Authentication Username: This is the username you will have to use later to allow your Adyen account to communicate with your Chargebee site
Notification Authentication Password: This is the password you will have to use later to allow your Adyen account to communicate with your Chargebee site
Notification URL: Once you've entered all the data and saved the configuration, you will see a new field namely, Notification URL, on the configuration page, which you'll need to configure in your Adyen account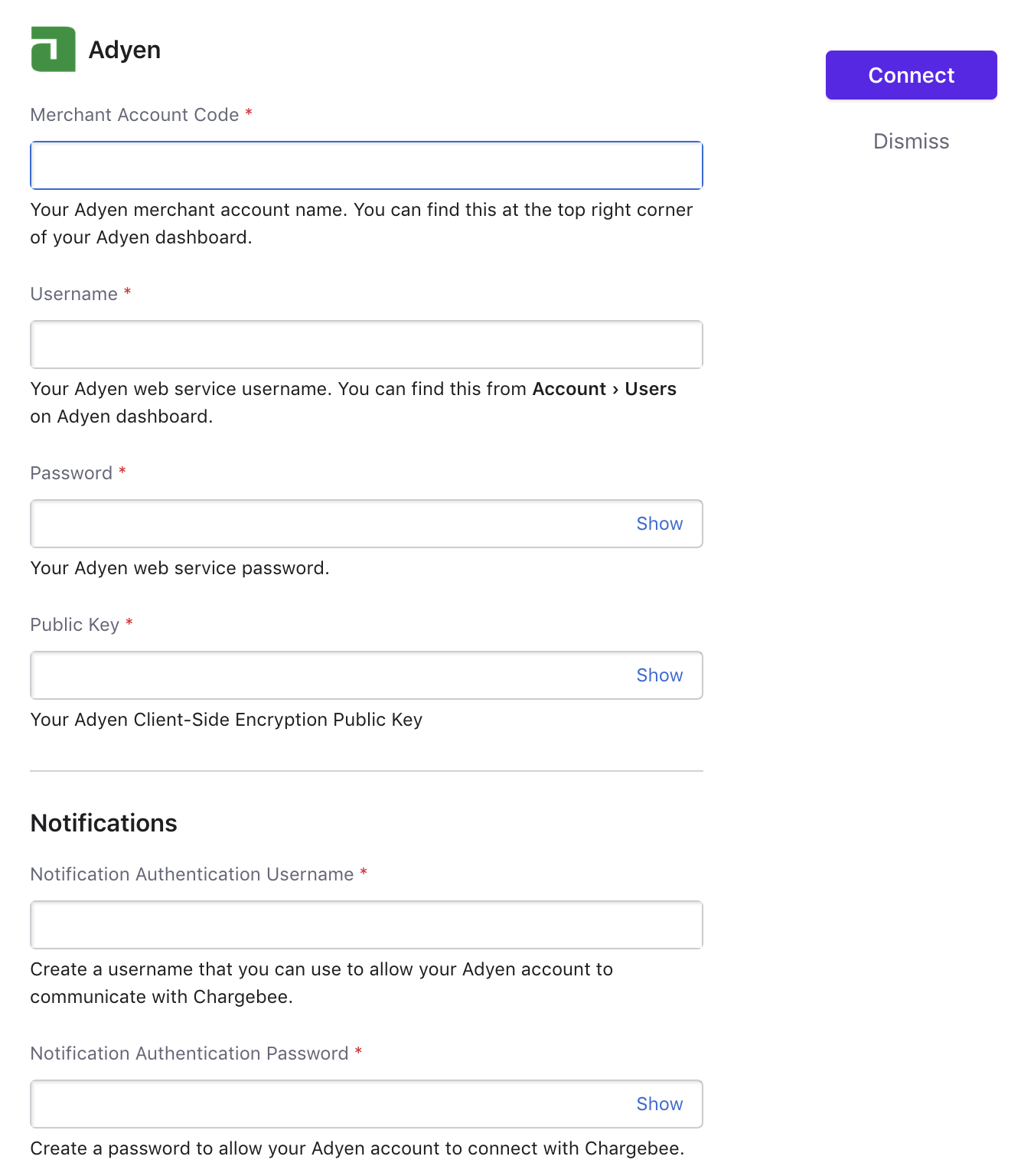 The next section will walk you through the settings you need to configure in your Adyen account.
Configuration in Adyen
To complete the configuration, you have to configure the Notification settings in Adyen.
Navigate to Server Communication > Standard Notification > Add in your Adyen account and enter the following information:
URL field: Enter your Notification URL (generated in Chargebee)
The Notification URL should be added in Adyen to ensure that every time an event is triggered in Adyen is notified to Chargebee
Enable the Active option
Set the Service Version to 1
Method should be JSON
Enter the Notification Authentication Username and Password as entered on the Adyen configuration page in your Chargebee site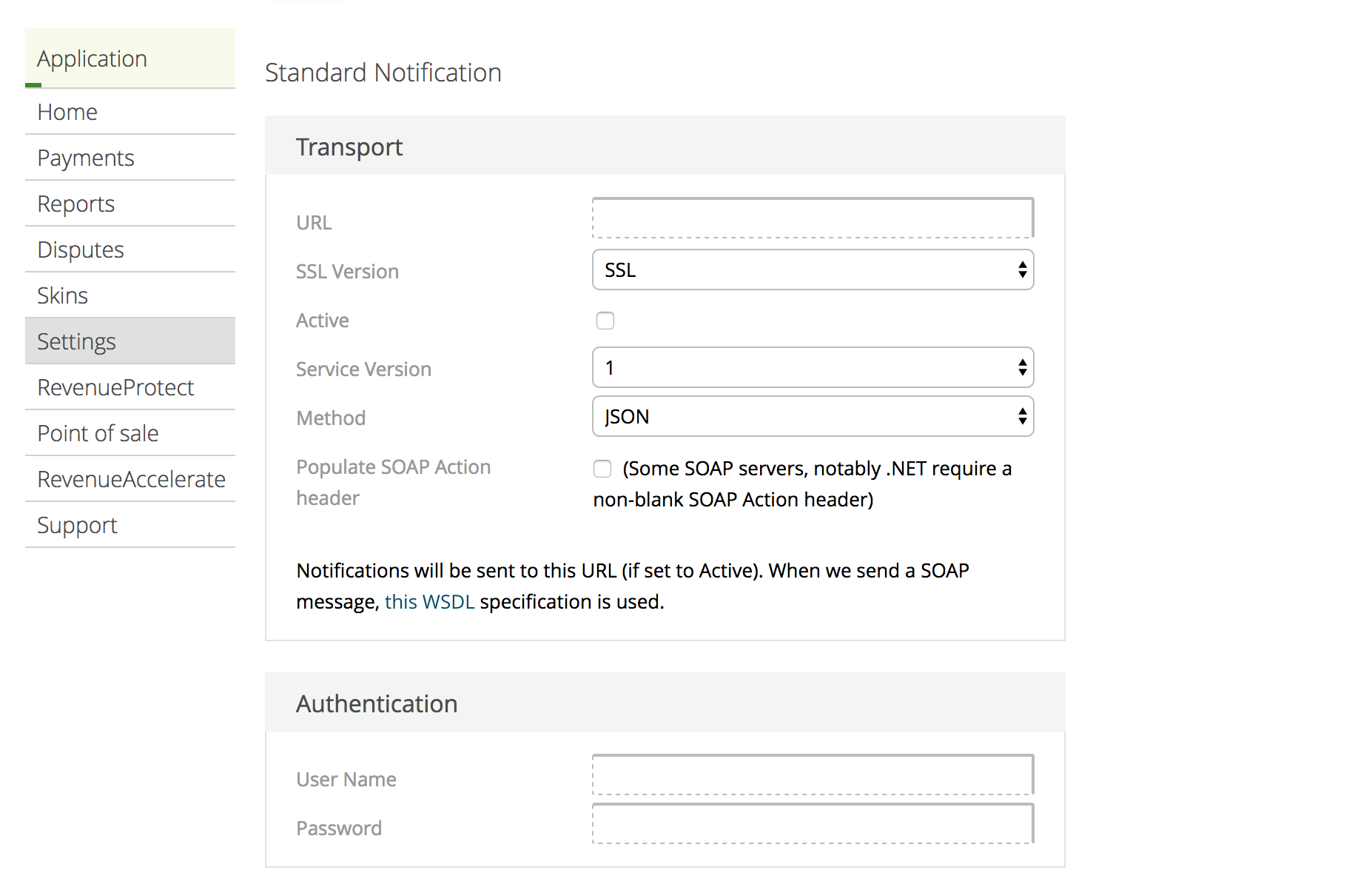 Note
Merchants need to contact Adyen Support to enable RECURRING_CONTRACT notifications on their accounts to charge customers on a recurring basis.
Kindly login to your Adyen account and disable the Recurring Details API URL and Response to get the Authorization and the Recurring Details webhook.
The Adyen Card workflow on Chargebee
For a payment to go through, it is necessary to make the First Name and Last Name mandatory during check out.
To do that:
Click Settings > Configure Chargebee > Checkout & Self-Serve Portal > Fields > Payments.
Enable First Name and Last Name in that section.
Click Publish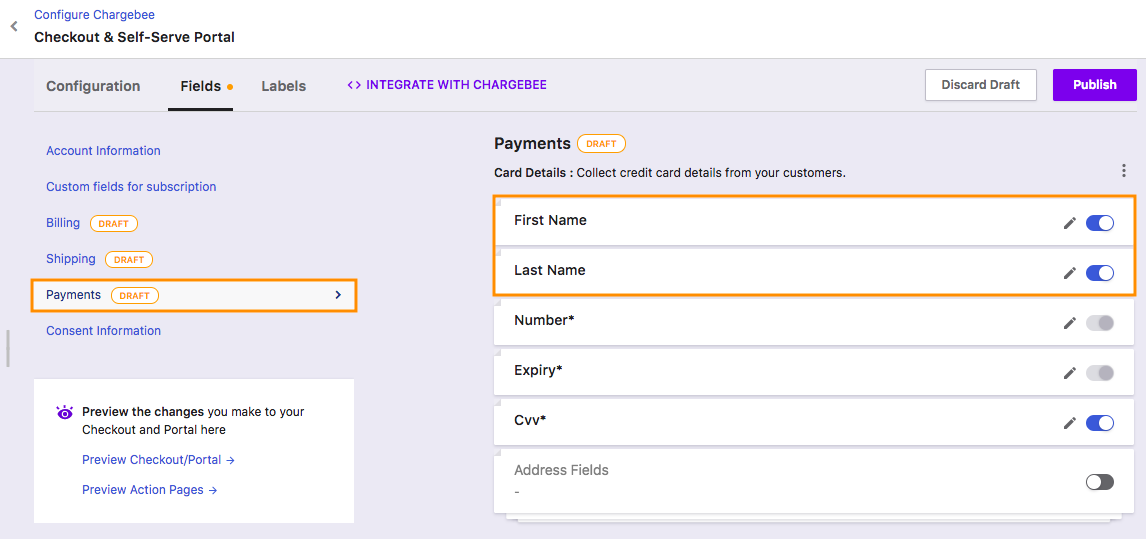 Given below is a workflow on what happens when a payment is attempted:
When a card is added and a payment is initiated, a Payment Due invoice with a payment initiated tag is created on Chargebee.
Chargebee will then wait for a webhook from Adyen to notify the status of the payment. This is because unlike normal payments, Adyen processes payments in an asynchronous manner. Therefore, Chargebee will have to wait for the webhook from Adyen to know the status of the payment.
Once Chargebee receives the webhook it will mark the invoice accordingly. For successful payments the invoice will be marked as 'Paid' and for unsuccessful payments, it will go into Dunning if it is enabled and the final action set in the Dunning Settings will take place.
Note
When you add a card for the first time and the payment fails, the status of the payment method will be marked as Invalid and the whole process of adding a card must be repeated once again.
Limitations
'Collect Invoice On Update Payment Method' is not supported for Adyen
Dunning is supported only for card payments. For other payment methods, if a transaction fails, the invoice will be moved to Not Paid state
WeChat Pay and Alipay via Adyen are not accepted to make payments for plans with a trial period
FAQ
How long does it take for funds to reach my bank account?
A transaction goes through different statuses before reaching your account. Payment method type also plays a major role when it comes to settlement time. You can refer Adyen's Merchant Manual for more info.
When can I perform a refund for a transaction?
It is not possible to initiate a refund for an In-Progress transaction. You need to wait for the transaction to transition to Success state to initiate a refund.
Is there any time after which I cannot perform a refund?
Refund period varies with the payment method type in case of Adyen. Ex: Card payment method have a larger refund window than Alipay. You can contact Adyen's Support Channel for more info.
How is dunning handled when Adyen is configured?
For every recurring invoice, dunning is carried over using the setting configured in Chargebee's Settings > Configure Chargebee > Dunning for Online Payments/Dunning for Offline Payments. Unlike normal payments, Adyen processes payments in asynchronous manner, the dunning is initiated only after the transaction has transitioned to Failure state.
Removing payment from an invoice during the dunning period:
If you remove an in-progress transaction from an invoice in dunning, then dunning will be stopped.
Note
Dunning is supported only for card payments. For other payment methods, if a transaction fails, the invoice will be moved to Not Paid state
How is Payment Method Status managed in Adyen?
Adyen's API is totally asynchronous, Chargebee makes a request to Adyen and Adyen responds with the result of the action.
When you add/update a payment method by passing either the payment details or checkout parameters, the payment method will move to Pending Verification state, and will move to either Valid or Invalid state based on whether the authorization was successful or not.
Note
Only payment methods in Valid state can be used for future payments.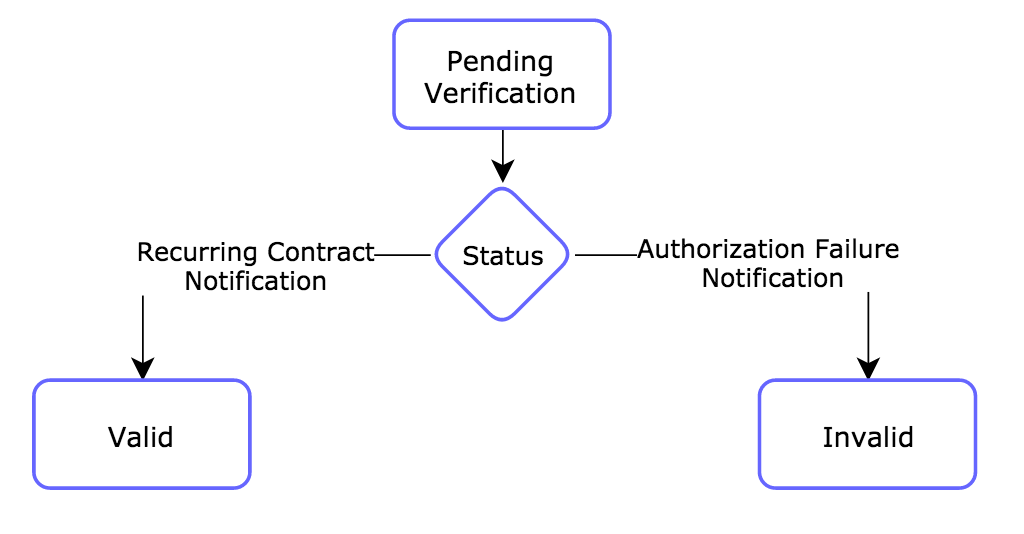 How is Transaction Status managed in Adyen?
When you initiate a payment/refund, the transaction will be verified in Adyen. Transaction status will move to in-progress state when verification begins, and will transition to either Success or Failure state based on the notification received from Adyen.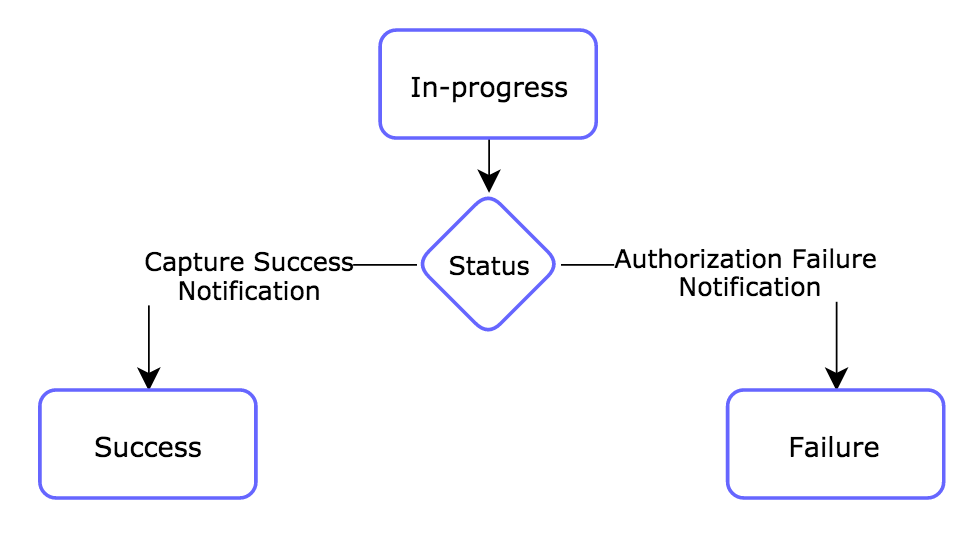 Why should 'Capture Delay' be set as 'Manual' in Adyen?
Payment processing with Adyen occurs in two steps:
First, the payment is authorised - Adyen contacts the customer's financial institution, the payment method is validated and funds are set aside for the payment
Second, the payment is captured - Adyen sends a request to the financial institution to go ahead and charge the payment method
The advantage of setting the Capture Delay to Manual is that your customer won't be charged twice in the case of an authorization timeout.
How Chargebee can help in leveraging Adyen's RevenueProtect Engine?
Chargebee will send the shopper reference and billing address to Adyen as part of every transaction request. This helps you leverage the following RevenueProtect rules: