GoCardless
GoCardless is an online direct debit provider based in the UK. With GoCardless you can accept direct debit payments from your customers in
The UK via Bacs (Bacs Payment Schemes limited)
The Eurozone via SEPA (The Single Euro Payments Area), and
Sweden via Autogiro .
Prerequisites
To accept direct debit payments with GoCardless and Chargebee, you must:
Have a GBP/EUR bank account linked with your GoCardless account.

Accept payments in GBP/EUR and/or SEK.
Note
GoCardless supports three currencies: GBP (UK), EUR (Eurozone) and SEK (Sweden). You can transact in and manage all three currencies from your GoCardless account.
Section One: Accepting payments via GoCardless
To accept payments with GoCardless you need to configure your GoCardless account on Chargebee and allow your customers to pay you via Direct Debit. Here is a step-by-step guide:
Step 1: Configure your GoCardless account
Chargebee makes use GoCardless's OAuth feature to safely connect to your GoCardless account. You will be redirected to GoCardless's login page where you will have to authenticate your account by entering your login details before it automatically connects with Chargebee. If you do not have a GoCardless account, Chargebee will give you the option to create a new one.
To get the process started, navigate to Settings › Gateway Settings and click on Configure a Payment Gateway. From the list of payments gateways on the page, select GoCardless and click on Use this Gateway.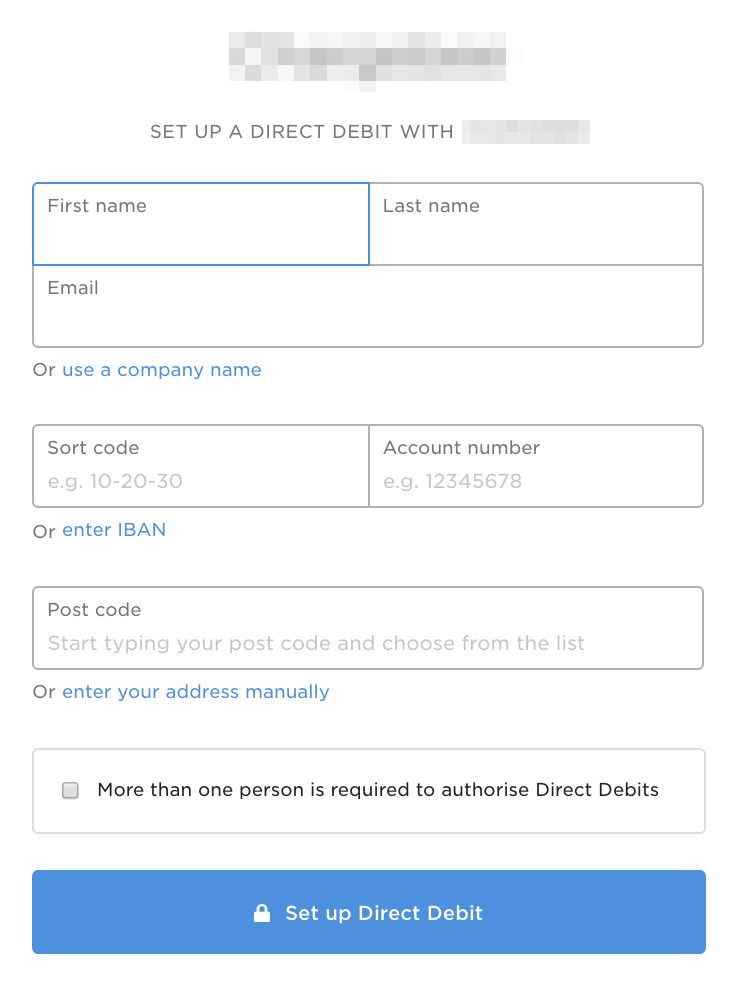 On the GoCardless configuration page, you have an option to either create a new GoCardless account or connect to an existing account. Here is a screenshot for reference: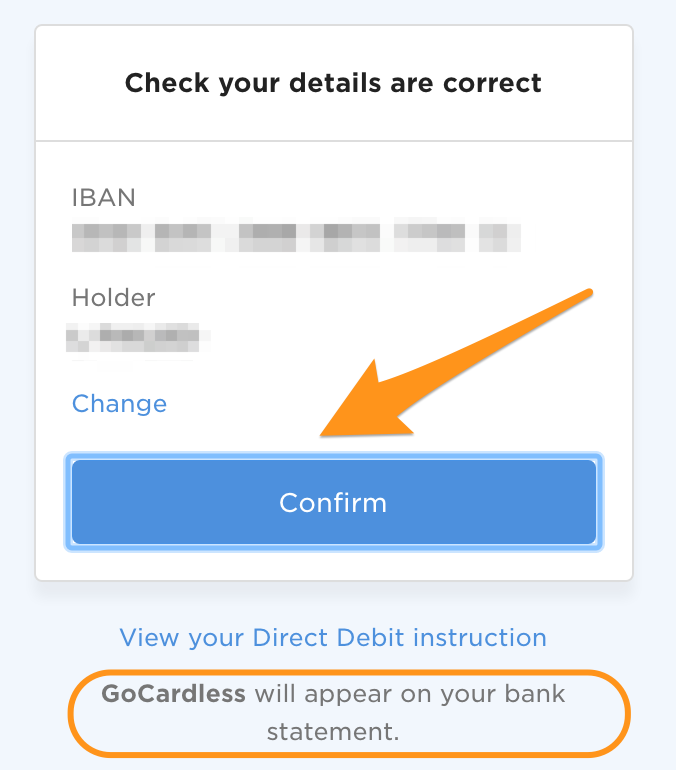 Option A Create a new account
If you choose to create a new account you will be redirected to the GoCardless website where you can sign-up for GoCardless by providing personal details and basic business information.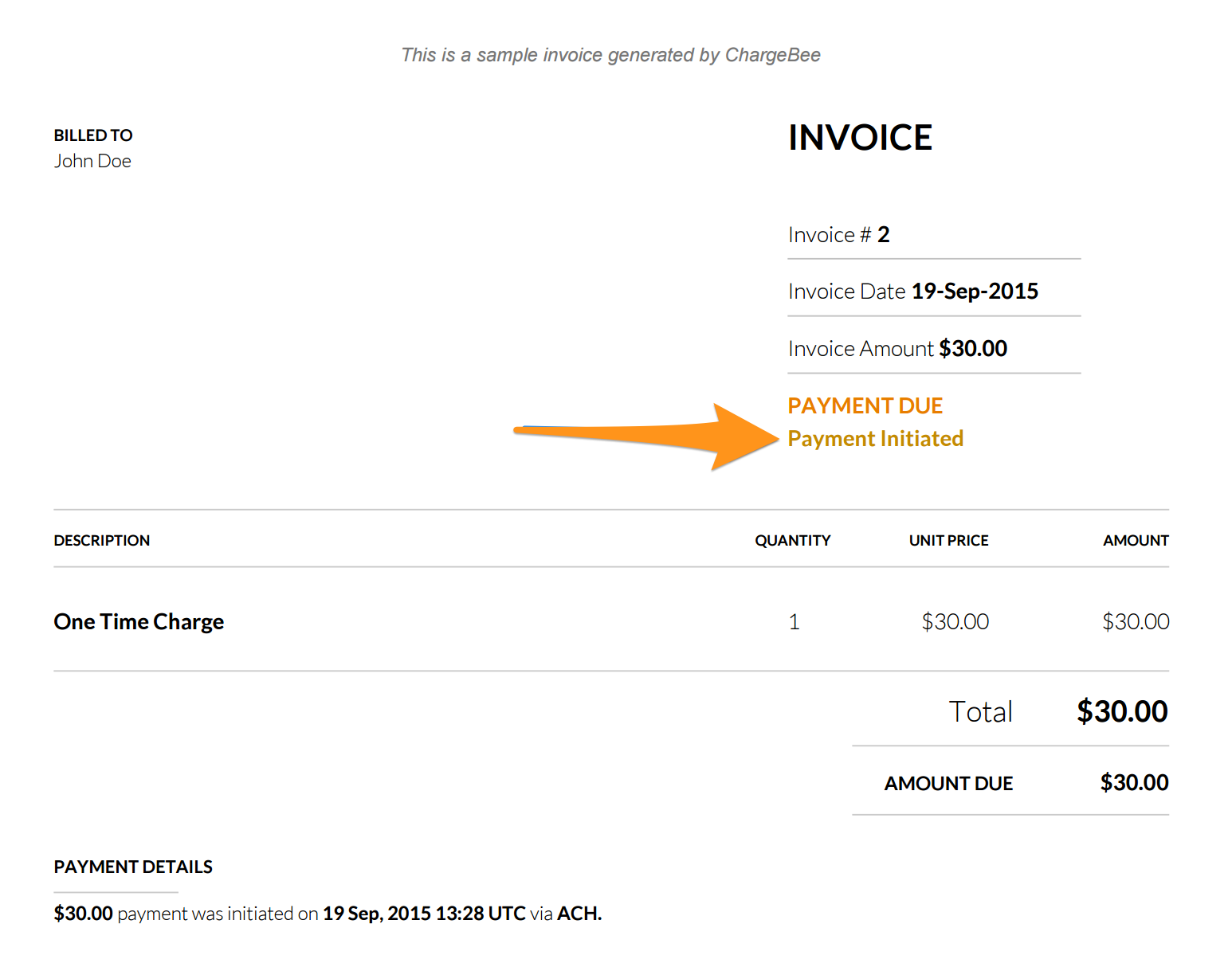 Remember to complete your setup later by navigating to Settings > Company Info and providing any additional information GoCardless requires.
Note
The bank details you enter on this page will be the bank account GoCardless uses to settle any payments that you receive.
Option B Connect to an existing account
If you choose to connect an existing account you will be redirected to the GoCardless login page. When you authenticate your account with your unique username and password, it will connect to Chargebee automatically.
Reconnecting to your GoCardless account

In the event that your GoCardless account gets unexpectedly disconnected with Chargebee, you can use the Reconnect option on the integration page to re-establish a connection. You can fix timeout issues (error code: access token not active) by reconnecting to your GoCardless account; this may be a reason for failure.

Step 2: Approve your customer to pay via Bank Account
Step two is allowing your customer to pay via bank account. This additional step ensures that direct debit payments are an option only for customers you know and trust.
To allow a customer to make a direct debit payment, enable the Allow this customer to pay to via his/her bank account option when creating a customer.
In case the customer already exists and wants to start paying via bank account, you can enable this option by navigating to her Customer Details page and clicking the Change customer details option on the right (listed under Actions).
Section two: The Ins and Outs of Direct Debit
With steps one and two complete, you are ready to accept direct debit payments on Chargebee. This section will go over how direct debits payments are set up, the workflow in Chargebee, refunds and the direct debit waiting period.
Checkout and Mandates
Your customer must authorize the periodic debit of funds from his bank account via a written Direct Debit Mandate . Essentially, a mandate is a document that authorizes the withdrawal of future payments from a bank account. The details of each mandate are standardised and GoCardless generates a mandate for your customer to verify on checkout.
GoCardless generates mandates using a redirect flow . Usher your customer to GoCardless's hosted pages to get the redirect flow started:
When a customer is ready to checkout, she is redirected to GoCardless's hosted pages. Here, she keys in her personal and bank account information. This information is pushed to GoCardless. GoCardless uses the personal information to create a customer in your GoCardless account.

If this is the first payment your customer is making, she will need to authorise this payment and future payments to be made directly from her bank account. GoCardless will present a mandate for her to verify.

When the customer verifies the mandate, her details are tagged with a mandate ID in your GoCardless account.
Note
Depending on your bank, GoCardless will appear against transactions your customer makes on your website. If you would like to customize what appears on your customer's bank statements, navigate to Settings > Merchant Settings from your GoCardless dashboard.
Creating a customer in Chargebee

The redirect flow creates a customer resource in your GoCardless account but does not create one in your Chargebee account. To create a new customer in Chargebee you will have to use the create a customer parameter, pushing the customer's personal details and mandate ID to Chargebee via API.

For an existing customer, on the other hand, you can push the customer's mandate ID using the update payment method parameter.
The Direct Debit workflow
The payment flow on Chargebee looks like this:
When an direct debit payment is made (for both one time payments and recurring payments), a payment due invoice with a payment initiated tag is created in Chargebee.

Direct debit payments take between 3 to 5 working days. When the funds are received, GoCardless marks the payment as successful, if they are not, it marks the payment as failed.

Chargebee is notified of the change in the status of the payment (via webhook) and consequently marks the invoice as either paid (for a successful payment) or not paid (for a failed payment). For more, check out the invoices page.

In the event of a chargeback, you will be notified with an email from Chargebee. Additionally, Chargebee will add a comment to the transaction in your transaction details page for reference.
Note
It is not possible to dispute a chargeback on GoCardless.
Here is an invoice generated for reference:
Testing with GoCardless
You can test the workflow after you integrate your Chargebee account with GoCardless.
To test payments, you will have to:
You can simulate all possible payment scenarios including payment success, payment failed, payment cancelled, payment charged back, mandate cancelled and mandate failed.
Note
If you switch from the test site to the live site, you will have to repeat the integration process with GoCardless.
Card Payments vs Direct Debit Payments: The waiting period
Unlike card payments, where the authorization and transfer of funds happens immediately, the transfer process has a waiting period for payments via Direct Debit. This waiting period is typically from three to four business days (five if the mandate needs to be verified). Settlement usually doesn't take more than five working days.
Refunds
GoCardless processes refunds via bank transfer since the direct debit networks do not support refunds. Refunds can sometimes fail or be charged back as a result. To avoid complications, GoCardless recommends enabling the refund option two days after the charge date in order to avoid refunding a failed payment.
Email notifications
The direct debit network requires that your customers be informed of a charge three days before it is due. GoCardless automates these notification emails so your customers are always aware of charges you make to their accounts.
Additionally, there are three types of email notifications available on Chargebee for direct debit payments. They are:
Payment Initiated: To inform customers that a payment has been initiated via Direct Debit from their bank accounts (GoCardless will send out an automatic email)

Refund Initiated: To inform customers that a refund has been initiated towards their bank account.

Subscription Renewal Reminder: To inform customers that their subscriptions are due for renewal and that they will be charged for the same.
Note
We recommend enabling email notifications from Chargebee only if you are comfortable with your customers receiving notifications from both Chargebee and GoCardless. Check out the email notification page for more info.