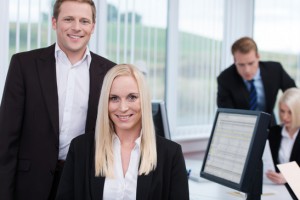 Most tech startup successes have humble beginnings. We have all heard stories of the brilliant founder who starts his company at his home garage or basement, makes something great, finds a partner and goes on to conquer the world.
In the very early stages of your startup, working from a garage or basement can be fine. However, at a certain point, you will need to change. You cannot always keep meeting clients at restaurants or coffee shops. Moreover, working from home can see your productivity wane with distractions like kids, family, dog and TV.
You can avoid the problems of working from home by moving to a coworking space. Coworking spaces have become very popular and are springing all over the country. While the spaces are not new, what they provide tech startups for the price keeps improving.
For example, Enerspace which has space in Chicago and Palo Alto offers entrepreneurs, freelancers and small business owners "Workspace + Wellness". The Chicago office comprises of a professionally designed urban loft space that is well lit and provides members with a stunning view of the skyline.
Enerspace offers different membership options that can fit different startups. The options come with various benefits that enable entrepreneurs to be productive. Membership starts from $20 a day and includes use of coworking tables, yoga class, kitchen facilities and café seats.
Co-Working Space Environment
Co-working spaces are not just vast areas with desks and chairs offering tech entrepreneurs high-speed internet connection. The areas are made to be exciting places to work that can improve your productivity.
In a typical coworking space environment, you will find jeans-clad entrepreneurs working quietly with their laptops. Coffee and pastries are usually well stocked and you can order lunch through a concierge. If you need a change of scenery and want to improve your productivity, consider moving from a private office or home basement to a coworking space.
As a startup, you need to access to various resources fast and affordably. Apart from this, you need encouragement from other peers when the going gets tough. This is why you need coworking space. Below are four benefits of working in a coworking space:
1. Build Relationships
You can build relationships that can help you and your startup at a coworking space. As you are building your company, you probably don't have enough cash to hire more people to your team. Thus, you will be relying on freelancers to do most of the work you cannot do on your own.
At coworking spaces, you will typically find freelancers that can help you with your web design, graphic design, accounting matters, online marketing and so on. In fact, you have a full team that is within easy reach to build your company.
Moreover, since the professionals are in the same office you are in, it is easy to discuss your needs with them and see their implementation. Some of these freelancers can become lifelong friends and who knows, you can even find a co-founder in them.
2. Make Clients Happy
Before the orders start coming in, clients will want to meet you face to face to discuss business. Meeting with clients in a conference rooms is more professional than at a coffee shop. Moreover, you can always go to clients wherever they are if there is a co-working space in the area.
For example, Teciko Huber, the founder of Focus2Grow and his team of seven use CoCo space either in St. Paul or Minneapolis, depending on where the client they are working with is located. With coworking space, you do not have to miss a customer because you don't have a place to meet or show them what you have.
Coworking spaces provide entrepreneurs with full office services including conference rooms.
3. Find Clients and Business Ideas
You can find your next client and business idea from a coworking space. If you are building a small business solution, some of the coworking workers can be your first clients. You can use their feedback to improve your product before finally putting it out to the world.
On the same note, you can find your next business idea through the problems that fellow coworkers face. If there is one person with a problem, you can bet there are many others just like him around the country with the same problem.
4. Affordable for the Service
Coworking spaces are affordable for startups and provide the right environment to flourish. The spaces are dedicated to improving productivity and provide a host of business solutions at a very small fee. Moreover, most spaces have flexible membership options. You can have space for a day or even a few months depending on what you want.
Co-working spaces are great alternatives for tech entrepreneurs building their business. Tell us your experience in the comments section below.