Traf-O-Data may have been an obscure name from the 1970s in the tech world. What it did was, analyse and process traffic data using tapes; and create reports for traffic engineers. That was Big Data in the '70s. And Traf-O-Data was founded by Bill Gates – before he became world-famous.
Traf-O-Data did not pick up. In fact, Gates claims that the machine didn't work when they tried selling it to the local county. But that did not stop Gates from building the multi-billion dollar Microsoft. If anything, Traf-O-Data was seminal in building Microsoft's first product.
And that is how Gates set an example of breaking the stigma surrounding failure and using that as a lesson to march towards success.
KiSSFLOW's CEO Suresh Sambandam shares candid stories and life lessons from a similar entrepreneurial journey that started in the 1990s – one that is genuine and relatable. Suresh's life lessons in the context of starting a relatively unknown business under the influence of planned and unplanned events show how they have helped temper his character as a sharp businessman.
We interviewed Suresh, where we discussed his first outing as an entrepreneur, his learnings from Hewlett-Packard, lessons on funding and mentoring, the birth of KiSSFLOW – a successful SaaS startup, among many other things.
Back in the 1990s… Tryst with Computing
The '90s were a significant decade for India in terms of technological progress. IT departments across India took pride in their bulky hardwares, mainframes, and giant computers. The computer and Internet era in India was at a nascent stage.
Suresh's exposure to computers from the early 1990s, and it's impact in his life, is an inspirational story. Hailing from Cuddalore, a small town in the south of India, Suresh and his friends, fresh out of school, joined a typewriting course. The typewriting institute owner Velmurugan, lured Suresh and his friends to take up programming as he bought a new Sterling Shiva PC by telling all it costs is another Rs. 50 a month. After a mediocre start with Microsoft Basic, Suresh's tryst with computing took a turn for the better when he started learning dBase.
It completely struck me, what the power of computer is; the power of storing and processing data, and what it can do to companies, is amazing

The demand for that singular computer at his computer lab was high. With five users per computer and an average of 10 minutes per user, Suresh needed more time to use the computer for himself. He was to be found at the lab at odd times – during the scorching summer afternoons, during holidays, and so on. The long hours at the computer lab resulted in the first ever airline ticketing system; at that time Suresh hadn't seen aeroplane even in the skies.
For someone who opted for Biology instead of Computer Science in school, merely because he was intimidated by technology, Suresh was hooked on to the world of programming by going on to learn C, C++ Unix, etc.) and that proved to be his biggest turning point in life.
He sits back to remember the time when he re-wrote the C program for command.com, which is the shell interface to the entire operating system to boot the system successfully. "I didn't know if it was going to work, and I compiled and went home and slept. And the next day, early in the morning I came and booted the computer, and it showed me S:> instead of C:>. That was like phenomenal, I think from there I really decided that my future, you know, lies with computers".
A Date with Entrepreneurship…
A tier 2 town such as Cuddalore did not offer many opportunities in technology. But what it did support was an industrial corridor, SIPCOT, with other big industries in pharma and manufacturing sectors, which could benefit from IT. Suresh and his friends decided to run a computer institute between 1993 and 1996, while also offering solutions to the industries when not teaching.
"I was too young, I didn't know how to do commercials, how to do pricing, how to do a quotation, nothing like that. Simply, the passion for programming and solving something just really drove us to do this". So while the business may not have taken off immediately, they were able to pitch successfully and learn the nuances of business.
The takeaway?
Don't be shy. Just do whatever you want. There's nothing wrong in doing something, and failing

The first break came when they were expected to fix a CNC machine that was ordered from Europe. So, how do a bunch of guys from Cuddalore know what to do with a CNC machine? Or for that matter, what is a CNC machine?!
"It has an RS232 port, that's like a serial port, right. You can actually connect a computer and a lathe, through this port, you can write a programme in the computer and then you can send commands through the RS232 to the CNC machine, it'll move the parts as per the commands", explains Suresh.
He reminisces, "The funny thing is, there was no Internet. It might have been around in America, but in Cuddalore, definitely it wasn't there. There was no cell phone network. So we had to read, talk to people, and understand what a CNC machine is, what an RS232 port is, how do we send a command from a program to the RS232 port, activate a CNC machine".
"We never delivered that successfully. But the fact that we could go into something completely unknown, and still give it a try, was actually the big learning I had", he says.
While this was not the most successful entrepreneurial stint, it did teach them lessons on braving challenges, and picking the courage to wade through unknown waters without a shred of fear and a lot of conviction.
Of Mentors and Growth in Hewlett-Packard…
A natural course of action from the entrepreneurial act would be to start up a business. And that was what Suresh and his teacher/friend Sundar plus three other brick and mortar businessmen – they invested Rs. 25K each to start SISS Pvt Ltd.
Having taken a loan from his father for his share of Rs. 25K, they ran the business moderately for three years and then decided to close shop. They were able to repay the loans while saving some more from the revenues.
With that money, Suresh learnt PowerBuilder, an object oriented development environment, in 1995 – an expensive 5-day course. Suresh set out to Bangalore, a city that was next in line after Mumbai for its IT spur.
Bangalore was the beginning of a professional development journey. "There was no understanding of process and methodology, and best practices, whatsoever. I just learnt programming myself mostly. So, I needed to work somewhere more professional.", says Suresh.
While Suresh was employed, the entrepreneur in him continued to be alive and that landed him a project to build an ERP in PowerBuilder. "Luckily I had learnt PowerBuilder", Suresh remembers. "In the background, I was learning Java. Then, one day I applied for HP, and they called me for an interview", he adds.
And that was the beginning of Suresh's journey at Hewlett-Packard. HP recruited unconventionally, not mandating an engineering degree, a practice that was not as prevalent in India back in the late '90s. They were impressed with his technical skills and without making any reference to his academic background, they hired him.
Suresh's professional experience in HP is incomplete without the mention of his mentor and boss, Dr. Ayee Goundan.
"My father once said, 'Ayee is your Godfather'", laughs Suresh.
Tim Ferriss, wrote in a blog post – "People you want as mentors don't want to view themselves as pro-bono life coaches". As that's the case, we ask Suresh, how should one approach mentors? "Mostly the mentees aspire to be chosen by the mentor", Suresh says and goes on to add, "Mostly, that's how it often works. I think after some point in time, it really becomes more like a personal connection".
That explains the 15 – 17 years of relationship between Suresh and Dr. Goundan that was built slowly but steadily, a mentor-mentee connection that is pro bono indeed. But Suresh is quick to point out, "Not sure that every mentor-mentee relationship can become (pro bono) like this."
Less Vested = More Valuable
Suresh, in one of his talks, said, "The less vested someone is, the more value they're likely to add". We ask Suresh to shed more light on this philosophy. "Let's say, there's some vested interest in a company being successful, then the guidance and recommendation is very much biased toward becoming successful", Suresh says.
Suhail Doshi, Co-Founder & CEO, Mixpanel, in his pitch to Andreessen Horowitz said, "Mediocre VCs want to see that your company has traction, top VCs want you to show them you can invent the future". And Suresh firmly believes in that.
He goes on to say that a lot of things are at stake when investors are vested in a company's success: it creates obstructive thinking in the minds of entrepreneurs and thus, would not encourage them to make certain decisions that they may have, had they not been hindered by a biased advice.
"Entrepreneurs need to have advisors and mentors, that would continue to give the unbiased view of the positives as well as the negatives. Because they're not going to worry about whether it'll be successful or not, this is probably the right thing to do, because in anything success and failure has equal possibility", he says.
Life after Hewlett Packard and the birth of KiSSFLOW…
Suresh's passion for his mother tongue – Tamil, the need to put his son in a good kindergarten school and finally, Dr. Goundan's exit from HP, culminated in Suresh coming back to start afresh in Chennai.
Dr. Goundan headed the product engineering team in Chennai for a silicon valley company called Selectica. Despite knowing Suresh well, Dr. Goundan interviewed him formally which Suresh feels proud of being chosen by Merit. "My tenure at Selectica, actually trained me for starting up a company in many ways. I got into HP and learned the foundation of programming, and building software. I came to Selectica which actually helped to learn starting something from zero", Suresh remembers.
Nurturing quality talent, staffing them, coaching them, training them, building new products and delivering the entire lifecycle, helped Suresh acquire the organization building skills.
And that made it easier for Suresh to start OrangeScape.
OrangeScape was founded on the underlying premise of simplifying the process of developing business applications, using rule engine. Basically, it allows analysts and domain experts to build applications on their own in a spreadsheet-like interface.
But Suresh found a big irony in the rule engine, a space that he specialised and operated in. "Rule engine is supposed to simplify the art of solving complex problems by writing rules. But if you go back and see, none of the ordinary developers were using rule engine."
"To use a rule engine you need to be an extraordinary software developer. That was so stupid. The technology is supposed to solve business problems in such a way that ordinary person can write rules and just be done with it, and on the other hand, this was hundred miles away from that reality. We said, this is something we should go ahead and solve. How do we take rule based computing to masses. And that's essentially the journey that we embarked on".
Through the product evolution, there was one thing that Suresh and the whole team was proud of. "We have probably pivoted the solution approach, but problem space is something that we have never changed", he says. And KiSSFLOW is the outcome of this pivot.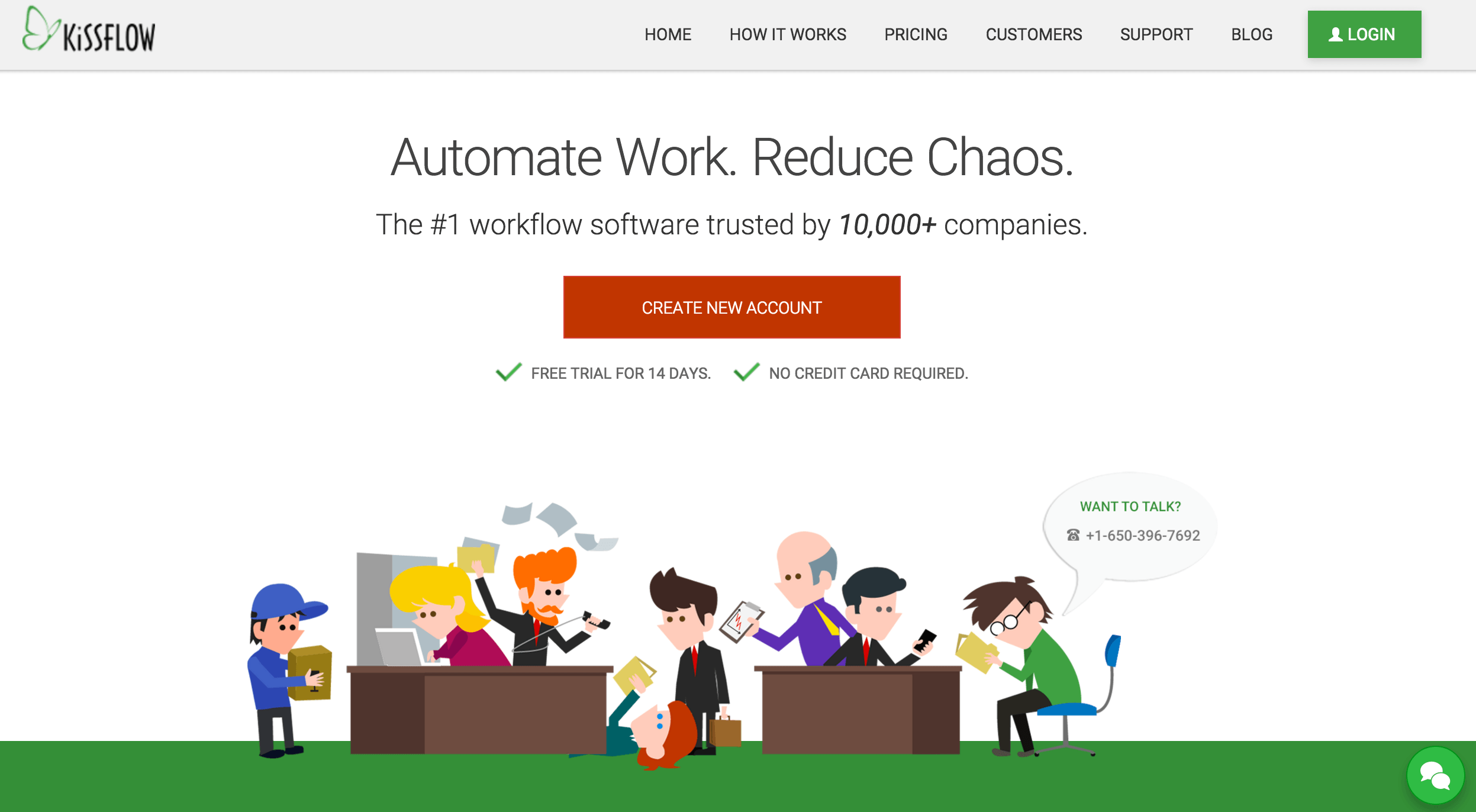 Clearly, it wasn't a very easy product. So what prompted Suresh to take up this product in the first place? "We were trying to build a service oriented platform. For building enterprise applications. We had clarity and deep technology domain knowledge in the space, that is one of the things that continues to give us an edge over the others", Suresh points out.
Having started out in the '90s, we wonder how Suresh evolved as a business person who is not just solving technical problems but also implements effective marketing. "The issues that we faced were less technical, and more about how do we sell and market, how do we get customers. That's where we really really struggled", he admits.
"Of course, the product wasn't very polished. At that time, the notion of UX driven product was much less, the priorities were given to functionalities rather than experience. By the time we released the product, it was 2006 or something. It took a year or so to develop that", he adds.
It's 2016, and Suresh advises the current crop of SaaS entrepreneurs, that UX is a key ingredient of any product. "UX does not mean fancy-looking UI, but easy-to-use UI. It's a phenomenon", he suggests. "
One of the things I like about Chargebee is that the UX experience for APIs is very very powerful and simple

The First 1000 Days…
KiSSFLOW's strategy of adopting a homogenous segment of customers, that uniformly belong to a specific vertical or horizontal, won its first set of  customers. Initially titled as the Workflow for Google Apps, investors were a bit skeptical, with an idea that this focussed on a small market. "You have to build a product for the customers and market that you truly believe in", clarifies Suresh.
But why Google Apps? "It's homogenous. Every Google App customer will talk to every other Google App customer. And if there are 100 such customers meeting for Google Apps, they could talk about KiSSFLOW", says Suresh.
Winning the first 100 customers is always tough, and Suresh advises that it is best done by the CEO or one of the Co-Founders. "We launched the beta in Jan 2013. So I took over sales full time, from June and literally it was through the day and night. So I talked to every single customer, understood why they signed up, where they came from, what problem they Googled for, how did they end up in KiSSFLOW, what problem are they solving, what are their alternatives, what competitors are they considering. You speak with 100 customers, you get lots of knowledge. It's the platform for you to model what you need to do from there."
Founding team conflicts is one of the biggest contributors for high mortality rate in Startups. KiSSFLOW did face this challenge when one of the founding team members left after few months of launching KiSSFLOW.  Suresh now happily recollects how the core team comprising of Dinesh, Adhi, Vivek, Prasanna, Kausik stuck together during those very difficult times. "Without the team's unwavering confidence that we can pull this off and make it big  KiSSFLOW wouldn't have been what it is today"  says Suresh
Moving the Flywheel Inch by Inch – Marketing as a Discipline for Entrepreneurs
One of KiSSFLOW's biggest influences was the book Good to Great, which spoke about the Flywheel, a 100 tonne wheel. Suresh believes that getting the first 100 customers is like a team moving the flywheel one inch at a time. You have to keep pushing it in an incremental effort to move the wheel faster, in SaaS especially.
Marketing, unlike sales, defines that incremental effort, that is used to rotate the Flywheel. It is counter-intuitive. One has to play the long game, and the conversion is not as quick as it would be in the case of sales.
"Entrepreneurs are intuitively good salespeople but struggle with marketing", says Suresh. "It's a discipline you have to learn and most early stage entrepreneurs miss that".
Riding on the SaaS Wave…
Having owned a SaaS and a PaaS business, we ask Suresh why he believes everyone is headed towards the SaaS model.
"If you look at the software space, the enterprise, on-premise model is being disrupted as we speak. And every single piece of software that lives in the enterprise world is going to be available on cloud", Suresh reasons. And in that, SaaS is becoming more and more prevalent.
Traf-O-Data did not fail. It just did not pick up. Because Bill Gates and Paul Allen knew that they would not face issues on the technology front, but sales would be a bigger challenge. They used this experience to learn more about business models which was a big influence in the birth of Microsoft. KiSSFLOW is a similar success story that was born out of passionate entrepreneurial journey filled with lessons on overcoming challenges along the way, where the technology is unquestionably simple yet sophisticated, and it takes a strong business acumen to sell the product to a bigger audience.
Influencers:
Books:
Good to Great by James Collins
Fifth Discipline by Peter M Senge
The Innovators by Walter Isaacson
Crossing the Chasm by Geoffrey A. Moore
Peter Drucker's books on Marketing
Predictable Revenue by Aaron Ross