Even after two cans of Red Bull, Dace Vasen was timid. His palms, cold as ice. With beads of sweat running down his back, he strode boldly into a dimly lit room with aqua hues to pitch his product, 'Brightwheel' in front of the venture capitalists famously known as the sharks from the hit reality show, the Shark Tank.
Brightwheel is a childcare management software that allows child care providers to manage their business and send updates to parents on their children throughout the day. Even though Vasen had achieved success with a small team, he was looking to scale his company with the right investor's help. After a heated argument between Chris Sacca and Mark Cuban, Lowercase Capital and  Marc Cuban Companies helped Brightwheel raise $10m in their series A funding in 2017. The software became an integral part of many pre-schools across America. In October 2018, the company raised  $21 million in its Series B round bringing its total funding to $33m+, making it one of the most successful businesses in Shark Tank.
Apart from the burning problem that your product solves, another critical aspect that helps a company flourish is its GTM strategy. Now, not all of us have the opportunity to take our new company or our scaling company to Marc Cuban. However, we can give it a Cuban-level GTM strategy to launch into success with the right steps.
So, where do you get started?
1# Taking stock of your market
Brian Balfour, CEO of Reforge, an e-learning platform for professionals, in a conversation with AdvanceB2B says that, "The old way of looking at a product serving a market is too simplistic" and that instead of finding a 'product-market fit,' one should look for a 'market-product fit.' He argues that you need to have a deep understanding of the market before moving the focus to the product. 
Adopting the two-step strategy of 'divide and conquer,' there are two famous principles you can use to get a deep understanding of your TAM.
Divide your market with Christopher Janz's ARPA to No. of Customers Ratio
Janz uses simple math to arrive at how many customers you would need to get to $100M in annual recurring revenue (ARR) at different price points. Developing on Boris Wertz's suggestion that there are only two ways to build a $100M business, he says that there are five ways to build a $100M business. 
He splits the customers into elephants, deers, rabbits, mice, and flies. Flies would consist of the people who have subscribed to a service that costs £10+ per year. Elephants were at the top of the list, with customers subscribed to a service that costs £100,000+ per year. So to achieve $100M in revenue, a business needs 1,000 elephants, 10,000 deers, 100,000 rabbits, 1 million mice, and 10 million flies.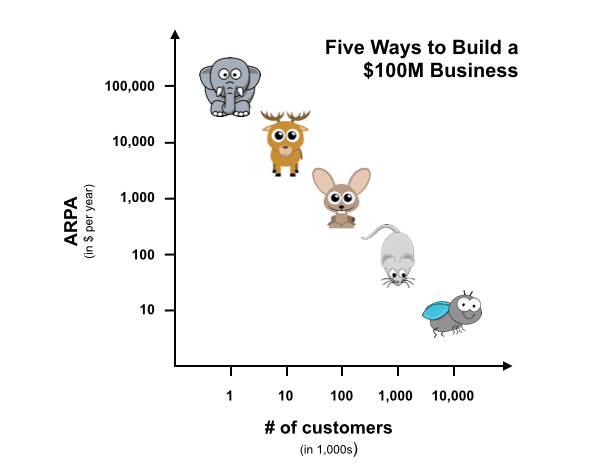 Once you get to know the kind of customers in your market and how much they would be willing to pay, you need to do one more thing.
Conquer your marker with the 3 Fs check
Bruno Uenda, COO and Data Lead at Kalungi, a B2B SaaS marketing agency, came up with the Three Fs to help you find your correct GTM strategy.
Focus: This talks about finding the portion of the TAM to which you have the resources to sell immediately. There could be a big addressable market in a country where you do not have a sales team or lack resources to set up one. In that case, weeding out the options that can't fit your current needs would be an excellent place to start.
Feasibility: This is about understanding where the profits lie. In which vertical do you have more market penetration? Where can you make the easiest and quickest sales? If you are expanding your TAM, where do you see more people welcoming your product with open arms?
Fit: Your product may be a feasible choice in many verticals, but where will your product find the perfect fit? The criteria you use to determine that can be anything from technology to the competition.
Following these two steps can help you understand your market better and map your GTM strategy to your customer segments. 
2# Mapping out the market landscape
Edward Ford from AdvanceB2B compares the SaaS GTM strategy to the battle strategy adopted in wars. He says that a well-thought-out plan of attack will significantly increase your chances of survival, and ultimately, victory.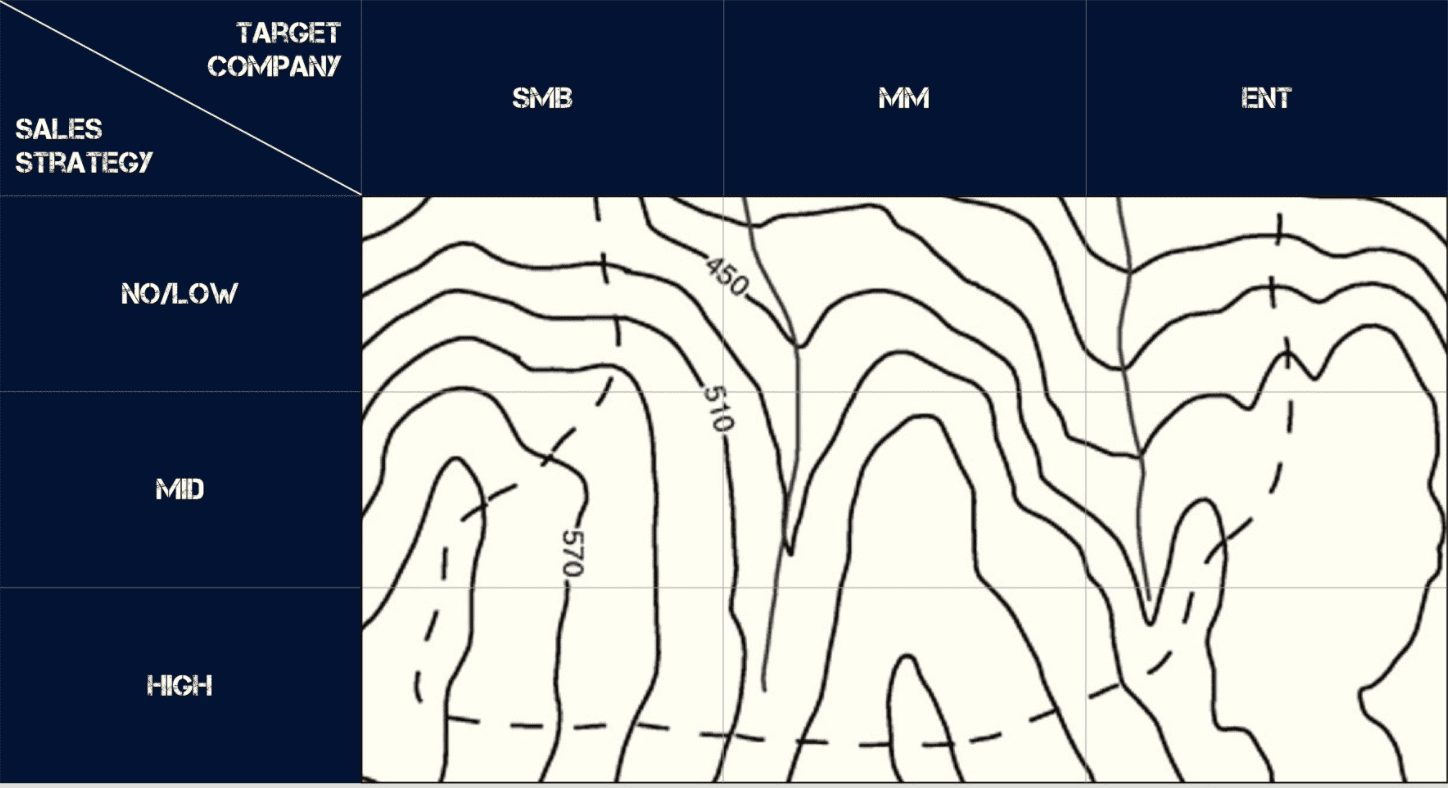 Credit: Mission Matrix by Edward Ford (here)
The mission matrix lays out 7 SaaS missions that will help a SaaS company sell to 'the right target in the right way with the right price and through the right channels.'
After following the first step, you'd have an idea of your ideal target market; using the mission matrix now would help you plot out the marketing and sales approach you can use to attract customers ranging from small business, mid-market, and enterprise. You can also add another column for pro-users.
No/Low touch

: This model primarily works for self-serve business across SMB, mid-market. Since larger companies pay more and expect a lot more interactions, it could fail when used for enterprise.

Mid-touch

: This is focused on inside sales and external partnerships.

High-touch

: This focuses on direct outreach from sales. The high-touch works well primarily for

an enterprise customer base.
3# Moving upstream vs Moving downstream
Often companies tend to move upstream or downstream by adding more salespeople without considering the other moving parts of the business. The problem here is that they don't always look into the 'market-product' fit 
While moving downstream, say to pro-users, many companies noticed that their pro-users are more cost centric and have a spending cap per year. Whereas when you move upstream, you might face lengthy purchase cycles with enterprise customers but they come with a significantly higher spending cap per year.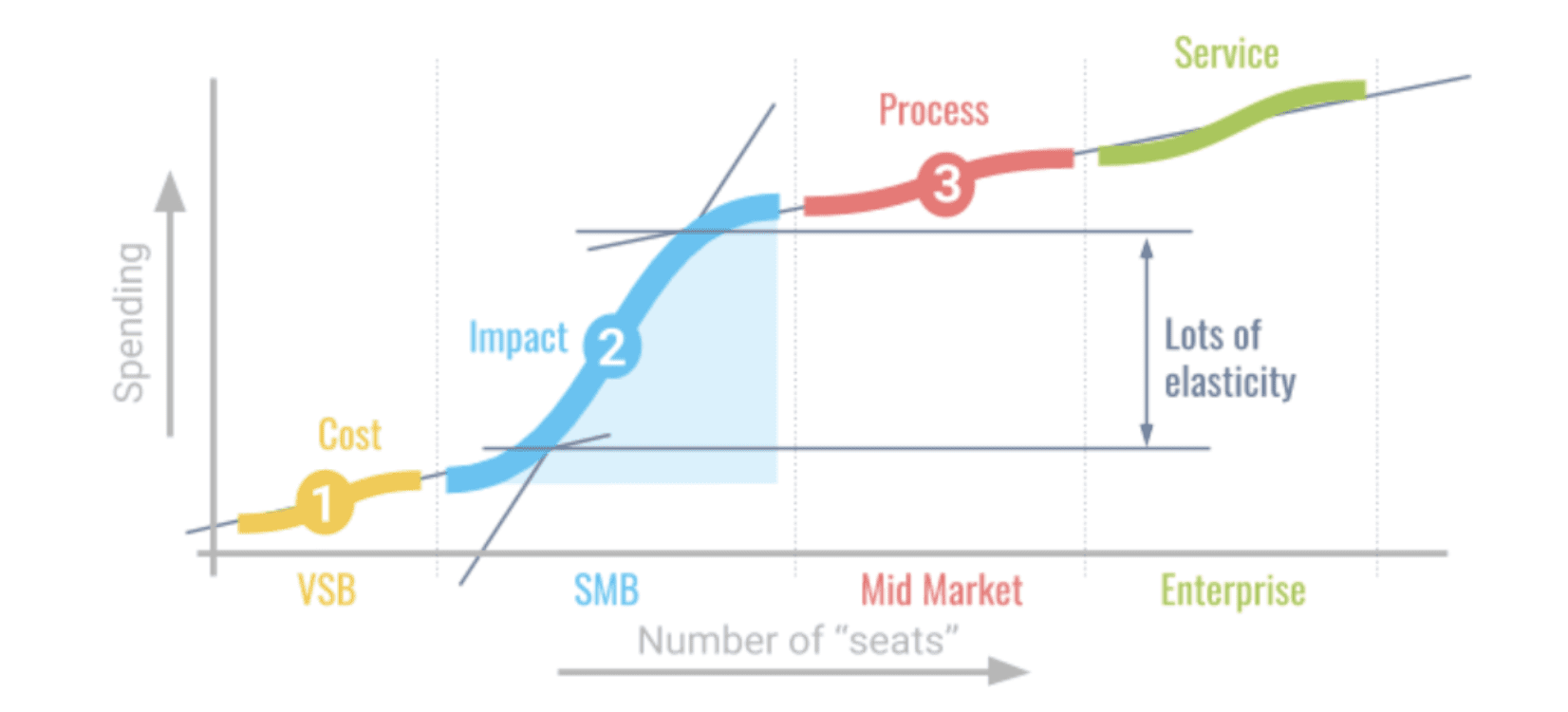 Credit: Saleshacker (here)
So the GTM strategies need to be tailored to the customer needs and profiles, and some of these moves would require a total revamp of the GTM strategy. "I think the way people buy Spotify is the way people are going to buy enterprise software in the future. All the new models are end user-driven. I think there's a new breed of software companies that have much, not only better go-to-market but a lighter go-to-market and it matches the way people want to buy, "says Brian Halligan, CEO, and co-founder of Hubspot.
With the end-users starting to decide what kind of software they would like to work with, software vendors are forced to change their go-to-market to suit that use case. "It was a user change that catalyzed everything. We decided that we preferred better software, and we tried a couple of products. We were able to purchase off our credit card. And then IT and procurement eventually said, "Wow, everyone's buying these already, I might as well get a company license and a company deal so I'm not paying as much", says Kristina Shen, General Partner, Andreessen Horowitz. 
For almost all Saas business, who they're selling to and how that's changed has a significant impact on the kinds of plans and pricing they can offer. You need to have the capability and flexibility to structure your plans according to the end-user with various billing options and discounts to incentivize customers to upgrade based on your product functionality. 
Chargebee offers unique solutions custom made to help companies move upmarket. You can use the quote-to-cash automation to shorten the deal cycle, break down selling to complex businesses with the help of account hierarchies and dissect revenue from multiple customer accounts to understand customer trends with Chargebee's Revenue Insights. 
4# CAC decides your GTM Strategy
It does not make sense to deploy your best salesmen's efforts to convince your pro-user who pays you $4 per month. So it would help if you mapped your pricing to the actual cost of actually doing sales and marketing and acquiring a customer. A significant factor that decides your GTM strategy would be your Customer Acquisition Strategy (CAC). The GTM strategy you use should resonate with the revenue you gain from the customer. "We try to align our price to the value that our customers get and also try to align the sales motion to that value then. You obviously can't spend thousands of dollars acquiring a customer who will pay you a hundred dollars a month. So it has to be a very different motion that you use for the high end," says Karen Peacock, CEO of Intercom. "Having the right sales motion that's aligned to the customer segment that you're going after is important, and then you need to align that price to value."
Sales Hacker provides a graph that helps point out the different customers' different price points and the cost-efficient strategies that help acquire them. It takes into account metrics such as Annual Contract Volume and Volume of Deals/Month to do the same. 
As companies scale up, Brian says it becomes increasingly difficult to break out just based on your product capabilities. Creating a superior customer experience through your GTM strategy will emerge as a sustainable competitive advantage. "Today, the way you break out, it's hard to do that on the product side. You get in front of your competition a little bit, "Wow, they catch up quickly!" The way you get ahead of the competition is to create a go-to-market experience that's ten times better than the competition. That's the way I see companies winning today. That's how Zoom does it, that's how Atlassian does it, frankly, it's how HubSpot does it. This is the future, I think, in B2B," says Hubspot's Brian Halligan
Intercom's Karen says going vertical by vertical can be a great strategy as your business moves upmarket. "Think about what additional verticals have the same set of problems that you could solve uniquely well, and then go after them vertical by vertical. Come up with tailored demos for those customers. Once you win one, that's a case study for you and land and expand from there. So vertical by vertical, focus on where there is an important, unmet customer problem that you can solve well."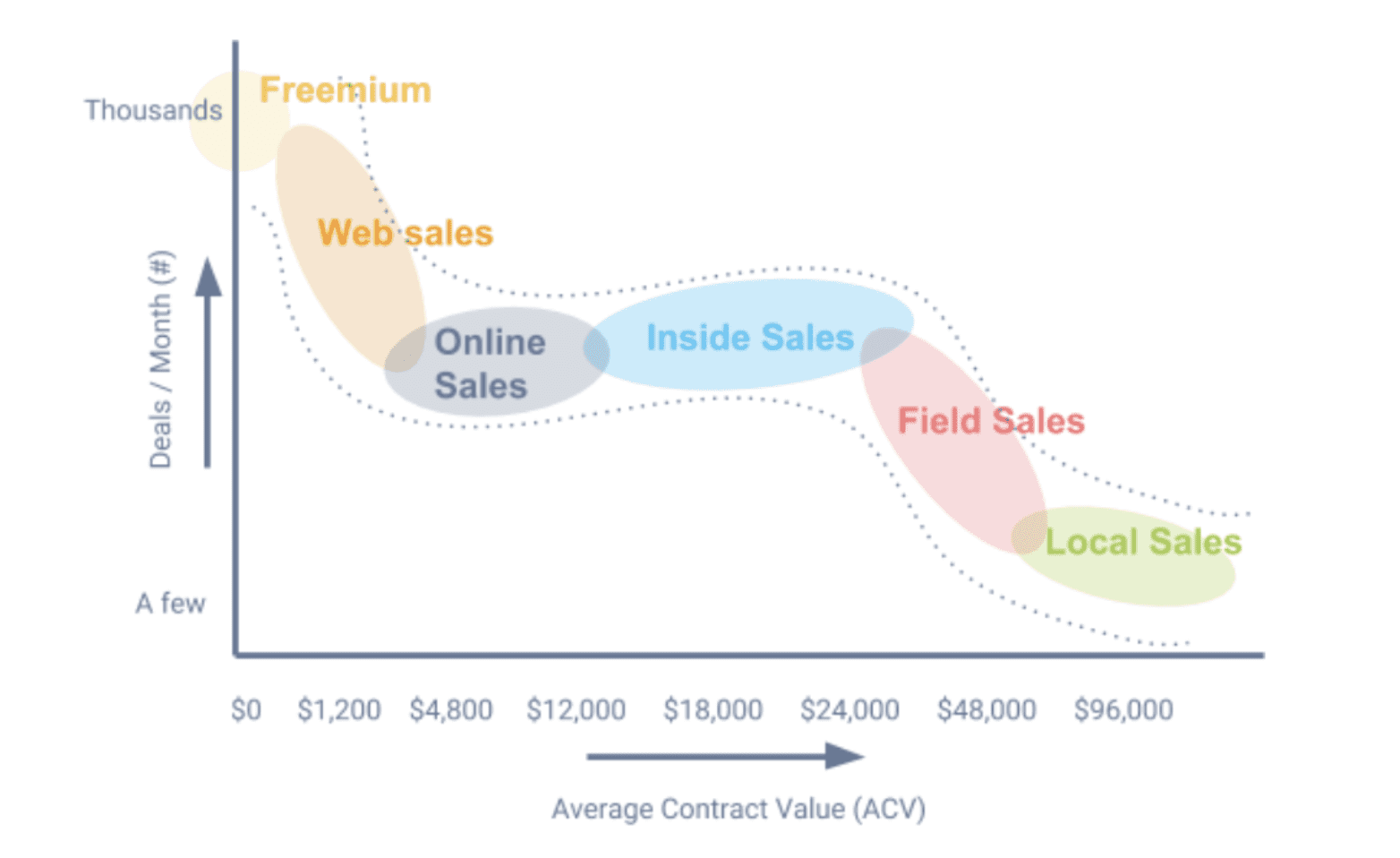 Credit: Saleshacker (here)
Either you're launching your product or moving around your markets, keeping these 4 points in mind will help you understand if your GTM strategy is going to be a success or if it would blow up in your face. 
Remember, your product can be solving world hunger, but without a proper GTM strategy, it would not take off. If you are confused about what pricing strategies will work, expanding globally, moving upmarket, explore our strategy page where we provide you a solution for every complexity your business could face. You can also contact our representatives at Chargebee, who would be happy to guide you.