Slowly, but surely, customer experiences are being divided into two groups: one-size-fits-all vs. personalized, contextual approaches. Consider the evolution of media from mass broadcasting to streaming services with powerful recommendation engines. Which do you prefer?
When it comes to online customer retention, companies need to shed one-size-fits-all strategies. Generic exit surveys and win-back campaigns delivered en masse just aren't enough. To win, you need to know which customers aren't happy, why they've had a poor experience and what they need to stay. This kind of intelligence helps you make the right moves when it comes to retaining customers.
That's why we rolled out reporting for Chargebee Retention Segments.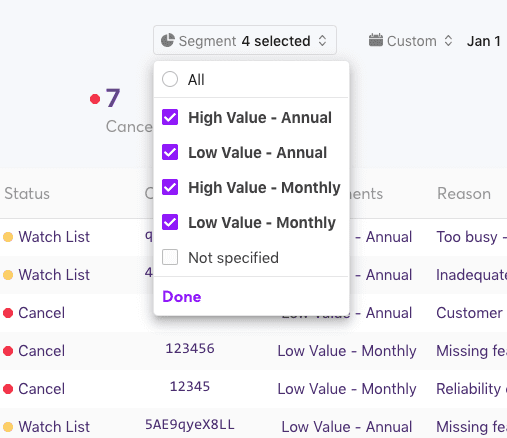 Segments allow you to identify groups of users for easy, repeatable targeting of your cancel experiences. They're rule-based groupings that inform the content, copy, offers and workflow of your cancel experience and enable you to analyze performance. Now you can drill down into how your Segments are performing in real-time within your Chargebee Retention dashboard and reports.
These new reporting capabilities are designed to show you which Segments are successfully responding to your retention experiences. With this data, you can discover the customers most likely to be retained and pinpoint the offers that work.
These insights enable you to quickly iterate on your cancel experience as well as inform future improvements at an organizational level. You can surface trends and discover new opportunities to reduce churn by selectively engaging customers who are more influenceable at the moment of cancel. For example:
Age of account: Create experiences and present offers targeted specifically to those who are newly signed up, vs. those who've been around for a few months or years
Subscription term: Make offers that encourage monthly accounts to upgrade to annual plans, or offer to downgrade to monthly payments instead of canceling outright
Product usage: Customize cancel experiences and offers based on where your customers are in their journey and discover what offers appeal to different phases of adoption.
Value or size of account: Don't want to offer a large discount to your highest-paying customers? Tailor offers based on value, whether it's revenue, users, or usage.
Reporting for Segments helps you optimize your cancel experience for each customer based on their unique attributes—it's the opposite of a one-size-fits-all approach. And it's a smarter way to retain customers at scale. This functionality is available today for customers in Chargebee Retention, including on the dashboard, Insights and Trends reporting, and on the Customers page.
Want to see how it works? We'd love to show you. Request a demo here.