Chargebee Fall '19 Product Release – This Fall, Raise Your Revenue Operations to a New Standard
~ 9 min read | October 22
We're now live with our Fall 2019 Product Release. This time, we're taking larger strides into helping you optimize your entire Revenue Operations. But not just that – with this release we're going beyond just helping you plug the inefficiencies in your revenue cycle. We're enabling you with capabilities to capture those revenue opportunities that will take you to the next level of growth!
[Check out what's new in this release.]
The Evolution of Revenue Operations: From Billing to Business Alignment
Over the last 8 years, we've had the good fortune to work, enable, and scale together with some of the fastest-growing SaaS and subscription businesses around the world. Along the way, we've realized a gradual transformation in how we define what we do and the value we bring to our customers – from a solution that 'Automates Billing', to 'flexible Subscription Management', to  'enabling Revenue Operations'.
Interestingly, we notice this pattern time and again as every SaaS business we work with scales up – their problems morph from Automating Billing to Streamlining Revenue Operations. 
The RevOps evolution framework shows each stage of problems as businesses mature. You may want to check it to learn how you can plan for your next stage of growth.
Not just Operations: Enabling new Revenue Opportunities this Fall
A lot happens between your business' first interaction with a prospect and the first dollar. And those interactions continue, through every recurring billing cycle. It's easy at first, sure. As organizations scale though, three things begin to surface:
Process Changes – functions grow bigger but farther from each other.
As you move from spreadsheets to ERP, tools and processes change across the organization. To keep the engine running, a fire-fighting team steps in – operations. Along with a developer(s), they manage to build out MVP versions of integrations. Spaghetti runs riot across your systems. Customer data and intelligence get fragmented across functions.
Business Model Changes – buyer persona evolves with your product and pricing.
You may move upmarket to cater to larger customers or downmarket to cater to lower ACV customers. Each require very different workflows –  custom pricing and a quote-to-cash process for larger customers and a self-serve workflow with a free-trial-to-ledger process for the lower end.
Expansion Opportunities – expanding to other geographies and markets 
Expanding to the EU or from EU to other geographies requires compliance with a plethora of regulations – privacy, accounting standards, and taxation policies.
As scale quickens, sustainability becomes a challenge. Unchecked, these inefficiencies translate into unidentified revenue choke points.
The same inefficiencies also lock-up resources and bandwidth, which usually translates into an inability to act on expansion opportunities aka missed revenue opportunities.
And perhaps what makes it all worse is that even this inefficient system costs a bomb to maintain. 
Solving for revenue is really about enabling businesses to scale efficiently on one hand, and offering the luxury to easily act on revenue opportunities on the other.
It's a fairly complex problem. So what might a solution look like? 
Here's a fairly simplified view of how organizations create revenue. There are business functions at top that depend on operational workflows to translate their actions/decisions into revenue.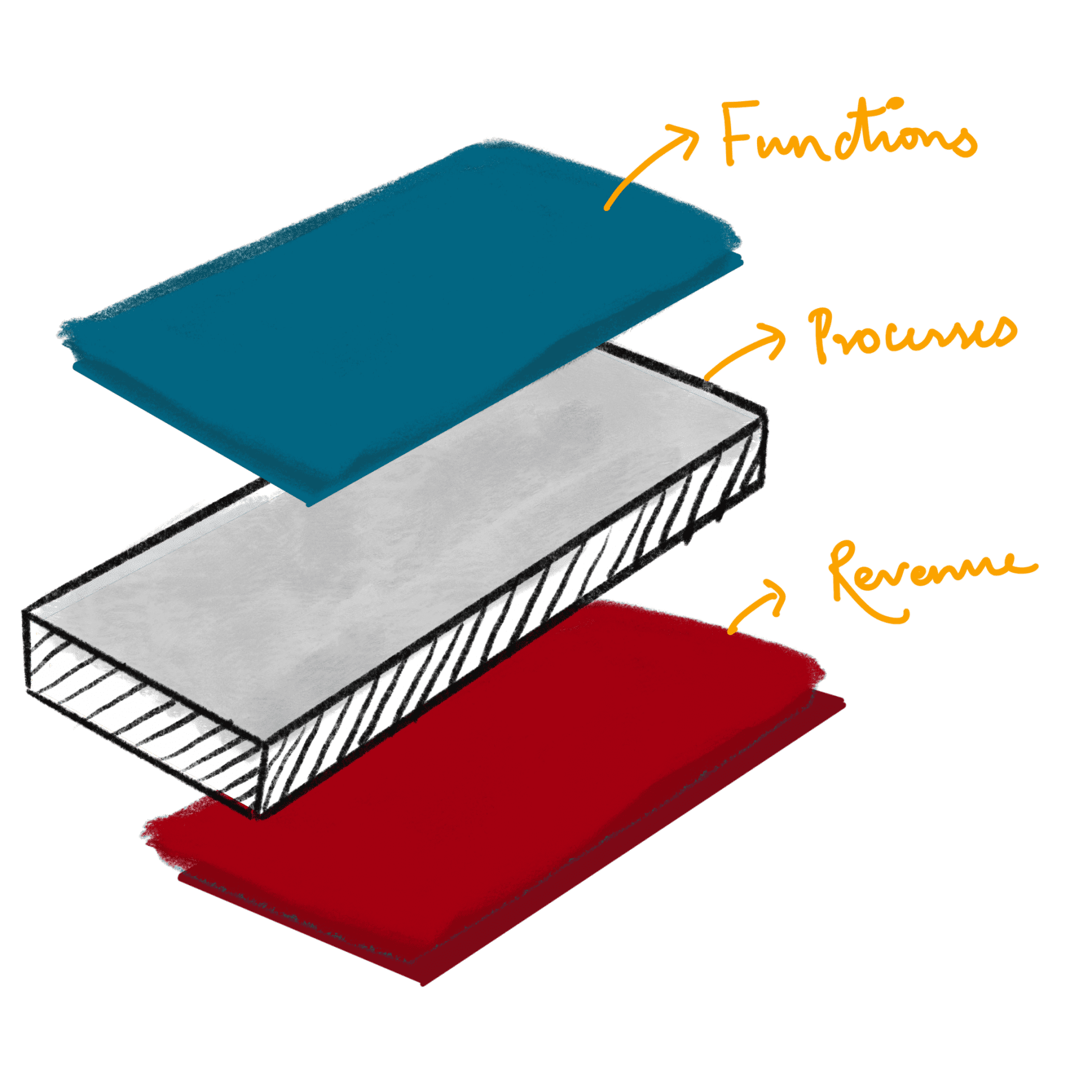 But What if… Revenue growth was just a tad bit easier?!
What if an operational logic could convert entire revenue workflows into button-presses for marketers, sales reps, operations team, product-folks, finance…. and your users?
Imagine a shared data lake of customer intelligence that inspires revenue-driving actions across teams.
Imagine an operations team that's no longer held hostage by a task queue, but rather is enabled to spot revenue opportunities and leakages. And actually act on it.
You've just imagined the Revenue Operations utopia. The coming together of all your business functions, processes, and tools towards a singular purpose – to drive revenue.
But for your RevOps function to deliver repeatable growth amidst a sea of of dynamic process changes and growth-chaos,  it needs to be built on top of an infrastructure that's both solid and flexible at the same time. 
"Given we were early adopters, I wasn't sure if our revenue growth and demands would force a change in the platform to accommodate changes in scale. I am pleased that we haven't had to bear the costs of needing something new, as Chargebee has been and will continue to be a strong partner of ours into the future."
— Dailius Wilson, VP – Partnerships and Growth, GetAccept
We introduced the idea of Revenue Operations in our last release – Summer '19. That's when we brought out lead-to-ledger support for self-service workflows, complete with Chargebee Moments and smart dunning.
This time, with the Fall '19 release we have done the same for your sales workflows, with possibly the quickest quote-to-cash system imaginable. Plus, additional support for process changes, and business expansion into and out of the EU.
Here's what we're bringing to you this Fall.
Fall 2019: Features and Updates
1) Revenue Operations for B2B Sales Workflows
Salesforce Quote-to-Cash Support
Create quotes from within a Salesforce opportunity. At the push of a button, you can send quotes as a PDF, collect e-signatures with tools that you are used to, and even send a secure 'Pay Now' link to collect payment immediately. Convert the quote into subscription from within Salesforce into a subscription and invoice in Chargebee at the tap of another button, or do it manually in Chargebee. 
Oh, the quote object also auto-calculates pricing and supports the most complex pricing models. 
And, it works with Salesforce standard approvals. 
Learn more about our sales-workflow support here.
Quotes
Give subscribers the freedom to have their subscription start on a future date, by defining a subscription date at the time of quote creation. For instances when a customer asks for more time to approve a quote, simply edit the quote to extend the expiration date. Put fair billing into practice and show exactly how much they will owe you across the subscription lifecycle right at the time of quote acceptance. If there are variations to the charges across different billing periods, send detailed quotes that capture all charges.
Read all about Chargebee Quotes here.
Account Hierarchy
In our last release, the account hierarchy feature was brought out for our users to map parent-child relationships for their multi-entity customers. With this release, you get the additional capability to offer differential access to parent and child entities within the defined account hierarchies in Chargebee. You can now customize a) the level of access for subscriptions and invoices in the customer portal and b) access to subscription, invoice and payment emails. 
2) Scale Processes with End-to-End Integrations
Stitch
Get the full picture of your business and your customers by bringing together plan, invoice, orders and 500+ subscription data points into your preferred data warehouse to help you make decisions based on real data and not gut feel. Learn more.
ActiveCampaign
Rich data is the pathway to effective marketing. Go beyond customer data and include subscriptions, plan levels, orders, invoices and more to segment, target and deliver successful email campaigns. Learn more.
TaxJar
With TaxJar and Chargebee, ensure that you never miss out on being compliant with tax regulations. Automate sales tax calculation, sync invoices, credit notes and more to ensure that you file the perfect value and not a penny more or less.  Learn more.
Vantiv Litle Platform
Chargebee supports the Litle platform from Vantiv. It's one of the primary payment processors in the US and comes highly recommended for eCommerce and digital businesses. What's more, Chargebee's integration with Vantiv has gone through the certification process. So our merchants who want to use Vantiv don't have to go through Vantiv's certification process. 
Hubspot CRM
Bring the front office to center, with accurate, timely and contextual subscription and subscriber information into HubSpot. Connect Chargebee to HubSpot and surface key subscription and customer information to help marketing, sales and service teams take decisive action based on subscription data. Learn more. 
3) For Expansion into EU
SEPA Credit Transfer
Allow merchants in EU to pay via bank transfers without any of the reconciliation troubles. Chargebee connects with Stripe to generate a VBA (virtual bank account) when a payment-due invoice is generated, waits for payment confirmation and records the payment against the invoice. Reduce time to reconcile bank transfers from a couple of weeks to 1-2 days. Read More. 
3DS
Businesses that have a payment processor based out of the EU or sell to customers in Europe need to be 3DS-compliant. With Chargebee, you get to be 3DS-compliant from Day Zero. 3DS-compliant checkout, smart recovery for payments that failed SCA, and backup gateways to mitigate gateway risks, you are as ready as you can ever be. Learn More. 
VAT in Local Currency
To comply with EU VAT regulations it is mandatory to show VAT in the local currency of the member state to which you sell. Merchants had to implement their own code to achieve this till now. From today, Chargebee offers you the option to use local currency to show VAT amount in invoices. 
Avalara for EU
Chargebee customers that sell to Europe can now use Avalara for tax management. Use Avalara's tax calculation capability to apply up-to-date taxes and Chargebee will take care of invoice compliance. Simply sync invoices and credit notes to Avalara in order to generate reports and file taxes. 
And that's not all!
Revenue happens 24/7. Why should the support for your revenue operations? We're extending our support for your queries to 24 hours a day, 7 days a week.
Meet The Makers: A Walk-Through With Our Product Team
We are hosting a webinar to walk you through our 2019 Fall Release, plus a Q&A with the Makers. Join us as our Product Managers walk you through our product updates, the what's and why's, use cases, and more.
It's happening on the 24th, October 2019. Time: 11:00 AM PST.
Here's where you register:
Get the scoop on what's new